Ask any kid if they're excited about their birthday, and you'll get a resounding yes. Children love birthday parties, so it makes sense that parents want to make their kid's special day super memorable. From coming up with an awesome theme, featuring a stellar cake, or coming up with lots of fun activities, planning a party can be a lot of work.
Your five-year-old might give you some great ideas to use as a jumping-off point. But you still need to fill in a lot of blanks yourself. Luckily, we understand that a kid's birthday party can take a lot of work. That's why we've rounded up some of the best ideas out there, from themes to party favors.
Instead of pulling yourself in all sorts of directions, you can find everything you need in one place, making it super convenient. Now, you can enjoy preparing for your child's big day instead of stressing out about it.
5th Birthday Party Games & Activities For Boys & Girls
Make sure to plan a few activities for the birthday party, so kids stay engaged. Kids have fun instead of getting into mischief when there's something to do. A birthday party for this age group is usually about two to three hours. Opting for a couple of hands-on activities or several games can help fill the time.
1. Go To A Park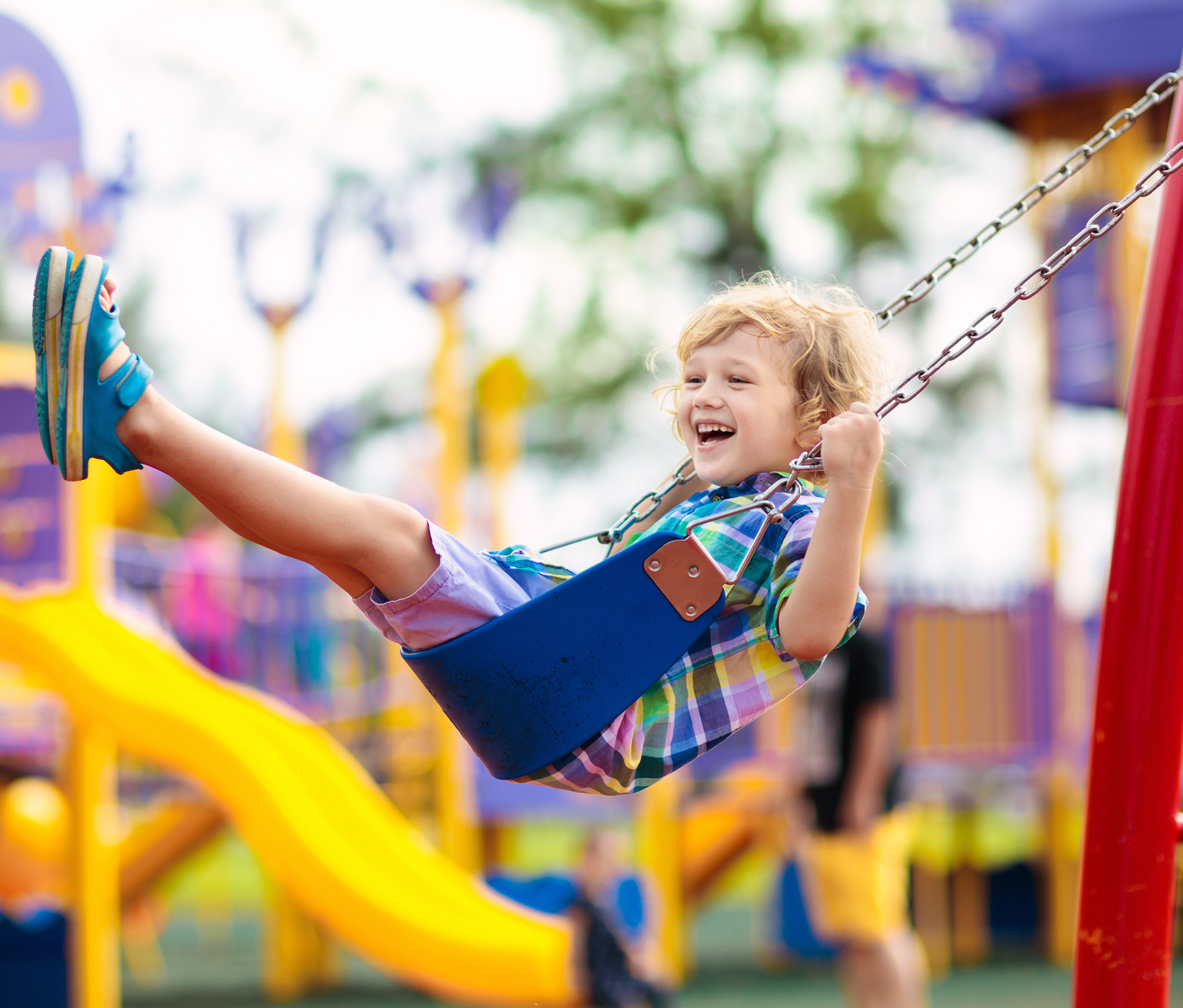 Image source: FamVeld
If you can, host the birthday party at a local park so kids can play on the playground, play tag, chase bubbles, and other fun outdoor games. Many parks have shelter areas or picnic tables you can rent for parties. And some even have extra attractions like a carousel or concession area.
2. Art Station
Image source: The Party Wall
Get crafty at your party, like The Party Wall, and set up an art station for young guests. You can set up craft kits, small easels, or even paper and watercolors. It can be as simple or detailed as you prefer, and you can elect an older sibling or cousin to be in charge of helping.
3. Simon Says
Image source: Icebreaker Ideas
Icebreaker Ideas uses the popular game of Simon Says to get kids moving and keep them engaged. You can adapt it to fit your party theme. For example, the Fire Chief Says for a firefighter party, or Queen Elsa Says for a Frozen theme.
4. Classic Party Games
Image source: Ryan McVay
Set up a rotating game station for kids to play through that features several classic party games. You can have a Pin the Tail on the Donkey, ring toss, and an opportunity for kids to knock down bottles when they toss a ball. Kids can take turns playing all the games for chances to win little prizes.
5. Professional Storyteller
Image source: FatCamera
Hiring a professional performer or storyteller can be a great way to add some quality entertainment to your party. Many will come for either 30 minutes to an hour or longer, depending on the package. They can tell a story, do a puppet show, or simply mix and mingle with the kids.
6. Sack Race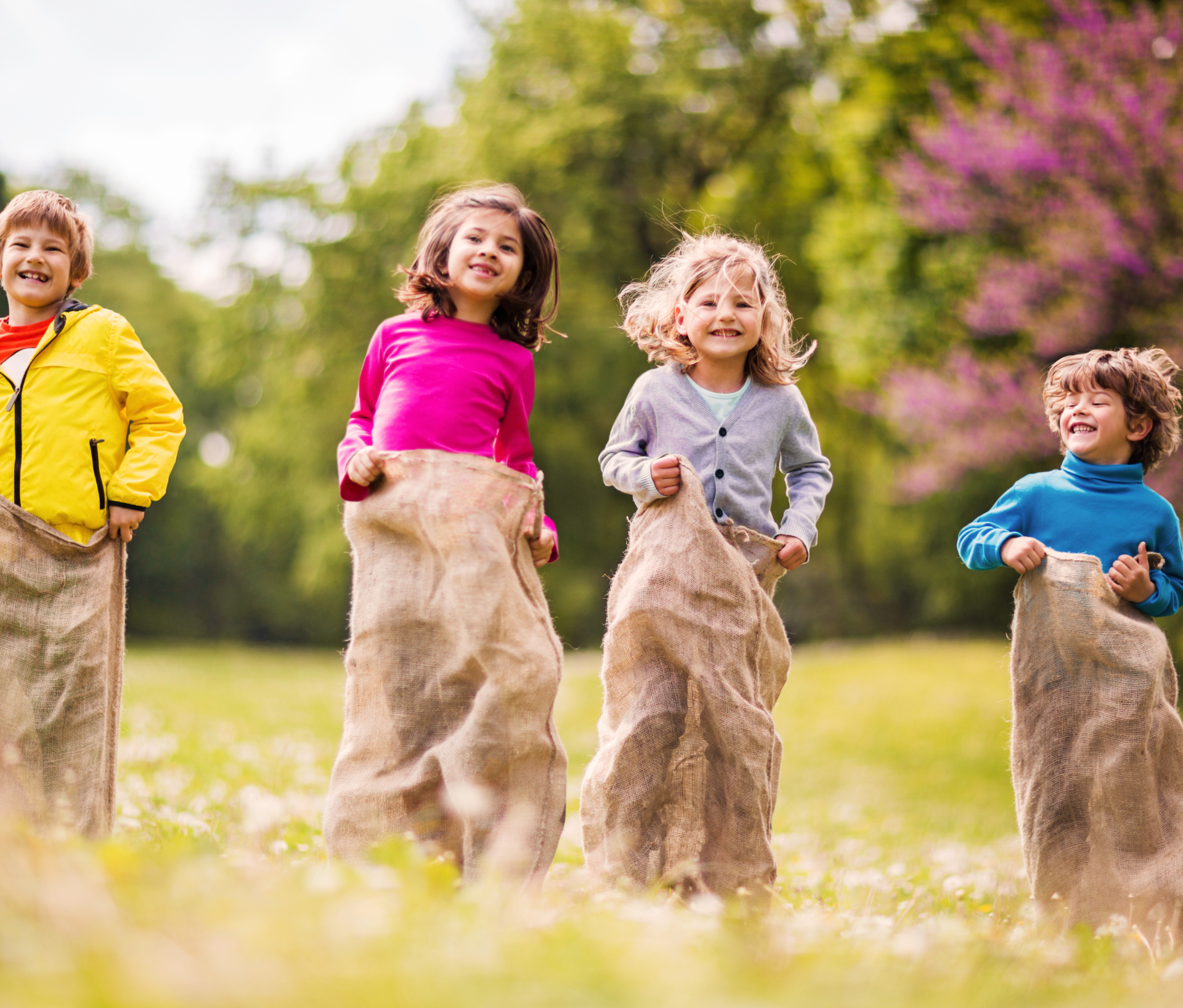 Image source: skynesher
If you're throwing an outdoor party, make sure to plan for several games you can play outside. A sack race is lots of fun, and five-year-olds can handle it well. Make sure to play on a soft surface, though, such as grass, and clear the area beforehand of any potential hazards.
7. Face Painting
Image source: kidadl
You can get a pro face painter or familiarize some willing adult family members with a few techniques like some of these from kidadl. You can feature selections that go well with the theme, like animal faces for a jungle party, or sea creatures, or let them choose from a limited selection of pictures.
8. Bouncy Castle
Image source: MCCAIG
Rent a bounce house or spacewalk for your party to keep kids jumping for joy (and using up their energy). You can typically rent them for a few hours, and the company will handle set-up and take-down. Or you can rent one that you inflate and take down yourself.
9. Outdoor Water Fun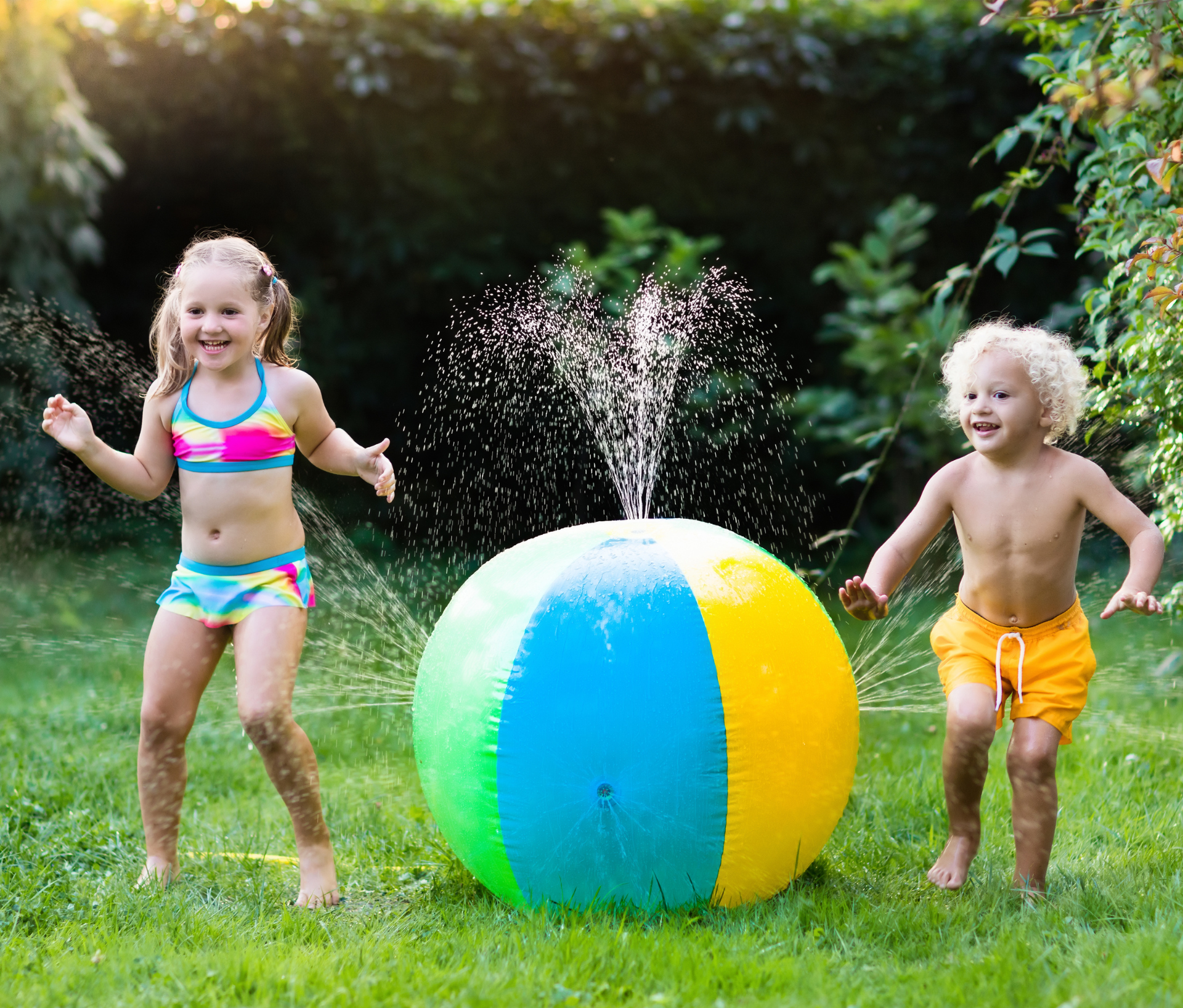 Image source: FamVeld
A spring or summer birthday is the perfect time to host an outdoor fun in the sun bash. Create several opportunities for some wet and wild play, including a sprinkler, a bucket full of water balloons, or some water blasters for an epic battle. You can also set up an inflatable pool for kids to splash around in or rent a small inflatable water slide.
10. Cupcake Creations
Image source: studioroman
Pre-bake cupcakes ahead of time, but don't decorate them. Instead, set them out on plates on a couple of tables and let everyone get their own spot. Place a variety of baking decorations, including different colored frosting, sprinkles, and cupcake picks, that kids can choose from to make their special sweet treats.
Food & Drink Ideas For 5th Birthday Party
You don't want people to leave the party early because they're hungry. But, a birthday party usually needs more than just the cake to satisfy guests' appetites. You can keep it simple and order pizza or set out some cute, themed treats. Make sure to have easy-to-sip drinks to wash everything down.
1. Build Your Own Burger
Image source: Hadley Designs
Hadley Designs features a burger bar with all the trimmings so guests can make their favorites. You can opt for full-size patties or do sliders, have a selection of popular toppings, and tweak as needed to fit your theme. Make sure to provide utensils for people to construct their burgers to keep things hands-free.
2. Unicorn Popcorn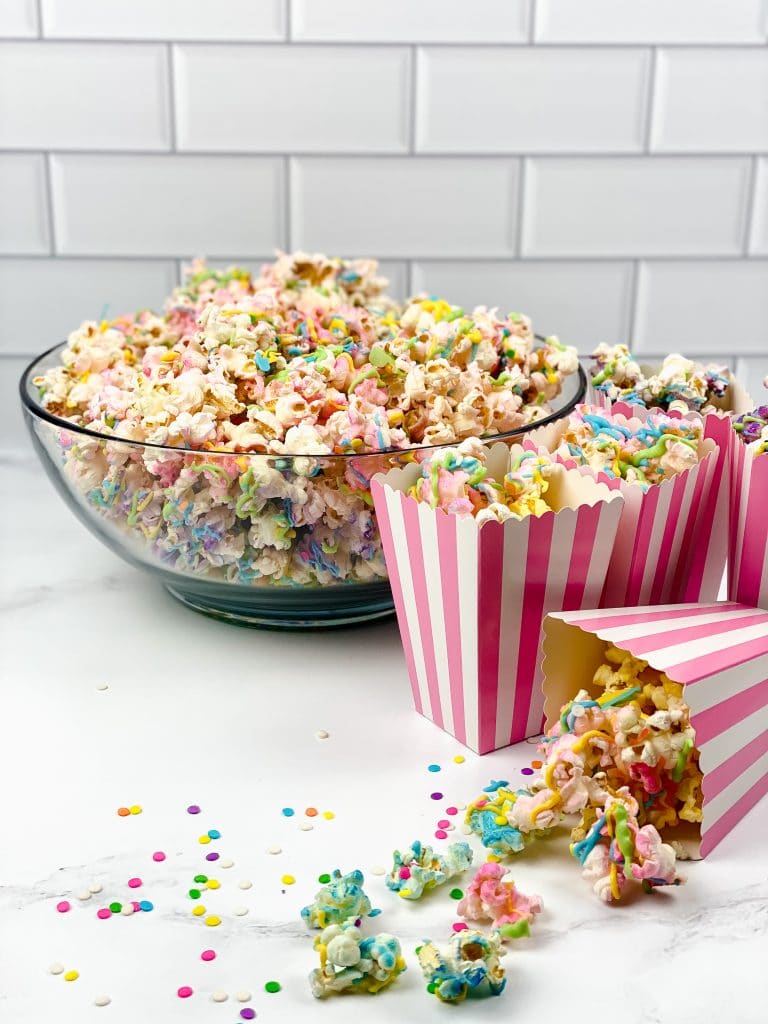 Image source: Hostess at Heart
Putting a spin on a popular party snack is a great way to make it fit your theme, like this unicorn popcorn from Hostess at Heart. You can also create your own unique popcorn blend by mixing in things like chocolate chips, M&M's, peanut butter cups, and anything else that sounds delicious.
3. Fruit Kabobs
Image source: Chocolate Covered Katie
Serving some healthy options on the food table is always a welcome reprieve from the sweets and treats. And kids love fruit, so present it in a creative way, like these fruit kabobs from Chocolate Covered Katie. If you want to keep things extra sweet, you could always add some chocolate dipping sauce or drizzle.
4. Veggie Cups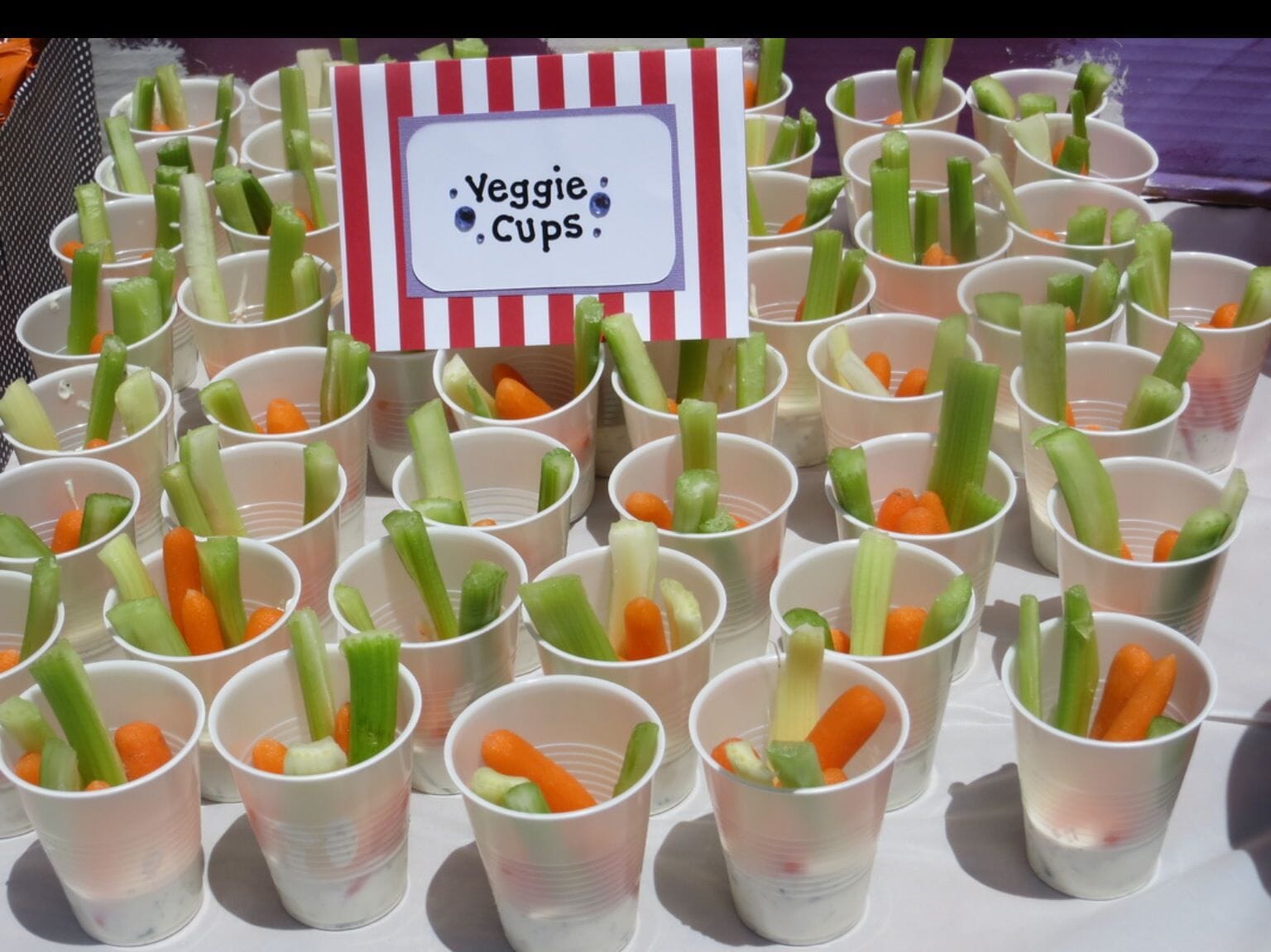 Image source: Pinterest
Another healthy snack that adds a lot of crunch to the menu is fresh veggies. Vegetable platters are popular stand-bys for parties but don't necessarily make kids flock to the front of the food line. But when you serve up some delicious veggie cups complete with dip, it will be a different story.
5. Sandwich Wheels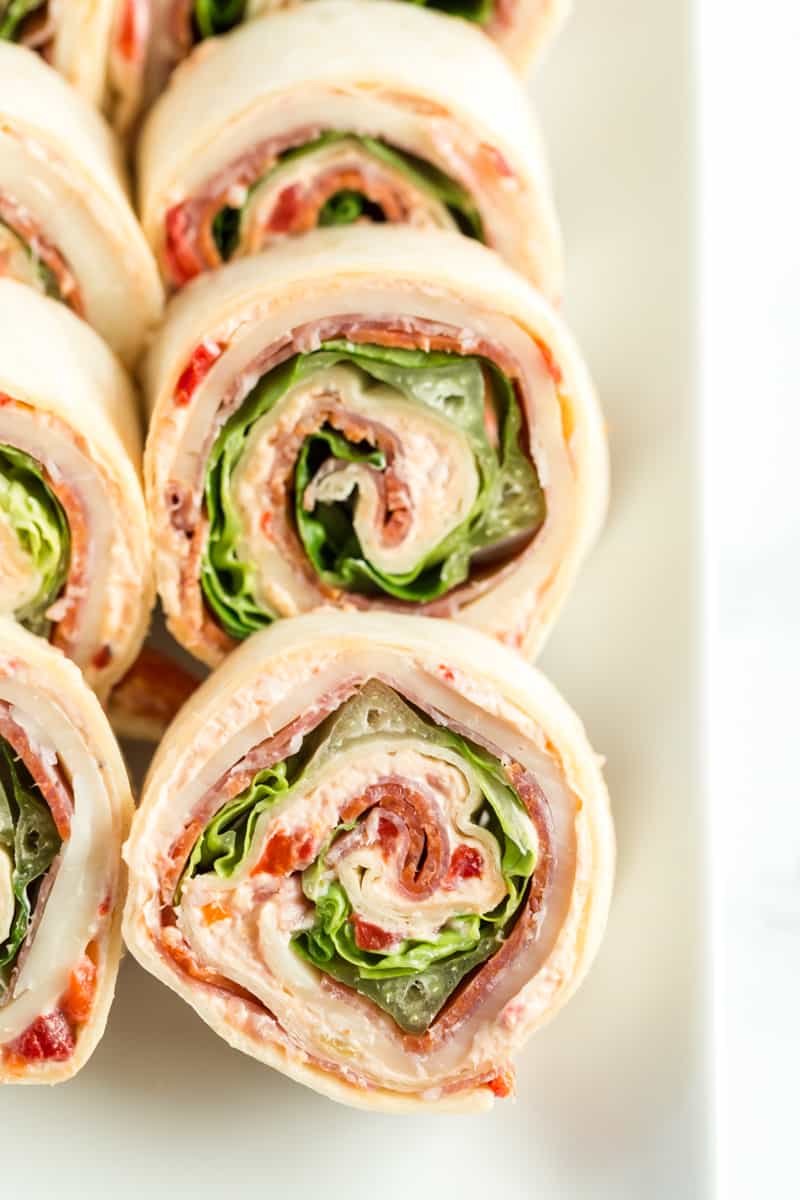 Image source: Tornadough Alli
Move over tried-and-true finger sandwich triangles — these sandwich roll-ups from Tornadough Alli will fly off the snack platter. They deliver the same easy grab-and-go quality of traditional finger sandwiches in a pretty, flavor-filled bite. Make a few kinds to appeal to different taste buds and appetites. You can even make some peanut butter and jelly rolls.
6. Pancake Stacks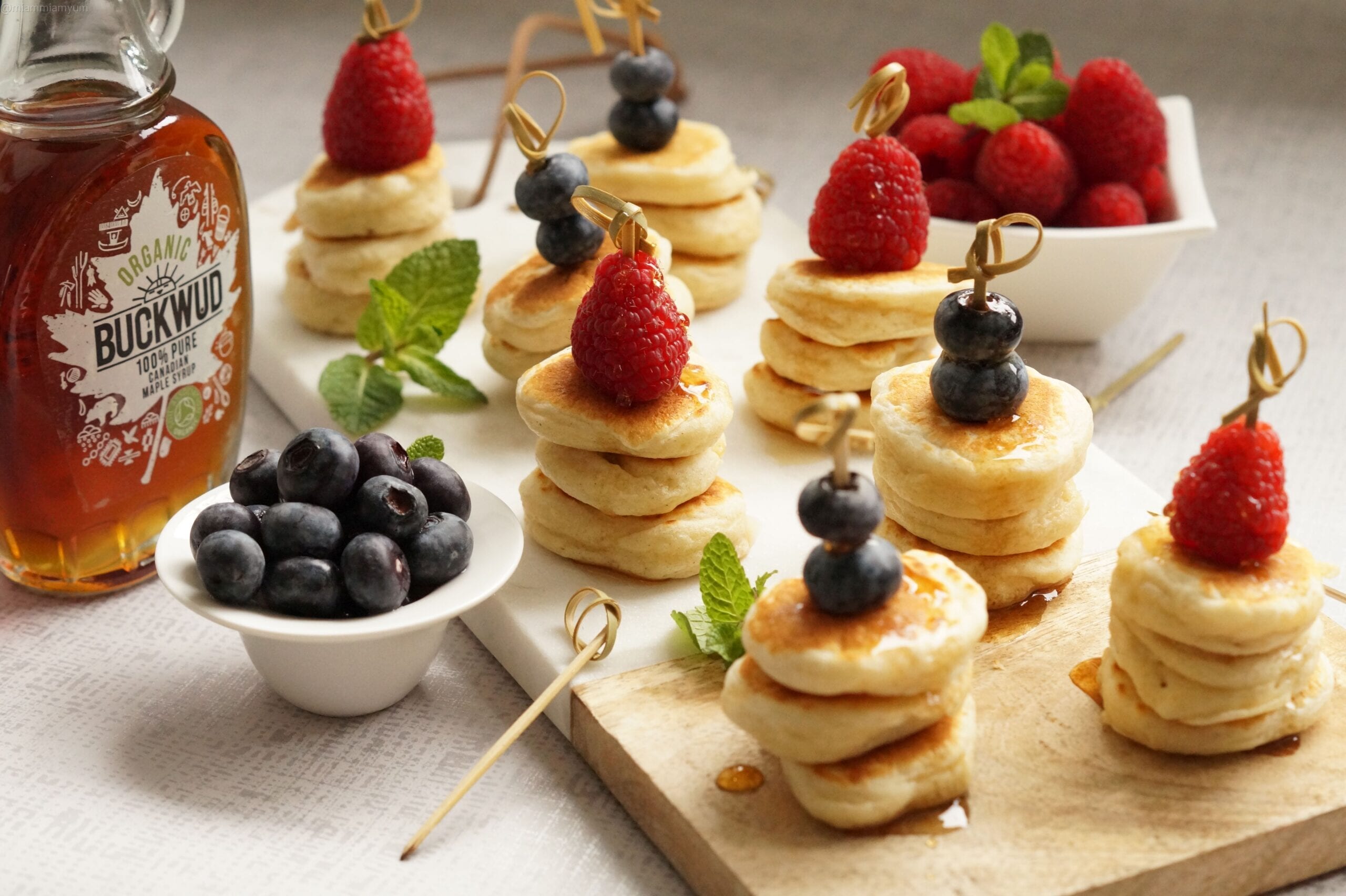 Image source: Miam Miam and Yum
Whip up some mini pancakes and create little towers topped with fresh fruit, like these cute bites from Miam Miam and Yum. You can also thread some tiny flapjacks on skewers with fresh fruit in between for an easy-to-carry party snack. Serve alongside some sweet syrup, honey, jams, confectioner's sugar, and other popular pancake toppings.
7. Meat And Cheese Tray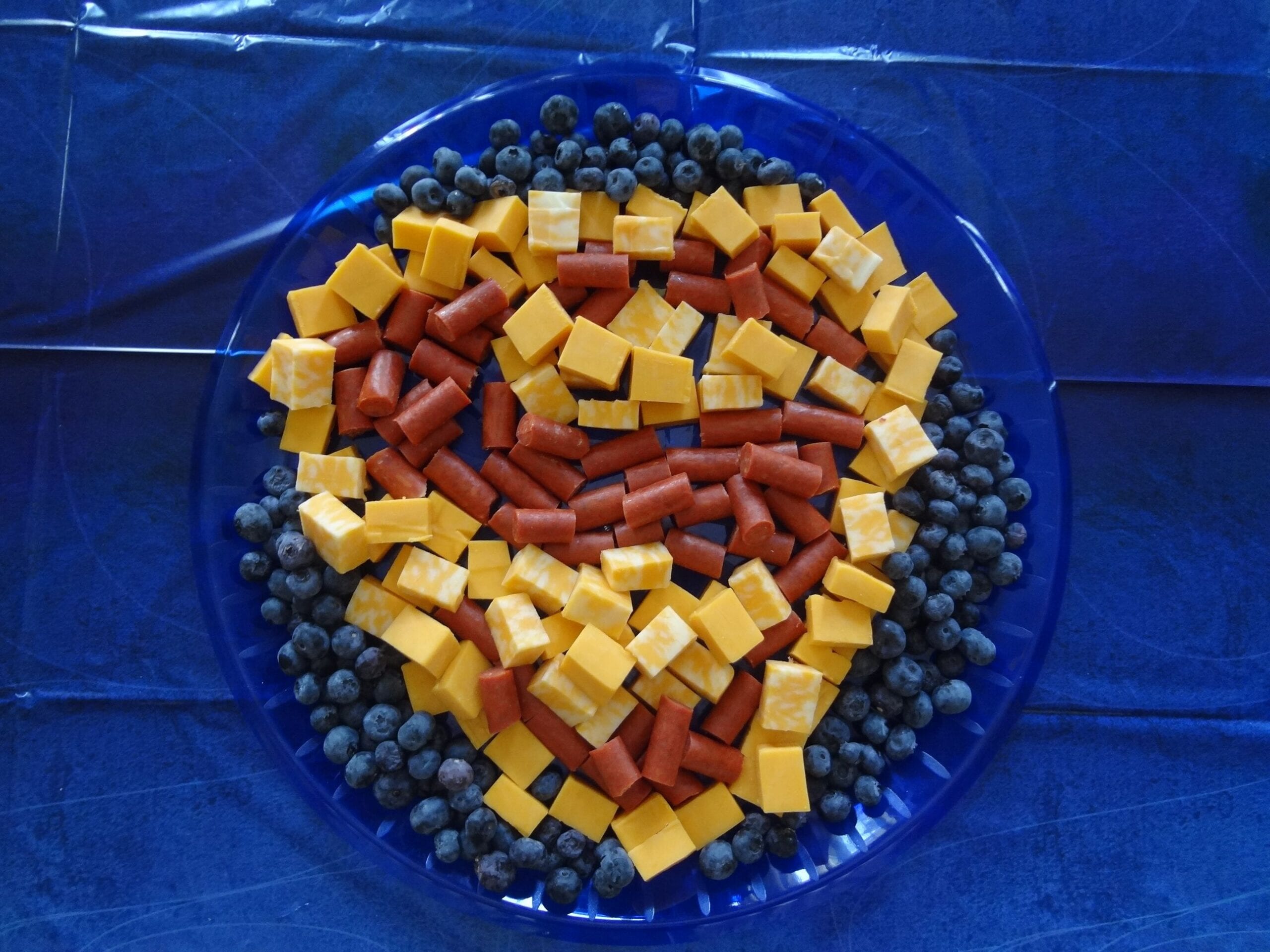 Image source: Rose of Sharon
You've probably come across lots of meat and cheese trays at parties, but the classic platter needs a bit extra for a kid's birthday bash. Rose of Sharon conquers the challenge by featuring a superhero symbol using meat and cheese and some fruit. It's an idea you can use for many themes, simply arranging the individual food pieces to represent a particular picture.
8. Order Pizza
Image source: EdvanKun
It doesn't get much easier than letting someone else do the cooking. When it's time for the party, call up your favorite pizza place and order enough pies for everyone. Don't get too fancy with toppings. Most kids will be perfectly happy with the basics, like pepperoni and plain cheese.
9. Themed Lemonades
Image source: This Worthey Life
Lemonade is a refreshing beverage that many kids and adults enjoy. Serving some at your kid's birthday will surely be a winner, especially if you give it a little twist like This Worthey Life. Find a lemonade recipe that works well with your theme, or simply serve it in themed cups or rename it with a customized label.
10. Customized Capri Suns
Image source: Cartoon Invites
Speaking of customized labels, give your average juice pouches a facelift with some personalized party labels, like these from Cartoon Invites. You can include an image that works with your theme, your child's name and age, and your party colors. Or, design your own to print at home and attach a label to each juice pouch.
5th Birthday Party Favors / Treat Bags
Giving your guests a little something to say thank you when they leave is a nice gesture. Party favors are also fairly common when it comes to kids' parties. You can fill a cup with some sweet treats, create a DIY favor with a personal touch, or buy ready-made goodies and trinkets.
1. Birthday Bots
Image source: Maria Milnik
These cute robot snacks from Maria Milnik make the perfect party favors for guests to enjoy long after the birthday fun ends. These robots would work for science birthdays, space themes, and Star Wars, but you don't have to make just robots. You can mimic the same idea to match various themes, creating snack creations that work with your party.
2. Handmade Games
Image source: Balancing Home
Give your guests something a bit more personal with a DIY game like this Tic-Tac-Toe set from Balancing Home. It's cute, thoughtful, and designed to take on the go, making it the perfect travel game. It's a favor that kids can keep using, and parents will appreciate that it has a purpose.
3. Candy Butterflies
Image source: All Things Simple
Don't want to just toss some candy in a cup or loot bag? (Although, there's nothing wrong with that). Give your party favors a bit more character like All Things Simple, transforming these candy rolls into beautiful, shimmery butterflies. You could also make fairies, angels, dragons, and any other creature that reflects your party theme.
4. Mini Magnetic Drawing Boards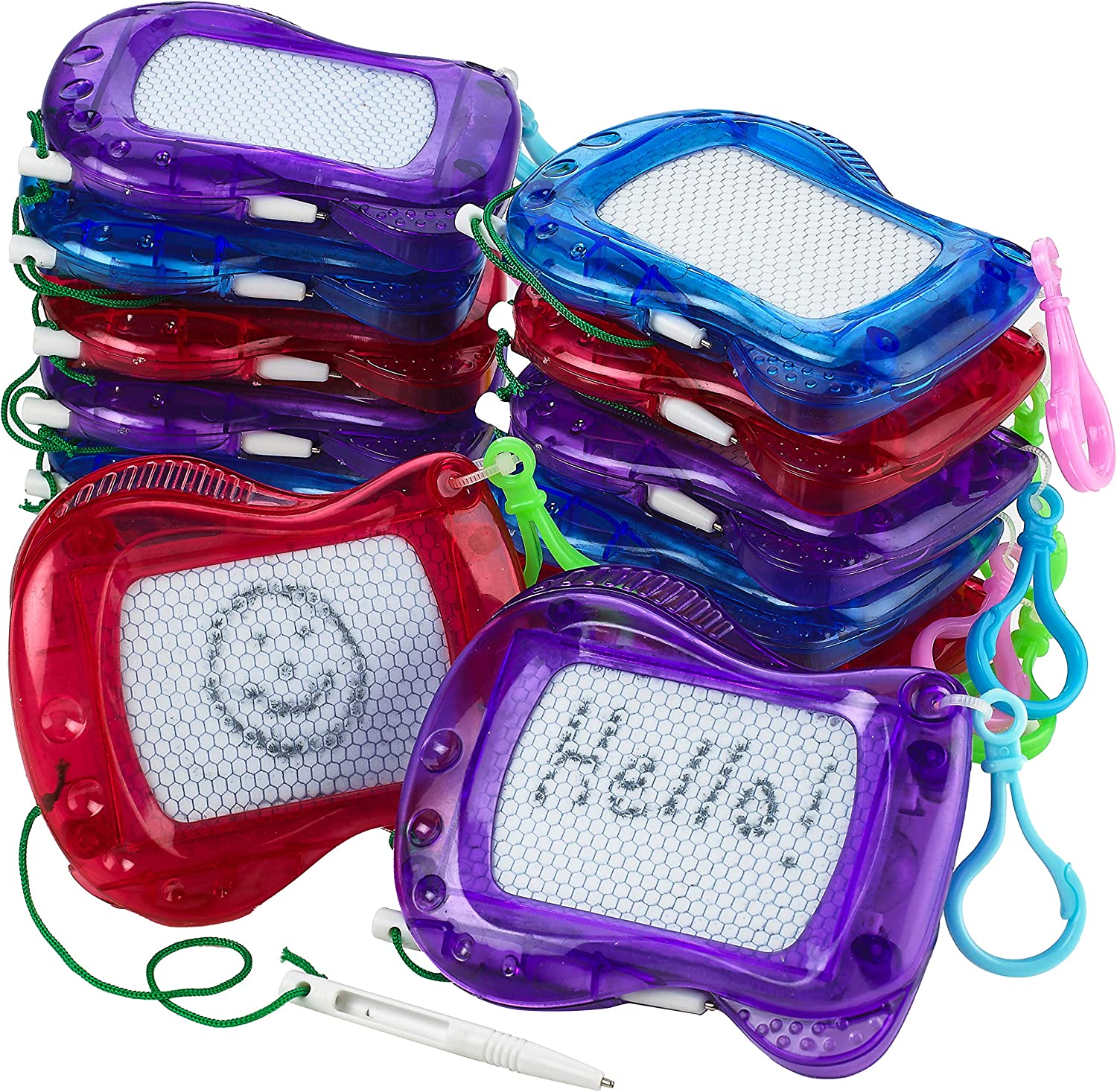 Image source: Amazon
If you're not one for DIY party favors, check out these mini magnetic art boards from Amazon. Kids will love drawing pictures over and over again, and they don't take up a lot of space. They're a great favor option for an art or creation party.
5. S'mores Kits
Image source: Covet by Tricia
Here's a fabulous favor idea for a camping theme or outdoor party. Covet by Tricia provides guests with everything they need to make some ooey gooey s'mores at home. It's a great way to remind your guests later of all the fun they had on your birthday.
6. DIY Sweet Treats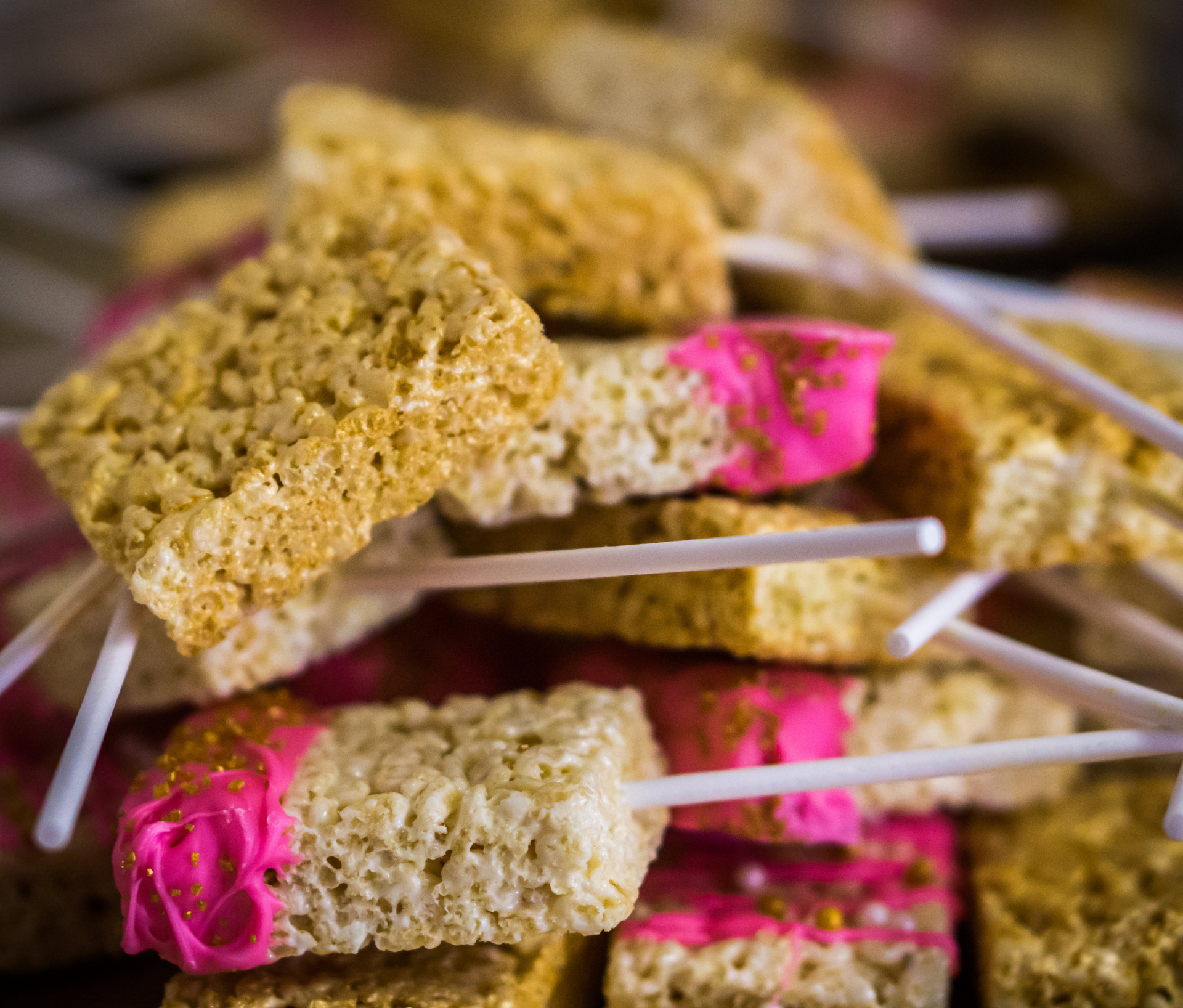 Image source: Michael Hunter
Do you enjoy baking? If so, party favors can become as easy as 1-2-3 just by whipping up some of your favorite dessert treats. You can make rice krispie treats on sticks, cake pops, decorated cookies, or chocolate-covered pretzel sticks. Wrap them up creatively in a container that showcases the theme, and you're all set.
7. Little Squishies
Image source: Amazon
Little squishies are fun to squeeze and smoosh, and they can even be a bit of a stress reliever too. They're also a kid favorite, so giving them out to young guests as a thank you for coming to the party is sure to be a crowd pleaser.
8. Mini Flashlights
Image source: A Thrifter in Disguise
Give your guests something that will help them always be prepared, like A Thrifter in Disguise. Mini flashlights are a practical gift that kids will be thrilled to get. You can hand them out solo or put them in goody bags with other fun surprises.
9. Clever Candy Containers
Image source: Tasha Connors
Mixing up some trinkets and treats in clever containers is a fun favor idea that's easy to pull off. For example, Tasha Connors uses popcorn boxes, which are great for a circus or movie birthday theme. You could also find cups with certain characters or treat boxes shaped like a firetruck, etc.
10. LED Bracelets
Image source: Amazon
Shine some light on your party favor selection with these fun LED bracelets that spin and glow. You can buy them in multi-packs to keep things affordable, and kids will love how they look. They're great for colorful themes, magical parties, superhero themes, and many more.
Birthday Gift Ideas For 5 Year Old Boys & Girls
Finding a unique gift for 5 year olds can be challenging as they get older (and more opinionated)! You don't want to show up to the party empty-handed, so then what do you get? Obviously, you want it to be something that gets them excited and hopefully is parent-approved too. But should you go with board games, action figures, STEM toys, art kits, or something else?
With so many options flooding toy aisles and online retailers, choosing a great gift can become overwhelming. It can become awfully tempting just to give them a gift card and call it a day. But don't do this, unless you have no other choice!
See our top 50 gift ideas for 5 year old boys here. If you're looking for our girls gift list, head on over here!
Kids this age love unwrapping presents, so if you're looking for a cool toy, make sure to check out our gift lists. You can find some pretty awesome ideas that you would have never thought of. Whether you're shopping for a boy or a girl, we got you covered! We have all the bases covered, so head on over to our lists and let us know what you think!