Pokémon made its way from Japan to the USA in the late 1990s and quickly drew a devoted fanbase. People played the game, traded cards, collected cards and items, and continued to do so for years. Today, the world of Pokémon remains strong thanks to updated games, movies, cards, and cartoon series that have introduced it to new generations. Undoubtedly, the most famous Pokémon of all is Pikachu, but if your kid wants to have a Pokémon party, you have lots of options.
When you break it down, there are over 1,000 Pokémon across five generations. Of course, some are more popular and well-known than others, and your child likely has a favorite or two. Still, if you don't have a specific idea in mind, you can't go wrong with Pikachu, his devoted trainer, Ash, and some Poké balls.
If you're planning a Pokémon party, don't sweat it. We've done the research for you to find some of the best ideas for this popular theme. From decorations and supplies to food, cake, and more, you'll find inspiration for every aspect of your party to make it a huge success.
Pokémon Birthday Party Invitation Ideas
We choose you! Send out invitations with this classic Pokémon catchphrase to let guests know you really want them to celebrate with you. Your invitations let people know the basics about your party, like where and when it is. But they also set up your party theme and give your guests an idea of what to expect when they come. A birthday invitation should feature your party's theme and colors and provide a glimpse into your event's overall mood.
If you decide to go with a custom design for your invitations, Etsy is a great place to start. There are thousands of options to pick from in all sorts of styles, like this fun one from AwesomeDesigns2000. Some sellers will even tweak their designs for you if you want a specific color or characters. Other invitations allow you to download them immediately and edit them to your liking. Choose from animated and video options if you plan to send out digital invites. Or simply print your finished product and send it to your guests.
Pokémon Birthday Party Decorations & Supplies
Create a Pokémon paradise in your very own living room or backyard with the perfect decorations for your event. Choose hanging décor, garlands, banners, backdrops, cake toppers, balloons, and tableware that help accentuate and reinforce your theme. You can also DIY decorations if that's more your style. But if time isn't on your side, you can find many affordable options that will make your guests ooh and aah when they enter the room.
A party supply pack like this one is an easy way to lay the foundation for your Pokémon party. It gives you all the basics: plates, napkins, cups, tablecloths, and even a pack of birthday candles. The set is enough to serve 16 guests and features large and small plates. Pikachu takes center stage, surrounded by his pals Squirtle, Charmander, and Bulbasaur. The items feature a bright blue with dark blue trim, and with the various characters, you get lots of other colors to play with too.
If you need a little extra something special for the birthday cake, look no further. These colorful character candles are the perfect finishing touch for your cake. Plus, they can even double as a cake topper if you want to keep things simple. They feature an array of characters, including Pikachu, as well as a Poké ball. The set has four candles, and the central candle says "Happy Birthday."
A large backdrop is a great way to make a major impact in your party scape within moments. You simply hang it up, and then it does the rest. It serves as an excellent background for your main party area or even doubles as a photo booth. The banner is five by three feet and features Ash surrounded by some of his favorite Pokémon, including Pikachu, Jigglypuff, Charmander, and more. Even Meowth from Team Rocket makes an appearance.
Don't forget to include some décor from above, so you can surround guests with the Pokémon vibe. Add some festive flair to the ceiling or under door frames with these swirl decorations that feature a variety of popular characters. The set includes 12 pieces, and each cutout is approximately 5 inches wide. They're made from heavy cardstock and include shades of blue, yellow, and pops of red as the most prominent colors.
Balloons are always lots of fun, and kids love them. They're also an easy way to instantly up your game when it comes to decorations, especially when you use giant foil balloons like these. The six-piece set includes a 31-inch Pikachu, giant Squirtle, Charmander, Bulbasaur, and two 18-inch Poké balls. Tie them to chairs, hang them from ceilings, or put them anywhere you need extra color and pizazz at your party.
Party Favors For A Pokémon Birthday
Tell your guests exactly how much you appreciate them with a special souvenir from the party. Party favors are a great way to say thank you to those who came to celebrate with you. It can be something you make or bake or buy fun items to hand out to guests or create festive grab bags. For a quick and easy favor option, fill treat boxes and loot bags with Pokémon cards, stickers, candy, and other items.
Don't have a lot of time to spend on figuring out a themed party souvenir? These Poké ball inspired treat boxes make it a breeze to give your guests a party favor that matches your theme. You can fill them with candy, homemade goodies, or small trinkets like bracelets, stickers, or toy Pokémon figures. The set includes 24 boxes that you can put together in a few seconds and fill with the goodies of your choice.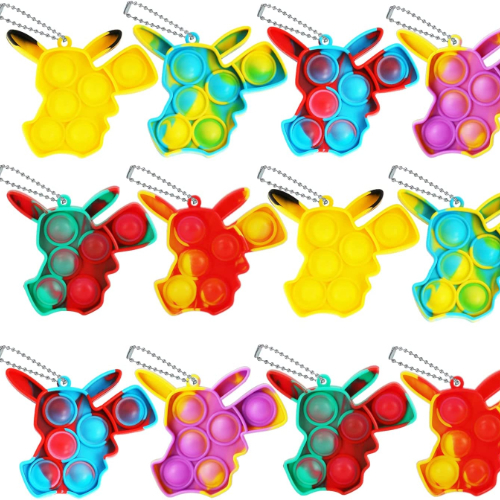 Kids love pop-its of all shapes and sizes. They're irresistible and also useful, helping kids focus, relieve stress, and calm nerves. Even adults find them helpful and pretty fun too. These small pop-it keychains feature Pikachu shapes and vibrant colors. The attached ball chains make it easy for kids to clip them onto backpacks or anywhere else they want to add a dash of personality. The set comes with 12 pieces featuring four different styles.
Add these straws to some Pokémon drinking cups and serve your guests in style, then let them keep the cup and straw. Or you can fill cups with candy or other surprises and top them off with a straw for a super awesome favor. The set includes 25 squiggly straws featuring 10 different designs that showcase popular Pokémon and the Poké ball. They also come in tons of bright colors, making them a shoo-in to add some extra vibrancy to your party.
These favors are sure to look familiar to lots of folks, no matter what your age. People have been collecting PEZ dispensers for decades, so this is truly a case of — gotta catch 'em all! Kids still love these things. You get 12 individually wrapped dispensers, and each comes with its own packs of PEZ candies. Give them out solo, add them to a goody bag, or offer them as prizes. The set features some of the original Pokémon favorites, Squirtle, Bulbasaur, Charmander, and of course, Pikachu.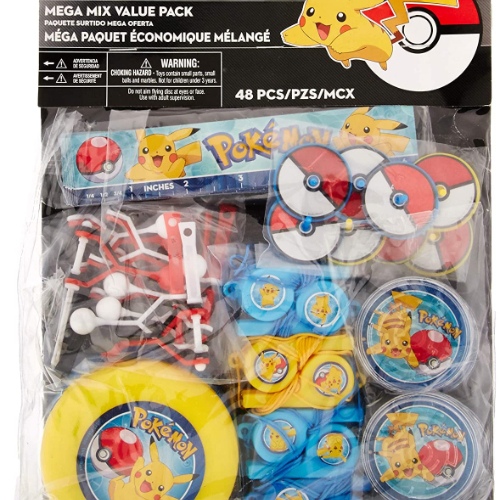 When in doubt, go with the mega party favor pack, filled with all sorts of goodies boasting the Pokémon theme. This set includes 48 classic party favor pieces that you can use to assemble a variety of goody bags for your guests. There are 8 flying discs, 8 mini clackers, 8 tops, 8 maze puzzles, 8 whistles, and 8 rulers. Depending on your guest count, you might want to pick up a couple of packs if you prefer everyone to get the same thing, or your can mix and match and fill in the gaps with candy and stickers.
Frequently Asked Questions (F.A.Q.)
What are some ways to throw a Pokémon party for girls?
There are lots of girls that are just as into Pokémon as boys. Several of the movies and series feature female trainers as main characters. If your daughter is a Pokémon fan, simply ask her what her favorite parts of the franchise are and let that set the tone for your party. It might be Jigglypuff, Misty, or even Ash and Pikachu. It's all about what makes your child happy on their special day.
What colors are best for a Pokémon party?
Some of the most popular colors for a Pokémon party are yellow, red, white, and black. These colors come mainly from Pikachu and the Poké balls. But you can also find other colors like blue and purple, depending on what Pokémon are featured in your décor items. If you can't find something to fit your particular color scheme (say your child has an unusual Pokémon favorite), you can always select solid-colored plates, napkins, and tablecloths to help supplement some other Pokémon decorations or create some DIY décor.
Do Pokémon come to birthday parties?
Depending on where you live, there are some party companies that have a few Pokémon characters, primarily Ash and Pikachu. If you're looking for a different character, it might be more difficult. You can call several months (or more) before your event to ask around. You could also see if any friends or family members are willing to play the part if you can round up the right costume. Professional characters usually mingle with guests, take pictures with kids, and some will perform or assist with certain activities.