Who's the leader of the club that's made for your kid's birthday celebration? Mickey Mouse! Undeniably the most famous mouse in history, Mickey has been a popular character that's resonated with kids and adults over the years. If your kid loves Mickey Mouse, or maybe you're all huge Disney fans, having a party showcasing the main mouse is a great way to celebrate.
It's also versatile since Mickey has grown over the years and launched all sorts of series, like Mickey's Roadster Racers and the Mickey Mouse Clubhouse. This versatility means you can easily pull off a Mickey and race car party, focus on the colorful clubhouse vibe for younger kids, or go old school with classic Mickey.
You'll have lots of fun planning your child's Mickey Mouse birthday once you see all the options. Let this list inspire you to create a fantastic party sure to have everyone saying, "Hot Diggity Dog!"
Mickey Mouse Birthday Party Invitation Ideas
Invitations are a must when planning a party. After all, what's a party without guests? Your birthday invitation should give people all the information they need to attend your party, including a hint at the theme. You can purchase pre-made invites at party supply stores or online and fill in the information by hand. Or, go the easier (and more creative route) and design your invitations yourself. It's easy to do online, or you can check out sites like Etsy to find tons of downloadable designs you can customize to your party.
Etsy features lots of options for birthday invitations when it comes to a popular theme like Mickey Mouse. You can find all sorts of designs, from classic ones like this invite from BeckhamDigital to more modern Mickey styles. Depending on your choice, you can download it upon purchase and edit it to your liking, or some give you the option to have the seller handle all the customizations. You can even find video and animated invitations if you plan to keep things digital.
Mickey Mouse Birthday Party Decorations & Supplies
When guests arrive at a party, you want them to instantly forget their troubles and be transported to a place that makes them feel "fun and fancy-free." Give your party tons of Mickey Mouse flair with themed decorations and party supplies to make your celebration come to life. From balloons to table toppers and everything in between, there are many ways to create a party scape that shows off your love for Mickey Mouse. Hang streamers, use a festive table covering, suspend fringed curtains in doorways, and spread out centerpieces to turn any space into a fun-filled party room.
Every party that's a hit has food, which means you need something to put it on (preferably that works with your party design). Serve your guests in style with this colorful Mickey Mouse tableware that makes it a breeze to carry your party theme into your menu. The set includes the basic dinnerware you need for 20 guests, with 20 paper plates, 20 napkins, and a tablecloth adorned with smiling Mickeys. The colors are red, black, and yellow, reflecting Mickey's classic outfit.
Guests can make a grand entrance when you use this Mickey Mouse fringed foil curtain across your main entry. It also works well as a backdrop for your cake table or main focal point, or use it as a photo background and set up a Mickey-inspired photo booth. The pack comes with two separate curtains, hang one in a regular doorway or hang them side-by-side to cover a larger opening or create an impressive background display. Each curtain measures 3.3 feet wide and 6.6 feet long.
Decorating for your kid's birthday party has never been easier when you use an all-in-one party pack like this one. It gives you all the basics and more in one convenient place to make decorating a no-brainer. The set features a happy birthday banner, a Mickey Mouse backdrop, a welcome hanger for the entry door, three Mickey head balloons, a tablecloth, a cake topper, and 24 cupcake toppers. You also get 15 red, yellow, and black tassels, 100 latex balloons, and a Mickey headband for the birthday star.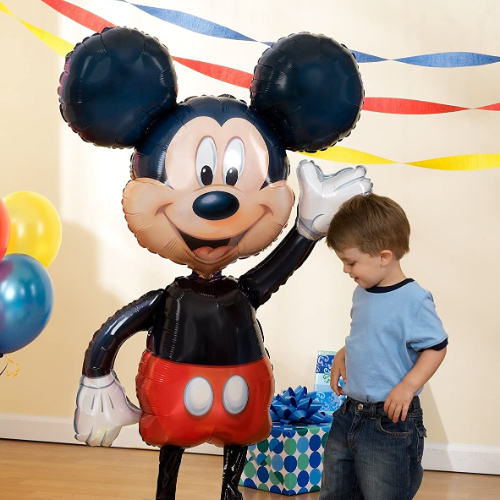 This Mickey balloon air walker might be taller than the birthday kid! It's 52 inches tall, and you need to inflate it with helium upon its arrival. Your birthday guest of honor will love taking photos with their Mickey balloon pal. Position the balloon near the entry to greet guests, let it move around during the party, then have Mickey wave goodbye to guests as they leave. Your child will likely want to keep Mickey around for as long as they can after the festivities are over.
If you're looking for a few extra finishing touches to round out your birthday party décor, check out this pack of red, black, and yellow supplies. It has 30 latex balloons, a double-hung birthday banner, nine large pom poms, and 10 hanging swirl decorations. Place balloons on tables, in doorways, and more. The swirls look great hanging from archways, the ceiling, or even outside in the trees. String up the banner above the entryway or behind the birthday cake, and hang the pom poms anywhere you want an extra dash of color and fun.
Party Favors For A Mickey Mouse Birthday
Don't send guests away empty-handed. It's customary to give your party guests a little something to remember the event and tell them thank you. It can be a homemade treat, fun trinkets, or even a personalized DIY gift. In a pinch, loot bags or treat boxes featuring Mickey Mouse work great. Fill them with candy and other surprises, and you get an easy way to match your favors to your theme. If you're not sure what to do for your Mickey Mouse favors, check out these ideas to get things started.
If you want to go with the idea of lots of goodies in a loot bag, pick up a mega party favor pack with tons of Mickey flair. It features 72 pieces, including Mickey and Minnie ears, slap bracelets, silicone bands, bubbles, keychains, and themed bags to hold everything. Kids will love opening their bags to find all the surprises inside. The items match the classic red, black, and yellow color scheme and make assembling your party favors a breeze.
Cups that match your party theme are another useful and fun favor idea. You can even use them to serve beverages at the party and simply let guests take home their cups. These Mickey tumblers come with straws and lids, making them a perfect fit for kids on the go. Each cup is 16 ounces, and the set comes with 6 cups. Hand them out as-is, or fill them with candy and other treasures.
Place a fun straw in your Mickey cups or add them to a favor bag or pass them out solo. The squiggly shape is quirky and fun, and each straw is topped with a classic Mickey symbol, including Mickey ears, shorts, shoes, and gloves. Reusable straws are fun for kids, good for the environment, and make easy party favors for your guests. The pack comes with 24 straws featuring four different designs and colors.
Party favors that give kids something to occupy their time are a hit with children and parents. These Mickey grab-and-go play packs are a great way to keep the fun going when the party's over. You get 24 individual packs, each including a mini coloring book, crayons, and stickers, all showcasing Mickey in bright, vivid colors. You can also use these play packs as a side activity at the party if you want to set up a mini art station.
Whether stamping hands to say "good job" or decorating loot bags, self-inking stamps have all kinds of fun uses. They also make great additions to a party favor bag or piñata fillers. Incorporate them into a larger party favor surprise or make goody bags with two or three stamps for your guests. The pack has ten stamps featuring five designs, including Goofy, Minnie, and Mickey in bright blue, pink, purple, and green.
Frequently Asked Questions (F.A.Q.)
Can you hire Mickey Mouse to come to a birthday party?
Yes and no. There are tons of party entertainment companies out there that offer all sorts of popular characters. You can have superheroes, princesses, and more to delight your kids' birthday guests. But because of copyright rules, you won't find Mickey Mouse any more than you would find Captain America or Elsa. But you will find Mouse Friend, Snow Queen, and similar names. So, yes, you can have a character bearing a very strong resemblance to Mickey come to the party; they just won't tell you they're Mickey Mouse.
What are the best ages for a Mickey Mouse birthday?
Young kids (think 0 to 5) would enjoy having a Mickey Mouse birthday. Older kids might also choose a Mickey party, but you would likely decorate differently. For example, if your 6-year-old asked for a Mickey theme, it would look entirely different from a two-year-old's party. Consider the age range of guests coming to the event and adjust your party décor and activities to accommodate those ages. If your child's older, let them participate in planning and choosing the party decorations and other aspects.
What colors work best for a Mickey Mouse birthday party?
The most popular colors for a Mickey birthday are the classic red, black, and yellow, reflecting Mickey's iconic outfit. You'll find tons of items featuring this color scheme when shopping for party supplies and decorations. But you'll also find some blue Mickey décor (especially in baby shower aisles) if you want to do something a little different. If going with something like Mickey Roadster Racers, the colors multiply, or you can give things a more vintage vibe and go with a monochromatic, black, white, and gray color scheme.