Pretty much every little girl dreams about being a princess, but what makes a princess is different for everyone. Some kids are all about the pomp and circumstance, frilly dresses, and explosions of pink glitter. But for others, it's about magic, mystery, and quirky animal sidekicks. Your daughter might be obsessed with heroic princesses that fight and save kingdoms.
You can create a perfect princess birthday party, no matter what kind of princess your kid is into. Whether the theme revolves around a specific princess, like Cinderella or Belle, or just an overall royal theme, you have endless possibilities. Create a regal atmosphere that lets everyone celebrate in style, and remember; it's all about the birthday kid taking the throne for a day.
So let your child lead the way with color choices, character selections, and the overall party vibe. If you take your cues from their imagination, you know you'll choose the correct princess path. After consulting with the guest of honor, check out this list of princess birthday party ideas for even more inspiration.
Princess Birthday Party Invitation Ideas
Once you know what type of princess party you're planning, pick out your colors, and have all the details, you can prep your invitations. Since princess themes are relatively popular, you can likely find some ready-made options at a party supply store. But most people prefer something a bit more unique for their invites, opting for more customized designs. If you're strictly sending digital invites, animated and video styles are also available.
With today's technology, it's pretty easy to design your own invitations using various software and online tools. But plenty of choices are out there if you don't have the time or the know-how to do it yourself.
One of the most comprehensive places to find beautiful and unique party invitations is Etsy. It's filled with downloadable birthday invitations that you can customize with your own party details. Run a quick search for your princess theme, and thousands of ideas will pop up, like this pretty pink one from Chicfetti. Not sure about your editing skills? Look for sellers willing to do the customization for you. Once it's ready to go, they'll send you the final version, and you can download or print it to your heart's desire.
Princess Birthday Party Decorations & Supplies
Will you make your party room look like a castle, throne room, elegant ballroom, or an under-the-sea setting fit for a mermaid princess? When it comes to decorating for a princess birthday, you can make it sparkly and sophisticated or funky and fun. Make sure to get enough supplies for all of your guests. You'll need basics like plates, napkins, cups, and utensils, and other popular items are table covers, backdrops, balloons, and banners.
A party pack is a great way to cover all your bases for a birthday party. They typically feature all the essentials and give you a good foundation to build from for the rest of your party décor. This set features a pretty pink and gold color scheme with flowers and a sparkling castle silhouette. It includes a whopping 194 pieces, consisting of 24 large and small plates, 24 cups, 24 napkins, and 24 each of knives, forks, and spoons. There's also a festive birthday banner and tablecloth.
Bring on the balloons and your favorite princesses with this set of 8 foil balloons featuring some of the most beloved royal ladies. The bright, vivid colors add vibrancy to your party décor, with bright pinks, greens, purples, blues, and more. The balloons feature Belle, Cinderella, Snow White, Rapunzel, Ariel, Tiana, Aurora, and Jasmine. As a bonus, you could also let guests take one home as a party favor. If you do, make sure to get enough sets, so everyone gets a balloon.
Cupcakes are a popular addition to most birthday party menus, whether as an extra dessert or as the main cake centerpiece. If you plan to serve cupcakes to your guests, give them an easy princess makeover with these fun toppers. You get 48 pieces featuring 4 sets of 12 different images, including Mulan, Elsa, Moana, Merida, Belle and Beast dancing, and more. Simply bake or buy the cupcakes of your choice, stick the toppers on them, and you're all set.
Hanging decorations are a great way to pull people into a room visually and keep their eyes moving around the space. It surrounds your guests with your party theme and adds to the magic. These swirly crowns, jewels, mirrors, castles, and dresses feature various shades of pink and gold and add some sparkle and pizazz to your party room. The set includes 30 pieces, easy to hang from the ceiling, doorways, light fixtures, tree branches, or anywhere else you want to add extra flair.
This tassel garland, pennant banner, and happy birthday banner in rose gold, white, and various pinks are an excellent addition to a princess party scheme. If you don't want castles, characters, and cartoon images plastered everywhere, these items can offer a more subdued backdrop for other pieces. The tassel banner only requires simple assembly, and everything else comes ready to hang. The banners are between 8 and 10 feet long, perfect for creating an impressive backdrop.
Princess Birthday Party Activities & Games
Don't forget to plan some entertainment for your kid's birthday party. You don't want to find yourself with a house full of kids and nothing for them to do. Organize a few games or plan to do a couple of crafts or maybe a fun art project. Make sure to have enough activities to cover the times the kids aren't eating. It's always good to keep kids engaged because then they stay out of trouble.
1. Design A Magic Mirror
Image source: RICHNESS
Mirror, mirror, on the wall, who's the best birthday kid of all? Lots of princess stories feature a mirror. It's how the evil Queen keeps tabs on Snow White and how Belle can see anything she wishes from the Beast's castle. Not to mention when you're getting dolled up like a princess, you need a way to check your hair and make-up. This fun design-a-mirror activity provides a great craft that fits your party theme, plus gives guests a favor to take home.
2. Find Cinderella's Lost Glass Slipper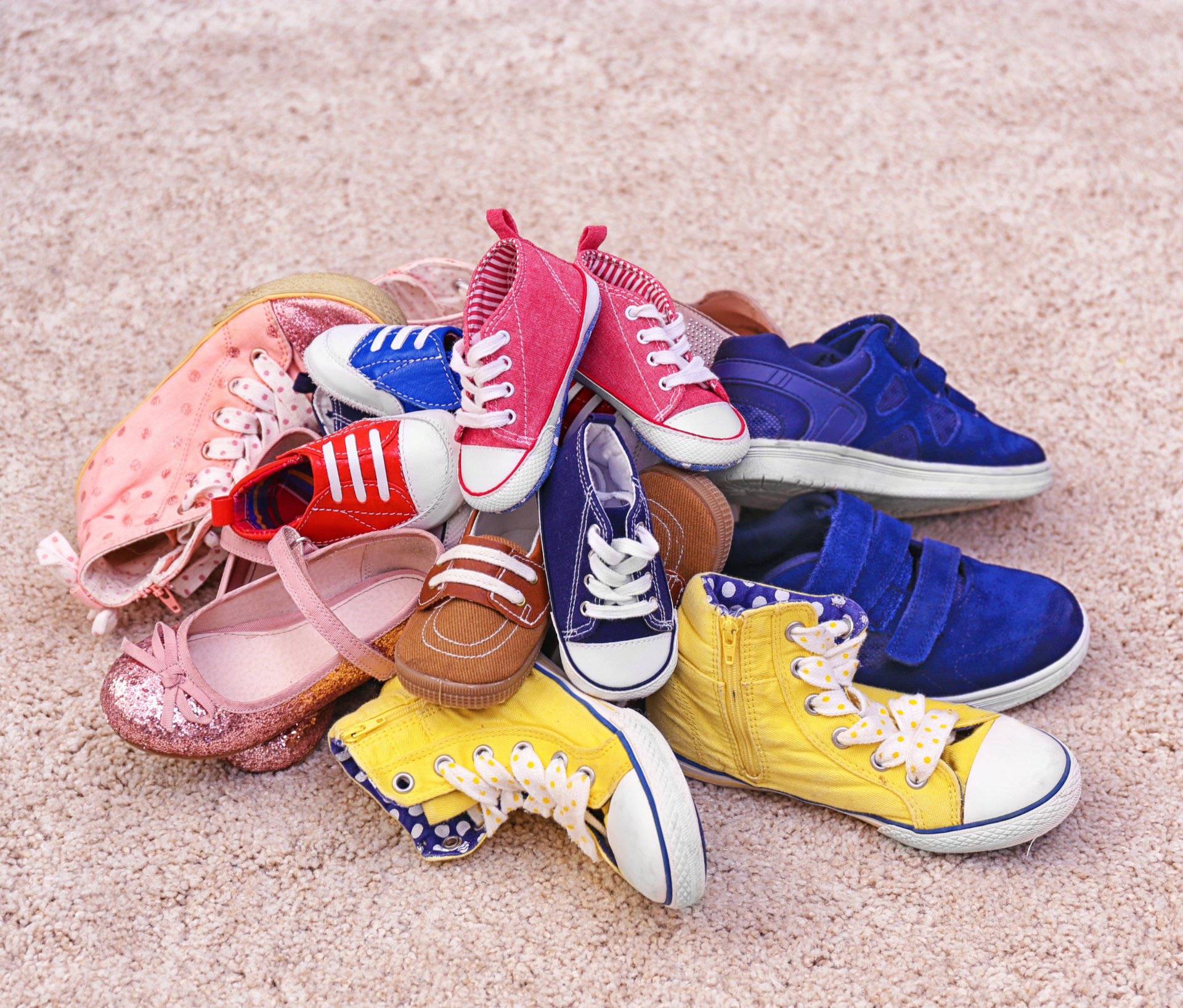 Image source: pixelshot
Play a round of Shoe Scramble to represent the frantic search for Cinderella's glass slipper. You can play this in several ways. Kids can put all their shoes in a single pile, then scurry to find their matching pair and put them on first to win a prize. Another option is to have a shoe relay. Divide the guests into teams and send one person from each team to the pile. The next team member doesn't get to go until the first person gets their shoes back on their feet.
3. Kiss The Frog Game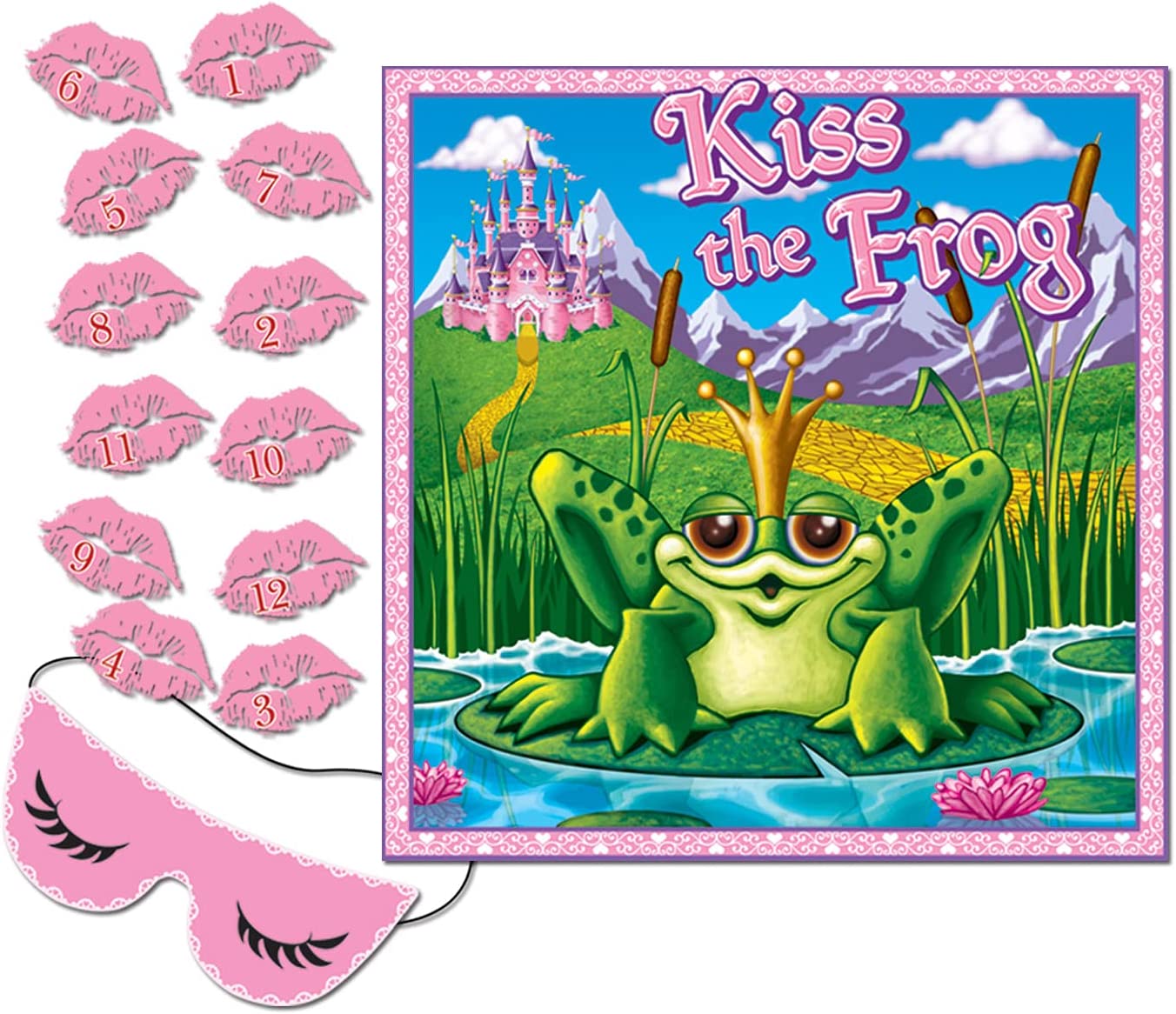 Image source: Beistle
Instead of pinning the tail on a donkey, it's time to Kiss the Frog. Maybe you'll end up with a prince. This game features fake lips for kids to place on the frog. Some people create a DIY version where kids put on lipstick and literally kiss the frog, but that's a recipe for a germ disaster. Other versions of this game that work for a princess party are pin the jewel on the crown, put the glass slipper on Cinderella, or hand the enchanted rose to Belle.
4. Make Dreamcatchers
Image source: Art Bar
Here's an activity from Art Bar that you can easily work into a princess theme while adding a little something unique to your party. When you think of princesses and fairy tales, a common storyline is dreams coming true and following your heart's desire. So making dreamcatchers makes perfect sense. It's an engaging activity that invites kids to use their imaginations, get crafty, and make something amazing. And art projects are always a win because kids get an instant party souvenir.
5. Princess Piñata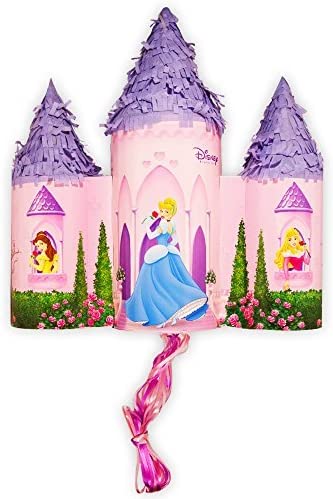 Image source: Hallmark
A piñata is a classic party game, and it's so easy to match it to your party theme. You can find them in all sorts of shapes and sizes, like this festive castle piñata. It measures 6 x 17 x 18 inches and can hold up to three pounds of candy and trinkets. The pull-string version is simple for younger kids to use and a great choice if you end up having to do the activity indoors. Make sure to have some loot bags ready so kids can bring home their goodies.
Party Favors For A Princess Birthday
Before you bid your guests farewell, give them a little something special as a thank you for coming. Party favors are a traditional way to show your guests you appreciate them celebrating with you. Baked goods are popular options, including shaped cookies to match your theme, treat boxes filled with sweets, unique cupcakes, and more. Other options are small toys or craft sets or things like character cups filled with candy or costume accessories to fuel imaginative play. Not sure what to do for your princess party favors? Check out these ideas to spark your creativity.
Instead of waiting until the end of the party to give out your favors, hand out these princess masks at the beginning. Kids will love being able to become their favorite princesses and wear masks while they celebrate. Not to mention it creates some great photo opportunities. The set comes with 12 different designs, each representing a different character. They feature a comfortable felt material and adjustable black elastic straps, so kids can get the perfect fit.
Drinking straws are a popular party favor, whether you include them with a cup of goodies, in a loot bag, or just hand them out solo. Parents always appreciate a favor their kids can use, and kids will love the squiggly and colorful designs. The set includes 24 straws featuring a variety of popular princesses, and the bright colors liven up your party display. Each straw is 10.5 inches long.
Costume accessories are also popular party favors that kids love to get. They can lead to lots of fun photos if you hand them out before the party starts. And if you add in a few more costume pieces, it turns into a dress-up activity. This set features five tiara and tutu sets in vibrant, sparkling colors. Colors include purple, teal, yellow, light pink, and hot pink. The tutus are one size fits all but are best for ages three to eight.
Party planning can be hectic and overwhelming sometimes, especially when you're in a time crunch. If you simply don't have the time or creative energy to come up with some unique favor, don't panic. Themed loot bags make it a breeze to match anything you want to your princess party theme. This pack of 30 bags makes it simple for you to give your guests candy, stickers, and anything else you want to toss inside of them.
This 12-pack of Imagine Ink Princess Coloring Books comes with bonus tattoos for the birthday kid. Each book has 6 coloring pages and a mini magic ink marker. Kids will love seeing what appears on the page as they color and reveal princess favorites like Ariel, Belle, and Cinderella. And parents will appreciate the fact that these coloring books are mess-free. They're perfect when kids want to color on the couch or in the car.
Frequently Asked Questions (F.A.Q.)
What if boys don't want to come to a princess birthday party?
Okay, so it's understandable that some boys, especially older ones, might cringe at the thought of a princess party. But if your daughter wants to invite her class or has male friends, she'll want them to celebrate with her. You can turn the princess party into a pirates and princesses party or go with a royal celebration instead of calling it "princess." Plan activities that appeal to everyone and hand out gender-neutral favors, or offer an assortment, like swords, wands, and scepters, and let kids pick what they want.
My daughter doesn't like pink. What other colors work for a Princess birthday party?
Pink might be the most popular color for a princess party, but it's not the only one. If your kid isn't a fan of pink, ask her what her favorite color is and go with that. You can pretty much find a princess to go with any other color or use the color alongside sparkling silver and gold to create a regal feel. Some other popular royal party colors are yellow, blue, and red (usually seen with a Beauty and the Beast theme), royal blue and silver, gold and white, and purple, silver, and gold.
What do princesses do at birthday parties?
If your daughter is begging you for a princess to come to her party, you can find tons of companies that offer the service. Asking friends and family for recommendations is also an excellent way to find a reputable option. Some party princesses will offer several packages you can choose from that include various activities. For example, princesses might sing, tell stories, mingle with guests, lead games or crafts, or face paint.