The hit film Frozen sparked a mega fan base that inevitably led to tons of little girls dreaming of Elsa and Anna coming to their birthday parties. But if inviting the ice queen and her sister to your kid's party isn't in the cards (or the budget), you can still throw an incredible Frozen birthday. Whether your child's turning one, five, or even older, you can put different spins on this ice theme that make it suitable for many ages.
You can go with decorations that feature popular characters from the film, keeping things toddler friendly. Or go for a more sophisticated vibe with an elegant blue and silver color scheme and sparkling snowflakes. For a humorous twist, you might decide to center the celebration around everyone's favorite snowman, Olaf.
And characters like Olaf, Sven, Kristoff, and the trolls are great ways to tailor the theme for a young boy's birthday. A Frozen birthday provides versatility when it comes to how you want to plan it, making it a viable option for many personalities. These ideas will inspire you to design the Frozen party that's just right for you.
Frozen Birthday Party Invitation Ideas
Nowadays, lots of people send digital invites to party guests, making it easy to spread the word and reach your family and friends. You can invite people through email, creating a Facebook event, texting, and other means. Of course, classic printed invitations are also still very much in style. But you won't find too many store-bought options anymore because most folks design, download, and print invitations on their computers.
If you don't have the time or creative bandwidth to design your invites, plenty of people will do it for you. Many artists have online businesses creating various downloadable items you can customize for your needs.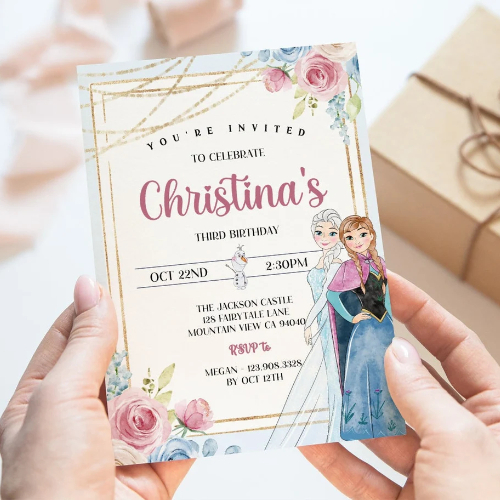 Etsy is a digital mecca of party invitations, featuring pretty much any theme you can imagine. Frozen birthday invitations are no exception, with thousands of results like this beauty from PrettyLittleInvite. You can choose from character invites, more subtle designs featuring snowflakes, or wintry images with a few Frozen touches. Some items are ready for instant download, and you can customize them to your liking and print them if desired. Other sellers will handle the customization for you and send it once you approve the finished product.
Frozen Birthday Party Decorations & Supplies
Decorating for a party is one of the best parts because you can create any world and vibe you want. For a Frozen birthday party, highlight your child's favorite character or feature them all. Character cutouts, backdrops, and balloons are great ways to incorporate various film favorites.
Or you can create a winter wonderland and use icicles, glistening snow, igloos, and similar items. Hang snowflakes from the ceiling, use fairy lights to add magical twinkling snow flurries, and mix in lots of sparkle for that Frozen touch.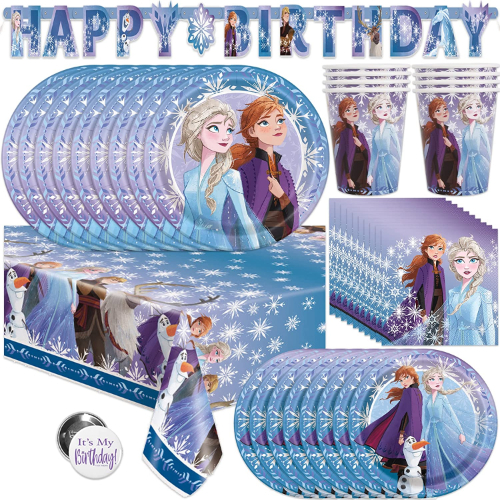 This party decoration set provides an incredible jumping-off point for your Frozen birthday party. It's a great way to get all the basics in one place. The kit highlights Elsa, Anna, and Olaf and includes supplies to cover 16 guests. You'll get one leakproof table cover, 16 9-inch plates, 16 7-inch plates, 16 napkins, 16 paper cups, a birthday banner, and an "It's My Birthday!" pin. Blues, purples, and whites are the primary colors in the set, providing a colorful display.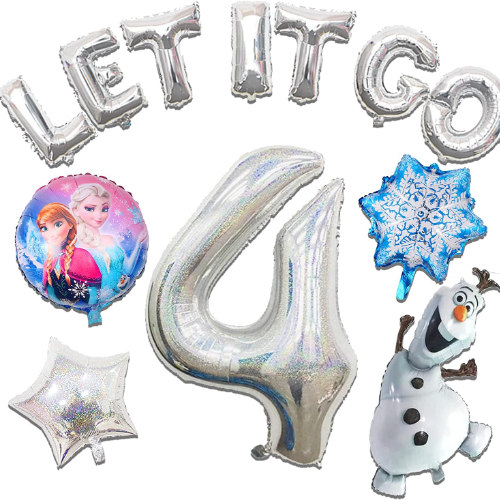 Balloons are a great way to add some fun flair to your party decorations. This set of 12 foil balloons helps paint the perfect picture for your child's birthday, with snowflakes, popular characters, and the birthday star's age. Letters spell out "Let It Go," and shiny blues and silvers make a big impact. You can choose from ages 3, 4, 5, 6, 7, or 8. The large Olaf balloon is super fun, and Anna and Elsa also make an appearance.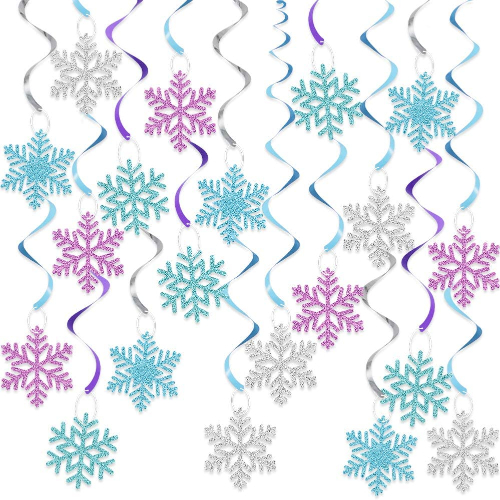 Create a winter wonderland with sparkling hanging snowflakes throughout your party space. The blue-green, purple, and white flakes create a vivid display and glimmer in the light. There are 20 pieces in the set, and different snowflake designs add even more visual interest. Hang them from the ceiling, above your cake table, in doorways, and more to create a dazzling effect. The durable material also makes these decorations easy to reuse. Keep them for a future holiday, New Year's party, or a friend's upcoming Frozen-themed birthday.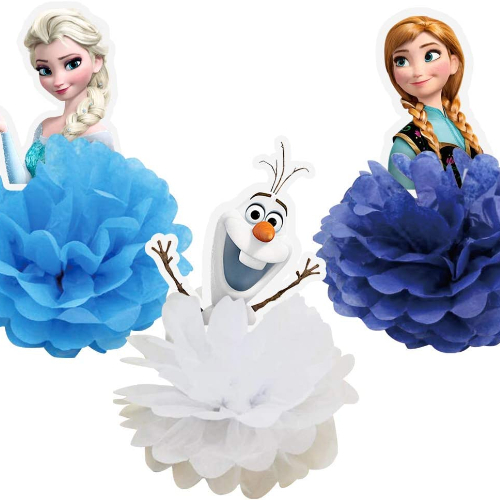 Add some Frozen flair to your party tables with easy-to-use honeycomb decorations. These classic table centerpieces feature Anna, Elsa, and Olaf in purple, white, and blue colors. You get one of each character, so three total in one set. Use them to add color and incorporate your theme on food tables and the cake table. Add them to your entryway to help set the stage as soon as guests walk in the front door. Each decoration measures about 4.7 by 7.9 inches, and you can set them up in a matter of minutes.
When you choose a theme that involves a popular film and characters, sometimes it's nice to mix and match your décor. In other words, instead of everything being obviously Frozen-related, use more versatile items as your main setting. This 30-piece set of pom-poms, banners, garlands, and more are ideal for a Frozen birthday party. The light blue, teal, purple, and silver colors are spot-on and offer just the right amount of sparkle. You can then layer in various characters or images from the film to achieve just the right amount of Frozen features.
Food & Drink Ideas For A Frozen Birthday Party
There always needs to be something to eat and drink at a party. You can have lots of fun coming up with food and drink ideas for a Frozen birthday. Even simple pretzel sticks can get a revamp and become Olaf's arms, or you can serve melting snowmen (vanilla ice cream). Here are some delicious treats that go perfectly with a Frozen theme, and they're sure to be a hit with kids and adults.
1. Icy Blue Trifles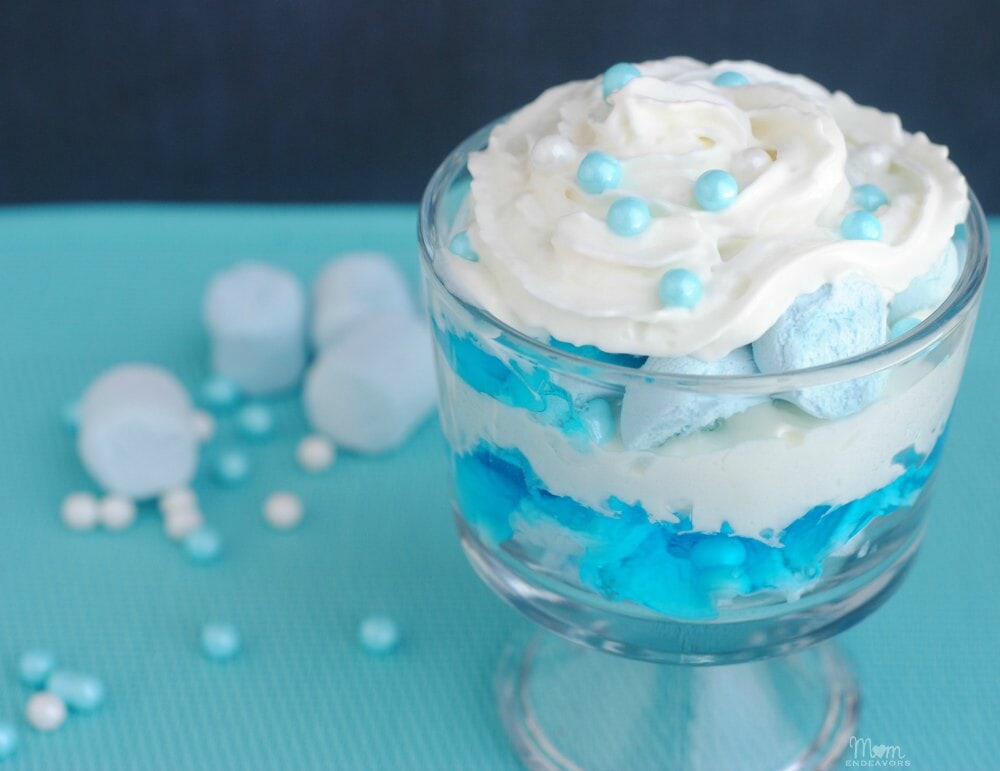 Image source: Mom Endeavors
These kid-friendly trifles provide an elegant look to your food table. Mom Endeavors lays out how to make the simple dessert with whipped cream, blue gelatin, marshmallows, and some simple candies. The individual servings make them easy to serve as a fun party snack or dessert. They're also a chilled, cool treat, which is the perfect vibe for a Frozen party. Have plastic spoons at the ready, so kids can dig in without the wait.
2. Elsa's Party Punch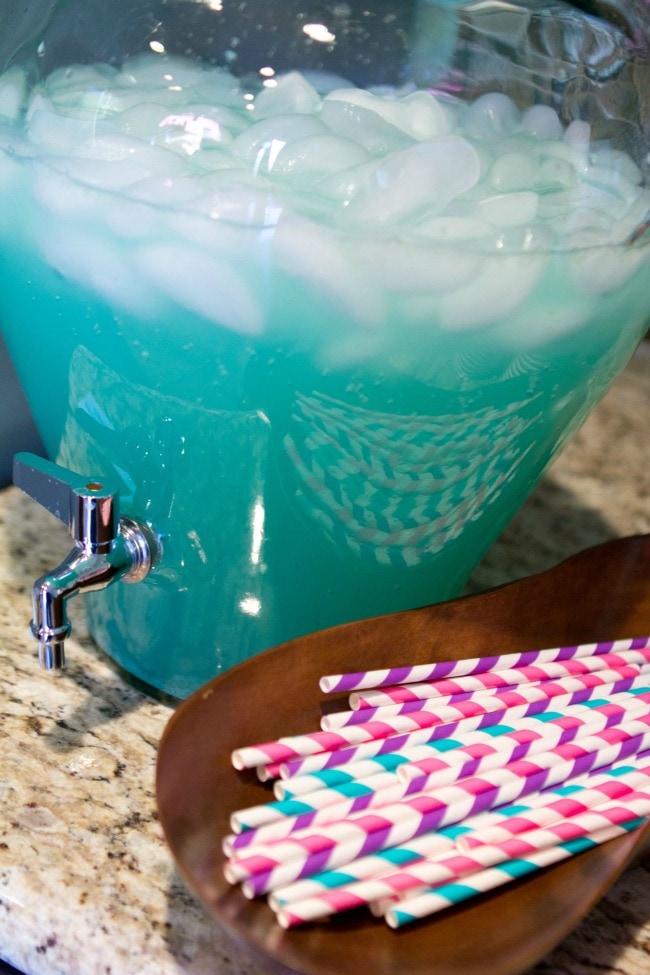 Image source: A Night Owl Blog
You can whip up this refreshing beverage from A Night Owl Blog within five minutes with just a handful of ingredients. Serve it from a large drink dispenser or regular pitcher and pour it into Frozen themed cups. Other fun beverage ideas are ice cream floats or milkshakes with whipped cream topping to look like snow and blue and silver sprinkles to add the iconic sparkle. In a pinch? Blue Gatorade or Powerade can give a similar look.
3. Olaf Floating In Jello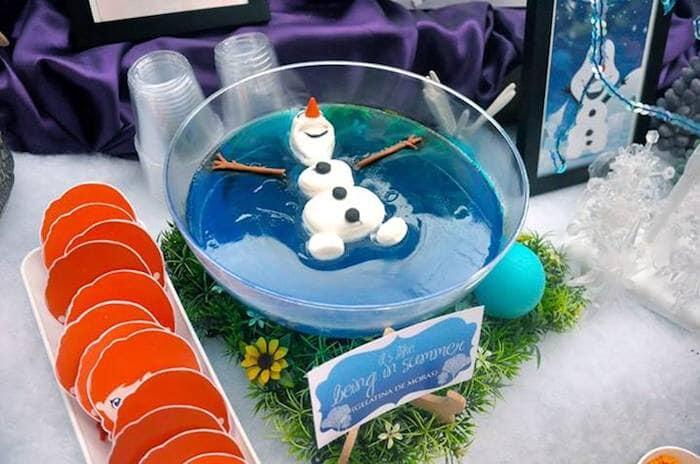 Image source: Kara's Party Ideas
This idea from Kara's Party Ideas adds a comical spin to your Frozen themed party food. It's everyone's favorite snowman, enjoying some relaxing time in a pool…of Jello. It's just like when the friendly snowman dreams of basking in the sun, relishing in the joys of summer. You could also serve individual cups of blue Jello with a few mini marshmallows and call them Olaf's Puddles. Or vanilla ice cream with a few strategically placed toppings can be a melted snowman.
4. Frozen Ombre Rice Krispy Treats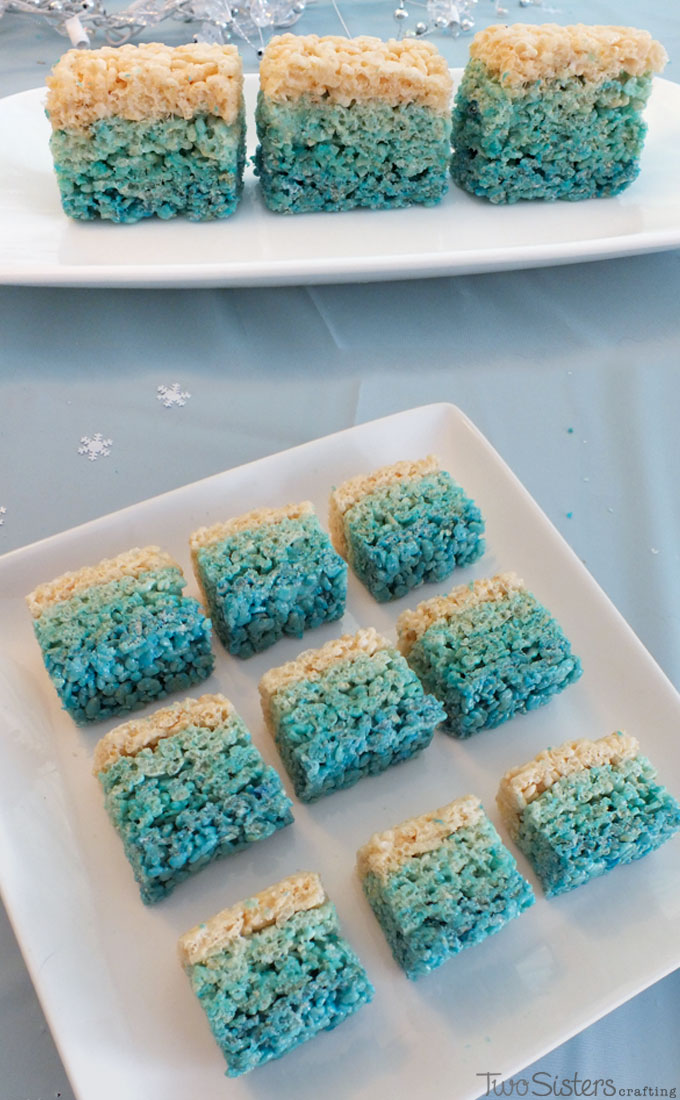 Image source: Two Sisters
Rice Krispy treats are a popular staple when it comes to sweet treats at kid parties. Even many adults find them irresistible, with their buttery goodness and ooey-gooey marshmallow yumminess. And let's face it, they're super easy to make. Even these ombre style ones from Two Sisters keep it simple but add that little something extra with the colorful layers. The colors instantly make these classic treats into a Frozen themed party food.
5. Sven's Snacks Or Olaf's Noses
Image source: Juanmonino
If you like to have some healthy options on your party menu, veggies and fruits are a win. Serve up some carrot and celery sticks with some dip and call it "Sven's Snacks." Or get individual bags of baby carrots and label them "Olaf's Noses." If you have a fruit tray, get a marshmallow dip and call it "Snow." Taking a simple food item and giving it a creative name is an easy way to turn pretty much any food into one that fits your theme.
Party Favors For A Frozen Birthday
People love getting to take home a little something special from a birthday celebration. Sometimes it's a sweet treat or maybe a bag of goodies, stickers, or snazzy costume accessories. You can buy party favors to keep things easy or make your own if you're feeling creative. Or combine your favor with one of your activities and let guests make their own, like painting a picture or making jewelry. Check out these fun Frozen-themed favors if you want to send your party guests home with the perfect souvenir.
This set of 15 art packs include coloring books, crayons, and stickers with a Frozen theme. Kids will love getting this special surprise when it's time to say goodbye. It's perfect as is, or you can mix them with other assorted goodies into loot bags. The set features three different books, so you'll have some variety to offer. Each individual play pack has four crayons, a coloring book, and 25 stickers.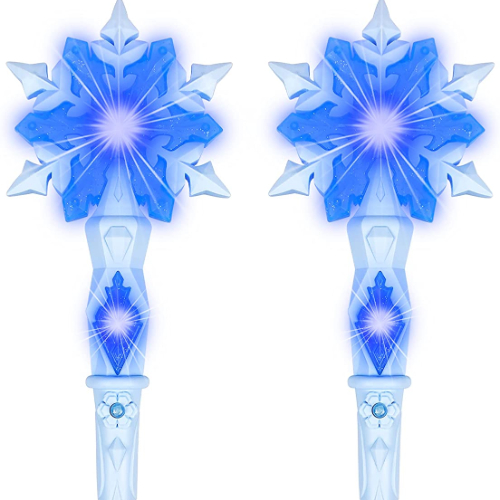 These light-up wands feature motion-activated sounds that make them great for dress-up and imaginative play. The snowflake design makes them ideal for a Frozen party and provides a magical favor that will excite your young partygoers. True, they are on the pricier side when it comes to party favors since you only get two to a set. But if you're going all out or only plan to have a few guests, these mementos can be a real wow factor.
This set of Frozen 2 trinkets comes with everything you need to create 12 treat bags filled with fun items. You get 12 Frozen goody bags with Elsa and Anna on them. Then, to fill the bags, you get 12 wooden pencils, 12 self-inking stampers, 24 stickers, and 16 tattoos. There's also a special pin for the guest of honor. Or you can offer it as a prize for one of your party games.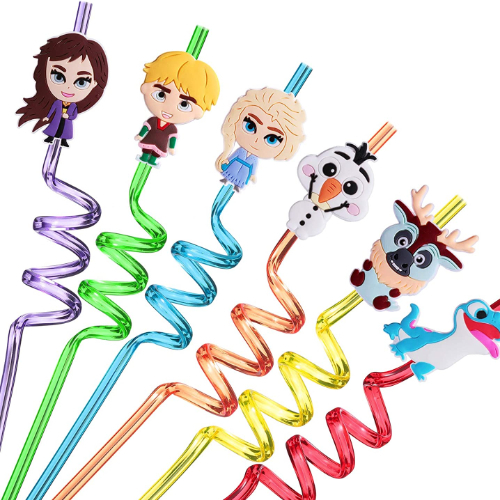 These squiggly character straws feature fun characters from Frozen II and bright, vibrant colors. You can either give them to guests to use in their party cups and let them take them home afterward or simply hand them out at the end. You can also combine them with other items if you plan to give out grab bags or goody boxes. The set includes 24 straws featuring 6 different characters and colors.
Another fun, classic party favor is a themed cup or tumbler. These bright tumblers add a festive touch. You can have the favors double as your drink cups at the party; just let guests know they can take them home after the event. Or, fill cups with candy and stickers and let everyone take one on their way out. The set includes six 16-ounce cups with lids and straws and features licensed characters from Frozen II.
Frequently Asked Questions (F.A.Q.)
Should I have a character come to my Frozen birthday party?
Hiring a professional party character isn't necessary, but it can undoubtedly add to the magic for younger children. You'll likely see companies advertising things like Ice Queen or Snow Princess to represent the popular Frozen characters. Performers might come and mingle, lead a sing-along or story time, do face painting, or even give a performance. It can cost you an extra $100 to $200 or more, depending on the company and activities involved and how long you want the character to stay at the party.
Does it make sense to throw a Frozen birthday party in the summer?
Although Frozen parties are a popular choice for winter birthdays, they can still be an option for summertime. One of the best ways to make it work is to add some references to Olaf wishing for summer. Serve melted snowman treats, hand out sunglasses, and set up a kiddie pool for some fun splash time like Olaf dreams about in the movie. But when it comes down to it, if Frozen is what your kid is into, you can set up a winter wonderland anytime. After all, it's not like you need to use real snow.
What are popular color scheme ideas for a Frozen birthday party?
Some of the most popular color schemes for a Frozen birthday party are shades of blue and silver, purples and silvers, or a combo of the two. Other top color picks are teal, aqua, white, and iridescent shades like opal or pearl. Most of the color inspiration comes from Elsa and Anna's key outfits and the overarching theme of ice and snow. You can mix and match pretty much any of these to make a smashing color story for your Frozen birthday.