Toy cars, trucks, and other vehicles are popular with kids of all ages. Hot Wheels are a particular favorite, going back generations and serving as hot (no pun intended) collector's items, even for adults. If your kid loves to line up their Hot Wheels, color code them, race them, and play with them, then they'd also love to have a Hot Wheels birthday party.
You'll find ready-made decorations featuring the Hot Wheels logo, cars, and other imagery. Or you can get creative and put together some DIY décor or even use toy cars and trucks to create your party atmosphere. There are also tons of ideas for food, invitations, party favors, games, and more.
So if a Hot Wheels birthday party is on your horizon, then look no further. We've rounded up top ideas for everything you need to throw a super Hot Wheels birthday party that's sure to get everyone revved up and ready to celebrate.
Hot Wheels Birthday Party Invitation Ideas
Sending out invitations is always exciting because you're finally making all of your plans turn into something more real. Once those invites go out, the guests know all about your upcoming event and can start getting ready to party. Your invitations should spell out the logistics, like time and place. They should also give a hint as to what your party theme and color scheme is, and if there's anything special guests should know about.
It's a breeze these days to find excellent invitations for pretty much any theme you can imagine. A quick peek on Etsy will lead you to bunches of customizable LEGO Invitations, like this one from Maknesa. Purchase a design you can download instantly and edit yourself, or look for sellers that will handle the customization for you. There are also animated and video options available if you choose to go 100% digital.
Hot Wheels Birthday Party Decorations & Supplies
When it comes to planning a party, don't skip out on creating the right environment. Every party gets a boost when you add festive decorations to elevate your theme and amplify the celebratory vibe. Whether hanging balloons and banners or creating colorful tablescapes, prepping your party space with some Hot Wheels décor is a breeze when you see all the different available options. Check out these fabulous pieces to flex your party design muscles.
Leave no doubt in your guests' minds where the main attraction of the party is by using this large Hot Wheels backdrop. It features bright colors that give it a vibrancy unlike any other, with racing action that gives off an energetic vibe. The backdrop is 73.2 by 43.2 inches, so it's able to cover a large area and make a statement. Use it behind the cake table or as a cool photo booth scene.
You can't throw a party without balloons (well, you can, but it's not nearly as fun). Kids will love seeing these cool Hot Wheels balloons flying high at the party. Tie them onto chairs and tables, hang them over doorways or in trees, or create a fabulous balloon bouquet on the cake table. The set comes with five large foil balloons, three showing off Hot Wheels vehicles, and two stars, one blue and one red.
If you don't know about spending tons and tons of time and money on your party setup, then consider getting an all-in-one party pack for your decorations. Not only is this a cost-effective way to gather a lot of basics, but it's also a lot simpler. In one purchase, you can get banners, cake toppers, and more. This set comes with a colorful birthday banner, tablecloth, 20 latex balloons, 12 cupcake toppers, and a cake topper.
Once you hang up all your party pack decorations, check off the rest of your supply list with a tableware pack featuring your Hot Wheels theme. This set comes with everything you need for 16 guests. It has napkins, cups, plates, and a colorful tablecloth. It also comes with 24 birthday candles. Another option for your tableware is to go with solid colors that match your palette if you prefer to not have your theme on every item.
Tell everyone where the party is with these large, bright door hangers. The banners hang vertically, making them perfect to place on either side of your party's entry door. The pack comes with two signs, each featuring five different vehicles. It also comes with two rolls of ribbon, so you have everything you need to hang them on your porch, flanking a doorway, or anywhere else you need to add some Hot Wheels flair.
Party Favors For A Hot Wheels Birthday
After the party is over, it's always hard to say goodbye and end the fun. If your guests are sad to leave, it's a sign they had a great time. Keep the farewells light by passing out some fun Hot Wheels themed favors. Hand out DIY goodies or loot bags full of mini cars, notebooks, stickers, candy, and more. If you need a few ideas to get your gears turning, check out these options.
You can add these squiggly straws to your party beverages as an extra twist and let kids take them home as a favor. Or you can simply add them to a goody bag full of treasures. They're reusable, colorful, and a whole lot of fun. The set includes 24 straws in six designs, including bright yellow, pink, red, blue, green, and orange. They add tons of flair to your party favor table and are sure to leave guests smiling.
What better way to help kids remember your amazing Hot Wheels party than with a new toy car? These mystery packs add an extra layer of fun to your party favors since kids get a special surprise when they open the pack. The set comes with 10 individually wrapped cars, each unique and hidden until someone rips open the package. Plus, you get 50 tattoos that you can divide between guests or use as piñata fillers.
If you don't know what party favors to give your guests, go with a no-brainer like this Hot Wheels variety pack. It comes with all sorts of fun trinkets, all showing off Hot Wheels pictures and colors. The set comes with 8 mini tops, 8 maze puzzles, 8 prism viewers, 8 checkered flags, 8 flying discs, and 8 racing licenses. You can assemble all of the goodies into loot bags or boxes and hand them out to guests as they leave the party.
Silicone bracelets are comfortable, colorful, and a popular item when it comes to kid's party favors. Many kids love to collect the bands, and they make it easy to match your Hot Wheels theme. These bands feature a variety of colors and fun car-related phrases, like "Ready, Set, Go," and "Let's Go Racing." Slap bracelets are another popular pick. Kids love to do tricks with them and mix and match various designs. This set comes with 48 bracelets (24 slap-on ones and 24 silicone ones).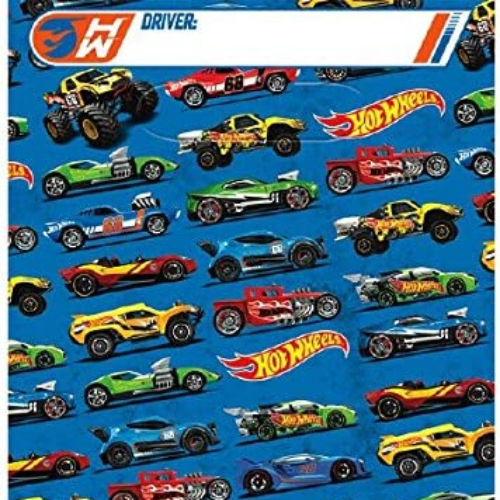 Goody bags are a popular way to assemble party favors, and kids love to get a grab bag full of surprises. Lot bags also make it a breeze to match any favor you want to your party theme since you can find bags with images and colors that match your theme. This set of Hot Wheels goody bags comes with 8 bags that are an ample size to hold all sorts of treats. They feature a bunch of different Hot Wheels vehicles on a bright blue background.
Frequently Asked Questions (F.A.Q.)
What are good colors for a Hot Wheels party?
Some of the most popular colors for Hot Wheels parties are bright blue, red, yellow, and orange. The first three colors come straight from the Hot Wheels logo, and the orange comes from the iconic Hot Wheels tracks. If you shop for ready-made decorations and other supplies, you'll find these colors on most options. Of course, when you look at the various vehicles, they come in all sorts of colors, so if you want to do something out of the box, plan your party design around the colors of your kid's favorite Hot Wheels.
What is the intended age range for Hot Wheels?
Hot Wheels sells toys for three-year-olds and older and has more advanced items for eight and up. But even teens and adults will collect the cars. As for birthdays, the most popular age range for a Hot Wheels party is between five and ten. You can certainly plan a celebration for kids younger and older, but kids in the above age range are the ones likely specifically asking for a Hot Wheel birthday.
How much does a Hot Wheels birthday party cost?
On average, parents spend roughly $400 on a birthday party they hold at home for about 15 kids. This number covers basic decorations like downloadable invitations, favors, some simple food options, the cake, and activities. But if you decide to get a few menu items catered, hire entertainment, go with an elaborate custom cake, or all of the above, the price can easily reach $600, $800, or more. Also, the more people you plan to invite, the more you'll spend.