If your kid's into Minecraft, then you're no doubt familiar with the sandbox-style adventure game that provides as much of a social aspect as it does a video game experience. Kids build objects within a virtual world, construct places, and imagine more as they explore and navigate various game locations. And if they're in multiplayer mode, players can communicate and play with friends, whether they're in another room or another state.
The game has risen rapidly in popularity over the past several years, triggering an avalanche of merchandise. Stores are full of Minecraft swords, costumes, LEGOs, toy figures, books, and clothing featuring images and phrases from the game. If your son or daughter is a fan, then a Minecraft birthday party is likely in your future.
Popular color schemes for Minecraft parties are usually various shades of green, brown, and black. Then you can add various other pops of color depending on which characters or objects you want to highlight in your party décor. Talk with your kid if you're unsure which direction to go. The odds are good that they know Minecraft inside and out and have plenty of ideas to offer. You can also check out this list of Minecraft party ideas to get your creative juices flowing.
Minecraft Birthday Party Invitation Ideas
After you pick your party theme and decide when you're having the celebration, it's time to write out your guest list. When you get ready to send invitations, it's typical to use your party theme and colors in the design. Minecraft is a popular party idea, so you can find lots of options, including ready-made invites you need to fill out yourself. But it's a lot easier (and more common these days) to design invitations on your computer and send them digitally. You can also purchase downloadable birthday invitations that you can customize and print.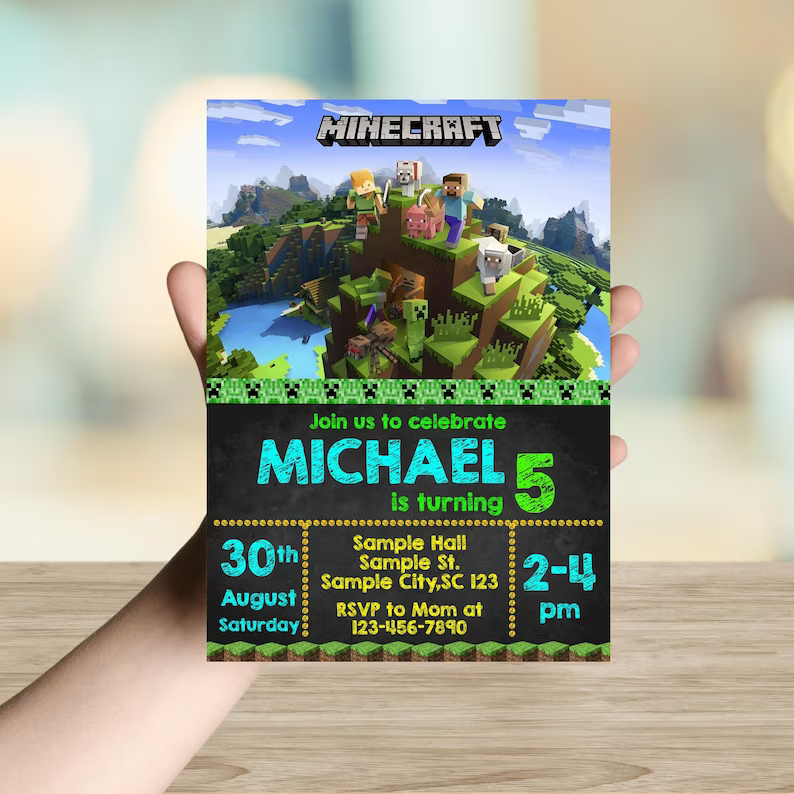 If you decide to go with a digital invitation or custom design, check out Etsy. The online marketplace features hundreds of invitation styles, including video and animated options. This Minecraft invitation from DigitalSvgInvitation is one of many showcasing the video game theme. If you're not confident in your editing skills, look for sellers who offer to handle the customization for you. Then all you need to do is download the final product and send it to your guests in any format you wish.
Minecraft Birthday Party Decorations & Supplies
Celebrate your child's birthday in pixelated style with Minecraft-inspired décor ranging from balloons to tableware. Keep things simple with a few key pieces, or go all out with festive items that cover the walls from ceiling to floor. You might decide to create some DIY party pieces, order a few custom masterpieces, or purchase colorful party supplies online. However you decide to dress up your event, you can start getting some ideas for Minecraft décor right here.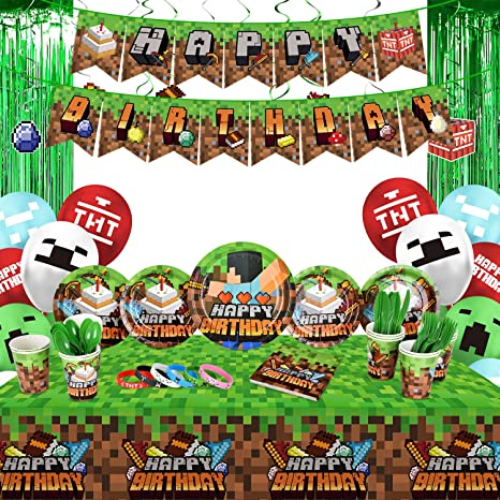 Planning a party for kids (and the mere thought of tons of children in your house) is enough to send many parents into a cold sweat. There are a lot of things to consider, so any opportunity you have to simplify and be more efficient is always a bonus. Party packs make it easy to get what you need for your party basics. This set has all sorts of goodies to get your Minecraft groove on, including napkins, cups, plates, utensils, balloons, a banner, and a tablecloth. It even comes with 16 silicone Minecraft bracelets you can use as party favors.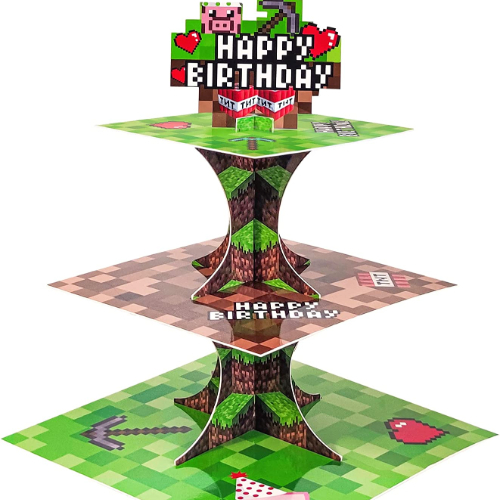 Even if you don't plan to serve cupcakes at your party, you can use this sturdy Minecraft cupcake stand to display other treats, décor items, or hold your party favors. It has three tiers that are durable and easy to assemble and take apart. So you can reuse it or pass it along to another friend planning a Minecraft celebration. The stand holds 24 standard cupcakes and showcases classic scenes and images from the video game.
There's something about balloons that scream party. Kids love balloons, so these Minecraft latex ones are the perfect addition to your kid's party. You can use them for decorations, give them out with your favors, or scatter them around so they can double as a fun activity. You get 30 12-inch balloons featuring various Minecraft characters and images and the words "Happy Birthday." The colors are green, black, red, blue, and white, making them fit with a variety of Minecraft color schemes.
Parties tend to have a lot of different tables. There's a table for snacks, one for the cake, perhaps a place for people to sit and eat, and a table for party favors or gifts. Colorful tablecloths can help dress up a table, but if you want to add some real Minecraft style, try out these honeycomb centerpieces. The set comes with 7 decorations, each featuring a bright base and pixelated design.
Kids will feel like they're walking through the world of Minecraft with these hanging symbols from the game. Swords, treasure chests, pigs, creepers, gold bars, hearts, and more make you feel like you've jumped into your screen. The set comes with 30 swirls that you can easily hang anywhere you want to add some colorful pops of Minecraft fun. Suspend the images from ceilings, doorways, under party tents, in the trees, or on your front porch to welcome guests.
Party Favors For A Minecraft Birthday
Although it's not mandatory to have party favors, these days, they're often expected. But that doesn't mean you need to put together elaborate gifts for your guests. Even a simple trinket or themed cup with a personal thank you attached shows guests you appreciate them. Sometimes, if part of your party activities involves making a craft, the final project can double as a favor. After all, you provided all of the supplies and assistance in making the items.
Your guests will be styling with these fun Minecraft shades in bright green and blue. You get 12 pairs in the set, and they make the perfect addition to a party favor bag. Or, pass them to kids as they arrive so they can wear them during the party. They'll have a blast posing for pics. Plus, they provide UV protection and are durable, so kids will have some sunglasses to use when they're out and about during the day.
Mini notebooks are a fun party favor because they give kids something they can use. Kids can write down ideas, create stories, draw pictures, and more. The pixelated covers are the right look for a Minecraft party, and the colors keep things bright and vibrant. One set includes 48 mini notebooks in blue, green, yellow, and red. Pair them up with some Minecraft pencils or coloring kits.
Add these stamps to a larger treat box or goody bag or mix them up with some coloring kits, pencils, and crayons to create some Minecraft art kits. The self-inking style means you don't need to deal with separate ink pads, keeping things a lot neater and easier. The set of stamps includes 24 pieces with various designs and vivid colors. Some of the images you'll get are the Minecraft sword, heart, TNT, creeper, potion bottle, and fruits and veggies.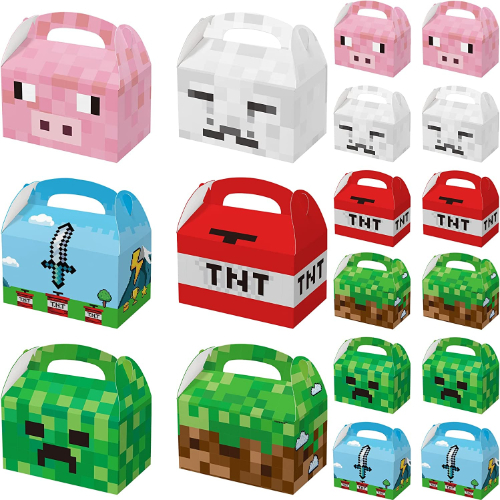 Sometimes, you just can't make up your mind about what to give your guests. When in doubt about your party favors, go with themed treat boxes or goody bags. These Minecraft boxes showcase some highlights from the virtual world and can hold an assortment of fun goodies and trinkets. The set comes with 24 boxes in six different designs, all in bright colors. Load them up with a few surprises or bake some cookies, and add a personalized thank you note.
Ever notice how kids seemed to be obsessed with those silicone wristbands? Maybe your child has a collection of all sorts of bands from school, sports, other parties, their favorite movie, etc. It's something a lot of kids like to collect. So giving out Minecraft bracelets at your kid's birthday party makes sense. You get 24 bands that you can pass out to friends, add to a goody bag, or use as piñata fillers.
Frequently Asked Questions (F.A.Q.)
Is Minecraft a good birthday party theme for a girl?
Lots of girls play Minecraft, so there's no reason your daughter can't have an amazing Minecraft party. You'll even find some Minecraft party supplies in pink and various other colors. Minecraft is typically a theme older kids pick. In other words, your child will tell you if they want the game as their party vibe. So if your daughter is team Minecraft, then go for it. Let her help with organizing and choosing décor and other features, so you know things are matching her vision.
What are the best ages for a Minecraft birthday?
Minecraft is typically best for older kids, around 7 or 8 and above. This range is generally the recommended age for playing the game, so more children in this age group will request and appreciate the theme. But there are always exceptions. For example, your three-year-old knows about the game because his big brother plays it. He loves the way the pixelated images look. He might ask for a Minecraft party, but keep in mind that most of his friends likely won't be as familiar.
What's the best way to plan a Minecraft party?
First things first, you need to decide when your party is going to be, then you choose your theme. Once you're set on a Minecraft theme, it's all about nailing down the main points. Where, what, when, and who. Will you host the party at your house or rent a place? Plan activities and crafts or hire entertainment? Make the food and cake or order them? The more outside help you plan to use, the sooner you need to make decisions and check with vendors. Send invitations out about two to three weeks ahead, and enlist some help to assist you with setting up, decorating, and cleaning up after the party.