Does your kid love the movie, Toy Story? Are they constantly wearing their prized Woody hat or Buzz Lightyear costume from last Halloween? Or maybe they always want to play Space Rangers or pretend to be a cowboy or cowgirl. If any of this sounds familiar, then a Toy Story birthday would be a no-brainer for your kid's upcoming big day.
Bring Woody, Buzz, Bullseye, Jesse, and all their friends to your kid's birthday party with colorful decorations, fun snacks, and engaging activities. It's all about recreating some of the key moments from the films or highlighting your child's favorite character. You can pull color inspiration from character outfits or the Toy Story logo.
Whether you focus on all the films or narrow it down to your favorite of the four, you can put together an unforgettable birthday. Boys might want a Buzz-centered party, while girls want a Bo-Peep or Jesse inspired celebration. Or, vice versa! Ask your child what they envision for their Toy Story birthday and then use these ideas as inspiration.
Toy Story Birthday Party Invitation Ideas
Sending out birthday invitations is a significant aspect of any party prep since it's how you spread the word. Once you choose your party theme, colors, and specifics, it's time to decide on the invites. You can find some ready-made options at party stores or online, and then you typically need to fill in your information. Today, most people choose downloadable invitations that they can edit on their computers, print, or send digitally. This digital format undoubtedly makes it easier to create multiple invitations, plus it allows you to give them a personal touch.
Searching online for Toy Story invitations to download will likely lead you to Etsy. The website features tons of options for birthday invitations, in pretty much any theme you can imagine. When it comes to Toy Story, you'll find lots of colorful and fun choices, like this one from JVMvector. Some showcase a particular character, while others feature multiple Toy Story elements. Enter your party info and let the seller edit the invitation for you. Or find styles that allow you to download them instantly and edit yourself.
Toy Story Birthday Party Decorations & Supplies
A party would be pretty boring if you didn't have any decorations. And there are some basic supplies that are necessary when you're planning an event, especially if you're serving food and drinks. Sure, you don't have to go over the top or spend tons of money on elaborate décor. But it's a good idea to have some key items that add festive flair and personality to your party atmosphere. Check out these ideas for some Toy Story decorations and supplies that make a statement without breaking the bank.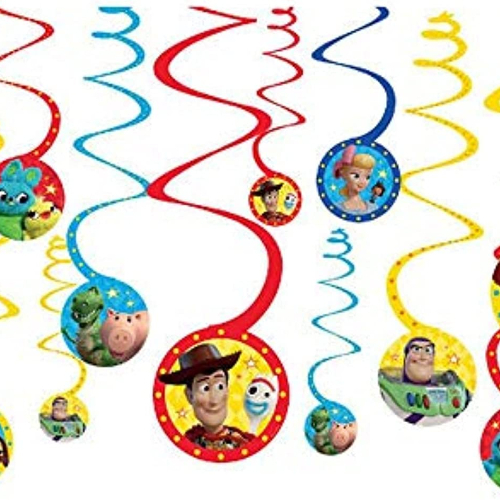 Add some Toy Story pizzazz to your ceiling, under door frames, in archways, from trees, and under party tents. These hanging swirl decorations feature a variety of characters from the popular film, including Woody, Buzz, Jesse, Bo-Peep, and Bullseye. The swirly décor is lots of fun and a great way to create a vibrant atmosphere all around your guests. The kit includes 12 pieces in bright red, yellow, and blue, which works well for a popular Toy Story color scheme.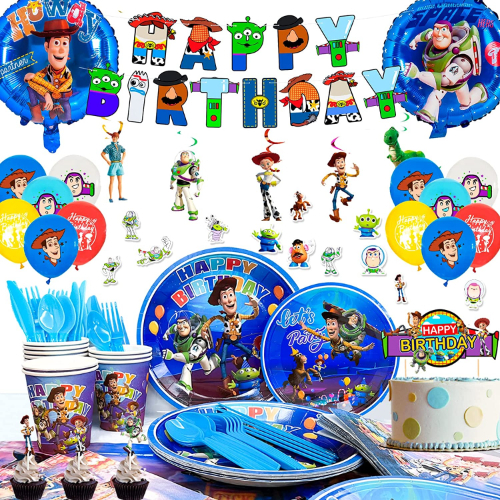 If you're stressing about how to decorate for your Toy Story birthday, start with an all-in-one party pack. These decorations and supply packs make it super simple to set the mood for your party. You get all the basics in one spot, which also helps keep costs low. This colorful set includes 167 pieces of Toy Story fun, including tableware. You get a birthday banner, tablecloth, stickers, balloons, a cake topper, and much more. Plus, there are enough plates, napkins, cups, and utensils for 10 guests.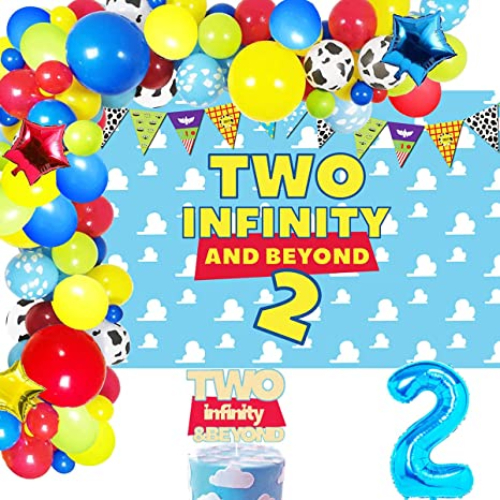 Make a huge impact in your party space with a large, bright banner and oversized, vibrant balloon arch. This banner is specifically for someone turning two, paying homage to the popular movie catchphrase "to infinity and beyond." But you can find other Toy Story banners in various styles that can work for any age birthday kid. The balloon garland kit comes with a ton of balloons in red, blue, yellow, cow print, and more. Keep in mind, you need to assemble the balloon arch, so plan enough time to do so and get some friends to help.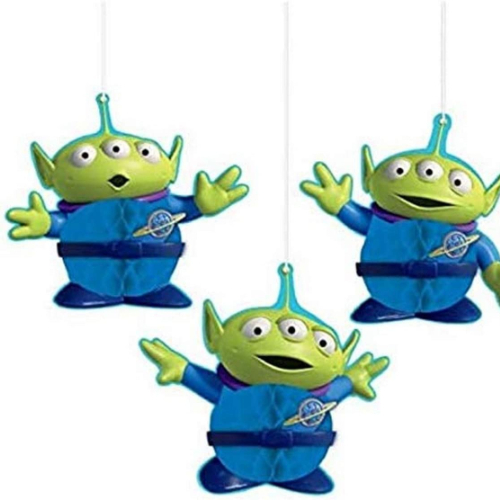 Some of the most popular and favorite characters from the Toy Story franchise are the little green aliens from the claw machine. These three-eyed cuties are an excellent addition to a Toy Story party, and they can even hold their own if your kid wants to make them the main focus. These honeycomb decorations set up in minutes and add a quirky touch to your celebration. The set includes three alien hanging decorations in various sizes.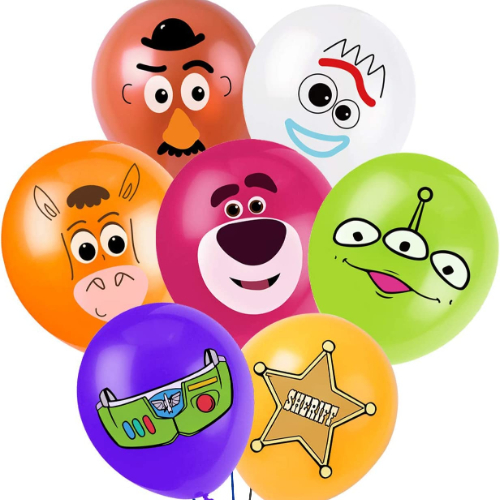 This pack of Toy Story balloons comes with 28 colorful pieces featuring seven different styles in bright colors. They're a great way to add pops of color throughout your party scape or you can even use them as favors. The balloons in this set feature Bullseye, Mr. Potato Head, Forky, Lotso, an alien, Buzz's uniform, and Woody's sheriff star. Each balloon inflates to approximately 12 inches and you get four of each style.
Party Favors For A Toy Story Birthday
Before your guests leave and the party comes to an end, pass out a few special mementos. Party favors are an excellent way to tell your guests thank you for coming. Bake a few goodies or whip up some treats. If you don't want to DIY your favors, you can order custom creations or find various trinkets to purchase. If you need a few ideas to get you started, check out these party favors for a Toy Story birthday party.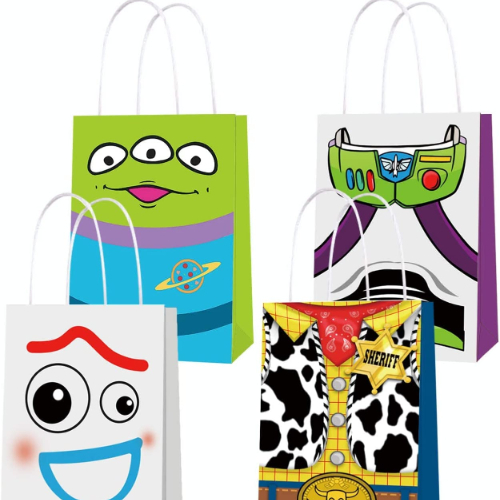 Parties are supposed to be fun, and even the host should get to enjoy themselves. So don't stress out when you're planning your kid's party. You can find lots of ways to tie your theme into various aspects of the party without overthinking or stressing. For example, these Toy Story themed gift bags make party favors a breeze. Fill them with simple candies and surprises, and let the bag do all the work.
Candy is a popular go-to when it comes to party favors for kids' birthdays. These rings are super cute and colorful, with all sorts of Toy Story characters taking center stage. The box includes 18 rings, showing off Rex, Hamm, and Buzz. The rings come individually wrapped, making it easy to hand out to your guests or toss into a goody bag They also make great fillers for a piñata or prizes for party games.
Another easy way to make party favors for your guests is to get a mega party pack like this one that features your theme. This Toy Story pack comes with 83 pieces of movie flair, including bracelets, pins, key chains, and tons of stickers. You also get ten themed treat boxes so you can assemble your favors and add extra goodies if you want to. These small trinkets also make great piñata fillers or game prizes.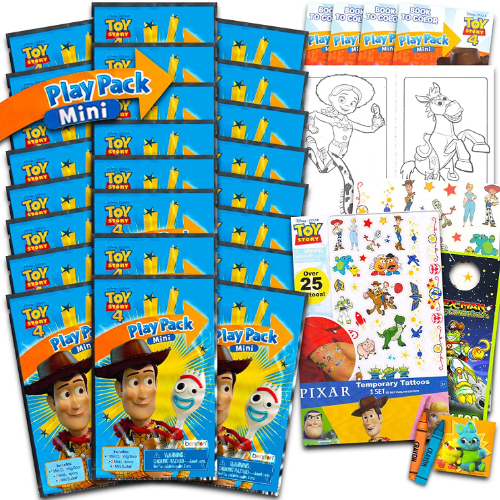 Activity kits are a fun favor because they give kids something to do after the party's over. They can color, create sticker pictures, etc. You can also use them as a party activity, adding them to an art station or coloring area. The set includes 24 packs, each featuring a coloring book, crayons, and Toy Story stickers. As a fun extra, it also has a cool Toy Story door hanger for the birthday kid.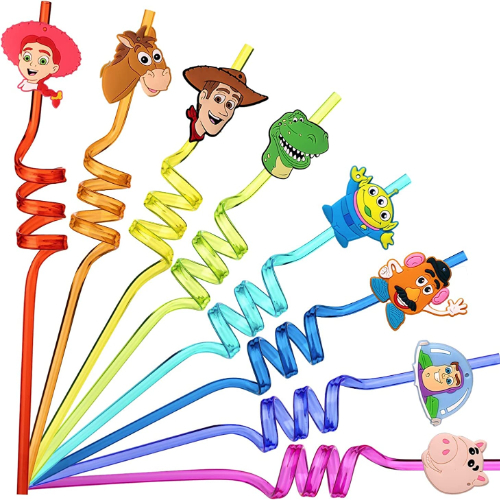 Reusable straws are useful and friendly to the environment, which are perks for parents. But the kids will love the squiggly shapes, bright colors, and fun characters. Add a straw to your guests' party beverages or hand them out with drink cup favors. They'll look great on the party favor table with all the bright reds, yellows, purples, and more. The set comes with 24 straws and 8 designs. Included characters are Hamm, Buzz, Potato Head, Alien, Rex, Woody, Jesse, and Bullseye.
Frequently Asked Questions (F.A.Q.)
How long is too long for a birthday party?
Typically, a birthday party for school age children is between two and three hours. This provides enough time for the kids to play, eat, have cake, and enjoy some entertainment. If you're throwing a party for toddlers, an hour ½ works well, two hours tops. If the party's for a one-year-old, usually, this means it's lots of family.
You can gauge how long you think is best based on the typical length of your family celebrations. For example, if you have relatives that love to gather and mingle, you might end up with a three hour event. Otherwise, sticking to the hour and a half might be a better option.
What does the average parent spend on a birthday party?
On average, parents spend about $400 for a kid's birthday party. This usually covers food, cake, some decorations, and simple entertainment options. If you plan to have the party at a play place or the zoo, etc., the rental for the party space will boost your budget.
Likewise, if you hire professional entertainment, this can add $100 to $200 to your bottom line. Of course, it's possible to spend more or less than the average, depending on how simple or extravagant you want the party to be. (And if you plan to DIY a lot of food and décor, buy everything pre-made, or go with custom creations.)
What are some good color schemes for a Toy Story party?
One of the most popular color schemes for a Toy Story party is red, yellow, and blue with the white and black cow print. These colors come mostly from Woody's outfit and the film's logo, as well as Jesse's clothes. Another Toy Story color scheme is bright green, purple, blue, and white. This color palette is usually when your child chooses a party focused more on Buzz and the aliens.