Many parents spend months and months (plus a lot of money!) planning their child's first birthday party. It's undoubtedly one of the most important milestone birthdays, so it's understandable that you want it to be amazing and memorable. (Even though your one-year-old won't remember any of it.)
But an unforgettable and fantastic party doesn't have to cost you tons of money or all of your precious time. We've rounded up some of the best birthday party theme ideas for one-year-old boys and girls, along with popular food picks, games/activities, and party favor inspiration. From tried-and-true favorites to some updated classics and unique additions, our list has something for everyone.
You can plan the perfect party without getting overwhelmed, so you can enjoy the big day instead of fretting about it. So before you start stressing about your baby's first birthday, take a breath, and keep reading for all the inspiration you need.
1st Birthday Party Games & Activities For Boys & Girls
Adding games to a party is a popular way to ramp up the entertainment and fun. When you're dealing with a first birthday, there's usually mostly family invited. So you'll typically find kids of various ages and adults. Therefore, plan a few games that will appeal to adults and older children, with some toddler-friendly activities sprinkled into the mix.
1. Pin The Tail On The Donkey
Image source: Hxezoc
This game is a classic at kid's parties, and it's a special favorite of young children and toddlers. Even the adults get a kick out of it. You can get the original donkey version on Amazon or create your own to match your theme. For example, land the rocket on the moon, or catch the butterfly in the net.
2. Bean Bag Toss
Image source: Hostess with the Mostess
Little kids love a good bean bag toss. It's a great way to test your skills, practice coordination, and have lots of fun. Hostess with the Mostess did a circus theme to match their party. Give everyone a few turns, and you can also offer prizes to the participants if you want.
3. Bubble Chase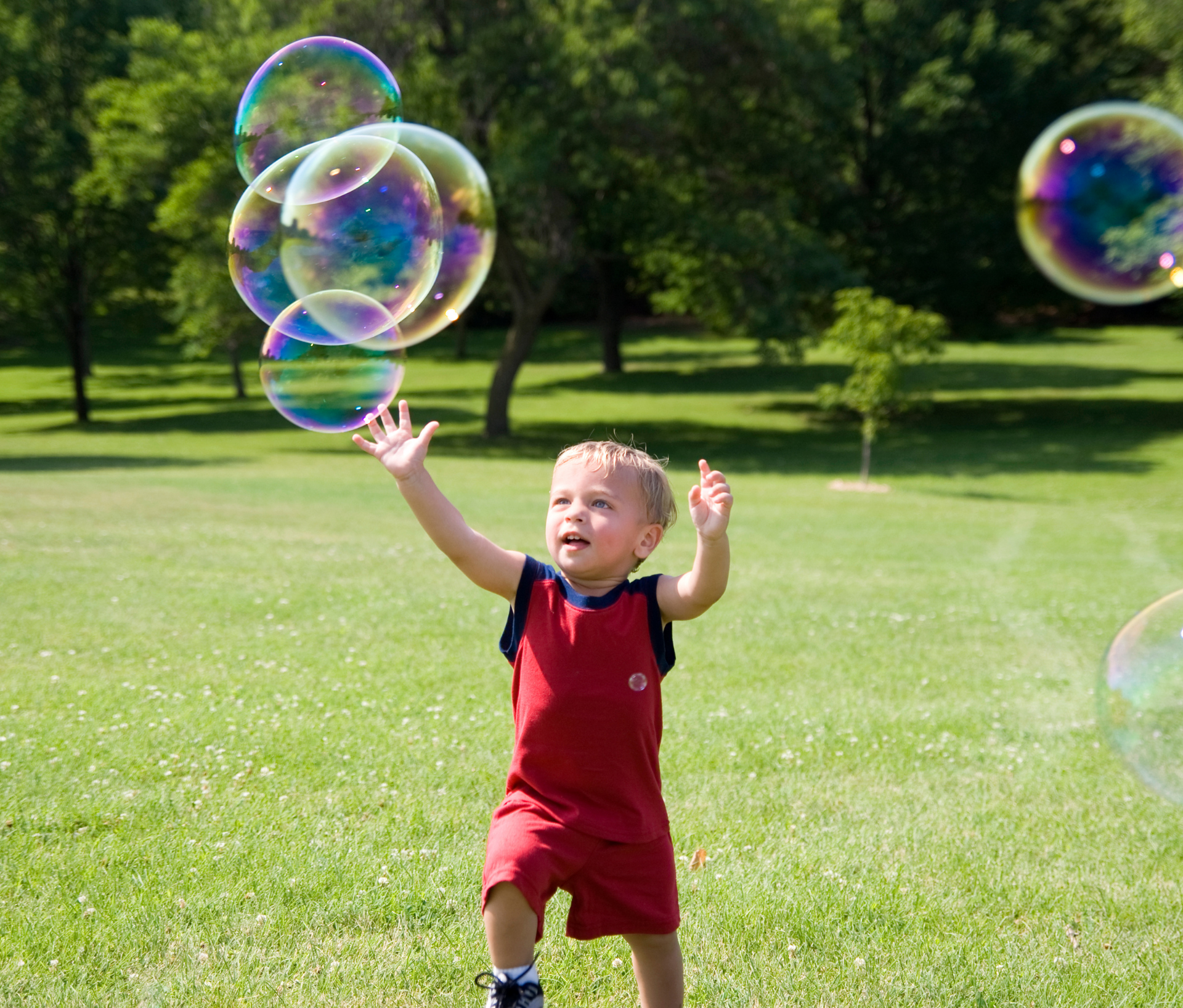 Image source: darkscott
Bubbles bring instant smiles to kids of all ages. Get a bubble machine and let kids go to town chasing and popping bubbles. You can also set out a bubble station with various wands for kids to make their own floating creations. It's an especially fun activity for an under the sea theme.
4. Make A Ball Pit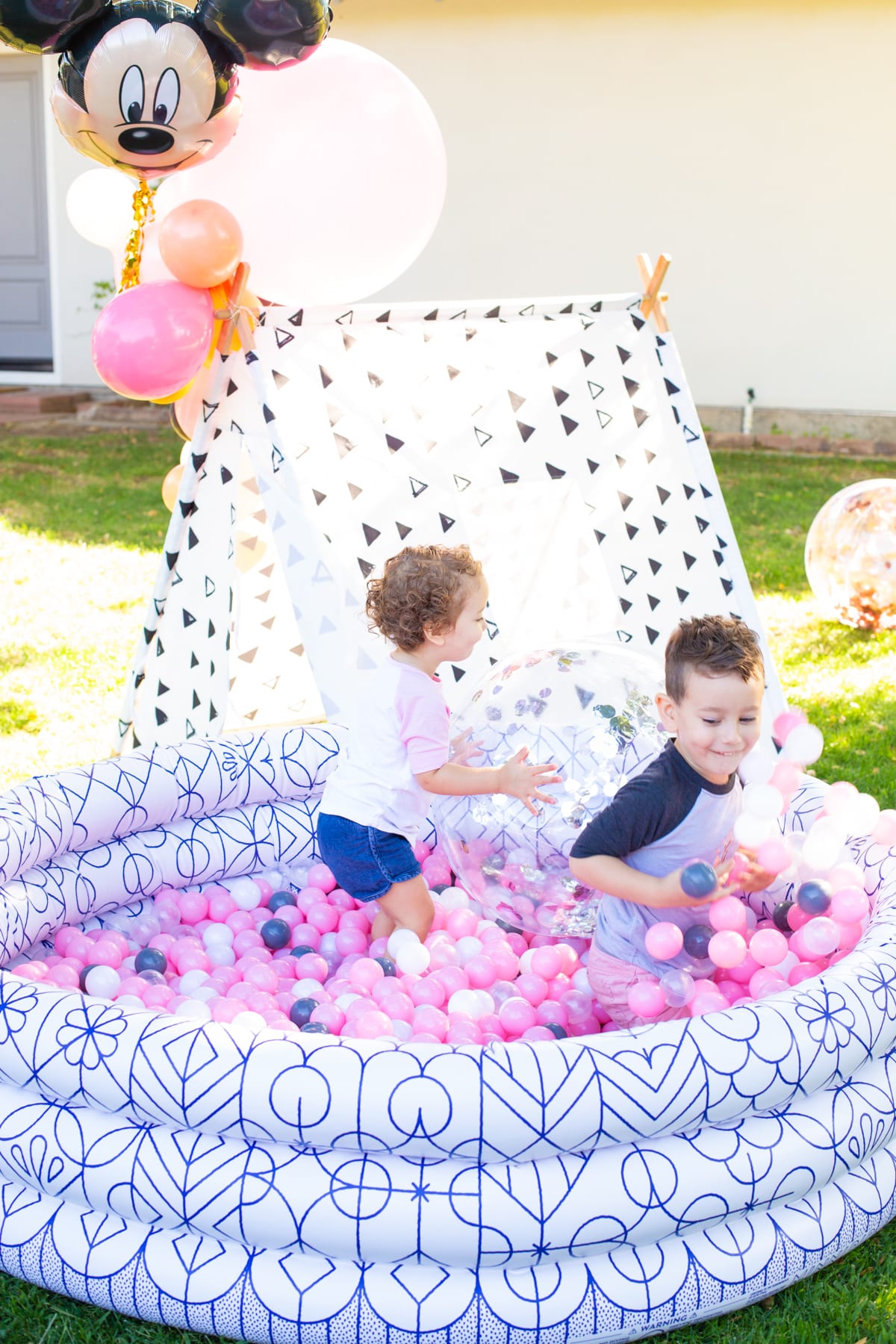 Image source: Lovely Indeed
You might be surprised how something so simple can provide hours of fun. Get an inflatable kiddie pool and fill it up with plastic balls. Throw a few large balls in like Lovely Indeed to add to the excitement. You can match the ball colors to your party's color scheme.
5. Wagon Ride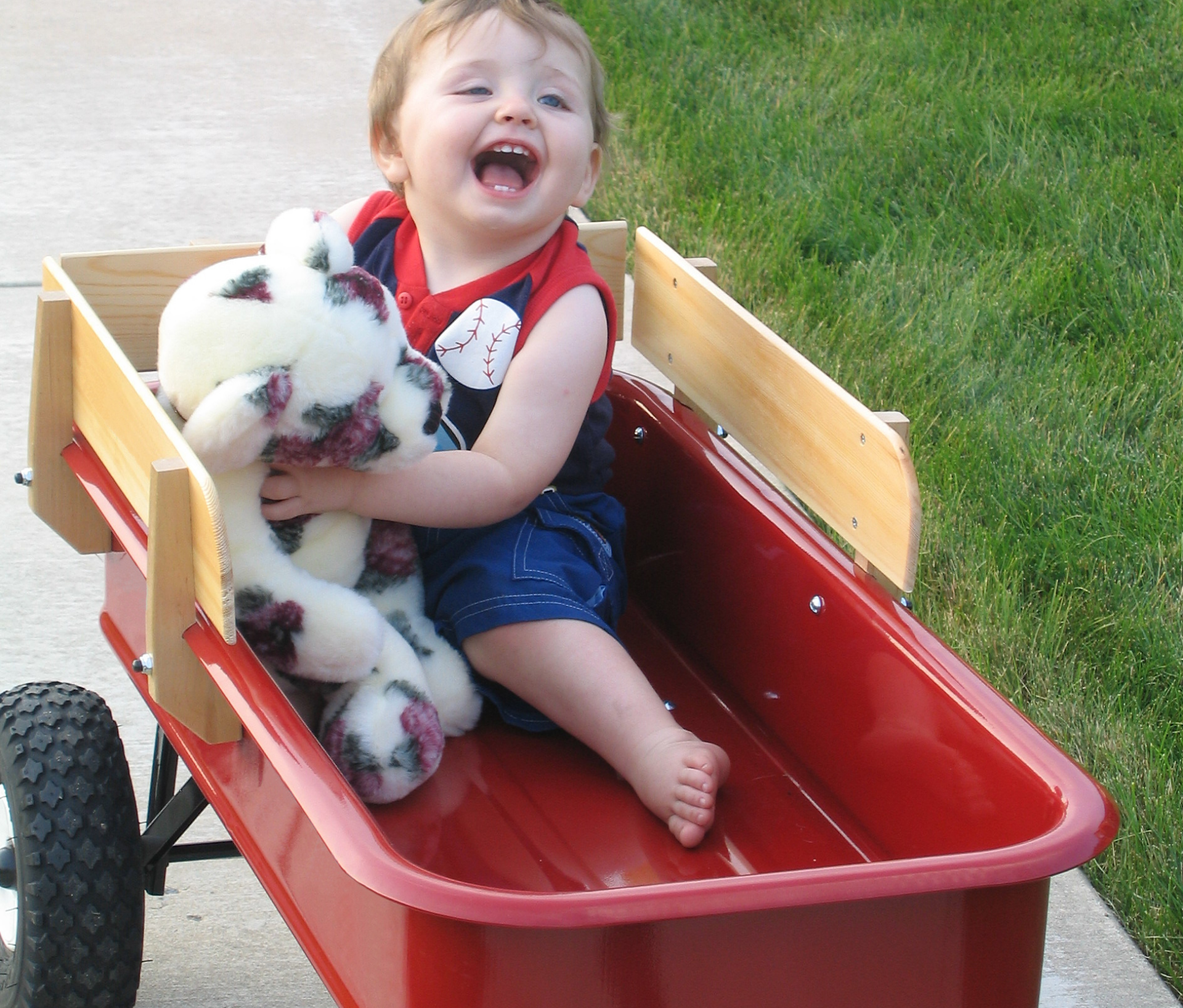 Image source: lissart
Get a regular kid's wagon and set up a wagon ride for your little party guests. You can place some fun props along the route for kids to spot and give older kids a checklist. If you have a farm theme, add some hay to the wagon for instant hayrides.
6. Themed Craft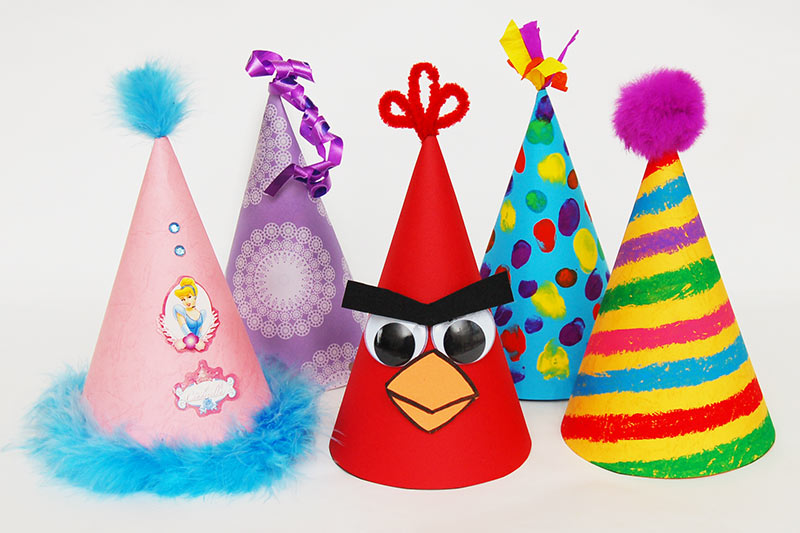 Image source: First Palette
Having an art project or craft for your younger guests is a creative way to keep little hands and minds engaged. Older kids at the party will especially appreciate being able to create something unique and help the younger kids. First Palette shows off some various party hats, but you can also make crowns, necklaces, swords, or anything else that goes with your theme.
7. Balloon Scrabble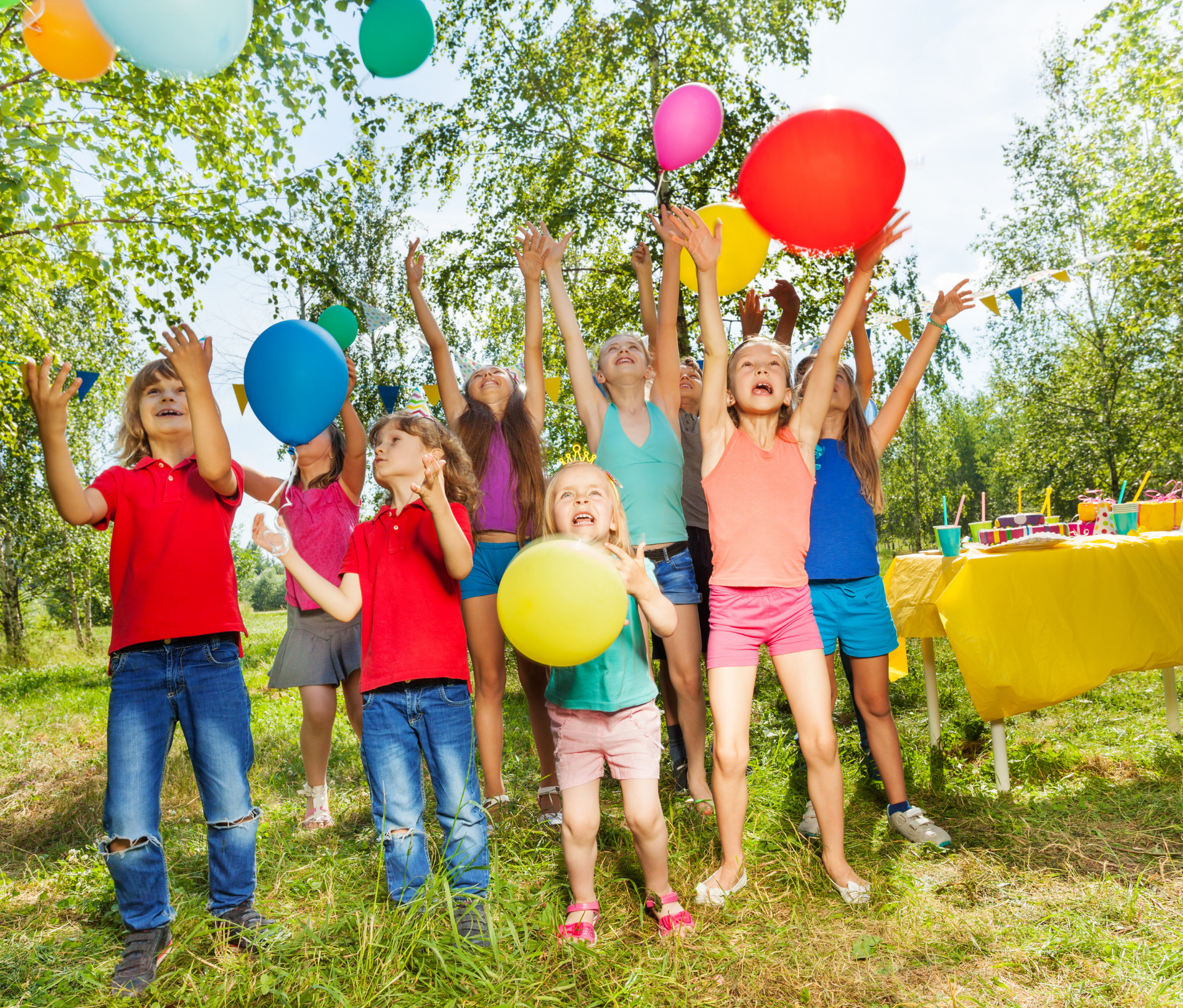 Image source: Serhey Novikov
Balloons provide all sorts of entertainment possibilities. You can play Keepie Uppie (Don't Let It Touch the Ground), a winner for even the little ones. Older kids can take on more of a challenge. Write letters on the balloons and shout out a word. Have the kids work together to find the balloons that spell out the word.
8. Toddler Obstacle Course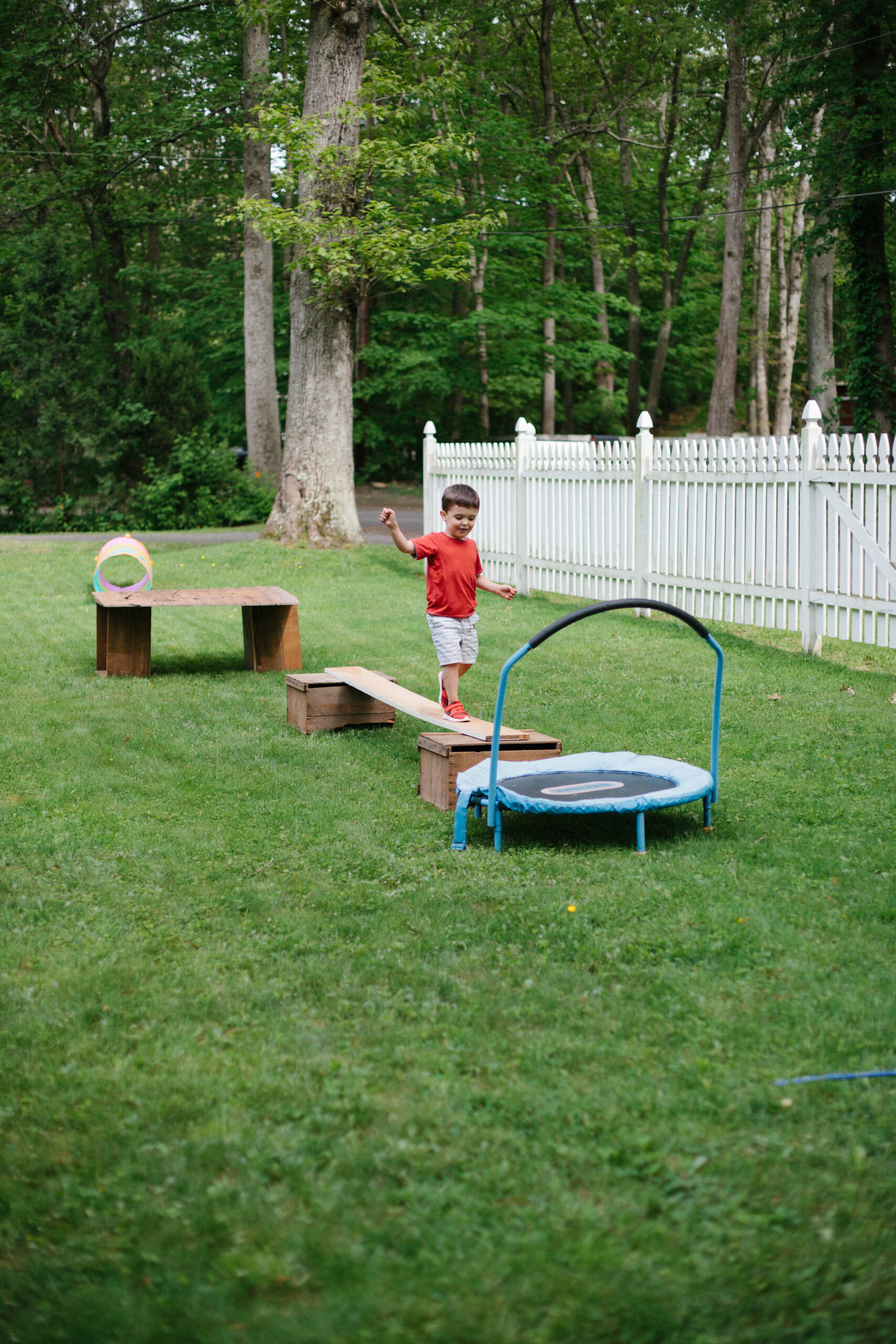 Image source: Lauren McBride
Set up a toddler-friendly obstacle course in your backyard, like Lauren McBride, for young guests to get active. They can crawl through tunnels, wriggle under tables, jump through hula hoops, and more. You can also add in a kiddie slide for a big finish or to make the perfect starting point.
9. Water Table Fun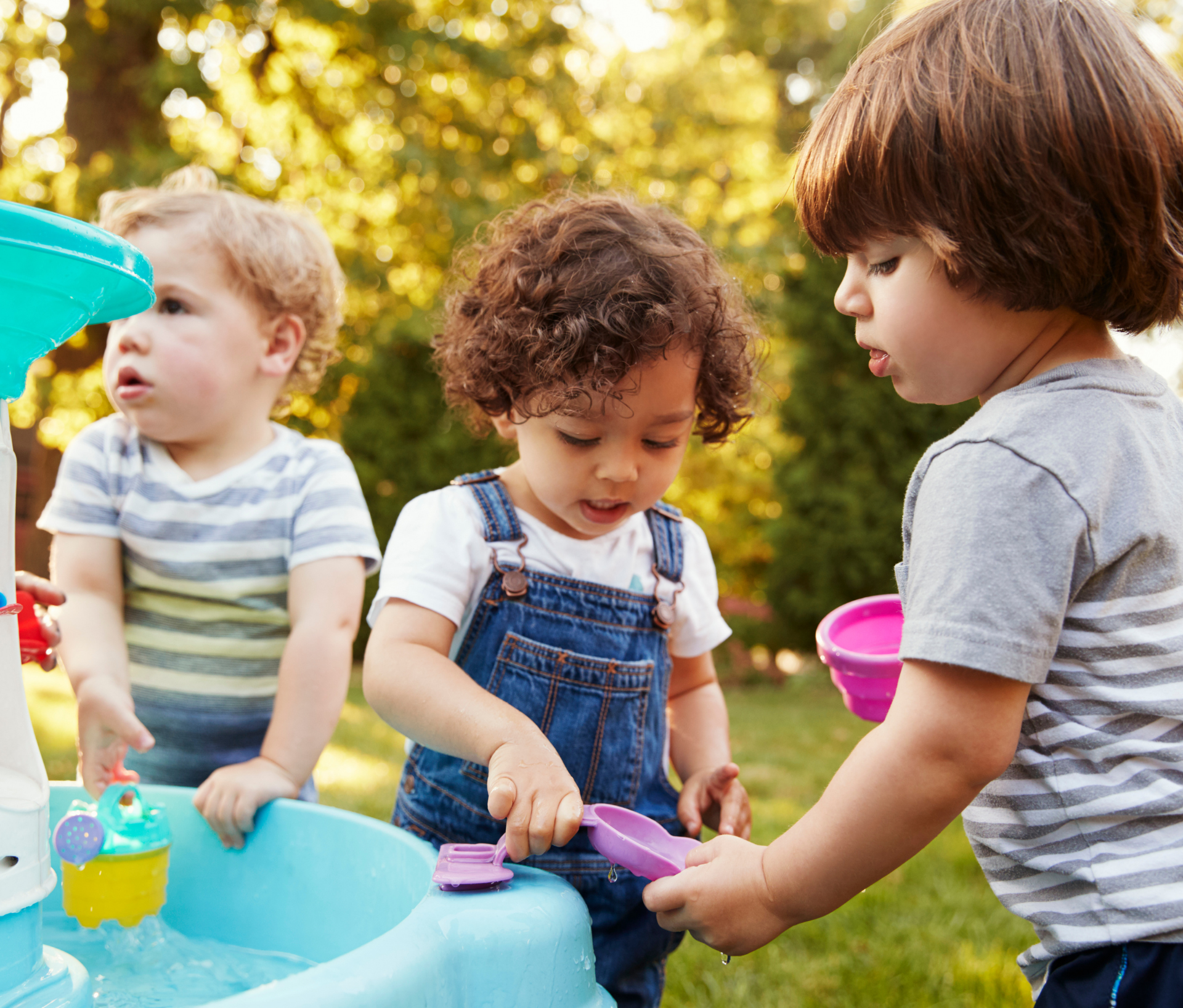 Image source: Monkey Business Images
Water play and kids is an instant success. They love to splash, feel the water, and interact with it. You don't have to get a fancy water table. Even a few bins with shallow water will do the trick. Add some bath toys, buckets, and scoops to provide lots of entertainment.
10. Cardboard Box Creations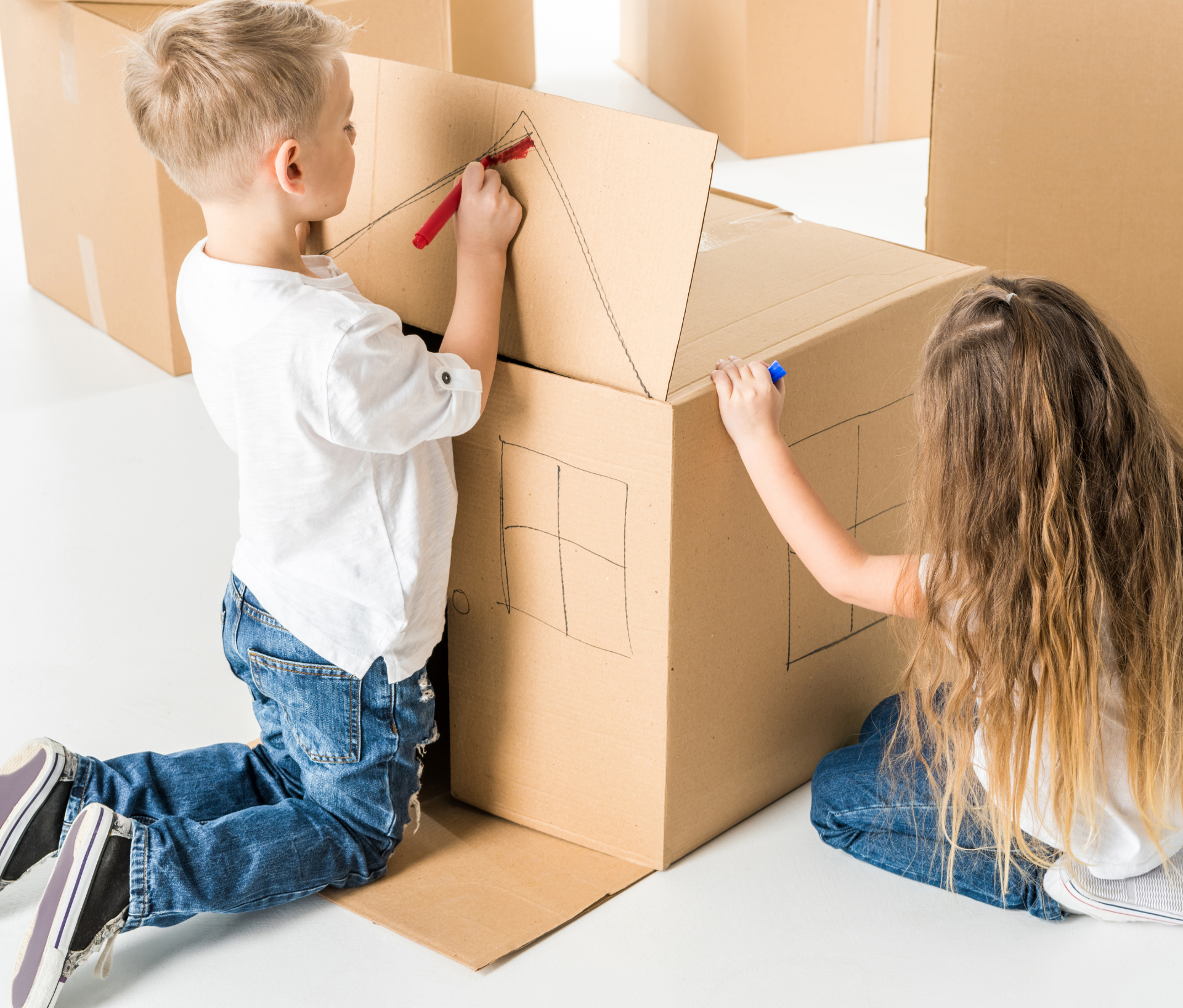 Image source: LightFieldStudios
For kids, a box is much more than a box. It can be a spaceship, robot, race car, castle, and so much more. Gather up a few boxes of various sizes and shapes in the weeks leading up to your party. Set them around with a few crayons and let kids go to town using their imaginations.
Food & Drink Ideas For 1st Birthday Party
Every good party has tasty food and drink options that cater to the specific guests. When you're entertaining adults and kids of all ages, you need variety in your menu. Make sure to have some tasty, filling options for the grown-ups with plenty of kid-approved finger foods. The cake is typically a major centerpiece, but consider making a cupcake arrangement to make it easy for little ones to handle. Don't forget to set out plenty of napkins too.
1. Smash Cake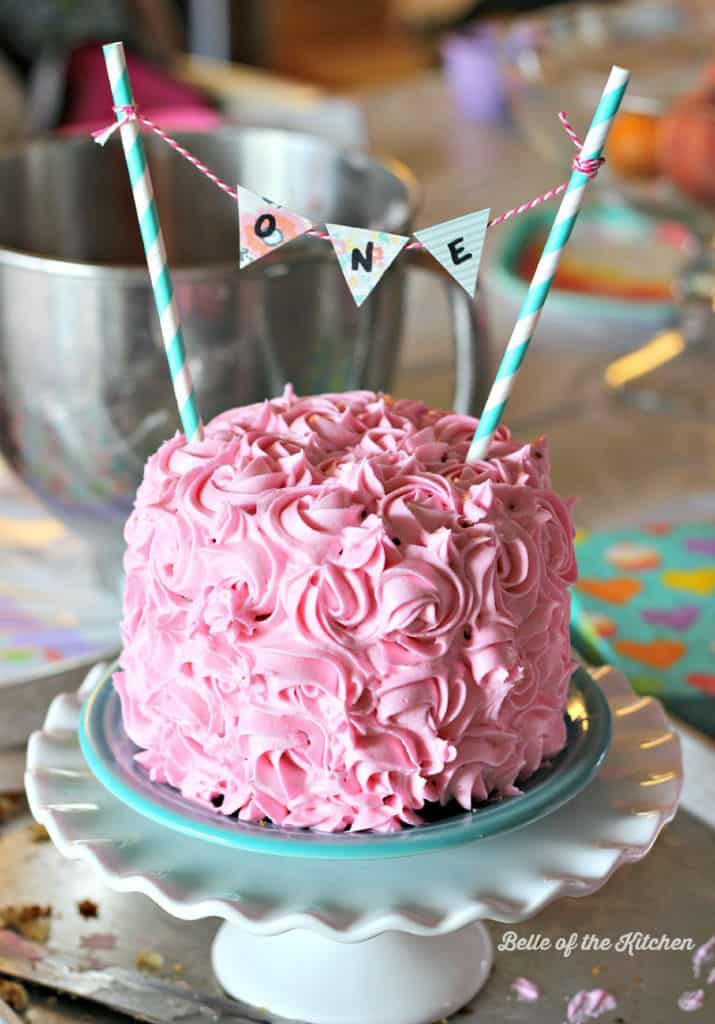 Image source: Belle of the Kitchen
The highlight of the menu for many first birthday parties is the smash cake. Everyone needs to snag a picture of baby pounding their fist into a cake topped with yummy, messy icing. Belle of the Kitchen shows you how you can make your own smash cake for the big event. As an alternative, you can also use a cupcake piled high with frosting.
2. Food Train (Fruits and Vegetables)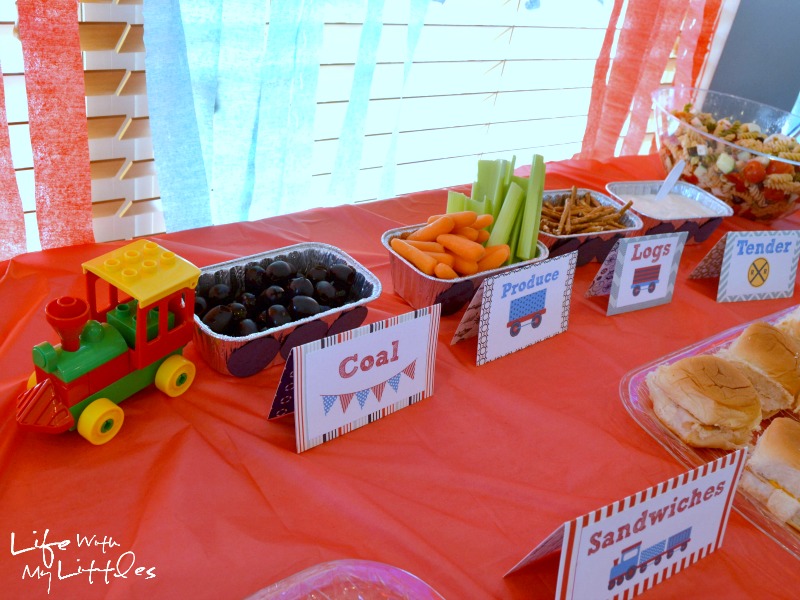 Image source: Life with My Littles
Displaying food at kid's parties in a fun way makes it even more enticing for the young ones. Life with My Littles creates a food train, along with themed snack names. You can make one easily with aluminum food storage containers and whatever toy engine you choose. Include tasty veggies and lots of yummy fruits (always a kid favorite).
3. Sliders And Sides
Image source: bonchan
The adults at your baby's birthday are likely going to come hungry, so make sure to give them something to satisfy their appetites. You can set out a bunch of sliders (great idea for a baseball theme) with all the trimmings or layout various toppings so people can create their own. Include some tasty sides, like macaroni and cheese and potato salad.
4. Mini Pancakes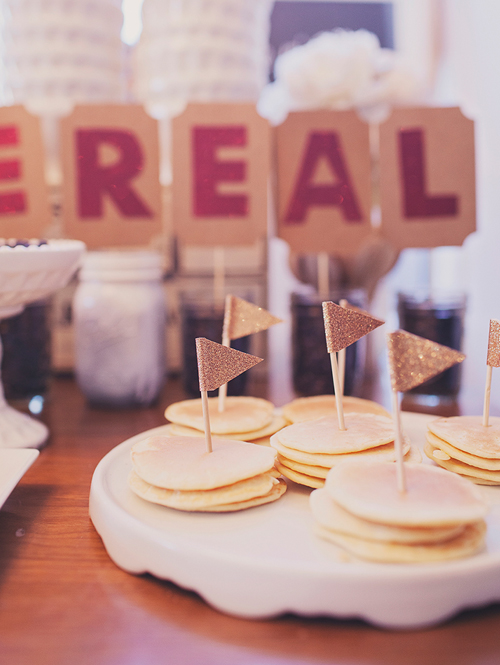 Image source: Little Miss Party
How cute are these mini pancakes on a stick from Little Miss Party? Kids love pancakes, and these bitesize ones make the perfect finger foods for a one-year-old's birthday. You can even add some food coloring into the batter to match your party's palette. Then, put a few on a stick for the perfect snack.
5. Cheese And Crackers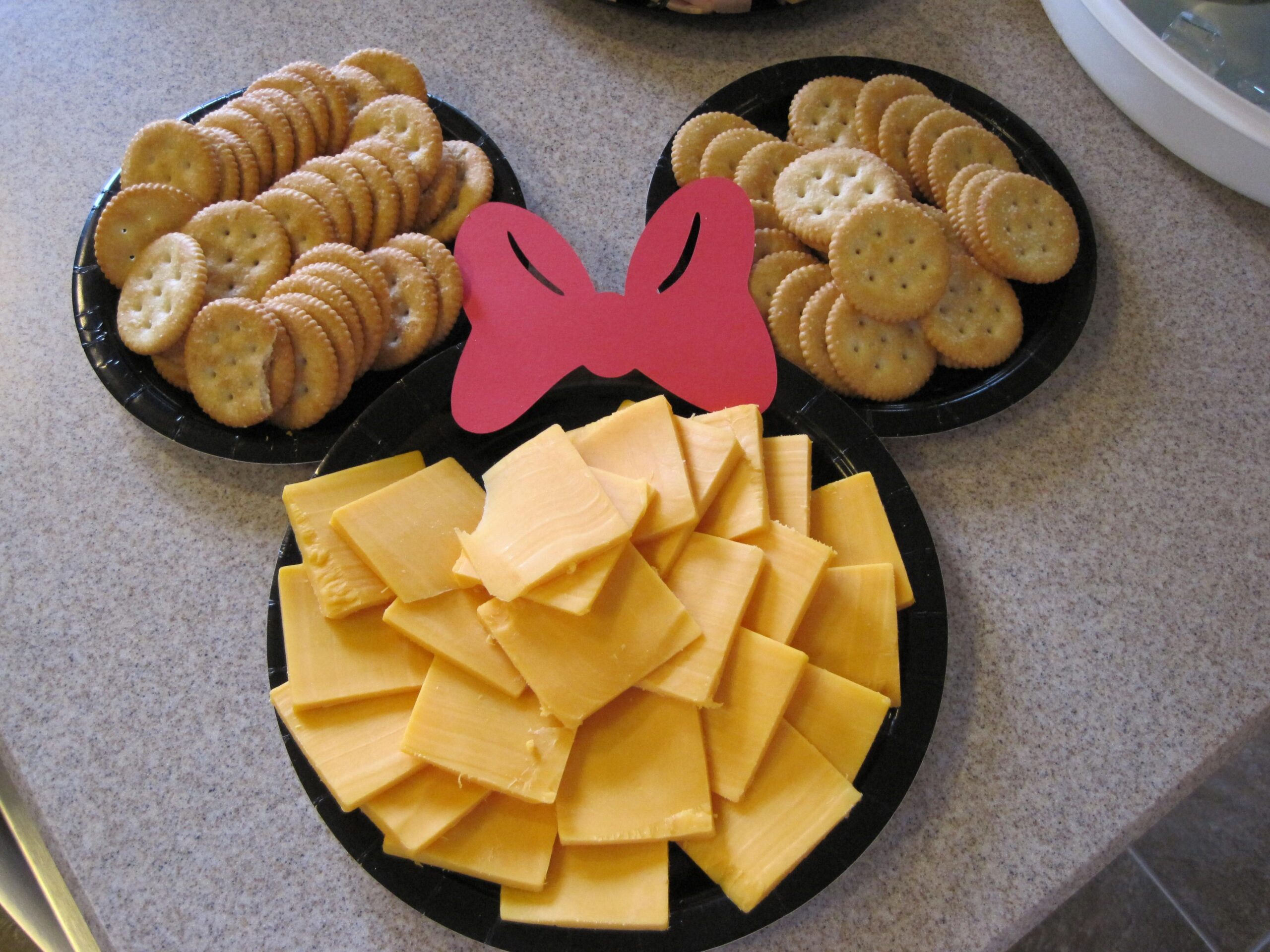 Image source: Sheila Williams
Toddlers love cheese and crackers, and even your one year old can start experimenting with different textures. You can set up cheese squares and various crackers in a variety of formations to match your theme. For example, Sheila Williams decided to make her platter match a Minnie Mouse inspired party.
6. Snack Pouches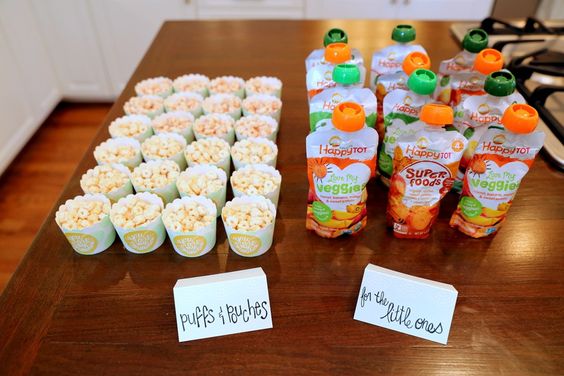 Image source: Peanut Butter Fingers
Even the birthday girl herself can grab her own snack when you use age-appropriate snack pouches. It's the go-to for many parents, so most kids will recognize these goodies on the food table. Peanut Butter Fingers set them out next to some kid-friendly cups of puffs. You can get fruits and veggie pouches, yogurts, applesauce, or offer a combination.
7. Crustless Sandwiches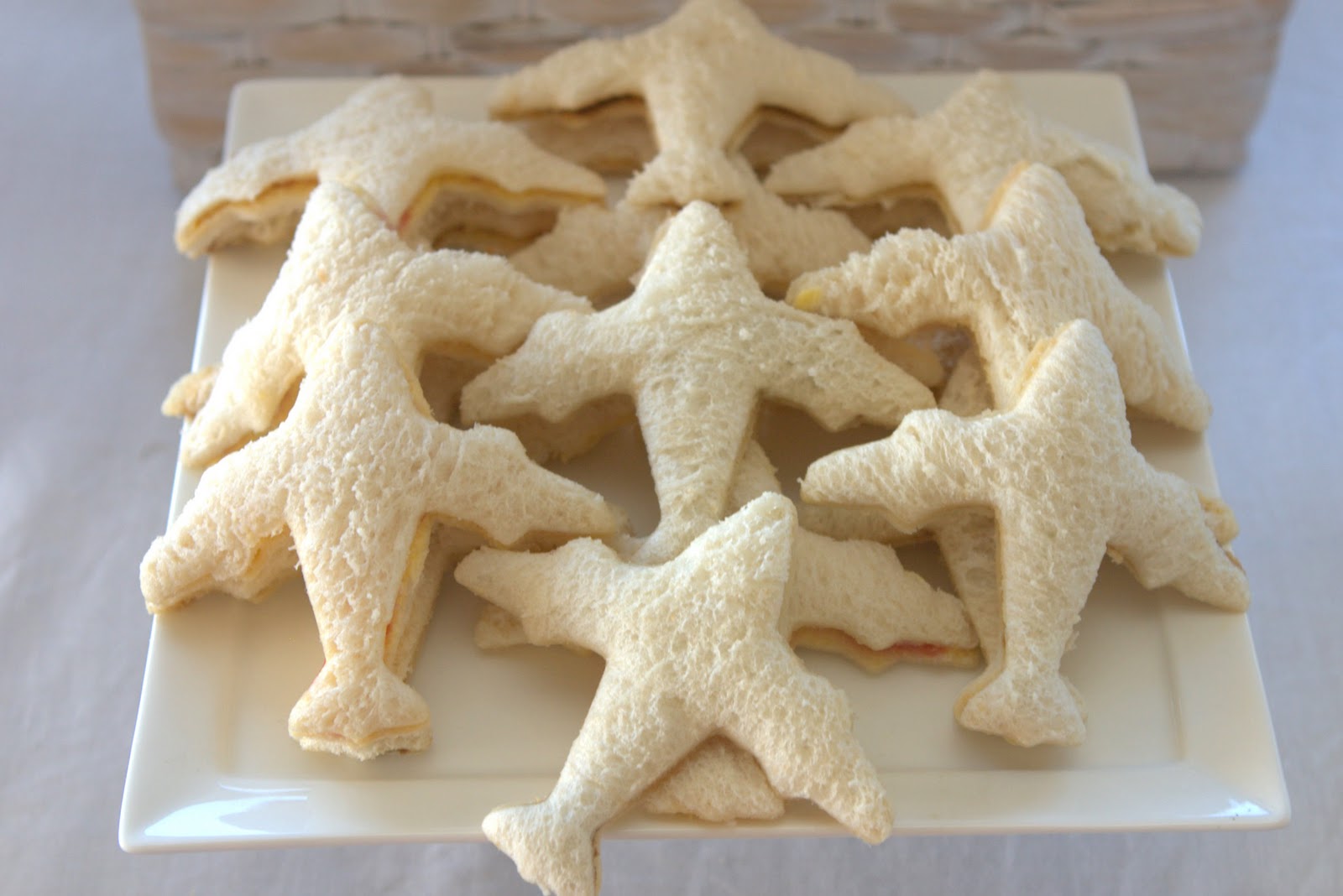 Image source: Max and Me
Finger sandwiches are a staple at many parties, but when it comes to a first birthday, you need to kick it up a notch. Decide on the theme, and choose some cookie cutters that have a complementary shape. For example, Max and Me cut their sandwiches into airplanes for their party.
8. Lemonade Bar
Image source: Pam ❤ Cook
Who says you can't have a bar at your kid's birthday? A lemonade bar is perfect for everyone on the guest list. Pam ❤ Cook keeps it simple and elegant with yellows and whites. But you can also vary your options and offer strawberry lemonade, peach lemonade, etc. Kids will get a kick out of getting to choose their favorite flavors or experimenting with different combinations.
9. Juice Boxes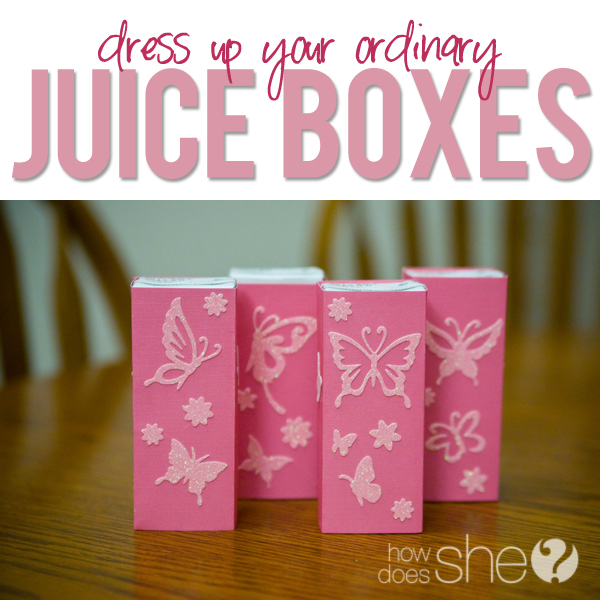 Image source: How Does She?
Juice boxes are an easy, mess-free way to add beverages to a young children's party. But, if you think they're boring, think again. Take a hint from How Does She? and decorate your juice boxes to match your birthday theme. Before you know it, your beverages are doubling as decorations.
10. Frosty Punch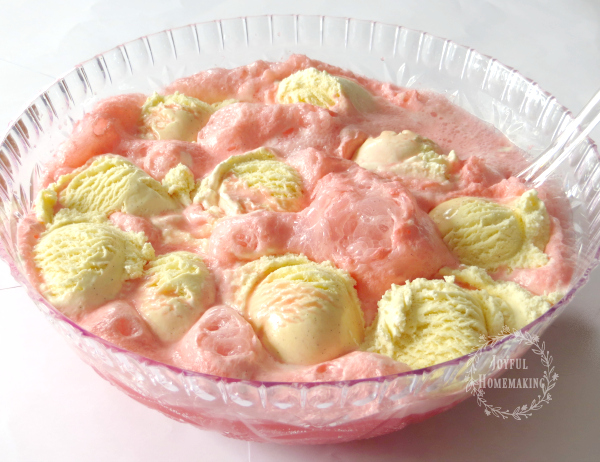 Image source: Joyful Homemaking
A colorful, sweet drink can become the centerpiece of your food and beverage table. This easy-to-make ice cream punch from Joyful Homemaking is tasty and refreshing. Plus, you can change up the color to work with your theme. You can also change up the name to fit your theme, like Princess Punch or Moon Juice.
1st Birthday Party Favors / Treat Bags
Most people look for some sort of favor or goody bag when they attend a special event. Kids' birthday parties are pretty much one of those things where guests expect the treats to focus on children. So, you can gear your favors on the kids in attendance and make sure to have a few extras, just in case.
1. Personalized Candy Bars
Image source: Big Dot of Happiness
Adults and kids will enjoy a chocolate treat takeaway when it's time to say goodbye. Big Dot of Happiness makes it simple to create personalized candy bars with your child's name and age. Choose the color, and you have a coordinating favor for your party. You can also personalize smaller treats like chocolate kisses.
2. Buckets With Sand Toys
Image source: Mary981
Here's a fun favor for a summertime birthday or if you're going with a nautical or beach theme. Fill some buckets with a few sand toys and treats for kids to take home. You can keep a marker handy to personalize it for them before they go.
3. Sensory Bins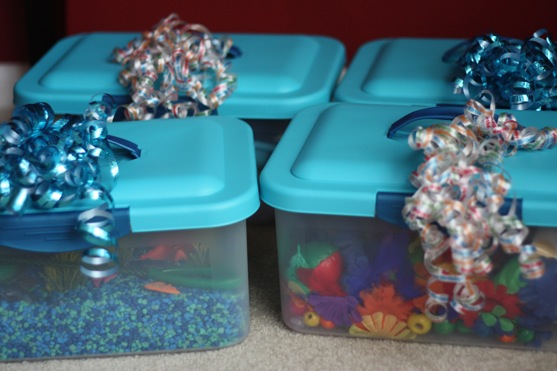 Image source: The Picky Apple
Kids will love these interactive sensory bins, and parents will appreciate the learning opportunities they provide. Fill a few small containers with various items that offer different textures. Picky Apple geared their bins toward older toddlers and preschool children, but you can cater your bins to your guests' ages.
4. Bubbles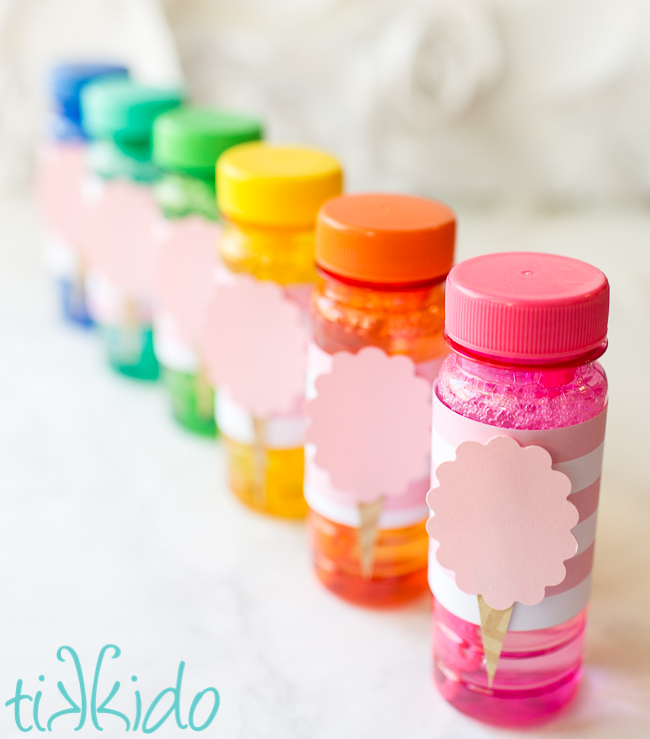 Image source: Tikkido
You can pick up bubbles at the dollar store and hand them out as-is after the party. Or, you can go the extra mile, like Tikkido, and jazz up your bubbles to match the party theme. You can also print personalized labels with a thank you note and wrap them around the containers.
5. Coloring Kits
Image source: Noodlehead
Parents will love that this favor will give their kids something to do when the party's over. Noodlehead assembled art kits to match the theme using appropriate coloring pages and stickers, and some crayons. You can put them in a bag or clip them onto mini clipboards.
6. DUPLO Sets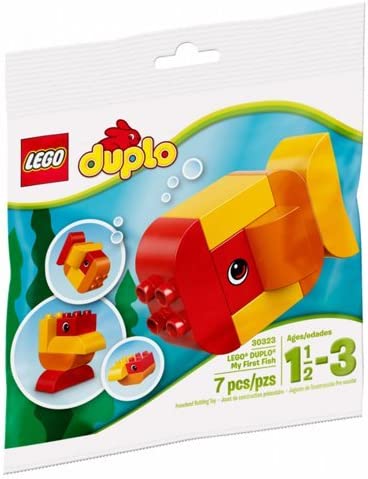 Image source: DUPLO
Introduce little hands to the world of LEGO with a small DUPLO set, just right for one to three year olds. DUPLO features a fun fish set, among other creations. You can choose from a variety of kits to find one that suits your child's party.
7. Mini Board Books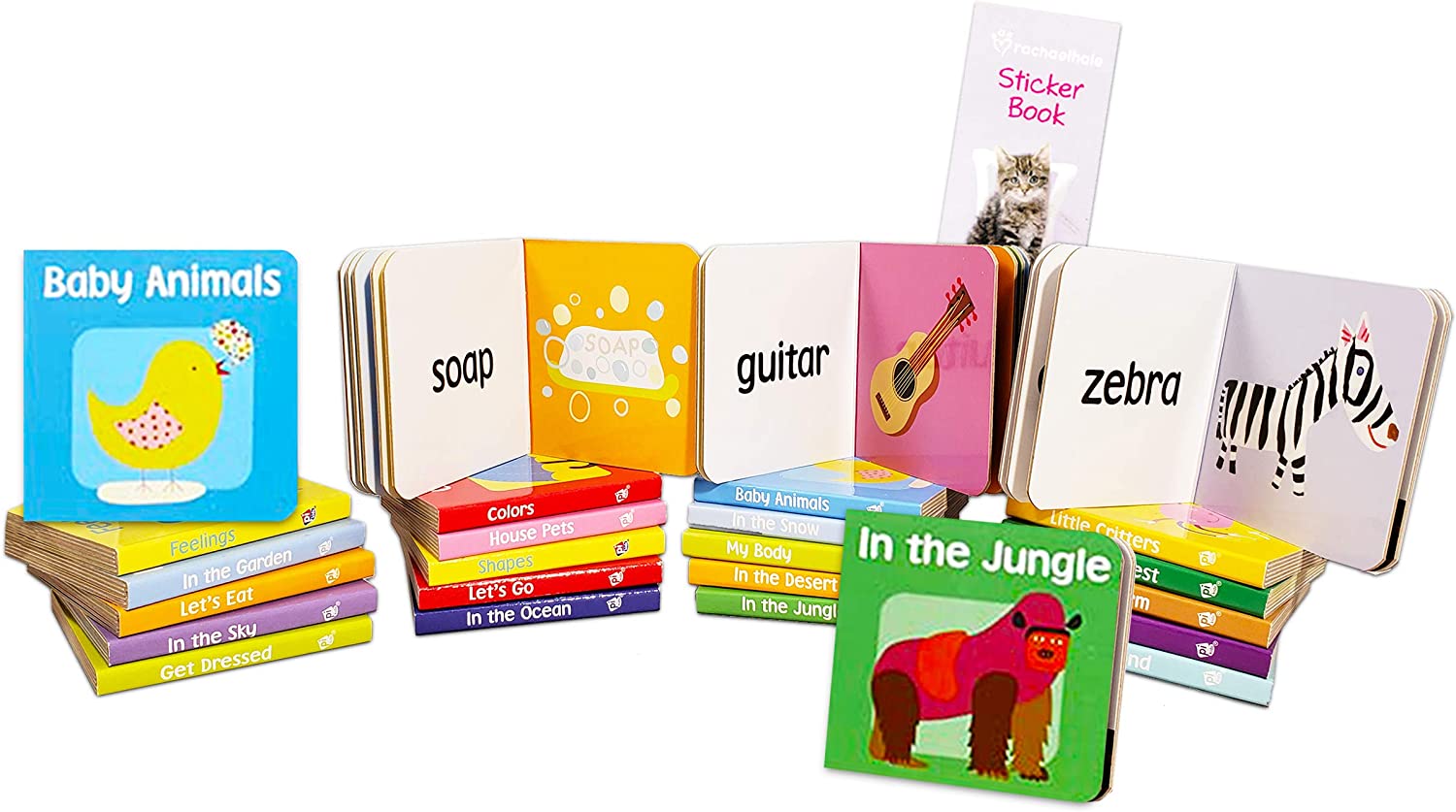 Image source: PIP
Small books are thoughtful and appreciated party favors, working especially well with storybook themed parties. But you can make this favor work with any theme just by matching the subjects and stories. PIP has mini board book sets that hold up well in little hands. You can break up sets to give everyone their own book.
8. Bath Toys
Image source: Studo58
Everyone loves to get something they can use, and bath toys fit the bill for young kids. You could even give out mini rubber ducks dressed in your party's theme. If you're going to have a mix of ages, consider offering some variety in your favors so guests can choose age appropriate options.
9. Themed Sugar Cookies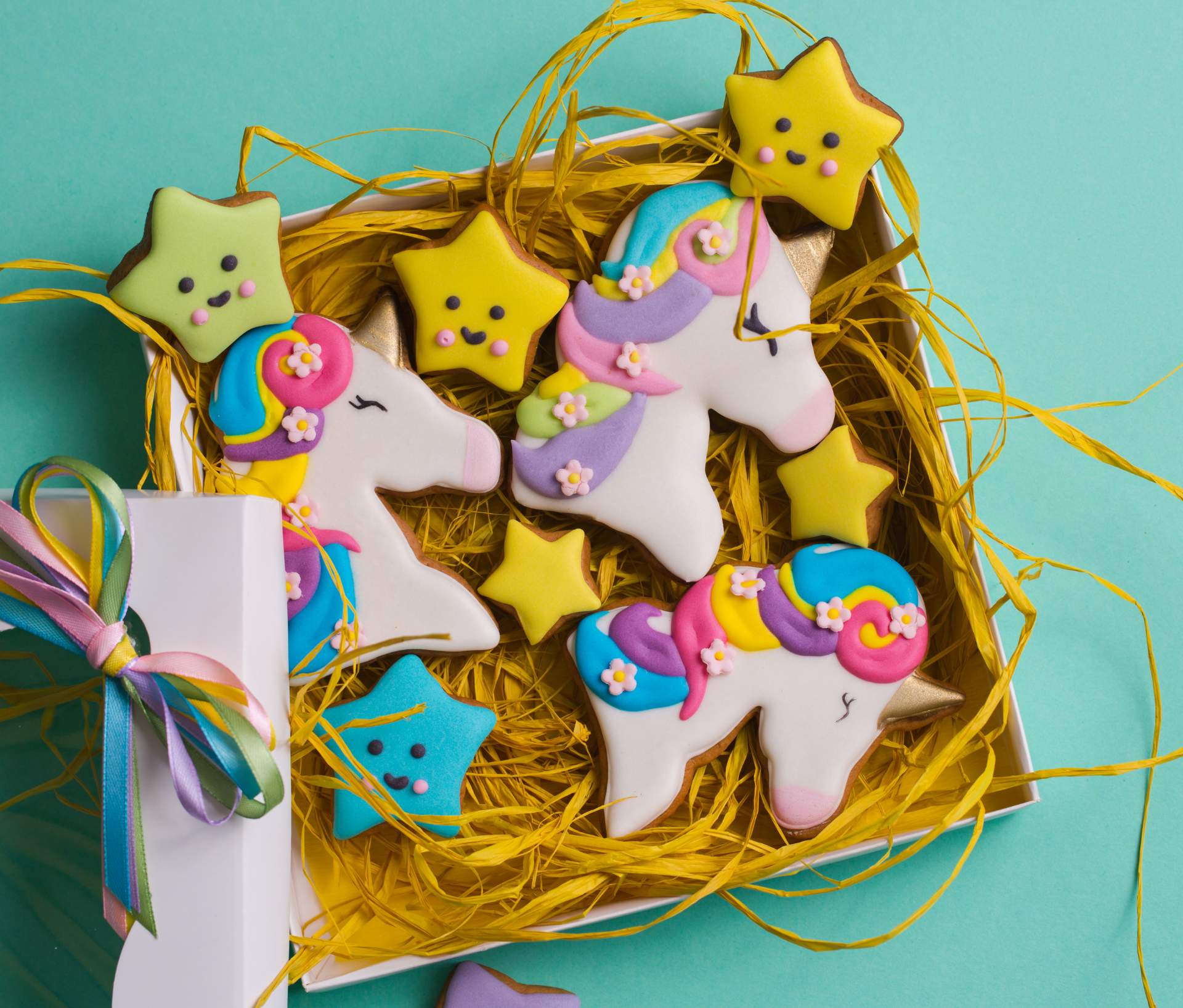 Image source: Mallivan
If you're looking for a favor for kids and adults, a delicious sugar cookie is an excellent choice. You can match them to your theme and even add a sticker expressing your thanks. These intricately decorated sweets are like miniature works of edible art.
10. DIY Fruit Loop Necklace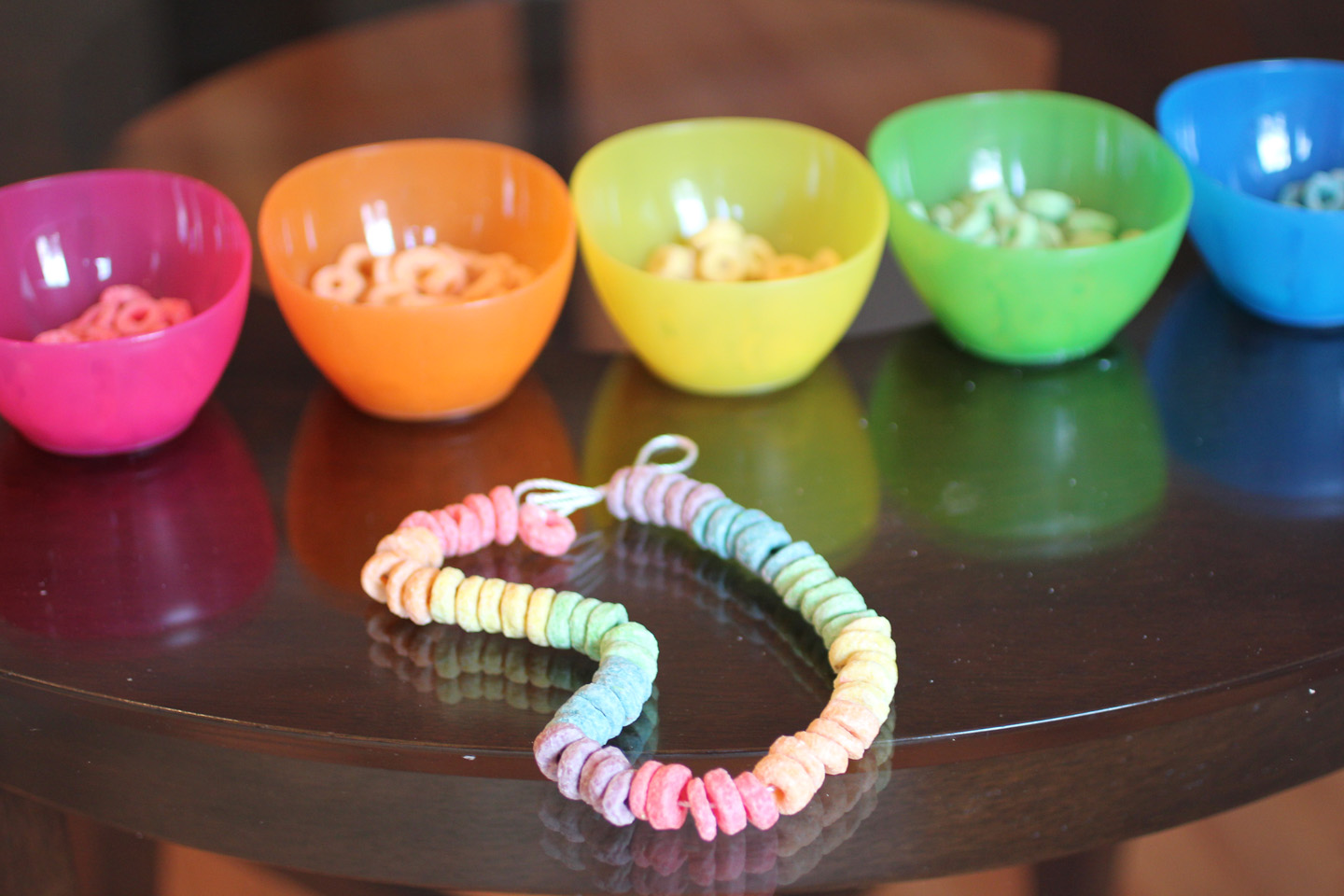 Image source: Repeat Crafter Me
Kids never want to leave a party, but this favor from Repeat Crafter Me could help them get out the door. Set up a necklace making station near the exit and remind guests to build their favor before they go. Or, if you prefer, create pre-made kits with a thank you sticker for guests to grab and make at home.
Birthday Gift Ideas For 1 Year Olds
Choosing the perfect gift for a one-year-old can be a daunting task. There are tons of options from toys to clothes to books and beyond. And it's not just baby you want to please, but mom and dad too. You want to find something everyone will love. If you're opting for a toy, make sure it's something that's not only entertaining but adds enrichment and learning opportunities.

Board books, age-appropriate plush, and bath toys are also great options for this age. But before you start scratching your head and pacing the toy aisle, check out our gift lists. We've done the research for you and rounded up the best toys for one-year-old boys and one-year-old girls.