By 8, your kid can definitely be a part of the party planning process. Before you start planning your kid's 8th birthday party, sit down with your child and see if they have some ideas in mind. You can use this article, packed with all sorts of ideas for 8-year-old birthdays, as a springboard for your discussion.
Find out if they prefer to do a fun activity with a few close friends or if they'd like to have their party at a special location. You can go to an arcade, bowling alley, or even a local restaurant to celebrate with your nearest and dearest. Plan a cooking party or arts and crafts-making bash.
But, other kids might still like the idea of inviting all their friends over and putting on an incredible theme-based party. Whether featuring their favorite characters, hobbies, or other interests, we've rounded up many great options for 8-year-old party themes. You'll also find tips for games, food, and party favors, so you can make your child's birthday one to remember.
Activity-Based Birthday Party Ideas For 8 Year Olds
Does your daughter love to bowl? Or maybe your son has dreams of becoming the next MasterChef, Jr. or a famous magician. Any of these interests and goals can make a jumping-off point for a super fun 8-year-old birthday. Think about activities your kid enjoys, or check out this list and see which ones fit the best.
1. Go To The Skating Rink
Image source: Gemutlichkeit
Book some time at a local skating rink for your kid's birthday party and let them invite several friends. Many venues offer packages for two to three hours that include skate time and a designated place for snacks and birthday cake. They'll provide skates for up to a maximum limit of people, which varies based on the package you choose. You can find a roller skating rink or ice skating rink, depending on your child's preference.
2. Weekend Trip
Image source: Voyagerix
If your son or daughter would like to keep things a bit more low-key for their birthday, consider a weekend getaway. Sometimes, kids prefer to spend more quality time with family and perhaps a friend or two. Instead of throwing money at a big birthday bash, put it toward a trip to the beach, a nearby amusement park, or a camping excursion. Let your child participate in the planning and choose some of the activities you'll do on your mini vacay.
3. Movie Night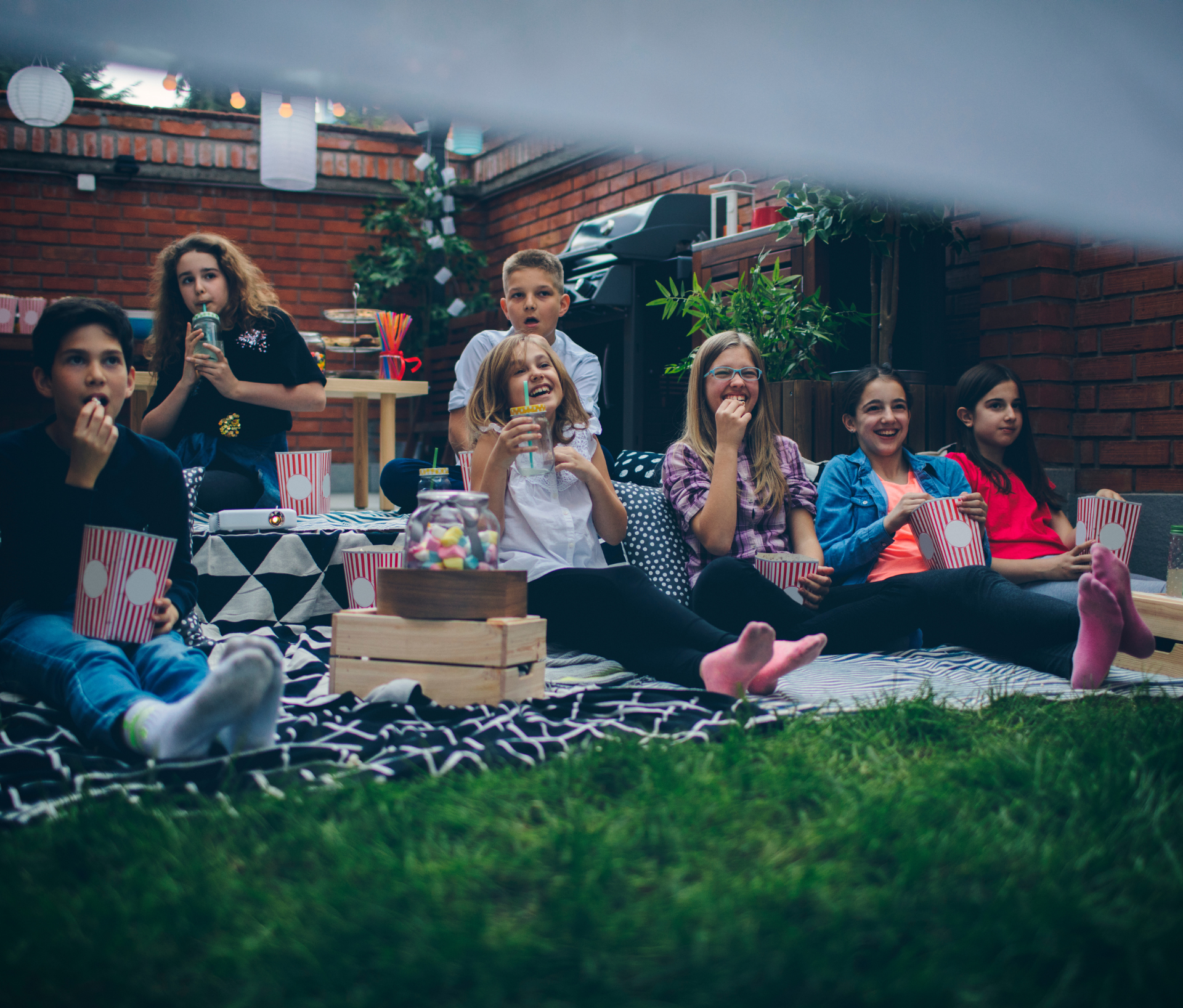 Image source: vgajic
Host a movie night at home with all the fixings, like popcorn, concession-style candy, sodas, and comfy seating. If the weather's nice, consider setting up your viewing area outside and use a large projection screen or inflatable screen. You can set out bean bag chairs, pillows, and lawn chairs and string LED lights for some ambient lighting. Another fun way to make outdoor seating is to throw comfy pillows and blankets inside of a few kiddie pools. If you don't want to have things at home, you could always have the party at a movie theater.
4. Slumber Party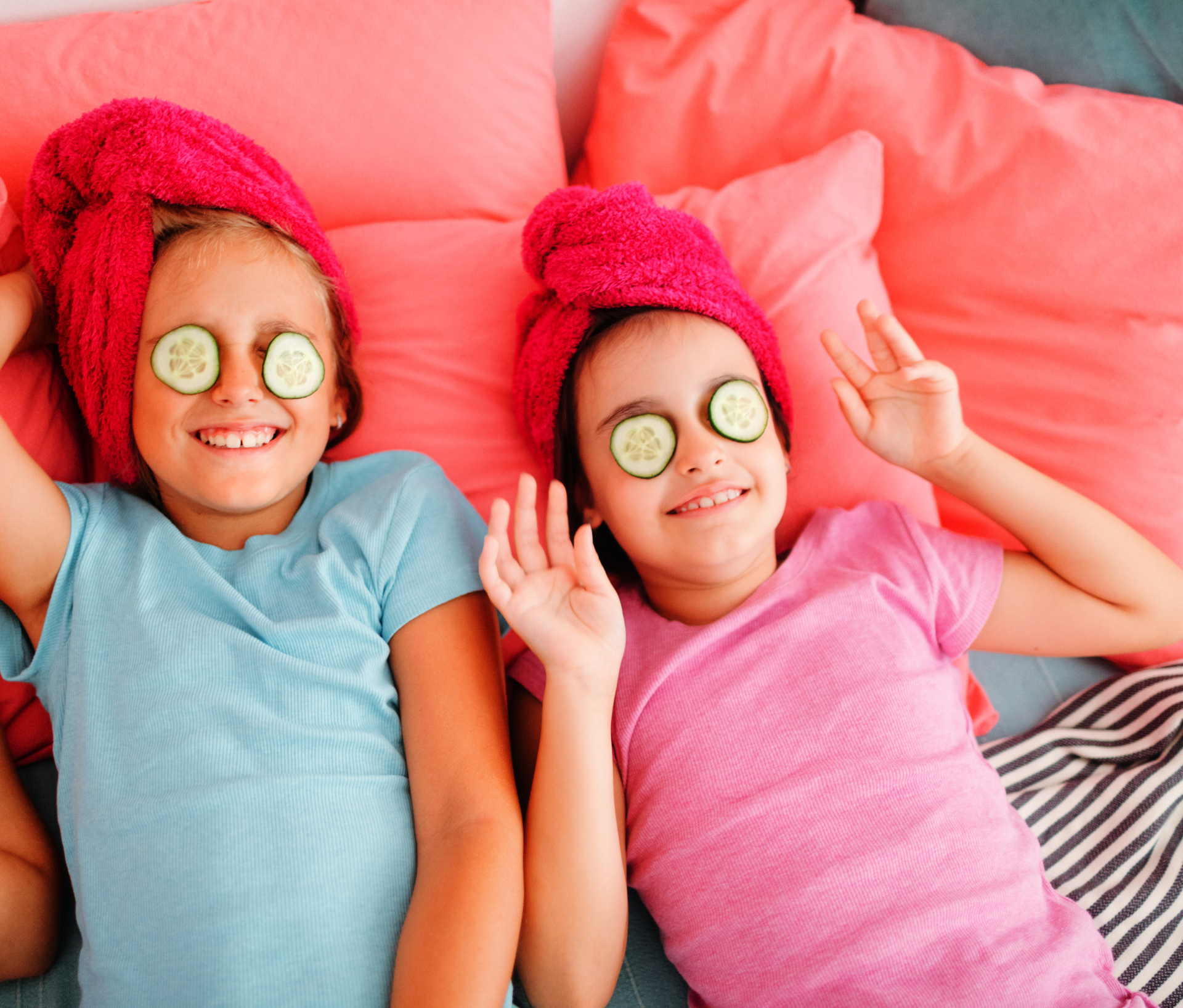 Image source: filmstudio
Sleepovers are an option for both boy and girl parties. Everyone brings a sleeping bag and pillow, and you designate a place for everyone to set up camp inside the house. It's up to you how many people you have your child invite, but this party works best for a smaller group. Order pizza for dinner and let kids play games, watch movies, set up a spa, have a video game marathon, etc. The next morning, have some breakfast options ready to go, like individual cereals or donuts.
5. Go Glamping
Image source: Kara's Party Ideas
Want to have a camping experience without the full-on outdoor camping experience? Let your child have a glamping party. There are actually different businesses now that will come to your home and set up tents with all the trimmings. The setup can be outside or inside and include a variety of different activities catered to your specific party. If you don't want to commit to an overnight endeavor, schedule an evening party that lasts for several hours and has a later pick-up time for guests.
6. Book A Hotel Room
Image source: Mommy Shorts
If you like the idea of having a sleepover but dread the thought of it happening in your home, rent a hotel room for the night. Find a local hotel that can accommodate you, the birthday child, and several friends. Opt for adjoining rooms, so you (the lucky chaperone) stays in one, and your child and their friends get the other.  Then, just leave the doors open between the rooms, and you're good to go. You can bring games to play, swim in the hotel pool, watch movies, etc.
7. Go Bowling
Image source: crystalsingphotos
Plan to meet up with birthday guests at a bowling alley and pay for everyone to play a couple of games. You can also check with the establishment to see what types of party packages they might offer. Typically you can reserve a few tables near your lane or lanes for your food and cake, etc. Kids can bowl, snack, and possibly even play some video games if there's an arcade in the facility.
8. Take It To The Ice Cream Shop
Image source: Grey Grey Designs
Check with some local ice cream shops to see if they're willing for you to host a party at their place. Many actually offer different options for birthdays, including making sundaes or having a character performer pop in for a visit. You can bring in your cake or get an ice cream cake from the shop. Ask them what their rules are for outside food. If they don't see food, they might be willing for you to have some pizzas delivered, etc.
9. Arcade And Laser Tag
Image source: cottonbro
If your kid likes a little healthy competition, then a party that showcases laser tag is an excellent option. Kids can team up to battle each other in the arena, perhaps scoring some special prizes for those with the highest scores. Adults can get in on the action, too, depending on the party you select. Typically they'll include up to a certain number of players and a specific number of games. Most likely, they also have food or a concession area at the facility that will provide food with certain birthday packages.
10. See A Magic Show
Image source: Mordolff
You can attend a performance with your child and their guests or hire a magician to come to your house. Kids can enjoy watching and participating in a magic show and perhaps even try a few tricks of their own. If doing it at home, you can always add a few other games and activities to fill in the whole party time. If you go to a show, consider eating at a restaurant before or after as part of the experience.
11. Mega Bounce House
Image source: kali9
Bounce houses are birthday party superstars, giving active kids an outlet for their boundless energy. You can find different styles with slides, climbing walls, and even pools. They also have many designs that feature various characters or themes, from princesses to pirate ships. Rent a mega bounce house to set up in your yard or at a park. Depending on the company, you'll either get the items you need to inflate the bounce house, or the company will come to your location to set up and take it down.
12. Find A Local Pool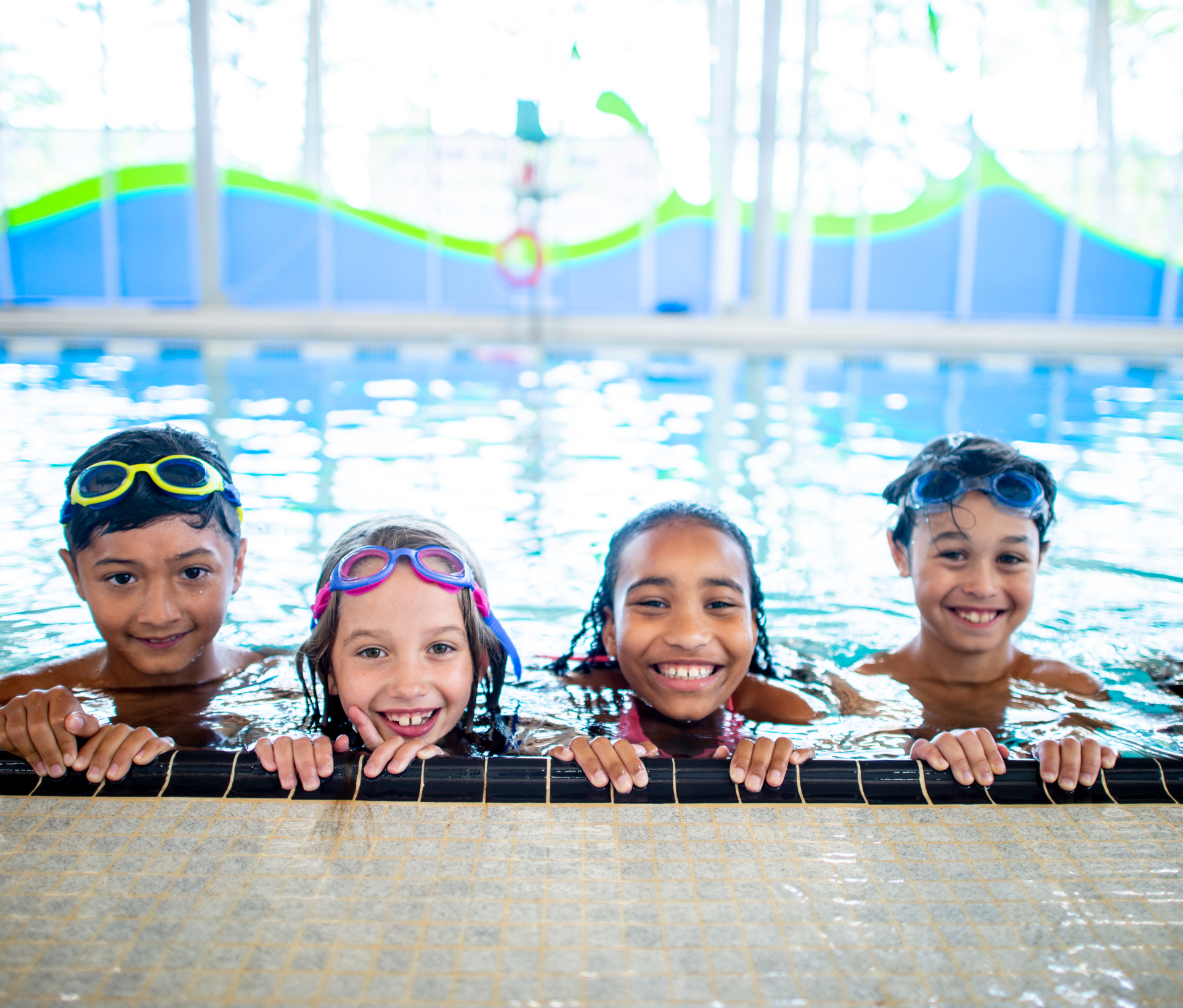 Image source: FatCamera
If your child has a summer birthday, a swim party can be lots of fun, but that doesn't mean you have to have a pool at home. Or, maybe you have a pool, but you don't like the idea of being responsible for a lot of kids in your personal swimming pool. You can seek out a community pool or a pool at a local rec center that allows you to rent it for a set time. Many of these places even offer swim party packages. The best part is that they will likely have a lifeguard on duty to make sure everyone stays safe.
13. Cooking Party
Image source: photoguns
Bring out the mixing bowls, spoons, chef hats, and aprons, and have the ultimate cooking party for your child and their friends. You can host it in your own kitchen and walk kids through a simple recipe. Or, you can look into local cooking schools or companies that will come to you. A professional chef can teach kids basic cooking techniques, and they can whip up something tasty to enjoy at the party.
14. Go To A Water Park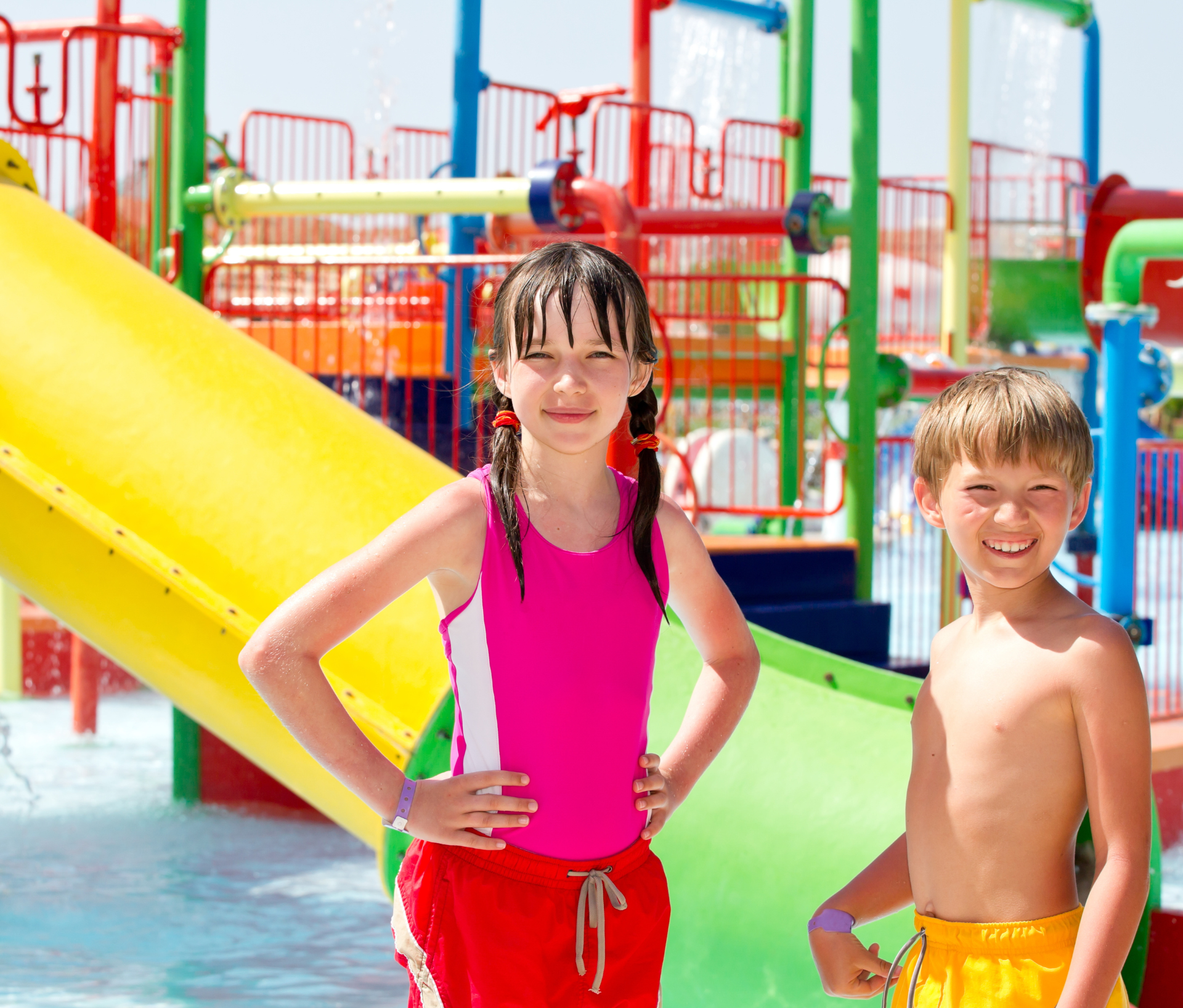 Image source: MaszaS
Splish and splash the day away for your kid's birthday at a nearby water park or spray park. You might want to ask a few willing parents to stick around to help chaperone, depending on how big the park is. Make sure everyone knows to bring swimsuits, towels, and sunscreen, and have some extra sunscreen on hand just in case. You can see if the park has a party room available to serve some snacks and cake to your guests, or they might have picnic areas available.
15. Attend A Concert
Image source: Teddy from Pexels
Does your son or daughter have a favorite music artist that they've been dying to see in concert? Check out the performer's schedule to see if they'll be in your area any time soon. You can also check if they have any concerts planned nearby. Then, plan your child's birthday around that dare, even if it's not quite close to their actual birthday. Let your kid invite a few of their closest friends to attend the concert and go out before or after for dinner or dessert.
16. Party At The Aquarium
Image source: Leung Cho Pan
Take things under the deep blue sea with a party at your local aquarium. Kids can tour the facilities and see marvelous sea creatures and learn about the ocean world. You might even be able to score a special tour or behind-the-scenes adventure. Ask the aquarium if they have special packages for parties (many might even have party rooms where you can set up your cake, food, etc.). Others might also offer add-ons like a snorkeling activity or up-close animal encounters.
17. Take A Train Ride
Image source: blizniak
Get tickets for your family and your child's closest friends and take a train ride. Look into local schedules for a ride that might take about 30 minutes to an hour. Plan to do something fun at the destination, then return by train. Let the conductor know that you're doing this for a birthday. You never know; they might do something special. Or, at the very least, you can see about getting a train car reserved for your group.
18. Build-A-Bear Birthday
Image source: Sparkly Shiny Love
You might have already paid a visit to a Build-a-Bear at some point with your kid. The store allows children to design and create their own stuffed animal creations, and it's lots of fun for 8-year-olds. Call the store and arrange to have your child's birthday there, like Sparkle Shiny Love. Everyone gets to come and make an animal to take home, and typically they have specials for the birthday child. You can usually get a birthday bear and only pay your kid's age.
19. Enjoy Brunch With Friends
Image source: noblige
Meet up with some of your kid's friends at a local restaurant that serves brunch. If your kid's into the idea, have everyone dress up and order some sparkling cider. You can let them decorate pancakes, try different toppings, and enjoy the experience. Going to breakfast or brunch is also a fun option in the morning after a sleepover. You can arrange for parents to pick up their children at the restaurant instead of your house.
20. Paint The Pottery
Image source: Famveld
You might have a local venue that hosts paint parties for kids where kids can paint various pottery pieces. Make sure to arrange when you have to pick up items, as many need to be fired in a kiln before you can take them home. If you want people to be able to bring things home that day, ask the artist for some options. You might be able to paint on canvas instead. You could also set up a similar party at home with kits that contain paintable sculptures.
Games & Activities For 8th Birthday Party
It doesn't matter if you're throwing a party inside, outside, at home, or a local rec hall. You need to plan something for your young guests to do that keeps them entertained and having fun. To make your kid's party one to remember, consider having some of these games and activities as part of the celebration.
1. Play Pictionary
Image source: sergilmostovyi
Let kids channel their inner artists as they compete in a classic game of Pictionary. Set up a large easel with a sketch pad and have kids take turns drawing pics for others to guess. Split the group into teams and for added fun, choose pics that have to do with the theme.
2. Cornhole
Image source: Lokibaho
Set up a cornhole game in the backyard for guests to play. It's a great game for an outdoor party. If you don't have cornhole boards, you can set up a similar idea using bean bags and buckets. Or play a simple game of bean bag toss.
3. Balloon Bullseye
Image source: Kate Leigh
If you ever went to a carnival, you probably ran across this popular fair game. It's a bunch of balloons on a board, and the kids take turns trying to pop them by throwing darts. You can find different styles of this game for sale online or make your own.
4. Sidewalk Chalk Mural
Image source: Your Modern Family
Your Modern Family shows off a great activity for an art-based party, outdoor event, or rainbow theme. Grab a bunch of colorful sidewalk chalk and some painter's tape. Let kids tape off a pattern on the ground, then fill the various sections with chalk. When you remove the paint, you get a stunning stained glass effect.
5. Climb The Ladder
Image source: Alisha Gray
Here's a twist on another famous carnival game, knocking over bottles. Alisha Gray sets up score levels on a ladder to track kids' progress. Set a bottle on the bottom rung and have a player try to knock it over. If they succeed, the bottle moves up one level, and so on, until they hopefully reach the top.
6. Three-Legged Race
Image source: SolStock
This activity isn't only fun to play, but it's hysterical to watch. All you need are some log scarves or strips of fabric. Pair kids up to participate in a three-legged race to the finish line. They'll have to work together and match each other's pace to succeed.
7. Twister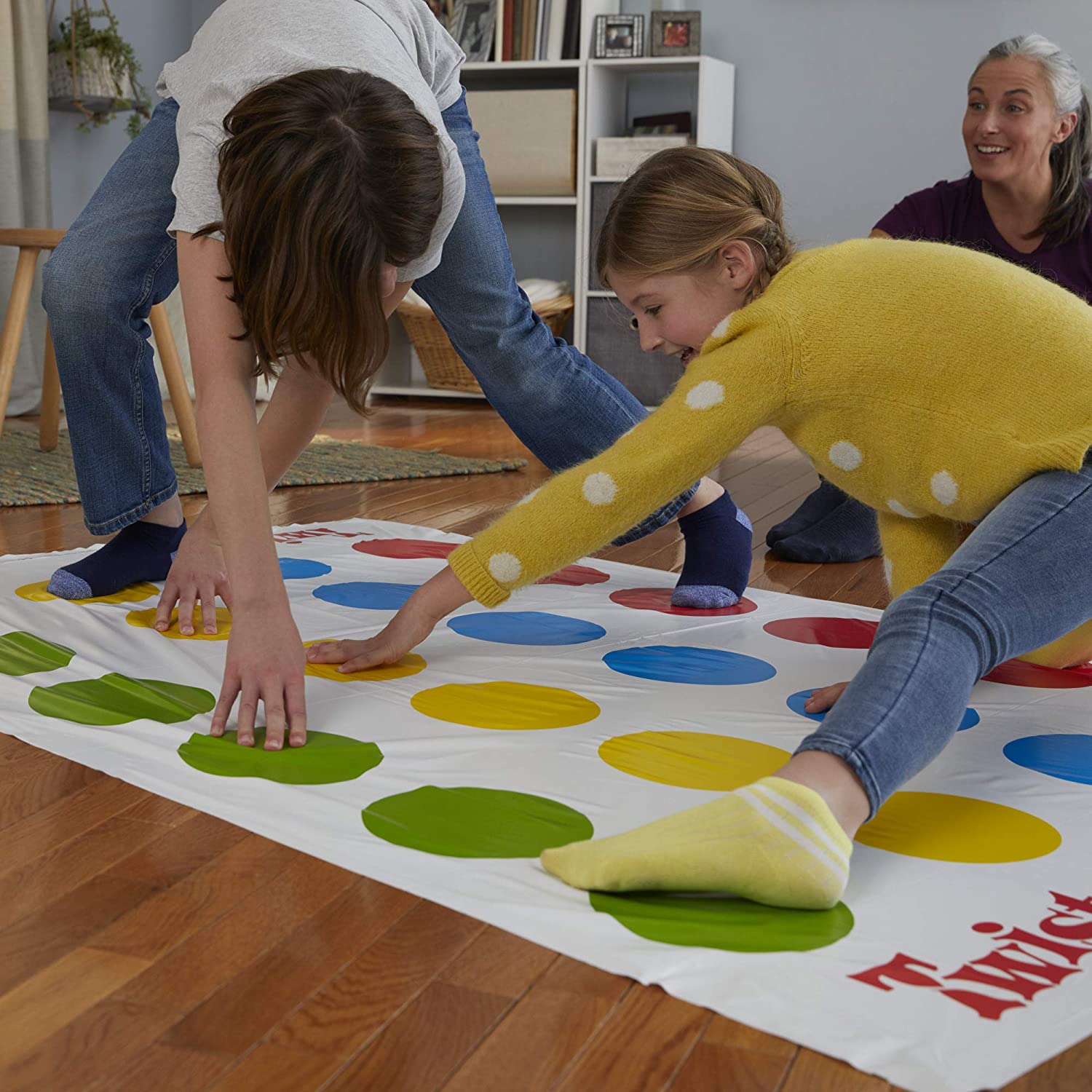 Image source: Amazon
Twister might be one of the most famous party games of all time for kids and adults. You can purchase the game at any toy store or places like Target or Wal-Mart or online. Or, you can even make your own using an old canvas drop cloth and paint to create the playing board.
8. Giant Jenga
Image source: Amazon
Make sure you have some room to spread out for this game of Giant Jenga because, eventually, everything will come toppling down. It's so much fun, and kids will squeal with delight when the blocks come tumbling to the ground. But, it's also a fun challenge to try and make it stand upright as long as possible.
9. Dodgeball
Image source: Amazon
Play classic dodgeball or variations of the game if you're having an outdoor party or are in a large space. It's a fun activity for small and large groups, and it gets kids moving around and active. It's always a plus when you can keep kids engaged and let them blow off some steam too.
10. Classic Outdoor Games
Image source: Anthony Rosenberg
If you're having a birthday party outside, whether at a park or in your backyard, organize a bunch of classic outdoor party games. Some examples are limbo, ring toss, tug-of-war, and spoon relays. You can have everyone play through games in a certain order or have them going on simultaneously and let guests rotate through (a better option for very large groups).
Party Favors For 8th Birthday Party
Party favors are a popular addition to kids' parties. Even lots of adult gatherings like baby showers, weddings, and milestone birthdays feature mementos for guests to take home. Favors are a way of telling your guests you appreciate them and thank them for coming. Here are some fun favor ideas for your 8-year-old's party.
1. Cereal To Go
Image source: Marla Workman
For many people, cereal isn't just for breakfast. It has also become a popular snack. Putting together some individual cereal packs and spoons like Marla Workman does makes a cute favor for kids. It's an especially good pick for a sleepover or brunch-themed birthday. Offer a variety of options so kids can choose their favorite.
2. Tattoo Soaps
Image source: Gluesticks
If you're in a DIY mood for your party favors, check out these tattoo soaps from Gluesticks. You can personalize homemade soap to match your party theme by choosing compatible tattoos. They're super easy to make, and you can even have the birthday child get in on the action. Or, make the soaps as a party activity and let guests take home their creations at the end.
3. Journals
Image source: Waldorf Moms Gather
Make some colorful journals out of basic store-bought notebooks like these tie-dye beauties from Waldorf Moms Gather. Adding a few colored pencils is a nice touch. This is another favor you could turn into a party activity. Kids can make their own and take it with them when they leave.
4. Themed Paint Sets
Image source: Amazon
Check out Amazon or craft stores for various paint sets that feature all sorts of different characters or sculptures. These kits usually feature an unpainted item and a bunch of paints and brushes, giving kids everything they need to get the job done. You can typically find pretty much anything from trucks to animals to movie characters.
5. Candy Kabobs
Image source: Girls' Life
These bright candy kabobs from Girls' Life are excellent party favors for rainbow birthdays, sweet shop parties, summer fun, and more. Let your kid help you make them pre-party, or set up a candy bar area for kids to create their own. Simply put out a bunch of candy and skewers and let guests fashion their own delicious favors.
6. Puzzle Cubes
Image source: Amazon
If you just want to keep favors simple, you can find tons of trinkets and goodies at party supply stores or online. These puzzle cubes will give kids an exciting and engaging challenge, making them a fantastic favor option. You can find them in different sizes, too. So give out larger ones solo or incorporate mini ones into larger goody bags.
7. Mason Jar Treats
Image source: Pinterest
Another option for an easy favor is to fill a container with all sorts of candy, stickers, and other goodies. You can use water bottles, simple loot bags, or decorate mason jar cups like these. It's super easy to blend favors like this to your theme. You just need to find a container that makes sense and decorate them to match.
8. Books
Image source: pixelshot
Give your party guests the gift of reading with a book to take home. You can buy books in bulk or visit your local library to see if they have an upcoming book sale. These are often a great way to snag lots of amazing books at incredible prices.
9. Glow-In-The-Dark Slime
Image source: Amazon
Slime's always a winner, and it's a fun addition to a party loot bag. But glow-in-the-dark slime is even better, and it's especially fitting for a glow party or mad scientist theme. You can buy it ready-to-go or have kids make their own as some of the party festivities.
10. Donut-Inspired Goodies
Image source: Kimspired DIY
If you're throwing a donut, sweet shop, or similar party, check out these budget-friendly favors from Kimspired DIY. You can find simple tins at the dollar store and decorate them to look like donuts. Fill them with donut-flavored sweets or maybe even a coupon to your local donut shop.
Birthday Gift Ideas For 8 Year Old Boys & Girls
You have lots of options when it comes to finding unique gifts for 8-year-olds. Besides all of the toys that overflow from the store shelves and online marketplaces, kids this age also ask for different items. Some kids prefer sports gear, while others want the latest electronics or gadgets, and some might want something really cool to decorate their room.
Books and games are other items that also get the green light, and you can't go wrong with gift cards (although this is a last resort!). Having all of these options is great, but it can lead to decision paralysis, which nobody wants. So, before you start digging through all of the different possibilities, make sure to check out our gift lists first.
You can find our 8 year old girl toys and gifts list here and for boys, check out our newly updated list for this year here. We've curated only the most unique items for 8 year olds and we're sure you'll find something that fits their personality. We'd love to hear your feedback, so let us know what you think of our selections!