Wood crafts are probably one of my favorite things to do with little ones because they are such a great teaching activity and also allow kids to explore nature! Take them out for a walk to find different kinds of wooden objects like twigs, branches or leftover wood scraps — and teach them along the way what the different uses of wood are (ie: making paper that we write and draw on, building homes and structures that we live in, making sports equipment like baseball bats and even furniture!).
Get inspired with these 31 wood crafts for kids that will encourage your child to go outside and enjoy the natural world. This list starts with the easiest projects that require the fewest extra materials and few to no tools. We also have another awesome list of 42 Cheap To Make Popsicle Stick Crafts For Kids — you definitely have to check it out!
1. Twig ABC's
Image source: Preschool Toolkit
This project is, quite literally, the simplest of the entire list. Intended for preschoolers still learning the alphabet, Preschool Toolkit has a list of exactly the twigs you and your child need to create all letters from A to Z. Turn a regular walk in the park into a learning experience! If you have to, you can easily break or cut the twigs to the length you need. Does your child already know their ABC's? Practice reading and writing simple 3-letter sight words!
2. Colorful Wind Mobiles
Image source: Babble Dabble Do
Here's another easy and simple wood craft you can enjoy with kids of almost any age and very few extra materials. This project not only creates a beautiful mobile to hang outside, but thanks to Babble Dabble Do it also teaches children basic engineering concepts like compression vs. tension. As a bonus, this is a great way to use up yarn scraps you may have around. When your child grows up to become a world-famous engineer, they'll thank you for inspiring them with this easy craft!
3. Tie It All Together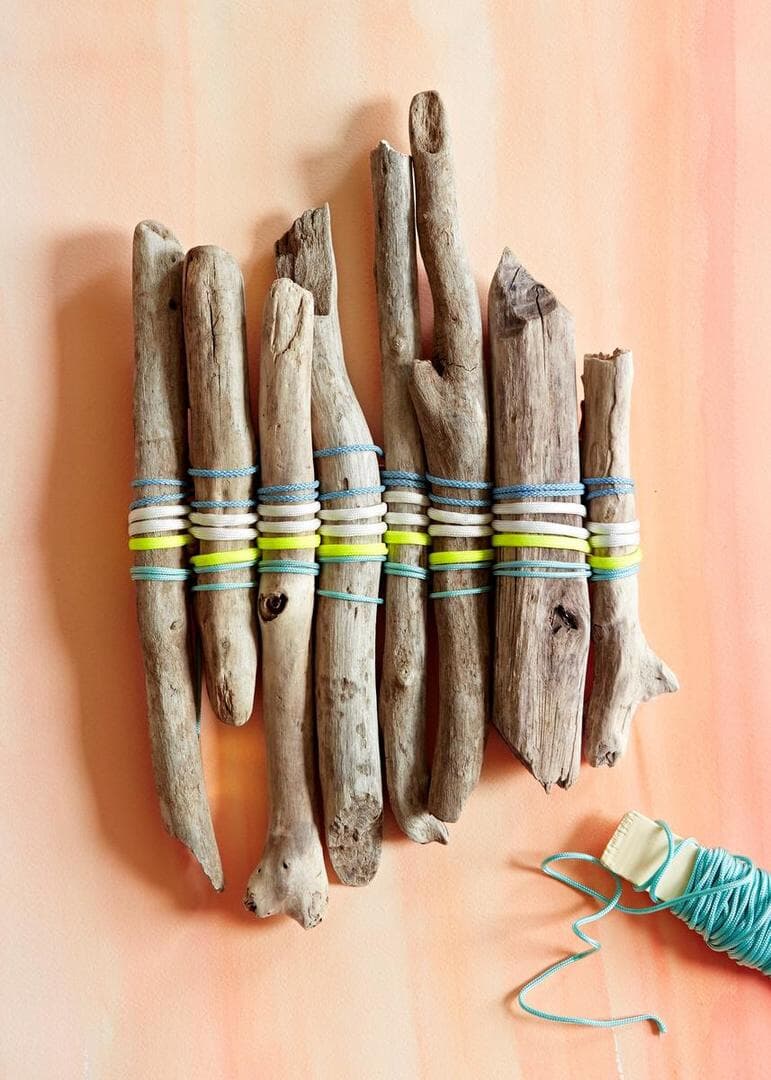 Image source: Parents
A day at the beach can last forever with this easy but fun art project that's perfect for all ages. No beach nearby? Go for a short nature walk or even out to your own backyard to collect sticks of differing lengths. Thanks to Parents, you'll never have to make your child leave all that driftwood back on the sand, and they will get to keep a tactile reminder of a fun day at the beach!
4. Leftover Sculptures
Image source: Artful Parent
Is your house being overrun by leftover bits of wood from assorted craft projects? Here's a great idea for an easy way to use them all up! Your child can have a blast painting and coloring, and you'll love watching their creativity take flight with the infinite ways they can put pieces of wood together. Head over to Artful Parent for some tips and tricks on this craft project that's as beautiful as it is fun!
5. Nature Royalty
Image source: Mama Miss
What child doesn't love to wear a crown? If your family loves the book "Stick Man" by Julia Donaldson, then your kids almost certainly have collected enough twigs to make this easy and adorable stick crown inspired by the main character. Easy enough for preschoolers and kindergarteners to help with, the instructions at Mama Miss offer a fun way for children to make something they can wear and show off!
6. Super Easy Stick Man
Image source: Treading On Lego
Speaking of the book "Stick Man," Treading On Lego has a craft easy enough for even toddlers to enjoy. With a few pipe cleaners, some cotton balls, construction paper, googly eyes, and glue, this project lets your child's imagination run wild. When you are done, hang it up on the wall in your favorite reading nook, next to the rocking chair, or above your little one's bed so your child can look at it while you read!
7. Made By Nature
Image source: Messy Little Monster
This craft is so easy, you don't need tools or even any glue! Turn your entire backyard into potential paint brushes with this inspired craft project by Messy Little Monster. Small twigs become the handles for brushes that are topped with anything your child finds in nature. Kids of all ages will love how many of these they can make in a single afternoon. And the best part is that they can use these to paint nature-inspired art!
8. Simple Rudolph Craft
Image source: Paging Fun Mums
One again, no special tools or equipment necessary for this sweet little Rudolph the Red-Nosed Reindeer craft from Paging Fun Mums. In fact, aside from some clay, you'll find everything you need in your own backyard. This project is great for younger children, as they can roll the clay in their hands to make Rudolph's body or insert the twigs for his legs and antlers. If you can't find a red seed for the "nose so bright," just paint one!
9. Easy Driftwood Kite
Image source: Hello Wonderful
After a long family hike – or after ten minutes in the backyard – if your child has collected their favorite twigs you'll want to try this simple kite craft. The instructions here at Hello Wonderful call for wooden beads that you or your child can paint, but any beads you have laying around will do. This is a great exercise for toddlers and preschoolers to hone their fine motor skills, and for grade schoolers to practice making patterns!
10. My Mermaid Friend
Image source: I Heart Crafty Things
A quick trip to your nearby craft store will help you gather all you need to help your child create these wooden spoon-based mermaids. With yarns of different colors and lengths, kids can make a mermaid that looks just like them. Or, get some funky colors to make mermaids with sea-worthy blue or green hair! I Heart Crafty Things has the supply list and easy-to-follow instructions to get started on this mermaid craft.
11. Unicorns Are Magic
Image source: Glued to My Crafts
Unicorns have always been a childhood favorite, but these days they are absolutely everywhere! Just when you think your child's life can't possibly contain one more unicorn, here come these fun little additions (more unicorn crafts for kids here!). Along with the wooden spoon mermaids (above), these creatures of fantasy make great party projects, puppets, or just unique works of art to keep forever. Glued to My Crafts has a materials list to bring to the craft store as well as step-by-step instructions for making an entire band of these beloved beings.
RELATED: Unicorn Gifts For Kids: 30 Amazing Ideas For Every Girl
12. I Heart You Wooden Frame
Image source: Mom On Timeout
Young children love making gifts for people. Whether for Valentine's Day, Mother's Day, or just because, this easy to make frame is too sweet to miss. With some inexpensive, prefabricated wooden frames from the craft store, plus some paint and a heart-shaped cookie cutter, your kids will have way too much fun getting to dip their thumbs into paint for this craft! It's deceptively easy, kinda messy, and totally worth it for a forever reminder of when your kids' thumbs were just that small! Get the full instructions on how to make this from Mom On Timeout
13. Twigs in Bloom Frame
Image source: Make It Your Own
Speaking of photo frames as gifts, if you can't handle one more macaroni necklace or Play-Dough ring, check out this beautiful frame inspired by nature from Make It Your Own. With a few inexpensive purchases from your local craft store and a walk outside with your preschooler, you have everything you need to create this lovely and heartfelt photo frame. Add your child's photo for a grandparent gift, or frame some of their art for the living room!
14. Abracadabra!
Image source: Arty Crafty Kids
For your budding magicians, wizards, witches, fairies, and other spell-casters, Arty Crafty Kids has a beautiful and easy way to make magic wands. With little more than sticks and ribbons, children can quickly transform themselves into the next Harry or Hermione! The best part of this craft is that each child will have a truly unique wand all to themselves based on whatever twig they like best and how they decorate it. Just don't let them turn their younger siblings into toads!
15. Let It Snow, Let It Snow
Image source: Buggy and Buddy
These gorgeous snowflakes are sure to be a hit during those long winter months when it's too cold to stay outside for very long. Collect the twigs during warmer seasons, or pick some up when it's time to take the kids sledding. Then follow these instructions from Buggy and Buddy to recreate a winter wonderland in your own home. With a little glitter added, your child's room can become an ice palace just like Elsa's!
16. Rainbow Mobile
Image source: Meri Cherry
While you are hanging your child's inspired creations around the house, be sure to craft one of these eye-catching mobiles from Meri Cherry! This rainbow craft requires only a few items you can buy at any craft store, and works for kids of almost any age. Whether the child just wants to paint the sticks, is old enough to work on stringing them together, or can tie it all to a stick for hanging, they are sure to have fun picking colors and making patterns!
17. Set Sail
Image source: Easy Peasy and Fun
If you have a glue gun and some string (or yarn), you can make an armada of sailboats no matter how many twigs your child can collect! With a little help from the creative minds at Easy Peasy and Fun, you and your child can spend as much or as little time as you want playing ship builders. Mount them on some blue paper and have a sailing race, or an around-the world adventure!
18. A Forever Keepsake
Image source: Crafty Morning
Maybe you have a neighbor who likes to cut wood, or maybe you do it yourself. Perhaps you just like buying crafting supplies pre-made. However you can get them, gather together some wood slices and paint, then get ready to make some precious keepsakes with your children thanks to inspiration from Crafty Morning. The best part of this project is that you can do as many handprints as will fit, or just one per slice, in any colors you want!
19. Paint It Christmas
Image source: Hip 2 Save
While you are collecting slices of wood, be sure to save some for these festive crafts to decorate your Christmas tree. Hip 2 Save has an inexpensive way to make fun ornaments to keep or give away as gifts. Check out the site for ideas on how and what to paint, including Santa faces, monograms, and snowmen. As your children grow up, you'll love finding these in your holiday decorations bin and remembering the time you made these together when they were little!
20. Infinity Racetrack
Image source: The Keeper of the Cheerios
Plain wooden blocks are the base for this awesome project that will keep kids busy for hours! Simply sand and paint, and then let your children build and rebuild an infinite number of race tracks for their toy cars and trucks. Over at The Keeper of the Cheerios there are some helpful hints for even the most beginning woodworker. Indoors on a rainy day, or outside to play, the more tracks you create the more shapes the kids can create!
21. Hammers and Nails
Image source: How Wee Learn
If you think your child is ready to start learning how to hammer nails into wood, check out this adorable porcupine project from How Wee Learn. Add a little paint for the porcupine's face, and a simple triangular block of wood – like a doorstop – transforms into a sweet little creature. How Wee Learn has the wonderful idea to give your child a wooden clothespin to help them hold the nail in place. This is one the kids will beg you to let them do over and over!
22. Heart Strings
Image source: Reality Daydream
While you have your hammer and nails out, check out this preschooler-friendly craft from Reality Daydream. Depending on your child's hand-eye coordination (and your nerves!) you can either let them hammer the nails onto a pre-drawn shape, or you can hammer them in yourself. Then, give your child a roll of string or thread – red for hearts! – and let them wrap and wrap and wrap it around until they have a unique work of art!
23. Itsy Bitsy Spider (and Web)
Image source: Frugal Fun 4 Boys
But wait! Here is one more project you can do with a hammer, nails, and some thread or rubber bands. Draw the pattern yourself on a square slab of wood and, if you are certain they are ready, let your children follow the pattern to hammer in the nails themselves. Using rubber bands or string, children then create a spider's web – and then take it apart and make new webs over and over again. Head over to Frugal Fun 4 Boys for detailed instructions, as well as a how-to on making a spider for that web!
24. Catapult: Small and Simple
Image source: My Mommy Style
A simple block of wood and a wooden clothespin are already half the items needed to create this catapult suitable for young children. My Mommy Style recommends letting them use cotton balls as projectiles, which is a great idea for saving your furniture from attack! Kids can use markers or paint to personalize their catapults while you take care of all the hot gluing yourself. Now, the only question is: who is going to clean up all those cotton balls?
25. Catapult: Big and Advanced
Image source: Housing a Forest
If your kids have grown beyond clothespin arts and crafts, take them to the hardware store for some 2x4s and saws to create this much larger version of a catapult from Housing a Forest. With supervision, older grade schoolers can measure, cut, drill, and screw together a few wood planks and blocks. Choose small, lightweight items for them to catapult once they are done and make sure they don't aim into the neighbors' yard. This one is definitely an outside craft!
26. Topsy Turvy
Image source: Kleas
Adults definitely need to do some of the work for these old-fashioned toys, but kids will still have plenty of fun painting and playing! Read through the steps at Kleas and then decide how much or how little to let your child do. A little bit of work here yields a whole lot of screen-free play time. No matter how digitized your home or how addicted to screens the kids might be, spinning tops are an eternal source of fun!
27. Say Cheese!
Image source: Purely Katie
It's only a matter of time before toddlers start to notice how everyone wants to take their picture. Make something your budding Ansel Adams can turn right back on you with this creative wooden camera you can make yourself! No major tools needed, so preschoolers can help out with painting and gluing the pieces together. Everything you need is right here at Purely Katie. This is one toy you won't mind your little one playing with nonstop!
28. Homemade Stamps
Image source: Mother Natured
When your child finds branches that are too big for the twig crafts above, time to haul out a saw, some sandpaper, and a few other small tools. Thanks to this amazing craft at Mother Natured, you can help your child create any number of wooden stamps. Keep some paint on hand for rainy days, and you'll always have a creative project at the ready for your little ones to make some art!
29. Friendly Little Robot
Image source: Adventure in a Box
These DIY wooden robots are the cutest thing ever! It's easier than it looks, thanks to the makers at Adventure in a Box. Make it yourself to surprise a toddler or preschooler; or have grade schoolers and older children help out with simple tools and wooden blocks. Before you know it you'll make enough for an entire robot army to take over your child's imagination!
30. DIY Wooden Bird Feeder
Image source: Inner Child Fun
Adult supervision is definitely required for this backyard bird feeder from Inner Child Fun. Choose branches that are much stronger, thicker, and sturdier than the little twigs from other crafting projects and use natural peanut butter for the adhesive. This project is great for both older and younger kids to help out with: older kids can do the hammering, and little ones can set up the peanut butter and birdseed. Then just get some binoculars and look out your backyard window at all the colorful friends flying in for a snack!
31. I Want Candy
Image source: Boys Life
This wooden candy dispenser is definitely not for woodworking beginners or for little kids to try out by themselves. In fact, an adult or teen might need to do most of the work here – but kids of all ages will have fun with the finished project! Make sure you copy the list of materials and tools from this post at Boys Life before heading out to the hardware store for everything you need to make this awesome DIY candy dispenser.