Thanksgiving is fast approaching… and you know what that means! Delicious food, spending time with friends and family, and of course crafting with the kids! What better way to kick off the holiday spirit than making turkey related crafts? We have gone above and beyond to find the best turkey crafts for kids and we think you'll love them. Most of these crafts use typical crafting supplies like popsicle sticks, felt, paper plates, etc. Most likely, you already have some of these laying around!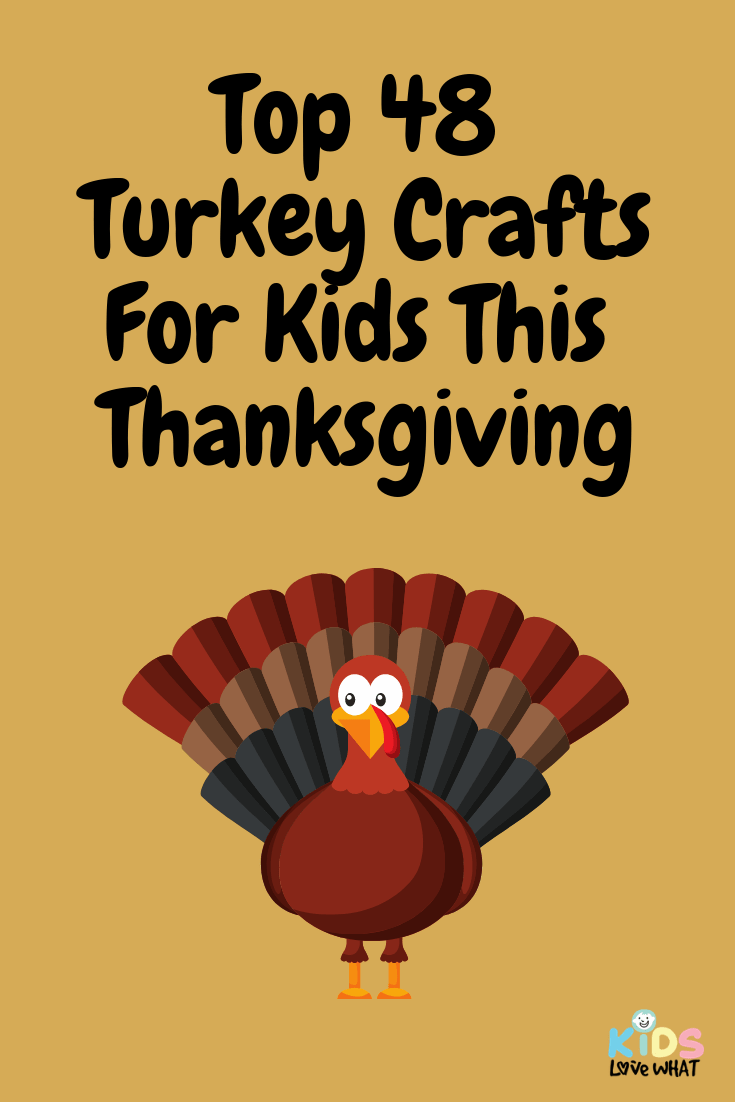 Some of these turkey crafts are great for class parties on the last day before Thanksgiving break and others are perfect for those rainy November afternoons, or weekends when it's too chilly to spend a lot of time outside. Either way, we're sure that you'll find plenty of these to try out!
All of these turkey crafts celebrate the colors of the fall in bright reds, oranges, and yellows – colors that work well when making a turkey! Or if you need a little more rainbow in your autumn décor, some of the crafts listed forgo the fall foliage for gorgeous blues, greens, and pinks. It's all about being creative and thinking outside the turkey box.
Level up your basic hand turkey craft with an ornament or popsicle stick gate; splash watercolor all over coffee filters or cupcake liners; or encourage your child's fine motor skill development with a craft that doubles as a fun activity. If the kids are being extra good, you might even consider letting them put together one of the turkey-themed sweet crafts listed below. Or really go all-out and make keepsake turkey crafts to give away to grandparents, guests, or classmates.
Be the hit of the kids table this year with any one of the creative ideas listed below!
1. Sponge Stamps And Paper Plate Turkey
Image source: The Resourceful Mama
This Thanksgiving craft from The Resourceful Mama is easy enough for toddlers and preschoolers, but fun enough for grade schoolers. It's easy enough to prep the pieces ahead of time, which works especially well for large groups of kids. At home, let your children practice their scissor skills by cutting out the shapes themselves. The project is perfect for a Thanksgiving party class activity that the students can bring home!
2. Swirly 3D Turkey
Image source: Twitchetts
For a fun Thanksgiving turkey craft that really pops, click over to Twitchetts for instructions on this beautiful project. A little bit of construction paper goes a long way, and the end result is a work of art that looks like it took ages to put together. There are plenty of steps to hold the kids' attention as they watch the craft come to life. These colorful paper turkeys make great place settings at the dinner table. Or, tie a string to the middle feather and hang them up!
3. Finger Drumsticks
Image source: Artsy Momma
No need to fight over who gets the drumstick with these adorable turkey finger puppets! Thanks to Artsy Momma, each child can make their own little turkey craft. Fake fall leaves are put to good creative use here as the turkey's tail, and different sized googly-eyes make the turkey extra silly! Make sure the holes you punch for the legs are big enough for your child's fingers to fit through, but not so big that they can't control the puppet.
4. Thanksgiving Feet
Image source: A Little Pinch of Perfect
The children will absolutely love lending a hand – and a foot – to make this clever turkey craft! A Little Pinch of Perfect has instructions for a colorful Thanksgiving project that's suitable for all ages and abilities. With a little help from a grownup to cut out the hand and footprints just so, kids can then glue the prepped pieces together. The kids will be tickled to paint their hands and feet, and the resulting craft will keep them laughing!
5. Brown Bag Turkey
Image source: Hugs Are Fun
Here's a darling turkey craft that's simple enough even for toddlers. Bust out the glue sticks and construction paper, then follow the instructions from Hugs Are Fun to help your little dumpling make a turkey puppet out of a brown paper bag. With this craft, you make the googly eyes yourself out of black and white paper – no need to buy extra! And since this Thanksgiving craft is interactive and fun to play with, it'll be the hit of the kids' table at any family get-together!
6. I Need My Morning Turkey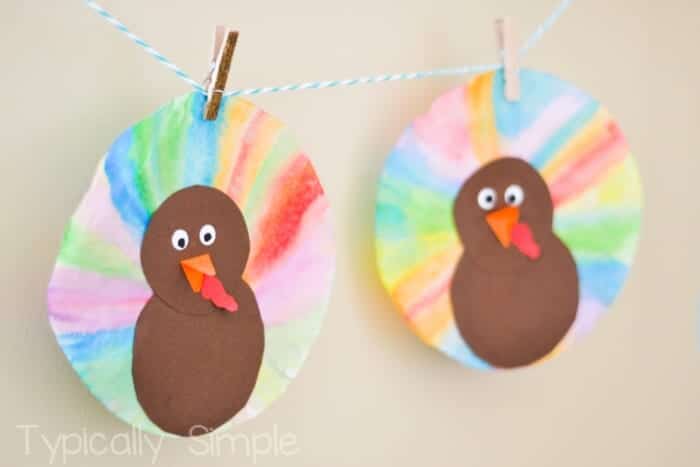 Image source: Typically Simple
Take a few clean coffee filters, some watercolor paints, and a couple of googly eyes, and you have most of what you need to make a stunning turkey craft with your kids. Typically Simple has everything else you need to get started. Think outside the box by allowing your child to paint beautiful rainbow turkey tails – so what if turkeys don't have pink feathers in real life? Fasten a string across one wall of a dining room and hang these guys up with clothespins for an easy and colorful Thanksgiving decoration.
7. Yummy Yummy Turkey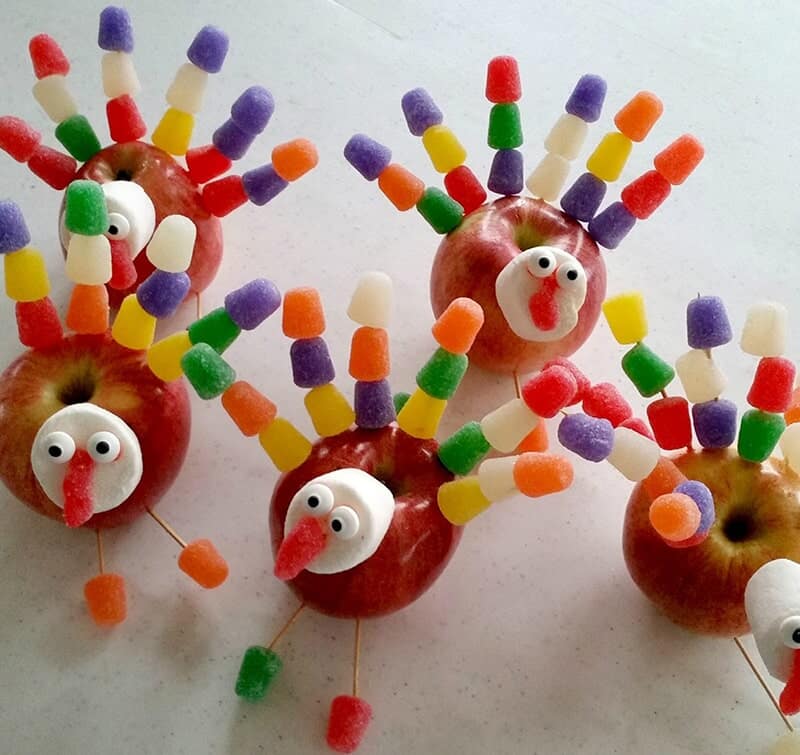 Image source: The Better Baker
Even carnivores will gobble up this meatless turkey! Despite the blog's name, there is actually no baking involved for The Better Baker's edible turkey craft. Kids of all ages – and maybe some grownups with a sweet tooth! – will want to make these Thanksgiving treats. You might need to help the youngest crafters with the toothpicks so they don't hurt themselves. This craft makes a perfect dessert for anyone who doesn't like pumpkin pie!
8. I Feel Pine
Image source: Lia Griffith
If fall weather inspires you to take long walks outside, or if your child is a collector of all the things they find on the ground, then take a look at these felt and pine cone turkey crafts from Lia Griffith. Since you'll need a hot glue gun to help the feathers stay in place, this activity should definitely be monitored by a grown-up or done by older kids who like to craft. Make a few of these and group them together for an outdoor-themed centerpiece! And check out our other pine cone crafts for kids here!
9. Stick-y Rainbow Turkey Craft
Image source: The Pinterested Parent
Popsicle sticks can do pretty much anything, can't they? For this Thanksgiving craft, everyone's favorite flat, oblong pieces of wood are painted in bright colors to become turkey tails. The Pinterested Parent shows you how to quickly and easily help your child make this fun turkey. Add some magnets to the back for fridge decorations. Prop them up on the fireplace mantle. Make some for the family members you have coming over and hand them out as souvenirs after dinner!
10. Fancy Turkey Stick Craft
Image source: The Nerds Wife
Now, here's a craft you will definitely want to make lots of! Stock up on some Haagen-Dazs ice cream bars. Then eat them. Don't tell the kids. Clean the fancy, curvy sticks and use those as the base for this Thanksgiving craft from The Nerds Wife. It's a cute and clever twist on the usual straight-edge Popsicle sticks. A little bit of colorful duct tape adds texture and fun patterns to the craft. But remember, you don't have to tell the kids where you got the curvy sticks!
11. Putting The "Thanks" In Thanksgiving
Image source: B-Inspired Mama
Thanksgiving is so-called because we all give thanks for what's good in our lives. And most children could benefit from some gentle reminders of all the things they have to be grateful for. Cue this design-your-own thankful book craft for kids from B-Inspired Mama. This is a fun and creative way to talk about the spirit of Thanksgiving while spending some quality time together after the turkey's in the oven but before the house gets crowded with guests.
12. Stay Cool, Turkey
Image source: A Girl And A Glue Gun
When the oven's been on all day and there are too many warm bodies hanging around, the house can warm up quickly. Go ahead and make some paper fans, and then use a few extra to put together this clever turkey craft featured at A Girl And A Glue Gun. If you've ever made paper fans just by folding paper back and forth, then you are already halfway to making a turkey. As a bonus, these turkeys stand up on their own so they make great table decorations!
13. Is There A Turkey On My Head?
Image source: Kids Craft Room
With the Holiday season upon us, you are likely already looking for ways to save money while still keeping your children entertained. Kids Craft Room has you covered on both accounts with their free printable template for making a turkey hat. With some googly eyes and colorful cardstock, you've got the makings of a new Thanksgiving craft tradition. Little kids will love these – and maybe you can convince the older kids (or grown-ups) to wear them to dinner!
14. Turkey With Salt, Please
Image source: Natural Beach Living
Raised salt painting is the hot trend these days for kids' crafts, so don't neglect a Thanksgiving salt painting craft. If you're not sure what salt painting is, or how to get started, or you just need some Turkey Day inspiration, click over to Natural Beach Living and follow the easy step-by-step instructions. Make these ahead of Thanksgiving Day for fun decorations around the home, or save it as a day-of craft to keep the little ones busy before dinner!
15. A Turkey, Eggs-actly
Image source: Schooling Active Monkeys
As you cook up a storm for the big day, keep some of those empty (but clean) egg cartons handy for this easy turkey kids craft from Schooling Active Monkeys. The children can pick out their favorite colors from the project feathers at your local crafting store and then paint their turkeys to match – or not! This Thanksgiving craft is perfect for toddlers and preschoolers who love making things in vivid, rainbow colors.
16. Mark Your Turkey
Image source: Easy Peasy and Fun
Bookworms always need bookmarks. Help your young readers celebrate Thanksgiving with this free printable turkey bookmark from Easy Peasy and Fun. The printables come in both color and outline form, so creative kids can fill in their own. By printing out an entire batch of outlines you have an instant, super easy Thanksgiving party craft for your child's class. Print these out on heavier card stock for a more sturdy bookmark. What a festive way to mark the pages in your child's favorite Thanksgiving book!
17. Bottle That Gobble
Image source: Crafty Morning
If there are soda purists in your family – the kind who will only drink Coke out of the old-fashioned green glass bottles – make sure they keep the bottle caps! Once the caps are all clean, check out the inspiration at Crafty Morning to learn how to turn them into Thanksgiving works of art. Toddlers, preschoolers, and kids with special fine motor skill needs will have a blast dripping paint inside the bottle caps. Let the caps dry, then make your turkey craft!
18. Ring Around The Turkey
Image source: The Resourceful Mama
Here's a really cute Thanksgiving craft that's easy to do once you prepare the paper plate foundations. The Resourceful Mama has the photos and instructions you need to set these up for a class party, rainy weekend afternoon, or Teacher Work Day. Older kids can help out by drawing the outline of the turkey and cutting the center of the paper plates. Little kids can do what they do best – make an awesome mess painting their turkeys!
19. Kaleidoturkey
Image source: Buggy And Buddy
For a more leveled up Thanksgiving kids project, check out this mesmerizing turkey made with geometric shapes from Buggy And Buddy. This project is perfect for older kids who have outgrown paper plates and paint, or for preschoolers and young grade schoolers who are practicing patterns and shapes. While this might not be great for kids with visual issues, it could work quite well for children who like to be meticulous and need order. This is one Thanksgiving craft that's certain to impress!
20. Turkey Goes Splat
Image source: I Heart Crafty Things
Little people who don't yet have the fine motor skills for a more complicated craft – or older kids with limited fine motor abilities – will have a blast making this simple yet adorable Thanksgiving craft from I Heart Crafty Things! A flattened cupcake liner and some empty toilet paper tubes are the only fancy materials required here. The best thing about this project is that it's nearly impossible to mess up, so no tears if they don't turn out exactly right!
21. Stuff That Turkey
Image source: Primary Theme Park
For another brown bag-based turkey craft for kids (see #5, above), check out Primary Theme Park's "stuffed" turkey project. This one makes a standing turkey that can be placed on fireplace mantels, dinner tables, or office desks. It also helps children learn the true meaning of Thanksgiving by having them write what they are grateful for on the turkey's tail feathers. It's fun, it's adorable, it's easy to make, and it's a great lesson in gratitude for kids of all ages!
22. Leaf It To Me
Image source: Crafty Morning
Those brisk fall walks can help you collect materials for a sweet Thanksgiving project. Have fun celebrating the colors of fall with your children as you assemble this leaf-based turkey inspired by Crafty Morning. With a big bag of googly eyes and a stack of brown construction paper, you won't run out of supplies any time soon! It's a great way to motivate kids to go outside and enjoy the fresh air before Jack Frost comes for his yearly stay.
23. Fluffy Turkey
Image source: Mom On Time Out
One skein of brown yarn is enough to make several of these soft and cuddly pom-pom turkey crafts featured at Mom On Time Out. A grown-up will definitely need to make the turkey's yarn body, but kids will love to lend a hand for the tail feathers. With some pipe cleaner legs and glued-on eyes, this little fella will quickly become a family favorite, and may end up being your child's new snuggle buddy at bedtime! Check out more of our yarn crafts for kids here!
24. Breaking News: It's A Turkey
Image source: Arty Crafty Kids
Use up old newspapers, magazines, and coloring pages with a Thanksgiving turkey craft from Arty Crafty Kids! This project is a surefire way to let kids indulge their creativity and originality by helping them make turkey bodies and feathers that are as unique as snowflakes. Grown-ups can help younger kids cut out the shapes, while older kids can scour old paper media themselves for colors and designs that strike their fancy. This is one for the fridge!
25. Stick It To The Turkey
Image source: Busy Toddler
Clear contact paper is the hero for this super easy craft that preschoolers can probably do themselves with only a little supervision. At Busy Toddler you'll find the inspiration behind this turkey project that can be set up in minutes and enjoyed over and over again. Tape down the corners of the contact paper to keep it from moving around when it (inevitably) gets stuck to little fingers. Otherwise, let your kids' imaginations run wild with this one!
26. Cone Of Turkey
Image source: Crafty Morning
When Thanksgiving at your house feels more like a big party, check out these turkey-themed party hats from Crafty Morning. With a few supplies – you do have colorful feathers, right? – and some quick and simple steps, you and your kids can make and decorate cone-shaped turkey hats for everyone! (OK, maybe just the kids.) This Thanksgiving craft makes a creative alternative to the endless pilgrim hats and Native American headdresses. There'll be no mistaking where the party's at!
27. Pop, Pop, Turkey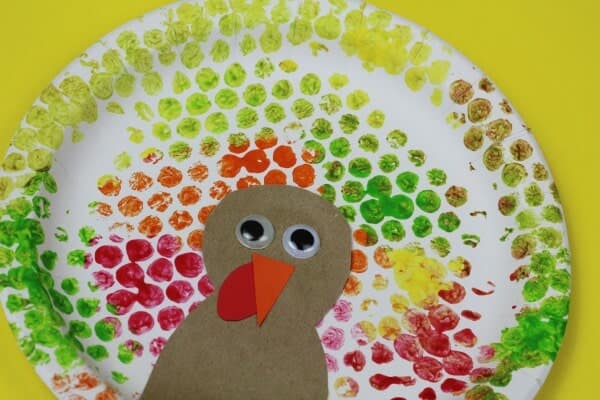 Image source: Crafts On Sea
Bubble wrap provides the artistic materials for this sweet little paper plate turkey over at Crafts On Sea. The materials are super cheap and easy to come by, and the instructions are simple enough to follow. Make sure to have the kids do this craft on top of some old newspaper, because it'll get messy! Once they get going, you biggest concern here will be stopping little fingers from popping bubble wrap that's already dripping with paint!
28. Connect The Dots Turkey Activity
Image source: LalyMom
This turkey craft – slash – activity is designed especially for preschoolers, kindergarteners, and any other child who is working on developing fine motor skills. With a big hole punch (found at most craft stores) and some contact paper, you can easily make this project featured at LalyMom. Bring the pieces ready to go for a fun class activity, or use it to keep the children busy before dinner on Thanksgiving Day! For slightly older kids, let them mix and match the colors to create a funky turkey craft.
29. Tee Is For Turkey
Image source: Buggy and Buddy
Another wonderful Thanksgiving-themed fine motor skills activity is this one from Buggy and Buddy. And this is one the kids will absolutely love doing! Your local craft store will have most of what you need to get started. Make sure you supervise the children so that little fingers don't get smashed!
For kids with sensory issues, especially auditory ones, this may not be for them and they may not want to be around others who are doing it.
30. Can You Say Turkey?
Image source: Happiness Is Homemade
Save up those soup cans for a windsock turkey craft! Check out the photos and instructions at Happiness Is Homemade to learn how you and your children can make some outside decorations for Thanksgiving. This particular turkey craft is a little bit more involved and requires a trip to the craft store if you don't happen to have lots of ribbons in fall colors laying around, so stock up before hand and be ready to go as soon as you decide the kids have had enough screen time!
31. Misty Watercolor Turkeys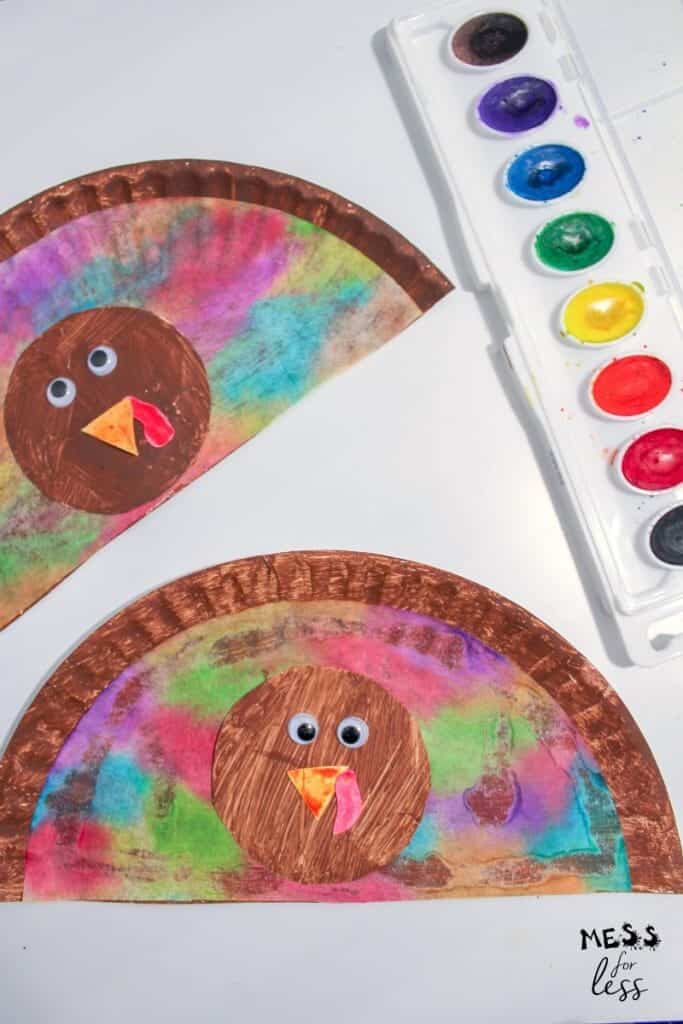 Image source: Mess For Less
When November rains hit and the kids are stuck inside all weekend, check out Mess For Less's watercolor turkey craft. On Saturday you can help them do the painting, and on Sunday when the paint is dry you can help them cut out the pieces and glue everything together. The watercolors make a softer alternative to thick and bright tempera paints. Since there's no keeping-inside-the-lines here, it's a great craft for any child who prefers their art messy and abstract!
32. Follow That Turkey!
Image source: Fun A Day
Where did the Thanksgiving turkey go? Follow him by making these adorable turkey tracks from Fun A Day! Pipe cleaners, tempera paint, and a canvas – construction paper or a paper plate – are all you need to set up for little ones to make a set of turkey tracks in fall colors. Little kids will love these, and children of limited motor skills can try holding on to the pipe cleaners and stamping them onto the paper or plate.
33. Yummy Turkey Pops
Image source: Smart Schoolhouse
Make these Tootsie Pop-based treats for the Thanksgiving sweeties in your life, or make a whole batch for your child's class. (Tip: buy a bag of Tootsie Pops on November 1 when all the Halloween candy goes on sale!) The resulting Thanksgiving craft looks almost too cute to take apart and eat…almost. Just look at the cuties over at Smart Schoolhouse for your inspiration and instructions. But remember, no treats until after dinner!
34. Pop-Up Turkey
Image source: The Joy Of Sharing
Kids will pop with excitement over this turkey craft that uses soda pop bottle caps and Popsicle sticks! The finished craft, as seen at The Joy Of Sharing, makes a great finger puppet for even toddler hands to hold and play with. Put one on every place setting at the Thanksgiving table, or encourage the kids to make up a turkey puppet show for after dinner. Or, have the children make turkeys in different colors and then swap with one another!
35. Put A Cork In It
Image source: Happy Hooligans
Save up the corks from bottles of wine for this cutesy little turkey craft featured at Happy Hooligans. With some decorative cupcake liners and tissue paper, have your children assemble these Thanksgiving projects that will put a smile on their faces – and on the faces of knowing adults when they see all the wine corks! With all the bright colors, these projects look fabulous all in a row on top of the fireplace mantle and add a shot of color to your fall decor.
36. Popsicle Stick Turkey Gate
Image source: Things To Share And Remember
This Thanksgiving craft is a keeper! Thanks to the creative minds over at Things To Share And Remember, you and your child can spend quality time assembling this sweet keepsake to take out and treasure for Thanksgivings to come. Your child will be so thrilled to measure their hands each year against how small they were when they made this Thanksgiving craft. Wrap it up well and store it tight!
37. Picture A Turkey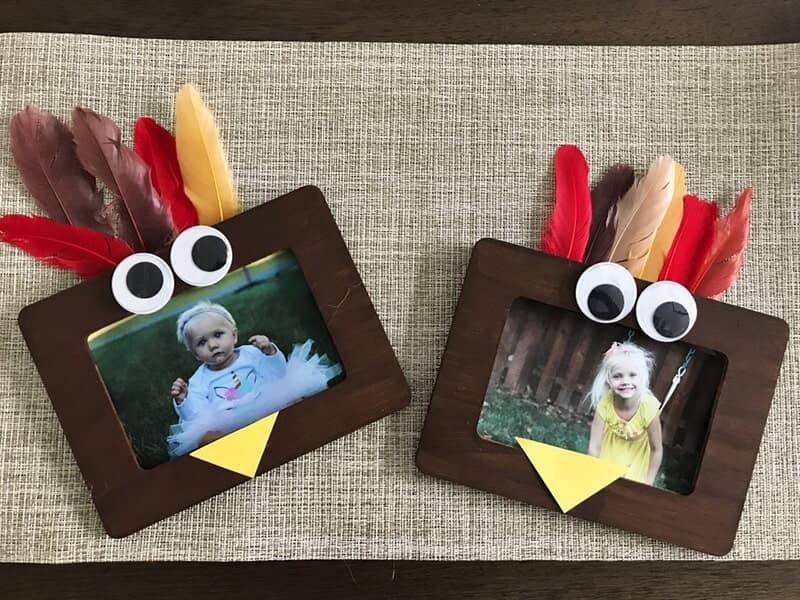 Image source: The Chirping Moms
Grandparents love photos of their grandchildren. This Thanksgiving, gift them something they can lovingly hang up or place on the mantel: a turkey-themed picture frame. The Chirping Moms has your materials list and easy to follow instructions. After you paint the frame brown and let it dry, let your kids decorate with feathers and googly eyes. What a sweet way for grandparents to remember this Thanksgiving for many years to come!
38. DIY Thanksgiving Feast For Kids
Image source: Life Over C's
The creative genius at Life Over C's has a recipe for make-your-own Play Dough, along with a free printable for a Thanksgiving feast. This Thanksgiving craft is nice and time consuming for little kids that love making things with Play Dough. They'll get to work on their manual dexterity while they shape and flatten the dough, and kids old enough to use scissors can practice their cutting skills with the free printable.
39. A Side Of Macaroni
Image source: I Heart Crafty Things
No self-respecting list of kids' crafts would be complete without dry macaroni pasta somewhere. Using fall colors and construction paper, I Heart Crafty Things has these adorable and simple macaroni-themed turkey crafts. It's ok if the kids make a little bit of a mess with this one – the less organized the macaroni feathers, the cuter the finished craft will be. Use these as place settings for the big Thanksgiving feast, or stick them to the fridge to make your kitchen even more fall festive!
40. 3D Turkey Card
Image source: Artsy Craftsy Mom
Another great gift for the grandparents on Thanksgiving is this eye-catching 3D turkey pop-up card from Artsy Craftsy Mom. It only looks like it was complicated to make, but the reality is that you and your child can put this together with ease. Make sure to add some sweet Thanksgiving stickers to the background. The 3D turkey in the middle makes for a fun and colorful Thanksgiving surprise for your child's grandparents or any other holiday guests you have over!
41. Delicious Turkey Stuffing
Image source: Clean & Scentsible
Give these gorgeous turkey-themed bags of M&Ms (or Reese's Pieces) out as take-home gifts for your Thanksgiving guests. Or, bring them to your child's class on the last day before break and be the most popular parent at school! To make these, click over to Clean & Scentsible for detailed instructions and a materials list. These are so pretty they almost look like they could be wedding favors…if not for the kid-favorite pipe cleaners!
42. Turkey In A Pinch
Image source: Stir The Wonder
Set up this turkey craft and activity in advance, and then sit back and watch your child have a blast. Stir The Wonder has this fantastic idea for an easy Thanksgiving craft that doubles as a fine motor skill activity for preschoolers and children with limited abilities. Because it's so easy to prepare and the clothespins aren't permanently attached, it's easy to take apart and play with over and over again – and redesign over and over again in different color patterns!
43. Decorate The Turkey Tree
Image source: Glued To My Crafts
Before you haul out the Christmas decorations, make some ornaments just for Thanksgiving. With your child's handprint and a clear plastic ornament, you can create these sugar sweet keepsakes from Glued To My Crafts. Add a little glitter for some bright sparkle! These look amazing hanging over a crackling fire or in a front room window. All of your guests will definitely ooh and aah when they see these beautiful turkey-themed homemade Thanksgiving decorations!
44. Touchdown Turkey
Image source: Crafty Morning
The only thing more American than turkey on Thanksgiving is football. Crafty Morning has a clever and creative way to celebrate both traditions with their football turkey craft. The shape of a football makes a natural feather shape for the turkey's tail – just add the white seams. You don't really need much else besides construction paper and googly eyes for this project, but you'll get big results from fans of the big game!
45. Fancy Tails
Image source: The Resourceful Mama
Super fast, super easy, and super simple: this turkey craft is perfect for when you need a Thanksgiving-themed activity quick. The Resourceful Mama has brilliantly inspiring photos of the finished project that kids will have fun assembling. They will love picking out their favorite colors to use as the tails, but they might need help gluing on tiny googly eyes, beaks, and waddles. Make a whole bunch of these to put together for a Thanksgiving table centerpiece!
46. Twiggy The Turkey
Image source: Housing A Forest
When your kids have collected enough pine cones for #8 above, switch over to collecting skinny twigs for this outdoors-inspired turkey craft from Housing A Forest. Oil pastels help liven up the twigs with color. Thankfully, there is no set pattern to follow for assembling the twig turkey body, so this project is easy enough for almost any parent to attempt. This one is a guaranteed way to make sure no two crafts come out exactly alike!
47. Put It On My Tab
Image source: Crafty Morning
Make good use of all those canned drinks by saving the pull-tabs from them. (Simply bend them back and forth until they snap off.) Then click on over to Crafty Morning for a great way to upcycle those tabs into a cute little Thanksgiving kids activity. The little tab in the center of the body makes an especially creative turkey wing. This project is definitely one for the fridge for all your guests to see and enjoy!
48. Turkey O'Lantern
Image source: Hello Wonderful
Just because Halloween is over doesn't mean you're done crafting with pumpkins. Here's one that's nice and messy, so you know the kids will just love it. Hello Wonderful takes their own squeeze paint pumpkins and adds a Thanksgiving touch with some paper feathers and googly eyes. You've never seen a turkey this colorful before! Maybe your kids want to match the tail feathers to the paint colors, maybe not. Either way this will quickly make its way to being a family favorite!
Related: 26 No-Carve Pumpkin Crafts For Kids