When November rolls around, the season of hand turkey crafts is upon us. The shape of an open hand traced onto a piece of paper lends itself to the shape of a turkey: a thumb for the head and splayed fingers for the tailfeathers.
When you're so consumed with holiday prep that your tired brain can't think past tracing your child's hand, check out these 18 awesome ways you can make cool-looking turkeys. From simple paint and construction paper to clothespins and Popsicle sticks, there are plenty of things to do with your child's handprint. (Assuming you can get your kid to sit still long enough to trace their little hands!)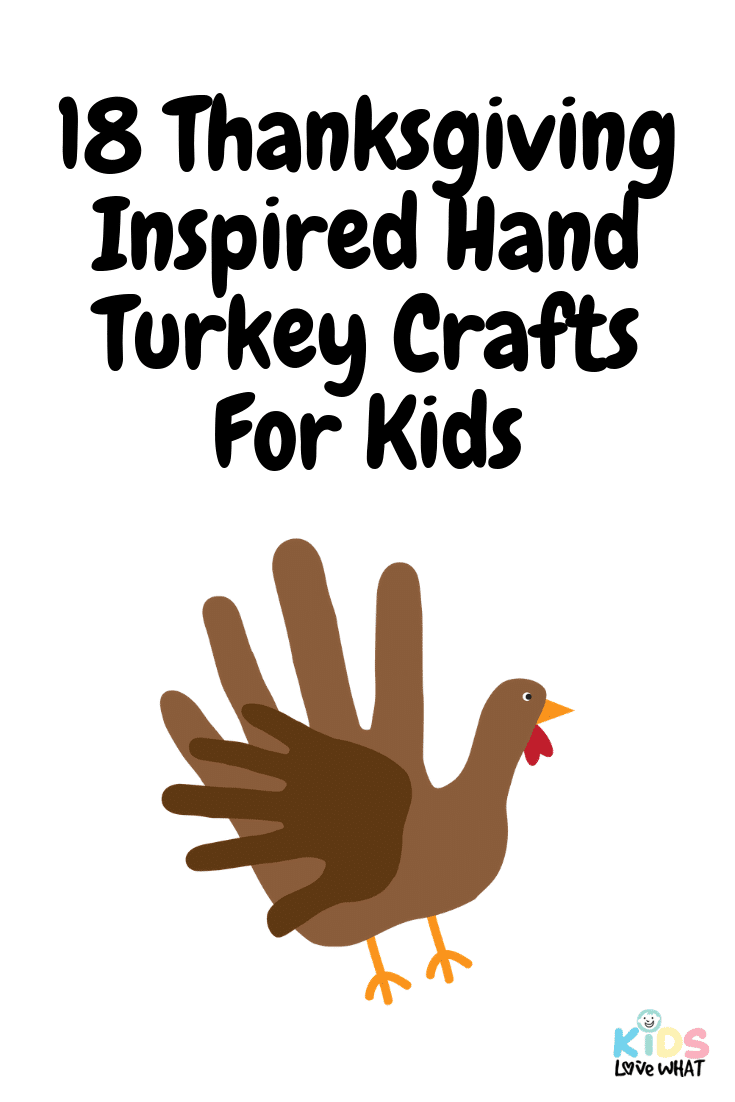 Some of these crafts are best done well before Thanksgiving so that they have time to dry, or so that you are not rushing through the project. Others are good for classroom activities on that last day before everyone leaves for the long holiday weekend. Still other crafts below will work very well for all the kids you may have coming over: set up the supplies and pieces ahead of time at the kids' table and let them get creative. With any luck you and the other grown-ups will be treated to an adorable kid-produced handprint turkey craft puppet show during dessert!
1. Poetry In Turkey
Image source: The Best Ideas For Kids
Before all the Thanksgiving madness begins, consider making this irresistible handprint turkey craft with your children. It's a nice way to give them some undivided attention before the madness begins, and it allows them to create something special to give visiting relatives. The Best Ideas For Kids has written instructions, video instructions, and a special poem you can include. Better yet – have your child come up with their own poem to make this craft extra unique!
2. The Turkey Has Landed (On My Head)
Image source: Crafty Morning
Grown-ups love watching kids get silly almost as much as kids love BEING silly! This handprint turkey hat from Crafty Morning will get children laughing and adults smiling with how adorable and fun it is to wear. The folded turkey legs look especially silly bouncing over your child's face. But don't think that this project is just for little ones; if you can convince even one grown-up to wear this during Thanksgiving dinner, that person will automatically become the favorite of all the children in the family!
3. Rainbow Hand Turkey Craft
Image source: The Kindergarten Connection
Where it is written that all fall-themed crafts have to be yellow, orange, and red? Nowhere! Click over to The Kindergarten Connection to help your child celebrate ALL the colors of the rainbow with this eye-catching turkey. Between the bright colors of the turkey's tail, the big googly eyes, and the wooden clothespin legs, this Thanksgiving craft is destined to become a kid-fave. With such simple and easy materials, it also makes a perfect classroom activity for pre-Thanksgiving break parties! Check out more of our bright and colorful rainbow crafts for kids too!
4. Hands Of Every Color Turkey Craft
Image source: Crafty Morning
Speaking of more colorful Thanksgiving crafts, check out this one from Crafty Morning that features your child's handprint AND footprint! If you're not too busy prepping the turkey, baking the cornbread, or setting the places at the table, take a minute or two to paint your child's foot brown to serve as the turkey's body. Then set up paint in many colors – along with something to wash hands in between – to do the colorful feathers of the turkey's tail. It's simple, if messy, fun that will look great on your walls as your guests come over!
5. Toilet Paper Roll Handprint Turkey Craft
Image source: Liz On Call
If you have a house full of guests coming over in the days leading up to Thanksgiving, you are likely going through many rolls of toilet paper. Make sure everyone knows to save the empty rolls for this handprint turkey craft from Liz On Call. The creative genius at the site suggests cutting each roll to size so you can make an entire turkey family that will look absolutely adorable as a centerpiece on your Thanksgiving table.
6. The Family Turkey
Image source: Mainly Homemade
This one is destined to become a family keepsake for many years to come. Mainly Homemade has a sweet and colorful turkey craft that features the handprints of everyone in the family. By tracing the hands of all your family members on different colored construction paper and then layering them from biggest on the bottom to smallest on the top, you not only have a beautiful turkey tail but a memento of your entire family to cherish forever.
7. What I'm Thankful For Turkey Craft
Image source: Kids Activity Blog
It's important to teach kids about the true spirit of Thanksgiving: more than eating, more than shopping, more than football or parades. This handprint turkey craft over at Kids Activity Blog has an easy and fun way to help your child learn about gratitude by having them come up with four things they are thankful for. The finished product will be a brightly colored constant reminder of what's good in their lives when you hang it up on the fridge.
8. Colorful Hands
Image source: Happiest Mommy On The Block
Make sure you have all the colors and enough paintbrushes on hand (no pun intended) for this super clever and adorable turkey handprint craft from Happiest Mommy On The Block. By painting each finger a different color (and brown on the palm for the turkey body), all your child has to do in press their palm onto a sheet of paper. Done and done. Add the details with a crayon and a googly eye for extra cuteness!
9. Hand Turkey Craft On The Go
Image source: Glued To My Crafts Blog
For a fun and super cute twist on the traditional handprint turkey craft, Glued To My Crafts Blog not only has a turkey you can make, but a little red truck for the turkey to drive! It's such a simple idea, and yet the blog really makes it seem like something truly special. With a few craft sticks and some extra construction paper you and your child can whip this up in no time. Make sure to stick this somewhere the turkey can't get away!
10. Give This Turkey A Hand
Image source: Toddler Approved
This handprint turkey craft is ideal for toddlers who may lack the developing fine motor skills of preschoolers and young grade schoolers. Over at Toddler Approved they emphasize fun over perfection by letting your little one make a mess with paint and paper! While their hands are covered in paint anyway it's easy enough (probably) to grab a wrist and print the hand onto a piece of paper for a single, identifiable handprint. The rest is just good, messy fun for everyone!
11. Handprint Turkey Picture Frame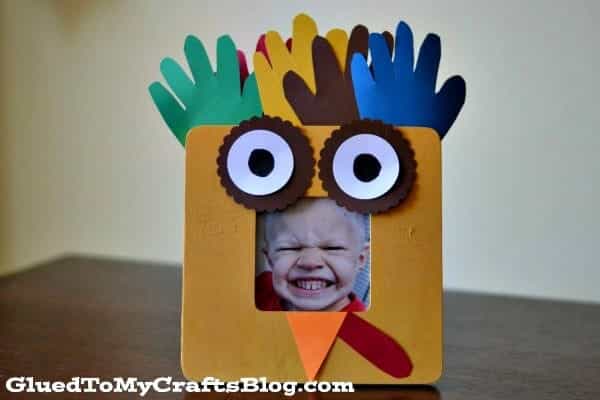 Image source: Glued To My Crafts
No doubt you will be taking many photos over the Thanksgiving holiday. Save the very best ones forever with an sweet and easy handprint turkey picture frame. Glued To My Crafts has a full supply list and surprisingly simple instructions for making this project. Your child can definitely help with the painting part, and of course, with allowing you to trace their hand a few times for the turkey's colorful tail. Or maybe you'll be inspired to frame some of the other handprint turkey art you and your child make together!
12. A Sweet Turkey Craft
Image source: DIY Inspired
If you are going to have enough kids at your Thanksgiving dinner this year, set up this super easy craft for them to make while they wait for dinner to be ready. The creative minds at DIY Inspired have a great way to use some of those clear plastic cups that seem to pop up all over the house when guests are over. Let the glue dry during dinner, and then for dessert surprise the kids with a bag full of small candies in festive fall colors, which they can use to fill their new candy dishes!
13. Rock N' Roll Handprint Turkey Craft
Image source: Kids Craft Room
When you are tired of endless flat, 2D handprint turkey crafts, click on over to Kids Craft Room for a truly inspired idea. By using one and a half paper plates glued together just so, you and your child can make a turkey that wobbles while it gobbles! OK, so it doesn't actually gobble, but it certainly does wobble! This project is perfect for a classroom activity that students can bring home to wow parents.
14. A Fruit Loopy Handprint Turkey Craft
Image source: Making Life Blissful
Even if you don't usually buy colorful cereal for your household, you'll need at least a small amount for this clever and creative twist on handprint turkey crafts. Making Life Blissful suggests sorting the cereal first and then using one color per finger for the turkey's tail. After that it's simple enough to add eyes, a beak, legs, and a waddle by drawing them on. This craft is a wonderful way to teach toddlers about colors, patterns, and sorting, all while enjoying craft time together!
15. Feathery Friend Hand Turkey Craft
Image source: Create Play Travel
Add a little touch of whimsy to the average handprint turkey craft with inspiration from Create Play Travel. By adding extra "feathers" in the form of cut-out pieces of construction paper, you can liven up a typical handprint turkey craft. Let grade school children practice their writing skills by putting guests' names on each turkey to use as place cards that guests can take home and keep as adorable souvenirs. It's easy-peasy-lemon-squeezy and looks absolutely adorable on your Thanksgiving table!
16. Stick A Stick In It
Image source: The Contemplative Creative
Kids can bring their hand turkey crafts to life by adding a craft stick and making puppets! The Contemplative Creative has fast and easy handprint turkeys your children can make, cut out, and then glue to craft sticks for instant puppets. These are a fantastic way to give children something to do while they wait for Thanksgiving dinner to be ready – ask them to create a puppet show to do for the grown-ups after dinner!
17. Big Handprint Turkey Wreath
Image source: Fun Handprint Art
For a handprint turkey craft that really stands out, head over to Fun Handprint Art for instructions on their paper plate turkey wreath. Using little more than paint, a paper plate, and some craft feathers, you and your child can make this colorful wreath to hang on the front door to welcome your guests on Thanksgiving. Or hang one on the wall on the way to the dining room to delight everyone as they go in for dinner. Make sure you have enough paint for all the prints you will need for the turkey's tail!
18. All That Glitters Is Turkey
Image source: Jenerally Informed
While the kids are busy crafting turkey puppets, why not add a little glamor with these glitter turkeys from Jenerally Informed? And since glitter tends to get absolutely everywhere, the blog has some fantastic ideas for easy cleanup when the project is all done. Add a large craft stick to the bottom to make it a puppet and some turkey legs cut out of yellow construction paper, and you are all set! Look out unicorns – turkeys have never looked so awesome and sparkly before!