Unicorns are making their biggest splash since the 1980s, when they were on everyone's Trapper Keeper and t-shirt. If you have children at home, you probably already know this! But before you spend money on store-bought unicorn items, check out these gorgeous and clever unicorn crafts for kids that you can all do together at home. And unicorns are not just for girls anymore! Plenty of boys are happy to express their love for the mythical creatures – there is unicorn craft for everyone!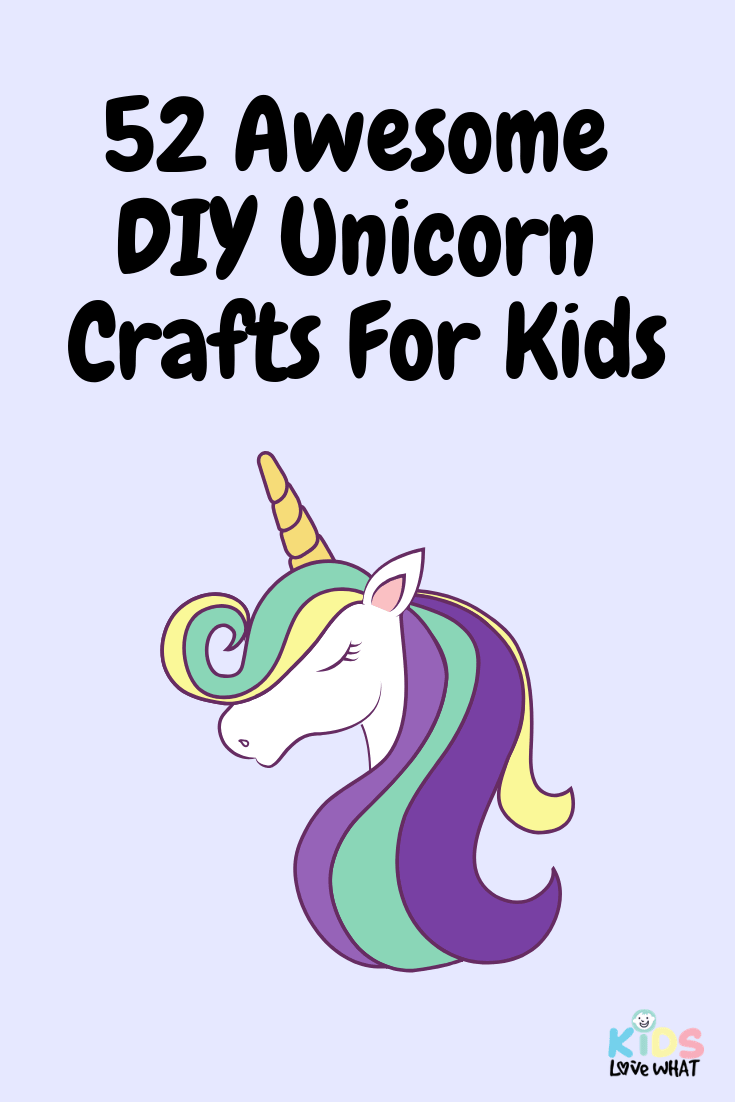 From very simple crafts for toddlers to more complicated projects for tweens, there is bound to be something on this list that will satisfy the unicorn-obsessed in your home. There are unicorn printables to keep little hands busy coloring, arts and crafts to cut and glue, decorations, wearable and huggable sewing projects and holiday how-tos.
With such a wide variety of unicorn-related projects to choose from, your biggest problem will be which one to try first! *EXTRA* – we also have an extensive list of the best unicorn gifts for kids too! Make sure you check them out here!
1. Sweet Dreams, Unicorn
Image source: Hello, Wonderful
By looping string around an embroidery hoop, rather than weaving an intricate pattern, this unicorn dreamcatcher from Hello, Wonderful is a fun and easy craft for children of almost any age. With the instructions for the craft basics you can find at the site, you and your pint-sized unicorn-lover will enjoy shopping for ribbons and embellishments in all your favorite colors and styles. Nightmares don't stand a chance with these lovely crafts!
2. Toilet Paper Roll Unicorn With Yarn Mane
Image source: Kids Craft Room
Look up "best unicorn crafts for kids" on Pinterest and this project pops up again and again. Kids Craft Room has the step-by-step instructions for creating this magnificent unicorn from empty toilet paper rolls that's only slightly more complicated than the project above. It's recycling and crafting something beautiful all in one! Save time and money by purchasing rainbow yarn, rather than in every color: you won't need much here, just enough for a mane and tail.
3. Bits And Pieces Unicorn Art
Image source: Someones Mum
Someones Mum has a FREE printable you can download in order to make a unique piece of unicorn art. This craft is a wonderfully creative way to use up all those bits and pieces you have in drawers and bins: stickers, glitter, buttons, foam shapes, sequins, feathers – you name it. Use up that glitter glue before it dries out! The result is a fancy unicorn silhouette worthy of framing and hanging up in your child's bedroom.
4. DIY 3D Standing Unicorns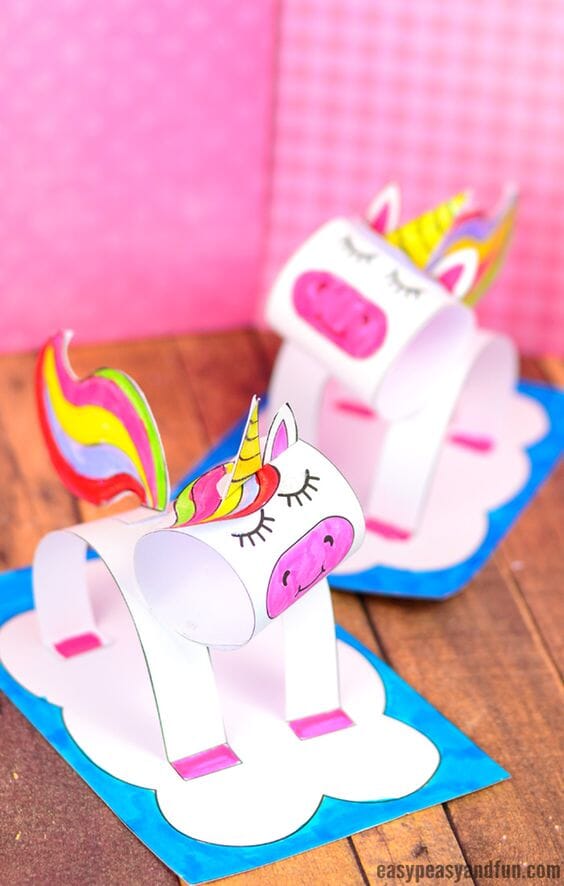 Image source: Easy Peasy and Fun
This unicorn craft idea can be made with another free printable, this time from Easy Peasy and Fun. It's cute, it's easy, and it's in 3D! What's not to love? If you don't have heavy card stock for the base, construction paper should do. (And if you have young children in the house, you almost certain have construction paper.) Have your child's unicorn fly above the clouds with a blue and white base, or even over a rainbow! Make a whole bunch and let your children play unicorn family all afternoon!
5. Secret Unicorn Messages
Image source: Mess For Less
Here is another free unicorn printable with a big value! These printables from Mess For Less are designed to be colored and cut, and then a message written in the middle. Print them out for sweet valentines or write encouraging messages to leave in your child's lunchbox. The creative minds at the Mess for Less blog suggest letting your child "feed" the unicorn by drawing food in its mouth. However you do it, this unicorn will make reading and writing fun for your child.
Related: The Newest & Most Adorable Unicorn Toys For Kids
6. Easy Marbled-Effect Unicorn Wall Art
Image source: Creating Creatives
This craft looks like it involves a long, complicated process that will be more work for parents than for kids. Don't believe it! Grab a can of shaving cream from the bathroom and click over to Creating Creatives for instructions on the truly simple way you can make this marbled effect. You'll have to email the blog's host for the stencil, but once more it's free. The best part is that kids will absolutely love painting with shaving cream!
7. Folded Paper Unicorn Bookmark
Image source: Willow Day
For a fun and versatile unicorn craft, check out this little guy at Willow Day. Need party favors? Valentines? Actual bookmarks for your new reader? This paper craft can do it all! Do the origami part yourself if you have really young children, and then let them decorate the unicorn however they want. Older kids might enjoy doing the paper-folding themselves. There's a lot to love here, so get started and make enough for everyone!
8. Craft Stick Unicorn Puppets
Image source: Artsy Craftsy Mom
This unicorn from Artsy Craftsy Mom will be popping up all over your house in no time! These popsicle stick puppets make excellent play date activities or for when you want something simple yet fun to do with your child. Color them however you want, just don't forget the all-important golden horn! Once they are done, don't be surprised if you are treated to a unicorn puppet show in a little while! More awesome popsicle stick crafts for kids can be found here!
9. Write About Unicorns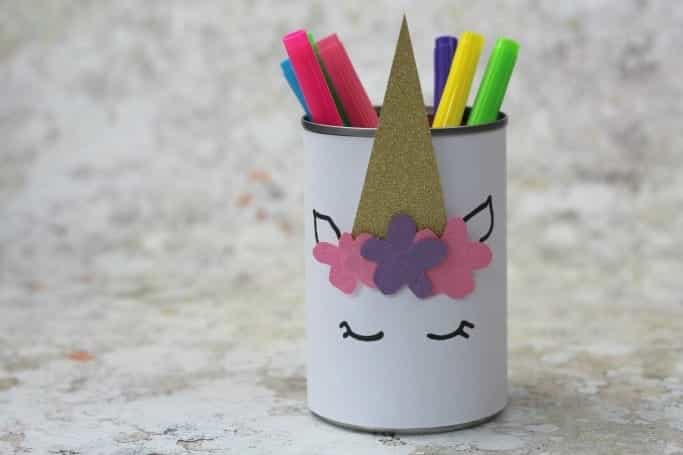 Image source: Crafts On Sea
Crafts On Sea has a fantastic way of helping to organize your child's craft corner with this fully customizable unicorn pencil holder. Pens, markers, paintbrushes, safety scissors, and all those tiny novelty erasers now have a new home. If they are allowed, maybe your child will even take it to school to keep on their desk! Or light up your kitchen by placing this on a counter to hold straws, chopsticks, or plastic utensils.
10. Textured Watercolor Salt Unicorn
Image source: Sweet T Makes Three
Spice up your child's paintings with the addition of salt! Sweet T Makes Three has yet another free unicorn printable and easy instructions for how to do a watercolor salt painting with your child. This craft is perfect for rainy days or snow days, because there's nothing fancy going on: just regular table salt, glue, and food coloring. Your budding artists will create something that pops and stands out among the flat paintings hanging on the refrigerator.
11. Googly-Eyed Unicorns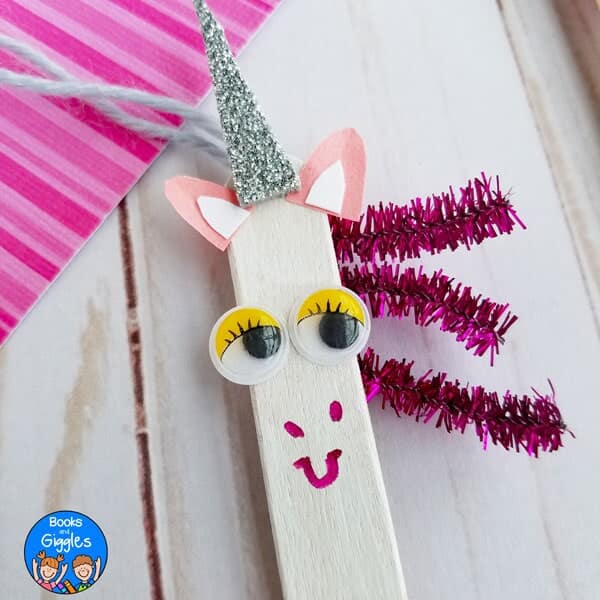 Image source: Books and Giggles
This is another all-purpose, super versatile, hard-working craft that can be put to any use. The materials list at Books and Giggles is full of things you probably already have at home, like craft sticks and pipe cleaners. Add a yarn hanger to make Christmas ornaments or a door hanger, use these as bookmarks, or hand them out as valentines. They're also easy enough to work as a craft project for class parties. Since unicorns are non-holiday specific, this one can be made all year long!
12. Handy Dandy Unicorns
Image source: The Resourceful Mama
If your child loves to get messy with paint, then they will LOVE The Resourceful Mama's hand print unicorn! For this one you need little more than paint and yarn. (And of course, plenty of soap and water for washing up after!) Imagine how much your child will adore making a unicorn from their own handprint – this one is definitely going on the wall! Don't throw it away, either, as it makes a darling keepsake as your child grows up.
13. Unicorn By The Foot
Image source: Fun Handprint Art
And while you've got the paint out and you've prepared for the mess, why not try out this unique footprint unicorn art? Fun Handprint Art has a clever way to make unicorns from little feet! There is just no way this won't be fun for kids, so much that even grade schoolers will want to join in. The footprint unicorns go so nicely with the handprint unicorns (#12, above) that you'll surely want to hang them up side by side!
14. My Unicorn Diary
Image source: Art Craft and Fun
Every day is Take Your Unicorn to School day with these glittery DIY notebooks from Art Craft and Fun! From September to June, send your child to school with a journal they will love to show off. Glitter foam paper makes the job super duper easy. From preschool on up, your child will be the envy of all whenever they pull this project out of their backpacks. Spelling words, math problems, and social studies have never looked so fabulous!
15. Lego My Unicorn
Image source: Frugal Fun 4 Boys
There's an excellent chance you have some orphaned Lego parts hanging around your house. A little brick here, a longer brick there. If you can collect all the pieces listed at Frugal Fun 4 Boys, or if you feel like ordering them online, your child can build a Lego unicorn! The nice part is that your unicorn doesn't even have to be all white, and the mane and tail can be any color you happen to have around. Now, which Lego minifig will get to ride this adorable creature?
16. Hold My Unicorn
Image source: 100 Directions
Upcycle an old box (with a lid) to make this one-of-a-kind unicorn container courtesy of the creative minds at 100 Directions. The only limits here are your child's imagination and whatever supplies you happen to have on hand – including candy sprinkles. These make excellent jewelry boxes, note keepers, or treasure boxes for the young collectors in your family. Give as a gift or save this project for special one-on-one time!
17. Grow A Unicorn
Image source: Extreme Couponing Mom
For your budding gardeners, you absolutely need to make this DIY unicorn pot for small plants. With help from instructions at Extreme Couponing Mom, you and your child will love watching your garden grow! You don't even need a green thumb to make these colorful pots, just a few simple crafting materials. After all, shouldn't the flowers and plants you love be treated to a pot worthy of their bright colors?
18. Unicorn Wall Art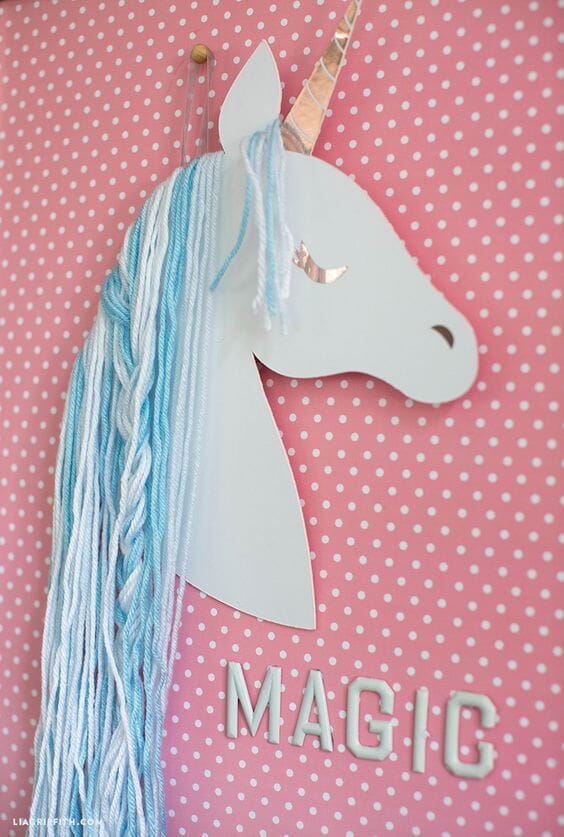 Image source: Lia Griffith
Whether you frame this craft from Lia Griffith or hang it directly on a wall, every unicorn lover will have to have one of these in their bedroom. Braid the mane, leave it long, or use any other soft colors of yarn your child likes. This is low-key enough to fit almost anywhere in a child's bedroom, but beautiful enough to really stand out. It's a craft you'll enjoy best with an older child or to make yourself as a surprise for a younger unicorn aficionado.
19. Four-Finger Unicorn Puppets
Image source: I Heart Crafty Things
When there's a unicorn emergency in your house – you need a unicorn craft NOW! – click over to I Heart Crafty Things to learn how to make this quick and painless finger puppet. By using their four fingers as the unicorn's legs, kids can take their unicorns on all kinds of magical adventures! Let your little ones practice their gluing skills with the unicorn's mane, or have older children sort the yarn by color. Phew, unicorn crisis averted!
20. Flower Crown Paper Plate Unicorns
Image source: The Inspiration Edit
For a sophisticated take on paper plate crafts, unicorn style, check out this page from The Inspiration Edit. With some paper flowers, sparkly cardstock, and craft feathers, a plain white plate becomes a magical creature. This is a fantastic craft for older kids and tweens who are past the cutting, pasting, and painting phase of making art. These unicorn faces are sweet and delicate, perfect for slumber parties and after school play dates.
21. It's In The Bag Unicorn
Image source: I Heart Crafty Things
White paper lunch bags are transformed into your child's favorite magical creature with a little help from I Heart Crafty Things. With simple materials and easy instructions, this is a great craft for the littlest unicorn enthusiasts in your household. Let them make the unicorn's happy face, glue on the paper mane or cut out the straightforward golden horn. Before you know it, your child will have a favorite new addition to their puppet collection!
22. Rainbow Unicorn Wall Art
Image source: Mom Does Reviews
What is it about rainbows and unicorns? They go together perfectly! Mom Does Reviews knows what's up, with this easy and colorful craft that younger children (and some adults!) will absolutely adore. With just paper, glue, and markers you have all you need for this wall art that's a must for any unicorn lovers out there. Your little ones will wake up with smiles when they see this happy rainbow unicorn on their walls! Check out more of our rainbow craft ideas here!
23. Have You Hugged Your Unicorn Today?
Image source: Hello, Wonderful
The diversity of little unicorn paper crafts continues with these snuggly unicorn cards at Hello, Wonderful. Your child will be so excited to give these as valentines as much as their classmates will love getting them! Or write names on them as seating cards for a special party. Change the message inside the heart with Post-Its each morning when your child wakes up to inspire them for the rest of the day. Whatever you decide to do, all children can use a hug from a unicorn!
24. Unicorn Mask With Rainbow Mane
Image source: Ruffles and Rainboots
Guess what the link at Ruffles and Rainboots has for this craft? That's right: a free printable! Customize this any way you want and let your children have fun making their own unicorn mask. Print enough copies for a party activity that will be an instant hit, or gather the supplies to keep on hand for an awesome rainy day/snow day project. A little glitter glue never hurt when it comes to unicorn crafts either, so stock up for this pretty little mask!
25. Sensory Exploration With Unicorn Sand
Image source: Mama Plus One
At some point in parenting, your child will want kinetic sand. Maybe you already have buckets full of it at home. But did you know you can make it yourself? And with this unicorn-friendly twist from Mama Plus One, you'll never buy store-brand kinetic sand again! Colorful pastel colors, glitter, and essential oils (which are entirely optional) make this sensory activity for toddlers a long-term keeper in the house. Everyone's going to want a turn mushing sand between their fingers!
26. Hip To Be Square Unicorn
Image source: The OT Toolbox
Scissor skills are something kids are taught to master. Whether you've got preschoolers who are practicing for the first time or grade schoolers (and older) who need a little help with their fine motor skills, this specially designed craft at The OT Toolbox is just what you're looking for. There is no round cutting here; just simple, straight line cutting with safety scissors. No one should be left out of making unicorn crafts, and now no one has to be!
27. Geometric "Stained-Glass" Unicorn
Image source: Oh Happy Day
Speaking of cutting skills, older kids will love cutting shapes to match this unique and clever faux-stained glass unicorn paper project from Oh Happy Day. The secret to the stained-glass effect is to use different colors of gel filters, which are available online or at craft stores. An Xacto knife helps cut the pieces more precisely. Got little kids who definitely should not be using Xacto knives? Cut everything out in advance and let them match up the shapes like a puzzle!
28. Close To Your Heart Unicorn
Image source: Meri Cherry
Satisfy both needs at once with a DIY unicorn necklace from Meri Cherry. You'll need some sculpey and wooden beads for this one, so make a trip to the craft store in advance to have everything at the ready. Now you can rock your child's next "surprise" play date or cheer them up during a sick day at home!
29. Message In A Bookmark
Image source: Hattifant
This free, printable unicorn comes with two sides of friends! Hattifant has created a sweet and loveable template of a unicorn, narwhal, and cloud, who all love to curl up with a good book. Not only can your child customize these with crayons or markers, but you can write a message to your little reader on the back! Hand these out as class gifts, tuck them into lunchboxes, or use them as rewards for reading time!
30. Talk To The Hand
Image source: Make Film Play
The instructions here at Make Film Play are shown via YouTube video. So maybe save this one to watch after the kids go to bed in order to avoid tiny voices begging to make this RIGHT NOW! These unicorn hand puppets are a step above the classic puppets made with brown paper bags, but they are still easy to put together with some colorful paper and glue. Make them in advance for play dates or to surprise unicorn-loving siblings!
31. Unicorn Over The Rainbow
Image source: Arty Crafty Kids
Wooden chopsticks or kebab skewers are put to work over at Arty Crafty Kids. With plenty of glitter, bright rainbows, and – the stars of the show – unicorns, this is a craft that will find a long-term home in your child's playtime repertoire. It's also a great way to start teaching preschoolers about the rainbow order of colors (ROY G BIV) and how rainbows are made after a rainstorm. Ask your child to make up their own unicorn-and-rainbow story to share with you to spark their creative little minds!
32. Honey, I Shrunk The Unicorn
Image source: Make and Tell
Don't you just LOVE finding new and awesome uses for everyday items? So does the genius at Make and Tell! Here, you'll find an absolutely cool way to use shrink plastic and a free printable to make a professionally-done unicorn necklace. If you don't have the jewelry-making tools listed on the materials list, they are easy to order online or find at pretty much any arts and craft store. These necklaces look so good, even tweens – and teens, maybe? – will want to wear them!
33. Easy Clothespin Unicorn
Image source: The Pinterested Parent
Yee-haw, this unicorn looks good enough to ride off into the sunset! The Pinterested Parent has a materials list and simple instructions for making this clothes pin-and-craft stick unicorn that's just begging to be played with. Got a unicorn cynic on your hands? The Pinterested Parent has you covered with an option for crafting a horse instead. And with googly eyes that are nearly always a hit, your cowpokes will be ready for a fantasy western imagination game!
34. Sparkly Unicorn Poop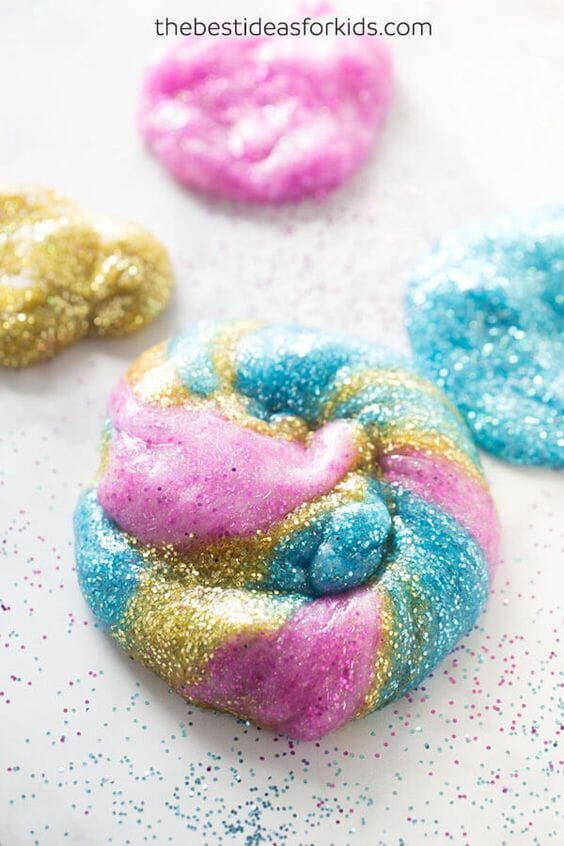 Image source: The Best Ideas for Kids
(Don't worry, it's not REALLY poop.)
Somehow, the idea's come about that unicorns poop rainbows. Maybe they do, maybe they don't. How can anyone know for sure until you get up close to some? The Best Ideas for Kids takes that challenge and doubles down on it with this recipe for slime that substitutes contact lens solution for Borax, and really gets going with the glitter. Is this what actual unicorn poop looks like? Possibly. Questions about how to make slime? Go here!
35. Color-Your-Own Unicorn Puppet
Image source: Easy Peasy and Fun
Free printables are the name of the game around here, especially with unicorn crafts. This one from Easy Peasy and Fun is beyond easy to assemble once your child has made it their own with crayons or markers. What will the unicorns say to one another once they are done being made? What will their names be? What kind of awesome, fantastical unicorn adventures will your child have with them? The sky's the limit!
36. Unicorn Party Bunting
Image source: Mom Collaborative
It's time for unicorn parties here on the list! Get ready for guests ahead of time by making this beautiful garland featured at Mom Collaborative. Your unicorn party star gets to customize the unicorn heads any way they want – match the color theme of the party, do all rainbows, or make each one unique! Then hang this on the wall or over the entryway to welcome your guests to the best unicorn party in the entire neighborhood!
37. Party Unicorn
Image source: Make Film Play
Take the concept of curling ribbon, add a unicorn, and you have the basic concept behind this awesome 3D unicorn wall decoration. Pop over to Make Film Play for a gorgeous photo gallery tutorial and clear instructions on how to make this long-maned beauty come to life for your next unicorn party. And, it can easily be turned into a party activity by letting guests cut and curl their own paper ribbons for a group art project!
38. Write On, Unicorn
Image source: Red Ted Art
Sometimes it might feel like every single party your child attends gives away tiny notebooks in their goody bags. And there is absolutely nothing wrong with that – kids love to doodle and write notes! Step up your game, though, with DIY matchbox notebooks brought to you by Red Ted Art. This is such a wonderful way for your child's friends to carry a little bit of unicorn magic home with them after your mind-blowing unicorn party!
39. The Giving Unicorn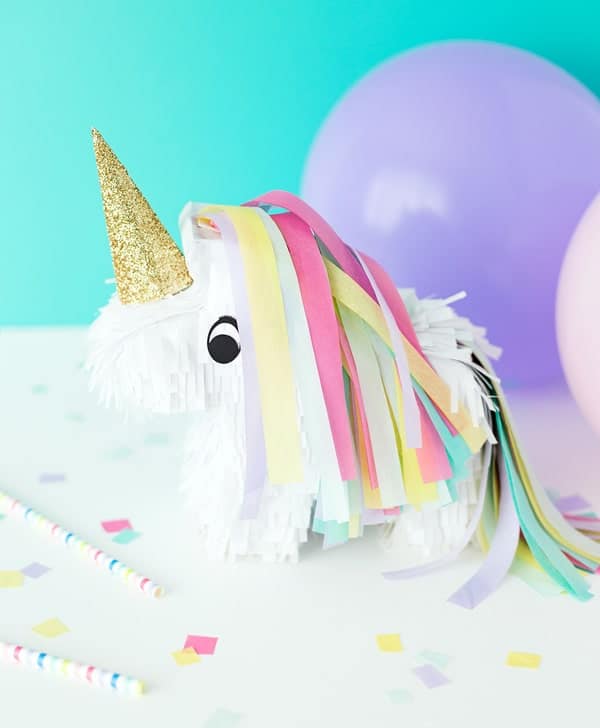 Image source: A Subtle Revelry
These days, no kids' party is complete without a piñata. Turn a basic horse piñata into a special unicorn one with this clever hack from A Subtle Revelry. Add toys, candy, or both inside the piñata, and make sure the kids stay supervised when they whack it with a stick. If you're feeling especially patient – or you aren't going to be on cleanup duty! – add glitter inside for a sparkle waterfall when the piñata opens!
40. House Unicorns
Image source: Party With Unicorns
The site name Party With Unicorns pretty much says it all. This unicorn banner is an especially creative and fun addition to your unicorn party: hang one by itself, or make several to hang in a row of different unicorn colors. Hang it out on your front door to let everyone know that the unicorn party is HERE. It's too majestic to toss out when you are done! When the party's over, these look great in your child's bedroom as a source of Unicorn House pride.
41. Unicorn Dreams
Image source: Birds Party
The first textile project on this list is an easy no-sew sleep mask. Birds Party has a free downloadable template you can use to get started. Once you fall down the rabbit hole of this awesome unicorn sleep mask, you'll find any excuse to make more! Slumber parties? Check. Sleepaway camp? Check. Something special for a birthday child's bedtime? Check. Moms' Night In surprises for your friends? Definitely check! Good night and sweet dreams little unicorns!
42. Fuzzy Unicorn Feet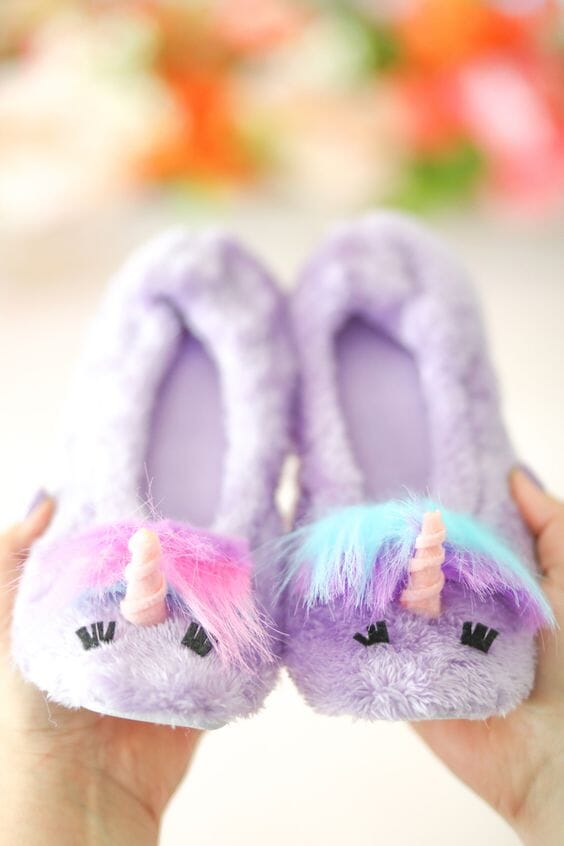 Image source: Cutefetti
Here's another absolutely squee-worthy, no-sew, wearable unicorn craft project! Thanks to inspiration from Cutefetti, all you need for these fuzzy friends for the feet are some store-bought fuzzy slippers, a few pieces of colorful fur and felt, and your hot glue gun. Kids can have fun cutting out the pieces (if they are old enough) or just picking out colors (if they are little). Now your child's unicorn can go wherever your child goes around the house!
43. Unicorn Ear Warmer
Image source: Me Sew Crazy
If you're the sewing type and you live somewhere where it gets cold, check out these fleece unicorn ear warmers from Me Sew Crazy. Let your kids pick out their own embellishments and choose fabric colors to get them involved in this project. Got a one-horned creature living with you who is not a unicorn? These can easily be made to look like narwhals instead. Getting your kids to bundle up for the cold has never been more fun!
44. Soft And Square Unicorn Pillow
Image source: Bugaboo City
What could possibly go better with the Unicorn Dreams no-sew sleep mask (#41, above) than this gentle unicorn pillow? Your little one is sure to have sweet dreams of unicorns when they lay their heads upon this Bugaboo City craft. The colorful mane will inspire many creative dreams while the golden horn promises a magical night. Let your child pick their favorite colors for the flowers or tie the mane strips together at the end for quality time together!
45. Unicorn Head-Shaped Pillow
Image source: Crafts Unleashed
This pillow, shaped like the head of a unicorn, is so huggable you'll need to make one for every unicorn-obsessed member of your family! Crafts Unleashed has the materials list and instructions you need for this easy to sew pillow. With the iron-on glitter stars, your kids will instantly have new loveys! And they'll definitely fall asleep smiling with their little arms wrapped around this precious, hand-made pillow.
46. I Am Unicorn
Image source: 365 Days of Crafts
Parents with sewing machines can easily put together this unicorn costume from 365 Days of Crafts that feature leggings and a hoodie. The site shows a pink costume, but we all know that unicorns come in every color imaginable. Bring new glamor and magic to Halloween, Mardi Gras, Purim, or any other costume event with this lively and eye-catching project! Then again, do you really need an excuse to dress up like a unicorn?
47. My Unicorn Buddy
Image source: That Kids Craft Site
If you can sew but you don't have a sewing machine, check out the sweet little felt kids unicorn craft at That Kids Craft Site. Add a ribbon to make a Christmas tree ornament or bedroom door hanger. Or make this any time of the year for a soft toy that fits easily into tiny hands. Young crafters can practice their scissor skills by cutting out the pieces and shapes or treat it like a puzzle!
48. The Littlest Unicorn
Image source: AC Moore
Good things come in small packages! These tiny unicorn pom-poms from AC Moore can be made super quickly once you have all the supplies you need – perfect for a class activity or preschool playdates. Glue one to your child's bedroom mirror, set them up in a row along a dresser top, pose them with your child's stuffed animals in a photo shoot, or scatter them around the house for an afternoon unicorn scavenger hunt!
49. Heart-Shaped Unicorn Valentines
Image source: The DIY Mommy
Twisty, colorful lollipops form the horns for these unicorn valentines brought to you by The DIY Mommy. No using up printer ink here; use pre-cut foam hearts as the basis. For a classroom activity, prep the pieces in advance and let kids glue them together. With all the color and glitter, these valentines will help your child be the star of their class Valentine's Day party!
50. Halloween Unicorn
Image source: Lines Across
Save the spooky faces for your neighbors and be the hit of your street with this DIY no-carve unicorn jack-o-lantern! Lines Across uses materials you either already have at home or can easily find at stores near you. Trick-or-treaters will know that your house is the one they can't miss when they see such an original and darling decoration out front! So let everyone else stick with basic orange and black. You're a unicorn – flaunt it!
51. O Christmas Unicorn
Image source: Red Ted Art
This Christmas unicorn is 100% special materials-free! The 3-D unicorn tree ornaments from Red Ted Art are absolutely simple to make with paper, scissors, and a glue stick. Decorate your entire tree with them; let kids write their names on their own or give special names to their Christmas unicorns. Save these forever as special keepsakes, and when your kids grow up watch them smile with nostalgia as they recognize this extra special Christmas project you made together.
52. All That Glitters Is Unicorn
Image source: Sweet Red Poppy
These sparkly DIY unicorn ornaments are infinitely customizable, from horn colors to flower colors to the glitter you put inside. But the best part of all is that the horns are made from sculpting clay, giving your children something to squish and mold themselves while you handle the glue and glitter. Find out how to make these cute unicorn themed goodies at Sweet Red Poppy. Merry Unicorn Christmas!