Ducks are a beloved animal for kids of all ages and especially preschoolers. Take your child to the park or playground and they'll probably spend a fair amount of time watching those cute little ducks floating on the pond, waddling around on land, and quacking.
There are also lots of popular nursery rhymes and storybooks about ducks that your child will enjoy too! We found some of the best crafts to keep your little duck fan entertained. You'll see many that incorporate basic craft supplies like construction paper, glue, paper plates and cups. Although most of these ducks are bright, rubber duck yellow, we also included a few in more natural colors too.
Duck crafts make a perfect rainy day craft idea and can be added to storytime or a classroom lesson. Some of the activities below teach counting, like the Five Storytelling Duck Props, or early literacy, like the Alphabet Letter "D" Duck. Like many of our kids crafts, there are also open-ended activities that let you set up an art station and encourage your child to be as creative as possible. Be sure to pin this blog post so you can come back to it the next time you need a duck craft!
1. Yellow Duck From A Paper Plate
Image source: Crafty Morning
After making one of these darling yellow ducks from Crafty Morning with your child, you may want to make a whole flock of them. This paper plate craft is the perfect activity for practicing cutting with scissors and other fine motor skills. Although this one is painted yellow, you can choose to paint it any color. What makes this duck extra cute is the silk craft feather for a wing.
2. Mallard And Yellow Duck Finger Puppets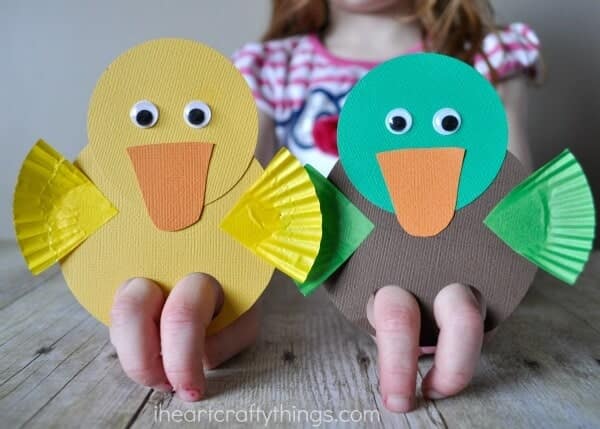 Image source: I Heart Crafty Things
This duck craft at I Heart Crafty Things includes instructions to make two different ducks. One is a classic yellow rubber ducky and the other is a more natural green and brown mallard. Both are made using the same techniques, with holes cut in the body section to put two fingers through. You child will love playing with these duck puppets and making them walk on fingers and fly with cupcake liner wings.
3. Five Storytelling Duck Props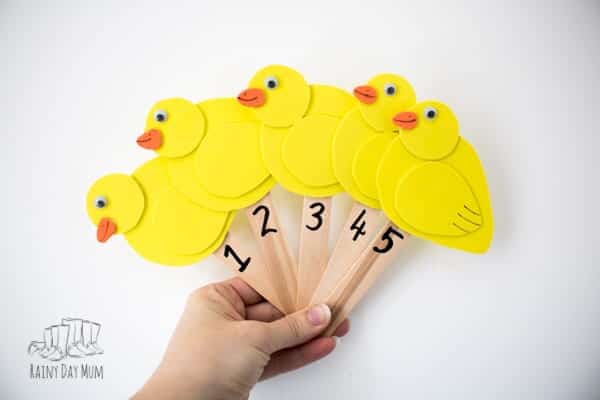 Image source: Rainy Day Mum
At some point your preschooler will probably learn the "Five Little Ducks" nursery rhyme song and sing it over and over. It's a cute and fun way to introduce counting and Rainy Day Mum has a tutorial to make a set of ducks to act out the song. Each craft foam duck stands on a numbered popsicle stick. Encourage your child to sing this nursery rhyme and make the ducks swim away and come back.
4. Family Of 3D Ducks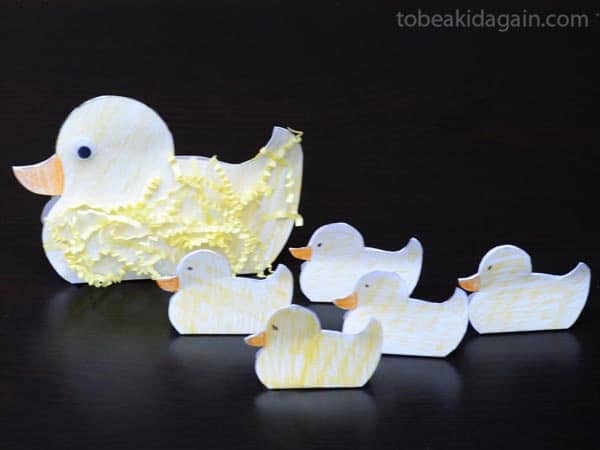 Image source: Creative Little Explorers
Folded paper crafts are a fun and kid-friendly way to make stand-up toys that aren't complicated like origami. To make the family of ducks from Creative Little Explorers, which includes a mom and five little ducklings, the paper is folded in half with a wide base at the bottom. Let your tots do the cutting and coloring, then help with the glue stage. Add a wiggly eye at the end or textured paper for extra fun.
5. Paper Rainy Day Duck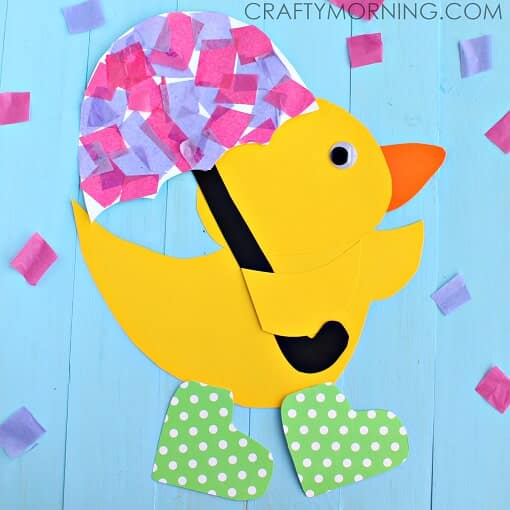 Image source: Crafty Morning
Crafty Morning has the perfect rainy day craft activity. Download the printable template and create a paper duck that's dressed for the weather with rain boots and an umbrella. Use plain construction paper or choose patterned scrapbook paper. Most of this activity is cutting and gluing, so your child can work on it on without too much help. The umbrella adds a unique twist; it's covered in small squares of colorful tissue paper.
6. Ducks On A Pond Art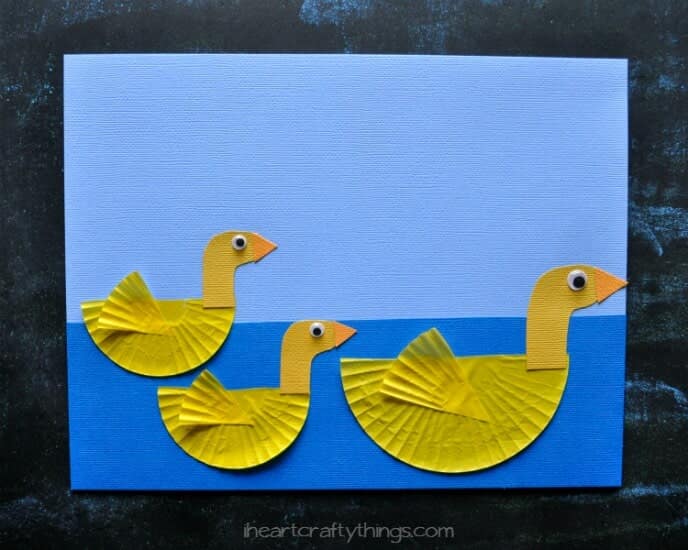 Image source: I Heart Crafty Things
Does your child like to visit a park and watch the ducks swimming in the pond? You can recreate that scene at home together by making this duck art from I Heart Crafty Things. This clever art project uses cupcake liners in two sizes to illustrate a momma duck and two ducklings. The background is blue card stock or construction paper. There are lots of ways to customize this art project by using different colored paper or adding other background elements like trees or clouds.
7. Duck Paper Bag Puppet
Image source: I Heart Crafty Things
Paper bag puppets are so simple to make and can end up being hours of fun for imaginative play and storytelling. This idea comes from I Heart Crafty Things. If you can start with a yellow paper bag, that will let you skip a few steps. You can also paint a regular paper lunch bag instead. Decorate the bag with a beak, wings, and eyes. The finished duck is a fun addition to reading a book about ducks.
8. Alphabet Letter "D" Duck
Image source: From ABCs to ACTs
Crafts and kids activities can help little ones practice letter recognition before learning to read. From ABCs to ACTs has a preschool alphabet book series and the letter "D" craft is a duck. The body is a capital letter "D" with a face, wing, and feet attached. This would be fun for a learning activity at home or in a preschool classroom or daycare. Everything is cut from construction paper and glued, so you probably already have everything you need to do this craft.
9. Simple Paper Plate Duck Face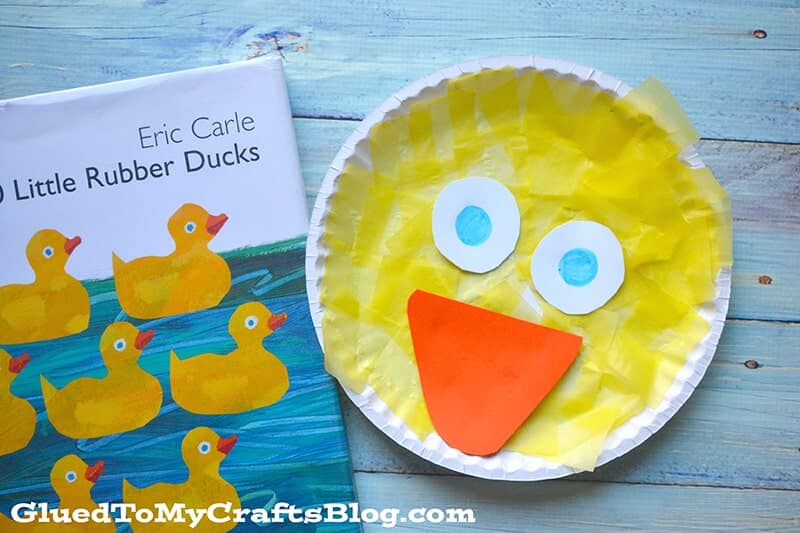 Image source: Glued to My Crafts
This craft activity from Glued to My Crafts is inspired by the Eric Carle book "10 Little Rubber Ducks." The paper plate duck is made using cut paper to create a collage, similar to the illustration style in Carle's books. The plate makes a face and yellow tissue paper give it the appearance of feathers. Do this activity after reading the storybook together or as a stand-alone activity any time.
10. Precious Duck Footprint Keepsake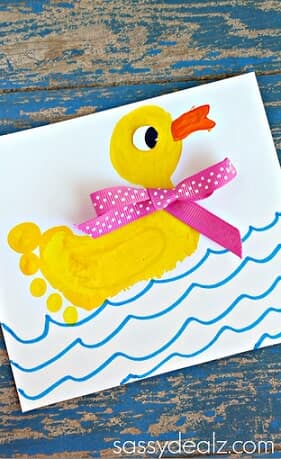 Image source: Crafty Morning
Handprint and footprint crafts are a fun way to create art with your child that you will treasure forever. Crafty Morning has the details on how to turn your child's footprint into a precious yellow rubber duck. The foot becomes the body with tailfeather toes and details are painted on. Once the paint is dry, you can embellish with wiggly eyes and a ribbon. Add background details like water if you like too.
11. Craft Foam Handprint Duck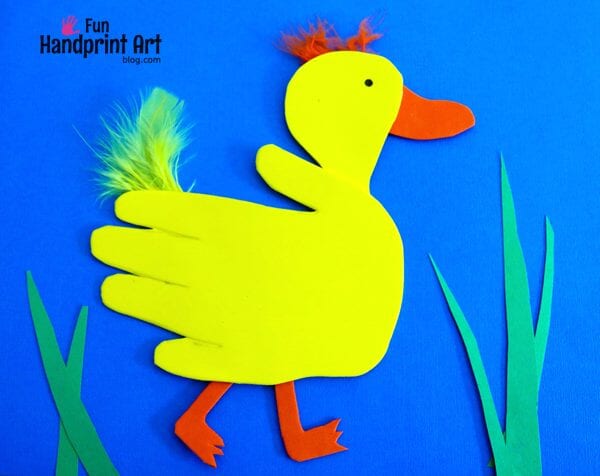 Image source: Fun Handprint Art
Just like footprints, your child's handprints can be turned into a cute craft activity too. Fun Handprint Art is the expert in that area and this duck is made from tracing a hand onto craft foam. Add a few details and feathers for a fast craft. This was inspired by the children's book "Ruby in Her Own Time," which is a great read to enjoy while making a few ducks.
12. Recycled Paper Cup Ducks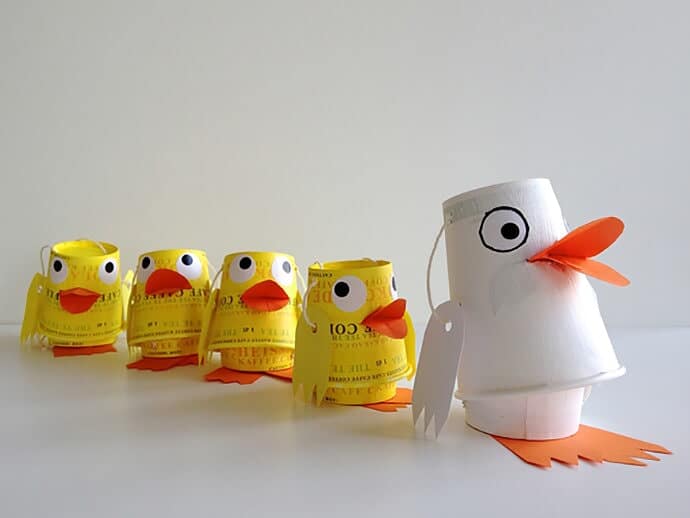 Image source: Handmade Charlotte
Make these ducks at Handmade Charlotte as a kids craft or a party favor. Two cups are painted and stacked together for the body. Other features are made from paper and stickers. These can be filled with gum, candy, or other treats and given out as party favors. The ducks make a fun rainy day activity at home too. Once you've made the momma and ducklings, they're ready for playtime!
Related: Check out more animal crafts here