Those black and white birds that inhabit icy places are absolutely everywhere lately. In movies, books — even in their own animated shows! What is it about penguins that makes these cold-weather feathered friends so irresistible?
Perhaps it's the funny way they waddle when they walk. Maybe it's their tuxedo-like coloring. Or it could be their songs, the way they slide into the water, or how well they protect their eggs. Whichever reason your little ones have for obsessing over penguins, one of these 25 penguin crafts for kids listed below will surely delight and amuse them.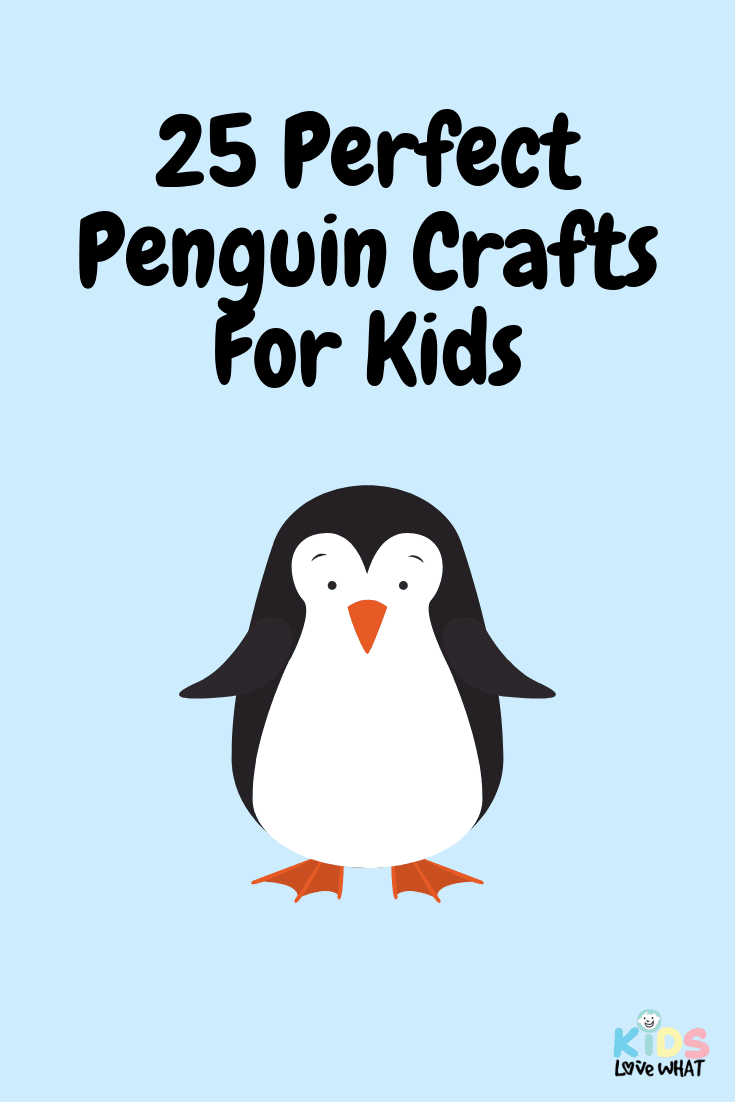 Then again, who needs a reason? Any one of these crafts is fun enough to lure kids away from screens for at least a few minutes. Some of the crafts even do double-duty: as valentines, Christmas ornaments, or mix-and-match shape activities. With 25 of them to try, even the most hardcore penguin enthusiast will find ways to fulfill their every penguin wish. There are penguins that children can snuggle up with and penguins that will tickle their feet!
Make sure you stock up on plenty of black and white paint, construction paper, cardstock, and Sharpies for the crafts below. These two colors have never been so versatile or looked so adorable!
1. Bowtie Penguin Craft
Image source: Crafty Morning
This adorable little fella couldn't be easier to prep and assemble, making this craft ideal for play dates and classroom activities. Crafty Morning has the inspiration; all you have to do is copy the pieces onto construction paper and cut them out. Kids can practice hand-eye coordination by gluing each piece onto its spot. And if everyone's feeling really creative, go ahead and color the penguin's belly! Large googly eyes add a touch of silliness to this already fun craft. Tape these to windows as part of a winter wonderland theme in your living room or classroom!
2. King Of The Penguins
Image source: I Heart Crafty Things
I Heart Crafty Things has a perfectly delightful 3D penguin craft that features something a little unusual: yellow feathers to make a Royal Penguin! A plain old foam cup forms the base here, which, when inverted, looks perfect for a penguin body. It's stable enough to be a great craft for lining up on windowsills or bedroom shelves. The yellow feathers on top are definitely not your usual crafting material when you think of penguins, but they certainly make this one stand out among the crowd. The feathers are also great for children to touch and feel — a great sensory project!
3. Roly Poly Penguin Craft
Image source: Easy Peasy And Fun
For another clever twist on ordinary penguin crafts, check out Easy Peasy And Fun's paper roll project. With a round belly and a flat surface for the penguin to stand on, this will quickly become a family and classroom favorite. The unusual shapes of the rolled paper stack on top of one another – kids may need help with assembling this part, or else it's simple enough to prep them ahead of time. The blog has some useful tips for putting this together so that it doesn't fall apart the second you let go. It's all worth it, though, for such a funny little paper penguin!
4. Peek-A-Book Baby Penguin
Image source: Kids Craft Room
Here's one of those crafts that looks like it took a million steps to put together, but it's actually quite simple. Kids Craft Room shows you how to make this too-adorable-for-words sweet little baby penguin puppet hatching out its egg! The site tells you how to achieve that perfect soft feather look of a newborn penguin. Adding the craft stick to the back is a genius idea for showing your children how the penguin hatches up out of its shell. Kids won't be able to resist making their baby penguin hatch over and over again. Black and white never looked so cute!
5. Five Little Penguins Christmas Ornament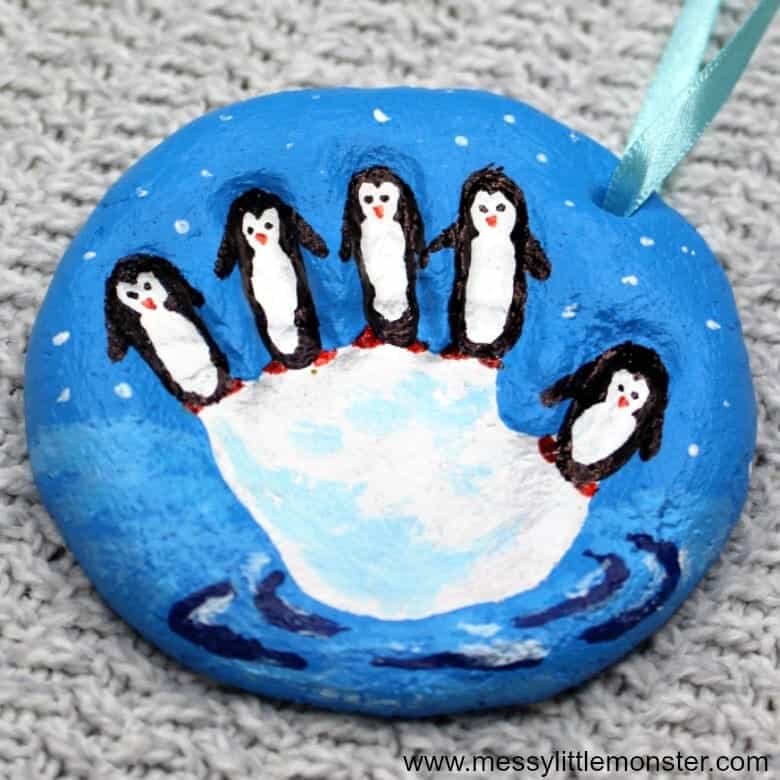 Image source: Messy Little Monster
If your family is really into doing crafts built around your children's handprints, check out this unique ornament idea from Messy Little Monster. Over at the blog you'll find ingredients and instructions for making the salt dough that's used as the base for this project, as well as instructions for turning the fingers of the handprint into penguins. Keep it small so it doesn't snap off the branches of your Christmas tree. The bright blue color really stands out against a the deep green of a Christmas tree. Made it too heavy by accident? Don't have a Christmas tree? These make lovely door hangers, wall decorations, or gifts for teachers and grandparents!
6. Upright Penguin Craft
Image source: Easy Peasy And Fun
If you've been saving toilet paper and paper towels rolls for a rainy day craft, this one is certainly worth the effort. Over at Easy Peasy And Fun you can follow instructions for a straightforward penguin project that's perfect for little hands to put together. Once everything is glued on and dry, the craft should easily stand up on its own — or slide onto kid fingers to make a puppet. Glue the feet onto a piece of cardstock for a nice permanent base, or glue several penguins onto the same sheet to make your own penguin march!
7. Penguins For Bookworms
Image source: Red Ted Art
There are plenty of books about penguins out there. Something about these special birds really speaks to children of all ages. When your family has stocked up on penguin books, make sure you are prepared to mark your place with this penguin-themed corner bookmark from Red Ted Art. The blog has both written instructions with photos and a video you can watch so you fold the paper just right. Your finished craft should fit nicely over the corner page of your book, and looks really cute! For animal-themed birthday parties these also make excellent party favors, or day-before-winter-break gifts for classmates.
8. Penguin Valentine Crafts
Image source: Crafty Morning
Winter holidays aren't just about Christmas and Chanukah — there's also Valentine's Day to consider. The heart-shaped face on this penguin craft from Crafty Morning make this one a special and unique project to give out as valentines. These are easy and quick to assemble so that you can do them in big batches for larger classes. Or, have these be a different kind of Valentine's Day class activity that kids can take home instead of the same old red and pink hearts. They can customize a message on the penguin's white face, or just scribble a loving drawing to bring home.
9. Penguin Crafts Afoot
Image source: Frogs And Snails And Puppy Dog Tails
Footprint art is the new handprint art. Hop on this fun trend with a penguin craft made with your child's ticklish little footie. Click over to Frogs And Snails And Puppy Dog Tails for the inspiration behind this creative and clever twist on both penguin crafts and footprint crafts. What better way to get some giggles out of your child than by tickling them with paint on their feet? They will absolutely love working on this even when their feet have been cleaned off. It's certainly an out-of-the-box way to express your child's love for penguins, while having some fun bonding time together!
10. Chubby Wubby Penguin Pal
Image source: Easy Peasy And Fun
This penguin craft from Easy Peasy And Fun looks like something straight out of a kids' cartoon. It's sweet as sugar and adorable as heck, and will almost certainly waddle its way to the top of your child's list of favorite crafts. Once you have a ball to paint, the rest is as easy peasy as the blog's name suggests. Orange feet keep this precious penguin from rolling around and getting dirty or smooshed. With this craft, your kids won't just make-and-forget; they'll want to snuggle their new penguin pal and carry it around all day long.
11. Hold My Pencil, Penguin
Image source: Red Ted Art
For back to school or any time of the year, check out Red Ted Art's amazing penguin pencil holders. The round shape of an ordinary can works perfectly to create a penguin that can be used to store pencils, pens, markers, and whatever else your child likes to scribble or draw with. While this craft is pretty straightforward, the blog has some tips and tricks to help you feel more confident when putting this together. Feeling ambitious? These make excellent birthday party favors! Or have your students bring in empty and clean cans to make these when outdoor recess just isn't an option.
12. Handy Dandy Penguin
Image source: The Best Idea For Kids
Great crafts don't always have to be complicated and involve special materials or lots of intricate steps. Take The Best Idea For Kids' handprint penguin craft: you start with a child's handprint traced and cut out of black construction paper and just go from there. Make this as fancy as you want with snowflake stickers, or keep it super simple with cotton ball snow. There are no special shapes to cut out, no paint to dry, and very little to mess up. Because of that, this makes a great project to keep in mind on snow days or play dates.
13. Flying Penguin Wreath
Image source: Kids Craft Room
Tired of endless Christmas wreaths made from pine tree boughs? Click over to Kids Craft Room for something that will definitely stand out! With two ways to make the penguin's wings, your kids will absolutely love putting their own creative spin on this project. The paper plate body can be kept white if you want penguins that look more like penguins, or kids can color them, stamp on them, or paint them to make each one unique. Let the kids pick out whatever color ribbon they like best to tie to the top, and then hang them up to show that your Christmas decor isn't the same old same old!
14. Penguin Egg Craft
Image source: Crafty Morning
On any given trip to your local craft store, you've probably seen Styrofoam pieces that come in a wide variety of shapes and sizes. Pick up a few inexpensive egg-shaped ones to take home and craft into these amazing 3D penguins from Crafty Morning. By purchasing different sizes, you and your children can make an entire penguin family! The only other materials you need are ones you likely have at home: paint and construction paper. For teachers, this project makes a really special Mother's Day gift, as students can make both a mama and a baby penguin to take home.
15. Scribble Scrabble Penguin Craft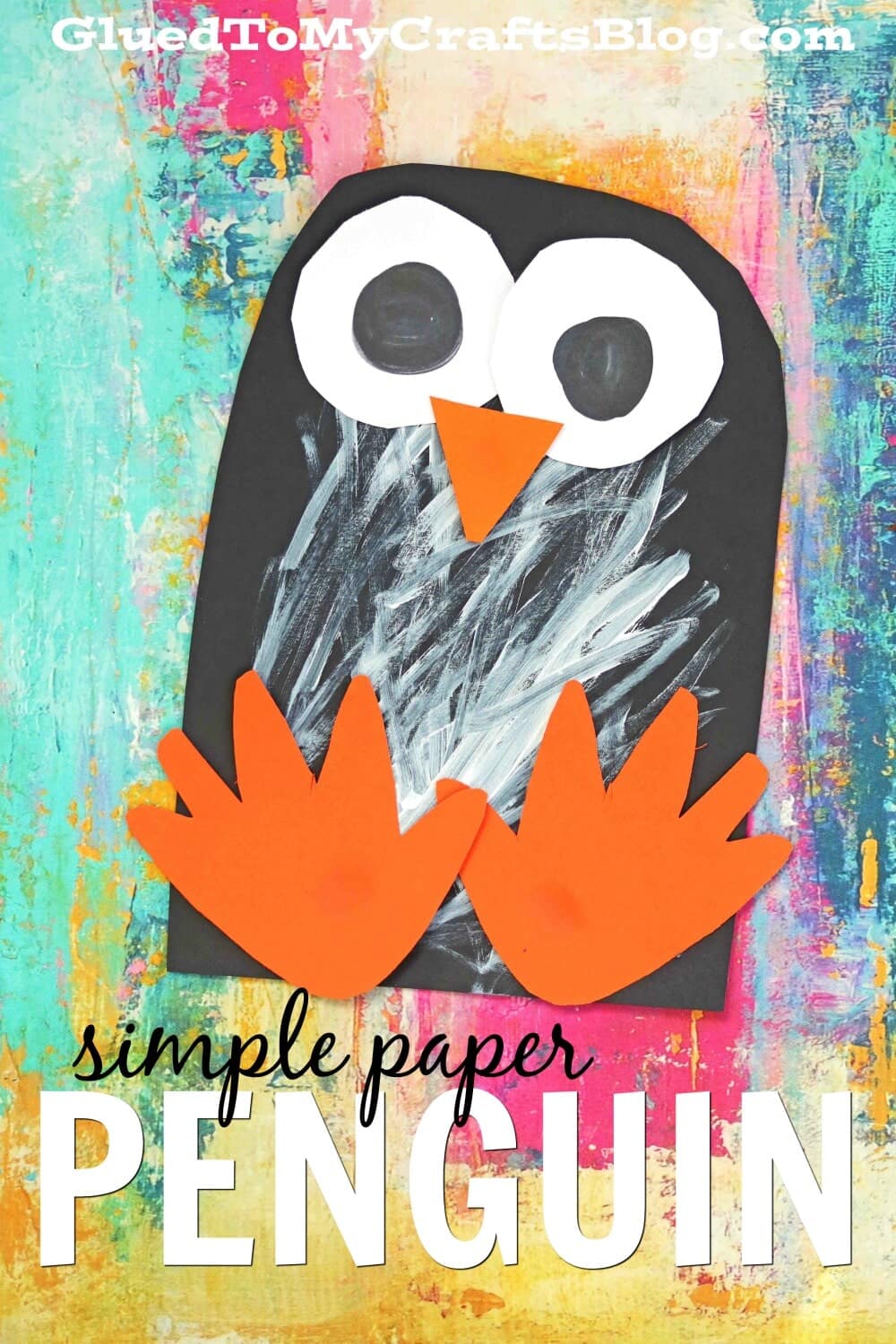 Image source: Glued To My Crafts
No time to make a trip to the craft store? Weather too terrible outside to even think about driving anywhere? Kids bouncing off the walls with cabin fever? Don't fret — Glued To My Crafts has you covered with this simple penguin project that can be made with just a few materials. If you have small children at home you almost certainly have most of these lying around somewhere. As a special bonus, you'll be tracing your child's hands once again, but this time for the penguin's feet! Little kids love seeing one thing being used as something else, so this is sure to delight their imaginations.
16. Penguin Cotton Ball Launchers
Image source: School Time Snippets
Nothing says "stuck inside on a snow day" like kids glued to their screens or roughhousing across the living room. When you absolutely, positively, cannot take one more minute of the kids driving each other crazy or going blind from video games, it's time to click over to School Time Snippets for this instant hit. These are pretty easy to put together, so they're perfect for that part of a snow day afternoon when everyone's either bored or about to tear down the house. Since the kids are launching cotton balls at each other they (probably) won't get hurt, and you can make a game out of cleaning them up!
17. Fluffy Penguin Craft
Image source: Glue Sticks Blog
It's not bright, but it's certainly merry! This fluffy penguin ornament from Glue Sticks will surely add a touch of the adorable to any Christmas tree. Between the pom-poms, the fake snow, and the felt details, this soft little penguin is as touchy-feely to hold as it is fun to look at. The black and white definitely stand out among a tree full of red, green, and silver ornaments. Make sure to have each child make their own so that everyone can have a special penguin ornament; maybe even write the child's name on theirs with permanent marker.
18. Spin The Bottle Cap Into A Penguin Ornament
Image source: Crafty Morning
For another super cute penguin-themed Christmas ornament (see #17), Crafty Morning has a one you can make out of bottle caps. Despite the tiny details, they are very easy to do. If you've already put away the orange and black Sharpies you used for Halloween crafts, time to dig them out so you can draw your little penguins. And while you're at it, make sure to dig out that orange ribbon, too: the bright color will really pop against the needles of a dark green Christmas tree. Hosting a holiday party? Glue the two bottle caps together ahead of time, as well as the ribbon on back, and let the children make their own penguin ornaments to take home!
19. I Heart You Penguin Craft
Image source: Non-Toy Gifts
Just because the holidays are over doesn't mean you are done crafting penguins. With Valentine's Day creeping up just a few short weeks after New Year's, you'll need something more appropriate for February. Non-Toy Gifts has your back with this penguin craft that features a 3D pink heart in the middle. There's a link to a paid template you can download and print out, or just cut out the shapes yourself. If your kids want to assemble the 3D heart themselves they might require your supervision, but the result will be the cutest valentine in your child's class!
20. Penguin In A Bag Craft
Image source: I Heart Crafty Things
Ok, so this one is more penguin FROM a bag craft rather than IN a bag, but it's still super duper darling. This one, from I Heart Crafty Things, requires a little bit more than the usual set of materials you probably have at home, so make sure you take the items list to the craft store on your next trip. It's definitely worth it, though, for this gorgeous and creative take on penguin crafts. The doily adds a magic touch that makes your penguin stand out among the crowd. This craft is perfect for those days when you want to spend a little bit more time crafting with your child!
21. Penguin Royalty
Image source: Mas And Pas
Here's another Royal Penguin (see #2), which you can make from empty toilet paper rolls. Over at Mas And Pas they have a fresh take on plain old penguins thanks to the addition of the iconic yellow feathers of a Royal Penguin. With googly eyes and flat feet, these cuties are ready to waddle their way into your house and your children's hearts. They're easy enough to put together with toddlers who want to "help" by sticking on the pieces. Got a preschooler ready to test their scissor skills? Let them practice by cutting the fluffy feathered hair that goes on top.
22. The Shape Of Penguin Crafts To Come
Image source: Non-Toy Gifts
For those times when you need something other than just a quick craft to give your child a break from screen time, check out Non-Toy Gifts' mix-and-match penguin shape project. This one is ideal for toddlers and preschoolers who are learning their shapes — or who love Mr. Potatohead! Whether you do this at home with your little ones or at a daycare or preschool, cut out plenty of shapes of different sizes, as well as colorful accessories. A child's imagination is the limit as they assemble a penguin and then dress it up or down for the season.
23. Penguins Waddle But They Don't Fall Down
Image source: Buggy And Buddy
Part of the appeal of penguins is the way they walk, with that adorable waddling motion that kids love to imitate. Harness the power of the adorable waddle by clicking over to Buggy And Buddy's easy moving penguin craft. There's a video to show you how to put this together, step-by-step instructions with photos, and a free printable template you can download and use. All kids will have to do is poke their little penguin to watch it bounce back and forth like a waddling walk. Googly eyes make these extra fun to watch and play with!
24. Stand Up Penguin Craft
Image source: Creative Little Explorers
For families and classrooms that have accumulated a collection of pinecones during the fall, here's a great craft for putting them to good use. The idea comes from the clever minds at Creative Little Explorers, who have you paint the pinecones black so that the soft felt penguin can stand up on its own. The finished products are sturdy enough to stand up to even the most playful tykes who want to waddle them back and forth! The simplicity of this project makes it a great one for classrooms in the winter time, or pre-prep them in anticipation of afterschool playdates.
25. Fancy Clothespin Penguins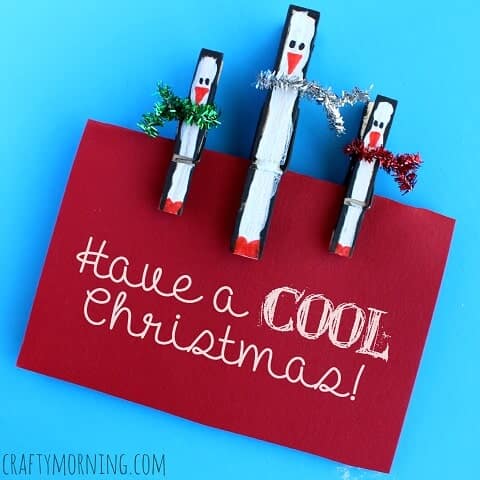 Image source: Crafty Morning
If you're dressing up for the holidays, why not make some penguins to dress up, too? With this versatile craft from Crafty Morning, you and your kids can make penguin friends that show off their own sparkly holiday scarves! With little more than paint, sharpies, and shiny pipe cleaners, you've got yourself a dapper little penguin that's ready for all the Christmas parties. String them up to make bunting, clip them to cards for giving away, or add magnets to the back to give out at your own fancy holiday shindig!
Did you like this post? We think you would also enjoy our Zoo Animal Crafts For Kids list too!