Running a house full of kids or a classroom full of students can really feel like a zoo sometimes! For all your playful monkeys, huggable bears, roaring lions, stomping elephants, and sleepy sloths, this list has crafts everyone can do to keep busy. From toddlers to older grade schoolers, on this list you'll find nearly 100 projects kids can make to celebrate their inner wild animals.
Some of these crafts are educational as well as fun, like A For Alligator or G For Giraffe. Others lend themselves to lesson plans on different habitats (Antarctica vs South African grasslands), environmental sciences, or simply learning about how different animals live and survive in the wild: Sleepy Little Bear Craft or This Is How The Zebra Gets Its Stripes. And some of these crafts are fun to play with when they're done, like The Moving Elephant Craft or the Moveable Sloth Craft.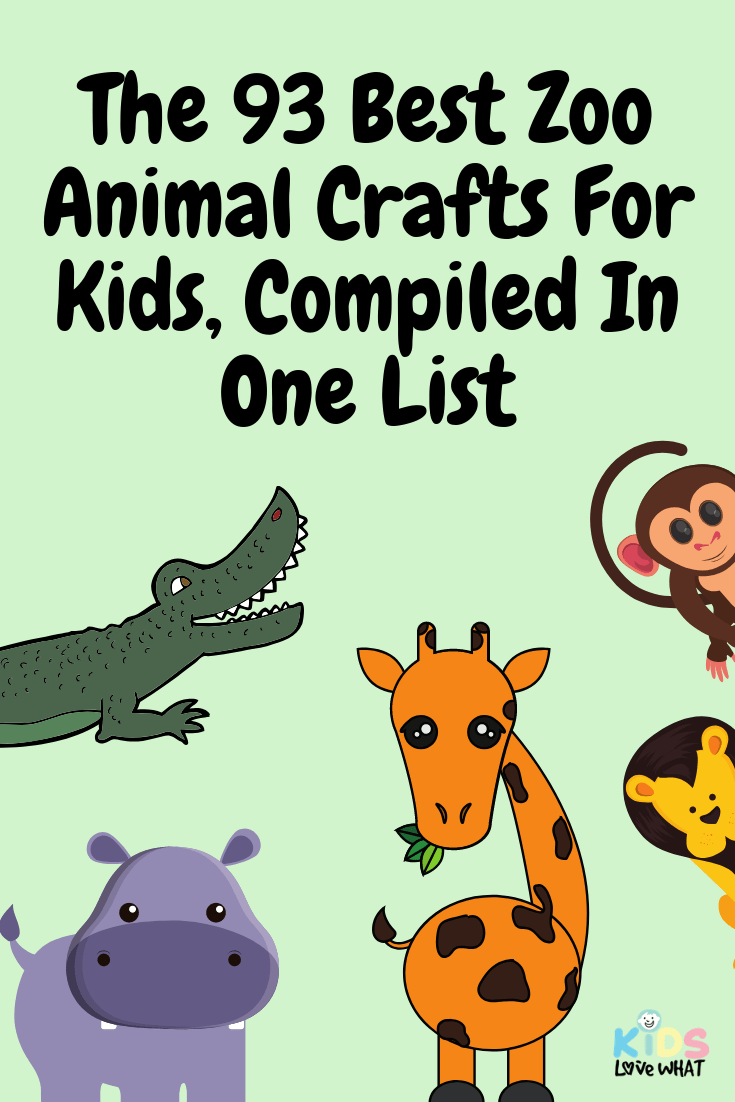 There are plenty of puppets here, which work well for kids of almost any age or ability, from paper bags to finger puppets. Want to keep it simple? There are so many paper plate crafts listed below that you won't know where to start!
Make one craft of each animal and enjoy a real homemade family zoo in your own home. No waiting in long lines to get to the front of the viewing areas, no bad weather, and no hungry, tired, worn-out kids on this trip!
Alligator & Crocodile Crafts For Kids
A For Alligator
Image source: Fun With Mama
This little craft pulls double duty for toddlers and preschoolers: they can learn about alligators while also learning a letter of the alphabet! Fun With Mama has the photos and instructions you'll follow in order to help your child create an awesome alligator with a capital letter A. Even with pointy teeth, this giggly gator can't possibly hurt anyone: it just wants to play! Mount this on colorful construction paper to hang up where your child can see it over and over and commit the letter to memory.
A Sticky Little Alligator Craft
Image source: Darice
The ubiquitous craft sticks are the stars of the show in this alligator craft from Darice. Grown-ups can glue the craft sticks into shape for toddlers and preschoolers; kindergarteners might want to do the gluing themselves. After that kids can have fun coloring their little gators bright green, gluing on big round eyes, and adding rows of pointy teeth. These can be hung up around a classroom or hand-held to be played with as alligator puppets. And don't worry, these cute fellas won't be snapping little fingers any time soon!
A Two-Foot Alligator
Image source: Crafty Morning
If your children love painting their hands and feet to make prints for art projects, then step right up to Crafty Morning's alligator footprint craft! With few other materials needed besides a big googly eye and a marker, you and your child can have this craft up and running in no time. The little toesie prints at the back of the alligator's head are so sweet and adorable, you'll definitely want to keep this project somewhere safe for years to come.
Alligator Puppet Craft
Image source: I Heart Crafty Things
I Heart Crafty Things has a fantastic way to make your own alligator hand puppets for whatever your reptilian needs may be: reading books, going to the zoo, or heading down south for a family vacation. You probably already have most of the materials handy, including a #10 envelope, but the blog contains a link to a reptile skin stencil you can purchase online. Once the craft is finished and dry, watch out! You may just find an alligator stalking you all over your house!
Open Up And Say Alligator
Image source: Crayon Box Chronicles
Do make sure you set aside enough time — and green paint! — for this craft from Crayon Box Chronicles. This one is a little more involved than most of the other crafts listed here, but the result is absolutely amazing. The blog suggests using this as an affirmation box for your children: writing positive messages down on bits of paper, dropping them inside the craft, and then having your child pull one out and read it every day. What a fun way to boost your child's self esteem!
Woven Alligator Craft
Image source: Dali's Moustache
Once your children or students have mastered basic cutting and gluing and are ready to graduate to slightly more challenging craft activities, check out this project at Dali's Moustache. This one involves painting, cutting, and then weaving strips of paper together to create truly unique patterns for their very own alligators. The blog suggests letting kids scratch into the wet paint with the pointy ends of their paint brushes for even more creative customizing. You'll be stunned at just how clever these "big kids" can get!
Snappy Alligator Craft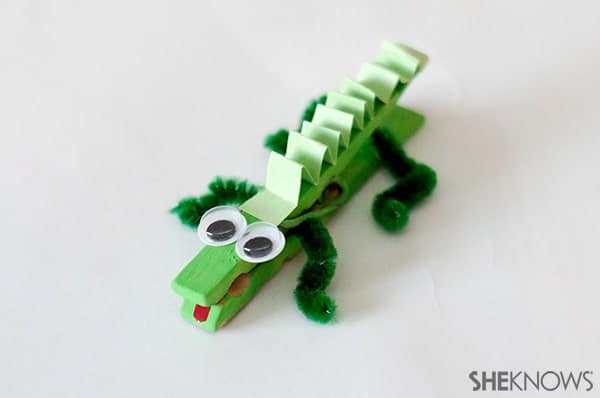 Image source: She Knows
With it's spring-loaded closing mechanism, a clothespin makes an excellent starting point for an alligator craft. She Knows shows you how you can paint and decorate these simple household items into something adorable that kids can play with. Maybe your kids will want to make an entire congregation (the collective name for alligators) of these little guys to play with or hang up all over their bedrooms — no matter what, this craft is fun for kids of almost any age!
Crawling Cardboard Crocodile Craft
Image source: Vicki Smith Art With Kids
This dynamic dinosaur descendant is so easy to make that Art With Kids doesn't even need to share instructions; just read the paragraph and look at the photos. Done and done. Using leftover pieces of cardboard cut out into the right shapes, kids can paint and color before you help them staple it all into being. This is a nice meaty craft that takes up space and really allows the kids to feel like they did a lot more than merely painting a piece of construction paper.
Bubbly Crocodile
Image source: Positively Splendid
Once you see bubble wrap as crocodile skin, you'll never be able to unsee it that way. Click over to Positively Splendid for instructions on how to turn this kid-favorite material into a delightful reptile friend. With some cardboard feet, you can definitely feel good about upcycling your materials to make this craft. Use different shades of green paint for a more natural looking crocodile; make a whole family of crocodiles to stalk the rivers of your living room!
Super Simple Craft Stick Gator/Croc
Image source: Easy Peasy And Fun
Easy Peasy And Fun knows how versatile simple craft sticks and pipe cleaners can be, and one terrific example is this clever project. If you don't already have zigzag scissors (say THAT three times fast!), you'll probably want to invest in a pair; you're sure to use them for more than just this one craft. Otherwise, it's not too difficult to cut tiny triangles out of the paper yourself. Beyond that, all that's involved is twisting a pipe cleaner around a craft stick just so, something most kids can help out with. Easy Peasy indeed!
Hippo Crafts For Kids
Letter H Hippo Craft
Image source: Glued To My Crafts Blog
Scroll down a bit on this page from Glued To My Crafts Blog to find the inspiration you'll need to create your very own letter H hippo. You don't have to have a Master's degree in art to figure this one out, which is why the generous creator of the blog put all the crafts on one scrollable page. The hippo is pretty much self-explanatory and requires only craft sticks, glue, scissors, construction paper, and markers. Done and done.
What's New(s) With Hippos Today
Image source: I Heart Crafty Things
Hippopotamuses are grey. Newspapers are grey. Coincidence? Maybe. Take advantage and feel good about upcycling with this very loquacious river horse over at I Heart Crafty Things. A little bit of blue tissue paper adds a colorful water effect; and if you can keep them out of your children's mouths, some mini marshmallows make perfect hippo teeth. This is a great craft for parents who aren't into very complicated projects that take a long time, but want something a little more advanced than simply scribbling on construction paper.
Sassy Purple Hippo Craft
Image source: Kids Activities Blog
For a fun but educational classroom craft, check out Kids Activities Blog for a hippo made out of the letter H! The sassiness comes from the cute red tongue sticking out from the hippo's mouth, which will certainly make students giggle. And though the blog shows a purple hippo, kids can certainly personalize theirs in any color that speaks to them. Add a couple of googly eyes for extra silliness, and you'll have helped your students make an instant classroom favorite!
Big-Mouthed Hippo Craft
Image source: I Heart Crafty Things
One of the things hippopotamuses are famous for is their great big mouths, so let your child really get into the spirit of a hippo's enormous heads with a paper plate craft from I Heart Crafty Things. You'll need two paper plates per craft, so make sure you have enough for everyone before you get started. Also, make sure you have enough grey and pink paint to go around — you've got some giant jaws to color!
A Hippopotamus Work Of Art
Image source: I Heart Crafty Things
If you and your child are ready to level up your hippo crafts, definitely click over to I Heart Crafty Things for this stunningly beautiful work of art. With a textured background and sequined fish details, this is no everyday hippo craft. This is one for enjoying an entire afternoon with your child, reading hippo books and carefully putting together this unique keepsake. Hang this up in your child's room when it's done, and definitely find a safe place to store it forever!
It's In The Bag Hippo Craft
Image source: I Heart Crafty Things
When "works of art" are not part of your crafting agenda (see A Hippopotamus Work Of Art, above), head over to this paper bag-based project from I Heart Crafty Things. Once again you'll be using mini marshmallows (see What's New[s] With Hippos Today, above) for the hippo's teeth, so do what you must to keep your little ones from eating them all! This craft is fun because kids can stick their hands into the paper bags when the paint is dry and create all kinds of fun "hippo games" with their new friend.
Toilet Paper Roll Hippo Craft
Image source: Creative Family Fun
Creative Family Fun has a cute little hippo craft that's very straightforward and easy to do, no matter how pressed for time you may be. The painting doesn't have to be perfect; in fact, the more imperfect it is, the cuter the finished hippos will be! As a bonus, this craft will help you feel good about staying green, since it involves upcycling empty toilet paper tubes. Have everyone in the family make one to display an entire raft (the collective term for hippos) of these great big water dwellers!
Rhino Crafts For Kids
Free Rhino Craft Template
Image source: Learn Create Love
This is about as simple as crafting gets: download and print the free rhino template from Learn Create Love, and then set your children to coloring it. Crayons, colored pencils, markers, paint — anything goes! Once they color each of the rhino's pieces, they can practice fine motor skills in cutting them out and then gluing them together on a piece of construction paper. (Or do it yourself if you have toddlers.) Easy peasy, done and done.
Rah Rah Rhino!
Image source: A Dab Of Glue Will Do
A Dab Of Glue Will Do has free animal letter printables for the entire alphabet, including the letter R for rhino. Print out copies for the entire class: they can learn R while they're busy coloring during indoor recess or any time you need a quick (but still educational) activity. If you're a parent, this is a wonderful way to celebrate kids whose names begin with an R — maybe set up a stack of these for a birthday party activity.
Upcycled Rhino Craft
Image source: We Know Stuff
Whether going on an imagination safari, learning about conservation, or preparing for a trip to the zoo, this rhino craft from We Know Stuff is awesomely fun! Start by cleaning out an old peanut butter jar, then grab some paper cups, scissors, glue, googly eyes, and grey paint. In just a short while, and without a lot of fuss, you've got yourself an adorable rhino craft that also teaches an important lesson on reducing waste!
Easy Rhino Craft
Image source: Crafty Morning
You can still create a sweet and friendly rhino with Crafty Morning's paper plate-based project. The cutting is pretty simple, so no need to worry about getting it exactly right. Toddlers, preschoolers, and children with limited fine motor skills can have a blast painting the entire head grey before the horns, eyes, nostrils, and ears are added. This craft is good for rainy afternoons or for daycares and pre-k classrooms because it's hard to mess up.
Bear Crafts For Kids
Who's That Bear?
Image source: I Heart Crafty Things
Is that a bear hiding in your living room? It very well could be, with this easy-to-make bear paper plate bear mask from I Heart Crafty Things! Make sure you have all the supplies listed on the blog, then heat up your glue gun and have a blast helping your own little cub paint and cut. An empty fruit cup makes an adorably perfect bear nose with a large brown pom-pomp glued on top. Now, go play Mama-Bear and Baby-Bear!
Berry Beloved Bear
Image source: The Inspired Home
Double-up on a learning adventure with this capital letter B printout from The Inspired Home. Add super-adorable little bear ears, paws, and some googly eyes and your children or students have a sweet way to remember what the letter B looks like and what sound it makes. Of course, this should absolutely be *B*rown as well. This craft is also perfect for kids whose names begin with the letter B to hang up on their bedroom walls.
Put A Fork In It
Image source: Glued To My Crafts Blog
For kids who love to paint — and especially love to paint with things other than paintbrushes — check out Glued To My Crafts Blog's clever fork-painted bear. The truly fantastic thing about a project like this is that they are tough for kids to mess up, even toddlers. So long as they get some brown paint in a shape that even vaguely resembles a circle, you're good to go. Add some bear ears, a heart-shaped nose, and some googly eyes (once the paint dries), and you have unique and fresh refrigerator art!
Paper Plate Jumping Bear Craft
Image source: Crafty Morning
More than just a cute bear face, Crafty Morning's paper plate bear looks ready to pounce! Since each project requires two paper plates, you'll want to stock up in bulk if you are planning to make this with an entire class of students or birthday party. Kids will love making the bear's eyes cross like in the photos, and the finished product is perfect for imagination play. This little cutie is almost 3D, making it really stand out among other paper plate animal crafts.
Toilet Paper Roll Bear Craft
Image source: Creative Family Fun
We all know what bears do in the woods. When your family of cubs have used up all the toilet paper on a roll, use it for this sweet and simple bear craft from Creative Family Fun. It's pretty straightforward to make, and by using both brown and black paint you can help your child or class learn about the different types of bears out there in the world. If you prefer an actual materials list and written instructions, just click over to the blog.
Sleepy Little Bear Craft
Image source: Glued To My Crafts Blog
If the book, "Bear Snores On," is in the regular rotation for your child's bedtime stories, check out this sleepy little guy. The creative minds at Glued To My Crafts Blog have a precious paper plate craft that's much more than simply coloring or painting. If you can't find brown tissue paper at a craft store or drug store near you, click the link on the blog to order some online. But definitely get started on this one, it's too fun to pass up!
Sweet Polar Bear Face
Image source: Crafts On Sea
When you run out of brown and black paint from all of the other bear crafts, bust out the white and make a polar bear! Crafts On Sea shows you how it's done using crafting pom-poms, something kids will have a blast doing. This sweet face really pops on dark blue cardstock, and that makes the finished product a little more durable for hanging up on walls and fridges. Make sure to keep some googly eyes handy for this one, as well!
Elephant Crafts For Kids
Brown Bag Elephant Craft
Image source: Crafts On Sea
Using brown bags to make crafts with little kids is super simple and super fun. They're kind of like Mr. Potato Head: really, all you absolutely need to do is stick things on to make a face. In the case of this brown bag elephant project from Crafts On Sea, all you need is some paper ears and a trunk, and markers for coloring the eyes and a cute little mouth. Kids can even use these as puppets for playing zoo, safari, "Dumbo," or anything else!
Toilet Paper Tube Pachyderm
Image source: Creative Family Fun
For an easy DIY 3D elephant craft, check out Creative Family Fun's toilet paper tube project. With some craft paint and googly eyes, you're all set for a fun afternoon of making little elephants that can stand up on their own. Cut the tubes to different sizes to make a herd of elephant mommies and babies! The thin cardboard of cereal boxes make great ears and trunks and are fairly simple to outline yourself and cut out.
Simple, Smiley Elephant Craft
Image source: Look! We're Learning
Coffee filters are excellent materials to keep in your arts and crafts supply kit, as they open up into perfect circles. Use a couple to make this darling little elephant craft from Look! We're Learning. Glue the colored circle onto a piece of bright construction paper (for contrast), and let your kids have fun drawing great big elephant ears on the sides! The ruffley bit of a second coffee filter can be cut out to make a textured trunk for your child's new friend.
Colorful Elephants On Parade
Image source: Glued To My Crafts Blog
After parties and events, there seem to be tons of leftover materials — including uninflated balloons. Rather than throwing them away or saving them for some unspecified later date, put them to good use with these elephant-themed cards from Glued To My Crafts Blog. The long nozzle of balloons makes a natural elephant's trunk. Glue these to some folded cardstock and add stickers for instant thank-you notes, unique valentines, or special occasion cards for family. Don't forget to give your elephants eyes and ears!
Colorful Patchwork Elephant Craft
Image source: Buggy And Buddy
Sponge painting is a fantastic activity for very young preschoolers and toddlers because there's not much for them to handle or keep track of. Click on over to Buggy And Buddy for your free elephant-shaped printable template and to learn how to make this rainbow sponge-painted Elmer the Elephant inspired by the David McKee children's book. Kids in kindergarten and first grade can practice learning patterns with the different colors, adding a special educational bonus to this super fun elephant craft!
Handprint Elephant Craft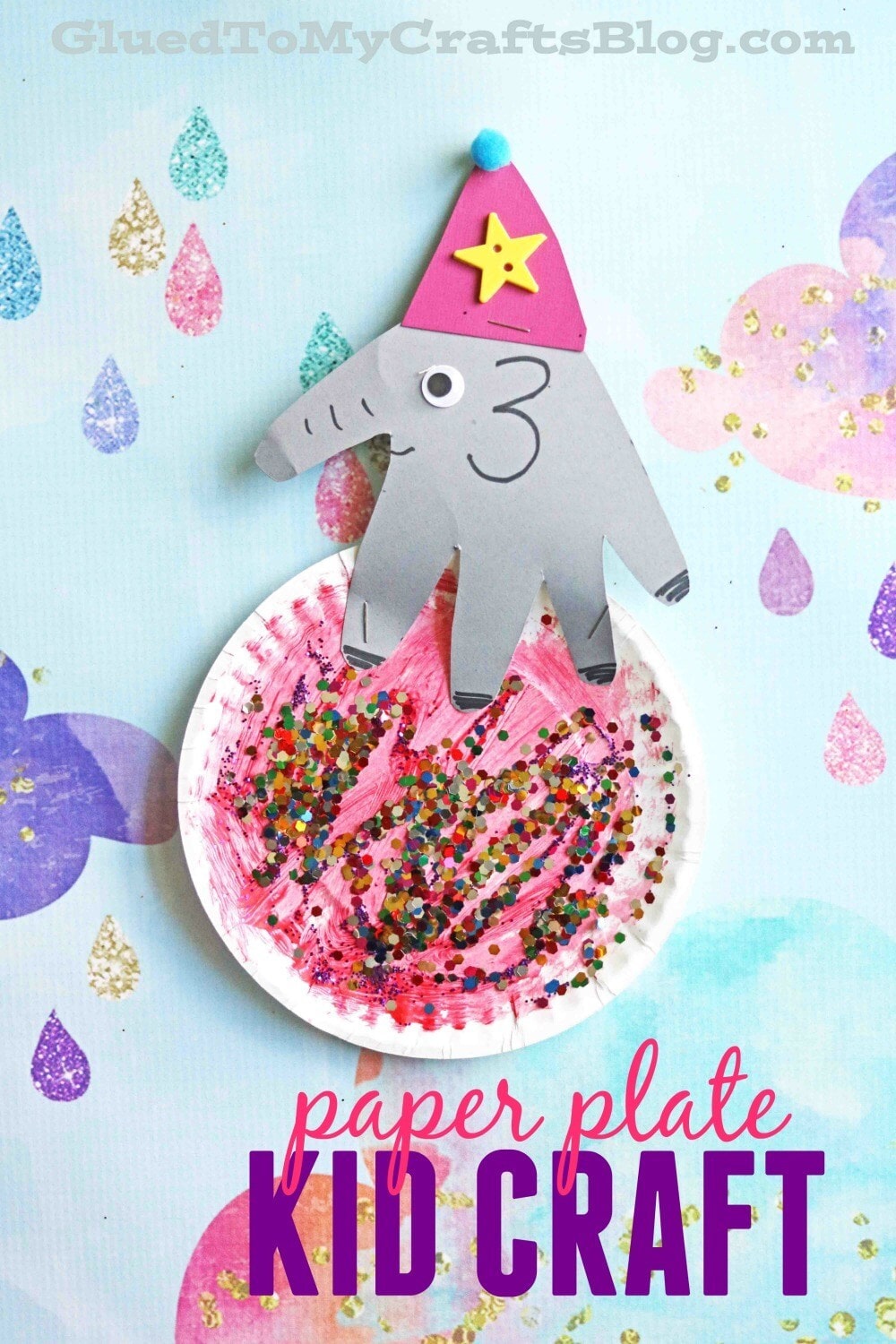 Image source: Glued To My Crafts
If you are a crafter who finds inspiration in your children's handprints, look no further than Glued To My Crafts sweet elephant craft. Thumbs are the perfect shape and size for an elephant's trunk, so most of the work in this craft is simply mounting the elephant on a paper plate and decorating everything. It's so simple even toddlers can participate! The paper plate serves as the "ball" upon which their elephant is performing, at the zoo, in the circus, or right there in your living room!
Moving Elephant Craft
Image source: The Joy Of Sharing
This elephant craft from The Joy Of Sharing is truly special and destined to become a beloved favorite of children of almost any age. Reminiscent of rocking horses, this elephant is beautiful and colorful. A folded paper plate provides the curved bottom for rocking back and forth with a simple tap. Take a cue from the blog and add something sparkly or shiny to the elephant's head for a gorgeous little detail. Who needs expensive plastic toys when you've got this?
Upcycled Newspaper Elephant Craft
Image source: Buggy And Buddy
If you and your children are learning all about elephants, then chances are you're also learning about conservation and threatened species. Help your children or students feel better about doing their part by upcycling newspaper into this elephant craft from Buggy And Buddy. Parts of this craft need to dry overnight, so make sure to allow plenty of time to do this project properly. However, even the youngest kids can get in on this action by simply crumpling up the pasted newspaper!
My Elephant-y Valentine
Image source: Simple Mom Project
Next February 14th, send your child to school with the sweetest and most unique valentines in the class! Simple Mom Project has a heart-filled, elephant-themed valentine with free printable templates that will ensure your little zookeeper gives out the valentines that everyone will be talking about. Or, cut plenty of materials in advance and these become a lovely Valentine's Day party class activity. You might even be inspired to help your child learn just how big an elephant's real heart is compared to a human heart — watch their little eyes grow with wonder!
Tissue Paper Elephant Craft
Image source: Glued To My Crafts Blog
Three different types of paper are used to make this particular elephant craft from Glued To My Crafts Blog: card stock, paper plates, and tissue paper. The tissue paper will be cut up for a mosaic style elephant design on the paper plate — or let your little one tear it into pieces! There's something for everyone of all ages and abilities here, from cutting to gluing to stapling. It's easy and gorgeous and looks great hanging on your refrigerator door!
Cheetah Crafts For Kids
A Hand For The Cheetah
Image source: Fun Handprint Art
Check out this link from Fun Handprint Art to find out how to go from regular handprint to speedy cheetah in no time! The secret to making a handprint cheetah craft that really pops is the black puffy paint you'll use for the spots. And by mixing orange and yellow paint together you'll get just the right color for a cheetah's golden fur. Just make sure you get your child's handprint on the paper while the paint is still wet — those cheetahs are the fastest animals on land!
Cheetah Face Paper Plate Craft
Image source: Learn Create Love
While the children are running around anyway, have them see if they can harness the speed of a cheetah by helping them make this paper plate mask. (Hint: cheetahs can sprint up to 70mph. If your child can hit that speed, call the people at Guinness World Records!) Learn Create Love has step-by-step instructions to help you get the eyes and facial contours just right, though it is truly a very simple craft to make. Anyone up for some wild animal races?
Cute, Upcycled Cheetah Craft
Image source: Artsy Momma
Upcycling is the new recycling, and if you use K Cups to make coffee at home you already have the foundation for this cheetah craft from Artsy Momma. It's amazing what you can do with some paint and pipe cleaners, and for this project a set of googly eyes make the whole thing even more adorable. Because it rests easily on a flat surface, you don't need to worry about this cheetah speeding away from you! Save a whole bunch of K Cups well in advance, and then you'll have enough for a special party activity.
Stand Up Tall Cheetah Craft
Image source: Creative Family Fun
Before you throw away or recycle those empty toilet paper rolls, be sure to check out this sweet and simple cheetah craft from Creative Family Fun. It's a pretty self-explanatory craft that even toddlers can enjoy by painting the cardboard all yellow (impossible to make mistakes!). An entire class of students can make these easily during lessons about mammals native to the African continent, or before a field trip to the zoo. Or cut the tubes to create mama, daddy, and baby cheetahs!
Easy Peasy Cheetah-Print Mug
Image source: Overstuffed
On those bone-chillingly cold winter nights, you and your children can snuggle up to steamy hot chocolate in these DIY cheetah-print mugs that are super easy to make. Follow the instructions at Overstuffed to color in the spots so they look like actual cheetah-print, and then learn how to finish the mugs to the colors won't wash off. When it's a winter wonderland outside you can call on the spirit of cheetahs in warm African countries to comfort your soul!
Free Cheetah Template
Image source: Learn Create Love
For classes learning about animals or prepping for a field trip to the zoo — or if your kids have latched on to cheetahs and other big cats as their current animal obsessions — then Learn Create Love has some wonderful news for you. Clicking on the link will not only take you to a site with a free printable cheetah template that the children can color and assemble, but there are some cheetah facts there, too!
Zebra Crafts For Kids
Easy Zebra Pattern Craft
Image source: I Heart Crafty Things
No worries if you don't happen to have zebra-pattern cupcake liners at home: I Heart Crafty Things has an affiliate link you can click to order some online. When they arrive, follow the step-by-step instructions (with photos) to make these silly zebras whose gaze pops right off the paper to look at you! Zebras are so fun and unusual that it's no wonder kids love learning about them. This craft is a must-make for any trips to the zoo or lessons about animals around the world.
Free Zebra Template
Image source: The Inspiration Edit
Grab those glue sticks and scissors for this super fun paper bag zebra craft from The Inspiration Edit! By printing out the free template, this craft easily becomes a simple cut-and-paste project perfect for preschoolers. And since the pattern is fairly straightforward, this project is perfect for an at-home craft if you are not that artistic; it works well in classrooms, too. The little arm waving "hi" will certainly delight your children or students and make this one of their favorite crafts to do.
Footprint Zebra Craft
Image source: The Pinterested Parent
A footprint naturally takes the shape of a zebra's long head in this clever craft over at The Pinterested Parent. Even if your child lacks the skills to make the rest of the zebra, they can always lend a foot to be painted and pressed onto a sheet of paper. A little bit of black and white paint will go a long way here, as you or your little pony add on the zebra's hair, nose, and stripes.
Z For Zebra Craft
Image source: Glued To My Crafts
This zebra craft is so easy it doesn't even require instructions. Simply glue some craft sticks together in the formation of the letter Z, then let your children or students decorate it with black stripes and a face. Click on over to Glued To My Crafts to see how it's done. Glue the Z's ahead of time to have on hand in a craft emergency! Add white stripes for kids who want to go the extra mile with their project.
Giddy-Up, Zebra Craft!
Image source: I Heart Crafty Things
Finger puppets are wonderful projects to work on with kids who love interacting with the things they make themselves. The puppets can be played with alone or in groups, and they are super adorable on little hands! A child's four fingers make the zebra's legs, so these will encourage strengthening the muscles used in fine motor skills. When you and your children (or students) make this zebra finger puppet from I Heart Crafty Things, just make sure your herd of zebras don't run off!
I Heart Zebra Crafts
Image source: Creating Creatives
Let the other kids in your child's class give out store-bought valentines this year; level up YOUR game with these hand-crafted zebra valentines from Creating Creatives. With the basic card being so easy to make, it won't take long to make enough for the whole class. What do zebras have to do with Valentine's Day? Does it matter? These will definitely stand out among a sea of same old cards, earning you the title Most Creative Parent in the classroom!
This Is How The Zebra Gets Its Stripes
Image source: I Heart Crafty Things
If your children know how to stamp paint onto paper, they can make this paper bag zebra craft. I Heart Crafty Things takes this very basic skill and uses it to turn paper bags into awesome zebras. Relax and let the kids stamp out the zebra's stripes — who cares if they aren't straight or perfect? The sillier the better! Using large googly eyes and adding a wide smile will turn these zebras into instant BFFs for your family's zoo adventures.
Monkey Crafts For Kids
DIY Wonder Park Monkey Craft
Image source: One Little Project
Start with a simple toilet paper roll, end up with a monkey that's ready to ride the roller coasters! Over at One Little Project you can find the instructions to make this cheeky little guy straight out of the movie "Wonder Park." An adult definitely needs to help out here with some of the gluing and pipe cleaner cutting, but kids will still have an awesome time putting this project together. With pipe cleaner arms, this monkey can really move!
Easy Huggable Monkey Craft
Image source: Frugal Fun 4 Boys
If your little monkeys have you wrapped around their fingers, help them make Frugal Fun 4 Boys' pipe cleaner monkey that they can wrap around, well, anything! Craft beads in the body even help this monkey stand up — make it as a surprise on your child's bedside table for a fun morning surprise, or make these in big batches to give out at birthday parties. When back-to-school rolls around, wrap some around your children's pencils to make them smile on their first day of the new year!
Cute Monkey Face
Image source: Crafty Morning
If your monkeys are still very little — toddlers or preschoolers — keep things simple with this paper plate monkey craft from Crafty Morning. If your child can grip a brush, then they can paint a paper plate completely brown. (Maybe put some newspaper or a tray under the plate to make messes easier to clean up.) While they do that, you can cut out the monkey face, ears, and eyes. Help your child glue them into place, and that's it!
Upcycled Monkey Craft
Image source: Artsy Momma
Don't throw away those K-cups! Whether at home or at work, save a few, wash, and upcycle them for this cutie-pie monkey craft. Artsy Momma shows you how to turn this simple piece of plastic into a darling monkey friend, complete with long furry tail. This project is also a wonderful way to introduce young children to the idea of upcycling, recycling, and reusing everyday objects in order to shrink their carbon footprint.
Be My Monkey Valentine
Image source: Crafty Morning
When they're all done jumping on the bed (but hopefully not bumping their heads), head on over to Crafty Morning to help your own monkey make a cute and unique valentine craft. Valentine's Day wishes will pop off the page with this 3D tree-climber! Write a Valentine's message inside the card yourself, or have your child personalize each one with their own scribbles or hand-drawn heart shapes. They will love this so much that they'll make one extra special just for you!
Big Mouth Monkey Craft
Image source: I Heart Crafty Things
How can your monkey craft say "Ooo-ooo-ahhh-ahhh" without a mouth? I Heart Crafty Things has the solution! The secret is a small paper plate and a brown paper bag. To learn the rest you'll have to click on the link and find out what your child can do for this project versus what you'll have to do (like staple). This is a quick and delightful way to add a little 3D pop to the usual paper plate craft!
Little Monkey Feet
Image source: Fun Handprint Art
Footprint crafts are an extremely versatile way to include children of most ages and abilities in creating darling crafts. Fun Handprint Art has this sweet little monkey you can make just from painting your child's foot! Most kids will laugh until your heart melts when you paint their feet, while toddlers and preschoolers will get enormous pleasure out of seeing a monkey come to life from their own footprint! Bonus: once the monkey is set, let your child use their painted thumbs to make the palm tree.
Straightforward Monkey Craft
Image source: Easy Peasy And Fun
Whether in the classroom, at daycare, or in the home, sometimes you need a very simple craft that's easy for the youngest minds to understand and put together. Cue Easy Peasy And Fun's paper plate monkey craft! There's really not much to it: perfect for children who want to "help" but aren't quite up to cutting or gluing yet. All they have to do is paint a paper plate completely brown. If you want, you might also let them pose the monkey's arms and legs before you glue them together. Simple enough!
Sloth Crafts For Kids
Free Perler Bead Printable Sloth Template
Image source: Cutesy Crafts
Sloth popularity is on the rise, thanks in part to their hilarious roles in the recent movie, "Zootopia." Perler beads are also popular right now, and they are a fantastic way to make versatile, 3D art. Over at Cutesy Crafts you'll find a free printable template for assembling your perler beads into a sloth design. Attach a key ring for an instant gift, make these as party activities, or glue a magnet on the back. Slow and steady wins the race!
DIY Sloth Craft Template
Image source: Learn Create Love
From your friends at Learn Create Love you'll find a sweet and free sloth printable, which is pretty straightforward and easy to assemble. Even the sloth's tree and facial features are there to print out! Once those are printed and cut, make sure your children or students paint the sloth a different shade of brown from the tree it'll hang from. After the paint dries, even preschoolers can help assemble the sloth and the tree together.
Simple Sloth Craft
Image source: Glued To My Crafts
Smaller sloths require smaller trees, and that's where good old craft sticks come in. Kids will love making this project from Glued To My Crafts in part because it's hard to mess up! The sloths — printed from a free template — are pretty straightforward to color, and the craft sticks require very simple painting. Even toddlers can get in on this sloth craft action! There's only the one piece to glue to the green and brown craft stick, making this craft a terrific idea for classrooms and rainy days with very young children.
Moveable Sloth Craft
Image source: Clever Patch
Paper fasteners are the secret to this moveable sloth craft from Clever Patch, based on the children's book, "The Sloth Who Came To Stay." Once again there's a free template you can print and cut out; the link has some clever ideas for coloring your sloth to look more realistic. But even if your pint-sized slowpokes scribble the color on, the finished product is going to look super cute hanging from some strung-up green yarn. Make a whole family of sloths to "hang out" in your living room!
Be My Sloth Valentine
Image source: I Heart Crafty Things
This sloth can't help but fall asleep from giving away so much love! I Heart Crafty Things offers yet one more free printable template for making these squee-worthy sloth valentines cards. If you don't feel like printing and cutting enough for your child's entire class, you can still make one for the teacher and any other caregivers. Or just print them and bring them to class for a Valentine's Day party activity that the kids can cut out and assemble themselves!
Sloth Face Craft
Image source: Glued To My Crafts
You don't need a printable template to make this straightforward sloth craft. Gather some cardstock, a paper plate, and grey tissue paper — that's all you need! By following the steps at Glued To My Crafts, you and your child can work together cutting and gluing this sweet little sloth face together. The shapes you need to cut out aren't too complicated, especially if you draw them with a pencil first. And that's it! Sometimes the most fun you can have are the simplest crafts to make.
Panda Crafts For Kids
Paper Plate Panda Family
Image source: Danya Banya
Here's a great way to celebrate the cuteness of pandas while helping your child develop those fine motor skills. Click on over to Danya Banya for a truly creative panda craft that's as much fun for kids to assemble as it is adorable to look at! Gluing the two paper plates together first makes it much easier for little hands to hold them tight and stitch yarn through the holes. With soft felt, cotton, and googly eyes, these are cute enough to hang up and keep forever!
Potato-Based Panda Craft
Image source: I Heart Arts And Crafts
Cut potatoes make perfect stampers for smaller hands that can't quite grip regular craft stamps. And, as the creative minds over at I Heart Arts And Crafts show us, cut potatoes also make a perfect shape for a panda face. (Remember to use raw potatoes; the baked potato that comes with your dinner will be too soft to work.) It's super easy and fun for toddlers up to about second grade, though you don't need to deny older kids the fun of slamming a painted potato down onto a piece of construction paper!
Page-Saving Panda Craft
Image source: Red Ted Art
So cute. So, so, SOOOO cute! Readers in your family will be rendered speechless with cuteness when they see these tiny little origami panda corner bookmarks from Red Ted Art. The link has both step-by-step written instructions as well as a video to show you how to fold your paper just-so into a basic origami corner bookmark. After that it's simply a matter of cutting and gluing black panda parts into place. These are so easy you'll want to make them in big batches for party gifts, class gifts, or just a little something for your baby panda to give away to friends.
Sweet Panda Face
Image source: Kids Activities
This panda craft from Kids Activities is as sweet as a baby panda eating a cupcake. Circle shapes are the name of the game here, perfect for the pre-grade-school set learning all about shapes. How many circles make up the panda's face? Can you identify them all? With its straightforward cut and glue design, this panda craft will be simple enough for even the least artsy parent to do with even the messiest of toddlers.
Textured Paper Panda Craft
Image source: Glued To My Crafts
Crank up your paper plate craft game with help from Glued To My Crafts. Rather than drawing a panda face on a plain old paper plate, mix it up with some white tissue paper to create a more textured effect. And that's something kids can definitely help out with: cutting tissue paper into squares (if they are old enough for scissors) or tearing it into pieces. The construction paper eyes and nose are simple enough for either grown-ups or slightly older kids to cut out and glue on.
Fluffy Panda Face
Image source: Crafty Morning
Most kids get a kick out of using everyday objects for tasks they were not designed to do; check out Crafty Morning's fork painting, for example. If you don't want to use the good silverware, get some cheap forks from your local supermarket, or use plastic forks. Much younger children will probably need help getting the hang of starting in the center of the page and working their way outwards. The result is a fluffy-faced panda that looks ready to jump off the page and snuggle!
DIY 3D Standing Panda Craft
Image source: Creative Family Fun
Creative Family Fun has a totally simple panda craft that will win its way into the hearts of your children and students. If you can collect enough empty toilet paper tubes, this project can easily be done by a preschool or pre-k class as an accompaniment to a lesson on endangered species or animals of the world. Line them up on a shelf to show kids how even things that may look alike at first are actually quite unique when you see them up close.
Tiger Crafts For Kids
Handy Little Tiger
Image source: Fun Handprint Art
Don't forget a fearsome tiger in your handprint zoo! (See "Handprint Elephant Craft," and "A Hand For The Cheetah," above.) Fun Handprint Art shows you how to get those tiger stripes just right when you feel inspired to turn your children's hands into keepsake works of art. The wonderful thing about this particular project is that your child doesn't need painting, gluing, or cutting skills to help out — all they need to do is lend a hand!
Beautiful Marbled Tiger Print
Image source: Play Create Explore
When you're stuck at home for a good long while — a rainy weekend afternoon or a snow day off from school — head over to Play Create Explore for this amazingly gorgeous marbled tiger print. It requires several steps and some drying time, so make sure you're not in any rush to get this done. In classrooms, this might even be a multi-day project while getting ready for a field trip to the zoo. While everything is drying, help your cubs cut out trees and grass for their finished tigers to prowl around in.
Puppet Tiger Craft
Image source: Arty Crafty Kids
Enter your email address at Arty Crafty Kids in order to receive the free printable template for this darling paper bag tiger puppet. Although this looks like it involves a lot of complicated steps, it's actually quite straightforward once you read over the instructions. Kids can cut out easy triangles for the stripes (with supervision, of course) so that they feel more involved with making their own tiger. Make one with each of your kids and then let them plan a tiger-themed puppet show for you!
A Cup Full Of Tiger Craft
Image source: I Heart Crafty Things
After a big party you probably have lots of leftover paper plates and cups. Before you relegate those foam cups to storage never to be used again, or throw them away, upcycle a few into this sweet little tiger art from I Heart Crafty Things. It's ridiculously easy to make, with plenty of room for your little helpers to lend a hand by painting, cutting, or gluing. Get some great big googly eyes to add a finishing touch to this tiger's loving gaze!
3D Tiger Family
Image source: Creative Family Fun
If you save up enough empty toilet paper rolls, you can make plenty of these tiger crafts to represent the whole family! Whether everyone makes one of their own, or your children make them all, these are a delightful way to celebrate what makes your family unique. Creative Family Fun shows you how quickly you and your children can whip up an entire batch of these. Each tiger can be personalized according to each member of your little tiger pack!
Crafty Tiger
Image source: Crafty Morning
If you don't have, or can't find, orange craft sticks it's no problem — just have your kids paint some plain craft sticks. Once you have those ready, click on over to Crafty Morning to learn how to turn these very basic materials into an adorable tiger face. This craft is great for classrooms where kids are learning about shapes, colors, and animals, and this can be done without a lot of supervision or fancy steps. Roar!
Terrific Tissue Tiger Craft
Image source: Glued To My Crafts
As with other paper plate projects from Glued To My Crafts (see Sleepy Little Bear Craft, Tissue Paper Elephant,  Sloth Face Craft, and Textured Paper Panda Craft, above), this one will level-up your art game. Tissue paper is fairly easy to find, craft with, and it really adds a certain mosaic-like quality to your ordinary paper plate art. With this paper plate tiger, all you need is orange tissue paper; the stripes are made from black construction paper, and are easy enough to make for children who know how to cut in a straight line.
Giraffe Crafts For Kids
Paper Plate Giraffe Craft
Image source: Craft Create Cook
Even if your kids aren't into the ubiquitous Sophie the Giraffe toy, this art project from Craft Create Cook is as fun to play with as it is adorable to look at. Those pipe cleaner and pom-pom horns will happily bounce around for your toddler as they shake it and giggle. You can even help toddlers contribute to the craft by putting the flat head paint brush into their hands and guiding them to make the giraffe's brown dots.
Long-Legged Giraffe Craft
Image source: I Heart Crafty Things
These types of finger puppets are truly fantastic for kids of almost all ages to play with, since they require nothing but two wiggly fingers! Even kids without fully developed fine motor skills can stick their fingers into the holes to make giraffe legs. I Heart Crafty Things shows you how to make a giraffe version of this fun and easy (and battery-free!) toy that will inspire kids' imaginations. Maybe they'll go on safari in South Africa's Kruger National Park; maybe they'll take you on a trip to the zoo; maybe they'll be a giraffe running wild in their own neighborhood!
Long-Neck Giraffe Craft
Image source: Glued To My Crafts
There's no doubt about the fact that it is giraffes' loooong necks which make them so attractive to kids (and adults!). No other animal looks quite like a giraffe. And so no craft-made family zoo would be complete without one! Over at Glued To My Crafts, you'll see how you can take a basic handprint project and upgrade it to include a long neck. Using brown pom-poms for the spots makes this an instant and easy 3D craft, too!
Clothespins And Craft Sticks Giraffes
Image source: Our Kid Things
Be careful — these giraffe crafts from Our Kid Things are ready to run away! Clothespins make great legs for the giraffes, and the bodies, heads, and tails are pretty simple to trace and cut out yourself. Kids can definitely have a blast by personalizing their own giraffes' spots and faces — maybe make an entire family of giraffes. This can be a wonderful introduction to teaching kids about animals' natural camouflage, and how all patterns are unique — just like your kids!
Simple And Fun Giraffe Craft
Image source: I Heart Crafty Things
Whether you and your children are reading the book, "Greedy Steve," like the fun folks over at I Heart Crafty Things, or some other giraffe book, this paper bag craft will allow your children to indulge in their latest animal obsession. There's even a trick to using a clothespin to make the giraffe's brown spots, something children will absolutely love doing! Students, too, can make these with just a little bit of grown-up help — perfect for post-circle time!
DIY Giraffe Puzzle
Image source: Hello Wonderful
Here's a super clever way to keep your kids busy and entertained long after the craft part is finished: a giraffe puzzle made with pebbles! This truly inspired idea comes from Hello Wonderful. It's a simple idea, but one that will reap benefits all afternoon long, and maybe into the next day. Painting the pebbles is so simple for even toddlers to do that this craft will quickly become one of your all-time favorites. And for classrooms, this craft is perfect for teaching cooperation and taking turns!
Capital G Giraffe Craft
Image source: From ABCs To ACTs
What letter does giraffe start with? G, of course! Help preschoolers visualize this simple lesson with a letter G craft over at From ABCs To ACTs. No template needed here; just trace a big letter G and cut it out. The brown spots are easy for little hands to glue on themselves, and will allow your child to get creative! Make this craft extra special for kids whose names begin with a G by hanging it up in their rooms where they can see it all the time.
Lion Crafts For Kids
Cute And Simple Lion Face Craft
Image source: I Heart Crafty Things
Let your child watch as a simple upside-down foam (or plastic) cup "magically" transforms into a roaring lion! The darling photo from I Heart Crafty Things is an absolute inspiration to make this fun craft. New scissor-users can easily help out by cutting pieces of orange yarn to make the lion's iconic mane. And with the great big googly eyes and sweet smile, this lion is much more friendly than terrifying! (Tip: be sure to read all the instructions before getting started, as the blog has a few pieces of advice for which type of glue to use.)
Love Note Lion Craft
Image source: I Heart Arts And Crafts
I Heart Arts And Crafts has this extremely versatile lion craft that's perfect for almost any occasion — or just because. Mother's Day, Father's Day, birthdays, Valentine's Day, can all be made more special with this art project that lends itself to personalized messages of love. Between the handprint lion body and the sweetly flower-shaped lion mane, this card is certain to become King of the Cards! It's the perfect way to show appreciation to anyone extra special in your child's life. (Lion puns completely optional.)
A Spoonful Of Lions
Image source: I Heart Crafty Things
After trying out this lion craft from I Heart Crafty Things, you'll always want to keep wooden spoons around the house. These are simple to make, which makes them perfect to craft in big batches. Save this for a safari-themed birthday party activity, or for classroom fun. Once each child has one of their own wooden spoon lion, it'll only be a matter of time before a puppet show breaks out or lions go on the prowl for one another!
Super Easy Lion Craft
Image source: Glued To My Crafts
Crafting pom-poms are so soft and snuggly, so of course kids love to make art with them. Glued To My Crafts understands, and has this darling lion craft that features more of what kids love. When you go shopping, do be sure to buy enough pom-poms for the entire perimeter of the paper plate you're using; no sense in breaking your child's heart if you run out! The rest of the lion's face is just as unassuming and sweet as the pom-poms that make up its mane.
A Lion Craft Good Enough To Eat
Image source: Crafty Morning
If, like Crafty Morning, you've tried everything to get your children to eat whole grain pasta instead of the regular white, and they still refuse, don't worry — this craft will allow you to put all those long, uncooked, brown noodles to good use. The best part of this is that you don't need a ton of special materials to make this spaghetti-maned lion craft. And so, unlike the cooked version of this healthier pasta, your children will actually enjoy this!
Lion On The Beach
Image source: Crafts On Sea
Seashells are the hidden gems of the crafting world. They're easy to paint and glue things upon, making them incredibly versatile for an enormous range of art projects. Over at Crafts On Sea you've even got seashells turning into lions! Prepping for this craft can be as fun and easy as making it, since kids generally love to collect seashells at the beach anyway. Now you know what to do with their collections, other than putting them in a box to collect dust.
Instant Lion Mane
Image source: I Heart Crafty Things
As per I Heart Crafty Things, a doily is absolutely perfect for a lion craft. The round face in the middle, the lacy outer edge for the mane — it's such a clever idea! Give kids dot markers to let them have a little extra fun coloring in the mane. Your children or students can also cut out their own lion whiskers with a pair of safety scissors and yellow yarn. Whether you make a whole pride of lions to hang up or you make just one for your own little Lion King, it'll be an instant hit!