When it's almost that time of year, and your kids have Rudolph on their brains, have them try out any one of these reindeer crafts. Some are super easy, some require a little more concentration, but every one of them is bound to fulfill your child's every reindeer need.
There are reindeer you can tape to the front of your refrigerator door. There are reindeer that stand upright for dresser tops and fireplace mantels. There are glittery reindeer and others made from household items. However many times your child can watch "Rudolph the Red-Nosed Reindeer" on repeat, there's a craft for that.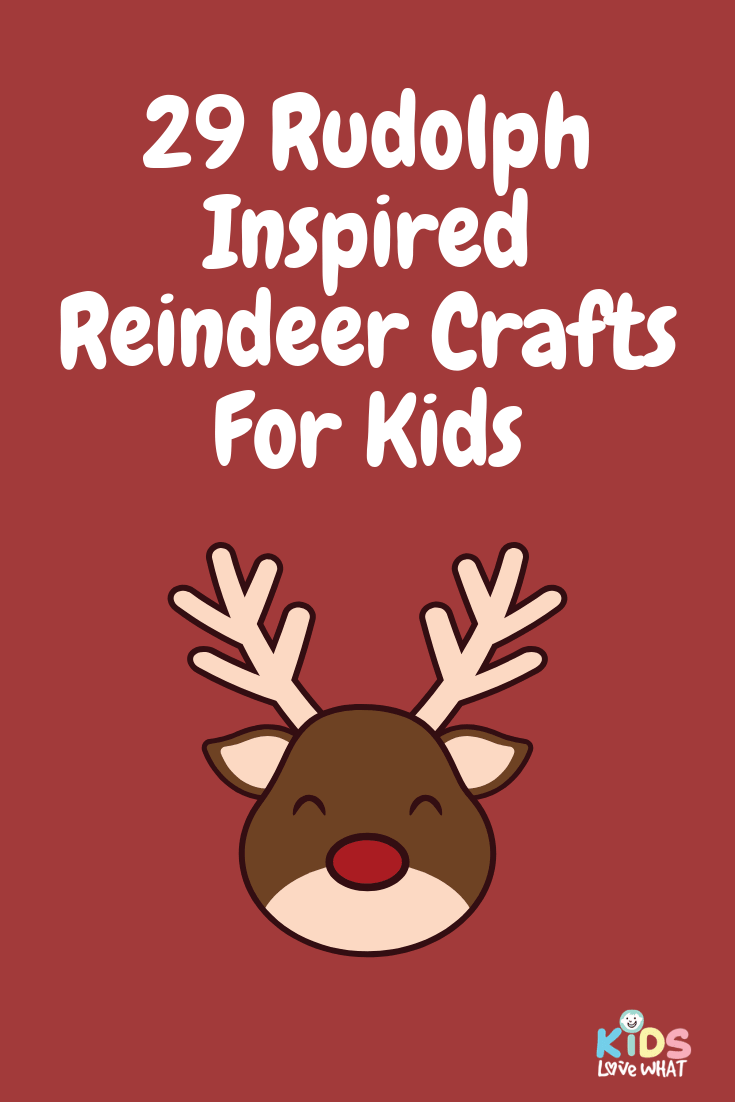 Some of the crafts are great for big groups of kids — say, a classroom, daycare, or holiday party. Others make excellent gifts for Grandma and Grandpa; one craft can even be used as part of the gift-wrapping!
And hands, hands, hands – as many times as your child can sit still long enough to let you trace their hand onto brown construction paper, there are plenty of crafts that feature handprint antlers. There are even a couple of footprint reindeer that will certainly tickle your little one!
So if a certain animal with a bright red nose is a favorite in your house or classroom, keep reading for links to 29 different ways to let Rudolph be part of your reindeer games this holiday season.
1. Hand-tlers Rudolph Reindeer Craft
Image source: Simple Everyday Mom
All you need to make this adorable Rudolph reindeer craft is some construction paper, glue, scissors, and your child's hand. This craft from Simple Everyday Mom even has a link to a free template download so that you don't have to rely on eyeballing the sizes for the nose and eyes. Kids will love lending a "hand" to make this colorful and easy project. The finished product is so cute it'll wind up on your refrigerator for sure! And by pre-prepping the pieces, this also makes a great holiday class party activity. Everyone will want this Rudolph in their reindeer games!
2. Reindeer Craft For "Hanging Out"
Image source: Easy Peasy And Fun
If you like to string festive bunting around your house for the holidays, check out these sweet reindeer clothespin hangers from Easy Peasy And Fun. Make sure you start this project with plenty of time to let the paint dry! While you're prepping anyway, why not cut out all the construction paper pieces and then let each of your children make their own unique reindeer? For classrooms, this is a great way to have each student make a reindeer to hang up for the month of December, and then take home on the last day before winter break.
3. 3D Standable Reindeer Craft
Image source: Kids Craft Room
For a reindeer craft that can stand on its own four hooves, head over to Kids Craft Room for this fun little guy! The instructions on the blog come with a link for a free downloadable template, so all you need to do is print it out and help your child set it up. With googly eyes and bright red pom-pom noses, kids will want to make a whole herd of reindeer to stand up on their bookshelves, dressers, or on the fireplace mantel. With their foldable accordion bodies, these reindeer flatten out nicely to store away for many winters to come!
4. I See You Reindeer Craft
Image source: Glued To My Crafts Blog
Here's another reindeer craft that's just awesome for a class full of little ones who are ready to get into the spirit of the season! Over at Glued To My Crafts Blog you'll find simple-to-follow instructions for using all-purpose craft sticks – aka Popsicle sticks – to make this sweet little reindeer face that's all eyes and nose. Or, if you're stocked up on Popsicle sticks and construction paper, this project is great for entertaining kids who are home for a snow day and need some time away from screens. Add a little loop of yarn and you have an instant Christmas tree ornament!
5. This Reindeer Is GRRRRReat!
Image source: Crafty Morning
While your kids are learning the alphabet, why not try this sparkly letter R reindeer from Crafty Morning? With antlers courtesy of your child's handprints and a big, glittery red nose, this one can be educational AND fun! The round part of the upper letter lends itself perfectly as the shape of a reindeer head, and the two lines at the bottom already look like legs. If your child's name begins with the letter R, that's even better! Hang it up in their room for a sweet and personal holiday decoration that will make them feel extra special all season long.
6. Taste Of Outside Reindeer Craft
Image source: Feels Like Home
Before it gets too cold to go hiking — or if you have one of those unseasonably warm winter days where everyone wants to get outside while it lasts — pick up a few pinecones and save them. Then, when the weather is really too cold to go for a long walk, heat up your glue gun and click on over to the creative genius at Feels Like Home for the inspiration behind these super cute pine cone reindeer crafts. If you are a teacher with students who are already bouncing off the walls, collecting pine cones is an easy excuse to take everyone outside for a quick few minutes!
7. Roly Poly Reindeer Craft
Image source: Easy Peasy And Fun
Since many Christmas tree ornaments are globe-shaped anyway, help your child or students make one that will really stand out this year. If it seems like this might be too complicated at a time of the year when you need things to be simple, don't fret: Easy Peasy And Fun has a video you can watch to get the hang of it. It's actually a fairly straightforward craft, and one that looks absolutely stunning when you are finished. Since the strips of paper that make up the ball are cut from straight lines, this is a great craft for tiny hands that are just getting used to cutting.
8. See If Reindeer Really Know How To Fly
Image source: Kids Craft Room
Every child knows that Santa's sleigh soars through the air on Christmas night on the power of eight flying reindeer (and Rudolph). Fire up your child's imagination with this absolutely amazing reindeer craft from Kids Craft Room. The best part of this project is that the finished product is interactive – pull the string to make the reindeer "fly!" So not only will this craft keep your kids busy while making it, it will entertain them all season long every time they walk by and make their reindeer fly, just like Santa's!
9. Nose-y Reindeer Craft
Image source: The Kindergarten Connection
For those who like to keep things sweet and simple at the holidays, check out the inspiration at The Kindergarten Connection. It doesn't get a whole lot simpler than three craft sticks, eyes, and a nose, making this project ideal for classrooms and busy households. But don't let the simplicity fool you — these are still deliciously adorable! Since there's very little that can go wrong with this reindeer craft, it's pretty easy to let your children make several at a time for hanging on Christmas trees, around the classroom, or from bedroom ceilings.
10. Crunch And Touch Reindeer
Image source: Typically Simple
Now, here's a reindeer craft that's definitely made for the fridge! If your child is tactile-dominant — they love touching and feeling everything — then this particular reindeer craft is perfect for them. Typically Simple uses Cocoa Pebbles to make this textured, almost 3D reindeer. Set it up inside a small tray to minimize the mess, and then let your child have fun with glue and cereal. Eyes made out of construction paper and a red pom-pom nose add just the right finishing touch to this sweet craft that's works well even for toddlers. And the leftovers make a great post-crafting snack!
11. Leftover Yarn Reindeer Craft
Image source: I Heart Crafty Things
For a darling take on the triangle-shaped reindeer head craft, click on over to the clever minds at I Heart Crafty Things. There, you'll find instructions for this sweet-faced reindeer made from cardboard, yarn, and clothespins. One skein of brown yarn isn't that expensive and will last for quite a few crafts. Letting your child wrap the yarn makes for a fantastic and fun motor skills activity that will also stimulate their sense of touch with different textures. Pipe cleaners wrapped askew around the clothespins look extra adorable as antlers. All in all, this is a creative and unique reindeer craft that little kids will love to make!
12. 3D Paper Reindeer Craft
Image source: The Inspiration Edit
If you've never tried it before, it's pretty easy to make a bag out of a simple piece of paper. And by using plain brown paper, you already have the base you need to make this reindeer craft from The Inspiration Edit. The link has a free template you can download and print to help with the eyes, nose, and antlers. The result of this craft is something that's not only cute and can stand up on its own, but a bag you can fill with goodies! Perfect for class parties, Christmas get-togethers, or as a cookie-delivery system for Santa on Christmas Eve.
13. Jingle Bell Reindeer Craft
Image source: The Best Ideas For Kids
With this reindeer craft, you get much more than meets the eye: it's a reindeer craft, it's a card, it's a keepsake of your child's handprint, it's jingle bells! The Best Ideas For Kids has everything you need to craft this darling keepsake that makes a wonderful gift for grandparents and teachers. Attach a loop to the top and hang it from your child's door for a little Christmas cheer, or give these out at your family's holiday party. With an open flap, you can customize the message inside or let preschoolers and toddlers stamp some Santa faces and Christmas tree shapes. Let their imaginations take over!
14. Rockin' Rudolph
Image source: Easy Peasy And Fun
Add a little "rock n' roll" to your Christmas crafts with Easy Peasy And Fun's paper plate reindeer that can stand up and rock back and forth! This is a pretty straightforward craft and one plate makes two reindeer, making this a great choice for households with lots of children or for classrooms. Make sure to paint the paper plates well before you need to craft with them so they have time to dry. Once that's done, the blog has both a video and easy to follow instructions for creating darling little reindeer faces that can stand up on a flat surface, and which kids will love tipping back and forth.
15. Upcycled Yogurt Cup Reindeer Craft
Image source: I Heart Crafty Things
The great thing about this particular reindeer craft is that it uses empty yogurt cups, so you can feel good about upcycling while you make it. Thanks to I Heart Crafty Things for this genius idea. With large googly eyes and a big red pom-pom, this adorable little guy will certainly end up on shelves and surfaces all over your house during the holiday season. Shiny gold pipe cleaners make awesome antlers, and the rest is really just painting and gluing the pieces together. If your child's hands are small enough, they might even be able to fit this over their fingers like a puppet!
16. Hoofprint Reindeer Card
Image source: Glued To My Crafts Blog
If your child's hands are d-o-n-e DONE being traced for Thanksgiving turkeys and Santa beards, switch it up with this footprint reindeer craft. Other than your child's foot and some brown paint, all you need is some cardstock, a brown marker, and a red button for the nose. Glued To My Crafts Blog shows you how easy it is to create something that will be fun (and tickly!) for your kids while also inspiring a sweet keepsake for grandparents, aunts, uncles – or to save for yourself! Mounting white cardstock onto slightly larger green cardstock adds and extra festive touch to this already Christmas-y craft.
17. Eight Tiny Reindeer
Image source: The Country Chic Cottage
Take some of that leftover ribbon you have after wrapping presents and put it to good use for this darling little reindeer craft from The Country Chic Cottage. If you don't have bottle caps laying around, or if your household doesn't keep bottled beverages around, the blog contains affiliate links to buy some clean, new bottle caps online. Once you have those ready, send the kids outside to find the tiniest little twigs they can, which will be used as antlers. A little glue, some googly eyes, and red buttons, and you've got everything you need!
18. Eggs-trodinary Reindeer Craft
Image source: Crafty Morning
Empty egg cartons are wonderful for all kinds of crafts, including Crafty Morning's reindeer. Since eggs come in containers of one dozen, you'll have four extra if you want to make all eight reindeer who pull Santa's sleigh; three extra if you make Rudolph, too! Remember to paint these well in advance of when you plan to actually engage your children or students with this craft, or things will get super messy. But once they dry, they are really simple to put together. Cutting out the antlers ahead of time and stocking up on googly eyes and pom-pom noses make these perfect for a class activity or indoor recess!
19. Nom Nom Rudolph
Image source: Hungry Happenings
For a sweet treat that your kids will love eating as much as assembling together, click on over to Hungry Happenings. There, you'll find the idea for an edible treat almost too cute to eat — almost! Tootsie Rolls, M&M, and fruit rolls help turn mini Reese's Cups into little reindeers. If your children can resist eating all the crafting materials, they can help you make these in large batches for your holiday parties. Or put a few in Christmas-decorated cellophane treat bags, close with a red ribbon, and give them out to your neighbors to spread some holiday cheer!
20. The Reindeer Have Landed
Image source: Easy Peasy And Fun
Here's another stand-up reindeer craft that is easier than it looks and won't get lost in the shuffle of every other holiday art piece into your house. Easy Peasy And Fun has both step-by-step photo instructions as well as a video you can watch to make these fantastic and fun reindeer. It's so easy in fact, that you'll find yourself making all eight (nine!) of Santa's reindeer. Line them up on the fireplace mantel in front of the inevitable Santa craft, or tie some string to the tops and hang them from the ceiling in your child's room to add a little bit of magic to the season!
21. Gifted Reindeer Craft
Image source: Girl Just DIY
Christmas is the season, not only of massive decorating, but of gift-giving. Make sure your presents stand out with these reindeer-face gift tags from Girl Just DIY. Start with a pack of pre-made round cardboard ornaments, add googly eyes and a bright red nose; tiny twigs make great antlers. These are pretty easy to make, assemble quickly, and with all the festive ribbon on sale your biggest challenge will be choosing one! The craft lends itself well to help from the kids depending on their age and motor skill abilities, allowing them to partake in the joy of giving.
22. Spongy Reindeer Craft
Image source: I Heart Crafty Things
Yet another perfect classroom activity, this one will result in a whole herd of unique and delightful reindeer to hang up before the holiday break! I Heart Crafty Things has the inspiration behind this simple yet creative idea that will allow kids to make their own special reindeer with cut sponges and brown paint. Dabs of white paint make a picturesque snowfall around the reindeer, which really pops against a lighter cardstock background. Stocking up on a variety of googly eyes and red pom-poms will further allow the kids to make their reindeer as unique and special as snowflakes!
23. A Forever Reindeer
Image source: Glued To My Crafts Blog
While you're tracing your kid's hands dozens of times onto brown paper to make antlers, be sure to save a couple of handprint cut-outs for this instant grandparent gift from Glued To My Crafts Blog. Starting with a basic wood frame you can get at pretty much any craft store or online mega-retailer, have fun with your child gluing on the rest of the reindeer face like eyes, nose, and antlers. (A large, circular hole punch really helps with the eyes and nose.) Then print out your favorite photo of your child – or take new, Christmas-y ones! This gift works very well when traveling to grandparents' houses, as it's lightweight and won't take up a ton of space in your luggage.
24. All That Glitters Reindeer Craft
Image source: Arty Crafty Kids
For kids (and grown-ups!) who like their crafts with a little sparkle, click on over to Arty Crafty Kids for this shiny reindeer. Arty Crafty members can download a free template to make cutting out the pieces a little bit easier on your sanity. (It's a paid membership.) Once you have that, put the pieces on a shallow tray and supervise your children as they put the reindeer face together bit by bit. With the 3D nose and the jingle bells tied to the antlers, this reindeer craft will stimulate nearly all your child's senses!
25. Stick To This Reindeer Craft
Image source: Simply Today Life
When the conditions outside don't lend themselves to backyard play for the kids, and there's too much screen time happening around your house, it's time to break out the craft sticks! This particular reindeer craft from Simply Today Life doesn't require a lot of fancy materials or skills: just time enough to let the painted sticks dry completely and a child who likes to glue things. Got some extra yarn or ribbon? Add a loop to the top to turn this into a Christmas tree ornament, or to hang on the wall! Or skip the loop and just set it up on the fireplace mantel for a cute addition to your usual holiday décor.
26. Easy Peasy Reindeer Craft
Image source: Raising Little Superheroes
Make sure you start keeping those empty toilet paper tubes, because you'll need them for this sweet and straightforward craft over at Raising Little Superheroes. Most of the supplies for this craft are ones you probably already have at home or in your classroom from other crafting activities. The idea is simple enough that kids can do almost all the steps themselves with a little bit of instruction and supervision, but the result is a project that is just too darling. Best of all, these slip right onto kids' fingers for instant puppets!
27. Reindeer Crafts Are Afoot
Image source: Messy Little Monster
The amazing creative minds at Messy Little Monster have both the instructions you need to make your own salt dough for crafting these reindeer ornaments. While you're at the page, make sure you read the instructions and the tips for creating an ornament that won't be too heavy to hang on your Christmas tree! Shiny gold pipe cleaners add just the right amount of sparkle to this craft that will memorialize your child's baby footprint forever. This craft is definitely a keepsake to enjoy year after year, as well as a fantastic grandparent gift.
28. Little Reindeer Puppets
Image source: Artsy Craftsy Mom
Perfect for even the tiniest little crafters, this reindeer from Artsy Craftsy Mom is easy to grasp and play with. As a classroom craft, these work out well for indoor recess days when the kids need something new to keep them entertained. When the glue and paint dry, let your children or students make up a reindeer puppet show! Or, use these as name tags for holiday party gift bags. Add magnets to the back for the refrigerator, or put a bunch of them in a cup for a reindeer bouquet. Got a reader in your house? Use these as bookmarks!
29. Pancake-Faced Reindeers
Image source: Happy Toddler Playtime
Sometimes toddlers and preschoolers would rather play with everyday household items than with expensive toys. If you happen to have an extra spatula somewhere in your kitchen, give your child all the freedom their little heart desires to make Happy Toddler Playtime's reindeer craft. Add a plastic knife and black paint for the antlers, and you've got one happy little kid who gets to use otherwise contraband stuff to make art. There's no doubt that this craft will be fun enough that your child will insist on make several in a single afternoon – enough to pull Santa's sleigh!
Check out more animal related crafts here: The 93 Best Zoo Animal Crafts For Kids, Compiled In One List