Snowmen are to winter what beaches are to summer: even if you don't live in a place that gets snow or that's near a beach, you can still enjoy the spirit of the season! You don't need a "White Christmas" to make any of the 48 crafts listed below: just basic crafting supplies, a little bit of time, and a few tiny "helpers" to do as much of the work as they developmentally can do.
Even if your child is a toddler with barely any fine motor skills yet, they can still "help" by crumbling up tissue paper or dotting paint-dipped cotton swabs. As kids get a bit older they can learn to count, spell, and practice their scissor skills with some of the crafts on this list.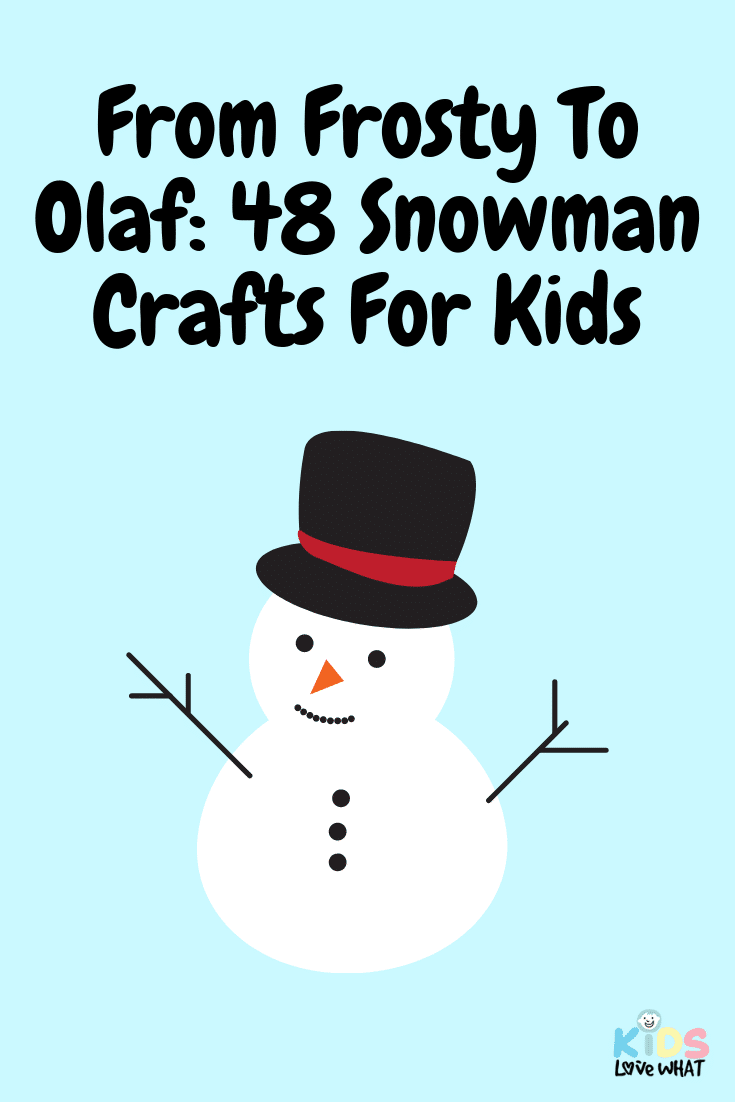 All kids (and parents and teachers) have a certain tolerance level for messes; there are crafts listed below for wherever you fall on that scale. From no-mess sensory bags to full-mess glitter, glue, and sequins, there is something for everyone's patience, time, and budget.
Of course, with winter being the season of giving, several of these crafts make excellent gifts for family members, teachers, or just favorite loved ones in your child's life. Skip the consumer craze and give them something handmade and personal this year!
1. Advent Calendar Snowman Craft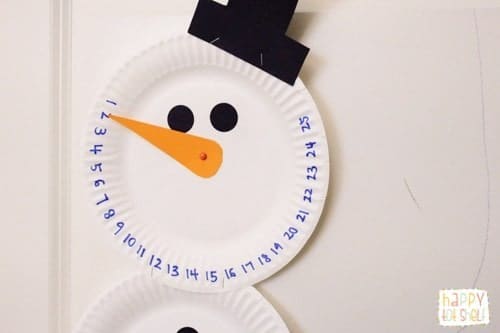 Image source: Happy Tot Shelf
Countdown to Christmas, or any special occasion (last day before winter break?) with this friendly snowman craft! Click over to Happy Tot Shelf for the tips and tricks on how to turn a regular paper plate into a snowman with a moveable carrot nose. There's even a video to watch if you prefer to watch the process move along. It's a super easy craft that helps teach kids about numbers, counting, the number of days in a week — and maybe patience. (Maybe?)
2. Lovely Weather For A Sleigh Ride Together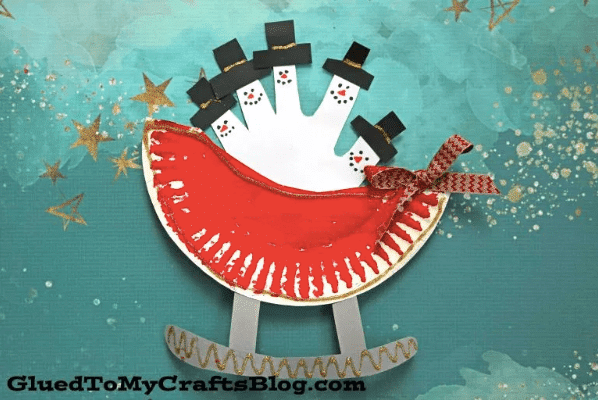 Image source: Glued To My Crafts
Snowmen get bored just sitting in yards doing nothing all day. That's a fact. Help your child take a whole family of snowmen (and snowwomen!) on a fun sleigh ride adventure with this handprint snowman craft from Glued To My Crafts. A paper plate, folded in half, makes the perfect shape for a sleigh: all you have to do is add a construction paper runner at the bottom and your child's handprint on white paper. What a perfect activity for après-snowman building outside!
3. Personalized Snowman Party Bags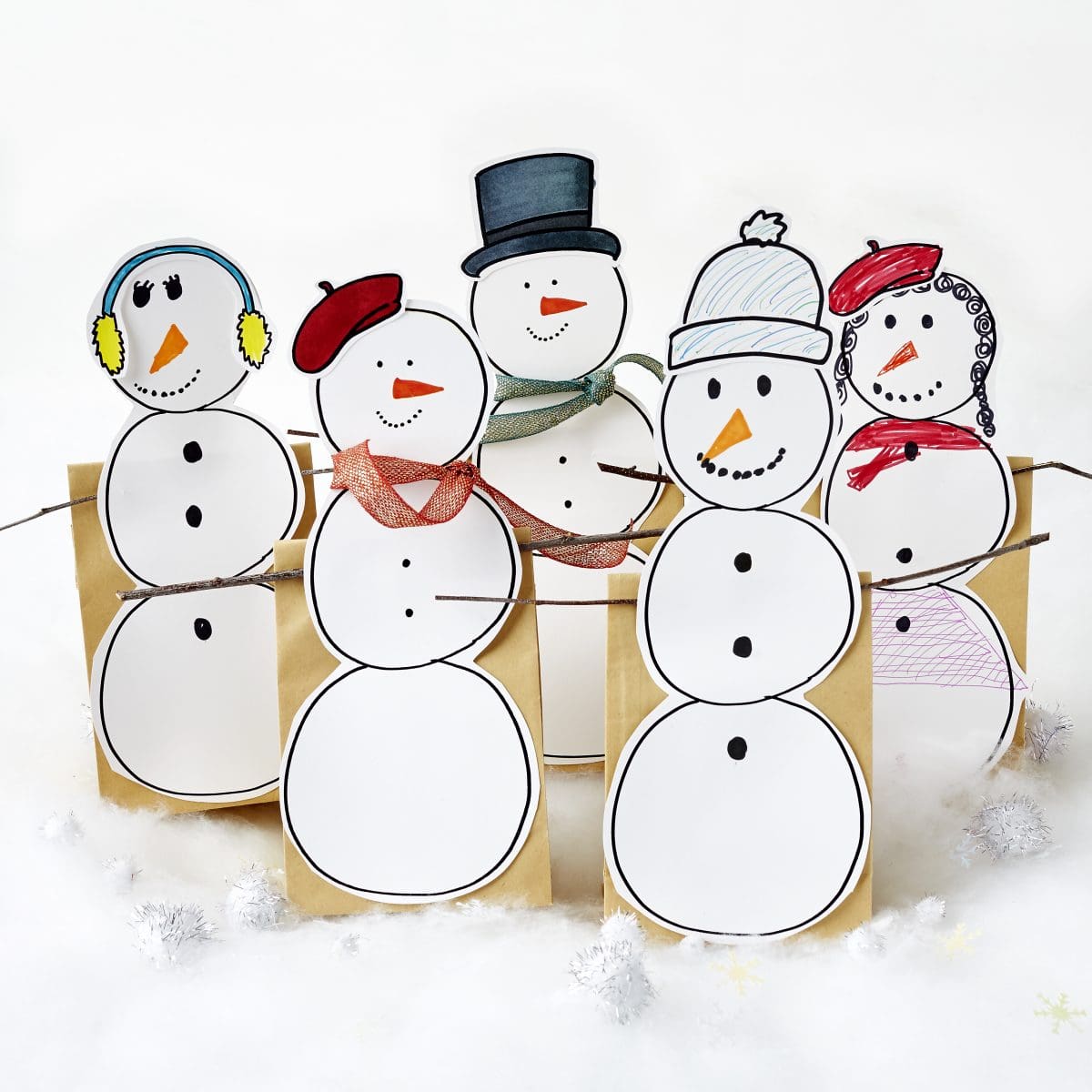 Image source: Darcy Miller Designs
Free template time! Darcy Miller Designs has a wonderful (and free) printout you can download to make these happy little snowmen. If you are hosting a holiday party, these can very easily be customized for each of your guests. For classroom activities, each child can draw him or herself as a snowman! The template even comes with earmuffs and several hats you can cut out, color, and glue. Use bits of that leftover ribbon from wrapping all those presents to add a scarf or hair bow. The possibilities are infinite!
4. Snowman In A Bottle Craft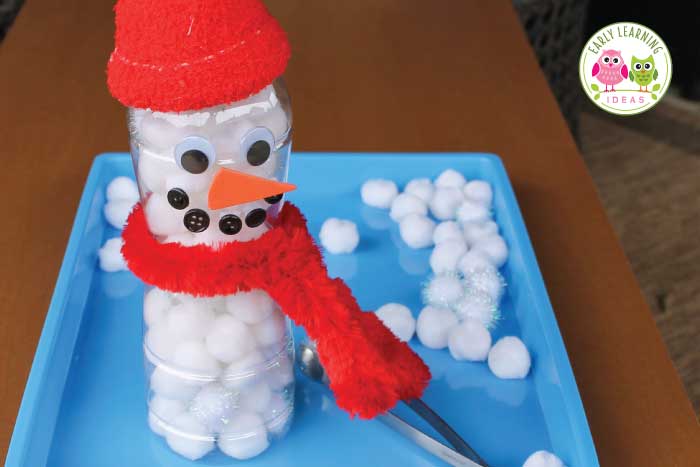 Image source: Early Learning Ideas
Before you get started on this awesome snowman craft from Early Learning Ideas, make sure to read all the instructions and materials list first. Doing so will help you prep everything you need ahead of time: the hat, the button smile, etc. Kids might want to help with this part — it's fine if everything is not perfect! Once the outside is done and dry, let your child flex their fine motor skills by stuffing the inside with cotton balls. Or set this up as a holiday party game and see who can fill their snowman first!
5. Eggs-actly The Right Snowman Craft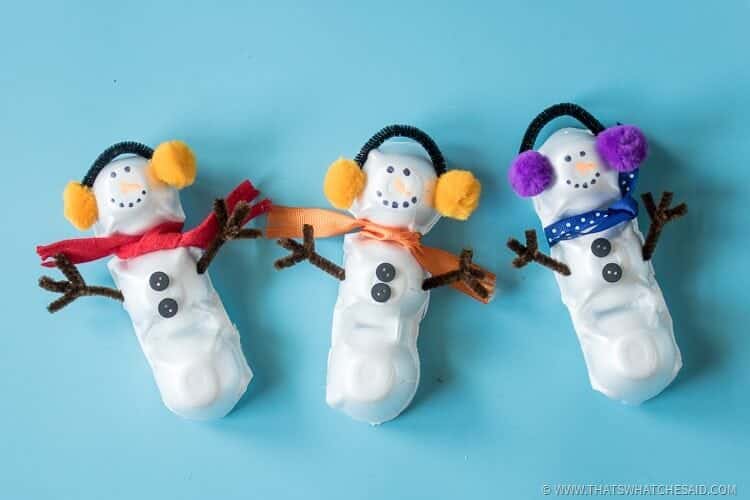 Image source: That's What Che Said
While you are baking up a storm in preparation for all the holiday parties you'll be attending, be sure to keep the empty egg cartons for this snowman craft from That's What Che Said. Personalize each one with its own color pom-pom earmuffs and ribbon scarf! For the classroom, have pre-cut ribbons and pipe cleaners ready to go. These are easy and cute enough to make in great big batches to brighten up any holiday party table!
6. Snowman Craft For Bookworms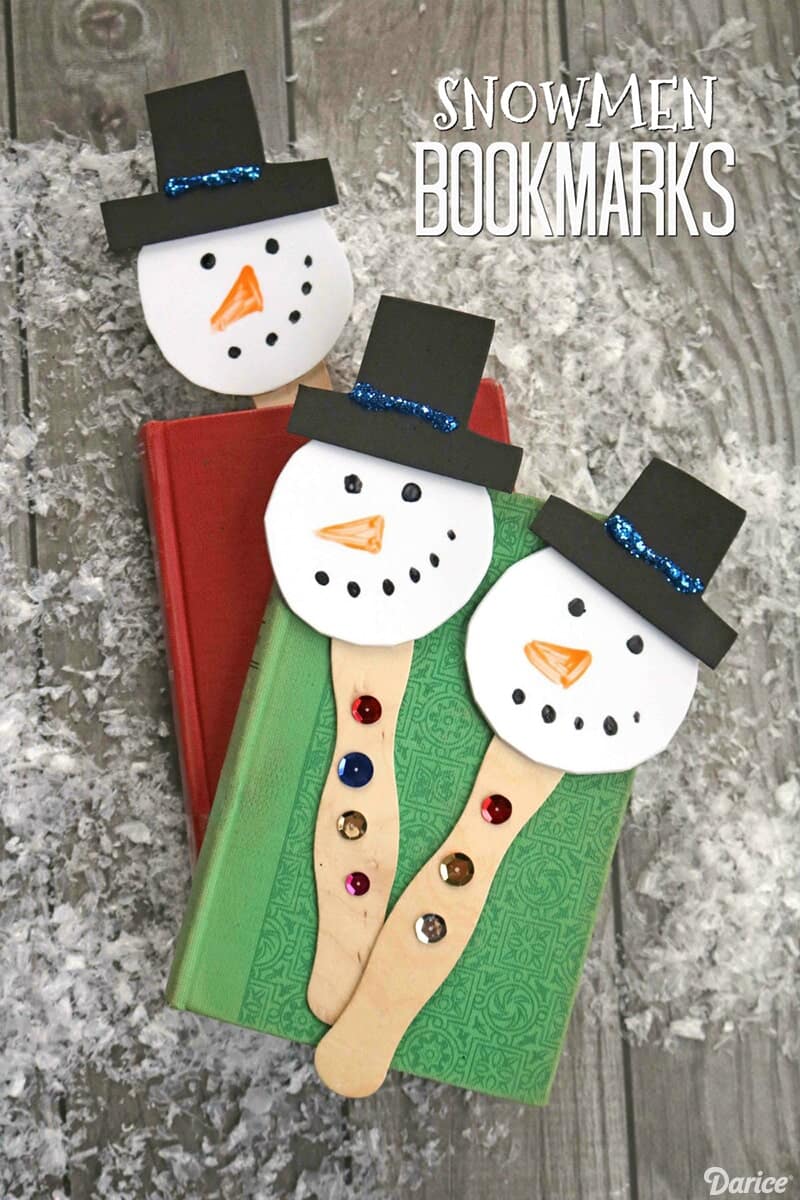 Image source: Darice
Got a little reader in your family? These snowman bookmarks are perfectly designed to hold their page while they take a break to run outside and play in the snow! Darice has everything you need to put this sweet little craft together. The curvy craft sticks make a nice change from the usual straight-edged ones, with glitter and sequins adding some delightful sparkle to the whole project. Set this out as a holiday party children's activity, or as an easy gift for your child to give out to all their classmates!
7. Snowflakeman
Image source: Paper Snowflake Art
Tired of endless garlands of the same old paper snowflakes? Click on over to Paper Snowflake Art for this super fun twist on an old winter classic! These happy little guys holding hands in a snowflake pattern are destined to brighten up windows or walls in classrooms or at home. String them all together to hang around a Christmas tree, or across an archway. Small hole punches make it easy to add eyes and smiling mouths; kids are certain to want to help with that part. And just like that, you've leveled up your paper snowflake game!
8. My Little Snowman Craft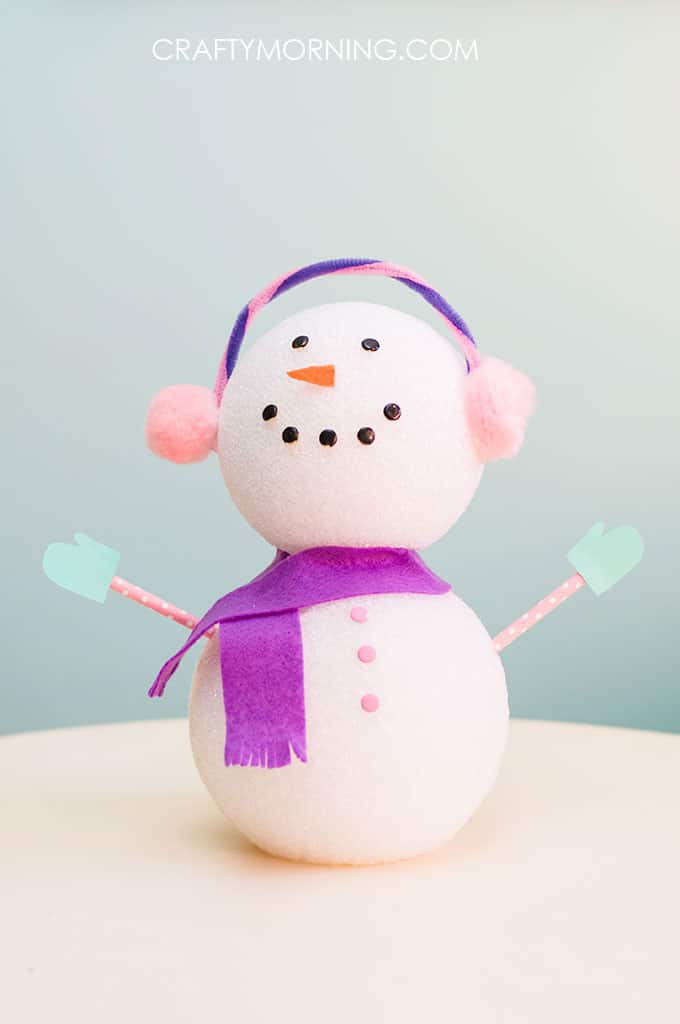 Image source: Crafty Morning
The clever minds at Crafty Morning call this a "snow girl," but there's no reason boys can't make these, too! In fact, by stocking up on a wide variety of pipe cleaner, paint, and pom-pom colors, any child can make the perfect snow boy or -girl of their dreams. Foam balls are pretty much made for snowman crafts, so buy a bunch and make a whole snow-family with your kids! This craft makes an instant keepsake, so be sure to pack them up gently when it's time to take down the Christmas decorations.
9. Wibbly Wobbly Snowman Craft
Image source: Easy Peasy And Fun
This particular snowman craft from Easy Peasy And Fun is perfect for when you need all the materials for a craft without having to make a special trip to the store. These are made from pretty basic art supplies most households and classrooms keep on hand in great quantities. And since one paper plate can make two snowmen, you don't even have to use up as many materials as you might think. The finished product is a silly little snowman that rocks side to side, something that will delight toddlers and preschoolers!
10. Upcycled Flower Pot Snowman Craft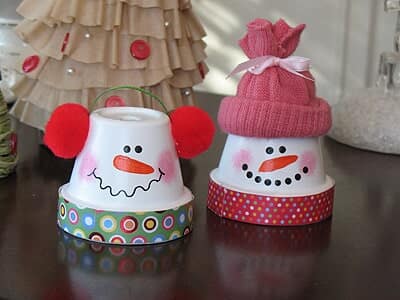 Image source: HomeDIT
If you've been searching for the next level in snowman crafts, look no further than HomeDIT's super adorable flower pot snowmen. Turn the pots upside-down, and the rims become an instant scarf you can paint in any colors or patterns you want (or use decorative tape or paper). Add some pom-pom earmuffs or a cut-up glove as a hat, and these little guys will come out too cute for words! Give these out as personalized handmade gifts, or keep them to yourself for a unique and non-commercial way to decorate.
11. Paper Strip Snowman Craft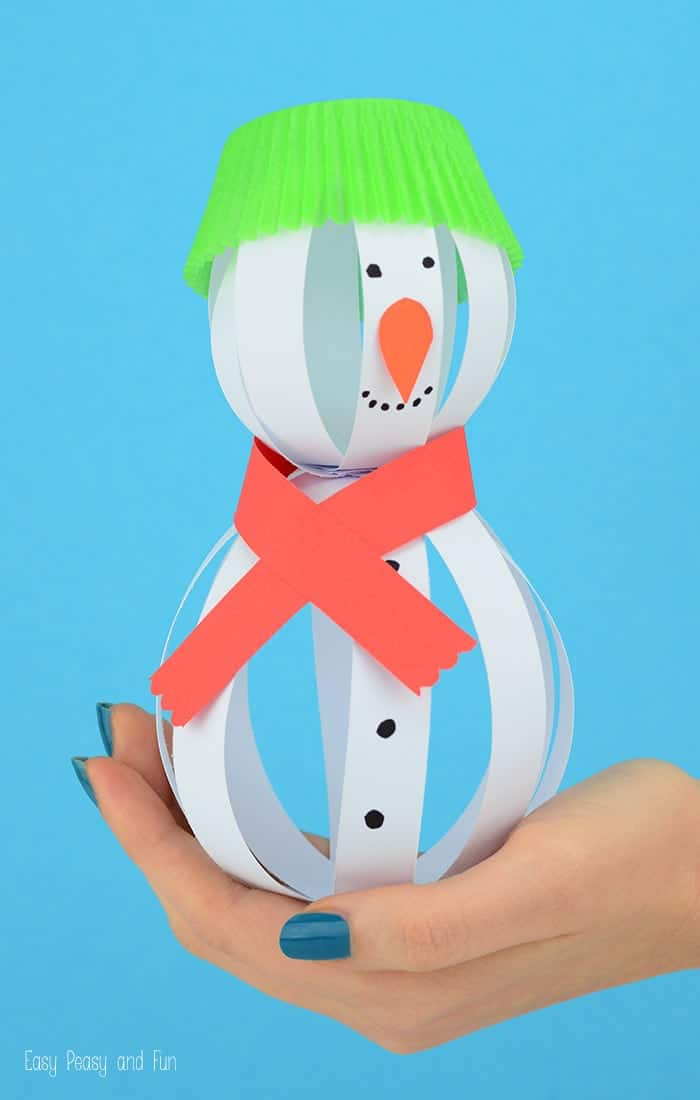 Image source: Easy Peasy And Fun
For a snowman craft that will get you "oooh"s and "aaaah"s at your holiday party, check out Easy Peasy And Fun's clever design using strips of white paper. Although it looks like there are a lot of complicated steps, rest easy: it's not nearly as involved as it looks. Depending on your child's age and motor skills abilities, they can even help you measure and cut the strips of paper, or glue them together to make the globe shapes. But even little kids can have fun decorating their snowmen with markers and crayons!
12. Sock-It-To-Me Snowman Craft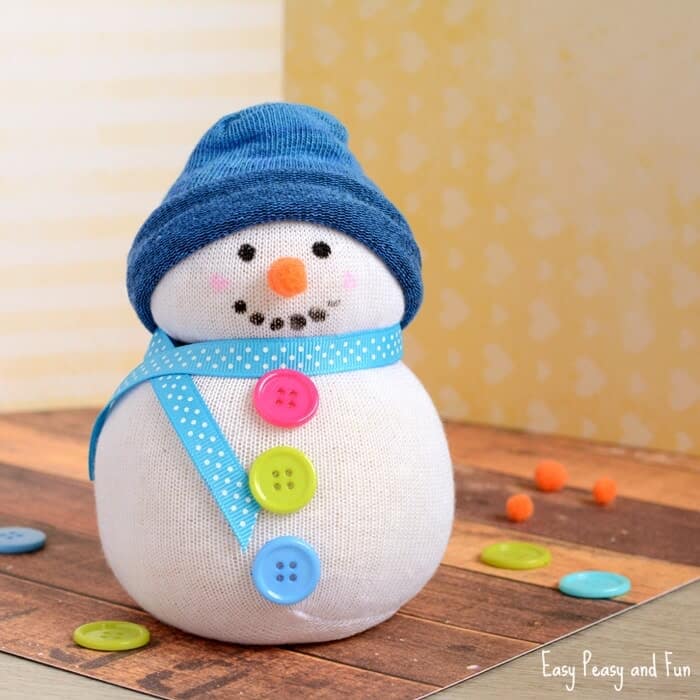 Image source: Easy Peasy And Fun
When your kids outgrow their socks, don't throw them away! Save them for arts and crafts projects, like this adorable one from Easy Peasy And Fun. Filling the sock with rice adds some nice heft to the snowman, which can then be used as a paperweight, balloon bouquet holder, door-stop, or just a centerpiece in a group of holiday decorations. A second, colorful sock makes a perfect hat for your little snowman; give your kids some fabric markers to draw happy snowman faces!
13. Soft Yarn Snowman Craft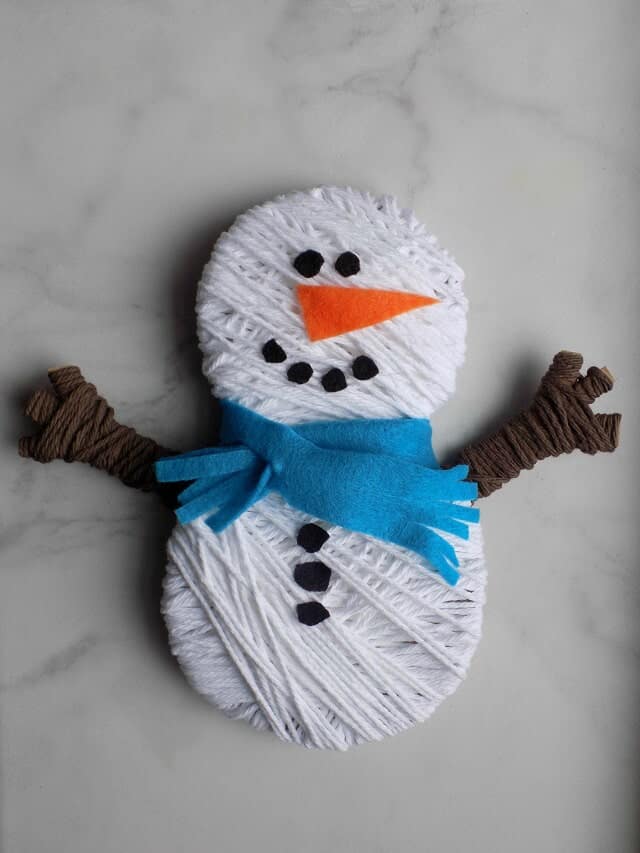 Image source: One Savvy Mom
Here's a great way to upcycle all the cardboard that will inevitably arrive at your house before the holidays as you do your Christmas shopping online. If you are a knitter or crocheter, this will also help you upcycle those yarn scraps that seem to pile up. Click on over to One Savvy Mom for this soft and sweet snowman that will be as fun for toddlers to make as it is for everyone to look at! It's hard for little ones to mess this up, as all they have to do is wrap the yarn around, around, around until the cardboard circle is completely covered. Have fun, everyone!
14. Cotton Pad Snowman Craft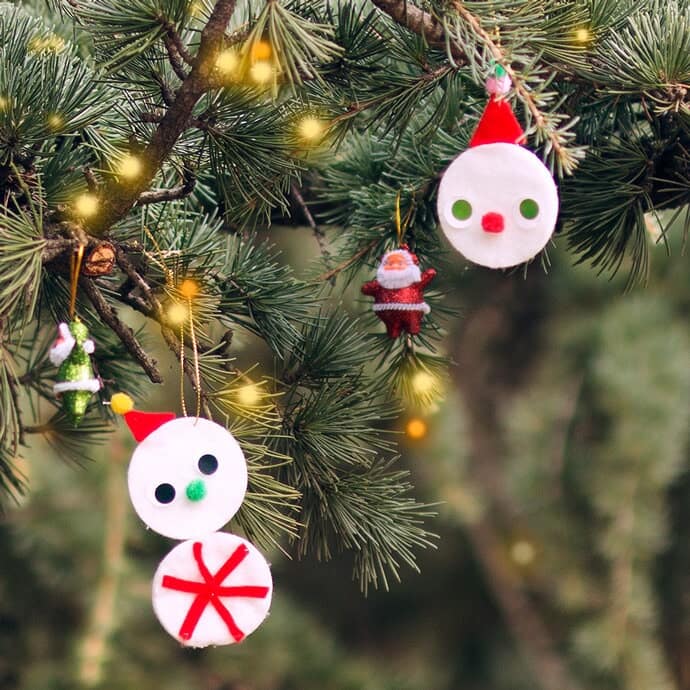 Image source: Handmade Charlotte
Plain circle cotton pads are available pretty much everywhere, from dollar stores to upscale cosmetic boutiques. If you don't have some already, pick up a pack or two so you and your child can make this snowman ornament from Handmade Charlotte. Like foam balls, the white color and the circle shapes make natural materials for building indoor, snow-less snowmen. Make just a face, or add another cotton pad for the body. Add a gold string to the top and you've got an instant Christmas tree keepsake!
15. Be The Snowman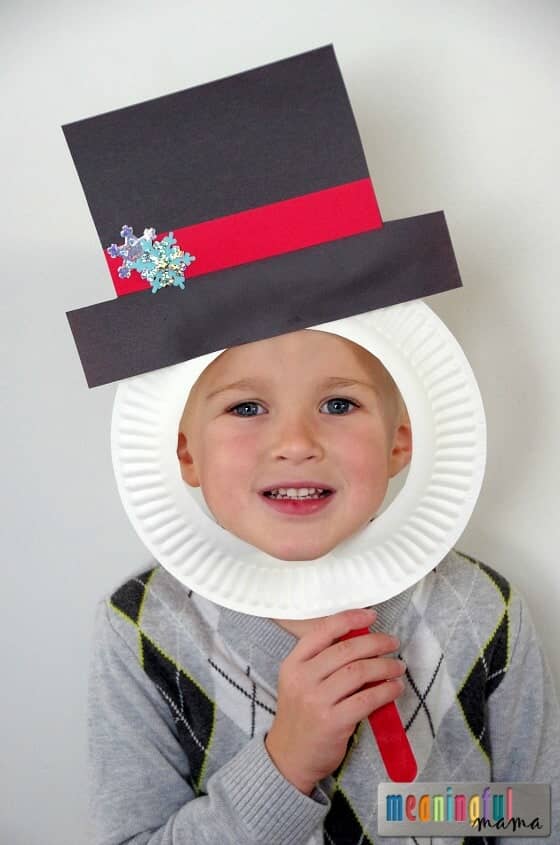 Image source: Meaningful Mama
Sometimes just making crafts isn't enough for kids; they want to BE the thing they are crafting. Their great big creative imaginations want to crawl inside and play make-believe in a fully immersive world. Meaningful Mama has a perfect craft that's easy to make and allows your child to truly BECOME the snowman. With a paper plate base and a jumbo craft stick handle, all that's missing is a sweet little face to pop through and bring this snowman to life!
16. Soft And Simple Snowman Craft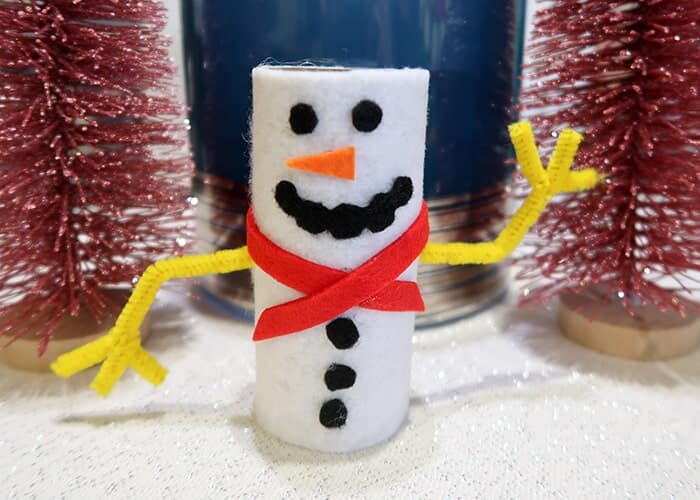 Image source: Woo Jr.
For a stand-up snowman craft (pun intended), check out Woo Jr.'s simple-yet-adorable felt-wrapped toilet paper roll project. If you measure, cut, and glue the felt onto the toilet paper roll yourself first, kids can easily add the other little details to bring their very own snowman to life. The best part is that it stands up on its own, making this a great craft for fireplace mantels, window sills, and dresser tops. And though it may look delicate, it's sturdy enough for little hands to hold!
17. Earth And Water Snowman Craft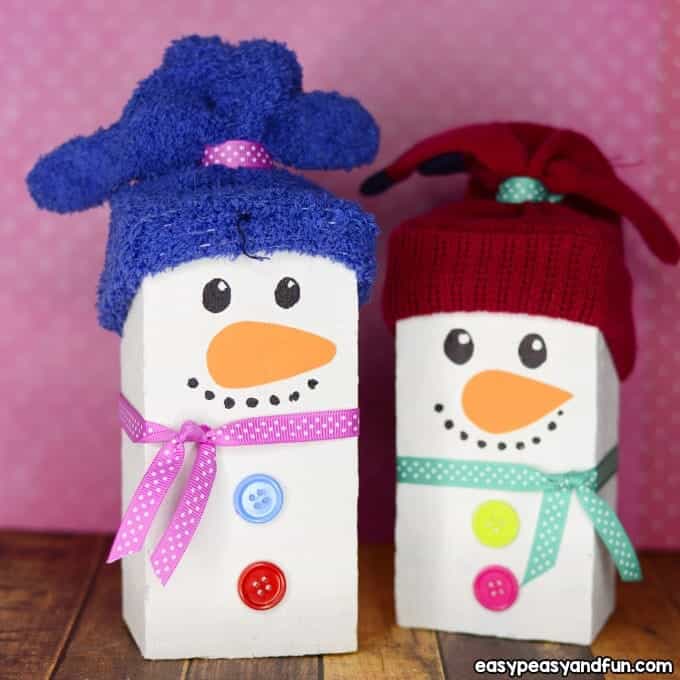 Image source: Easy Peasy And Fun
Forget trying to whittle a chunk of wood into anything recognizable — who has that kind of time? Not busy parents of toddlers and preschoolers! Instead, find a wooden block and use it as the base to make this snowman craft from Easy Peasy And Fun. With a little bit of paint and a lot of imagination, these are actually not hard to make. And while they might not be the typical shape you associate with snowmen, there's no doubt they'll steal the spotlight of your holiday decor!
18. Let It Snow(man), Let It Snow(man)…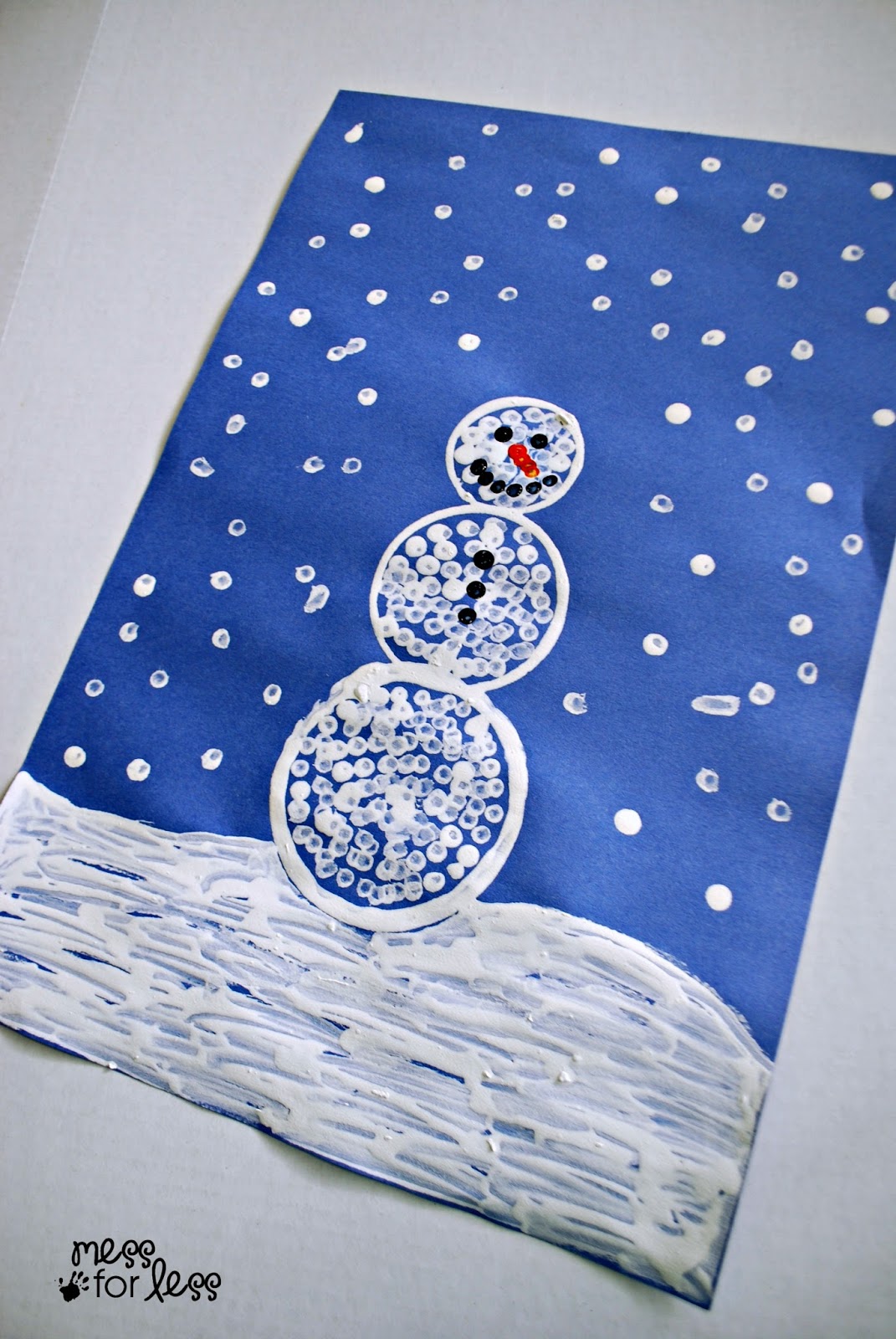 Image source: Mess For Less
At the end of "Frozen," (spoiler alert!) Elsa creates for Olaf his very own snow cloud so that he'll never melt. With this craft from Mess For Less, you can help your child create a snowman with its own falling snow, too! Cotton swabs dipped in white paint make the perfect tools for dotting a piece of blue construction paper with snowfall. This technique also works to fill up the inside of the snowman, created with the rims of three cups dipped in white paint. There's nothing chilly about this heart-warming craft!
19. Sensory Snowman Craft
Image source: Happy Hooligans
Set aside the construction paper and let your child sift through bins of scraps or recyclables to come up with the materials you need for this Happy Hooligans snowman craft. Buttons, fabric, feathers — whatever you can find is fair game here. The blog encourages parents to allow their children to fully feel and explore each material before assembling their snowman, exciting their brains and encouraging language skills. Afterword, kids can assemble their own avant garde snowman!
20. No Strike-Out Snowman Craft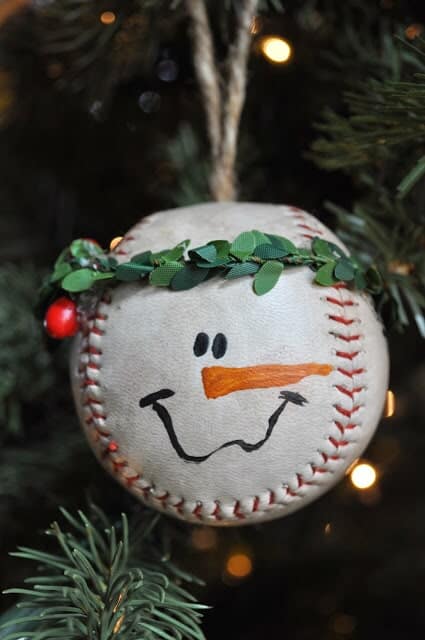 Image source: Grassy Branch Farms
Have you ever noticed that a baseball is almost the exact size and shape of a traditional Christmas tree ornament? How about that! Just because the boys of summer have gone doesn't mean you can't hit a home run with this fantastically original snowman craft from Grassy Branch Farms. Twine should be strong enough to hold the baseball on a Christmas tree branch; other than that, it's simply a matter of using permanent markers to design your snowman MVP!
21. Footprints In The Snow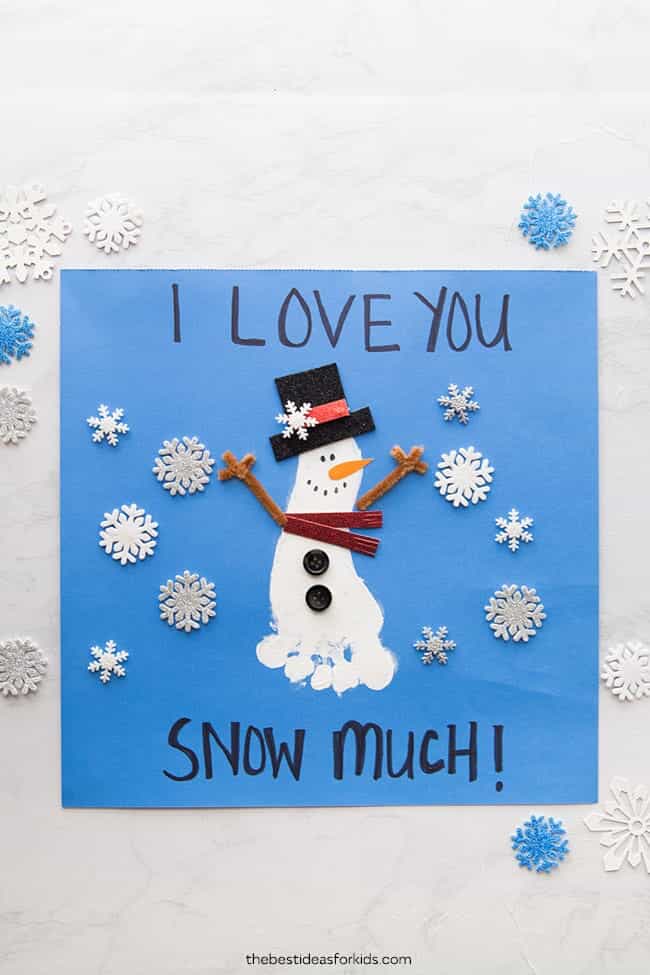 Image source: The Best Ideas For Kids
Tickle your little one's tootsies and get a craft project out of it with this delightful snowman craft from The Best Ideas For Kids! With the heel of the foot as the snowman's head, the rest of the footprint makes a natural curvy snowman shape. Add some snowflake stickers, a hat, and of course, a face and arms to bring your snowman to life. Though it might be a little too messy and involved for a class activity, this craft makes great personalized holiday cards for grandparents!
22. Snow And Sun
Image source: Primary Theme Park
In the days when sunshine is at a premium, catch as much of it as you can with this adorable snowman window craft over at Primary Theme Park. Tissue paper is nice and thin enough to provide a translucent body for your child's snowman without blocking the much-craved winter sunlight. Use cardstock to frame your craft so that it doesn't fall apart when you stick it up on the window. Placed in your front room windows, these make a darling addition to other holiday decorations, or place these in the children's windows for a bit of winter joy.
23. Pop-Up Snowman Craft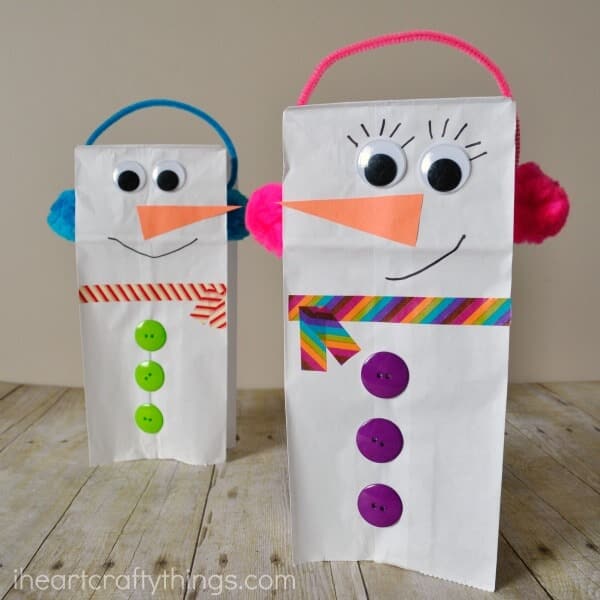 Image source: I Heart Crafty Things
White paper bags are a welcome change from the usual brown paper bags, and with help from I Heart Crafty Things you can turn these into 3D snowmen! Add some washi tape in colorful patterns — maybe some cute holiday themes! — for the scarf and buttons down the front to make them personal for each child. Ear muffs are easily added with pom-poms and pipe cleaners to kick up the adorableness several notches. These snowmen are ideal for class parties because the supplies don't cost much and are easy for children to glue onto their bags.
24. DIY Snow Globe Craft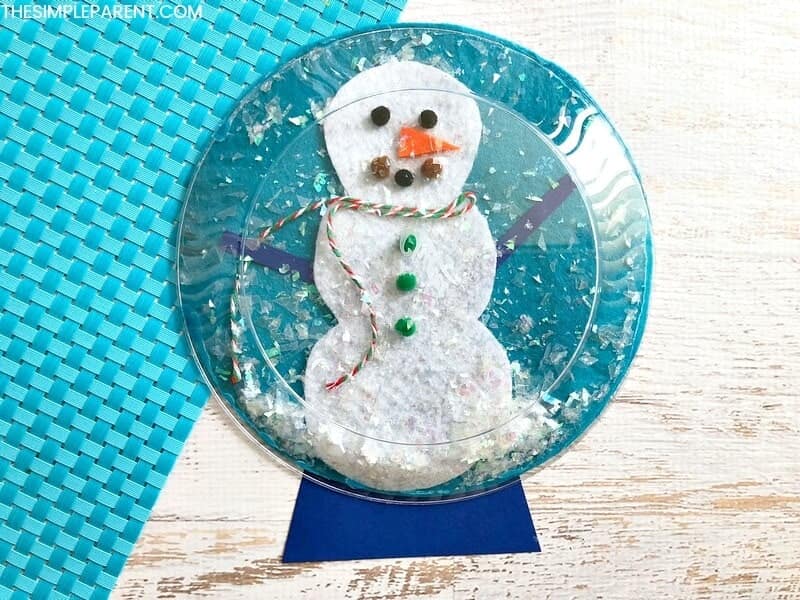 Image source: The Simple Parent
Clear plastic plates are the secret trick to The Simple Parent's clever little DIY snow globe. The blog suggests doing all the felt cutting ahead of time to avoid impatient toddler meltdowns! Whether you want more involved instructions or simple step-by-step, the blog has your back. Buffalo snowflakes are added inside for the snow effect, and you can purchase these in big bags at your local craft store or online before the holidays. Make sure you glue it together nice and tight so your kids can shake them up!
25. Pipe Cleaner Hat Snowman Craft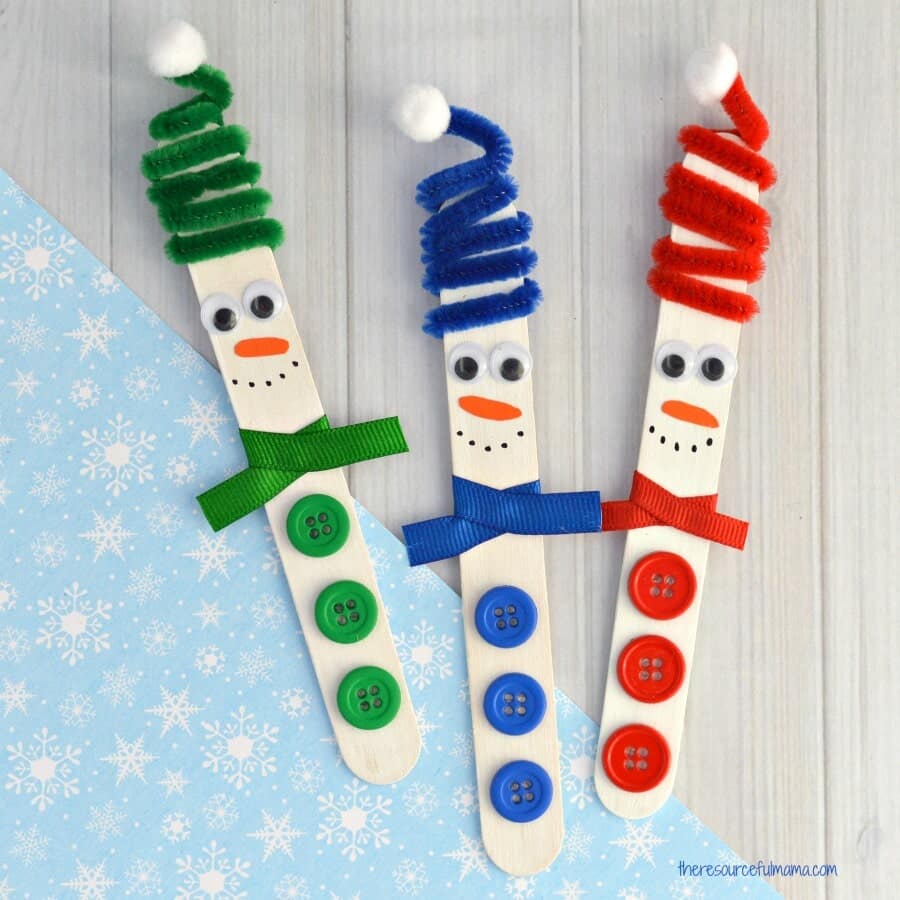 Image source: The Resourceful Mama
No snowman is complete without a hat, and that goes for indoor craft snowmen as well! Check out The Resourceful Mama's quick and easy trick for covering up that craft stick snowman's bald head. In fact, the entire project is quite simple and straightforward for those of you who just want a winter craft to do with your kids or your students. There are no particularly complicated steps, special materials, or advanced crafting techniques. Next time your kids are stuck at home on a snow day, have them make batches of these little friends to play with!
26. Talking Snowman Puppets
Image source: Moms And Crafters
By subscribing to Moms And Crafters, you'll get this free printable template for making hilarious and fun snowman puppets. Once you've got enough printouts for everyone involved, let your kids or students color in the pieces however they want: they can make snowmen with hats and scarves that match their own, or go wild with funky patterns and color combinations. After that it's only a matter of cutting and gluing. That's it. Ask your children to have their "puppets" make up stories to share and watch how creative those big imaginations can get!
27. Snowmen Of The Stone Age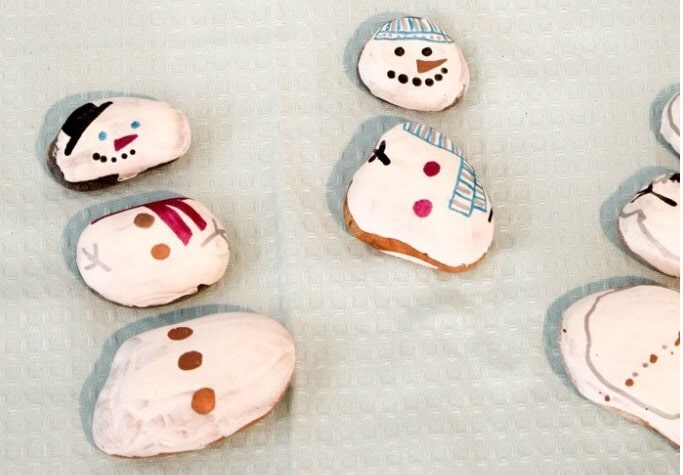 Image source: In The Playroom
The wonderful thing about this craft from In The Playroom is that it actually will provide a lot more fun than simply making it and then setting it aside. With enough rocks, paint, and markers, you and your children can make any number of snowman parts: heads, bodies, bottoms. When they're all dry and ready to go, this craft becomes a super fun mixing-and-matching activity for the whole family! Lay them out flat, or stack them up — just remember to have a good time!
28. Wake Up And Smell The Coffee Snowman Craft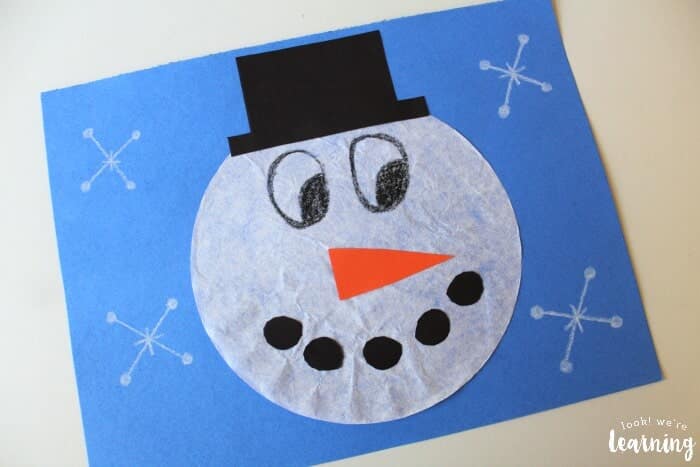 Image source: Look! We're Learning
The holiday season means you are probably surviving on more coffee than usual to keep up your energy for shopping, parties, decorating, wrapping, and school events. But if you can spare a coffee filter or two, click on over to Look! We're Learning for this dainty little snowman craft. It's exactly the kind of craft you need right now: simple enough for very little kids, not too messy, and uses fairly common materials. Just don't use the very last of your coffee filters — you still need some for yourself!
29. Stick A Pin In This Snowman Craft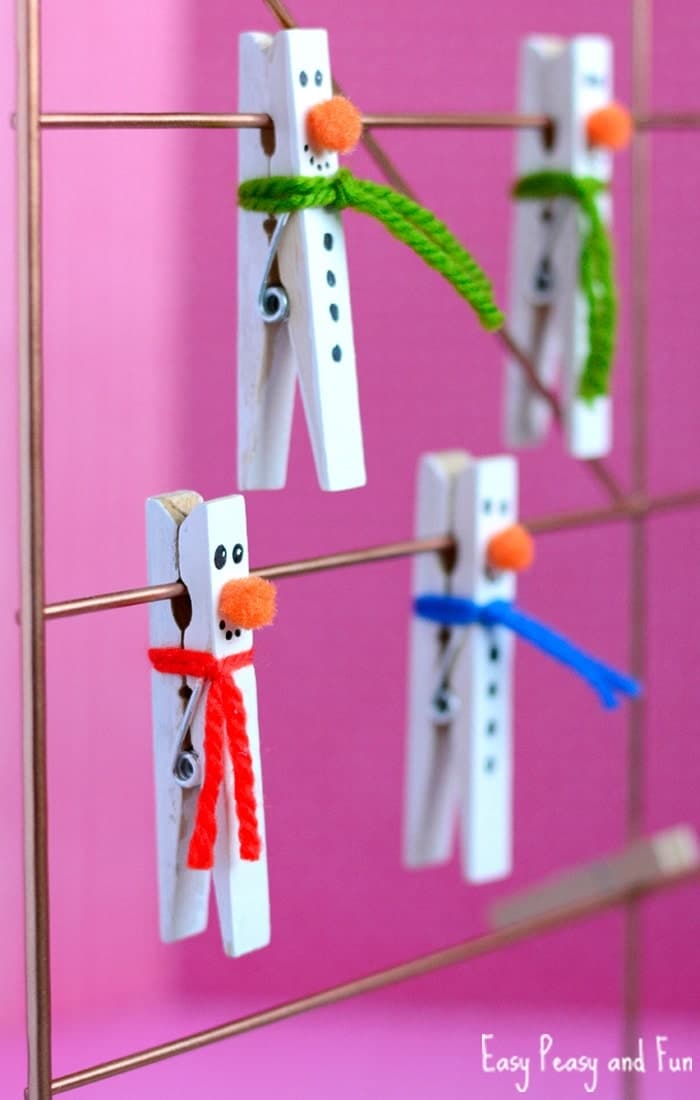 Image source: Easy Peasy And Fun
For more clothespin snowman crafts (see #26, above), check out these elegant but adorable little guys from Easy Peasy And Fun. With those big, bright, orange pom-pom noses, these fellas are absolutely squeeze-worthy, and look even better hung up in rows. A bit of yarn makes great scarves; kids can pick out colors they love from your old scraps. Whether strung up above a fireplace mantel or clipped to a Christmas tree, this craft adds a dainty detail to your holiday décor!
30. Sensory-Friendly Snowman In A Bag
Image source: Oh My! Creative
Not all kids enjoy getting their hands messy with slime or a lot of different crafting materials. And some kids — of any age — don't quite have the fine motor skills necessary for a lot of cutting and pasting. But this craft over at Oh My! Creative is wonderfully inclusive for kids of all ages, abilities, and sensitivities. You or your child can glue the eyes, nose, and mouth onto a regular zip-close bag; then fill it with shaving cream, seal it tight, and you've got a mushy but clean snowman to play with!
31. Picture Me With A Snowman
Image source: Amy Latta Creations
If you need a cute, creative, original, and inexpensive gift this year, definitely head over to Amy Latta Creations for this snowman picture frame. Wooden photo frames are pretty cheap and can be found at almost any craft store. With a little paint, felt, and glue, these basic wood frames can be transformed into darling holiday gifts. Perfect for teachers, grandparents, and family friends — just add your favorite photo of their favorite little person!
32. Counting Snowman Craft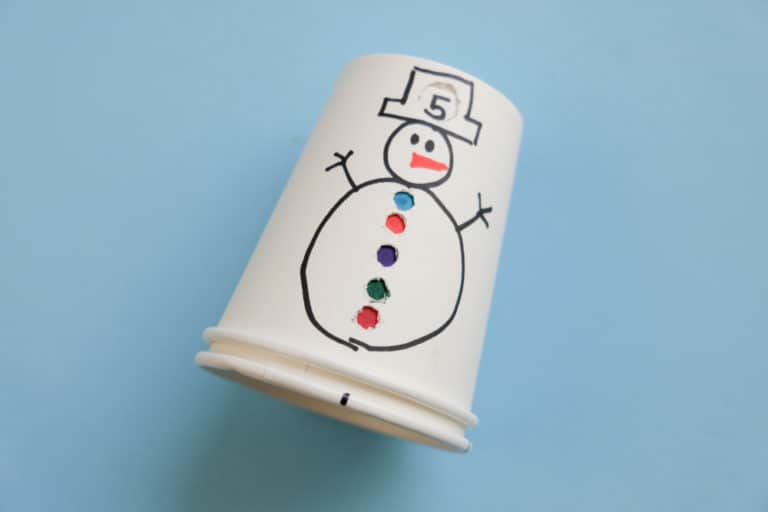 Image source: Hello Wonderful
Kids love to play, and parents love for kids to learn. Combine the two into one awesome activity thanks to Hello Wonderful's inspiring paper cup counting game! Even better: this one requires only three things: paper cups, scissors, and markers. Done and done. Follow the instructions for how to put this together; play along with your child to help them learn. What a delightful way to help kids learn colors and numbers with a new snowman friend!
33. Big Round Belly Snowman Wreath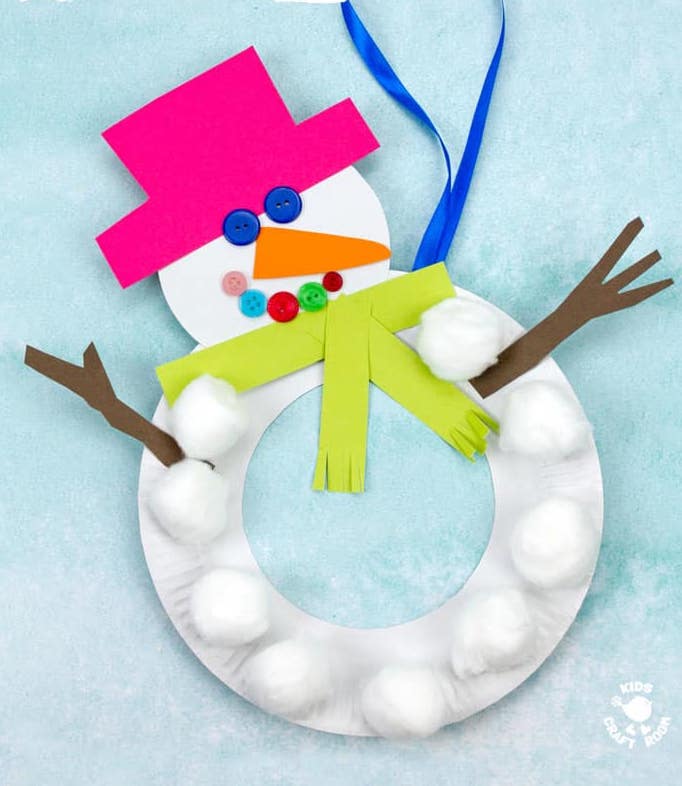 Image source: Kids Craft Room
Add a unique twist on the ubiquitous Christmas wreath with this clever design at Kids Craft Room. The simple materials are easily prepped ahead of time if you want to use this as a classroom holiday party activity, or to keep the kids busy at a party you might be hosting in your own home. When they're all finished, each child will have made something unique and sweet to hang up on the front door!
34. What Frozen Things Do In Summer
Image source: Kids Craft Room
You absolutely must click over to Kids Craft Room for this ingenious melting snowman craft! At the blog you'll find a free printable template to use for all the snowman pieces. The rest looks tricky, but don't be scared away; it's much, much easier than it looks, and results in an interactive craft that will make kids laugh for sure! Push the snowman up to make him whole, pull him down to make him melt. And if you're so inclined, maybe even use this as a starting point to teach your kids about the various states of water.
35. Drink A Cup Of Snowman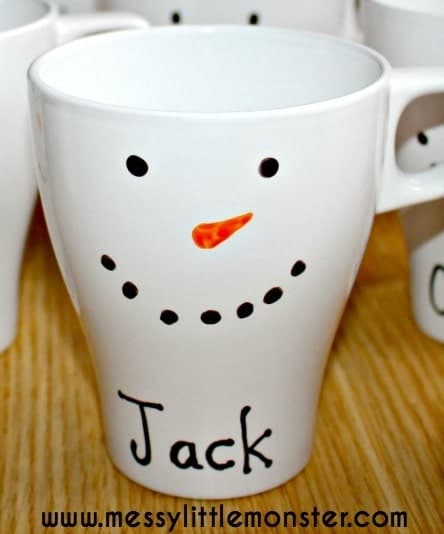 Image source: Messy Little Monster
Since you're likely chugging coffee to keep up with all the holiday activities anyway (see #28, above), why not make a mug while you're crafting? Messy Little Monster has this craft that is both brilliant and simple at the same time. As the blog states, any white mug will do, so don't run yourself ragged looking for just the right one. The only other things you need are permanent markers, then you and the kids can customize your own cups!
36. Crunchy Textured Snowman Craft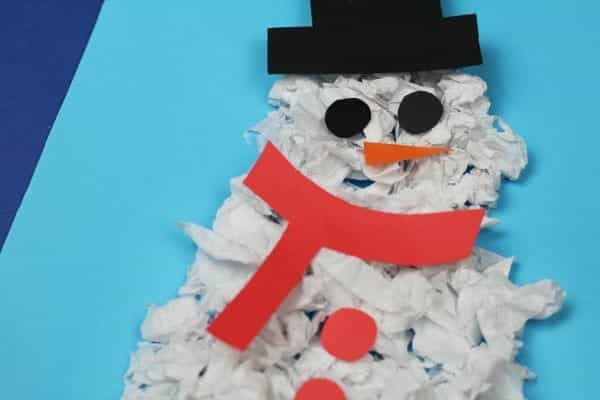 Image source: Crafts On Sea
Children are wonderful, playful, creative, silly, loving, snuggly little destroyers of things. Give them a productive outlet for that last bit by heading over to Crafts On Sea for this scrunchy paper snowman project. For toddlers, all they need to do is crumble up paper. Older kids can put the glue on the base themselves and then add paper wads that have been crumpled by their younger siblings. However you do it, this is a wonderfully sensory project that's great for little hands. It also helps promote hand-eye coordination and fine motor skills.
37. Snow Belly Snowman Craft
Image source: No Time For Flash Cards
Here's another special DIY snow globe craft (see #24, above) that kids will love! This one from No Time For Flash Cards utilizes contact paper, so while you won't be able to shake it up when it's done, you also don't have to worry about snow falling out and making a mess. While you set up the contact paper, glitter, and sequins in a tray (for less mess!), your child can go ahead and assemble or paint the snowman's head. The creative guru at the blog also recommends tying a scarf around the snowman's neck to cover up the staples.
38. Twisty Turny Snowman Craft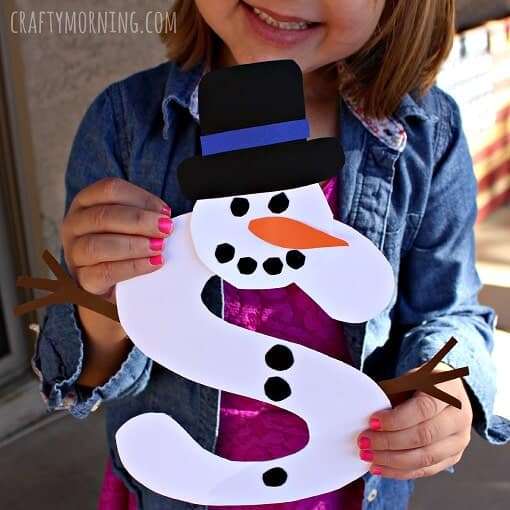 Image source: Crafty Morning
For little ones who are learning their letters, check out Crafty Morning's letter S snowman craft. It's educational, and it's also a really fun way to get silly and creative with your snowman crafts! Kids love when things are not the way they're supposed to be, so they will absolutely giggle over this oddly-shaped snowman. This is an ideal classroom craft and will look great both hung up around the room as well as stuck to a refrigerator door at home!
39. Mesmerizing Snow Globe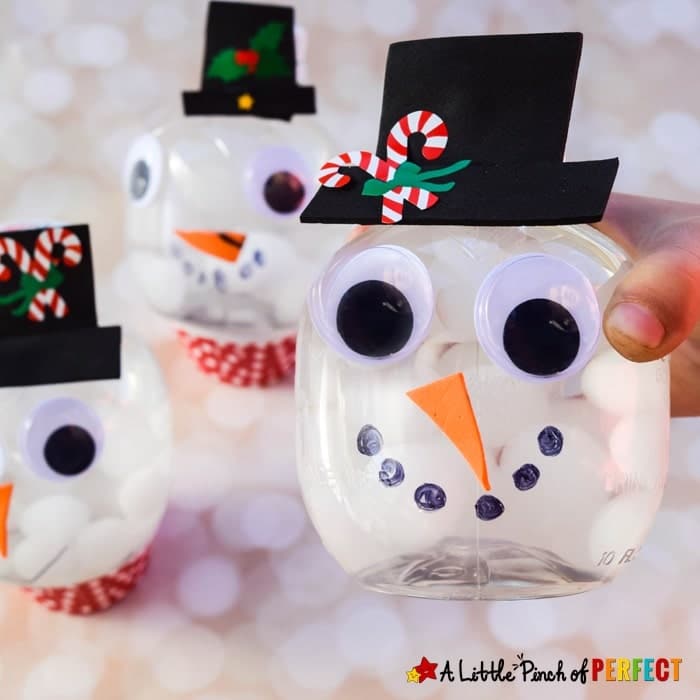 Image source: A Little Pinch Of Perfect
If you haven't heard of water beads before now, you'll definitely need to click over to A Little Pinch Of Perfect for this beautifully done snow globe. Once you see how these work for this craft you'll wonder how you ever lived without them. Bonus: you also get to upcycle some empty water bottles, teaching your children the value of reusing items rather than throwing them all away. The water beads can be found on Amazon; use the link provided over at the blog.
40. Snowman Family Christmas Tree Ornament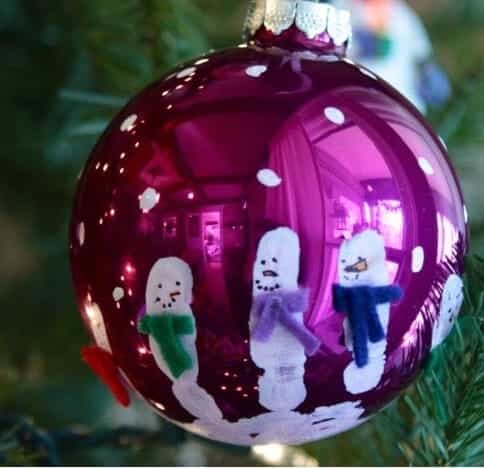 Image source: Fab Art DIY
Fab Art DIY has a super cute instant keepsake snowman craft that your kids will love making. Permanent markers and little cut up pipe cleaner scarves add a special touch to your child's fingerprints on otherwise plain globe ornaments. Need an inexpensive but personal gift? This craft is perfect! And make one for yourself, too: make one with each child, then enjoy taking them out year after year for a trip down memory lane and to see how big your children's hands have grown in 12 months!
41. Friendly Indoor Snowman Craft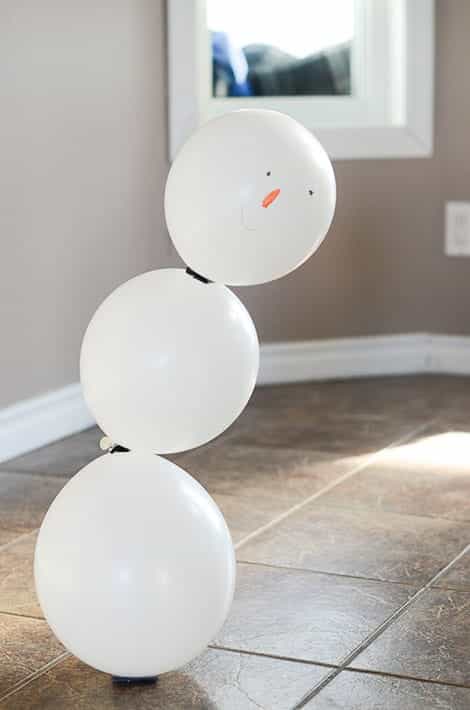 Image source: CBC Parents
For a life-sized snowman your kids can enjoy indoors, CBC Parents suggests using white balloons — already the color of snow and the shape of round snowmen! This snowman is assembled using duct tape to hold the balloons together. Your kids can color the snowman face and other details before or after you tape the three balloons on top of each other. If they're not too heavy, maybe even add a real hat and scarf. This can even be done in summertime if you're hosting a Christmas-In-July party!
42. Melt Your Heart Snowman Craft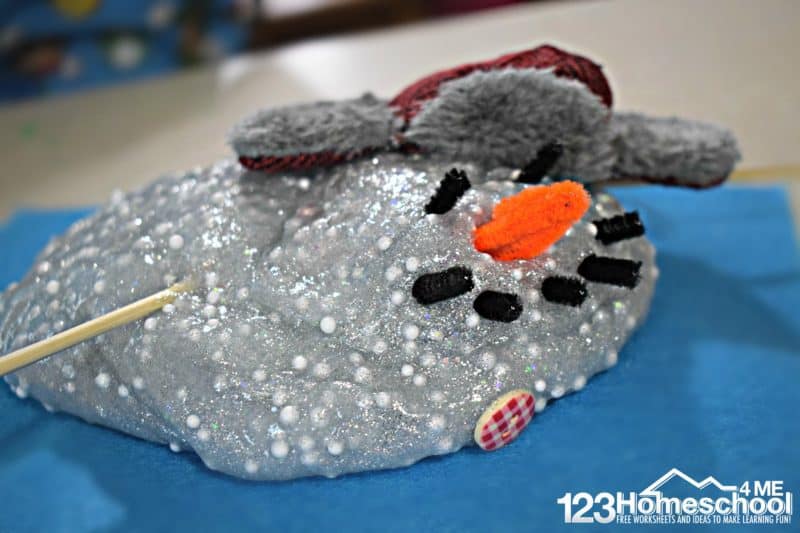 Image source: 123 Homeschool 4 Me
If a real-life snowman melts, and it's still cold enough, your kids can potentially rebuild him. However, this shiny guy from 123 Homeschool 4 Me can be remade and reconstructed again and again and again – no matter what the weather or how much snow is left! The slime formula in this blog is a little tougher and sturdier than regular slime, which makes it ideal for rolling and shaping. Once that's done and your snowman is decorated, it's simply a matter of watching it "melt" over the course of several minutes. Then scoop it up and start all over!
43. Mix-And-Match Snowman Craft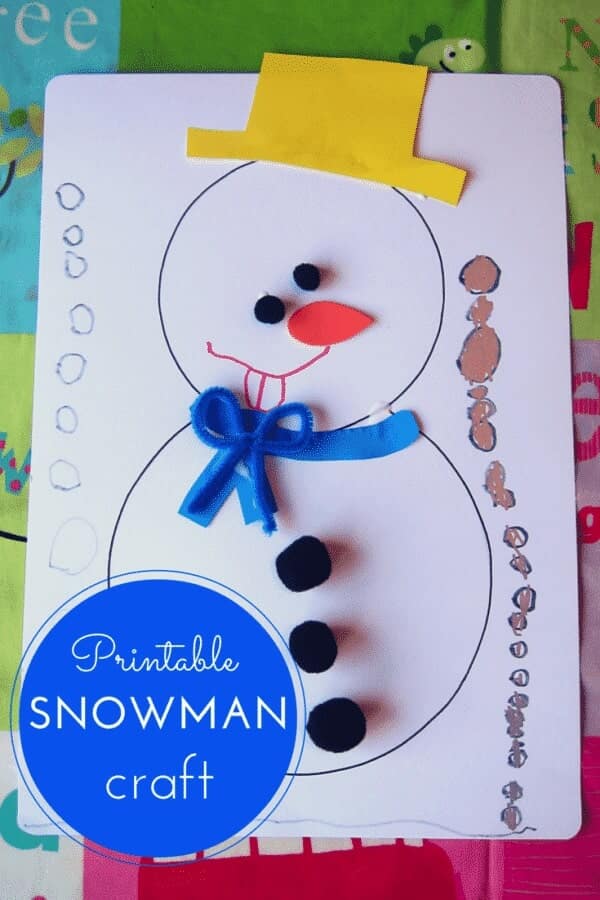 Image source: Hodge Podge Craft
Hodge Podge Craft features a simple but adorable project that works perfectly on long snow day afternoons. Simply print out the FREE template, then cut out the snowman's accessories on construction paper, card stock, foam sheets, or any other materials you have in the house. Need something for your students to do during indoor recess? Prep the accessories ahead of time using as many colors and materials as you can, and let the kids mix it up!
44. 3D Hanging Snowman Craft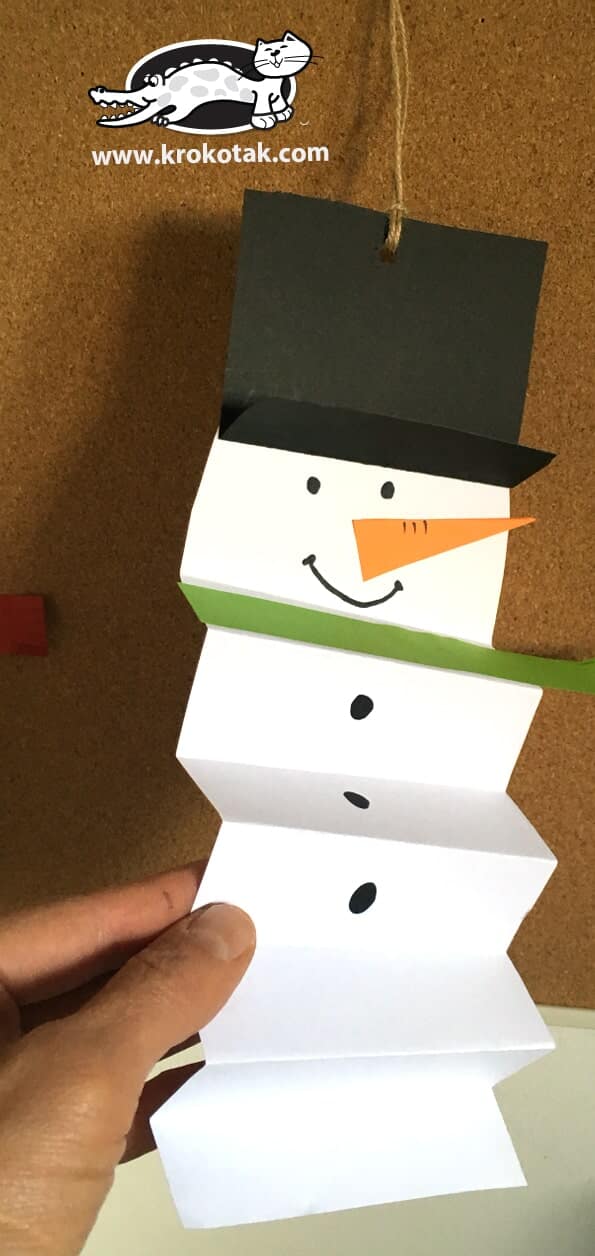 Image source: Krokotak
Ready for a fun twist on everyday paper snowman crafts? Krokotak has these cuties that are easy to make with your little ones! The accordion fold — much like when you make paper fans — adds a little something extra that kids will love because they can tug on the bottom and watch the snowman bounce up and down. A quick hole punch in the hats allow you to string these up in a row (great for classrooms!) or add a hook for an instant Christmas tree ornament!
45. What's Your Name, Snowman?
Image source: Fun A Day
While kids are learning how to write their names, introduce them to this clever snowman craft by Fun A Day. One letter per circle means that some kids will have very short snowmen; other kids will have very long ones! Make sure to save one circle for the snowman heads, and lay out plenty of materials in varying sizes, shapes, colors, and textures so that the kids can let their imaginations run wild when they decorate.
46. Craft Stick Snowman Puppets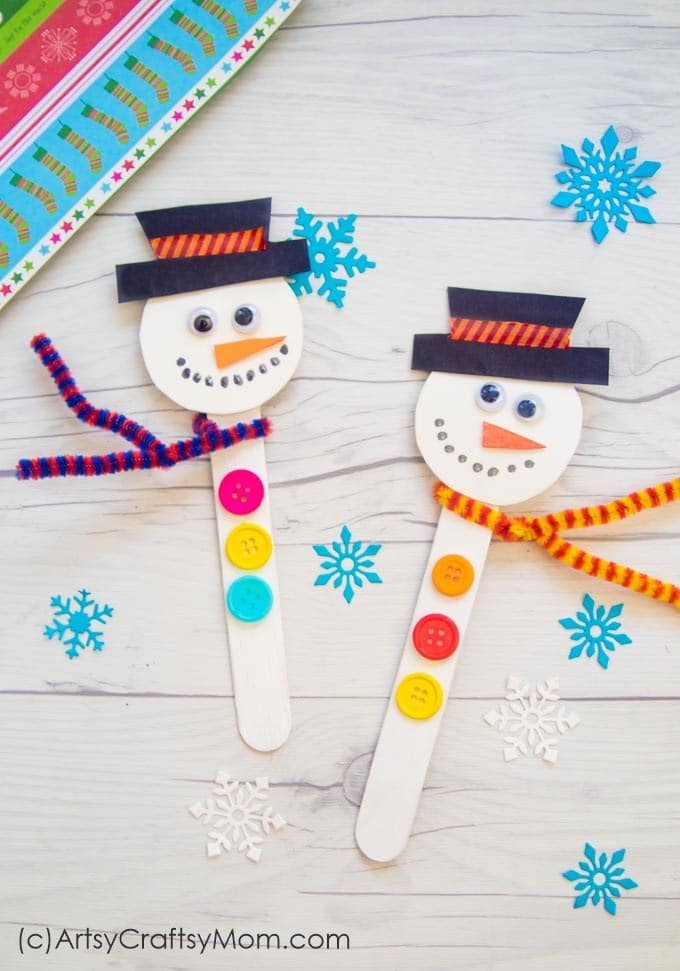 Image source: Artsy Craftsy Mom
These craft stick snowmen from Artsy Craftsy Mom are as diverse as…well, as craft sticks. Kids can use them as puppets; they make great bookmarks; add names to the hats for guest gifts or place settings; pop these into the tops of cupcakes for holiday parties and bake sales. However you decide to use them, the important point is that your children have fun making them! Maybe your classroom can make some and then enjoy the spirit of gift-giving with a class-wide craft swap!
47. Bubble Wrap Snowman Craft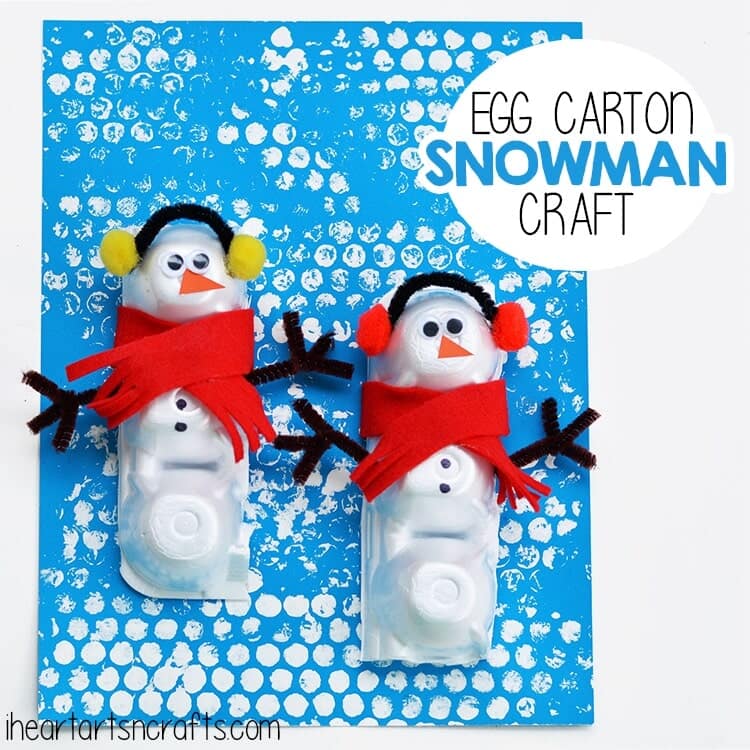 Image source: I Heart Arts And Crafts
Do continue to save those egg cartons (see #5, above) while you are whipping up holiday treats. And save all the bubble wrap that's arriving in the parade of endless packages for this delightful snowman craft over at I Heart Arts And Crafts. By painting bubble wrap white and pressing it onto a piece of blue construction paper like a stamp, you've created an entire snowstorm in just a few simple steps. While that paint dries, help your child put together a snowman made from cut up egg cartons to glue on as a finishing touch.
48. Warm Hugs
Image source: Today's Creative Ideas
There are actually two versions of craft stick snowman faces over at Today's Creative Ideas: a regular snowman at the top and Olaf from Disney's "Frozen" if you scroll down. Whichever version you and your child choose, this is a perfectly straightforward but super fun craft to make with kids. Add magnets to the back to stick these to refrigerators or dishwashers, or glue on a looped piece of string for a Christmas tree ornament that also makes a fantastic gift!