There's no better way to tap into your children's artistic abilities than to provide them with the tools needed to boost their creativity. Investing some money into an art easel for kids is a great first step towards transforming a boring learning experience into a whole lot of fun. Not to mention that you no longer have to deal with your child's drawings all over the walls of your house!
To help you pick the product that best suits your child, we've compiled a list of the best art easels for kids on the market today for you to pick from. We'll also be getting into a bunch of different factors that should be considered prior to picking an easel further down the article. Let's jump right into it.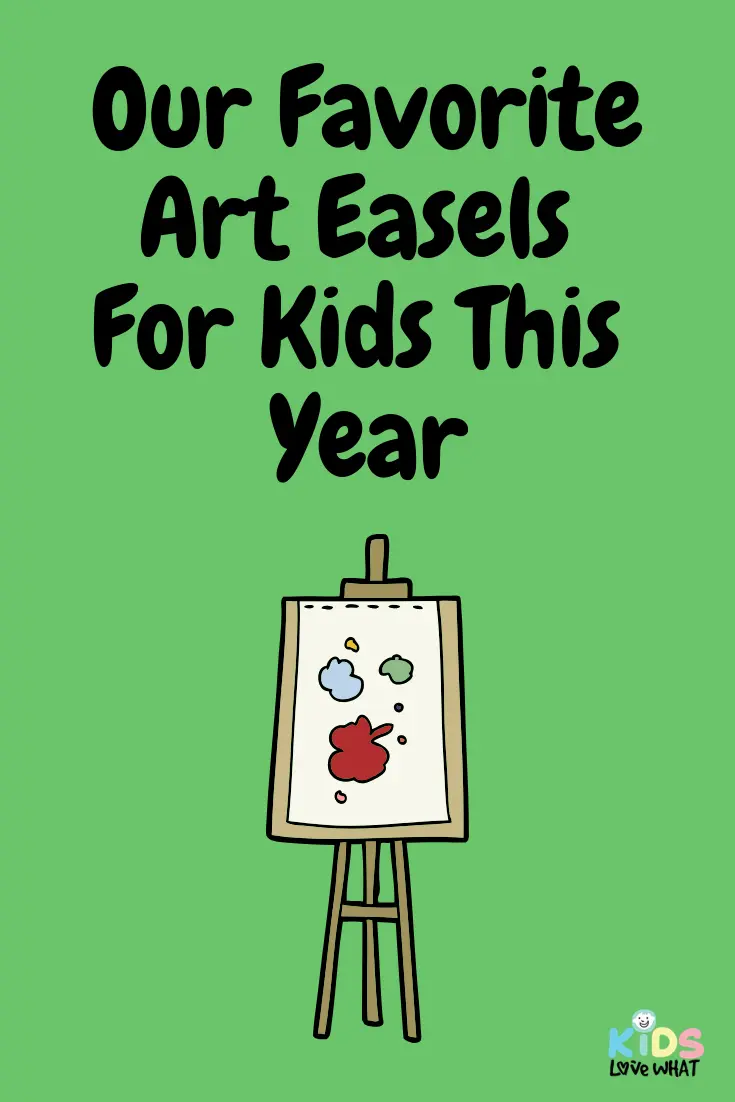 Image source: Hape
Click here to view price and get more info on the Hape Wooden Art Easel!
The Hape All-in-One Easel is an award-winning and one of the best-selling children easels on the market today. This double-sided easel features a magnetic whiteboard side that allows your child to attach things such as refrigerator magnets onto it. Another thing your child can do with this side of the easel is attach a paper roll or an easel pad for drawing or painting.
Speaking of drawing paper, the Hape easel comes with a bonus paper roll so that your child can start painting their masterpiece right out of the gate. Moreover, your child doesn't have to worry about running out of paper because the roll can easily be refilled and Hape has plenty to go round. Additional accessories include a few color-coded pots for paint that are completely sealable and a decent-sized tray to keep all drawing utensils in.
The other side of the easel is a traditional erasable chalkboard side that your child can use to play the role of a teacher in front of a class full of toys and stuffed animals, which is actually one of the best ways to revisit and revise the lessons they've had in school. Who knows, maybe one day this helps invigorate their desire to become a teacher at some point in the future.
The Hape art easel is constructed from high-quality, softwood from sustainably sourced forests, providing a very skin-friendly surface for your child's delicate hands. Also, the easel is attractively finished with non-toxic details that will keep children safe and busy turning their imaginations into a colorful reality. The easel is very compact, which makes it really easy to store. Also, its wooden construction feels pretty sturdy and is sure to last for years to come.
The height of this easel can be easily adjusted into three different levels (37.5″ to 43.5″) so that it suits children of all sizes and ages (manufacturer recommends at least age 3 years and up). The easel is also accompanied by a few special clamps that help enhance the drawing experience. All you have to do is simply screw down a couple of these clamps onto the top and bottom of the drawing surface to keep it nice and flat for your little ones. Note that some fairly simple assembly is required at first.
Pros
The assembly process is quick and easy
Different height levels to fit all sizes
Has a pretty commodious storage tray
Double-sided with a magnetic surface
Very sturdy and durable construction
Cons
Can't be folded for ease of storage
Unfinished wood can be easily stained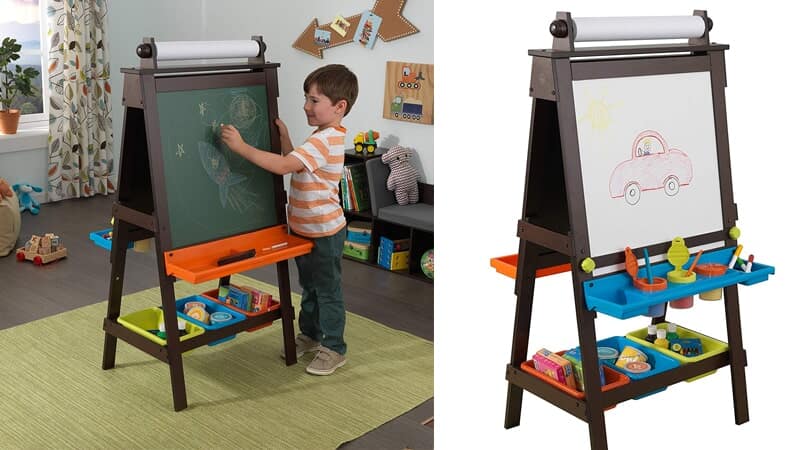 Image source: KidKraft
Click here to view price and get more info on the KidKraft Art Easel With Storage!
The Storage Easel from KidKraft isn't just an art easel, this is a completely integrated workstation where your children can carry out most of their day to day activities on. It's almost like having your own personal space where you can translate thoughts and imaginations into a work of art. Also, if you've been searching for an easel that has massive storage space that your children can use to keep all of the artistic utensils plus a few of their toys, this is the easel you've been looking for.
Like a lot of premium models, the Storage Easel features a double-sided design that consists of a dry-erase surface that your children can use for drawing and painting on one side and a traditional chalkboard that can be used to summarize daily school classes on the other. All you have to do to begin drawing is grab an art paper roll and mount it on top of the dry-erase surface and then let it unroll seamlessly. One roll of art paper is included in the package for immediate artistry.
As far as storage goes, this art easel features a couple of plastic trays that can be easily cleaned and a good number of fair-sized, removable storage bins in which children can store and keep all sorts of crayons, brushes, watercolor painting kits, and more. You shouldn't really be surprised at all to you find your child's books and notebooks in there. The easel also has three spill-proof paint cups that will keep the paint from drying and prevent it from spilling on the floor.
The easel is primarily made out of solid wood, giving it a fairly sturdy construction. You'll also find a few areas of plastic and MDF here and there. Even though the design of this art easel doesn't allow for any height adjustment, the bottom of the easel still sits at a pretty good height of 23″ from the ground, which is suitable for all children. Sadly, the design is also non-collapsible, so you can't really fold it for ease of storage. However, you can easily just take it apart whenever it's time to put it away.
There have been a few customers complaints about how they've had a really hard time writing on the chalkboard with certain types of chalk. In response to that, the manufacturer's customer care team has stated that the chalkboard is painted and you can easily be primed. Additionally, you can prepare the chalkboard by holding the chalk sideways, cover the entire board with chalk, and then grab a dry piece of cloth or a paper towel and start wiping the chalk into the surface. This is very important to consider as it might seem like a hassle to some people.
Pros
Great storage capacity for all art utensils
Very sturdy solid wood construction
Can be taken apart for easier storage
A dry-erase surface and a chalkboard
Cons
The design is non-collapsible
No height adjustment feature
Doesn't have a magnetic surface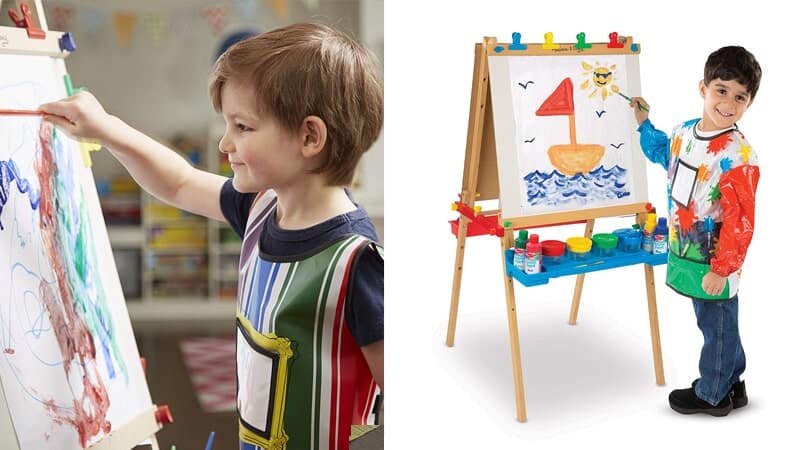 Image source: Melissa & Doug
Click here to view price and get more info on the Melissa & Doug Deluxe Wooden Art Easel!
With the Melissa & Doug Art Easel, you'll be able to transform your child's room into an art studio. Similar to a lot of professional models, this extra-large easel allows your children to complete their school projects no matter how big. This is a perfect gift for kids between the ages of 4 and 10 years old that will help fuel their creativity and imaginative side. For additional fun and screen-free engagement, you can purchase the Melissa & Doug Easel Accessory Kit.
This art easel has a sturdy and durable wooden frame. Additionally, the frame can also be folded flat for easier transportation and storage. Moreover, the height of this easel can be easily adjusted into three different levels to fit your child's height. It's also worth mentioning that putting this easel together is arguably one of the easiest and most hassle-free assembly processes in comparison to other products on this list. However, it's also easy to disassemble, so your child can potentially be able to take it down, which can be dangerous.
Equipped with multiple tools and utensils, this easel can be used to accomplish various tasks. Its dual-sided design offers a dry-erase board and a chalkboard. It also comes with a locking holder to stabilize papers rolls and keep them flat. There's a child-safe paper cutter that can be used to cut out your child's masterpiece and maybe stick onto their bedroom walls or put it into a frame to show some support. Further, you'll find four easy-clip grips and a couple of large, removable trays made of durable plastic.
Despite being one of the top tier products on the market today and one of the highest rated easels on Amazon, there are still a few things you might be bummed about. Unlike many easels reviewed on this list, paper rolls and paint aren't included with this easel, which can be very disappointing. Another setback that might make you hesitant about buying this easel is that neither sides are magnetic. A few users even reported that the chalkboard can be quite cumbersome to draw on.
Pros
Has a dry-erase and chalkboard side
Fairly commodious work surface
Assembly process is extremely easy
Features three height adjustments
Cons
Doesn't feature a magnetic side
No paint or paper rolls included
Awkward location for the roll holder
Image source: Step2
Click here to view price and get more info on the Step2 Art Easel With Magnetic Letters & Numbers!
If you're looking for a compact, smaller-sized easel for your little artists, the Step2 Easel is going to provide them with the perfect play date. This double-sided easel features a chalkboard on one side and a metal dry-erase board on the other, giving your children plenty of ways to explore their imagination. Underneath the chalkboard, you'll find a deep, removable storage tray in the middle and some pencil ledges to keep your chalk, markers, brushes, paint, and erasers within arms reach. Please note that this easel requires adult assembly at first.
The easel features a durable plastic build which makes it pretty lightweight and easy to carry around. Additionally, the design can be folded for ease of storage and transportation. It's also small enough to store behind a door, under the bed, or even in your child's closet. Both sides of the easel feature a paper clip for holding craft paper. There are also removable storage bins that can be easily wiped clean with some water and soap. Also, Many parents will appreciate that this easel comes with an astounding amount of magnet letters, numbers, and mathematical signs.
Just like any product, this lovable art easel has some negatives that can affect your decision. Apart from the magnetic kit, there are no art supplies included in the package whatsoever, so you're still going to need to buy some paint, brushes, chalk, and markers to use this easel. This is very disappointing, especially when plenty of cheaper easels come with their own art supplies. Also, some users reported that the magnet can easily come out of the letters. And while the design is fairly sturdy, it's still made of plastic, which is nowhere near as durable as a wooden easel.
Pros
Extremely compact and lightweight
The design can be easily folded
Comes with a massive magnet kit
Features plenty of storage space
Cons
The package doesn't include art utensils
The magnetic part can fall off easily
Not as sturdy as wooden models
Image source: Evergreen Art Supply
Click here to view price and get more info on the Evergreen Art Supply Double-Sided Easel!
The Evergreen Art Supply Easel is a very popular choice among many parents as it provides their children with endless possibilities and wonders. This fun-packed art easel features a double-sided design. Your child can write, draw, or color using the included dry-erase markers on the dry-erase surface. You can also roll out a piece of paper and clip it down for your child to start oil, watercolor, or finger painting. By flipping the board over you get a chalkboard surface on which you can use the 12 different-color chalks included in the package.
You'll also be glad to know that the whiteboard surface on this easel is a magnetic one, increasing the level of creativity and fun for your little ones. Additionally, there's an included set of magnetic numbers and mathematical symbols that your children can use to practice for an upcoming maths exam, along with a magnetic whiteboard eraser to keep close by. Other artistic utensils included in the package are an 18″ refillable paper roll, six dry-erase markers, three plastic storage bins with waterproof bottoms, and four jumbo paper clips.
Your child's art sessions can be very messy and the clean up you have to do after such a session isn't really as fun as the session itself. No worries, the included no-drip paint cups, and their built-in brush holders will ensure that your child's painting sessions are kept under control and that the floor isn't stained with molten skittles. The cups can be easily taken out after a painting session for cleaning and the rest of your child's utensils can be stored in the large storage bins beneath.
Aside from taking your child's fun and enjoyment seriously, they take their 100% thrilled guarantee policy seriously, as well. What exactly is their 100% thrilled guarantee? Evergreen Art Supply will give you back your money in full with no questions asked if you're not completely thrilled with this product. This in itself should be a reason for you to give this art easel a shot as soon as possible. After all, you have absolutely nothing to lose here.
Pros
Offers great value for your money
Features great storage capacity
Has a magnetic whiteboard surface
Comes with plenty of accessories
Cons
Flipping between boards can be smoother
The used materials aren't that sturdy
Image source: Little Partners
Click here to view price and get more info on the Little Partners Deluxe Art Easel!
This premium art easel for kids from Little Partners is one of the best-built models you can get your hands on. The build quality is impressive and super attractive, to say the least. This easel features both a chalkboard and a magnetic dry-erase board on which you can use crayons and dry-erase markers. You can also fit up to 17.5" of standard art paper roll on top of the dry-erase side. There's an art paper roll included in the package and you can purchase replacement rolls on Amazon when needed.
The easel is made from quality pine that provides it with sturdiness and longevity, ensuring that it holds up like it's brand new after years of use. It also finished with a non-toxic paint that's completely safe for your child. Moreover, it's available in a variety of colors for you to pick from. The storage capacity of this model is absolutely insane. The easel includes four non-spill paint cups to prevent any spills or splattering, a couple of large fabric storage bins to store all the necessary art accessories, and an extra holding clip to help with drying the paintings.
On a side note, Little Partners offer plenty of other ways to improve your child's learning experience. You can check out the Little Partners suite which includes the Playhouse Kits, Growing Stool, and the Learning Tower. Now, there are a few setbacks with this easel, including the height of the easel which isn't adjustable. Also, this model is non-collapsible, which can cause a problem in your attempt to store it away, especially because of its rather bulky and heavy-duty build. The biggest issue that can deter a lot of parents, however, is the super steep price tag.
Pros
Build quality is very impressive
Features a magnetic dry-erase board
Fairly large storage compartments
Assembly process is quick and easy
Cons
Non-collapsible design structure
The height isn't adjustable
Image source: Delta Children
Click here to view price and get more info on the Delta Children Disney Wooden Art Easel!
Looking for an easel with a cartoony aesthetic that will light up your children's eyes once they see it? The Children Disney Wooden Easel from Delta has put out a great line of easels for kids, each having a distinctly unique design inspired from one or a few Disney characters. Such characters include Minnie Mouse, Mickey Mouse, PAW Patrol, Ninja Turtles (wait, are they really Disney's too?), and frozen. These die cuts of your children's favorite characters will keep them glued to this art easel. This product successfully meets all of the safety standards set by the CPSC.
The dual-sided design features an easy-to-clean, magnetic dry-erase surface on one of its sides and a chalkboard on the other. The construction is very sturdy and is completely made from wood. The package comes with alphabet magnets and magnetic character puzzle. Moreover, there are two fabric storage bins underneath, so that your children can store their chalk and markers while keeping the rest of their tools organized. The over dimensions of this easel is 20.5″ x 21.8″ x 48″ and it weighs around 19 lbs, which is a good balance of bulk and weight that will keep it firm and steady.
Unfortunately, the height of this easel can't be adjusted and it might be a bit too short for taller children. Also, despite being relatively small compared to other models, its non-collapsible design might give you a hard time when trying to store it away. Another let down is that no chalk, dry-erase markers, or even an eraser are included in the package. Some users also reported that this easel is kind of hard to put together. Some even claim that it took them about an hour to assemble all of its pieces. Overall, if you can get past a few of these negatives, you'll find that this model provides great value at a very affordable price.
Pros
The dry-erase surface is magnetic
Magnetic alphabet and character puzzle
Very sturdy and stable construction
Great cartoony aesthetic for your child
Cons
Can't be folded for ease of storage
Doesn't feature height adjustments
No art utensils included in the package
Key Features That Make a Good Easel
Picking the right product is a completely subjective process. It mainly depends on your needs and what suits you best, or your child, in this case. However, there a number of factors that should play a major role in your selection of an easel for your child.
Functionality
When it comes to easels, versatility simply means a multi-functional, double-sided easel. You want to look for an art easel that allows your child to paint and draw. You might also want to consider a model that features a magnetic board on which you can stick numbers and mathematical symbols, or even kitchen magnets.
Height Adjustability
Buying an easel that has the appropriate height for your child is crucial. But it can quickly turn into a hassle as you may find models that you like but are sadly too short or too tall for your kid. This is why you should prioritize searching for an easel that features a few height adjustment options, this way you will ensure that as your child grows, the easel is going to grow too.
Storage Capacity
Your little Picasso is going to need plenty of space to keep all of his/her artistic utensils in. Luckily, most art easels feature reasonably-sized storage bins big enough to keep all of your child's tools. They also come with paint cups to keep the paint fresh and off the floor.
Portability
While art easels for kids are pretty small and don't take a whole lot of space, some of them can be quite difficult to store away. There are models that can be disassembled for storage, but do you really want to keep assembling your easel every time your child wants to use it? If your answer is no, then make sure that you're shopping for a collapsible model that can be easily stored away without being taken apart.
Build Quality
Most easels on the market are made of wood or plastic. While plastic easels are light and much easier to move around than their wooden counterparts, they're far less durable and aren't as sturdy. You might also want to consider an easel that features non-slip foot pads to avoid wobbling and maintain a steady and even stance.
Cleaning Ease
Easels that feature a dry-erase board will also come with a dry eraser. After a session, you need to make sure you erase the board as soon as you can because the ink tends to leave a mark when left to dry. Also, you need to dust-free chalk as chalk dust can fly everywhere and it's not particularly healthy to breathe it.
Frequently Asked Questions
If you've read all the reviews above, then you're more than likely aware of the answer to some of the following question. However, if you didn't have enough time to read the reviews then you've probably missed a few important points here and there. The following questions and answers should give you some needed insight.
Do all easels come with art supplies?
Not necessarily. A lot of manufacturers include some bonus items and add-ons such as paper rolls, erasers, brushes, paint or magnet kits in their product package. But it's not always the case.
Is cleaning an easel difficult?
Unless you're using permanent markers or dusty chalk pieces, cleaning an easel should be quick and easy. Use a dry piece of cloth to wipe the chalk off the chalkboard and use the eraser to clean the dry-erase board.
Do easels have available replacement parts?
Unfortunately not. Luckily, a lot of manufacturers offer full refunds for faulty models. Also, most easels aren't that expensive anyway, so if you happen to break a leg or so, you can easily purchase a new one.
Do all easels need assembling?
No. There are plenty of models on the market that don't require assembly. The ones that do need assembly usually require a few hand tools and little to no effort to put together.
Conclusion
The Hape All-in-One Wooden Kids Art Easel seems to be the clear winner of this tight competition. From the magnetic dry-erase surface to the height adjustment feature, this art easel is definitely a great bang for your buck in terms of value. Not to mention that it comes at a very competitive price.
Art has an extensive and far-reaching effect on children. It has been proven that a child that regularly engages in drawing, painting, or any other form of visual art should experience major improvements in hand-eye coordination, creative and emotional development, motor skills, and visual learning.
The biggest benefit that an art easel can offer to your children is that it provides them with their own personal space where it's okay to paint and draw freely without being worried about making a mess. Get your child an easel and support their passion and artistry, maybe one day they will become the next big thing in the art world.