Like it or not, the day is going to come when your little one discovers how much fun it is to go fast. Whether you've got a boy or a girl, one of the best ways to channel the desire for speed and action into valuable exercise and entertainment is to get them a scooter.
The best scooters for toddlers are the ones that provide an age-appropriate way for a child to push themselves across the room or sidewalk, while gripping safely to a secure handlebar and standing on a sturdy foot deck. Not only do they provide a healthy physical activity to help take care of all that excess energy, but they also can help develop coordination skills and start teaching the basic principles of riding a bike for when that time comes.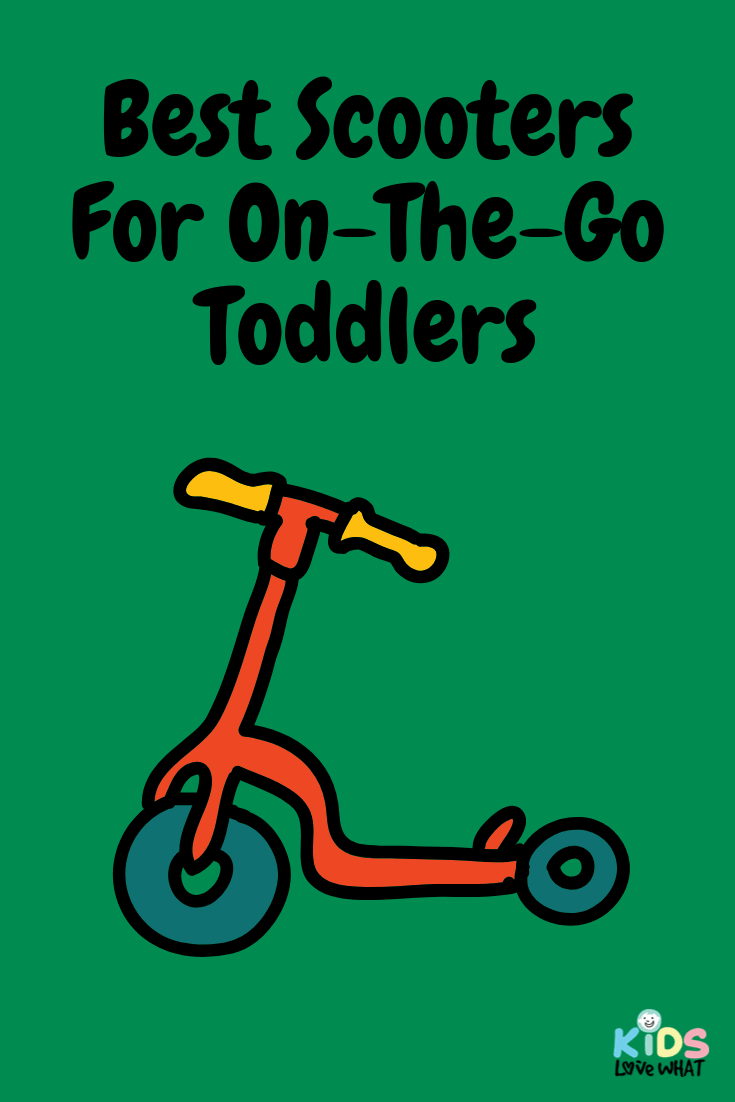 Shopping for a scooter isn't easy, especially if it's for a toddler. Our team has taken a close look at nearly twenty of the best-selling and highest reviewed scooters for kids. What follows is our summary of the top 8, followed by a comprehensive guide on what to look for in selecting a scooter for your toddler.

If you're the kind of parent that is worried about what will happen when you put your already fast-moving toddler on a set of wheels, then you're not alone. Indeed it seems like just about anything can happen when you pair the smooth-wheeled ride of a scooter with a rambunctious nature of an inquisitive child. That's why it is essential that you choose a ride that puts your kid's safety at the forefront.
With a three wheeled design and an impressive rear brake, your toddler is less likely to take a spill because they were moving too fast. The increased balance will have them scooting around the neighborhood with ease, getting exercise and valuable practice with hand-eye coordination. They'll love the electric blue color (pictured) or one of the 7 other colors that this model is available in.
Rainy days no longer mean that you can't roll around on a scooter. Smooth-rolling, non-marking wheels means that you don't have to worry about your hardwood or vinyl flooring getting all scuffed up.
Unlike the larger scooters that are popular for older children and teenagers, the steering post on this scooter is locked in place. That is to say that you cannot turn it left or right, the way that you normally would be able to with a Razor scooter. Instead, steering is controlled by simply leaning right or left. This might be awkward for anyone who is used to a traditional steering column, but your average toddler isn't going to notice.
What We Love: Three-wheeled design is safer and more stable than 2-wheeled scooters
What We Don't: Steering post is locked in place, so steering is controlled simply by leaning

There is perhaps no brand out there that has a greater nor more immediate association with good old fashioned fun than Radio Flyer. Their iconic red wagon is still being enjoyed by children to this day, and since its release so many years ago, the company has developed into a full-fledged toy manufacturer with dozens of different wheeled products to choose from.
The My 1st Scooter from Radio Flyer is one of the best options for young toddlers who have never experienced the joy of scooting before. With a wide-cut textured base, there is little to no chance that their feet will slip from the deck. The steering column is agile, but smartly limited by how far it can turn so to avoid unnecessary stoppages and crashing.
The wheels here are a bit smaller than some of the other scooters, and feature a thinner plastic interior than some of the other models to. For this reason the weight capacity is also slightly reduced at about 50 pounds total. Even so, it is sturdy enough to handle its fair share of toddler-related wear and tear, helping improve coordination and balance in the process.
When you compare this awesome list of features with the impressively low price of this scooter, what you have is one of the best-value toys of the year.  The only other important thing to note is that this scooter does not have one of those rear brakes like most of the other toys on our list to.
What We Love: Wide, textured base for increased balance and stability
What We Don't: No rear brake like the ones found on Razor scooters

We've got to hand to LaScoota, one of the only toy companies to actually surprise us with a few features that we have not seen anywhere else. For one thing, it is perhaps the only 2-in-1 toddler's scooter that we have ever seen. A smartly designed removable seat can be attached to the steering post utilizing the same post-lock system as the steering post itself. It's one of those fun innovations that makes you wonder why more manufactures aren't jumping on board with the same kind of idea.
You might be wondering the same thing that we did when we first saw it … is it safe? The seat looks like it wouldn't be able to hold that much weight considering the way that it is attached. However the company has set a recommended weight limit of 110 pounds, which is significantly more weight than many of the competing scooters that we reviewed.
Removing the seat turns this into an agile and fully adjustable push scooter with a remarkably responsive steering system. The rear brake panel is both wide and effective, but it won't send your kid flying if they slam down on it too hard. Rather, it is designed to provide a slow and steady stopping action.
A pair of electric light-up wheels is another original twist that sets the LaScoota 2-in-1 scooter widely apart from its closest competition.
What We Love: A removable seat means that this can be ridden in two different ways
What We Don't: More expensive than "regular" scooters for kids

We kicked off our list with the flagship product by the toymakers at Micro Kickboard, the Micro Original 3-wheeled scooter. Here we have the deluxe version of this scooter, which features not only a more advanced steering and suspension system, but also an adjustable t-bar and an increased weight capacity of 75 pounds. These additional features make this scooter more than worth the slightly increased price, but the real value is having an adjustable scooter that can grow with your child while also continuing to support their growing size.
What does remain from the original model is the wide-cut, low-to-the-ground standing deck and smooth, re-enforced wheels. The combination of these elements make for an impressively smooth ride, especially for your toddler or kindergartener.  Because even smaller imperfections in the asphalt or pavement can be absorbed by the flexible deck and quality wheels, your kid will experience a less bumpy ride and have more fun scooting around.
The Mini Deluxe comes in 16 different colors, which is another indicator that Micro Kickboard knows what they are doing when making scooters for kids. It also requires no assembly other than inserting the steering rod into the deck, something that takes less than a minute. Then your child will be off and riding, getting good exercise and coordination skills practice in the meantime.
What We Love: Available in 16 awesome colors
What We Don't: Rear wheel can get worn down over time

It would not be appropriate to say that the current popularity of scooters for kids (and in fact many adults as well) can be attributed to the wildly successful brand of scooters that seemed to have started it all. When Razor scooters were first introduced it seemed as if they had found their way into nearly every household in the country. Today, Razor is going stronger than ever, continuing to make their classic scooters while also taking brief detours into more specialized models, such as the Kiddie Kick Scooter pictured above.
Designed especially for the growing toddler, the Kiddie Kick is the perfect way to get your child up and moving. Kicking around on this thing will hardly feel like exercise but more like a high-speed adventure, just without all the danger.
The Kiddie Kick utilizes Razor's proprietary steering design, which allows the t-bar to rotate in its socket, thus dictating the direction that you are headed in. This is in contrast to most scooters that are designed for children, in which the rotating t-bar is replaced with a stationary one and the steering is entirely controlled by leaning.
The other significant difference here is that the third wheel is in the back of the scooter as opposed to the front. This provides great stability, but the bigger effect is more responsive steering.
What We Love: Original Razor steering system and collapsible folding construction
What We Don't: It is a bit smaller than the pictures make it look

One of the newer manufacturers to enter the toy game, YBIKE has dedicated themselves to inventing fun ways for kids to get around, whether it is on a tricycle, two-wheeled standing bike, or something that you haven't even seen before. It is no surprise then that they would want to start making 3-wheeled scooters for children, seeing as how they are quickly becoming one of the most popular forms of physical activity for kids aged 3 to 8.
The YBIKE GLX is actually one of the company's more advanced products. It is both taller and more sturdily constructed than their other products, and for this reason is more suited to slightly more advanced riders. While still suggested for kids as young as 5, the GLX is best for kids who have had some practice with both balance and coordination, not to mention scooters in general.
The top feature for us is definitely the wheels. They are bigger than the wheels on most other scooters, and when you also factor in the 100mm composite wheel core, what you end up with is what could be the smoothest-riding wheels on this entire list.
An adjustable handlebar can go from 28" to 32.5" above the deck with no hassle. This should accommodate your growing child for a couple of years before they get too big for it and it becomes time to upgrade to something bigger.
What We Love: A taller, stronger scooter for slightly more advanced child riders
What We Don't: Rear wheel can wear down over time and is not replaceable

Very similar to the Folding Kiddie Kick that we looked at earlier in the review, the Lil' Kick is a scooter designed with first timers in mind. Available in pink or blue, the Lil' Kick is one of the best ways to get your kid scooting around, especially considering the price.
This is a small scooter indeed … in fact some ways smaller than the picture makes it look. This makes it ideal for children as young as 2 or 3, but of course everything is going to depend on the height and ability of your child.
Much like the Kiddie Kick, the Lil' Kick utilizes Razor's classic steering style which allows the child to choose a direction with the simple turn of a handlebar. This is actually a great way to get a kid introduced to the way that a bike works, so when they are big enough they won't be starting totally from scratch.
A large front wheel does a great job of absorbing most impacts, but don't expect this thing to perform as an off road scooter. The rear wheels are solid … a bit smaller than the ones up front.
Our only complaint is that the bolts on the rear wheels stick out slightly. We would recommend finding some kind of rubber or cloth covering to help prevent small nicks that can occur.
What We Love: A very affordable and functional scooter for first timers and younger toddlers
What We Don't: The bolts on the rear wheels stick out slightly

Even though we weren't able to learn much about Den Haven, the company that is supposedly behind this Deluxe Aluminum Glider, we were able to discern just how well this scooter was performing in relation to the closest competitors in its price range. For a three wheeled scooter in fact it is actually quite possible, outselling some name brand scooters in many cases.
Although the Den Haven scooter isn't exactly re-inventing the wheel here (pun strongly intended) their scooter represents a healthy collection of different features and functions that come together to make a pretty decent scooter.
First off, it does have a folding function, which is usually only seen in Razor brand scooters. Secondly, it utilizes a three wheel design with rear brake, which is in our opinion the best way to build a scooter.
We encountered more than a few reports of the metal t-bar being difficult to insert into the folding mechanism. Though we did not experience this personally, it sounds like something that can likely be taken care of with a little patience and a soft-headed hammer.
What We Love: A great all-around scooter that is also impressively affordable
What We Don't: The t-bar can be difficult to insert into the folding mechanism when assembling the scooter for the first time

One of the most unique scooters on our list also happens to be one of the most talked about scooter on the internet, and for good reason. The Transformer Scooter from Albott is able to provide 3 different setups for your child, meaning that it is designed specifically for a child who is growing and advancing faster than you can shop.
Here's what we're talking about. The Transformer Scooter comes with four wheels that can be installed or removed with relative ease, allowing the parent to choose between a two-wheeled, three-wheeled, and four-wheeled configuration. Generally speaking, the more wheels a scooter has, the more stable it will be. Your toddler will love the balance of a 4-wheeled ride, but as they grow in both height and skill level, they will appreciate the added speed and agility of a 2-wheeled model, with a 3-wheeled iteration hovering somewhere in between.
Other handy features include an easy-to-operate folding mechanism and a double-panel braking system which is particularly helpful in 3 and 4-wheel modes.
The only thing to watch out for with the Transformer Scooter is that the pins are properly re-inserted after installing or removing wheels to make sure that everything stays on.
What We Love: Can be configured to ride on 2, 3, or 4 wheels
What We Don't: Handlebar adjustment doesn't go as high as we'd like
Buyer's Guide: How To Shop For The Best Scooters For Toddlers
In order to craft our list of scooters, we had to look at dozens of models from a handful of manufacturers and providers in order to get a clear idea of exactly what it was that made some of these scooters immensely popular, while other models were being shunned altogether. Then we narrowed it down to a select few scooters which we feel represent the best of what's out there.
However, the list is far from exhaustive. If you are looking for a scooter for your toddler or young child, then chances are you are going to encounter a scooter that does not appear on this list. If that's the case, then it wouldn't hurt to learn a little more about all the things to look for in toy scooters for kids.
Age Requirement
As it is with any other toy, every scooter that you look at is going to have a recommended age limit. These are in place usually to protect children from certain hazards based on how old they are. However when it comes to toddlers there is less of a consensus on which toys are appropriate for which children.
Kids develop mentally and physically at different rates, and there is no telling when one kid might be ready to use a scooter. What it really comes down to is coordination and energy. Some kids are just ready to go faster, and others might wait a bit longer.
Weight Limit
One guideline that you are going to want to pay attention to is the weight limit. These limits are rarely suggestions and should be adhered to in order to make sure that your child stays safe.
The weight limit from scooter to scooter varies wildly. Scooters for toddlers as young as 2 and 3 might only have a weight limit of 60 pounds, whereas one of the larger scooters for ages 4 and up could be as high as 120 pounds.
If you are looking to buy your toddler a scooter that they won't immediately outgrow, get something with a high weight limit and an adjustable handle that you can raise as the kid gets bigger.
Steering Style
If you've ever ridden a recreational scooter, then you have probably experienced the t-bar turning mechanism that is common on most adult models. This is a system in which the user can turn the handlebar to the left or the right in order to steer, just like a bicycle. While this type of steering is used by Razor and a few other brands on scooters intended for children, it is not the type of steering that you are most likely to see.
Instead, the most common form of steering on a toddler's scooter is a simple lean-to style, in which the handlebar is totally fixed in place and it is impossible to make really sharp turns. "Leaning" in this sense means leaning left or right over one of the two front wheels, which is another common thing to see in this type of scooter.
Generally speaking, a t-bar style steering mechanism is more appropriate for slightly older and more coordinated children. If your kid is just getting into the world of wheeled conveyances, then it is perhaps best to start them off on something that is a little bit more forgiving.
Wheel Construction & Size
The way the wheels are sized and composed are both big factors in determining how smoothly a scooter rides. This is because larger wheels are much better at rolling over imperfections in the ground surface, such as cracks in the sidewalks. Whereas a smaller wheel might jolt and buck when hitting a big crack, a larger wheel can roll right over it in style.
Similarly, a wheel with a denser composition is generally able to absorb more of the impact of rocks and other ground imperfections.
Brake Mechanism
Not all scooters that are built for children of this age have brakes. This is partly because the really young toddlers are going to be riding scooters that are entirely self-propelled, and let's face it, they're not likely going anywhere fast.
The older and faster kids are a bit more of a liability, which is why a good portion of these scooters have simple brakes installed on the rear wheel.
The way they work is pretty simple: all the child has to do to slow down is press their rear foot on the small panel above the rear wheel. This panel comes into contact with the wheel itself and the friction causes the scooter (as well as the rider on top of it) to slow down.
T-Bar Adjustability
The ability that some of these scooters have to change their handlebar height is a great thing for parents with growing children. Instead of having to throw the scooter out as the kid gets taller, you can simply pull the t-bar shaft out from the deck and lock it into a taller position.
It varies from model to model, but most adjustable scooters have three different pre-determined height settings that you can choose between.
Additional Features & Upgrades
Because there are so many different scooters to choose from, some manufacturers have taken to adding even more features and upgrades to their products in an effort to differentiate themselves from the competition.
Here are some of the things that we found on different models:
Comfort grip handlebars
Folding & storage mechanisms
LED light-up wheels
Multiple color options
Replaceable wheels
Grip-tape style surfaces
Variable height handlebars
Frequently Asked Questions (FAQ)
Q: Which is better for a toddler … a scooter with two wheels in the front and one in the back, or the other way around?
A: This is a question that parents should pay attention to, because there is actually a pretty big difference between the two styles of scooter.
If you aren't familiar with what we are talking about, take a moment to scroll through our review real quick. You might notice that some of the scooters have two wheels in the front and one in the back, while others have two in the back and one in the front. So what's the difference?
Though it is not a hard and fast rule, it can be summarized that scooters with two wheels in the front are going to have a lean-style steering, whereas scooters with two wheels in the back will be able to control the steering by turning the handlebar.
Because the wheel location is so closely related to steering style, we would recommend that first timers try out a scooter with two wheels in the front. Then as they get slightly older and more practiced, switching to the other variety.
Q: Are scooters dangerous for children?
A: As with any other activity or sport that involves wheels, there is some inherent danger to putting your child on a scooter and letting them go at it. The best way to keep a child safe is to make sure that they are always wearing a helmet.
Q: Does a scooter need to have a brake in order to be safe?
A: While braking is an important safety feature in two wheeled scooters and some three wheeled scooters for kids, it is not an absolute necessity in order to have some safe, supervised fun. Because the scooters without brakes are generally the ones intended for the youngest kids (2, 3) it is likely that they are only going to be using it to push themselves around the playroom, as opposed to taking a cruise down the sidewalk. Also, at this age children are generally less coordinated and less capable of even propelling themselves that fast in the first place.
Conclusion: The Best Scooter For Toddlers In 2023
Here's the part where we tell you that all children are different, and because of that it would be impossible to select only one scooter to hold the candle of Best of the Year. The truth is, we aren't sure that there really is only one "best" scooter of the year.
When it comes to performance, there is no doubt that the YBIKE GLX is the most advanced scooter that we found that was designed for this age group. While safe and engaging for a toddler, it is both sturdy enough and adjustable enough to follow your kid as they get a bit older.
First timers however are going to want a scooter that is safer, smaller, and frankly cheaper. For this reason we are happy to recommend the Radio Flyer My First Scooter as our top pick for toddlers who are on the younger end of the spectrum.