Contrary to what a lot of people might think, shopping for toddlers isn't all that hard. In today's day and age it has become possible to simply make a pass through the toy aisle and grab the toy with the flashiest lights, the biggest screen, or the most popular movie character. Chances are you are going to get them something they like.
Now, shopping for toys that go beyond entertainment and also provide a level of education? How about inspiration? That task is a bit more complicated. However there is one go-to category of toys that is sure to captivate your toddler while, quite sneakily, introduce them to the wide world of musical creativity.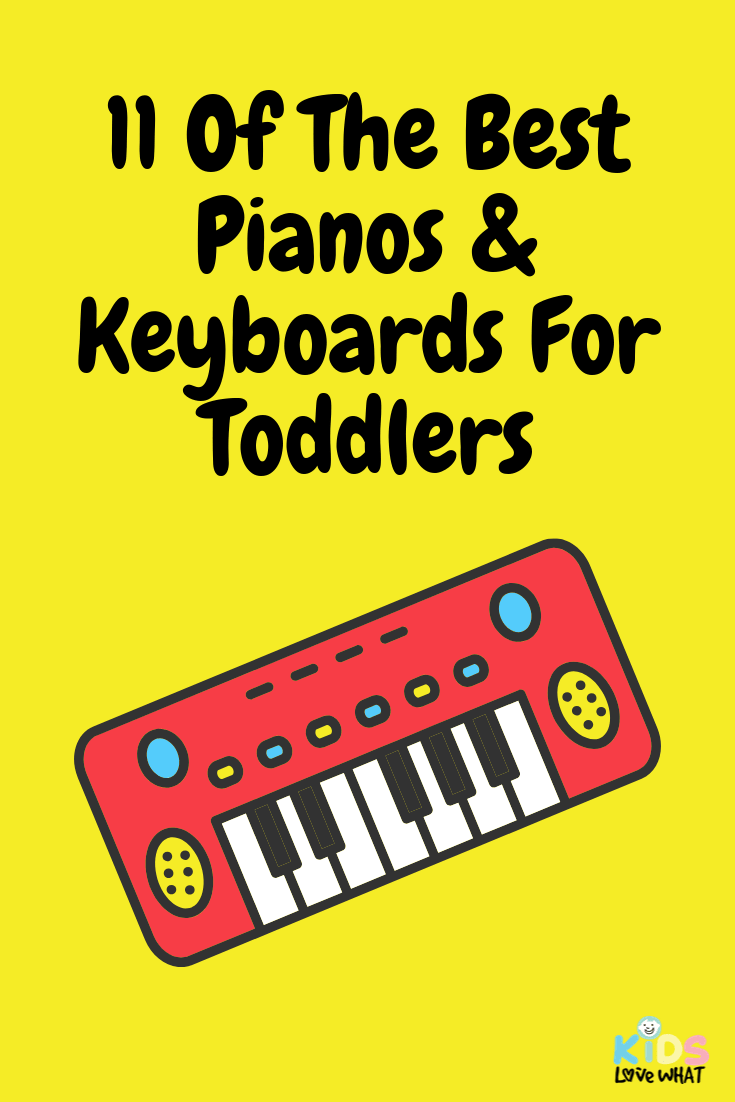 These beginner pianos for toddlers are not only fun and engaging, but they can encourage a creativity and curiosity that you simply can't get from other toys. And musical activities, according to many studies, are essential to your child's psychological development.
We're counting down some of the best toy pianos and keyboards on the internet, as well as a few other piano-type toys that we think you might like. Afterwards, we're going to take a closer look at how to choose a piano or keyboard for your toddler. If you find that these pianos and keyboards are a little too basic for your child, head on over to our best pianos and keyboards for kids list (more for kids 5 years old and up).
Our Favorite Pianos & Keyboards For Toddlers
If you have read any of our other toy reviews, then perhaps you would know how delightfully loyal we are to Melissa & Doug, one of the most reputable manufacturers when it comes to the production of toys that actually stimulate your child's imagination and creativity.
The Learn-To-Play Piano is small, brightly colored, and impressively sturdy, three things that you absolutely want in any toy that you are going to be giving to your toddler. It features 25 keys (2 full octaves), which should be more than enough to entertain even the most musically inclined of young children.
Attached to the piano above the keys is a brightly colored, large-displayed guide to the basic tones of the musical scale, so your child can start learning about music theory before they even know that they're learning anything. The Learn-To-Play Piano also comes with an illustrated songbook that works in tandem with the color-coded key chart to encourage your child to play complete songs.
What we love: A sturdy little learning piano with easy to understand educational material
What we don't: It's a little top heavy, which can throw it out of balance if a child climbs on it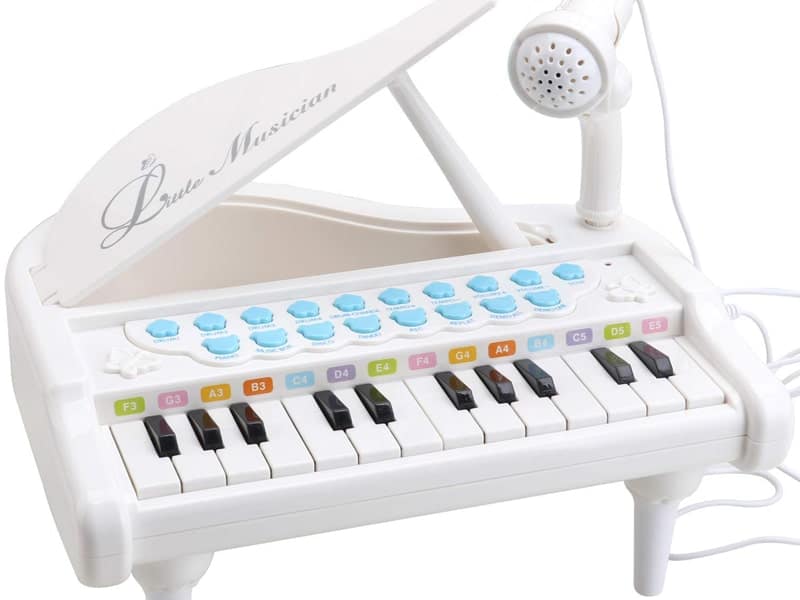 The term 'Baby Grand' is going to mean something a little different after you take a look at this specially designed electronic piano for toddlers and babies. Made by the folks over at Amy & Benton, the Toy Piano is the perfect toy for boy or girl that will stimulate an interest in music and the arts while keeping your little one fully and totally engaged.
The features on this piano are pretty impressive considering the recommended age range. Even young babies (with supervision) can enjoy the multitude of sounds, tones, and pre-loaded demo songs. It even has a play & record function, which lets the little user make a recording of their track for future use.
The size of this toy (dubbed the "Little Musician" in product photos) is a definite upsell. Full size keyboards are too complicated for young kids, and traditional pianos are too tall and wide to attract the attention of a toddler. At only 10.8 inches high, the Little Musician is the perfect height to be always available then the musical mood strikes.
What we love: A great little piano that even babies can play with
What we don't: Microphone doesn't last a long time (but is easily replaceable)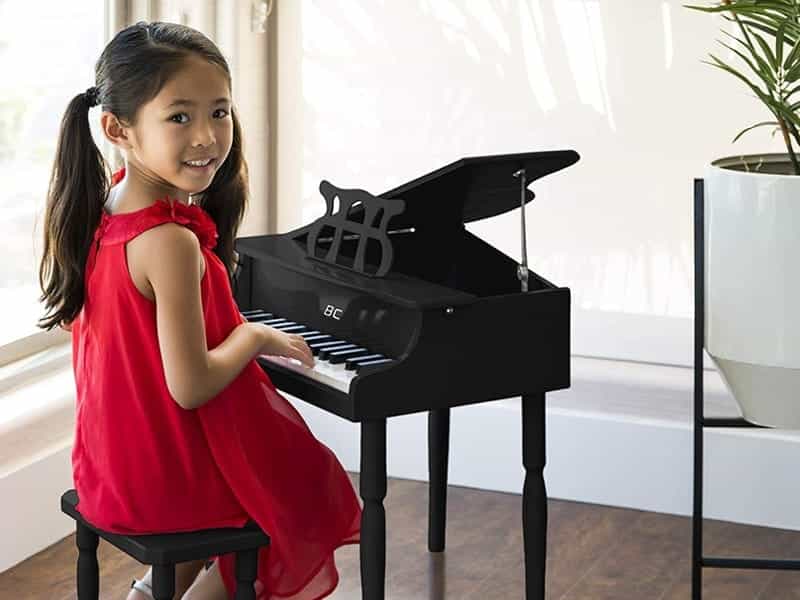 The realistic construction and feel of the Classic Wooden Miniature Baby Grand Piano from Best Choice Products is one of the classiest and most authentic toy instruments that we have ever seen. Toddlers as young as 1 year old can enjoy the real-time feedback play of a musical instrument by striking any one of the 30 glossy keys. With a full 2 & ½ octaves, there is enough musical variation to keep any kid interested.
This is one toy that strangely enough you aren't going to mind having out. In fact, the classical style of this mini grand piano and three-color availability (Black / Pink / White) makes it a very chic centerpiece for any playroom.
While the sound of the keys is a bit more 'tinny' that what you would get from a real piano, the tones themselves are spot on upon delivery, and since there are no electronics involved, you can count on this baby producing quality sound for a long time to come.
Some assembly is required, but once you get it put together it's actually quite sturdy.
What we love: An elegant / classic look and feel
What we don't: Sounds more like a Xylophone than a piano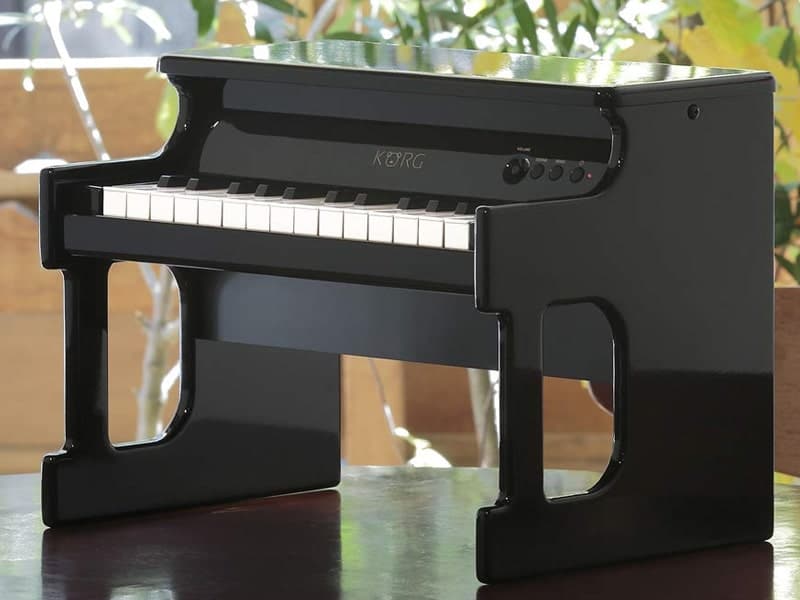 If you're going to buy a toy piano, then it certainly wouldn't hurt to buy one that is made by one of the most reputable piano and keyboard companies in the world. KORG has been making great instruments for many decades, and it is no surprise that they would decide to sooner or later venture into the realm of children's instruments. After all, it never hurts to hook them while they're young.
It is no secret that buying from a premium brand is going to mean that you're getting a premium price. The KORG tiny piano is one of the most expensive toys on our list, and that might be a turn-off for some people. This is because you never want to spend too much on something that your baby or toddler is going to simply outgrow or become bored of.
Fortunately, the Korg Tiny Piano is built to last. That means that it cannot only be counted on to entertain one child, but rather, and entire family of child musicians, one after the other. It is certainly strong enough to hold up to the rigors of childcare.
The best part is that this thing really doesn't feel much like a toy at all … just a small piano. And with the many built in songs and sounds, don't be surprised if you find yourself sitting down to a jam session every now and then.
What we love: High-quality piano that is built to last; reputable brand
What we don't: $$$$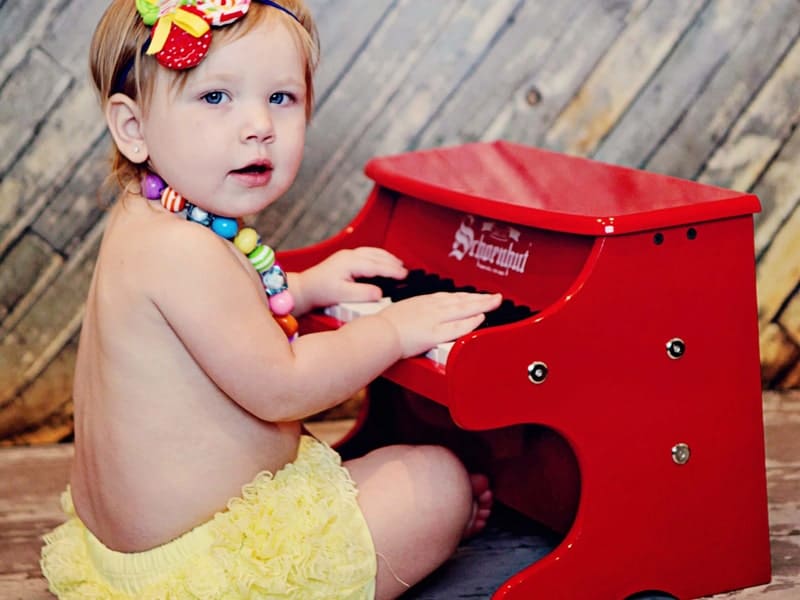 It's not always easy to choose a toy that can both entertain and educate your little one at the same time. With all the bright colors and shining lasers of modern toy merchandising, getting something that they actually like can be even more difficult. Toy instruments are a great idea for any child because of the immediate and hands-on entertainment that they provide. Your toddler or baby will be delighted by the bell-like tones of this mini piano, and whether or not they realize it, they will be preparing their minds for a lifetime of musical interest and development.
Speaking of development, it is never too early for your Piano-Man-to-be to start developing the finger dexterity that will be required to make the jump up to a larger toy piano, and eventually to a real stand up piano. The keys on this piano are reduced significantly in width. While experienced adult musicians will find that this makes it near impossible to play properly, young children will be able to more easily navigate the keyboard and start to learn about the important key relationships that form the basis of their favorite songs.
What we love: Well-designed piano for the price
What we don't: Plastic keys can get "hung up" sometimes
Best Piano Mats for Toddlers
If you are looking through our list of the best pianos for toddlers and you can't help but think that they might just be 'a bit much' for your own child, then we've got a few more products up our sleeve that you might be interested in.
Unlike the toy pianos that we examined above, piano mats are soft, flexible electronic instruments that are geared even more directly towards a much younger audience. The increased portability and decreased price of piano mats has made them a very popular gift idea for children.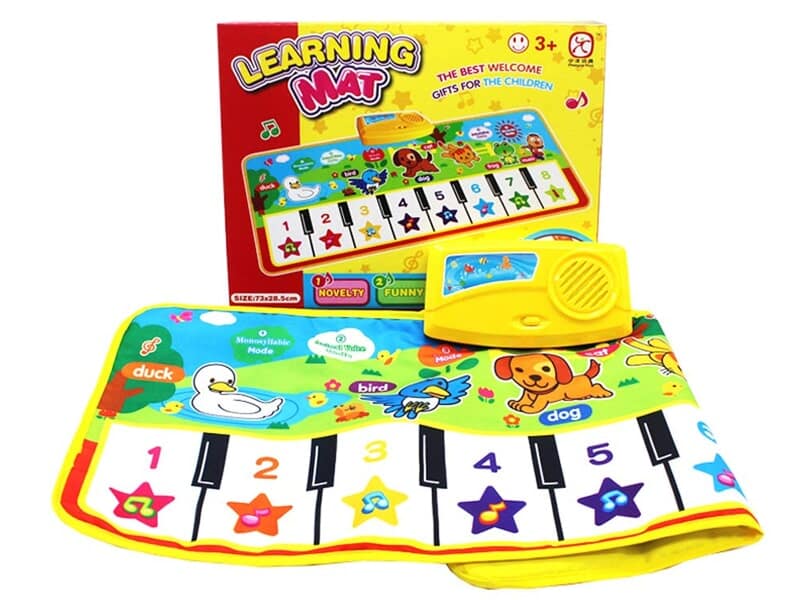 Shopping for a toy for the new youngster in your life doesn't have to be that complicated. If you have a new niece, nephew, or know someone who is expecting, you can rest assured that music-based toys are a near guaranteed way to make both the child and the parent happy. Piano mats are one of the most affordable ways to get that youngster started on a musical path, and the one made by Fresh Household is one of our favorites.
The bright and vivid illustrations on the mat as well as the corresponding sounds will teach your kid about shapes, colors, animals, and of course music. 8 pre-recorded animal songs and melodies come installed to provide a fun and easy backdrop to your child's playing.
The best part? This thing is a lot bigger than the product photo makes it look. It's a few feet long by nearly a foot wide, making it large enough to play with your bare feet. This will keep your kids moving and dancing, giving the added benefit of exercise to their playtime.
What we love: Very affordable gift idea for children or toddlers
What we don't: It can be a little loud, & there is no volume adjustment
With a few extra features that can't be found on the Fresh Household piano mat that we looked at above, the Play22 Keyboard Mat is one of the best overall values when you factor in special features and technologies. In the case of this mat, what we're talking about is a full 4 play modes, including Record, Demo, Playback, and Play. The record feature is something that is usually lost when you downgrade from an electric toy piano to a piano mat for toddlers, so seeing it here is something of a relief. After all, wouldn't you want to keep a recording of your child's very first musical composition?
There are 8 different instruments built in to the computer that your kid can choose from, including Guitar, Banjo, Xylophone, Clarinet, Trumpet, Saxophone, Violin, and traditional Piano. This great diversity in tone is another reason that the Play 22 Keyboard Mat has hit the top of so many 'best-of' toy lists in 2023.
What we love: Has a record & playback feature like toy keyboards
What we don't: This thing will burn through batteries quicker than other musical toys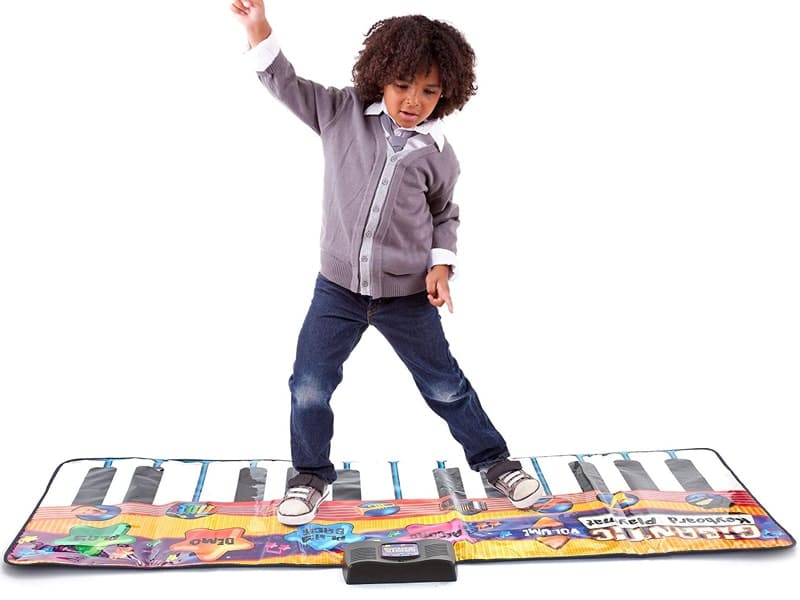 Not every kid is going to want to sit still at a piano bench for more than five minutes at a time. Kids can have a lot of excess energy, and a parent's full time job is to try to figure out how to burn through it all before dinner time so that everyone in the family can actually get some sleep.
This Dance Pad Piano from JOYIN is a fun, affordable, and portable way to make sure that your young one always has the opportunity to get a bit of movement in. And hey – if they develop an interest in music performance and one day become a famous musician that than buy you a beach house, then that's swell too.
The gigantic 71" size makes this toy an absolute hit for birthday parties and family get togethers. More than one kid at a time will be able to enjoy the bright music tones and built-in dance melodies. The whole thing is also touch sensitive, which is perhaps the most unique feature considering the price.
What we love: Gigantic size means more than one kid can fit at a time
What we don't: Standard volume setting is pretty loud
A Piano Book For Toddlers That Really Works!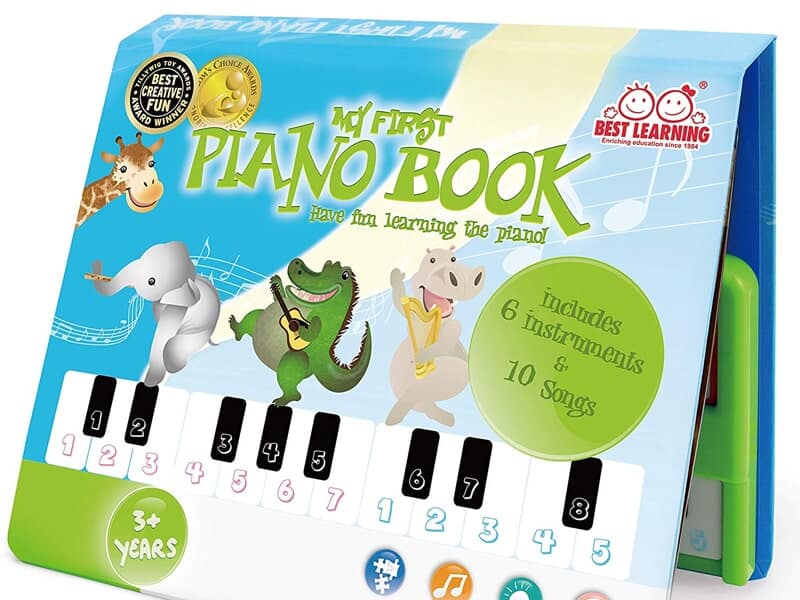 The My First Piano Book from Best Learning is one of the most portable and easily storable educational musical toys that exist and is perfect piano book for 4 year old boys and girls. Not as bulky or expensive as a miniature piano, this book utilizes a lightweight plastic electronic keyboard to product a set of fun yet simplified tones and sounds.
Flip through the dynamic and colorful pages to find a collection of ten popular kids' songs, each of which comes with an audio file pre-loaded into the song page. Every page also features an entire page of fun artwork, making the whole thing even more engaging for younger audiences.
A simplified yet effective record and playback feature get the job done in terms of providing an outlet for all that raw, undeveloped artistic songwriting talent that your child certainly has. If nothing else, it is a fun way to hand on to a piece of your kid's first musical composition, which would make it a valuable treasure indeed.
What we love: Lightweight, portable, and it stores easily on a bookshelf
What we don't: The actual keyboard portion is quite small
A Few More Piano Toys That We Think Toddlers Would Also Love!
Animals, colors, buttons, sounds … the Zoo Jamz Piano from VTech stuffs all of your child's favorite things into one bright, activity filled toy that is small enough to fit on their lap. The basic keyboard can be set to sound like a piano, a saxophone, a violin, or a xylophone, white the light up keys can be used to follow along to one of the 100+ pre-recorded songs.
A simple microphone and speaker system allows this toy to double as a my-first-karaoke-machine. Kids will love to hear what their amplified voice sounds like, whether it's over one of the pre-installed tracks or on top of their own composition or jam track.
The Zoo Jamz Piano is recommended for children as young as 18 months. At this stage of the child's development, it is necessary to introduce them to activities that can help develop fine motor controls. The on-board whammy bar and record-scratcher are perfect for this.
What we love: A huge number of pre-recorded songs to play along with
What we don't: The microphone cord is really quite short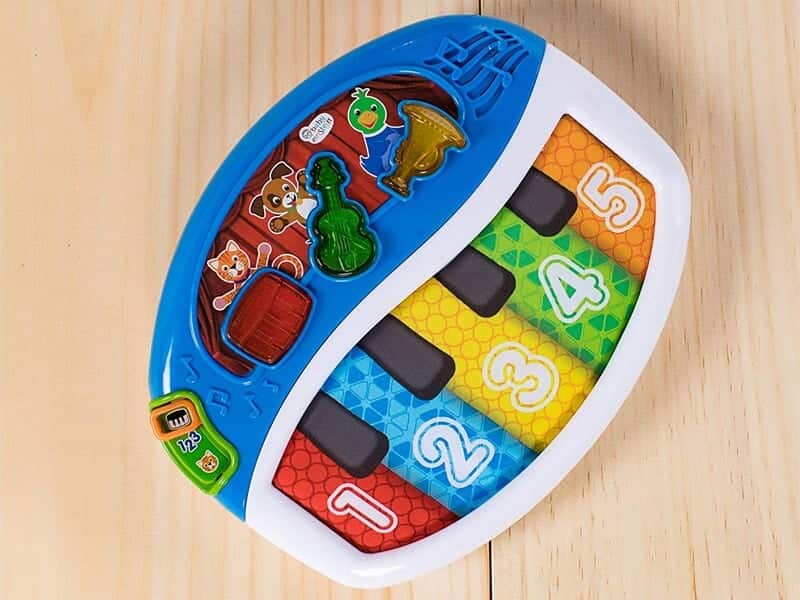 With what is surely the simplest and cutest toy on our list, the Discover & Play Musical Toy by Baby Einstein is quite possibly the perfect toy for the new baby in your life. It features soft, cloth-covered keys (5 of them) that coordinate by both color and letter. Big bright buttons up top give the little one control of which 'voice' the sound is going to use. In this case, the drums, a violin, or a trumpet.
The combination of these elements means that your toddler or baby is going to have easy and portable access to the most basic of educational tools. It is a fun layout, the cloth keys are comfortable and unique, and perhaps best of all: it is not overly complicated.
Our only complaint is that the picture is slightly misleading … the "keys" are not really individual keys at all but rather a printed piece of fabric. The electronics beneath the keys still coordinate with the 5 different key images, but you wouldn't be able to tell just looking at this thing on Amazon.
What we love: Super simple, durable, and easy to figure out for young babies
What we don't: "Keys" are just a printed piece of fabric … they don't "press" like piano keys
Buyer's Guide: How To Choose Pianos And Keyboards For Toddlers
The products listed above represent the best of the best when it comes to piano-based musical toys for children, whether you've got a toddler on your hands or even a baby (Most of these products are rated for children as young as 18 months). However it is not an exhaustive list. There are literally hundreds of toymakers out there, each one with their own version of a miniature piano for kids.
Shopping for a musical toy for your child shouldn't be a hassle. We've put together a brief guide on what exactly you need to look for, as well as assembled a few facts and tips that might be helpful along the way.
Recommended Age Requirement
Contrary to what you might think, it can actually be quite difficult to determine a recommended age rating for musical products such as the ones we looked at here today. That's because there is a great deal of overlap in terms of which toys are best for which age groups.
In addition, Pianos and other instruments, even in toy form, are capable of bringing joy and entertainment long after you have technically outgrown them.
The age requirements and limits that you see on these toys is based almost entirely on how much of a choking hazard each toy poses to the child. For the most part, there aren't a whole lot of moving parts on these pianos, but it can be possible for certain things like keys or buttons to break off unexpectedly.
Number of Keys & Octaves
When it comes to toy pianos, there is a general rule that the lower the recommended age requirement, the less keys that it is going to have. This is because the number of keys becomes less and less relevant the younger the child is.
From about 8 months to 18 months, your child's interest in any toy, much less a more complicated musical instrument, is going to be based on what kind of immediate stimulus that it provides. This is why noisemakers and activity boards have become so popular for babies and toddlers. They provide "direct-feedback" playtime in which one action products an immediate response or reaction.
As your child gets older, they may develop a keen interest in the piano. The more advanced they become, the more advantageous it is to have more keys. This is because the amount of keys will determine how many octaves are available to play in. Seeing as how babies and toddlers will likely not be crafting complex melodies, as few as 8 keys is totally appropriate for younger kids.
Acoustic String Pianos vs. Percussive Tone Pianos vs. Electronic Toy Keyboards
Traditional stand-up acoustic pianos have always utilized tightened strings that are struck with miniature hammers attached to the keys. This is how the piano creates sound, and all those strings are the reason that the piano needs to be tuned often in order to keep sounding good.
While kid-size acoustic pianos do exist, it is likely unnecessary to spend the extra cash for the real thing when simpler pianos exist for a fraction of the cost. Seeing as how you are shopping for a toddler, you probably don't want to spend more money than you should. After all, they are going to continue to grow and change and they are likely to quickly outgrow whatever you give them.
The best pianos and keyboards for toddlers are the ones utilize clever workarounds to traditional piano construction methods to make them lighter, cheaper, safer, and more enjoyable for the younger children.
Acoustic Pianos are the variety discussed above. This is the traditional way to build a piano and by far the most expensive. When you are shopping for a child or toddler, you are safe to go with something cheaper and more child-friendly. You can save the baby grand for a college graduation gift.
Percussive Pianos utilize either bells or xylophone-style plates in place of strings. There is still a hammer action that is directly tied to the keys, in which the hammer strikes the bell or plate and the corresponding sound is produced. One of the benefits to this style of toy piano is that the sounds are naturally pressure sensitive, meaning that the volume of the note should correspond with how hard you are hitting it.
Electronic Keyboards are super popular for toddlers because of how lightweight and inexpensive they have become. Instead of mucking about with hammers, bells, & strings, electronic toy keyboards simply run a wire between a speaker and an assembly of pressure sensors. Press the "key" and a sound is produced. Very simple computer chips often will store pre-loaded songs, tones, and voices that can be used with the different keys.
Educational Material & Learning Guides
There are only a few products in this target age range that include lesson-based material to help you toddler learn to play music. The My First Piano Book by Best Learning, for example, includes brightly displayed, simplified musical notation to go along with some of the most popular children's songs ever.
Some electronic keyboards for toddlers have built in songs and tracks that they can play over, but it is not until you get to the slightly more advanced category of portable electronic keyboards that you start to see built-in lessons with an electronic display component.
Marking Keys: A Great Way to Learn Piano
A great way to help even the youngest students familiarize themselves with the piano is by placing lettered stickers on each key representing the actual note. Even if you child is too young to understand what they all mean, they can start to build a foundation in their heads about the most basic building blocks of musical theory. It also helps them train their ear, which can have a tremendous effect on musical ability later in life.
Some products, like the Melissa & Doug Learn-to-Play Piano, have such notation markers already laid out behind the keys. Other manufacturers make a separate note card with the designations that you can use if you wish.
A simple and affordable way to do it is buy buying a back of colored address labels and simply writing on them with a marker. Then, place a small strip of tape over the ink to prevent it from rubbing off on your fingers and the rest of the piano.
Frequently Asked Questions (FAQ)
Q: How many keys does a toy keyboard for toddlers need to have?
A: The number of keys on a toy keyboard is not very relevant to children under the age of 2 or 3. At this age, children are going to be more interested in the immediate satisfaction of getting music from only a few keys.
While the number of keys on a toy piano do vary from 6 to 33 and above, you generally don't need to spend a whole lot of time worrying about the number of keys until you are sure that the piano is something they want to continue to pursue.
Q: Can I record music on one of these pianos?
A: Some of the toy pianos and keyboard above to include a record and playback feature, but about half of them do not. This feature usually comes in the form of a simple "record" button and a separate "play" button. This is about advanced as it is going to get with the intended age range for these pianos.
If your kid develops a keen interest in recording their jam sessions or original songs, then you might want to consider upgrading to a portable electronic keyboard.
Q: How many keys does a toy keyboard for toddlers need to have?
A: The number of keys on a toy keyboard is not very relevant to children under the age of 2 or 3. At this age, children are going to be more interested in the immediate satisfaction of getting music from only a few keys.
Conclusion: The Best Pianos And Toy Keyboards For Toddlers
The toys and instruments that we looked at here represent only a small portion of what is readily available on the market, whether you are shopping in a big box store or from the comfort and convenience of your own home.
Choosing the best musical instrument for your toddler or another little one in your life is as easy as taking the time to consider the following things about the child you are shopping for:
How Old They Are – the older a child gets, the more capacity they have to understand the increasing complexities of full-length songs and chords. Generally speaking, the older a child is, the more octaves they will be able to take advantage of. This means toys with more keys and a greater number of built-in tones and voices.
How Interested They Are – If you are picking up a present for the 18 month old in your life, then chances are slim that you are going to need to worry about whether or not you are getting them the right toy. Something simple and playful will do, like the Joyin Gigantic Keyboard Mat.
However, if you've got a talented, interested four year old on your hands, then it might be worth it to consider something a little bit more classically designed, like the KORG Tiny Piano.