The science is in, and it turns out that music has a surprising number of benefits for a child's emotional and psychological development. Not only does it provide them with the basic cause & effect learning skills that are required to succeed in school, but it also has been shown to increase overall neural activity in developing brains.
The best ukulele guitars for toddlers and kids have been designed specifically to introduce young children to the world of music and music composition. These are small, brightly colored instruments, many of them with real nylon strings just like the "grown up" instruments use.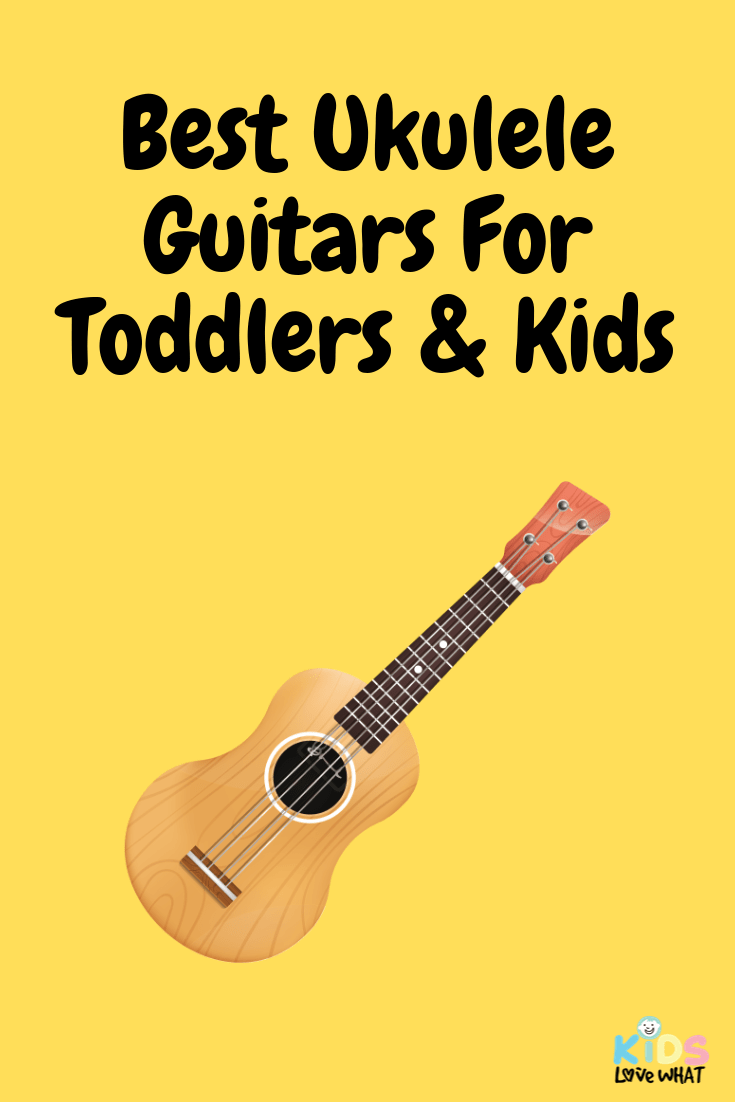 Our team has filed through dozens of the best and newest toy guitars on the market, and we are here to set the record straight. We've narrowed it down to the Top 4 Best Ukulele Guitars for Kids, as well as another of the 3 Top Toy Guitars for Toddlers.
After that, we're diving into the world of toy guitars and ukuleles for a more in-depth look at how to choose one for you & your kid.
Our Favorite Ukulele Guitars For Toddlers & Kids
Click here to view price and get more info on the Hape Kid's Wooden Toy Ukulele!
Introducing children to the world of music has never been easier than it is with the Wooden Toy Ukulele by the toy pros over at Hape. With the bright blue paint job and a full 4 string construction, this toy instrument is a delight just to look at, much less pick up and play. Kids will love the immediate satisfaction of plucking on a string and hearing the bright tones that it is capable of.
The cautious parent will be relieved to hear that the whole thing is made with non-toxic finished and child-safe materials. In an age when it is nearly impossible to track where a toy was made and exactly what is made out of, it is a breath of fresh air to have all that information for you ready to go.
The blue finish is what is pictured above, but the fiery red & yellow paint job is also an option for the same price.
Seeing as how this is a toy ukulele meant for toddlers and kids just getting into music, don't expect too much in the string and/or tuning department. Keeping an exact tune is not exactly this toy's specialty, and the plastic tune keys are not inclined to hold position for very long.
What we love: Bright colors and small size great for small hands
What we don't: Tuners are functional but stubborn and finicky
Click here to view price and get more info on the YEZI Kids Toy Classical Ukulele Guitar!
The professional toymakers at YEZI were shooting for the stars with their new just-for-kids toy ukulele guitar. Made from safe and durable plastic materials with a small body and real nylon strings, the YEZI ukulele might just be the best way to introduce your child to the world of music.
The manufacturers advertise this toy as being able to offer the realistic feel of a professional ukulele with decent strings that are easily tunable. The small body is perfect for kids and toddlers, and the string-attached pick is a simple yet clever way to make learning the guitar even easier for young ones.
Speaking of the small body, this might be one of the smallest toy guitars that we have personally laid eyes on. If fact, the actual size is even smaller than many of the online pictures make it out to be, which could just be a trick of the camera. Either way, it is hardly bigger than the average adult forearm. This is a big benefit to child players because it allows them to be more comfortable with their instrument.
However, older musicians who are just looking for a smaller, more unique instrument to add to their collection would do well to look for something with a bit more prowess in terms of tuning and sound.
What we love: A very small toy guitar that is perfect for toddlers
What we don't: Not easy to tune or keep in tune
Click here to view price and get more info on the YOLOPLUS+ 17 Inch Kids Ukulele Guitar!
Here we have one of the classier looking toy guitars, made by YOLOPLUS+, makers of all sorts of great toys and gadgets designed especially for young children and toddlers. The small size and rounded shape of this little beauty not only lend a sleek n' unique aesthetic but also make it the perfect grip size for young children. This is going to make it more comfortable than ever for your child to start developing their musical aptitude as early as possible.
Like the other toy ukuleles that we have looked at so far, the YOLOPLUS+ 17" model is made from totally non-toxic materials with a non-toxic finish. Between the finish and the plastic itself, it is one of the more easy-to-clean guitars that should buff back to perfection with little more than a damp paper towel.
The inclusion of a shoulder strap is perhaps the most unique thing about this particular model. The strap adds to the total comfort of the instrument, which is going to increase the chances that you kid sticks with it long enough to become the rich & famous rock star that you have been hoping for.
What we love: An included shoulder strap for even more comfortable strumming
What we don't: Not very effective at holding a tune
Click here to view price and get more info on the Hola! Music Soprano Ukulele Bundle!
If you know that your kid or special toddler is going to enjoy the gift of music, then it might be a good idea to splurge on a ukulele that comes with a few more bells and whistles. The HM-21BU Ukulele Bundle from HOLA! is the most comprehensive way to introduce a stringed instrument to a child. A colorful shoulder strap, a collection of plastic guitar picks, and a canvas tote bags are the frosting on the cake for this excellent musical bundle.
Extras aside, the Hola! Soprano Ukulele is the only model on our list that is made of real wood, and Rosewood at that. No doubt this is where the HM-21BU gets its warm Hawaiian-like tones.
The vibrant blue paint job displayed in the picture above is only one of nine total colors that are available, each one as bright and shiny as the last.
Real nickel frets and fret markets at 5, 7, and 10 lend a certain professional quality to this toy Uke. The geared tuners here are more effective than they are with some of the more affordable toy guitars, which is a refreshing change up.
What we love: Real rosewood construction lends a warm, Hawaiian-like tone
What we don't: Slightly more expensive than other plastic toy ukuleles
Best Toy Guitars For Toddlers
Click here to view price and get more info on the VTech Zoo Jamz Guitar!
For the toddler or younger child in your life, a bit more color, style, and playfulness might be necessary to truly engage them with the world of music and composition. The free-wheeling and fun style of the Zoo Jamz toy guitar by VTECH will make it the most popular toy in the toy box for years to come.
Swapping out the strings for large light-up buttons, the VTech Zoo Jamz guitar is easy enough for even the youngest toddler to jam on. The included shoulder strap allows them to play just like a real life rock star, though most kids will have plenty of fun with this if it is just lying flat on the ground.
The Zoo Jamz series of toys includes things like keyboards and microphones, and when you bring them all together it is actually possible to link them together for the ultimate band reunion tour. A full-set of Zoo Jamz instruments is the perfect gift idea for birthday parties or family get together when there is more than one future mega star in the room.
Like a lot of kids' electronic toys, the batteries can go pretty quick. Operating off of 2x AA batteries, this guitar can support a few weeks of occasional use before going dead. Investing in a good set of rechargeable batteries is a good workaround to the problem.
What we love: All the Zoo Jamz toys can play together in the innovative "Animal Band" function
What we don't: It can really suck up the battery power, so be sure to have rechargeable batteries on hand
Click here to view price and get more info on the Baby Einstein Flip & Riff Keytar Musical Guitar!
Part guitar and part keyboard, the Flip & Riff Keytar from BABY EINSTEIN is one of the most unique musical toys for children in this age range. With the ability to transform from a keyboard to a guitar with an easy flip, this toy goes stylishly out of its way to make sure that your kid will be thoroughly engaged from the moment that they first lock eyes with it.
The keyboard includes six different instrument sounds to choose from, but even more impressive is the 30+ built-in melodies that can be played along with. It's wild to think that there are this many voices and features for a toy that sells for just over ten bucks. That's a pretty inexpensive way to encourage the development of your child's creativity and motor skills.
The keys and frets here are not actual buttons, but thanks to the smart touch technology, they don't need to be. Even somewhat light finger presses are registered by the electronics, producing the corresponding sound. This helps cut back on moving parts, which is always a good idea when you are making toys for babies and toddlers.
While the keyboard portion is snappy and responsive, the "strings" on the expanded guitar can be a little hard to play for children who are younger than 18 months.
What we love: 2-in-One Guitar and Keyboard Combo
What we don't: "Strings" on guitar can be kind of hard to strum
Click here to view price and get more info on the WEY&FLY Kids 6 String, 17 Inch Toy Guitar!
Here we have a real 6-string guitar that has been designed and built exclusively for the younger class of musicians who just might be the next Guitar God. The small body and soft synthetic construction make this both safe and comfortable, while a set of six fully tunable nylon strings provides the sweet tones without any risk of scratching.
The toy makers over at WE&FLY have made more than a couple of products that we have reviewed before, so we have to admit that we went into this one with a little bit more excitement than usual. Their toys tend to be simple and affordable, without all the breakable electronic components and moving parts that are the downfall of so many toys these days.
One thing to note about the strings on this toy guitar is that the low E string does not have enough tension available in the tuning knob to hold the traditional base note. This isn't going to bother the inspiring mini-musician, but if you are an adult musician looking for something you can use to teach real chords, you might want to invest in something with better strings, or alternatively, select a different tuning than E A D G B E as the base E will not be available.
What we love: A smooth, well-made guitar with six real nylon strings
What we don't: Base E string is not tight enough to produce the correct note for real chords
Comprehensive Buyers Guide: What To Look For In Ukulele Guitars For Toddlers & Kids
The toys that we have looked at today represent only a small fraction of all the toy instruments that are on the market. In the case that you are looking to make your own decision on which guitar or ukulele is best for your kids, we've put together a handy guide that tells you everything you need to know.
Why Music is an Essential Part of Your Child's Development
The fact that you are already looking for a musical instrument for the kid or toddler in your life means that you are ahead of the game. Parents and family who support and encourage kids to participate in musical programs and practice will often notice significant improvements in the child's motor skills, not to mention an increased ability to concentrate, remember, and reason.
In fact, some studies have shown that any kind of musical training can actually increase the size of certain parts of the brain. So why wouldn't you want to give your own child the best possible start by getting them hooked into the world of music as soon as possible?
Electronic Toy Guitars vs. Nylon Stringed Toy Guitars & Ukuleles
You might notice that the bulk of the toys on our list are what might be called "real" guitars. In other words, they operate using real nylon strings as the primary method of creating sound waves. This is in contrast to the electronic toy guitars which utilize sensors and buttons to activate pre-recorded voices and sounds.
Generally speaking, guitars and ukuleles for toddlers and very small children are not going to use real strings on their product. This is simply because plastic electronic devices have become so inexpensive to make, in addition to the fact that some kids are too young to know the difference between a "real" toy guitar and an electronic one.
Deciding whether to get your own child a stringed toy instrument or an electronic one is all about how much the child is going to be invested in it. If you know that your little one is a budding musician with a desire to learn how to play guitar, then real strings is absolutely the way to go.
On the other hand, if you are getting this toy for a toddler whose birthday is coming up, then something electronic might be more appropriate (and a significant deal more affordable in most cases).
Recommended Age Requirement: Getting the Right Guitar for Your Child
We probably don't need to tell you that parenting isn't always as easy as following the directions. Getting your kid a present that they are going to really love is all about getting something that engages then properly while challenging them only a little.
Too much challenge and the toy is too difficult to enjoy. Not enough challenge and it won't be able to hold the child's attention for very long.
Selecting the appropriate toy guitar for your kid is all about evaluating where they are at in their educational development. While musical toys are widely popular among all different types of children, certain toys are more appropriate for some age groups than others.
Guitar & Ukulele Body Size
You can probably tell from all the pictures, but guitars make for toddlers are much smaller than traditional guitars. In fact, this size is commonly called ¼ scale, simply because it is roughly one quarter the size of a real guitar.
The reduced size of kids' guitars is necessary because their smaller arms and torso make it impossible for them to reach all the parts of a traditionally sized guitar. Having the right size instrument is necessary to achieving comfortable practice, which is the best way to make sure that you are coming back to it day after day.
Construction Materials
In today's day and age, it never hurts to be cautious about what your children's toys are made out of and whether or not those materials pose any kind of health threat. While national regulations are in place to make sure that harmful chemicals are not allowed to reach children through imported toys, there are a number of materials that are still dangerous despite their status as a legal material.
Fortunately, manufacturers have started to respond to the trends around them. More and more of them have begun offering clean, non-toxic materials and paints to their product lines in order to keep their health-conscious customers.
Most of the products on our list are made with certified non-toxic materials, so there is little need to worry about whether or not the toy you are thinking of buying is more dangerous than it is.
Frequently Asked Questions (FAQ)
Q: What's the difference between a guitar and a ukulele?
A: So is a guitar the same thing as a ukulele? Or for that matter, is the ukulele the same thing as the guitar? If you are unsure about the answer to this question, you're not alone, and we've got your back.
Both ukuleles and guitars utilize a hollow wooden body with an extended neck. Strings, usually made of steel or nylon, are strung across the length of the neck and body and then tightened to high tension. Plucking the string at this tension creates soundwaves that reverberate within the body chamber, amplifying and projecting the resulting sound into the surrounding air.
The principal difference between guitars and ukuleles is the number of strings that they employ. A guitar will have six strings traditionally, while a ukulele will have only four. The reduced amount of strings usually means that the ukulele is not suited for more complicated compositions, but recent Uke prodigies have recently been proving this wrong.
While there are also some general differences in size and shape, it really comes down to the number of strings.
Q: Do toy guitars require batteries?
A: This depends on what age level of toy you are looking for. While toy guitars that are intended for elementary aged kids will utilize real strings and acoustic chambers to produce their signature sound, most of the toys that are geared for toddlers and infants are going to stick with the electronic keys, sensors, and buttons in order to product sound.
One of the upsides of having an electric toy ukulele is that you can often get different voices and song tracks pre-installed. This is the kind of feature that keeps your kid engaged for even longer, and let's face it, that's a big reason why we want to give them toys in the first place.
Q: Are the strings replaceable on a toy ukulele for kids?
A: Generally speaking, the strings that you find on toy ukuleles are not replaceable. This is due to the way that they are connected to the tuning keys, which are simplified replicas of their real-life counterparts. For this reason, putting new strings on some of these toys simply isn't possible without replacing large pieces of the instrument itself.
This isn't to say that there aren't some toys with replaceable strings. For example, the YOLOPLUS+ Ukulele Guitar has strings that are fully replaceable, and in many cases you can even get a free pack of strings with purchase. They are not super difficult to install, but chances are that your child is going to need a little help if it comes time to re-string.
Conclusion: The Best Ukulele / Guitar For Toddlers & Kids
We are the last group of people that needs to be told how unique each child is when compared to one another. We know full well that the same toy is not going to be appreciated in the same way by two different children.
Guitars and ukuleles are no exception. Choosing the wrong toy instrument might mean that your kid never really becomes interested. Choosing the right one, on the other hand, just might ensure their success as the next Gaga.
We exaggerate, but only to an extent. For our money, the all-around best pick ukulele for toddlers and kids is the HAPE Kid's Toy Ukulele. While it certainly is not the most advanced instrument on our list, it has a simplistic charm that extends well past its cool blue paint job. It is a well-rounded toy instrument that produces a decent sound and is small enough to be well suited to even toddlers and kids as young as 1.