Introducing your child to the world of music is not only a great way to keep them entertained, but it is also an effective way to encourage healthy mental growth and creativity. Unlike video games and action figures, musical instruments have been shown to actually make your kids smarter. If you can do that while also giving them an awesome gift that they are sure to love, then you're well on your way to becoming the super-parent that you have always wanted to be.
The best pianos and keyboards for kids are the ones that make it easy to sit down for a quick lesson or jam session. For this reason, they are usually smaller, more portable, and easy to use. They feature easily navigable on-board programming for things like recording, playback, and even guided educational lessons that are designed specifically for the young developing mind.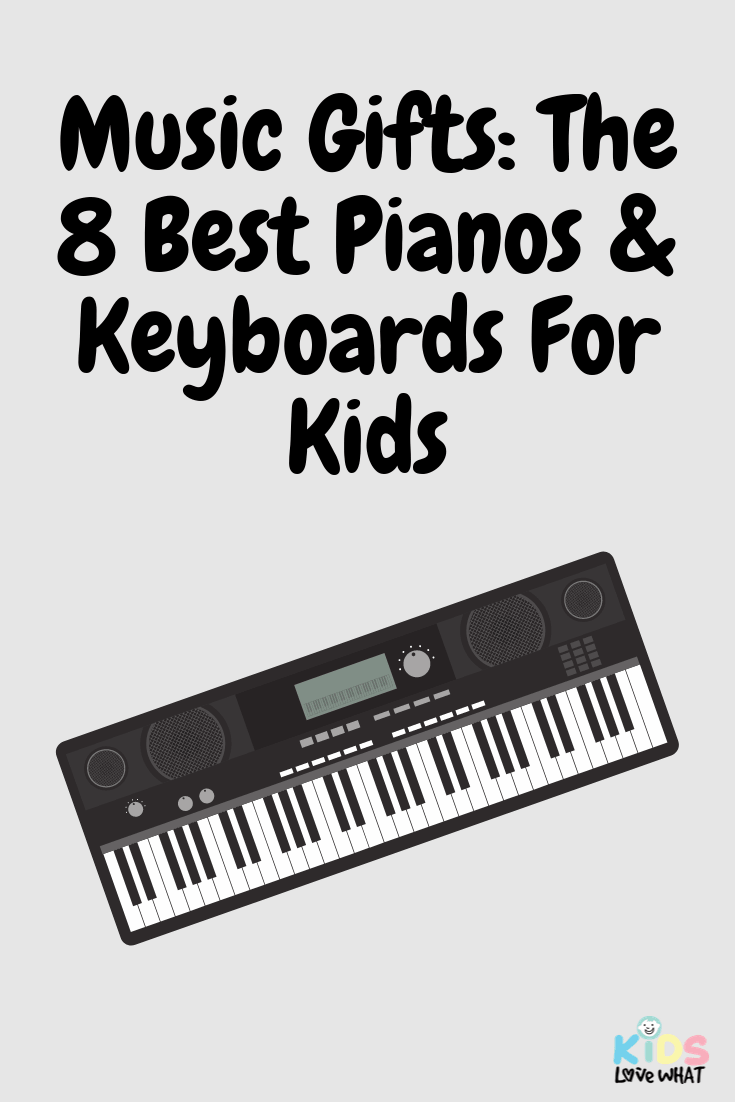 Our team had a look at over 20 of the most popular keyboards and portable pianos on the internet, and we're here to narrow it down to the top 8. Afterwards, we're having a look at the questions you need to ask yourself before deciding which one to buy, so be sure to stick around. If you have younger kids (under 4), make sure to head on over to our top pianos and keyboards for toddlers list!
If you or your kid is even a little bit serious about pursuing the piano, then you really don't have any other option but to spring for the full-sized, 61-key electronic keyboard that can give the full effect of playing a real piano with all the benefits of an electronic system. Not only does the RockJam keyboard piano do just that, but it also manages to provide an impressive list of on-board features, including 100 different keyboard sounds and 50 demo songs that your little one can use to jam out with, learning all about their new electronic keyboard in the process.
Beyond the keyboard itself, the SuperKit includes a stand, a piano chair, and a pair of high quality headphones, allowing your little one to start jamming out immediately after opening the box. We love the brightly lit LCD display screen, which is a significant degree larger than other keyboards in this price range.
Our only complaint is that the volume resets to "high" every time you turn it back on, but this is pretty minor complaint considering how easy it is to adjust the volume once it's on.
What we love:
Built-In learning features & a brightly lit LCD display
What we don't:
The volume resets to "high" after each power down
Anytime you or your child are planning on learning something new like piano, it doesn't hurt to start with one of the most reputable manufacturers in the business. YAMAHA is one of the biggest and most popular maker of musical instruments and accessories in the world, and they have always had a particular knack for pianos and keyboards. The PSR-E263 is their most recent entry into the electronic portable keyboard market, and we were all a bit eager to see how well it would perform against its predecessors.
First off, you're getting 61 keys, which is more than some portable keyboards which have sacrificed space for portability. It's not really enough keys for classical music, but the up and coming rock star will be able to benefit from having this thing on them at all times.
The YAMAHA Education Suite is our favorite part of the PSR-E263. It's loaded with over 100 songs, which is enough to keep any musically inclined kid busy for a long time.
The downside? The required 12V DC power supply is not included. While it would have been nice to have, it is worth noting that any 12V DC power cord should work fine with this model.
What we love:
The YAMAHA Education Suite is well-stocked and easy to use
What we don't:
12V DC power supply is not included in the box
Coming in at under 2 feet long, the CASIO SA76 is a miniature electric keyboard designed for the smaller hands of children. It's only a couple of pounds, too, making it one of the best instruments that you can get for a kid. The 44-key keyboard is significantly smaller than some of the other pianos on our list, but that seems to be the point. Unless your child is wanting to learn a classical sonata, then 44 keys is just fine.
The built in options are somewhat limited on the SA76, but again, that is only in comparison to the more expensive models on our list. The SA76 happens to be one of the most affordable portable keyboards that we were able to find, and that is no doubt the reason for the more limited functions.
Still, it does have over 100 tones to choose from, as well as 50 rhythms and 10 programmed practice songs. That's more than enough for any beginner, and likely enough to keep your kid busy until they decide whether the piano is actually something that they want to pursue.
What we love:
A very affordable & very portable electronic piano
What we don't:
The volume slider can sometimes require a little extra downward pressure to operate
We should preface this by saying that the YAMAHA DGX660B is one of the most premium keyboards that we looked at, and the price tag certainly shows it. This is not the keyboard to give to your ten year old because they mentioned an interest in piano. Rather, this is a high-end model for more serious students who are looking to advance their practice in a big way.
The first thing it offers is a full-sized 88-key keyboard. This is as many keys as a standard piano, so unlike most portable keyboards, it is totally appropriate for classical music and more complicated compositions. The weighted keys are also designed to emulate the sound of a real piano. In other words, the volume of the piano is directly related to how hard the key is hit. This is unlike some of the more affordable electronic keyboards, which make sound at the same volume no matter how hard or soft the keystroke is.
What we love:
Full-sized with 88 weighted keys
What we don't:
Operating system is slightly complicated but not impossible
It certainly isn't every day that you find a full-size 88-key portable piano like this one. Sure, you can find them just about anywhere if you're willing to pay upwards of a thousand bucks for one, but who has the money for that? The Recital keyboard by Alesis has all the full-featured components of more expensive portable pianos with a significantly cheaper price tag.
The keys here are semi-weighted, which means that they will not respond exactly like a real piano, but much closer to reality that some of the other pianos that we looked at that don't have weighted keys.
A few lesson modes come built-in, but not very many. It's enough to get started, but the serious student might have to lean into using an iPad for additional lessons and programming. However, it does come with a three month subscription to Skoove, one of the best ways to learn piano online.
What really surprised us was the almost startling amount of settings that are available in the on-board computer. Multiple settings for volume, tone, and sustain amongst dozens of others (88 in total, one for every key!) make this a surprise contender for the most customizable piano on our list.
We think the built-in speakers could use some work … they're perhaps not as loud as they need to be. However, a good pair of headphones is more than adequate for personal use.
What we love:
Great price for an 88-key semi-weighted keyboard
What we don't:
Built-in speakers could be a bit louder and clearer
We can confidently say that this is the most complete keyboard package that you can get for under two hundred bucks. And this one is way less than that.
Everything your kid needs to start composing, jamming, or singing their heart out is readily available here, including high quality headphones, a vocal microphone, a keyboard stand, and a super-comfortable professional piano bench. The only thing missing is the seedy jazz-bar atmosphere.
The 61 keys on this baby are not as much of a limitation as some might think. With the amount of tones, voices, & octaves that are available (literally at your fingertips) the beginner or intermediate student might not even notice. Students will be able to record and review their work with the on-board studio feature, as well as continue to improve through the integrated learning system that has a focus of developing high-level finger control in all students.
We're not sure to list it as a pro or con, but the HAZMER keyboard is loud. Like, startlingly loud. No doubt there are a good number of people who would appreciate this. The folks who don't are able to turn the volume down to about 30%, which in our opinion is about right for a regular-sized room.
The keys are slightly smaller and closer together than a traditional piano. This makes the HAZMER a great option for a kid, however, anyone accustomed to playing a "real" piano might have some trouble with this one.
What we love:
Impressively affordable full-feature keyboard kit
What we don't:
Keys are slightly smaller and closer together than on a stand up piano
It doesn't matter if you are a child or an adult beginner … learning the piano can be one of the most difficult things that you can do. It takes a lot of concentrated effort to absorb even the basic lessons, which is surely why so many people who try to learn give up within the first month. This is why we are so impressed and delighted by the YAMAHA EZ-220 portable keyboard. It has lights built into the keys that can illuminate in time with a lesson. This added visual learning aid is one of the most effective instructional features that we have ever seen on a digital keyboard.
The lights work best with one of the 100 included built-in songs. Even one pass through the songbook will be enough to have you going from beginner to intermediate without even realizing it. You also get access to the YAMAHA Education Suite, which, if you've been paying attention, you'll know that we are pretty big fans of.
This is another complete piano kit. Unlike some of the other models in this price range, the EZ-220 comes with a power adapter, as well as a keyboard stand and a pair of studio headphones. While the keyboard itself is great, the keyboard stand is a little wobbly for our tastes.
What we love:
Illuminated keys for learning and instruction
What we don't:
Included keyboard stand isn't super stable
The ALESIS Melody portable keyboard is something of a revelation in the industry, as it manages to provide more songs, tones, and rhythms than any other board in this price range. It also has a surprisingly agile and easy to use recording feature, which allows the user to integrate their own keys or vocals into one of the on-board tracks. For the young aspiring songwriter, there is no better entry-level instrument with this much valuable infrastructure.
The whole kit includes and stand and a bench, as well as a music rest that can hold either sheet music or an electronic device like an iPad or a tablet. A pair of headphones is included, but if we're being honest, you probably don't want to count on these things for long-term use. Swapping them out for a better pair is the easiest way to ensure that you're getting the best tones out of your keyboard. One thing that developing musicians are going to want to keep in mind is that the MKII keyboard does not include any ¼" headphone jacks. This means that accessories like microphones and sustain pedals will be in compatible with this keyboard.
However the tones are solid and the speakers are loud. The MKII is one of the few portable pianos that didn't feel the need to shrink its keys, so what you're getting is a properly sized keyboard.
What we love:
Lots of tones, sounds, & pre-loaded songs
What we don't:
Does not have any ¼" headphone jacks
Hook em' young … that's what they say. And that's exactly what you can do with the IWORD Roll-Up Piano. This is one of the coolest and most exciting ways to introduce your child to the world of music and composition. Bright colors and sweet sounds are the heart of this wonderful little toy, and are sure to stoke the imagination of even the most stubborn child. The whole thing wraps up into the size of a large wallet, and even comes with its own mesh carrying case. When you factor in the headphone jack, you can really see why this just might be one of the best road trip toys that is currently on the market.
A special teaching function allows even younger children to enjoy the pleasures of music composition. By allowing each key to represent a whole tone and leaving out the half notes, this mode, when engaged, makes creating beautiful music a breeze even for those without any experience whatsoever.
The limited space and electronic programming means that you cannot activate more than three keys at once. This means that more complicated chords cannot really be played. But let's be honest. This isn't exactly the keyboard that you want to give to a child prodigy. It is simply one of the most fun and colorful music toys out there, and considering the price, one of the best gift ideas for the child in your life.
What we love:
Bright colors and a convenient roll-up storage capability
What we don't:
Not designed for complicated chords or songs; a great toy for a young child
Comprehensive Buyer's Guide: What To Know About Pianos & Keyboards For Kids
If we had the bandwidth, we could spend a lot more time going over the literal hundreds of different keyboards and pianos for kids that are currently on the market. Every parent wants what is best for their child, so it is not an uncommon thing to want to start them in on music early. I mean, at least it doesn't hurt the chances that they are going to grow up to be the next Elton John. So if you are banking on your kid growing up and buying you that beach house with their gold record money, then you might want to take the time to make sure you are starting them off with the piano that is most appropriate for both their skill level and level of interest.
Here are a few of the things that you should consider when shopping for a portable electronic piano:
Size & Number of Keys – A Matter of Octaves
While an acoustic upright piano has 88 keys, it is more common on portable models to have significantly less keys than that. After all, portability is the goal, and less keys means a smaller product that is lighter and can travel easier. In addition, most simple songs and chords can be played on a more limited number of keys, because it is possible to simply transpose certain notes to different octaves.
However, it is important to note that many forms of classical music cannot be properly replicated on a portable keyboard. That is, quite simply, not what these instruments are for. They are for giving your child the opportunity to explore their musical interests in a compact and inexpensive way. If it turns out that they love it, there is always time to get them a full size piano or digital piano down the road.
Generally speaking, most portable pianos are 61 keys, with some models coming in at 44 keys and even less models closer to 37 keys. While the number of keys does have a significant limiting factor on what kinds of songs can be played, they are by no means prohibitive. Even a 12 key piano would be able to provide enough musical tones to compose a great song. The more keys an instrument has, the greater the instrument's range. For example, a keyboard with 25 keys can play in two different octaves, while a keyboard with 61 keys can play in 5 different octaves. This is because each octave includes 7 white and 7 black keys for a total of 12 chromatic tones. So the more keys a keyboard has, the greater the range.
The important thing to keep in mind is that the pianos and keyboards that you are getting for young kids are not designed (nor priced) to be exact emulations of real pianos. They are simply a way to encourage your child's artistic curiosity. And quite frankly, it's hard not to sit down for a bit of composition on one of these, even if you're a grown adult.
Weighted Keys vs. Non-Weighted Keys
One of the most valuable things about having a real acoustic piano is the weighted keys. Because a piano works by utilizing metal strings to strike a physical note, it makes sense that the harder you hit the key, the louder the outgoing note will be. This is the whole concept behind weighted keys. It allows the player to introduce an impressive and moving amount of subtlety and emotion into every note. In addition, many classical music pieces actually notate when certain keys should be struck harder or softer.
Portable keyboards, with a few exceptions, do not usually have this function. Because of the specialty electronic sensors that it requires, weighted keys is something of a premium option. If you do find a model with weighted keys (we listed a few above) you can safely expect to pay a decent amount more for it. If your child is serious about learning the piano, then weighted keys are something that you really want to consider. They will help prepare your child for the physical realities of an acoustic piano and allow them to play more complicated pieces that would otherwise be impossible.
In recent years, some manufacturers have been toying around with semi-weighted keys. You can probably guess what this is, but in the interest of being thorough, it is a kind of halfway point between weighted and non-weighted keys. It's not as precise and subtle as fully weighted, but significantly more so than non-weighted.
Sounds, Voices, & Songs
The biggest benefit of playing an electric keyboard over an acoustic piano is the ability to utilize the instrument's on-board digital computer to alter the sound coming out of the speaker. For instance, flipping through a keyboard's digital voice catalogue may allow it to sound like a classical piano just as easy as a bright and plucky banjo. The ability to use different synthetic tones within the piano's layout was a huge turning point in modern music.
The low-level number of voices that a keyboard should have is between 8 and 12, though it is far more common to see around 100. A smaller number of models number in the 300+ range, which is the ultimate way to customize your sound and ensure that your kid isn't going to get bored anytime soon.
Accessories: Chairs, Piano Stands, & Headphones
A good number of the keyboards featured on our review come with the necessary accessories to have your child get started right away. The most important accessories that you want to make sure are included or are ordered separately will be a power supply and a keyboard stand. Without these two items, it can be very difficult to play comfortably.
There are other accessories that are often included in these kits. While you can use the keyboard without them, having them around can make all the difference between an awesome jam session and a slog of a music lesson.
Headphones (most models utilize a ¼" jack, however some only have a 1/8" jack, so be observant when purchasing)
Music Stand
Microphone
DC Power Supply
Batteries (AAA or AA)
Piano Chair or Bench
Folding Keyboard Stand
Power Supply
Almost every one of the keyboards we looked at can operate either off a DC power cord or a battery array, or sometimes both. The really important thing to note however is that many electronic keyboards do not include a power supply. This means that unless you are prepared to go through a whole lot of batteries, you might want to consider ordering one or at the very lease making sure that you have one around the house. The good news is that these power cords are not overly specialized like they are with other forms of electronics like phones and computers. This means that you can get power from any DC power cord that fits. Chances are you've got one lying around somewhere, and if you don't, they don't cost more than a few bucks brand new.
Educational Programming
Many of the keyboards and pianos for kids that we looked at have some one kind of display screen or another. Some models even have light-up keys for an even more in-depth visual experience. But almost every model has some kind of programmed educational lessons, usually centered around pre-programmed songs and rhythms. These are incredibly helpful for the beginning student who might appreciate a few private lessons on the basics before moving on to a more complicated and time-demanding training regimen.
Some of the more premium keyboards and portable pianos take it one step further by offering limited monthly subscriptions to online teaching services like Skoove. Be sure to shop around for the keyboard that offers the most comprehensive training program, as it could make a world of difference in how easy it will be for your child to pick up the necessary skills to truly thrive with the piano.
Frequently Asked Questions (FAQ)
Q: How Many Keys does a Portable Keyboard Need to Have?
A: The compact and portable nature of the keyboards and pianos on our list means that not all of them are going to have a full 88 keys. While this can be somewhat limiting when it comes to the performance of classical tunes, it is usually not a very big issue, especially for children who are merely learning the relationship between tones and don't require more than an octave or two in order to have a whole lot of fun. You will notice that portable keyboards have anywhere between 30 and 61 keys, with a few select models offering the full 88.
The decision as to what amount of keys is required comes down to the skill level of the child. If your kid is dead set on becoming a pianist and has outgrown the Fischer Price keyboard, then it is perhaps time to get them something with a better range. However, if you're merely looking for a fun gift to help stimulate an interest in music, then you really don't need more than 44 keys.
Q: Can I use accessories like sustain and loop pedals with a portable keyboard?
A: The ability to connect to accessories like pedals and amplifiers comes down to what kind of headphone connection is present in the keyboard. While 1/4" is the standard for electric instrument accessories, many of the more affordable portable keyboards only offer a traditional 1/8" headphone connection. If you are looking for something that can integrate into your child's growing home studio, then be sure to check that it comes with a full-size ¼" headphone jack.
Q: What's the difference between a $100 keyboard and a $300 keyboard?
A: It is certainly true that the products on our review represent a wide array of prices. It is enough to make one wonder what, exactly, is the difference between the low priced keyboards and the more expensive keyboards. After all, they pretty much look the same.
There are a number of elements that can be greatly improved if you are making the jump from a beginner $100 keyboard to a more expensive $300 keyboard (or anywhere in that range). The first thing that will likely improve between these two brackets is the sound quality. Speakers with better sound and crisper performance can make a huge difference in how the music feels. Weighted keys is another feature that you will only find on the more expensive models. You can also expect to find larger computers with more advanced recording capabilities and more numerous voices and pre-loaded songs.