Many of us are around that age when we remember when folding scooters first hit the market. They became an immediate hit with kids worldwide, and over time became respected by adult commuters and professional stunt riders alike. Today, scooters are more popular than ever, and it is easy to see why.
The best scooters for kids are not just a fun way to get from point A to point B; they are also a great form of exercise for children of all ages. In a world filled with screens and video games, giving your kid a gift that gets them outside is more important than ever.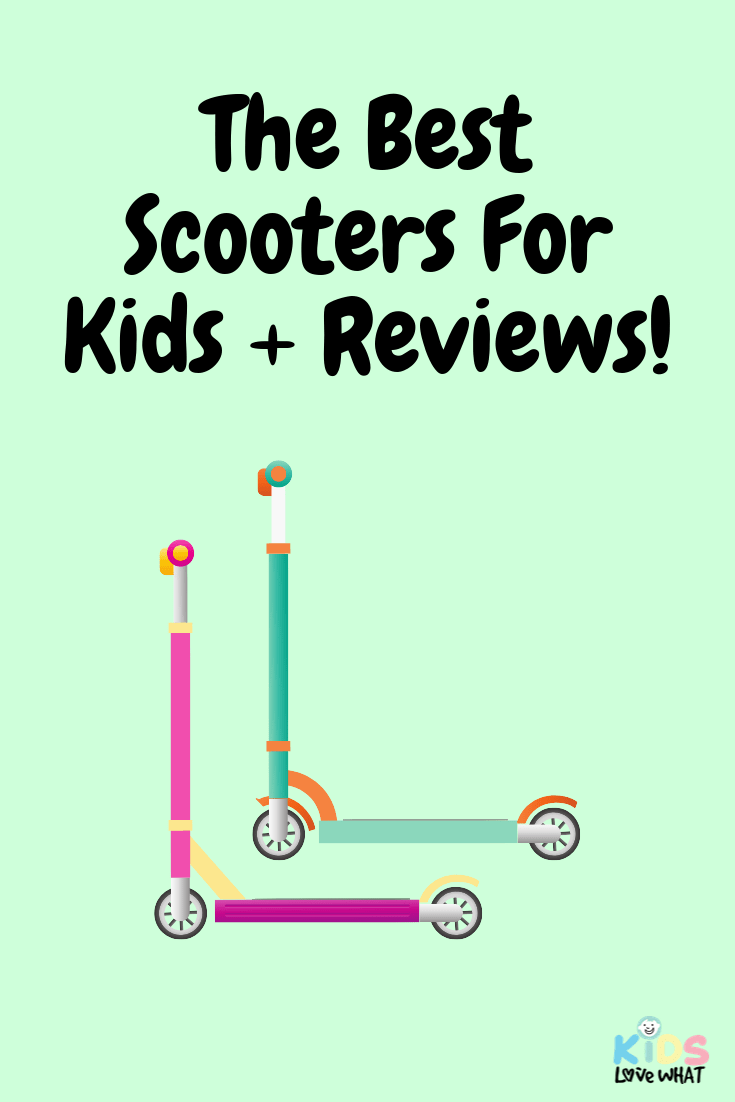 When it comes to folding scooters, there are literally dozens of brands to choose from, and many more models to boot. That's why we've taken the time to narrow it down to the top 7 best scooters for kids. Check out our best scooters for toddlers list as well, if you're looking for more junior type models!
After the review, we're sharing everything we learned along the way in our comprehensive scooter's buyer's guide, so don't go anywhere!
There is no denying that RAZOR is one of the most influential manufacturers when it comes to scooters for kids. Their original A-Kick scooter is back with this slight re-design, offering even more comfort and smoothness than the original A-kick with a couple of small but significant improvements. For one, the rear fender brake is slightly larger than it has been in previous models, leading to a snapper and more responsive braking system.
One of Razor's signature features is the ability to fold the scooter in half for easy transport. This is what truly makes a Razor scooter one of the most convenient and fun forms of travel for children. They can even fold it up and strap it easily to their backpack, ensuring that they have a set of wheels whenever they need them.
The handlebars on the A-kick are adjustable to an extent. While you kid should have no trouble achieving the perfect height, don't expect them to be able to extend all the way up to an adult height.
While the model that is pictured is royal blue, this classic Razor scooter is available in a number of other colors as well, including Red, Pink, Green, Black Label & Sweet Pea.
If we are being honest, we are not huge fans of the collapsible handles. They don't seem to hold together as well as the original metal handles.
Weight Limit: 143 pounds
What we love: An iconic American scooter with good portability
What we don't: The collapsible handles are not as durable and the original Razor handlebars
It cannot be easy to become the top selling product in your category on Amazon, but that is precisely what the new-age scooter manufacturer FUZION has done with their innovative X-3 Pro Scooter. Taking on the likes of Razor with their impressive build quality and lightweight design, Fuzion scooters have managed to establish themselves as one of the most trusted brands in kids' sport scooters.
One of the things about Fuzion that has made them so popular is the ability to upgrade your scooter with new components and style-based accessories, like custom print wheels, handlebars, and decks. Higher quality wheels and ball-bearings can be purchased that will actually improve the performance of the scooter itself. It might be a money-grab on their part, but it is also a creative way to make sure that everyone can start with a less expensive base model scooter and then upgrade over time.
Assembly is a piece of cake out of the box, which is another huge plus for the Fuzion. It only takes the tightening of three bolts and then you are ready to ride. We can think of some other toy scooters that took a heck of a lot longer than that to put together. That is precious time that your kid could better spend scooting around!
The only feature that is missing from this scooter is a place to thread a bike lock. With a scooter like this, you are going to want to make sure that it is fully protected.
Weight Limit: 141 pounds
What we love: Upgradeable parts and components make for a highly customizable ride
What we don't: No way to use a bike lock to secure this scooter
Here we have a foldable scooter that is a bit more suitable for older children and even smaller adults. With a highly adjustable handlebar and an impressive 220 pound weight limit, the Sprite 2-wheeled scooter from MICRO is one of the burliest and most sturdy scooters on our list. In addition to being made of incredibly tough steel, every component in the Micro Sprite is totally modular, meaning that you can get a replacement part for absolutely anything that breaks. This extends the possible lifespan of the scooter to, well, just about forever if you wanted.
Smooth-polished polyurethane wheels provide a much smoother and quieter ride than hard plastic wheels. These might account for some of the extra price that comes with the Micro Sprite, but we can say honestly that it is worth it. There is nothing more annoying than going out for a morning scoot only to have a pair of loud, screaming wheels beneath your feet that can hardly keep still.
It is important to note that this scooter is also a bit bigger than some of its competition. It is actually recommended for ages 13 & up, and we are pretty sure that this is for no reason other than how tall the actual thing is.
Our only qualm is that there seems to be a small bit of "play" in the handle joint. That is to say that the handlebar post as the slightest little wiggle to it, but it isn't enough to be concerned about.
Weight Limit: 220 pounds
What we love: A strong scooter for the slightly older (13+) age group
What we don't: Handle joint could be more secure for our tastes
RAZOR's immensely popular kick scooter is back in a bigger & better size. The A5 Lux is everything that you love about the original Razor scooter, only slightly enlarged. The added heft makes this scooter appropriate for bigger kids and even many adults (the recommended weight limit is 200 pounds). But the most exciting upsize is not the weight limit or the wider deck. Rather, it's the enlarged wheels.
At nearly twice the size of original Razor scooter wheels, the A5 wheels provide a far smoother ride with much less wiggling and shaking. This also makes them significantly quieter than the traditional scooter wheel. Also, the original scooter wheels had a pretty hard time with seams in the sidewalk, where the larger wheels of the A5 roll right over it without issue.
The retractable kickstand is a feature that you will not see on every Razor scooter, only the A5, and even then, only certain outlets sell it with the kickstand pre-equipped.
The biggest problem with polyurethane wheels is that they do not provide very good grip on wet surfaces, so this scooter can be a bit unwieldy in the rain. As long as you are not making any abrupt 180 degree turns, you should be okay.
Weight Limit: 220 pounds
What we love: A big scooter with big wheels built for bigger riders
What we don't: Polyurethane wheels don't grip very well when wet.
While not as well known or reputable as Razor or Fuzion when it comes to scooters, the bike smiths over at MONGOOSE have still managed to carve out a decent chunk of the scooter market for themselves by providing one of the most affordable and easy-to-use folding scooters of all time. At less than forty bucks, this is a deal no matter how it performs, but it turns out that it performs just fine.
While the folding mechanism is not at dialed in as it is with the patented Razor folding system, it is still a tightly-folded unit when broken down and is easy to carry. The quick-adjust system on the handlebars is not as quick as we would like it to be, but it seems to hold in a very secure way which is really important when you are cruising on concrete. It also has three different pre-set heights (24", 30", 33") so it can actually grow with your child and continue to fit them for a few years to come.
The price tag on the Mongoose Trace foldable scooter is certainly one of its most attractive attributes, but don't take that as a warning for its quality. This is a solid scooter with a few important high-performance features. A bit narrow around the foot deck, perhaps.
Weight Limit: 176 pounds
What we love: Best bang-for-your-buck budget level scooter
What we don't: The foot deck is a little narrow
At some point in every scooter enthusiast's life, they are going to have to decide whether they are going to go big or go home. The Rise Stunt Kick Scooter by MONGOOSE is a top of the line trick scooter for the advanced rider, and it has all the aesthetic bells and whistles to go along with it.
The first major upgrade you're getting here is an ultra-lightweight aluminum alloy construction, which makes for one of the lightest rides around. So if your kid is looking to take their game to the next level with spins and jumps, there really is no better option than the Rise.
This is the only scooter on our list that has an effective grip tape covering over the deck. This is not only advantageous for the trick rider but also for the everyday rider who is just looking for a greater level of control over their ride.
The Rise series of scooters features both replaceable and upgradable parts, which is the real definition of a Pro-Series scooter.
It is hard to say why, but the wheels on the Rise series seem a bit louder than scooters from other series and manufacturers. It is a minor annoyance at worst, and something that your kid is likely not going to pay attention to at all.
Weight Limit: 220 pounds
What we love: High performance "pro" level foldable scooter
What we don't: Wheels make a lot of noise on concrete
And now, for something completely different. The AODI Swing Scooter is the only 3 wheeled scooter on our list, and as such is probably the most unique product that we had the opportunity to review. We offer our opinion of it here because of how unique it is in the marketplace, as well as its potential to overtake traditional 2-wheeled scooters as the standard for how kids are getting around.
The concept of the wiggle scooter is unique enough that is probably requires a bit of explaining for those who have never seen one. Essentially, it is possible to propel this scooter forward by simply "wiggling" at the hips. In other words, pushing backwards and out on each wheel in an alternating fashion, thus pushing the user forward. This is in contrast to Razor folding scooters where you have to use a foot on pavement to push you forward.
The other major difference between traditional scooters and the AODI Swing Scooter is the addition of a bike-style brake mechanism. By pressing on the brake lever on the right handlebar, the user is able to apply pressure to the front wheel and slow things down.
The AODI swing scooter requires some effort to get it all set up. The bolts and screws aren't the easiest thing to work with, but once it's put together it rides like a dream.
Weight Limit: 220 pounds
What we love: Unique "wiggle-propelled" design
What we don't: Somewhat complicated setup required
Scooters For Kids: A 2023 Pro Buyer's Guide
Look, the fact that there are only 7 different scooters on our list does not accurately reflect just how vast the world of foldable scooters for kids actually is. As it turns out, there are dozens of manufacturers making hundreds of different models, each with their own set of strengths and weaknesses. Investigating each and every one of them is impossible, so it's important to educate yourself so that you can make the decision for yourself when the time is possible.
We've put together a handy guide on everything that you need to know about folding scooters so that you can make your own decision when it comes time to get your kid a new set of wheels.
At the bottom, we'll be revealing the products that we feel to be the best scooters for kids of 2023.
2 Wheeled Foldable Scooters: What's the Big Deal?
If you are not familiar with the kind of foldable kids' scooter that we are featuring on this review, then chances are you have been living under a rock. Foldable toy scooters like the iconic Razor Scooter hit the market hard in the late 90s and early 2000s. It would not be inappropriate to say that they were all the rage back then, and though their appeal never came close to dying out, they certainly became less prevalent in the years to follow.
Now, foldable scooters (sometimes referred more broadly to as Razor Scooters) are making a comeback in a big way. Millennial kids are looking for the most convenient way to get around, whether it's on campus or at the mall.
Choosing the Right Scooter for Your Kid
Even though there are dozens of variables that go into determining what kind of scooter is going to be best for your kid, we can safely say that it all boils down to three simple questions:
How old is the child?
How tall is the child?
How serious is this kid about scooting?
The age of the child is important in determining certain safety features such as kickstands and third wheels. However, the height of the child is a more important consideration in deciding on what size scooter to get. This is simply because the vertical height of the handlebars is one of the only adjustable mechanisms on a scooter.
Your child's interest in scooting also plays an important role. If you are just looking for an affordable toy that will make them happy, then congrats, you've selected well. But if your kid has been rocking the same scooter for years and is spending more and more time at the skate park, then it might be time to upgrade to something a little more performance-focused.
Recreational Scooters vs. "Pro" Style Scooters
If you've been browsing the web for scooters as much as we have, then you have no doubt noticed that there are essentially two kinds of scooters on the market. The large majority of them are what we call Recreational Scooters. These are your average, everyday two-wheeled folding scooters, the kind that was revolutionized by Razor.
The second type is a bit more rare, and in known as "Pro Style." For reference, a scooter like the Mongoose Rise would be considered pro style. These are scooters that are designed with the skate park enthusiast in mind … adventurous scooter connoisseurs that want to do more with their ride than, well, just ride.
So what kind of features can you expect on a pro style scooter? For one, they tend to be stronger and more resistant to grinding and hard impacts. Smaller scooters have been known to bend or even snap altogether after coming off a big jump or hitting a rail for one of those sick grinds that everyone is talking about.
How Wheel Size Affects Smoothness of Ride
Folding scooters for kids not only come in different heights and lengths, but they also have different wheel sizes. The radius of a wheel not only determines how far off the ground the scooter will ride, but also how sensitive the scooter as a whole is to disruptions in the riding surface, such and cracks or lines in the sidewalk.
Here are a few of the most common sizes of scooter wheel, listed alongside the type of scootering that they are best suited for:
98mm: The smallest class of scooter wheel, found on most entry-level scooters. Great riding in smooth skate park surfaces, but impossible to ride on imperfect surfaces like dirt roads and coarse asphalt.
100mm – 125mm: A slightly enlarged wheel for scooters with a greater weight limit and higher handlebars. Commonly seen on scooter models indented for older kids and teens.
140mm & Up: These "cruiser" type wheels are big enough to handle a lot more surface imperfections in the pavement, so they make for great commuter scooters around town or the city. They retain the best qualities of smaller scooters including folding portability and adjustable handlebars.
Scooter Construction & Parts Guide
The types of scooters for kids that we are reviewing are known for their attractive simplicity. What really makes them impressive, in our opinion, is that they are actually a complex system of expertly designed parts and components. The fact that it looks so simple is just another testament to the quality of their original design.
Here is a quick breakdown of the physical elements that go into your basic scooter, going from the top down:
T-Bar: This is the basic steering mechanism of the scooter. It's a long piece of tubular metal with a T-shaped handlebar on top where your hands go. These bars vary in length based on make and model.
Quick Release Lever: Moving down the length of the T-Bar, you will come to a circular piece of metal with clamping action. Tightening the clamp (either by screw or knob) holds the T-bar in place for use. Loosening the clamp allows the user to adjust the height of the T-Bar to preference.
Extension Tube: This is the main metal tube on the front of the scooter. It is connected to the release lever on top and the steering column & wheel assembly on the bottom. The T-bar slides into or out of the extension tube as you adjust the riding height.
Wheel Assembly: The wheel is connected to the steering column with a simple metal bracket with a ball bearing axle for a smooth roll.
Release Lever / Pivoting Mechanism: Between the wheel and the deck sits the pivoting mechanism. Pulling the release lever on this mechanism allows the user to fold the tube & T-bar down towards the deck for easy transportation.
Foot Deck: This is the flat stretch of metal that forms the main standing area of the scooter. Designed to be slim & ridden primarily with one foot (using the other foot to propel & brake) these are not usually very sturdy. For a stronger and more reliable deck, look for Pro models designed for tricks and grinding.
Brake: The rear wheel is partially covered by a curved in contoured piece of smooth metal. When the foot presses on this piece (the brake), it comes into contact with the wheel, providing an effective & pressure sensitive way to slow down to stop altogether.
On some of the more advanced scooters like pro and sport models, modular construction allows for most of these components to be easily removed, swapped out, and even upgraded if one so chooses. Modular construction is not something that is available on most of the cheaper, entry-level scooters, which means that if something breaks you might not be able to fix it without getting a full replacement.
Frequently Asked Questions (FAQ)
Q: What's the real difference between a $30 scooter and a $100 scooter?
A: It is true that there are some pretty considerable variances in how much one of these scooters can cost. While the entry-level beginners' scooters can be as cheap as $25 to $30 bucks, some of the more advanced Pro series models are significantly more expensive.
So what's the deal? Is there actually a big difference in the quality of the scooters in each of these price brackets?
The answer is that while there are certainly some overpriced scooters on the market, the Pro-Series scooters do indeed have some features that are worth the extra cost. Here is an idea of the kind of upgrades you get when going with the Pro model:
Stronger & wider decks
Taller T-bars with better grips
Handbrakes (on specialty models only)
Bigger & stronger wheels
Customizable parts & designs
Modular construction for easy replacement of specific parts
Q: How Dangerous are Scooters & Razor Scooters?
A: Anytime you put a kid on something with wheels, the dangers are going to go up almost immediately. Scooters are not the most stabile form of transportation in the world, and are prone to getting caught up on rocks, sticks, and even smaller breaks in the pavement.
For this reason, our team wants to take the time to formally remind you that it is always a good idea to wear a helmet when riding on a scooter. According to this study on pediatric head injuries, the overwhelming majority of serious head injuries occurred with children who were not wearing their helmet.
Having said that, scooters are not death traps. With the proper protective gear (wrist & elbow pads are highly recommended) and adequate supervision, the chance of a real injury goes down dramatically.
The Wrap Up: Our Picks For The Best Scooter For Kids In 2023
It's time for us to scoot, so we're going to leave you with a quick summary of the scooters that we feel really stand out among a crowded field of admittedly awesome products.
If your kid is looking to get started in the sweet sport of scooting, then you are going to want an easy, bare-bones beginner model that is small enough for your kid to ride comfortably and smooth enough to ensure that they're going to love riding on it. To these points we have no better recommendation than the Mongoose Trace Foldable Scooter. It's everything a kid needs from their first scooter at a price that isn't going to hurt the pocketbook.
However, if you are rising a bit of a speed demon and it is time for something a little bit more performance-enhanced, then a pro series scooter is absolutely the way to go. The Fuzion X-3 Pro Scooter might cost a few extra bucks, but it is fully customizable and upgradable via their innovative modular construction style.
No matter what scooter you choose, remember to get a helmet to go with it!