Think you'll ever get used to how quickly time flies by when it comes to your kids? At some point, your baby grows up, and suddenly, instead of buying Hot Wheels and tricycles, you find yourself checking out electric dirt bikes for kids.
If your son or daughter's been begging you for an electric dirt bike, your first reaction might have been to say no way. You may have assumed they were too young, the bikes are too fast, or maybe you just can't believe that your little angel is already old enough to ride one. But, don't worry; despite the many assumptions out there, electric dirt bikes don't equal instant danger.
In fact, you'll find all sorts of styles of electric dirt bikes designed for various ages. The typical age range falls anywhere from toddlers through the teenage years. We've rounded up a wide selection of options to fit every budget, from affordable to higher-end models with lots of bells and whistles.
These electric dirt bikes make great birthday gifts or holiday presents for kids with a need for speed. They're excellent gifts for any occasion, really; it's just about finding the right one for that special someone. When you take some time to check out exactly what these different bikes deliver, you'll find that there's one that's just right for the lucky kid you're shopping for.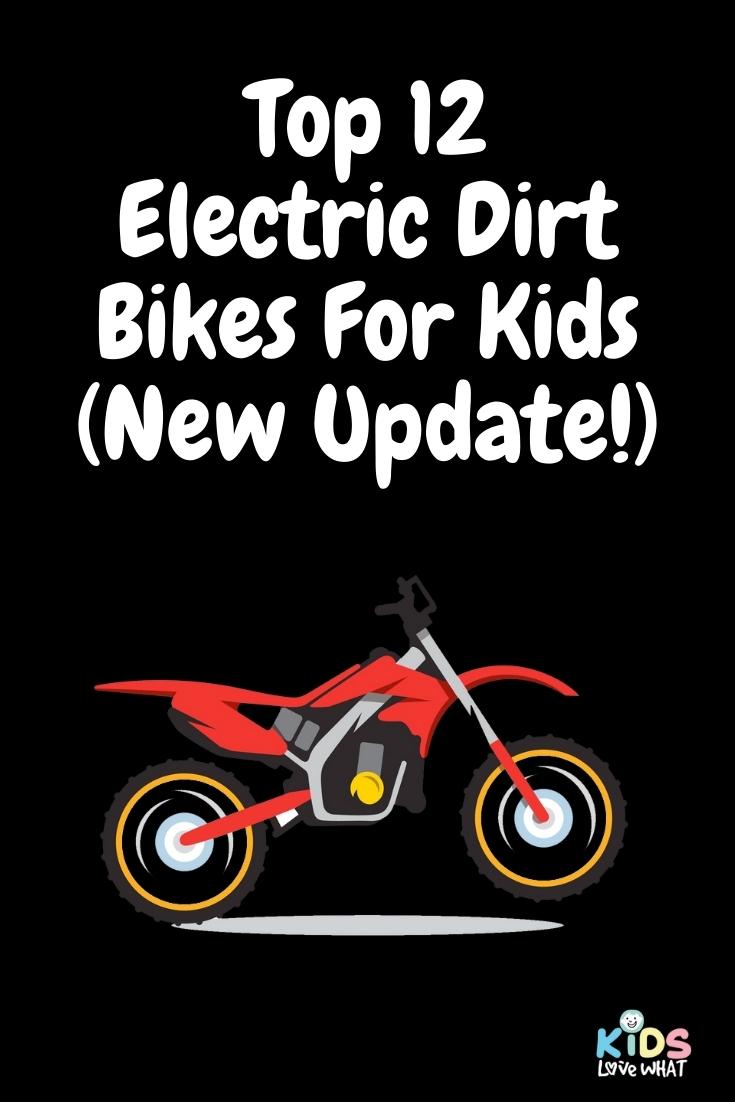 Best Electric Dirt Bikes For Kids
When you're shopping for the perfect electric dirt bike for your kid, it's understandable that you want to go with the best. Safety and performance are top priorities, and you undoubtedly want to go with a reputable brand that you can trust.
You can't go wrong when you choose a Razor electric dirt bike. Razor is a leader in the industry and delivers some of the highest-quality bikes and scooters. Plus, when you get a Razor, you'll have access to excellent customer service if you ever run into any issues. They are hands down the best!
Here are 7 of the best Razor electric dirt bikes for kids:
Best Electric Dirt Bikes For Toddlers And Younger Kids
If your little one is obsessed with motorcycles, they'll absolutely love getting their very own electric dirt bike. But, of course, when you're talking about toddlers and little kids, you need to take some extra precautions.

That's why most, if not all, electric dirt bikes for young children include training wheels. They also go much slower than the bikes designed for older kids, so that young riders can handle them more easily.

Many of them also feature flashing lights and sounds to add excitement to the riding experience. They're a great way to introduce young kids to the dirt bike scene.

Here are 5 of the best electric dirt bikes for toddlers and young kids:

Best Choice Products knows exactly what parents are looking for when buying your child's first motorcycle. We want to inspire our children to seek adventure and excite them with a bike that's just as cool as the original, real life, roaring motorcycles they see on out on the roads. We know our kids idolize these loud, flashy, motorcycles and the heroes that ride them, but we want to keep our little ones safe and protected as they explore the big world around them.
Because Best Choice Products knows that little tykes want in on the fun and understands their need for speed, they created an electric powered ride-on motorcycle especially for small children. The 6V Kids Electric Ride-On Motorcycle is an excellent choice for a first look and introduction to the biking world. Designed to fit their little hands and tiny feet, this bike packs big dreams in one, mini ride-on motorcycle.
Key Features
You and your kids will love the bright colors and cool sticker decals on this bike. Available in popular colors like green, orange and red, it's hard to pick just one. With headlights that really work and light up, built in radio with musical tunes for the ride, and no pedaling even needed, kids will be entertained for hours.
Children will howl in delight as they race across the backyard at a maximum speed of 2 mph. However, the Best Choice 6V not only offers giggles and cheers, but offers children an opportunity to develop their gross and fine motor skills, cognitive development skills, and hand eye coordination.
With safety as its first priority, the Best Choice 6V Ride-On Motorcycle took care to include special features to keep your little ones safe, like rear training wheels for added balance and stability. Made with ABS plastic and weighing only 20 pounds, children can safely control and maneuver this ride-on with ease.
Young kids will also have no trouble operating the Ride-On Motorcycle, as there is no complicated throttle to maneuver. The bike works with a simple, easy to push button next to the handlebars, which enables the bike to move forward. Releasing the button will make the bike stop, so kids can drive it easily on their own with very little assistance from parents.
Designed for children as young as 3 years old, the Best Choice 6V Ride-On Motorcycle includes a 6V 20-Watt motor, a 6V rechargeable battery, and can comfortably carry children up to 44 pounds.
What We Love
The adorable design and bright colors
Working headlights that really light up
Built in radio with musical tunes
AUX jack for even more musical options
No pedaling needed
The price – it's affordable for almost everyone's budget
Comes with the rechargeable batteries and battery charger
What We Don't
Assembly is required and may take some time to get it done right
The tires are plastic not rubber, which makes the bike look more like a toy than a bike
The bike moves only in one direction (forward) with no option to move backwards

Aosom prides itself on being the standard for parents and kids that want to add a little adventure to their lives with outdoor toys that are safe, fun, and durable. They cater to those that love cycling and riding, with recreational kid vehicles that deliver authentic riding experiences filled with thrills and excitement. The electric dirt bike for toddlers is no exception, with multiple features that appeal to kids and parents, all at a price that won't hurt your wallet.
Key Features
The rechargeable electric dirt bike from Aosom promises to keep your kid entertained while loving the outdoors. Plus, while they're living out their motorcycle fantasies, they'll also be developing valuable skills like coordination, confidence-building, and balance. It has a 12V battery-powered rear-wheel drive that delivers up to 45 minutes of continuous ride time before needing a recharge, then charges fully in 8 to 12 hours.
This cool cycle reaches speeds up to five miles per hour, which might seem fast for a toddler bike, but most users say it seems to cap out closer to 4 miles per hour. Riders can choose between low or high speeds with the touch of a button, getting everything revved up and ready by simply hitting the power switch, then pressing the handle. Dual shock absorption helps keep the ride smooth over bumps along the way, but keep in mind that this bike rides best on pavement, asphalt, or brick roads.
The non-slip foot pedals add extra control, and training wheels provide safety, balance, and stability. But they're also removable for when you feel your little tyke is ready for the next step and wants to kick things up a notch. This electric dirt bike is 42″ x 20.25″ x 26.75″ and weighs 22.4 pounds, making it easy for little kids to handle. It's best for three to five year olds, with a maximum weight capacity of 66 pounds.
Working lights add extra visibility and safety features, and a soft, comfortable extended seat keeps the ride pleasant. A strong steel frame and polypropylene wheels deliver solid construction and ensure maximum durability. You can get this sleek cycle in red, blue, or green, and there's an optional two year ride-on protection plan available.
What We Love
Faster speeds than most bikes for this age group, making it a great choice for kids ready for a bit more oomph
Long-lasting ride time of 45 minutes before you need to recharge it
Durable steel construction for stability and strength that adds a sense of safety and security
Working light for extra visibility, so you can enjoy some nighttime rides
Affordable price that makes this bike within range of many budgets without compromising on quality and appearance
Non-slip foot pedals for extra security while driving
Easy to operate controls that little ones can learn to manipulate quickly
Removable training wheels so your young rider can move up when more experienced
What We Don't
Battery charging port is somewhat hidden and can be hard to find. But once you get used to it, it shouldn't be a major issue

If you want your kid to ride in style, then this sleek kid's SX1628 motorcycle from Baigor is just the ticket. It has a higher price tag than most, but it comes loaded with features that will have young kids drooling and raring to go. Plus, it reaches top speeds of about 2 miles per hour, making it just speedy enough to give little kids a thrill without going too fast.
Key Features
The SX1628 comes with everything your budding biker needs to stay safe and look fantastic on the trails. Riders can choose from a low speed or high speed using the gearshift and can reach speeds of approximately two miles per hour using the pedal accelerator. It features a 12V battery and plays several sounds that help simulate revving up and riding like the big kids. It also features an MP3 player and micro SD card if your child wants to play their favorite tunes while they cruise.
The synthetic leather seat provides a comfortable, soft ride, and a shock absorber helps smooth out bumps and thumps. You can adjust the training wheels up or down, and when your young rider is ready, disassemble them completely for some more experienced riders.
Dimensions are 40" x 18" x 21", and the maximum weight capacity is roughly 66 pounds. The manufacturer recommends this electric dirt bike for kids 37 to 95 months, and of course, adult supervision should always be in place.
Another fun feature is LED lights that flash as the wheels spin, adding to the cool factor but also increasing visibility in case you want to do some evening runs. Front and rear lights also help increase the safety features while contributing to the authentic look of this ride-on vehicle.
You can find this stylish motorcycle for kids in an array of vibrant colors, including red, white, blue, or orange. The rear lamp and rearview mirror are made with soft PVC plastic that won't break easily, maintaining a safer riding experience. This is one gift that is sure to make them smile from ear to ear, no matter what the occasion.
What We Love
The cool, sleek design that makes this kid's ride-on look like an authentic motorcycle
Adjustable training wheels that can be removed once the rider is ready to move on to the next level
Lightweight design and 32-pound weight that makes it easy to maneuver and move around without compromising stability
PVC mirrors and lights that won't break easily
Fun features like an MP3 player, sounds, and flashing LED lights on the wheels
A shock absorber for smoothing out bumpy rides
Easy pedal acceleration that makes it a breeze for younger kids to handle and the ability to shift to a lower speed
Comes with a 60-day replacement warranty for parts and battery
What We Don't
Comes with a higher price tag that could push it out of range for some
Doesn't have too many reviews yet, so this one is fairly new to the electric dirt bike scene

Honey Joy is all about delivering items that help fulfill kids' developmental needs while offering sleek design and practicality. With the 12V ride-on motorcycle, they aim to give children an authentic driving experience that can help them live out their dreams of riding on a motorcycle in a safe, comfortable way. It comes loaded with features to make the ride realistic and fun for kids while providing parents the assurance of a safe ride.
Key Features
This bike includes training wheels that add balance and keep kids safe as they ride up to three miles per hour using the 12V charged-up battery. A powerful shock absorber and shock-resistant wheels also help keep the ride smooth, easing over bumps and dips in multiple terrains.
Other safety features include LED headlights and rear lights that increase visibility, which is a must if you plan to keep up the fun after the sun goes down. The strong, iron frame ensures durability and stability, with a soft curved seat that keeps things extra comfortable.
Kids can learn to operate the vehicle quickly thanks to easy to use forward and backward directional buttons and foot pedals. But the features go way beyond practical, with fun additions like built-in stories and music and a USB and MP3 port so your kids can show off their own unique playlists. It also has a start-up key switch and horn for added realism and excitement.
You can snag this beauty in red or black at an affordable and competitive price, making it even more appealing. The battery has a charge time of 8 to 12 hours, so the motorcycle can be ready to go by the next morning. The manufacturer recommends this ride-on for kids that are a maximum of 55 pounds and 3 to 8 years old. It is 43.5" x 23.5" x 28", weighs 27.5 pounds, comes with a charger and an MP3 line, and is available in red or black.
What We Love
You can start riding quickly with an easy to assemble design that's ready in about 20 minutes with just a few parts
Sturdy and durable iron frame that adds stability and strength and long-lasting construction
Sturdy training wheels to keep your toddler safe thanks to ultimate balance and control
Bright LED headlights and rear lights that help provide visibility; a must if riding when it starts to get dark
Built-in bonus features like music, stories, an MP3 and USB port and realistic horn and a start-up key switch
The design and scale of this kid's motorcycle deliver a realistic riding experience
Powerful rear-wheel drive reaches speeds up to two to three miles per hour, which is fast enough for kids to have a thrill without stressing out their parents
What We Don't
The volume on the bike is somewhat low, so it can be hard for some kids to hear the music and stories
The manufacturer suggests it can ride on grass, but some reviews say this is difficult, so don't count on it

Huffy is a name many parents will recognize when it comes to bikes, scooters, and ride-ons. It's a trusted brand that's been around since 1892 and delivers high-quality products that kids love.
This ride-on Vespa is the perfect starter for toddlers new to the electric dirt bike and ride-on motorcycle scene (and if your kid's a fan of the film Luca, they'll be especially excited to get their own Vespa). It has tons of fun features and practical qualities that make it a win-win for children and parents.
Key Features
The 6V Vespa provides a realistic ride and a vintage European design that makes children feel like big kids as they cruise at a manageable 2 miles per hour. It's for paved sidewalks, so no off-roading with this ride-on, but it's a great way to introduce kids to this type of vehicle. Plus, you can easily walk alongside them as they ride, so you can sneak in some exercise at the same time.
It has a durable alloy steel frame that provides long-lasting construction and stability, with a high-powered electric motor that delivers ultimate performance. There's a real, LED working headlight, so everyone stays visible at night, and a contoured, soft seat that helps maintain a comfortable ride.
The 6V battery can deliver a run time of up to 40 minutes before needing a recharge and can fully charge in approximately 12 hours. Charging is easy, with a port conveniently located behind the training wheel on the left side of the scooter.
Kids can effortlessly power on the Vespa with the press of a button on the scooter's dashboard, and they have options to go forward and in reverse. Controlling the scooter is a breeze; kids just press the foot pedal on the floor, and away they go.
The Huffy 6V Vespa's dash makes several fun, realistic sounds, and training wheels make sure everyone stays upright. It's the perfect ride for kids three to five years old, with a maximum weight capacity of 65 pounds.
The scooter is 34.65" x 13.58" x 17.72" and weighs 24.46 pounds. It features a glossy cream paint job with a faux brown leather seat and comes with a charger. It's also available in blue or grey.
What We Love
The trusted Huffy brand that continually delivers high-quality products
The sleek, European design makes this Vespa look like it's straight from the streets of Italy
It's easy to control thanks to a start-up button on the dash and convenient floor pedal
Working LED headlight provides additional visibility for nighttime rides
Fun realistic sound features on the Vespa's dashboard add to a realistic riding experience
The battery provides up to 40 minutes of continuous riding fun before you need to recharge it
Comes with a 90-day warranty on all parts and the battery for added peace of mind
Easy to assemble so kids can start riding in no time
Kids have the ability to go forward and in reverse
What We Don't
Some reviews have mentioned having trouble resolving certain issues with customer service
Things You Should Consider Before Buying A Kids Electric Dirt Bike
Safety
The number one thing parents need to consider is safety. While electric dirt bikes for kids can technically be found in the toy section of shops or online stores, they are in fact a motorized vehicle and should be approached with care and caution. These bikes can be great source of fun and adventure for the whole family, if every safety precaution is taken seriously.

It's a good idea to teach your kid the tricks of the trade by seeking advice for beginners from the motocross experts to ensure a safe riding experience. There are also minimum safety requirements you need to think about when purchasing the bike, such as ensuring it's the appropriate size for your child. This means he/she should be able to reach the handlebars and his/her legs should touch the ground. Properly fitting helmets and knee pads are a must – every time.

Kids should also refrain from riding in the dark and should not wear any type of headphones or earbuds that will take their concentration away from their surroundings. You also need to ensure your kids are well aware of all traffic and road rules and respect these rules at all times.

You can find a ton of great tips for keeping your kids safe while riding, like this great resource from Safekids.org – it's definitely worth checking out to ensure you've taken every precaution necessary.
Electricity Consumption
Parents should be aware that no matter which electric dirt bike you choose, they all require constant recharging. While some models may offer a shorter charge time, the average recharge time is between 8-12 hours per ride. If your kids plan to ride daily or often, all this recharging can have a significant impact on your electricity bill.

However, there are things you can consider doing to conserve electricity. You can create rules and limits for when and how long your kids are allowed to use the bike. You can set up 20-minute intervals for riding or keep it for weekends only. This becomes particularly useful if you have more than child who will ride the bike.

Also take the time to evaluate the pro's and cons of lithium vs. lead acid batteries, because your selection will have a significant impact on the recharge time and the amount of electricity you consume.
How To Choose The Right Electric Dirt Bike
When it comes to selecting the right electric dirt bike for your kids, most people automatically assume selection should be made based on the specific features your kids want, like design, aesthetics, engine power, speed, etc. However, you will find that many electric dirt bikes are in fact quite similar in what features are offered. Therefore, we recommend choosing the right bike based on the following criteria:
By Age
All electric dirt bikes come with a manufacturer's recommendation for the appropriate age a child should be to use the bike. However, many popular bike brands tend to run small in dimension, resulting in an age recommendation and bike size that doesn't align.

Razor bikes, for example, are known to be quite compact in size, leaving an age appropriate kid who happens to be tall for his age riding uncomfortably on a too-small bike. That's why it's best to consider the bike dimensions when buying based on age and read the reviews from users who have purchased the bike to make sure you get an appropriately sized bike.

Maturity is another reason the manufacturers include an age recommendation. Just because your child is 12 years old doesn't mean he/she is mature enough to understand the responsibility and risks that come with electric dirt bikes. As these bikes can reach dangerously high speeds, you need to seriously consider if your child is truly mature and responsible enough to heed traffic rules and identify a road risk when they see them.
By Weight
As is the case with age recommendations, all manufacturers list the maximum weight capacity for the electric dirt bike. While you can choose a bike based on your child's weight, you should understand that his/her weight can have a significant impact on the speed and type of terrain they can ride on.

In many cases, the maximum weight capacity indicates the weight it can handle on smooth terrain, such as street pavement. But if the same bike is used on alternative terrains like rocky hills or dirt roads, the speeds your child can reach may be reduced significantly if he/she is heavier in weight.

If your kid plans to go off-roading, scale heights, or ride through bumpy or muddy terrain, you may want to choose a bike with a more generous weight capacity to ensure he/she can get the high-flying experience they are looking for.
By Budget
Electric dirt bikes, in all their glory and, can get very expensive, very fast. As manufacturers continue to produce bikes with more and more enticing features and options like high torque and powerful chain-driven motors, bikes can quickly become a costly investment. The good news is if you are on a budget, you can find some very good options with reasonably affordable prices. The Razor MX350 Dirt Rocket or SX500 are both cost-effective and offer great options that will appeal immediately to most kids.
By Brand
You can't underestimate the value of a good, well-known brand when it comes to electric dirt bikes. Brands have earned your trust and their reputation over time, trial, and successful experiences with hundreds or thousands of customers, which gives you peace of mind with your purchase. In the electric dirt bike world, the most well-known and go-to brand, without a doubt, is Razor.
Frequently Asked Questions (F.A.Q.)
Are electric dirt bikes safe for kids?
While your first instinct as a parent is to think about the potential threat of danger that comes with dirt bikes, electric dirt bikes can in fact be very safe if you choose the right size bike, the right age to let your kids begin riding, and take all the safety precautions seriously.
What is the appropriate age for kids to start riding electric dirt bikes?
That depends on the growth and maturity of each individual child. While you can find electric dirt bikes/scooters on the market tailored specifically to riders as young as 3 years old, this doesn't necessarily mean your child is ready to start riding a motorized vehicle independently.
Your child needs to be tall enough to comfortably reach the handlebars and touch the ground with his/her feet while seated on the selected bike. Your child also needs to be mature enough to understand and practice safety precautions associated with dirt bike riding.
How long does the battery charge last on an electric dirt bike?
While the battery charge varies from model to model, most battery systems are designed to give you between 30 minutes to 1 hour of continuous riding time, with the exception of bikes powered by a lithium ion battery system which can give much longer ride times, in some cases up to 8 hours. However other factors can make ride times last longer or shorter, such as the terrain you are riding on and the weight of the rider.
How long does it take to recharge the batteries on electric dirt bikes?
Again, this all depends on the model you select and the type of battery system the bike includes. Most electric dirt bikes are powered by a 24V battery system (two 12V sealed lead acid batteries) or a 36V battery system (three 12V lead acid batteries), which will need between 8 – 12 hours to recharge. Electric dirt bikes powered by a lithium ion battery system will give you a significantly shorter charge time, reaching full charge in about 2.5 – 3 hours.
Seal The Deal
Now that you know exactly what to consider in an electric dirt bike, you're ready to seal the deal and buy your kids the joyride of their dreams. Whether you choose an all-around winner like the Razor MX350 Dirt Rocket for your youngsters, a trendy, vintage looking Razor Pocket Mod Scooter for your little girl who's growing up too fast, or a Razor RSF650 Electric Powered Street Bike for your renegade teenager, you will definitely be a hero in their eyes (at least for that day anyways).

However, we absolutely recommend that you take the time to make your own pre-selections first, based on safety, age appropriateness, and your budget. Whittle down your list of options based on the factors that matter most to you as a parent, so that they get to do the fun part and choose a bike based on the adventure they crave. Or better yet, surprise them – you can't go wrong with any of the incredible choices we've highlighted in this buying guide.