Jumping on a trampoline is a memorable experience for any child. It is one of the best sensations as it is the closest one gets to being airborne, without any gadgets or complicated setups. It's no wonder Tom Hanks brought a trampoline into his apartment in the classic movie 'Big'.
The trampoline experience isn't just about bouncing. It actually improves the motor skills of toddlers, enhances their self-confidence, gives their limitless energy a good outlet, and with some models they can actually learn through play.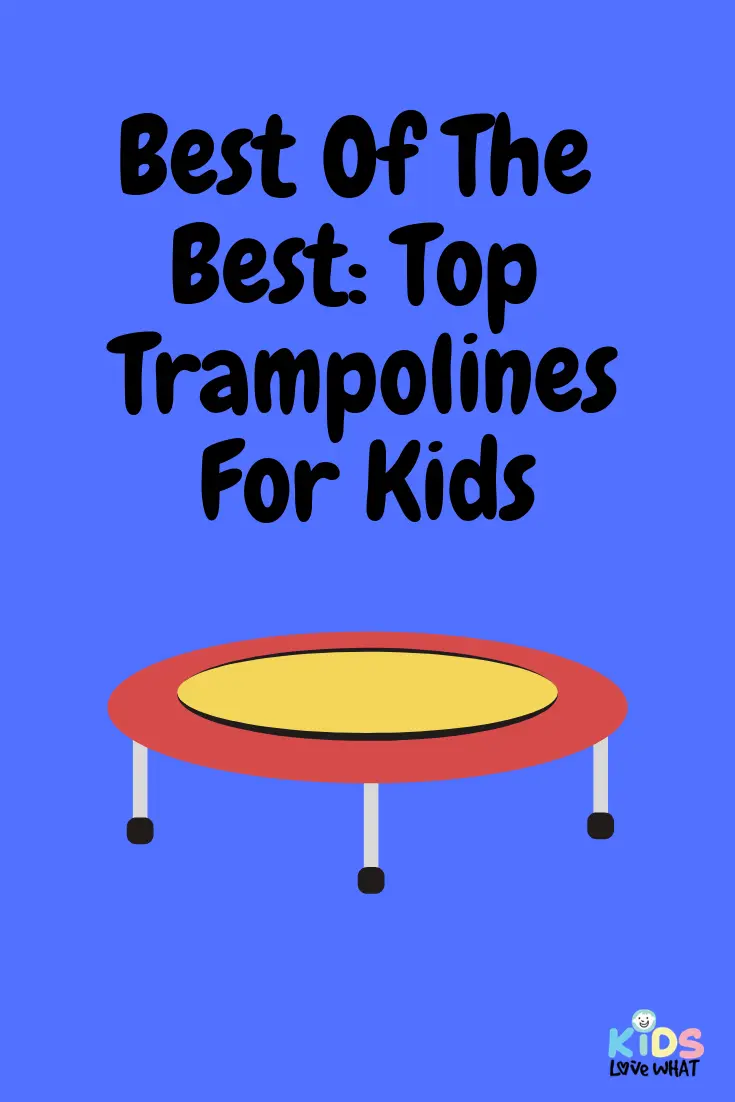 Older children generally look for fun, but the trampolines that come with a basketball hoop soon become their favorite destination! It's a great meeting point for family and friends, with plenty of entertainment and good memories. And it's all in the bright and mellow outdoors!
Buying the right Trampoline is easy, once we know what we need and what's in the market. Now let's narrow down our choices.
The Top 5 Trampolines For Toddlers And Younger Kids
Image source: Little Tikes
Click here to view price and get more info on the Little Tikes 3′ Trampoline!
The Little Tikes 3' Trampoline is a very basic but very efficient model. With little toddlers; safety is the primary concern.
The little ones would love the bounce, but they might need extra support, which they would easily find in the handlebar. They can hold it with both hands, with one hand for a playful show, or go wild and jump with no hands when they become real pros!
This Trampoline has a large jumping surface, so your kid can try a number of jumping movements, and wouldn't have to keep jumping in place, which is usually the case in confined spaces. This lets your child develop his/her coordination, and naturally, have more fun.
It is better suited for the indoors, with just one kid weighing less than 55 lb. It is very suitable for the 3-6 years age group, with its dimensions neatly copying their stature and range of motion. The height of the bar is 34 in from the ground, and about 26 in from the jumping surface.
It's lightweight with only about 14 lb. so it can easily be carried around. And, it also folds, so it's easy to set it up at playtime, and then it can be folded and stored for a less cluttered space, if that is, if the tidy room thing is doable around toddlers!
Things we like
It has a large jumping surface
The handlebar offers stability
It's made from a plastic and metal combination, which makes it sturdy but lightweight
It's portable as it is lightweight
it's also foldable, which makes it very practical
Affordable price
Things we don't
The handlebar sometimes comes off
Image source: Skywalker
Click here to view price and get more info on the Skywalker Mini Trampoline With Enclosure Net!
The Skywalker Trampoline is a versatile model, that can be placed indoors or outdoors. So it can be used all year round.
Kids' safety is clearly the main focus here, and this one is accreditation from the American Society for Testing and Materials (ASTM). This is mainly due to the design of its enclosure, sturdy frame, and minimal tight spaces where a kids hand can be jammed.
It is a jump-and-learn Trampoline, where the kids can choose one of several fun themes. It helps improve the child's motor skills and keeps his/her imagination well engaged.
The 360 handlebar provides something for the kids to grab while bouncing, to give them extra confidence, and let them control the level of difficulty they like, from a fully supported jump to a fully 'no hands' show of mastery!
Things we like
It has a net enclosure that keeps the kids from falling
The frame is sturdy and durable
Minimal gaps between the enclosure net and the jumping surface to protect the children from jamming their fingers in tight spots
Stretch bands are used instead of springs to increase safety
It has a padded handlebar all around for additional stability
They have themes that the kids can play with and learn from
The six-point support system gives it more stability
Suitable for indoor and outdoor spaces
It has a safety certification
3-year warranty for the frame, and 1-year for the other materials
Good price for value
Things we don't
Netting not too durable
Assembly needs seasoned hands and a bit of free time
Image source: Sportspower
Click here to view price and get more info on the Sportspower My First Trampoline!
This is certainly a smartly designed Trampoline.
The Sportspower has a sturdy frame, that is constructed from rust-resistant galvanized steel. Its shape gives the trampolines extra stability and protects the little ones jumping inside. It also allows you a clearer view of your kids.
It has a large jumping surface, and fun looking frame, so it almost invites the little ones to get inside, and start getting active.
The poles are padded for added safety, whether the children are inside the trampoline, or playing beside it.
The netting and the jumping surface are solidly connected, for better safety reducing the tight openings where hands and feet could be jammed.
It can be placed indoors and outdoors. It is easy to move from place to place. So it is a very practical addition to the kids' play area.
It complies with the American Society for Testing and Materials (ASTM) safety requirements. With a child around one has to think twice about safety.
The weight limit is 100 lb, which is accommodating, and considering that children weigh much less, so the trampoline wouldn't suffer much wear and tear.
Things we like
Smart design
sturdy frame for extra support and stability
The padding on the poles adds safety for the children
The netting and mat are made from durable materials
Stable base, as it is not too high from the ground
Padded spring cover to protect the children from being injured, or having their hands jammed in the springs
It meets the ASTM safety requirements
The price is moderate
Things we don't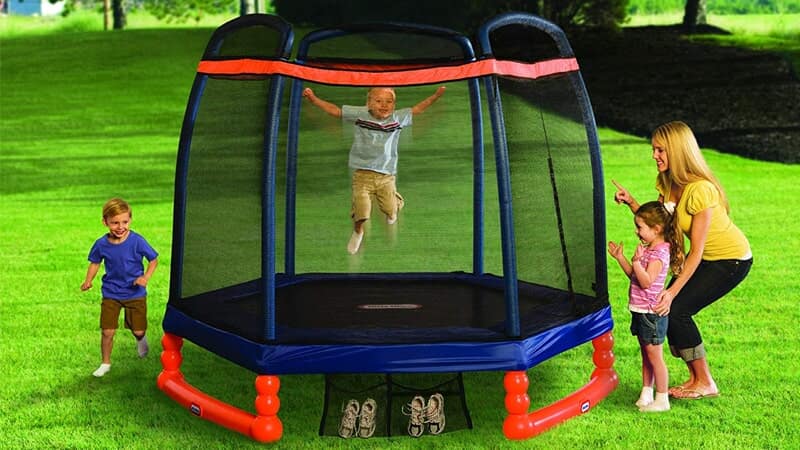 Image source: Little Tikes
Click here to view price and get more info on the Little Tikes 7′ Trampoline!
The Little Tikes 7' Trampoline is ideal for outdoor activity. It has a nice colorful look. The height of the jumping surface and the space between poles allow your children to get inside and out of it very easily.
They probably wouldn't ask for your help to get in and out every five minutes, which is always a big plus!
It's designed to carry 105 lb, which exceeds the expected loading, so the jumping surface and springs do not suffer much wear and tear.
It is made from very good quality materials. The poles are made from steel. And they are strategically placed to provide easy access, and high visibility of the little ones bouncing happily inside!
Things we like
It's a roomy trampoline with plenty of jumping space
The enclosure is made from PE netting and sturdy steel poles
Easy to assemble
Can stand wear and tear, as it is designed for a 105 lb load
Easy access
Things we don't
The netting is sometimes too tight, and a bit hard to zip up
Doesn't have a handrail
The price is not too affordable
Limited to outdoor locations
Image source: Pure Fun
Click here to view price and get more info on the Pure Fun Preschool Kids Trampoline With Handrail!
The Pure Fun Preschool Jumper Kids Trampoline has a very different design that makes it stand out from the pack, but in a nice fun way!
For starters, it's rectangular! But as you move past the initial surprise to what it actually has to offer, you will find that it is efficient, reliable, and very entertaining.
The jumping surface is colorful and it has letters and shapes in large print. Preschoolers mostly wouldn't just bounce on it, but they would also find it useful, and it will probably help them learn a thing or two while they play.
The colors and shapes also make it look very cheery and energetic even without the lessons.
It complies with the safety requirements of several societies. It's ASTM, TUV/GS and CE certified. So we would worry less about safety issues, and how suitable it is for our children.
As a part of the safety features; the spring system is covered by mesh and padding. And the handrail is also covered by a soft cushioned material.
The handrail is inclined to make it easier for a toddler to grab hold of it, regardless of the jumping situation. It is comfortable and easy to grip with their little hands.
The frame is durable and sturdy, and quite capable of carrying a load of 75 lb. It is most suitable for 3-7-year-olds.
The trampoline comes in a nice size, it is wide enough for good bouncing and compact enough to fit anywhere and to be moved fairly easily. It is 36 L x 36 W x 35 H inches including handrail. Which is an overall good size.
It is easy to assemble, and all the necessary tools are provided. Shouldn't take too long to get it set up and ready for the bouncing.
Things we like
Safety certifications
New rectangular design
Brightly colored shapers and letters
Easy to assemble
Inclined handrail for extra stability
Sturdy frame
Optimal dimensions
Large jumping surface
Spring system covered with padding for safety
Affordable price
The Top 5 Trampolines For Kids 5 Years And Up
Image source: Skywalker
Click here to view price and get more info on the Skywalker 15′ Trampoline With Enclosure Net!
Trampolines are already super fun, but you throw a basketball hoop into the mix, and it instantly becomes the hottest spot in the house!
This trampoline is sturdy and stable, to take on the expected moving and shaking that goes with a basketball game plus plenty of wobbly bouncing! It can easily support two kids plus their parent.
Also, The basketball hoop can be mounted either on the outside or the inside. It's very versatile that way.
Parents can worry less knowing that the Skywalker Trampolines 15′ Round Trampoline Jump N' Dunk! Has a patented no-gap enclosure system. They also meet or exceed the safety requirements of the ASTM standards.
The enclosure net connects smoothly with the jumping surface, this system is patented, and it's used here to minimize gaps and increase the safety of the trampoline.
The frame is made from galvanized steel, which makes it sturdy and durable. It is also padded for protection. The basketball hoop is designed to look solid but to feel soft. This, of course, is to keep the kids from bumping into any hard surfaces while playing. Overall, we think this is one of the best trampolines for kids 5 years old and up!
Things we like
No gaps between the enclosure and the jumping surface for safety
Spacious jumping and playing area
The basketball hoop and balls are made from soft foam for safety
Foam padded poles
Enclose net made from a durable material
It has double zips and a clip for increased safety
Good warranty plan
Meets or exceeds ASTM standards
Moderate price
Things we don't
Assembly time. It takes some time to put together
Needs more than one person to assemble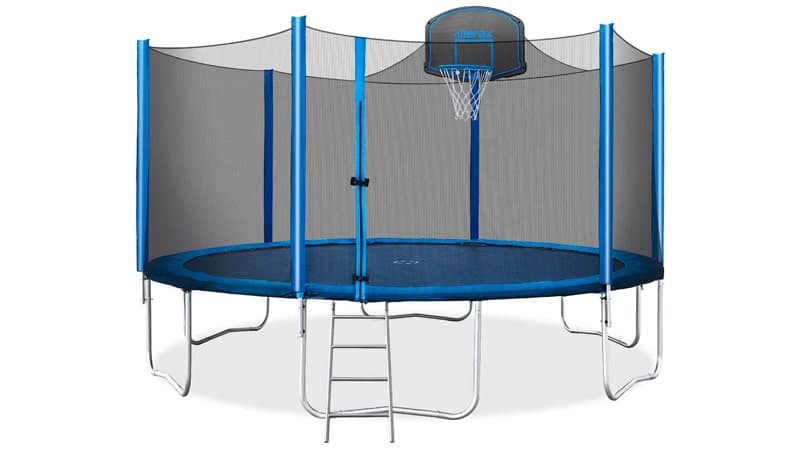 Image source: Merax
Click here to view price and get more info on the Merax 15′ Trampoline With Safety Enclosure Net!
If you have enough space in your backyard, then this Trampoline would be a great addition. It is not just an occasional plaything, actually, it usually becomes the center of attention at home and the main hub of entertainment and action.
That's usually the case when you have a trampoline and a basketball hoop in the same place!
It is a very large 15' jump area, it can take a 375 lb load, distributed over 108 springs. Long story short, it is accommodating, sturdy, and so ready for action. The support system has five padded poles plus an extra thick pole for good measure. The legs are W-shaped for added stability, which is highly welcome considering the amount of shaking and moving on the mat!
The enclosure is 6' high, so the balls wouldn't keep on flying out, and someone needs to be sent out to get it, or they would have probably called you!
Almost everything is padded, to avoid accidental and unnecessary bumps.
The materials used in making the trampoline are designed with the understanding that it is going to stay outdoors, and so it needs to withstand harsh weather, rain, humidity, etc. Almost all the parts are made from galvanized steel, so they are rust resistant, and they are expected to remain in good shape despite the wear and tear.
Things we like
Spacious jumping surface made from high-quality materials
The enclosure is 6' high
The frame is made from galvanized steel, which makes it sturdy and durable
The legs are W-shaped for added stability
The enclosure has five padded poles plus an extra thick pole, this gives solid support for the trampoline
The 4-step ladder is made from galvanized steel, it's slim but heavy duty
Easy entry into and exit from the trampoline via the ladder
It has 108 springs attaching the frame and jumping mat together for a good bounce
The springs and gaps are all covered by padding, so you don't need to worry about jammed hands
The height of the net enclosure keeps the ball inside, so the game isn't interrupted every five minutes
The materials are rust proof so the trampoline can take the tough weather, rain, humidity, and live to see another game season
Fair price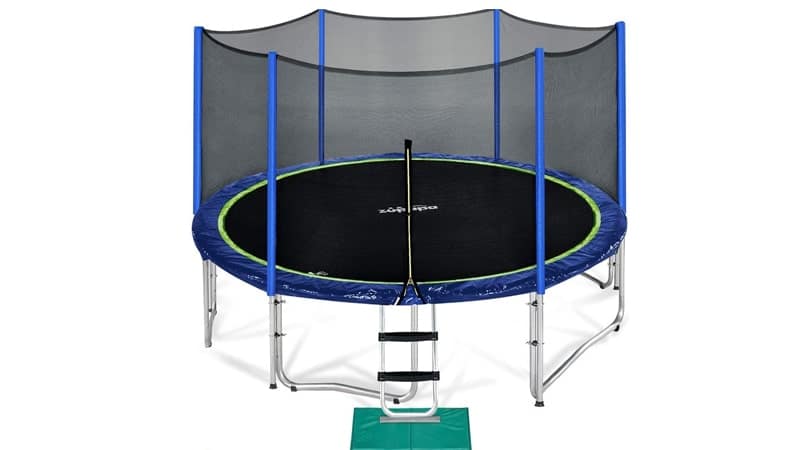 Image source: Zupapa
Click here to view price and get more info on the Zupapa Trampoline For Kids!
The Zupapa Trampoline is all about durability. This simply means dependable performance, and many added years to the lifetime of the trampoline. The warranty policy is another proof of how much the manufacturers trust their product: it's a 10-year warranty for the frame, A 2-year warranty for Jumping Mat, Net, and Springs. And on top of all that, they offer a free of charge replacement for any defective part.
The trampoline is TUV certified, and considering how hard it is to attain that certification, we can tell it is really that good. The materials and manufacturing processes used to attain this high standard are an integral part of the design. It also weighs more compared to other products. And heavier here is better as it means more steel is used, which makes the trampoline more sturdy and durable.
It applies the no-gap design, which connects the enclosure net tightly to the jumping mat, for extra safety.
The Zupapa Trampoline comes in three varieties: 15, 14, and 12 Ft. So pick the one better suits you, according to the space you have in your backyard and the size of your family
Things we like
Sturdy and durable, designed to live long
Has TUV certification, which is an indicator of a good product
Has the basic safety measures
Has a high enclosure system and net
Looks good
Things we don't
Image source: Giantex
Click here to view price and get more info on the Giantex Kids Trampoline With Safety Enclosure Net!
The Giantex Trampoline is as large as the name implies. It focuses on safety and durability while maintaining a good price.
The structure is sturdy and the design is efficient. There's nothing fancy here, just good old fun. However, with the safety taken care of, we can let our children have as fun as they can, and spend their energy bouncing in it as they please.
The jumping mat is made from good quality, sturdy material, and it is well stitched in place. You will mostly feel secure while jumping on that trampoline. Details like this mark the difference between one model and the next.
It comes in different sizes, going from the compact 8' trampoline, to the very spacious 16' model. You can choose the trampoline that fits nicely in your backyard and accommodates your family.
Things we like
Large jumping mat
Can take a load of 375 lb
The jumping mat is made from a heavy duty material
It's properly stitched in with the frame for an exceptional bouncing experience
The frame is made from galvanized steel, which increases the lifetime of the trampoline
Four u-shaped legs for stability and good support
A good connection between the enclosure net, steel poles, and mat to minimize any gaps for better safety
The enclosure net has a reliable double-sided zipper and an extra clip for good measure
It comes in different sizes from 8' to 16'
It's moderately priced
Things we don't
Takes some time to assemble, but not too difficult
Image source: Jumpsport
Click here to view price and get more info on the JumpSport 10'x17′ Trampoline For Kids!
The JumpSport is not round, it is rectangular!
This is a very different model in more aspects than the obvious shape thing. While the focus of most other trampolines is either about safety or durability, this one explored some of the untapped needs of children. So it's not just the bounce.
This Trampoline has about 15 patents, offering newer ways to increase its safety and overall performance.
Things we like
The rectangular shape
Caters to the needs of beginners to experts
Provides a large 'sweet spot' landing area (10'x17')
They use patented technology for safer smoother bouncing
It has longer wider springs than the round trampolines
Its confident warranty policy. It comes with a 10-year warranty
Suitable for the training needs of young athletes, cheerleaders, etc
Complies with the ASTM safety standards
The frame is made from cold rolled steel, which gives it exceptional strength and durability
Innovative enclosure net, which folds on itself instead of using zippers
It has neutral spaces for the kids to wait their turn without having to step out
It can carry a nominal weight of 225 lb, but actually, it was tested with 800 lb
Things we don't
The ladder is sold separately
Things To Consider When Buying A Trampoline For Kids
Indoors or outdoors
The Trampolines designed for indoor usage are usually made from materials not expected to experience rain, humidity, or harsh sun. and the opposite is also true. This reflects directly in the price of the Trampoline. So if you only need a home unit, then look for that specifically. You do not need the pricier options.
Some Trampolines are very large, and they are not expected to fit inside a room! You need to make sure that you have a suitable space to set it up in. These models are usually heavy, so it might be a good idea to pick the right place from the start.
Age and size of the child
The very young ones need safety first and foremost. Handrails, net enclosures, a trampoline not too high over the ground, and no gaps where the net and the jumping mat meet. They also need padding everywhere. Injuries from Trampolines are not infrequent, and such measures make this possibility much less. Again, safety first.
The basic models are usually good for toddlers, but they need close monitoring from a parent. You can relax just a bit around the ones with a net enclosure.
Some Trampolines are themed, they play nursery rhymes, or they have bright patterns of letters and numbers. All these models offer children an opportunity to learn through play along with the usual fun.
Older children, 5-years old and up, will need a bigger jumping surface, more height from the ground, increased capacity for the expected weight. And a little more entertainment wouldn't hurt!
Many Trampolines for this age range are equipped with basketball hoops, or focus on the training needs of young athletes. They are usually bigger, heavier models, that need to be placed outdoors.
Number of children
Trampolines designed for toddlers usually clarify that only one child can play at a time. This is also a safety consideration. So even if the Trampoline is big enough, or if it can carry plenty more weight than the one child, still it is not advisable to let more than one kid inside.
The bigger models are designed to have more than one child inside. Actually, they are well prepared to host a match inside the Trampoline, with one parent in as well. These Trampolines come in various sizes; usually from 8-16 ft.
So when you buy your new Trampoline, bear in mind the expected number of users, who could be your kids, their friends, your relatives, some of the neighbors, and at least one adult!
Frequently Asked Questions
Can I assemble the trampoline by myself?
Trampolines are usually delivered in several boxes, depending on their size, and they have all the essential tools and parts to be fully set up. The instructions are often clear, but not all the time.
So yes, you can assemble it by yourself. But to save time and effort, you might want to invite an extra pair of hands. Much better if they were experienced in that kind of thing!
Why are some trampolines pricier than others?
Some manufacturers focus on innovation, they pay a lot in research and getting patents for their work. This translates to better-performing trampolines, and these come at a higher price.
Some add plenty of safety features.
Others work hard to get certified by trusted industry and safety organizations
And some use very good quality materials, which gives durable products, also at a higher price
What are the differences between higher and lower trampolines?
The ones used for toddlers are usually as close to the ground as possible, to be accessible to the child, and also to avoid rough falls that could happen with more height.
For older children, the main thing is to accommodate the energetic bouncing, so the jumping mat needs a lot of free space below, or it might hit the ground. That would be so not fun. That's why the models for older children usually come with a ladder.
To Wrap This Up
If you have a toddler, and you would like a lightweight, portable, basic Trampoline then the Pure Fun Preschool Jumper Kids Trampoline with Handrail . It's original, efficient, simple, and its learn through play feature is noteworthy. Kids will have a lot of fun bouncing on it, it is cheerful, and the design of the handrail will give them enough confidence to let their energies all out!
Another interesting model is the Skywalker Trampolines Mini Trampoline with Enclosure Net . It focuses heavily on safety, which is a big plus when toddlers are concerned. The nicest feature is the 360 handrail, which for a child that young means fun without falling. It lets your child jump and develop his/her motor skills, without worrying too much about being wobbly. The enclosure and padding let you watch the show without worrying too much.
For children 5-years and up, the Merax 15 FT Trampoline with Safety Enclosure Net, Basketball Hoop and Ladder is just great. Mixing the joys of jumping, with the thrills of dunking a basketball into a hoop is a priceless experience, that kids hardly get enough of! The lovely part is that parents also share the fun, and as the Trampoline is designed to carry sizable weights, it's not overdoing anything to be inside with your kids aiming at the hoop.
The Merax is very moderately priced, considering the multitude of good things it offers. It has a very good safety system in place, and it's made from very sturdy materials.
For a durable high-end model, the Zupapa 15 14 12 FT TUV Approved Trampoline with Enclosure net and Poles Safety Pad Ladder Jumping Mat Rain Cover, Blue is a very good and high-value Trampoline. The quality of the material and safety measures are the top priority for this Trampoline. It is very spacious, sturdy, and the design is truly smart. We expect this model to be hassle-free, and to have a very long life despite any tough conditions it faces, especially if it in the backyard experiencing the forces of nature!
And here's a very interesting pick, that is especially useful if your child is a budding athlete. The JumpSport 10'x17′ StagedBounce is a wonderful choice. Young cheerleaders, gymnasts, or athletes who need bounce drills to enhance their performance. This Trampoline is very innovative; first of all, it's rectangular!
But that's not all that the Jumpsport is. The manufacturers have more than 15 patents that aim for increased safety, better overall performance, and catering to the needs of a special kind of child; the athlete.