Had enough of those beeping video games and flashing phone screens? Looking for a more wholesome way to keep your little one stimulated and entertained? It turns out that kids toys don't have to be full of bells and whistles in order to be a lot of fun.
The best wooden toys for kids offer hours of entertainment without the negative side effects of too much screen time or violent video games. In many cases, they also display impressive craftsmanship that can't usually be found in today's toys. Beyond that, they are also non-toxic and sustainable.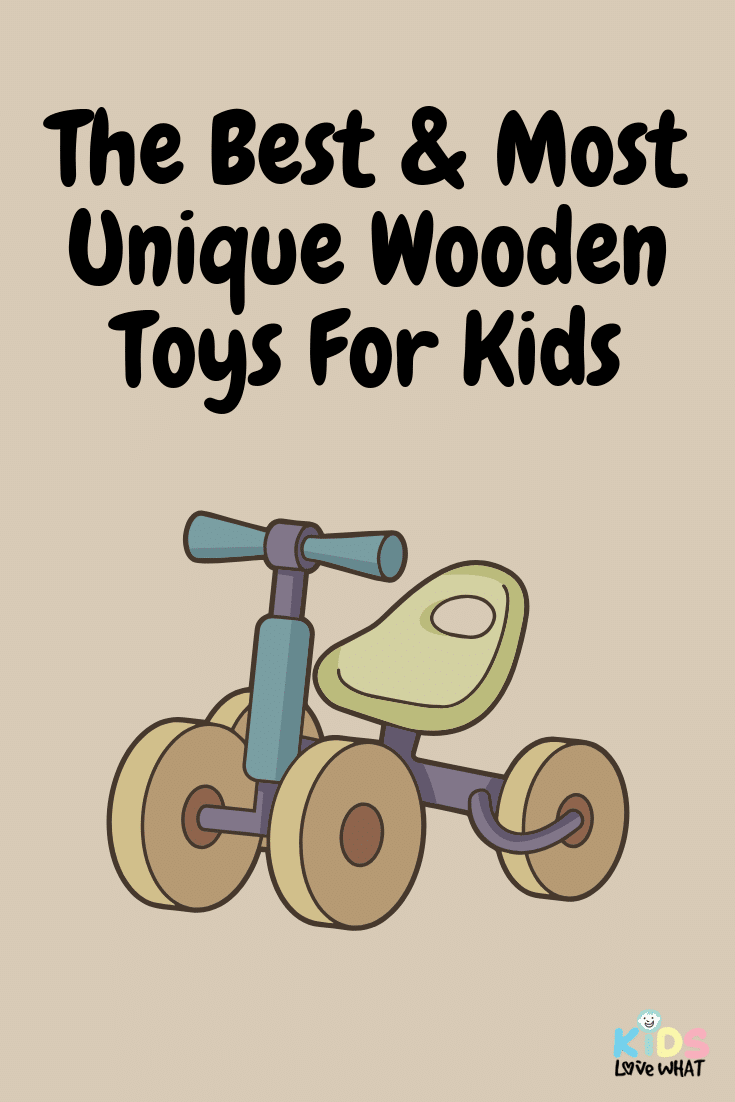 And the real kicker? They don't break nearly as often as plastic toys do.
We're taking a look at some of the best wooden toys for your infant or toddler, and if that isn't enough, we're going to follow it up with an in-depth buyer's guide so you know exactly what to look for when shopping around.
Why Is It Better To Buy Toys Made Of Wood?
If we haven't already convinced you and you are still wondering what exactly is so cool about wooden toys, then give us another chance to make our case.
Wooden toys have been around for probably as long as us humans have, and they're still around today. In fact, they seem to be more popular than ever, even in a world where digital screens and flashing lights seem to be just about everywhere.
So, what are the benefits of wooden toys?
Sturdy & Durable
The age of plastic has led to toys that are cheap and easily breakable. As any parent knows it is not uncommon for plastic toys to not last more than a few days before they make their way to the landfill. Yet it is still quite easy to find the wooden toys of yesteryear. That's because those toys are still around. If you want something that can last through multiple children as a hand-me-down, then wooden toys are certainly the way to go.
Safe & Simple
For the most part, wooden toys do not have a lot of moving parts or small components that can be dangerous for young kids. In addition, they are not made from cheap plastics and paints, which have been shown to be bad for children's health.
In fact, in a study performed my IPEN (PDF), nearly half the toys tested were found to have trace amounts of toxic flame retardant chemicals present. That doesn't sound too appetizing now does it?
Skills Development
Because many of the most popular toys are not suited for young children, wooden toys provide a great alternative that are not only safe but encourage the development of key skills, such as motor functions, hand-eye coordination, shape and color association, and just plain old everyday creativity. Introducing these elements into a child's play routine early is a great way to see that they have a head start on what will hopefully be a lifetime of learning and laughing.
Imagination-Fueling
The problem with handing your child a digital toy, such as a game screen, is that is doesn't give the child any opportunity to exercise their own imagination. Everything is provided to them through color and shape and sound, so they don't have to engage certain parts of their brain where imagination lives. Wooden toys are usually quite simple in nature. For instance, there are no rules for playing with wooden blocks. You just play with them.
Children are truly able to exercise the creative portions of their brain. They can become creative thinkers, and that will put them ahead of the game when it comes time to tackle the many challenges of elementary school, middle school, and beyond.
Buyer's Guide: What To Look For In A Wooden Toy For Kids
The 18 wooden toys that we looked at here represent only a small fraction of what you might be able to find online and in toy stores. Wooden toys are making a big comeback as parents are increasingly looking for ways to shift their child's attention away from the screen and back onto something a little more productive.
Shopping for a wooden toy shouldn't be difficult, but as any parent will tell you, every decision about your child's growth and development can be difficult if you over think it.
Fortunately, there are a few easy ways to choose what kind of toy to get for your child. While their personal tastes can certainly be taken into account, you can also choose toys based on what they teach, what skills they help develop, and what age group they are designed for.
We've put together a brief guide to help you along the way. After that, we're going to attempt to crown a victor and find the best wooden toy of 2023.
Recommended Age Group
You aren't going to find a toy that doesn't have the recommended age group listed on the front of the package, and for good reason. Some toys can have small or hazardous parts that are a bigger threat to infants than they are to toddlers, and even toddlers can find ways to make their own toys dangerous. While checking the recommended age on the toy package or product listing is an essential step in the process, you can also take a step back to consider what these age groups mean and whether or not you need to follow them to a T. After all, children grow and develop at different rates, and what's good for one four year old might not be
safe for another four year old
.
0 to 12 Months Old
Anyone who has ever had a kid will tell you that they're not going to be doing a whole lot of playing during the first few months. Things like vision and motor skills are so underdeveloped at this point that the baby isn't going to be able to do much but observe their surroundings. Brightly colored objects are best because they will be the most visible. The best kind of wooden toys for this age group would be:
Large, brightly colored blocks
Wooden rattles
Activity boards
1 to 2 Years Old
Now that you baby's basic senses have been somewhat developed, they are ready to start observing things a bit more closely. Colors and shapes are no longer the only thing to perceive: the relationship between cause and effect becomes a major part of brain development at this stage. So toys that do a little more are often more engaging. Activity boards and activity centers are very popular with this age group, because the rule-free nature of movement and action that come with them. Essentially, 2 year olds need toys that have no wrong way to play with them.
Here's what we recommend:
Colored building blocks
Activity centers
Large wooden figurines
Wooden play trains
Sturdy music instruments like drums or shakers
Shape puzzles
Large wooden trucks or cars
2 to 3 Years Old
This is the age when kids really start to emerge as unique individuals, each with their own idea of how to play and what they want to play with. They become more and more intentional with their toys and games, and start to differentiate from toys they do like versus toys that they do not like. This is also when kids start to imitate the people around them like their parents and siblings, so toys that facilitate playing make believe as a grown up are usually quite popular. Push toys and ride on toys can be introduced at this age, as the child now has the leg strength to move around somewhat freely.
There are a ton of wooden toys for kids of this age group. They include:
Play work benches
Play kitchens
Wooden trains & trucks
Wooden alphabet puzzles
Make-believe wooden food items
Anything that makes noise
4 to 5 Years Old
Now the brain is really cooking. Educational toys that are also interactive should be introduced to prepare the child for the years of schooling and mental development to come. Larger and more complicated construction sets like Lincoln Logs provide a good challenge and creative outlet for kids at this age. In addition, they are also starting for the first time to imagine themselves as someone else, such as a knight or astronaut. Toys that feed these kinds of fantasies are usually quite popular.
Wooden swords
Lincoln Logs
Construction Sets
Wooden board games
More complex wooden puzzles
Playhouses & Pretend Castles
5 Years Old & Up
The wooden toys we featured on this guide are, for the large part, intended for children who are about 5 years of age and younger. While there is nothing wrong with kids who are older than this playing with wooden toys, it is possible that they might not still be interested in such simple playthings. At this age, the child's individuality is really starting to appear, so things like science kits, sports equipment, and video games become a lot more popular.
However, as we mentioned earlier, wooden toys are making a huge comeback, and there are more and more products on the market intended for older children, teens, and even adults.
The Verdict: What's The Best Wooden Toy Of 2023?
Because all children are different and there is a pretty wide suggested age range for the products on this guide, it is perhaps impossible to crown one wooden toy as the best among them all. However we did see a few standout selections that are worth mentioning one more time.
The FAO Schwarz Medieval Knights & Princesses Wooden Castle Building Blocks are one of the best update to wooden building blocks that we have seen perhaps ever. This is a great item for the growing mind and could probably be appropriate for ages 3 to 6. Also, I kind of want to get a set for myself, and that is probably saying something.
For the young toddler, however, a simpler toy is going to be necessary. In that case, we have to recommend the Manhattan Toy Tree Top Adventure Center. There is a lot of color, movement, and fun things to do, all without removable pieces or any hazardous features.
Bonus Guide: How To Care For & Clean Your Wooden Toys
Wooden toys can last more than a lifetime if they are properly taken care of and if they don't get lost. Because they're natural and durable, they can stand up to gentle cleaning and stay looking great for years and years to come.
Here are a few tips on how to keep those wooden toys clean:
Use natural detergents whenever possible. White vinegar and apple cider vinegar work well for this purpose, as do non-toxic cleaners that you can get from the store. No matter what you choose, dilute it with water. You don't need anything too strong, because wooden toys are less susceptible to harboring bacteria than plastic toys are.
Don't soak wooden toys for any period of time. It's better to dip a sponge or towel in your cleaning dilution and then wipe lightly. Wood is quite porous and it can absorb a lot of water, which can lead to warping.
Wooden toys can be air-dried quite easily and this is probably the best way. Drying wooden toys in the sun can be fast and effective, but take care not to leave them out there too long, as discoloration and cracking can occur a lot faster than you might think.
If your wooden toy is not covered in paint, then it might be appropriate to apply some kind of natural wood moisturizer. Things like beeswax, olive oil, or linseed oil can provide good protection and a beautiful finish when applied in the correct amounts.