Moose crafts — who knew? Unless you live in specific parts of the U.S. or Canada, chances are moose are not animals you get to see in the wild. They are the largest members of Family Cervidae, which includes deer, caribou, and elk. Moose are easily distinguished from their cousins by their flat-shaped antlers.
Perhaps your family is planning a trip up to Maine, Canada, or even Alaska. If so, you'll definitely want to get the kids ready for the local fauna by making some of the moose crafts listed below.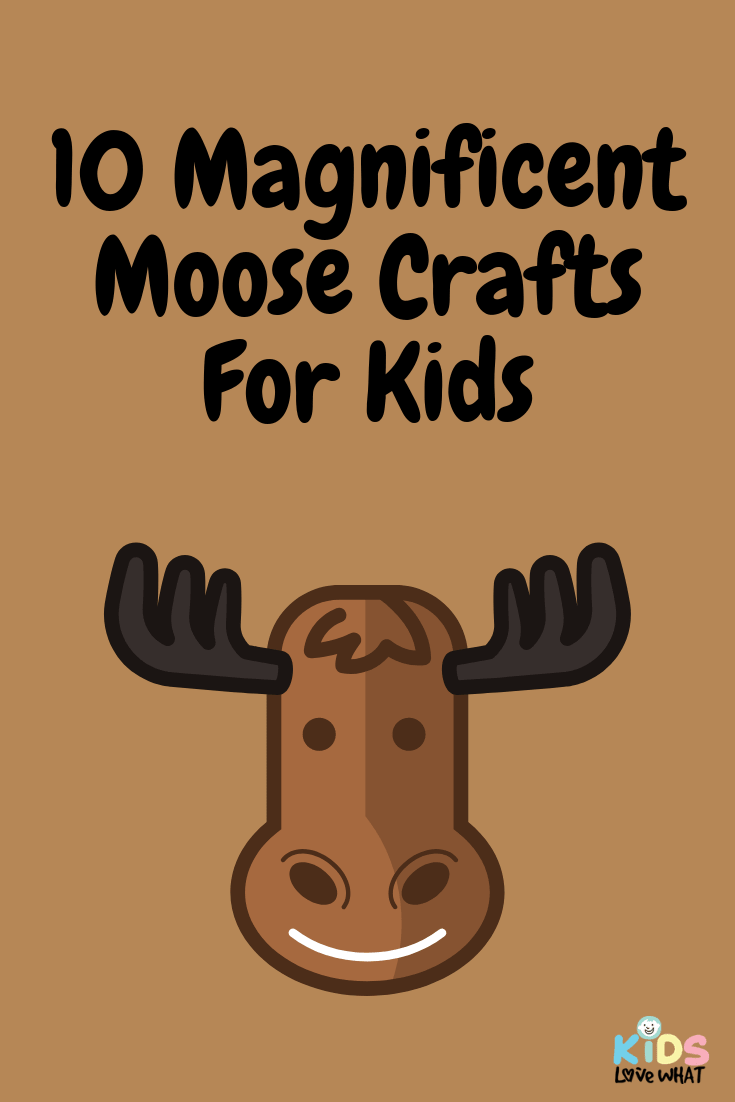 No travel planned in the near future? Head to the library to check out any number of kids' books about moose, such as "Thidwick the Big-Hearted Moose" by Dr. Seuss, "Moosetache," by Margie Palatini, or the ubiquitous and beloved "If You Give A Moose A Muffin," by Laura Numeroff. Before and after your family or class enjoy these books, check the list below for some accompanying crafts they can make.
Making crafts of animals that kids don't get to see in real life is the perfect introduction to lessons on habitats, conservation, and different animal families. And if you do happen to live in an area populated by wild moose, then these 10 crafts are perfect for celebrating the world right there in your own backyard!
1. If You Give Your Kid A Moose Puppet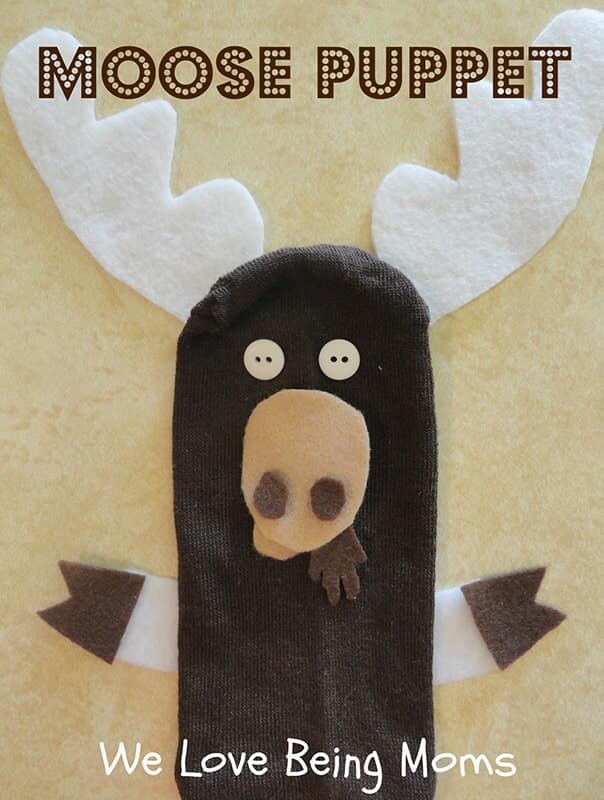 Image source: We Love Being Moms
The beloved Laura Numeroff series of books, "If You Give A ___ A ___," has been entertaining children for over a decade. If those persistent little critters like to hang around your house asking for cookies and muffins, you'll need to click on over to We Love Being Moms for their sock puppet moose craft. They have some tips and advice for you that will make this project a little bit easier to pull off. When it's ready, encourage your child act out "If You Give A Moose A Muffin!"
2. Quick And Easy Moose Craft
Image source: Look! We're Learning
Whether your class is currently learning about animals that live in different regions of the United States, or your family is planning a vacation up to the Great White North (Canada), here's a moose craft that's both fun and simple. By starting with a plain coffee filter, Look! We're Learning shows you how to draw a moose face and antlers (even if you have zero art skills). This craft is a super affordable and easy way to keep kids entertained while they learn about an animal that might otherwise seem completely alien to them.
3. Moose-Tache Craft
Image source: Mama Miss
You simply "moose-tache" your children if they know about the hilarious and darling book by Margie Palatini, "Moosetache." And if they say no, get to the library immediately and check it out! Once you've all fallen in love with Moose and his adventures on a bad hair day, head to Mama Miss for this clever activity. It comes with a free printable template to get you going, and once you do, everyone will find themselves having a blast making these!
4. DIY Moose Craft
Image source: Learn Create Love
Over at Learn Create Love you can download a free printable template for this moose craft that will inspire tons of creativity in your children or students. The moose is easy to paint or color with markers or crayons, and straightforward enough for preschoolers to assemble. While you're at the blog, be sure to read over some of the moose facts they have up so that you can begin a conversation with your children or students on Moose 101.
5. Somebody Get This Moose A Muffin!
Image source: Glued To My Crafts
While you and your children are making your way through Laura Numeroff's books (see #1, above), be sure to stock up on tan cupcake liners for this craft to make alongside "If You Give A Moose A Muffin!" Glued To My Crafts shows you everything you need for making this friendly moose that's certain to bring smiles to any fans of the book, young or old(er). Hang it up by your child's bed to bring a special something to bedtime reading!
6. Moose Begins With The Letter M
Image source: A Little Pinch Of Perfect
A Little Pinch Of Perfect has a free printable template for preschool classes, kindergarten teachers, or parents who just want to help reinforce their child's mastery of the alphabet. The template needs to be assembled into a capital letter M, encouraging children's muscle memory in making letters. If the children are already practicing using scissors, the straight lines are easy to cut. When they're done, add the moose face in the middle for a sweetly silly little moose craft!
7. Personalized Moose Craft
Image source: A Day In The Life Of This Art Teacher
By starting off with a few basic shapes and colors, kids can easily make this unique moose craft all their own. Click on over to A Day In The Life Of This Art Teacher to get inspired, and then encourage your children or students to let their imaginations soar! It's a special and fun moose craft that's unlike any other, and looks absolutely fantastic hanging on a fridge or on classroom walls. Make these with your students before Back To School Night and see if parents can find their own child's moose based on the handprints!
8. Thidwick The Big-Hearted Moose Craft
Image source: Glued To My Crafts
Scroll down a bit on Glued To My Crafts to find this darling moose craft keepsake. By using your child's footprint and two handprints, you can easily recreate Dr. Seuss's famous Thidwick, the Big-Hearted Moose from the classic story of the same name. This is a great craft to bookmark for early March, when everyone celebrates Dr. Seuss's birthday and you absolutely can't bring yourself to make yet one more red- and white-striped hat. Show some love to Dr. Seuss's OTHER stories, and make a unique craft that you can keep forever.
9. A Moose For Christmas
Image source: I Heart Crafty Things
Why let reindeer have all the fun at Christmastime, when their moose cousins are just as fun to craft and play with? I Heart Crafty Things shows moose some Christmas love with this colorful and hilarious holiday moose craft. There is, of course, a free printable template for tracing all the parts you'll need to cut out (a welcome respite during otherwise hectic holiday days!). Kids may need help assembling the pieces correctly, but they'll definitely love gluing colorful pom-poms Christmas lights onto the moose's antlers. Hey wait, who put Christmas lights on the family moose???
10. This Moose Is Brought To You By The Letter M
Image source: Glued To My Crafts
Here's one final "If You Give A Moose A Muffin"-inspired craft (see #1 and #5, above). Glued To My Crafts has this adorable and simple craft stick project that kids can make quite easily. Although you are tracing and cutting out your own moose shapes (or the kids are doing it, depending on their skill levels), perfection is absolutely not what's required here: just fun and imagination! Kids can make this before bed so that the glue can dry overnight, and in the morning they have a cool new moose craft to show off.