Does your child love dinosaurs? Cartoons like "Dinosaur Train" and movies like "Jurassic Park" are popular with kids in a wide age range. If you're looking for dinosaur crafts for kids to keep your little ones entertained, we've found over twenty that they are sure to love.
Our list includes some messy painting fun, printable templates to make all types of dinos, and lots of activities to inspire imaginative play time. Create a Brachiosaurus, Triceratops, Tyrannosaurus rex, or one of several other species. Many of these dinosaur crafts are open-ended and leave room for your child to change them up no matter what their favorite is.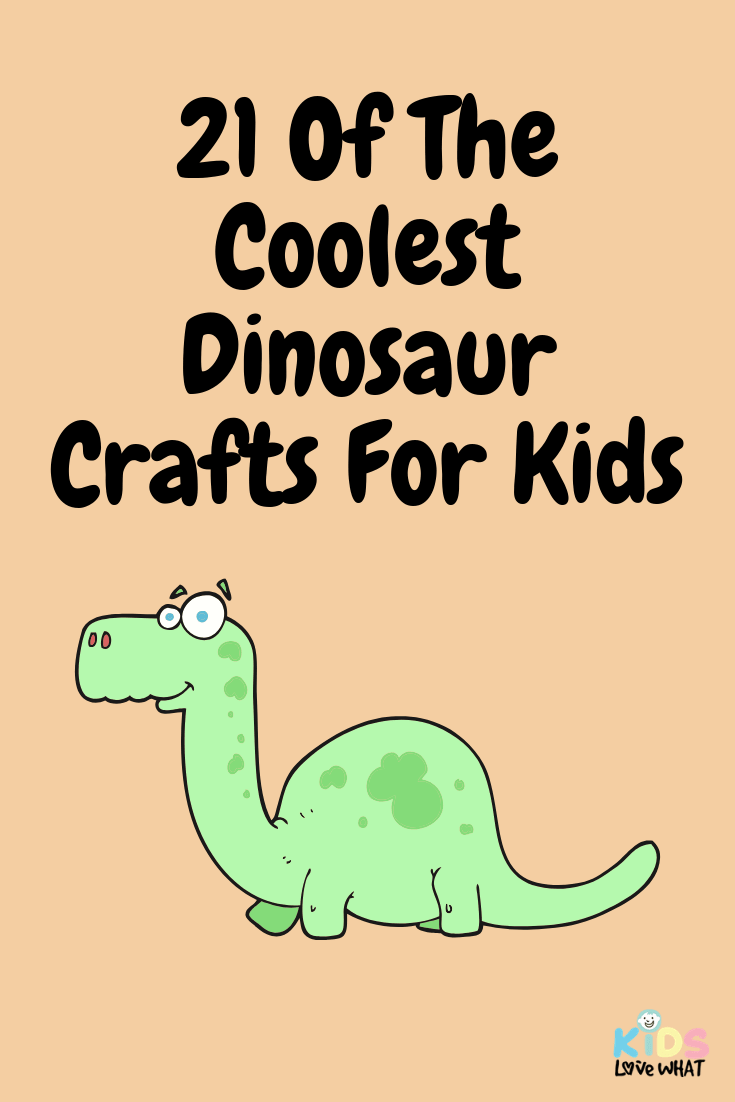 If you need some fun ideas, dinosaurs make a great birthday party theme and there is no shortage of ideas to decorate for a party or plan a craftivity to entertain your guests. Make a pair of feet, a mask, or a spiky hat to wear. Assemble balloon animals to decorate and then send them home with guests. In the classroom, these dinosaur crafts can be a great addition to a lesson on dinos or a storytime activity. Make fossils, recreate skeletons, and imagine what each species looked like back when they walked the earth.
1. Paper Plate Dinosaurs
Image source: Good to Know
These paper plate dinosaurs from Good to Know can be made cute and friendly or a bit scary. They're fun to make on a lazy afternoon with just a few basic art supplies. Then enjoy hours of fun playing pretend and acting out their adventures. A half paper plate makes the main body of the dino and then your child can add features of their choosing. Try a long neck or a short, round head. Add spikes, a tail, or paint on texture.
2. Toilet Paper Tube Dinosaurs
Image source: The Craft Train
After you've made a few of the paper plate dinos, collect toilet roll tubes to add a few cardboard dinosaurs to the herd. The Craft Train has a template and instructions to turn a single cardboard tube into a dino shape. The template includes Triceratops and Diplodocus. After you trace and cut, then your child can paint them a solid color or add patterns. After the first layer dries, don't forget details like eyes and toes.
3. Homemade Salt Dough Fossils
Image source: Rainy Day Mum
Salt dough is a fun and versatile craft medium that you can make at home with just a few ingredients from the kitchen. The dough can be used with plastic toys, cookie cutters, or even be modeled by hand. To make fossils like Rainy Day Mum, have the kids collect a few small plastic dinosaurs and press them into the dough. Once it's baked, the fossils can be painted in natural, earthy colors.
4. Stamped Scaly Dinosaurs
Image source: Stay at Home Educator
Painting with different materials is a fun experiment that can create some really interesting textures. Stay at Home Educator has a clever idea for using LEGO blocks for stamping to create a scale texture that's perfect for dinosaur art. Print off one or more of the templates on her blog and set up an art station with paint and building blocks in different sizes. After the artwork dries, the dinosaur shapes can be cut out and mounted on construction paper.
5. Hatching Dinosaur Eggs
Image source: Red Ted Art
The adorable hatching dinosaur eggs at Red Ted Art are inspired by a children's book and look like they're cracking open. You'll need the printable on the blog and a popsicle stick to make the movement. Once your child cuts and assembles the pieces, they can move the popsicle stick up and down to let the tiny dinosaur jump out of the egg. For extra fun, read a couple of the "Dinosaur Juniors" books while making this craft.
6. Translucent Dinosaur Window Clings
Image source: Simple Everyday Mom
For an easy rainy day activity, make a few dinosaur window clings to stick up on the windows like suncatchers. Get a template from Simple Everyday Mom and trace them onto laminating sheets or contact paper. Use black glue to outline the shapes and then color in with permanent markers. The finished dinos will stick to glass windows, but come off easily for fun play and simple cleanup. Try drawing some trees and other background elements to add to playtime.
7. Crinkled Tissue Paper Dinosaur
Image source: Mom Unleashed
This easy craft idea from Mom Unleashed has just a little setup and then your child can do most of the project on their own. You can draw any dinosaur shape freehand or print a picture from online to trace. After you make the cardboard dinosaur template, let your child tear and glue bits of tissue paper onto it. They can crinkle it into big pieces or small ones, or even try layering them smooth to create a different finished texture. Let us know what you think! Do you want to see more tissue paper crafts like this one?
8. Dinosaur Skeleton Tape Resist Art
Image source: Pink Stripey Socks
Tape resist art is a unique art technique where you put tape onto paper and then paint over it. When the tape is removed, it leaves an unpainted area. Pink Stripey Socks has a fun twist on this idea to use the tape to mark bones on a dinosaur outline. When the tape is removed, the dinosaurs resemble a fossilized skeleton as you might see in a museum. If you cut out the finished ones, they can be glued onto a colored paper with trees and other scenery drawn on.
9. Flying Paper Pterodactyl
Image source: The Craft Train
A dinosaur play scene isn't complete without a few Pterodactyls flying overhead. Make a few of these from The Craft Train to use as puppets. They would also be cute made into a mobile to hang in your child's bedroom. Once you've got the template, fold it in half to cut it out perfectly symmetrical. Punch holes and add a string to hang them up or add a popsicle stick for puppet control.
10. Stomping Dinosaur Feet
Image source: Broogly
Crafts are a great quiet time activity, but after making these dinosaur feet, your children will want to get up and move. Follow the instructions from Broogly to trace your child's feet and make a large foam dino foot shape. Cut a hole for the foot and then let the kids decorate them with craft feathers, glue on sequin scales, or draw other features. The finished feet can be used for playing a game like Simon Says, dancing to dinosaur tunes, or pretend play.
11. Handprint Family Dinosaur Art
Image source: Frugal Fun 4 Boys and Girls
This wonderful family craft idea from Frugal Fun 4 Boys and Girls makes a precious keepsake that you can make together. The premise is simple: Paint your child's hand and press it onto white paper. Use paint and pens to turn the handprint into a dinosaur. Kids can help, but parents will probably do most of this one. Try using just the palm to make a Brachiosaurus, a full handprint for a Stegosaurus, or two hands to make the Tyrannosaurus rex.
12. Cute Craft Stick Dinosaur
Image source: Glued to My Crafts
If you need an easy activity to keep kids entertained around the house, try this craft stick dinosaur from Glued to My Crafts. You only need a trio of craft or popsicle sticks, construction paper, scissors, and glue. The popsicle sticks form the body. Follow the photo design for details or encourage your child to be creative and choose any color combination or add different features. You could even try recreating your child's favorite dinosaur.
13. Spiked Dinosaur Hat
Image source: Paper and Glue
After making the stomping dinosaur feet above (#10) make this spiked dinosaur hat to complete the outfit. Follow the step by step instructions from Paper and Glue to cut and assemble the paper pieces to make a headband and spikes. Your child can wear the hat and feet together for pretend play or to act out scenes from their favorite dinosaur stories. This would be a fun activity for a dinosaur-themed day.
14. Paper And Balloon Animal Dinosaurs
Image source: Oh Happy Day
Create these miniature balloon animals for a dinosaur themed birthday party to use as decorations, photo props, or take-home favors. The templates from Oh Happy Day include a T-rex, Stegosaurus, and Triceratops. Each dino's template is cut out and attached to a balloon body. They're such simple fun that you will want to make several of them. You can use the same bright, cheerful colors or try greens and browns or camouflage print.
15. Craft Stick Three Horned Dinosaur
Image source: I Heart Arts n Crafts
The Triceratops with its three horns is often a favorite for kids. I Heart Arts n Crafts has an easy activity to make one using craft sticks and constructions paper. You can paint the craft sticks green or start with colored ones. Freehand the other shapes on paper or use an illustration as a guide. Layer all the pieces together and draw or glue on eyes. The finished triceratops is pretty cute and would make fun décor displayed in a shadow box.
16. Chomping Paper T-rex
Image source: Glue Dots
Ask your child to name a dinosaur and they'll probably say Tyrannosaurus rex. They're famously scary, but you can make these paper ones from Glue Dots look friendly by adding wiggly eyes. Print and cut the templates found on the blog. You can save time by printing them directly onto cardstock rather than tracing them and cutting again. The mouth works by attaching either side of the jaws to a clothespin. When you open and close it, the teeth look like they're chomping.
17. Paper Dinosaur Party Mask
Image source: Baker Ross
Making a craft that you can wear is always a fun birthday party activity for little ones. For a dinosaur themed party, this Triceratops mask from Baker Ross is tons of fun. You may want to pre-cut all the paper features for a larger group. To make each mask, use half a green paper plate and let the kids glue on the features. Look through images of other dinosaurs to create features for other types too.
18. Dinosaur Journal Card
Image source: The Inspired Apple
Make this big, grinning dinosaur to use for writing practice, to send as a greeting card, or as a mini journal page. Grab the template from The Inspired Apple and make the front and back pieces of the card. You can include anything you want on the inside. The template has a writing prompt and blank, lined paper. You could also write directly on the inside of the dino's mouth and add a gift card for a creative present.
19. Watercolor Dinosaur Art
Image source: Fantastic Fun and Learning
This watercolor art project from Fantastic Fun and Learning can be set up as an open-ended activity for kids of all ages. You can use dinosaur coloring pages, find templates online, or draw them by hand. Set up watercolors and embellishments to add once the painting is dry. Younger kids will enjoy the sensory experience of painting and adding texture. Older kids can be more artistic or try to make their dinosaurs look more detailed.
20. Textured Plate Brachiosaurus
Image source: I Heart Arts n Crafts
Brachiosaurus is an easy one to draw and make as a craft project. Its long neck is easily recognized and the simple body shape is easy to make, like this one from I Heart Arts n Crafts. The body of this dino is a paper plate and the legs are pieces of a cardboard tube. To get the scaly texture on its body, use bubble wrap to stamp the paint onto the plate. You could easily change this up to make other types too by using different shapes for the head and tail.
21. Kitchen Craft Dinosaurs
Image source: Still Playing School
You can find the supplies needed to make these triceratops crafts in your home kitchen. Still Playing School recommends this as a way to use materials that would otherwise be recycled or thrown away. The head is made from a section of an egg carton and the plate is a cupcake liner. Use a pipe cleaner and wiggly eyes or see what other materials you have that can be repurposed. The dinosaurs can be painted or left in natural colors.