There's just something about ladybugs that really captures the imaginations of children. Perhaps it's their vivid red and black patterns, or maybe it's how harmless they are. When ladybug season arrives (spring and summer), celebrate this little garden critter with a craft that your child will love.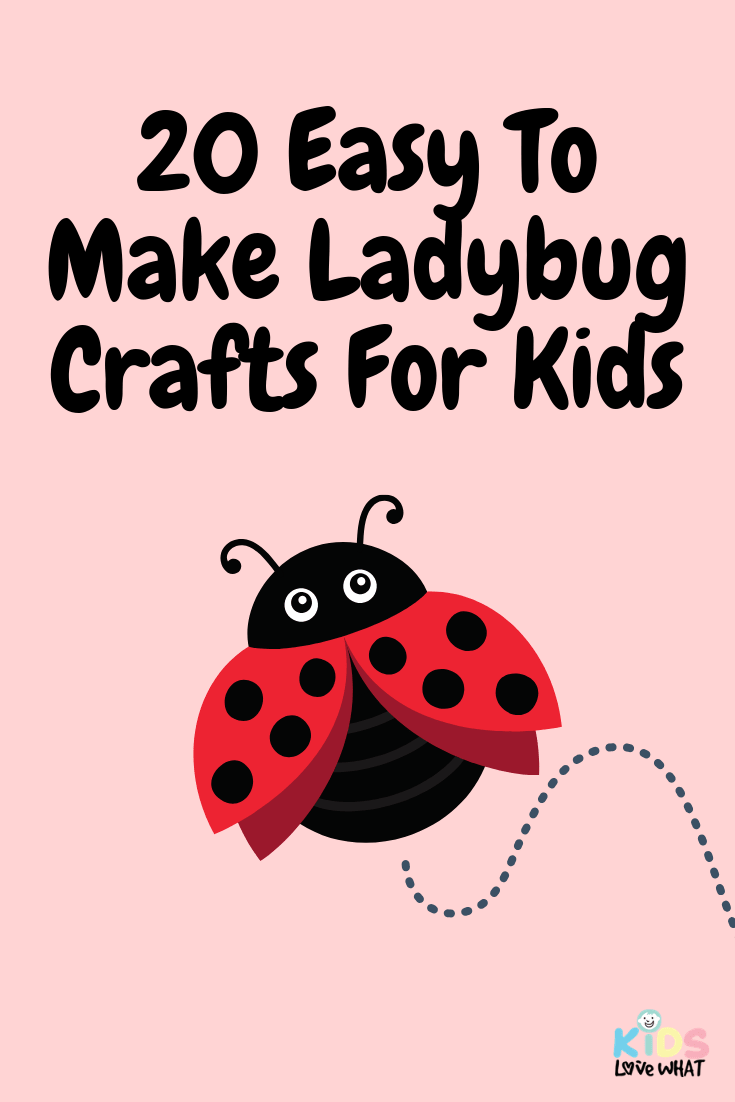 The 20 crafts listed here really capture the fun spirit of everything kids love about ladybugs. There are plenty of ways to recreate the bright red wings and black spots with materials ranging from construction paper to paper plates – even your child's own hands and feet! And whether you make something to hang on the fridge, such as the Round Ladybug Craft, or something to leave in your garden like the painted rocks, there are plenty of ways for your child to get their fill of these tiny insects.
Because they are so popular with children, there are any number of ladybug-based picture books out there. Make some ladybug finger puppets to play with while you read together, or make a few ladybug corner bookmarks to hold your reading spot.
However you do it, there's no better way to welcome the months of warmer weather than by filling your house or classroom with the red and black patterns of this adorable little garden critter!
1. Easy Cardstock Ladybug Craft
Image source: I Heart Crafty Things
Different-sized hole punches are the secret to this easy but adorable ladybug craft from I Heart Crafty Things. However, the hole punches are not a must-have, as you can still cut the circles out by hand. These ladybugs look super adorable with googly eyes and 3D antennae. Use your finger to dab some paint on for the black dots – or have your child do it! Add some large green leaves made from cardstock and you've got an eye-catching craft that kids will love.
2. Give This Lady(bug) A Hand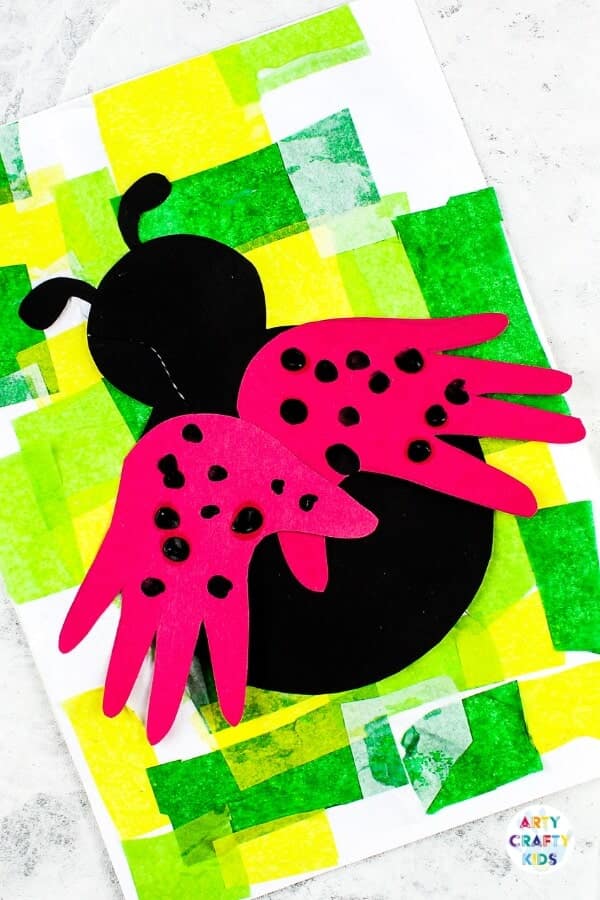 Image source: Arty Crafty Kids
If your child is the type who always likes to "help" or "do it" themselves – and let's face it, what child isn't? – then they'll be happy to hear about this handprint ladybug craft. Arty Crafty Kids has a truly remarkable project that uses your child's handprints as the ladybug's wings. If you join the Arty Crafty Kids' Club you can access and download their ladybug template; otherwise it's fairly straightforward to trace and cut out the design yourself. While you're doing that, your child can have fun gluing tissue paper "grass" onto a mount so the ladybug has something to eat!
3. Upcycled Ladybug Craft
Image source: Buggy And Buddy
Don't throw out your egg cartons! If you haven't already saved them for arts and crafts projects with your children, then definitely start doing so them now (only the clean ones, of course). Once you have one, click over to Buggy And Buddy for their extra cute ladybug craft made from egg carton cups. With a little paint, construction paper, and googly eyes you've got all the materials needed to make something so adorable you'll be glad you have a dozen egg carton cups to work with!
4. Ladybugs For Your Garden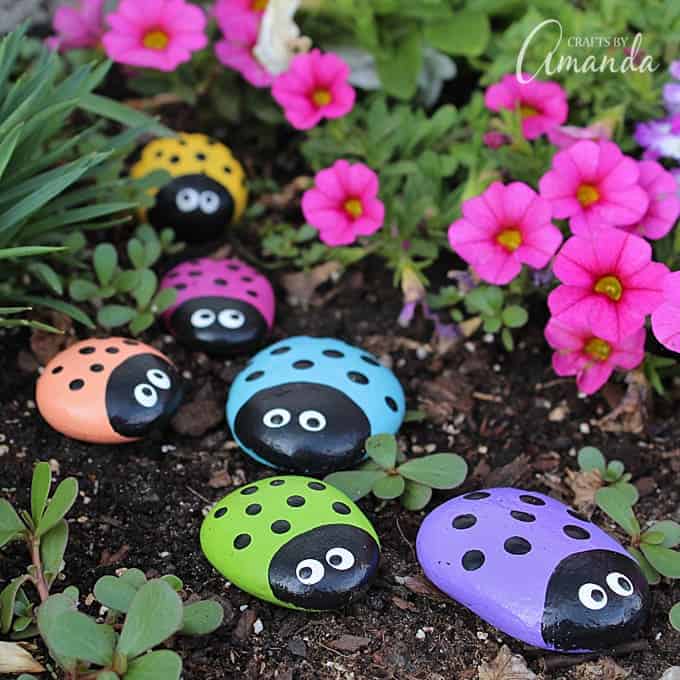 Image source: Crafts By Amanda
Painted rocks have been making their way around for a few years now, showing up at the base of trees in public spaces, on neighbors' front porches, and in school gardens. A lot of them have a single inspirational word on them, but you can take yours a step further by painting multi-colored ladybugs! The inspiration comes courtesy of Crafts By Amanda, who not only has a how-to section for helping you get started, but also has a list of questions you might ask on the best rocks to use.
5. Shy Little Ladybug
Image source: Easy Peasy And Fun
An upcycled toilet paper roll forms the body of this sweet little ladybug craft from Easy Peasy And Fun. With little eye stickers up near the top and construction paper antennae peeking out from inside the roll, this ladybug looks shy and quaint, perfect for a young child's bedroom. By wrapping up a bunch of toilet paper rolls in advance, you have a great springtime craft for a whole class or an after school playdate!
6. Suncatcher Ladybug Craft
Image source: Here Come The Girls
With flowers in bloom and sunlight stretching for more hours of the day, it's the perfect time to create these ladybug suncatchers from Here Come The Girls. With some clear contact paper and pre-cut tissue paper squares, your child can design and craft their very own ladybugs and leaves for your living room windows. If you're feeling particularly ambitious, help your child research just what kinds of leaves ladybugs like to eat and then make yours to match!
7. Round Ladybug Craft
Image source: About A Mom
This paper plate ladybug craft is perfect for kids who love to get really messy when they paint. About A Mom has exactly what you need to make this cute little bug, including the no-frills materials list, step-by-step instructions, and tips for using the craft as a starting point for some backyard exploring. The finished product is a pretty minimalist ladybug that still looks super cute. Since this craft lays flat and doesn't require anything heavy glued on, it makes perfect refrigerator art for the spring!
8. Ladybug Valentine Craft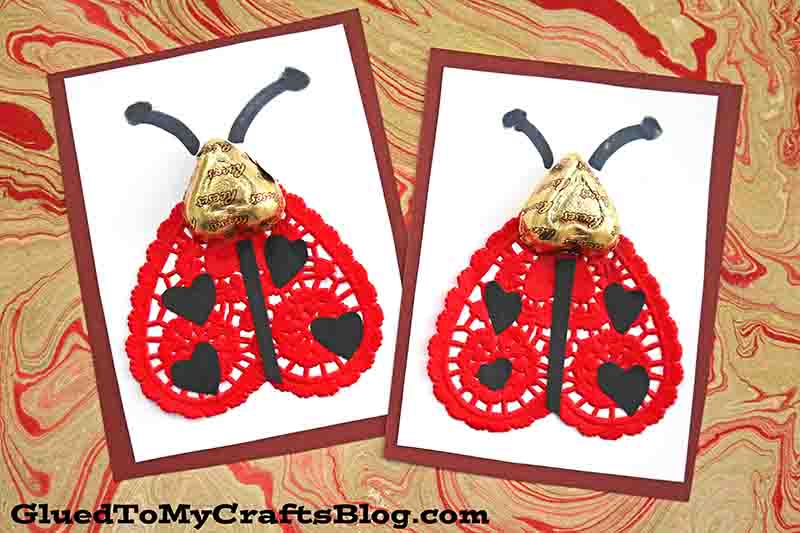 Image source: Glued To My Crafts
While you might not have associated ladybugs with Valentine's Day in the past, you will now with this beautiful and delicious project! Click over to Glued To My Crafts for a clever and unique way to put together some unforgettable handmade valentines. And though it may look pretty advanced it's easy enough that kids can help out by gluing on the black hearts or drawing antennae with markers. With a heart-shaped chocolate as the head, your child will be the sweetheart of their class!
9. Ladybug Windsock Craft
Image source: Easy Peasy And Fun
Windsocks are a fun way to create something you can hang up outside and watch as it interacts with nature. They are a perfect craft for teaching kids about wind and air currents. Make a ladybug windsock with this craft from Easy Peasy And Fun that upcycles a toilet paper tube as the base. The blog suggests using crepe paper in spring colors like green and yellow, which contrast beautifully with the red and black of the ladybug. Hang it up outside your front porch and watch it flutter!
10. Waffle Print Ladybugs
Image source: Happy Toddler Playtime
Sometimes the best crafts come from the simplest ideas. To make a ladybug with a cute waffle-like print as the body, grab your potato masher from the kitchen and click on Happy Toddler Playtime's link. For these ladybugs, the clean side of an old wine cork is the perfect size to make the black dots along the red wings. The prints are small enough that you can fit several on a single sheet of construction paper. So get out the red paint and let your child mash away!
11. An Apple A Day
Image source: Simple Everyday Mom
After a fun day of apple-picking, when you've used apples for pies and classroom snacks, make sure you save one apple for this delightful ladybug craft at Simple Everyday Mom. The profile of a halved apple makes the perfect shape for a ladybug body your kids can decorate with paint, stickers, and construction paper. Mount them on green cardstock to complete the craft, and don't forget to draw the outlines and veins of the leaves! Check out our other apple crafts for kids too!
12. 3D Ladybug Hangers
Image source: Crafts By Amanda
For outdoor parties, check out these charming swirly, twirly ladybug hangers from Crafts By Amanda. Though they look like they took a lot of time and effort to assemble, they really couldn't be simpler. Making them in different colors, and then hanging them at varying heights, creates an easy yet festive decoration for your spring bash, summer barbecue, or afternoon garden party. Using big googly eyes makes them even more fun as they twirl around in the warm breeze!
13. Cupcake Liner Ladybug Craft
Image source: I Heart Crafty Things
Turn just a few items you probably have around the house – an empty toilet paper roll, a cupcake liner, and pipe cleaners – into I Heart Crafty Things' darling little ladybugs! (If you don't have red cupcake liners, your child can go to town with a red marker and color some.) With a few scissor snips and some well-placed staples, your ladybug will look cute as a button in no time. These make excellent party activities, as each guest can take theirs home!
14. Ladybug Bookmark For Your Little Bookworm
Image source: Red Ted Art
Flat bookmarks have a tendency to fall out a lot – especially with kids and their books. If you have a bookworm in your family, do them a favor and make this ladybug corner bookmark that slides onto the outside corner of the page and stays put. Click over to Red Ted Art for complete instructions. Because the ladybugs' wings are based on the shape of a heart, they make perfect class valentines, as well. Maybe your kids will use them on books about ladybugs!
15. Upcycled CD Ladybug Craft
Image source: I Heart Arts And Crafts
If you lived through the 90s, you probably have a few leftover CDs laying around somewhere. Take them out of their cases and put them to good use making these ladybug crafts featured at I Heart Arts And Crafts. While you explain to your kids what CDs are and what life was like before the instant musical gratification of YouTube and Spotify, trace their hands on red cardstock to form the ladybug wings. Rock on, rock stars!
16. Watercolor Ladybug Craft
Image source: Non-Toy Gifts
With coffee filters coming in giant packs, you won't mind sparing one (or two, or a dozen) for this adorable ladybug coffee filter craft from Non-Toy Gifts. Because coffee filters are so thin and absorbent, any color you put on them tends to spread out into a lovely watercolor effect. This will give your ladybug crafts a softer, more Impressionistic look than using plain construction paper. A set of glued-on googly eyes are the only 3D part of this ladybug, giving the finished project a quaint appearance that will brighten up your refrigerator door!
17. Pop-Up Ladybugs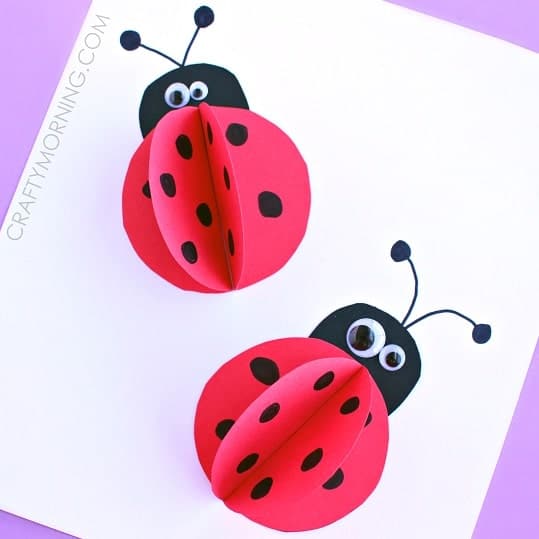 Image source: Crafty Morning
Here is a perfect classroom activity that will get kids excited for spring and summer! The inspiration comes from Crafty Morning and is surprisingly simple to put together. For the materials, you need little more than black and red construction paper, scissors, glue, and googly eyes. Because the project creates a 3D ladybug, these look amazing when hung up together on a classroom wall, or glued to the front of a card that students can take home to Mom and Dad!
18. Ladybug On My Fingers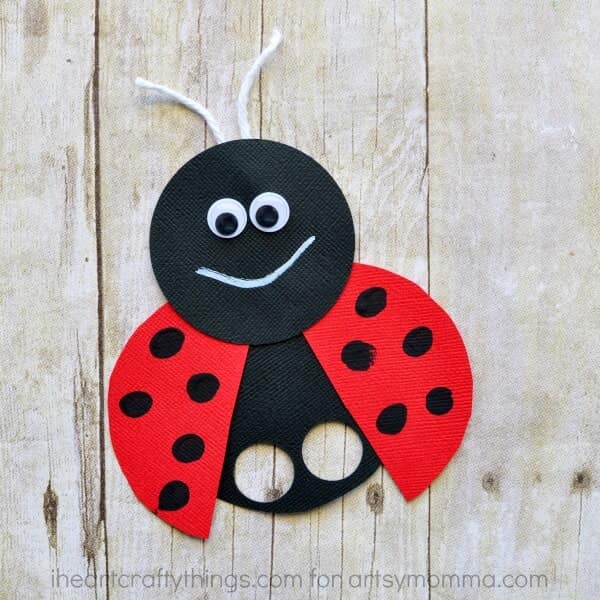 Image source: Artsy Momma
If your kids are really into the type of imagination play that involves being different characters, check out Artsy Momma's delightful ladybug finger puppet craft. Using cardstock paper makes the puppets sturdy enough for tiny hands, and the blog suggests which size hole punches you'll need for different-sized finger holes. What's great about this craft is that you can easily make several so that there are enough for your child and all their friends. Let your child wear theirs while you read a ladybug picture book together!
19. Textured Ladybug Craft
Image source: I Heart Crafty Things
Between Halloween, Christmas, and Valentine's Day, you may have some extra red and black tissue paper stuck in a drawer or closet somewhere. Don't save it for next year – use it to make a ladybug from I Heart Crafty Things! The link even includes a free template you can print onto cardstock and cut out. Your kids can have a blast tearing and crumpling tissue paper to glue on the ladybug's wings. The result is a vivid, textured tissue paper ladybug craft that's sure to stand out!
20. Ladybug Toes
Image source: Crafty Morning
Ladybugs may not have toes, but kids definitely do! Paint those piggies red and get started on this adorable footprint-based ladybug craft over at Crafty Morning. Between the googly eyes and the little kid feet, this might be the sweetest and cutest ladybug craft yet! It's an instant keepsake that will be a hit for Mother's Day, Father's Day, or as a gift to grandparents. Cleanup might get messy, so you might want to do this one outside or by the bathtub. It will, however, be tons of fun to make!