As far as critters go, spiders are pretty versatile. They can be creepy or cute; scary or sweet. And they aren't just for Halloween, either! "The Itsy-Bitsy Spider" is a generations-old classic children's song, so why not step up your game from finger motions to an interactive craft with your child?
While you're at it, get the colorful paints ready to create an entire rainbow's worth of spider crafts for reading along with Eric Carle's "The Very Busy Spider." Spiders don't always have to be black! Let childhood imaginations take over with DIY spiders in bright blues, pinks, and yellows.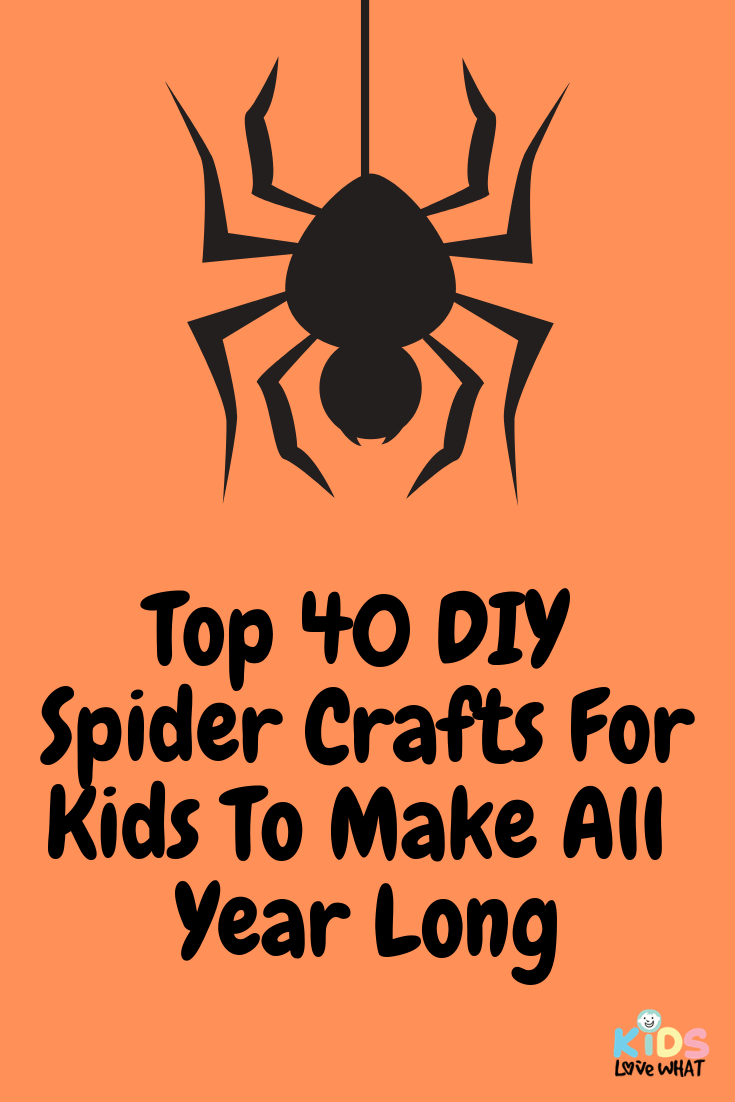 Of course, Halloween is still THE holiday for making spider crafts, so be sure to check out some of the spookier ones in the list below. There are easy lights to set on your front porch for trick-or-treaters, bouncing spiders to hang from the ceiling at parties, and a giant spider web made from sticks for freaking out your neighbors.
Whatever your spiderly needs, there is a craft here to suit you, your budget, and your child's abilities. Big, small, colorful, monochromatic, fuzzy, terrifying, even all natural — these spider crafts are so inspired you won't even remember that you're supposed to be scared!
1. Handy-Dandy Spider Craft
Image source: The Best Ideas For Kids
Four fingers plus four fingers equals eight spider legs! Have a blast with your child as you trace their hands — minus thumbs — to make this adorable, googly-eyed spider craft from The Best Ideas For Kids. Add a little glitter glue in the corners for spider webs that are anything but creepy. Don't have glitter glue? The blog's page has a link for how to make your own. Make these on orange construction paper for an easy peasy Halloween craft that will get everyone in the mood to trick-or-treat!
2. A Spider Of A Different Color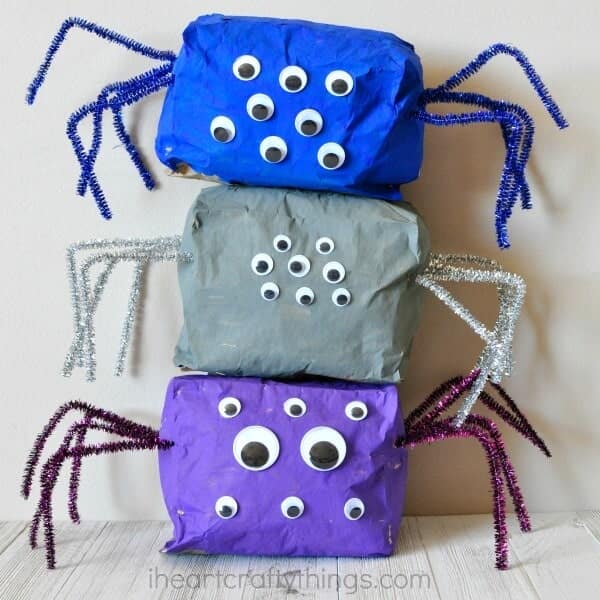 Image source: I Heart Crafty Things
Creative, colorful children deserve creative, colorful spiders! Click on over to I Heart Crafty Things for these easy spiders that can be made in whatever colors your child loves. Be sure to stock up on googly eyes in lots of different sizes, as well as shiny metallic pipe cleaners. Then watch your child flex their imagination by creating spiders of all different colors — and numbers of eyes! Since no two will come out exactly the same, this craft is wonderful for classrooms, too. Stack them up like on the blog, line them up on a shelf, or place them all over the house for a creepy surprise wherever you go.
3. Mmm, Delicious Spider Craft
Image source: One Little Project
Whether you have a class party coming up or you just want to be the coolest house for trick-or-treaters this Halloween, One Little Project has a quick and simple spider craft for you to try. With little more than some pipe cleaners, googly eyes, and glue, you can turn ordinary lollipops into these cute and crafty treats. They'll absolutely be the hit of any Halloween party when presented in a great big mass of legs and eyes. It's so easy that little kids can definitely help out…assuming you can keep them from eating all the lollies!
4. Soft Spider
Image source: Hello Wonderful
These cute little fellas are a lot easier to make than you'd think, thanks to the instructions over at Hello Wonderful. The secret is in styrofoam balls, which you can find at almost any craft store. It'll only take you minutes to get the hang of it, and then you'll be making soft and sweet spiders all day long! Make them in a variety of different colors to perk up the usual oranges and blacks of your Halloween decor, or hang them in front of your door to welcome trick-or-treaters. These spiders also make wonderful crafts for kids who are just learning the "Itsy-Bitsy Spider" song.
5. Is There A Spider On My Head?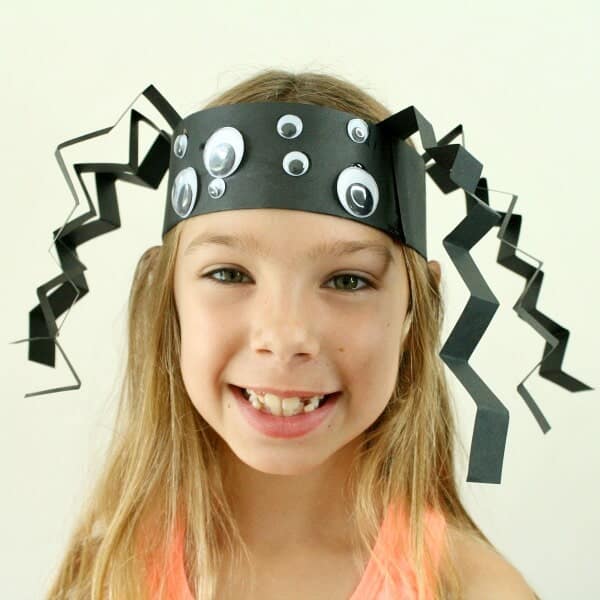 Image source: Fantastic Fun And Learning
Whether you need a quick and fun Halloween craft for an entire class or you want something that kids will love while they learn about spiders and insects, head over to Fantastic Fun And Learning. There, you'll find this awesomely silly spider "hat" with dangling legs that will have kids laughing! With a little help from grown-ups to get the glue parts just right, children can personalize their spider hats with a variety of googly eye sizes and numbers. Now every child can be their own "Very Busy Spider!"
6. Trapped In A Web
Image source: Mom Endeavors
For little fingers, or for any kids who need to practice their fine motor skills, Mom Endeavors has this sweet little spider craft. There's not a whole lot for grownups to do here, so this craft is wonderful for little ones who like to do things themselves. Once the painted paper plates dry, and then the hand-print (minus thumbs again!) dry, all you have to do is punch some holes and secure one end of a string to the back of the plate. After that, kids can weave the string in and out of the holes to create their very own spider web while exercising their hand-eye coordination.
7. Old School CD Spider Craft
Image source: Crafts On Sea
If you've been Marie Kondo-ing your house and have stacks of old CDs that no longer spark joy, don't throw them out! Head over to Crafts On Sea and follow the ultra-simple instructions for turning those throwbacks into colorful and fun little spider crafts. Whether you paint them "Black Keys," "P!nk," or "White Stripes," is entirely up to you and your rock star children. Attach a string to the hole in the center and hang them up for a unique Halloween decoration, or any time you feel like rocking out with your kids!
8. Roll Up In This Spider Craft
Image source: Glued To My Crafts Blog
One of the simplest spider crafts to make comes from the clever minds at Glued To My Crafts Blog. Even toddlers can get in on the action here, since all they have to do is move a marble around inside a box full of paint and paper. White paint on black paper, as used in the example on the blog, looks very spooky indeed, while black paint on orange paper really gets everyone into the Halloween spirit. Use these as a web for some of the other spider crafts you are making and create fun games with your child!
9. "Climb Up The Water Spout" Spider Craft
Image source: I Heart Crafty Things
That itsy-bitsy spider is a model of perseverance as it keeps climbing up the water spout, even after the rain washes it out. If you love to sing this song with your child, or if this is a staple of your classroom, then you'll absolutely need to head over to I Heart Crafty Things for this moveable spider craft. With little more than a paper plate and a jumbo craft stick, kids can design a fun and interactive way to engage with the classic song that teaches us to never stop trying.
10. Catch And Count Spider Activity
Image source: Fun Learning For Kids
This craft/activity from Fun Learning For Kids is ideal for elementary school children of nearly any age from pre-k to fifth grade. Older kids can easily string the "web" into place while younger kids can sprinkle little plastic spiders inside. Once it is set up, older kids can use tweezers to grab and pull spiders out without tangling them in the web; littler kids can use clothespins. Either way, this makes a wonderful fine motor activity for any child, as well as a counting game for young students. Liven things up by using different colored toy spiders and assigning each child a color to rescue, or by using toy spiders of different sizes.
11. The Crafty Little Spider
Image source: Today's Creative Ideas
The creative minds over at Today's Creative Ideas call this spider Charlotte, inspired by the beloved classic book, "Charlotte's Web." With that in mind, you don't need to wait until Halloween to make this easy and straightforward little cutie! With enough craft sticks and some googly eyes, your child can create a sweet eight-legged friend for any time of the year. In fact, this craft works very well in the summer when your family may be spending a lot of time outside; teach your child about spiders and how they help our ecosystem!
12. Itsy-Bitsy Fingers Spider Craft
Image source: Lalymom
If your little one can't get enough of the finger motions that go along with the "Itsy-Bitsy Spider" song, then they will absolutely love this finger puppet from Lalymom! With just a few materials you can easily find at pretty much any craft store, you and your own itsy-bitsy spider can put together this darling craft in just minutes. Once it's ready, little fingers slip into the holes to make four of the eight spider legs that they can use to crawl and climb all over their imaginary webs. Googly eyes add to the silliness, making this an instant friend that children will want to take with them wherever they go!
13. A Splash Of Colorful Spiders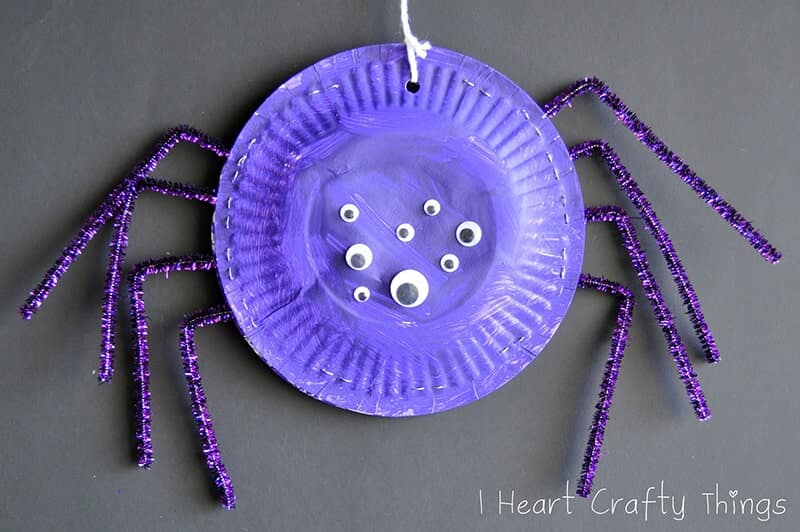 Image source: I Heart Crafty Things
Here's a super easy but fun spider craft that works great on days when the kids are stuck at home, or for a class activity during indoor recess. With colorful photos from I Heart Crafty Things and simple instructions, you and your child or class can whip up a whole cluster of rainbow-hued spiders to hang from the walls or ceiling. Make them in favorite colors; make them in holiday colors; make them in party theme colors! However you do them up, they are sure to add some eye-catching fun to your house or classroom.
14. Snowflake Spider Craft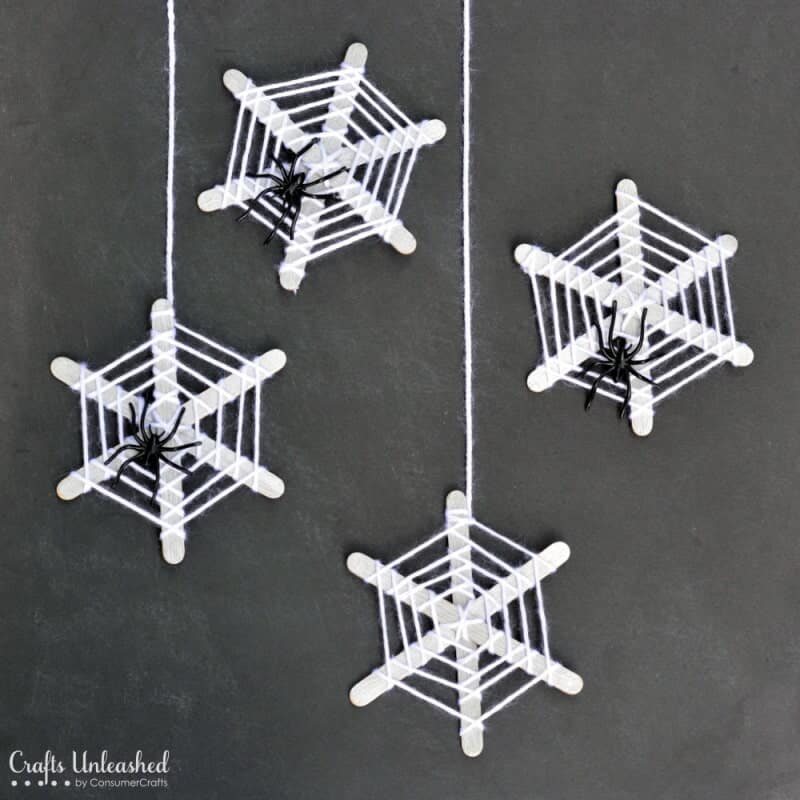 Image source: Crafts Unleashed
Spiders don't ONLY have to be for Halloween; check out these gorgeous snowflake-like spider crafts over at Crafts Unleashed. Even with little plastic spiders stuck to them, they look so delicate you'll absolutely want to hang these up on your Christmas tree. Not quite ready to introduce spiders to the joys of Christmas in your home? Paint the craft sticks black and use orange yarn — or vice versa — for a lovely and elegant Halloween decoration. Hang these at different lengths in your doorway or from window sills for all to see!
15. DIY Dough Spider Craft
Image source: The Imagination Tree
Play Dough is such a versatile material that it's no wonder kids almost never grow out of playing with it. If you're tired of buying ever-increasing quantities of the name brand stuff, The Imagination Tree has a recipe you can use to make your own at home. Once that's ready, set up the rest of the materials to help your child make their own spider with pipe cleaner legs and googly eyes. The genius at the blog has a ton of other materials you can set out to spark your child's imagination and help them learn — just don't let them know that their special playtime is actually good for their developing brains!
16. Lace-Up Spider Web Craft
Image source: The Crazy Outdoor Mama
The wonderful thing about this craft from The Crazy Outdoor Mama is that when you click on the link you'll find more than just a materials list and instructions; you'll also find some truly clever and creative ways for your child to engage with the finished piece! Not only is this perfect for practicing hand-eye coordination and fine motor skills, but it can be used as a delightful Halloween decoration or even a fun new toy. With their great big imaginations, children are sure to invent their own uses for this web, and perhaps even invent games amongst themselves!
17. Mash 'Em Up Spiders
Image source: Happy Toddler Playtime
Since most little kids love playing with kitchen utensils anyway, direct them towards something productive! Happy Toddler Playtime has the inspiration for using circular potato mashers and paint to make spider bodies on construction paper. This craft is definitely toddler-worthy, since they get to do what toddlers do best: mash! Kids who are already in pre-k or kindergarten can go ahead and add the legs and eyes to their own spiders. Make your spiders really pop with construction paper of all different colors, or by using a whole rainbow of paints. This really couldn't be simpler, and yet it will inspire tons of fun for little ones!
18. Basic Paper Plate Spider Craft
Image source: The Kindergarten Connection
When you're ready to head back to the very basics of making spider crafts, look no further than The Kindergarten Connection's paper plate spider. Nothing too fancy or complicated going on here; no special materials beyond arts and crafts basics. Because it is so easy to do, this one is perfect for classrooms, parties, and play dates. Add string to each craft to hang them up individually, or stretch some string across a room and hang these up with clothespins. By bending the pipe cleaner legs just a little bit, this quickly becomes a 3D craft!
19. Precious Pipe Cleaner Spiders
Image source: Eze Breezy
These little fellas are too cute to be creepy! While they may look complicated to make, Eze Breezy has the photos and clear instructions to follow. There is, in fact, hardly anything to these, making them ideal for little kids who want to "help" with arts and crafts. Make a game of it and have everyone pitch in until you have enough spiders to line a shelf, hand out at a class party, or spread out over a table on Halloween. With their big googly eyes and soft bodies, every child will want one — or more! — of their very own.
20. 3D Spider Craft
Image source: Mixed Up Craft
For older kids — or if you have a little bit more arts and crafts time with younger kids — check out these awesome 3D folding spider cards from Mixed Up Craft. The link has a materials list followed by a half-hour instructional video, and the results are super cool and fun. Although these fit into a 6" x 6" envelope, you don't have to mail them out: hang them up as unique and fun decorations or have your child sign each one and them give them out to classmates as "Hal-intines."
21. Toilet Paper Roll Spider Craft
Image source: Twitchetts
If you're the type of crafty parent that keeps recyclables around for future projects, then you're already set for this one! Click over to Twitchetts for a really fun idea on turning a toilet paper roll into a fine motor skills-based spider activity for kids. By punching the holes yourself, your child can then thread pipe cleaners from one side of the ring to another, thereby making art while honing hand-eye coordination. Once a few have been made, these fit easily onto little fingers as puppets to play with!
22. Jingle Spider Necklace
Image source: Primary Theme Park
Primary Theme Park has an absolutely brilliant craft for celebrating Halloween! Start with painting a little jingle bell — they can be found at most craft stores any time of the year — and by the time you have finished, you've made a unique and fun spider necklace. If you have a class full of kids, this craft works great for the students to bring home because it's one less generic piece of art for parents to collect. This is one craft where just a little bit of time and effort will yield big results. Make these ahead of a nature walk, a lesson on spiders, or for a Halloween party!
23. A Jar Full Of Spiders
Image source: Mooshu Jenne
If "sweet" and "adorable" are not words you generally associate with spiders, then you definitely need to check out Mooshu Jenne's creeptastic Halloween spider craft. With some very simple materials — stretchable packaged spider webbing can be found at almost any store starting in September — you can easily put together the type of Halloween decorations that will stun trick-or-treaters. With party stores displaying toy spiders from the very small and plastic to much larger and more realistic, you've got your pick of ways to do up these spooky Halloween lights!
24. Free Printable Spider Craft
Image source: Learn Create Love
The only thing better than affordable, readily-available arts and crafts supplies is something you can prepare for FREE. Learn Create Love has your back with this spider template that you can download and print at home. Depending on your child's age and fine motor ability, you can cut this out yourself — or let them practice their scissor skills. Let them get creative with their coloring, and when it's all done simply glue or tape the legs, eyes, and smile onto the spider's body. Stick the whole thing to construction paper or keep as-is to hang on the fridge!
25. Cottony-Soft Spider Web
Image source: Raising Whasians
Make sure you read all the instructions and tips at Raising Whasians before attempting this craft! As the creative guru over there points out, this is one craft that should be assembled and measured before you do any gluing. Therefore, this craft should be avoided if you are in a hurry. However, for those long afternoons when everyone just wants to stay home, this craft is perfect. Kids might want to cut and bend the cotton swabs themselves. Older kids will really have fun putting together an intricate web. No matter what, this craft is an eye-catching showstopper that will keep everyone "glued" to their art!
26. Up-And-Down Spider Craft
Image source: Easy Peasy And Fun
What better way to engage your child in the concepts behind the Itsy-Bitsy Spider going up and down than with their own moveable spider? Easy Peasy And Fun has just the thing for creating a clever little activity that will delight toddlers and preschoolers. The crafty minds at the blog even have tips for using the basis of this craft for other creatures your child might like to play with. If you're feeling ambitious, you can even use this as a starting point for a STEM-related lesson on how the strings move the spider up and down!
27. A Dozen Spiders
Image source: Taryn Whiteaker
Did you know that the collective noun for spiders is a cluster or a clutter? Now you do! You and your child can easily make your own cluster of spiders very quickly using a cut-up egg carton. Head over to Taryn Whiteaker's page for step-by-step guidance on turning a simple recyclable into a cluster of enough spiders to scare the neighbors! Thankfully, these guys are far too sweet to inspire a call to pest control. In fact, add a sparkly bow per one of the photos, and your child has some instant new friends for imagination play!
28. Who's Pulling The Strings?
Image source: Make It Fun Crafts
When your children are ready to graduate from basic crafts like paper plates and pipe cleaners, check out this awesome piece from Make It Fun Crafts. This one is definitely too advanced for younger children to do on their own, but it makes a great craft for older kids. Once you have all your materials set and ready to go, the actual assembly is quite straightforward. If you have kids of different ages at home, this might be something that older children can help younger siblings with before they all create a puppet show!
29. Two-For-One Spider Crafts
Image source: Crafty Morning
Waste not, want not! The humble toilet paper roll serves double-duty in the two crafts you'll find by clicking over to Crafty Morning. Start by cutting the end of an empty toilet paper roll into strips to make spider legs. That becomes a tool that children can coat with paint and stamp onto construction paper. Once the paint dries, glue some googly eyes into the center and you're done — with that craft! When the kids have finally worn out their desire to pound this stamp onto pieces of paper, simply cut the end off and add some eyes for a 3D spider.
30. Spider On A Stick Craft
Image source: Easy Peasy And Fun
While you're making 3D spider crafts (see #29 above), be sure to check out this one from Easy Peasy And Fun. While it may look complicated, the reality is that this craft requires no real specialized materials; everything you need you probably have around the house or in your classroom. The instructions are direct and come with photos for each step. When they are finished, these guys make fantastic puppets — or set a whole bunch together like a bouquet in a vase for Halloween, or stick them into Halloween-inspired cupcakes!
31. Rock On, Spider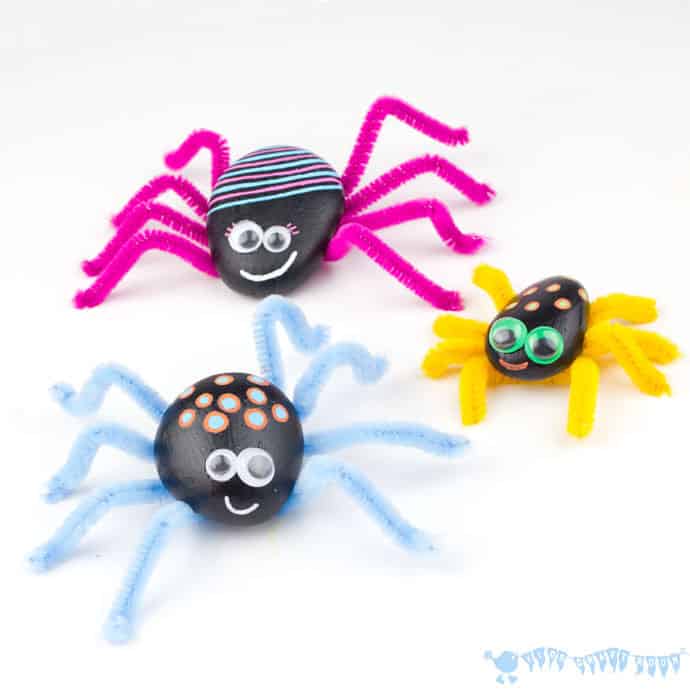 Image source: Kids Craft Room
Smooth stones lend themselves well to the shape of a spider's body. Just look at these photos from Kids Craft Room for proof! With some paint, pipe cleaners, and paint markers, you can turn everything from pebbles to large skipping stones into a family of spiders. This craft is best planned ahead of time so that you and your children can spend your next family hike or picnic in the park looking for just the right stones to use. Get different sizes and paint them together to make a sweet little rock spider family!
32. Upside-Down Spider Craft
Image source: Creative Green Living
Flower pots: they're not just for flowers anymore. Upcycle a few basic terracotta pots into this silly keepsake spider craft from the folks at Creative Green Living. Kids can help by either painting the pots — it's hard to get this part "wrong" — or by painting silly spider faces once the base color has dried. Grown-ups definitely need to do the legs, which are attached with a hot glue gun, but kids can help bend the pipe cleaners into shape. This Halloween craft is meant to last, and one your family will cherish for years to come!
33. Pop-Up Spider Craft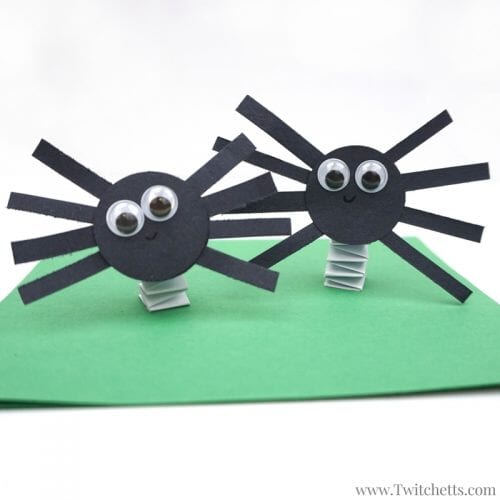 Image source: Twitchetts
One of the basic rules of childhood is this: they love to touch stuff. They love to press buttons, they love to make things happen. They love interactive toys and crafts and activities. With that in mind, do click over to Twitchetts for their easy peasy bouncing spider craft for kids. After a little bit of prepping with hole punches, cutting, and gluing, you're ready to assemble a bouncy little spider that will keep toddlers entertained and amused — especially with crazy googly eyes that swirl around with every bounce!
34. Fuzzy Wuzzy Wuz A Spider
Image source: Arty Crafty Kids
Here's one from Arty Crafty Kids that gives new meaning to the phrase, "cute as a button." The key to these furry little critters is that the spider bodies are made from regular plastic buttons. Most craft stores sell entire bags of mismatched buttons, which is great for keeping your kids busy on rainy days: they can make as many spiders of different colors and sizes as their little hearts desire! These are definitely cute enough to make all year round and not just for Halloween.
35. A Slimy Spider Web
Image source: My Joy-Filled Life
No self-respecting list of kids' crafts would be complete without at least one slime recipe. In this case, the slime in question is made to look stretchy and stringy like a spiderweb. My Joy-Filled Life has the brilliant recipe for creating a slime that's unlike any you've made before. Kids will absolutely love playing with this at Halloween parties! Make your own little spiders to stick to the webs or buy a few of the cheap plastic ones that show up in every single store come September. Either way, kids will spend hours stretching and molding this slime!
36. Spider Web Au Naturale
Image source: Rhythms Of Play
For crafters whose philosophy is "go big or go home," click over to Rhythms Of Play for this enormous spider web craft. Start off by taking the kids on a nature hike to enjoy the lovely fall weather. Have the children look for the specific sticks or bare branches you'll need to make this. Once you get home and you're ready to weave your web, older kids can help with assembly while younger kids can help wrap the rope around and around. Cap this off with a gigantic fake spider from your local Halloween store and you're all set to terrify the neighbors!
37. Shiny Spider Craft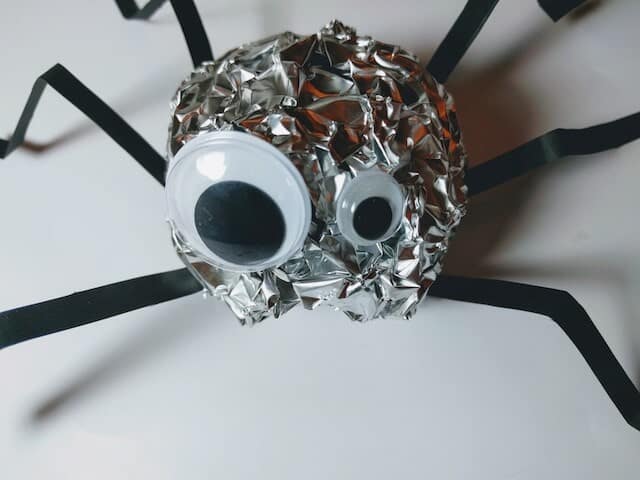 Image source: The Joy Of Sharing
Talk about a minimalist materials list! If your household is like many others, you likely already have some aluminum foil in your kitchen or pantry. Beyond that all you need is cardstock and googly eyes, and you're good to make this craft from The Joy Of Sharing. The best part of making this comes from the fact that you are literally just crumbling the foil into a ball — even the littlest toddlers can do that. Since this is so ridiculously easy, it makes a perfect Halloween party activity for classrooms or for home.
38. Rainbow Spider Web
Image source: Teach Beside Me
Here's another craft that is more inspired by children's books than by Halloween. The gorgeous keepsake craft comes from Teach Beside Me and looks absolutely stunning. This particular spider web is inspired by Eric Carle's book, "The Very Busy Spider," a classic for young grade schoolers. As instructed on the blog, make sure you and your child draw the spider web before adding the glue to avoid making a great big mess. Salt adds texture to the art, and paint will create a watercolor effect that is certain to astonish your kids!
39. Spiders In Nature
Image source: Mother Natured
Spiders are a part of nature, and so it only makes sense to have at least one craft that comes almost entirely from things you can find in your own backyard or local park. Mother Natured starts with a simple rock, then uses twigs and hole-punched spotty leaves as the finishing touch on these simple yet creative spider crafts. This craft is so earth-friendly that you will absolutely encourage your children to make as many as they can. Nature walks will never be the same, now that your kids know what crafting materials they can find for free!
40. A Spider Craft You Can't Resist
Image source: I Heart Arts And Crafts
No need to go through endless cycles of trying and failing with different types of watercolor resist art; I Heart Arts And Crafts already did the work for you. With rubber cement working best, you can show your kids how to use white space to create something beautiful; in this case a white spider web against a colorful backdrop. It's almost like magic! Using so many bright colors makes this craft another one for all year round, and not just Halloween. Don't forget to paint a little spider who lives in this web!
Did you like this post? We think you would also enjoy our Zoo Animal Crafts For Kids list too!