Popsicle sticks – also known as craft sticks or ice cream sticks – are a ubiquitous part of any crafting collection or household containing toddlers and preschoolers. Thanks to their versatile nature, you don't need to go to a specialty store to buy them. From supermarkets to dollar stores to office supply chains, these oblong pieces of wood can provide the foundation for a wide variety of crafts and art projects. They're sold in great big packs, in different sizes, and in a rainbow of colors or plain wood.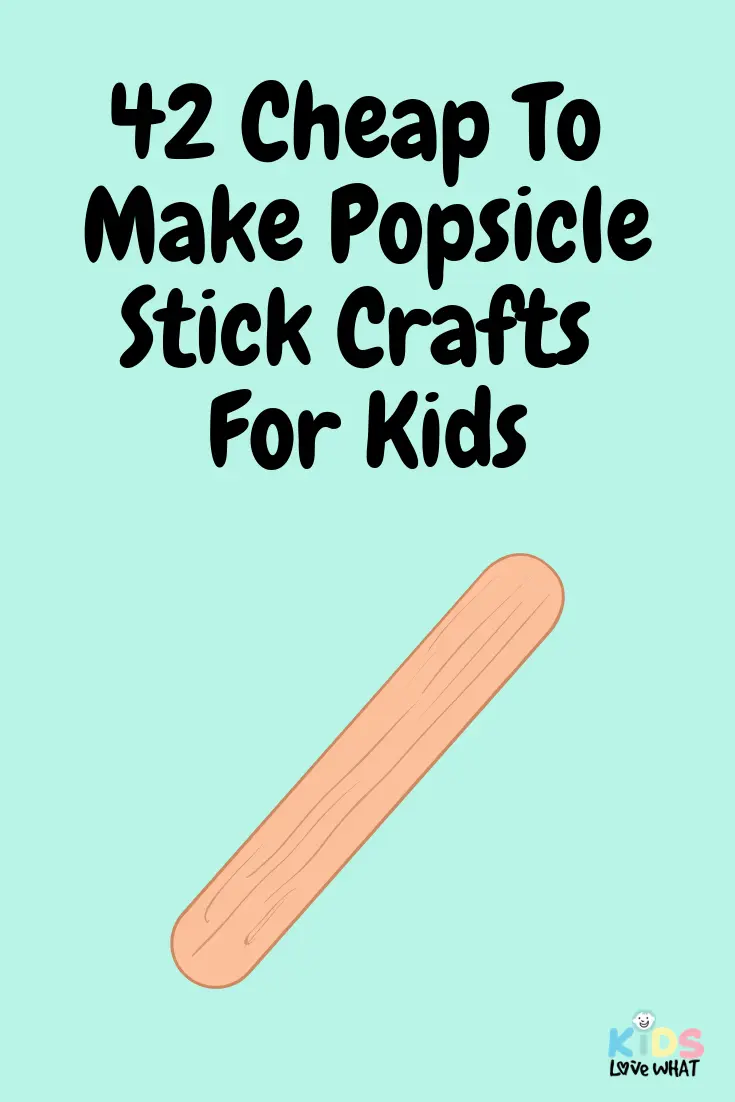 For rainy days, snow days, or when the kids need something to do, popsicle sticks are great to keep around. Whether you are building animals, crafting Christmas ornaments, making rainbows, or painting your child's favorite Disney characters, you and your children will use up popsicle sticks as quickly as you can buy them. Here are 42 of the cutest and simplest popsicle stick crafts for kids of all ages, most requiring little more than a glue gun, paint, and a big imagination.
Looking for low cost popsicle sticks for your crafts? Check out our favorites below!
1. Easy Coasters
Image source: Moms and Crafters
The best thing about these coasters is that they are actually useful! Paint them however you like, or let your child be inspired to paint them in his or her favorite colors. These pallet coasters from Moms and Crafters are a fantastic way to use up all those skinnier crafting sticks you have leftover. Make patterns, match them to your kitchen, or make whole sets for each holiday! They also make great gifts or party activities.
2. Go Fish
Image source: Instructables
This project is a two-for-one deal: once you and your child finish designing and making these, you then have a deck of "cards" with which to spend an afternoon playing games! The how-to from Instructables contains a wood burner, but if you don't have one, a Sharpie will work just fine. Let your younger children create the design to go on the backs of the "playing cards" and then you have something new to bring on long car rides or airplane trips!
3. Wacky Snakes
Image source: Kids Craft Room
Once you make a few of these colorful snakes, your children will have hours of fun taking them apart and putting them back together! Thanks to the creative and clever minds at Kids Craft Room, these snakes actually fold and turn. And by using regular snaps, your child's snakes can come apart in segments to make all new snakes every time they play. Or maybe you and your child can make one very long snake the length of your living room!
4. After A While, Crocodile
Image source: Easy Peasy and Fun
Time to bust out the colorful popsicle sticks – or the green paint – for these too-adorable-to-be-dangerous crocodiles! Easy Peasy and Fun has super simple instructions for this snappy reptile that is sure to delight toddlers and preschoolers. Want to make it educational? Go online and teach your child about the differences between alligators and crocodiles. Or pair these up with the popsicle stick snakes (#3, above), find some potted plants, and play critters in the wild!
Related: Check out more alligator and crocodile crafts here!
5. Dreamy Creatures
Image source: Hello Wonderful
From swamps and rivers and real-life critters to these two creatures of myth and legend. Boys and girls both can have fun making these popsicle-stick unicorns and monsters with help from Hello Wonderful. A little yarn, a little glue, and some colorful paper will help your kids make these magic crafts come to life. With those sleepy eyes and paper teeth, the monsters don't even have to be that scary! Make a wish, don't be scared, and have fun with these truly inspired monster and unicorn crafts for kids!
Related: Unicorn Gifts For Kids: 30 Amazing Ideas For Every Girl
6. Clip-On Picture Frame
Image source: A Few Shortcuts
Picture frames make great gifts for moms, dads, and grandparents. With a few items you probably already have at home, you and your child can enjoy making this very special homemade frame together. A Few Shortcuts has the easy instructions and materials list. Loose buttons make each frame a unique piece of art. And by using a clip, it's super easy to change the photo as often as you like!
7. That's A Wrap
Image source: Inspiration Made Simple
Who knew you can actually bend and shape popsicle sticks? Turns out, it's quite easy! For kids of any age who love to adorn themselves in the latest patterns, trends, and popular characters, this simple trick from Inspiration Made Simple will let them design their own jewelry. Toddlers and preschoolers can color with paint, markers, or stickers, while grade schoolers can glue on rhinestones in all shapes and sizes. Add glitter for extra sparkle or have your child practice making patterns. What a great play date activity!
8. Ready, Aim, Fire!
Image source: Steam Powered Family
Shh, don't tell the kids that this craft might actually be educational! By using straws of different lengths for the launchers, children can learn about effort versus output even if they think they're just playing with toys. And while the design may seem complicated at first, Steam Powered Family has simple instructions that even the least crafty parent can follow. Older kids might even do this by themselves. Then have competitions to see who can launch their cotton swab the furthest!
9. DIY Popsicle Stick Nightlight
Image source: Artsy Fartsy Mama
Creating your own nightlight has never been easier, thanks to Artsy Fartsy Mama! Kids can design their very own with only a handful of supplies — wax paper, some crayons, popsicle sticks and a few other things that can be found around the house. You'll need to use an iron in this craft (to melt the crayons onto the wax paper), so make sure to have adult supervision and get their help if needed! Kids will absolutely love their new source of light at bedtime.
10. Deceptively Easy Popsicle Stick Flashlights
Image source: Fun Loving Families
Don't be intimidated by the electronics involved in this craft – it's actually super easy thanks to Fun Loving Families! This is a great STEM activity for grade school kids, or a fun project to help littler ones conquer their fear of the dark. You probably have most of the items needed already at home. If not, coin cell batteries can be found at pretty much any drug store. Use these to make shadow puppets or for sleepover activities!
11. Puzzle It Out
Image source: The Crazy Craft Lady
There are so many things to love about this popsicle stick puzzle over at The Crazy Craft Lady: the quick and easy way this can be done, the infinite number of designs you and your child can create, the way kids can swap their finished projects in order to challenge one another…the list of positive qualities goes on and on. Older kids can create puzzles for younger siblings, or you can use these to create a "find the pieces" scavenger hunt all over the house!
12. Colorful Baby Turtles
Image source: Pink Stripey Socks
These little guys are just too, too, too cute for words. Pink Stripey Socks has a craft that will melt the hearts of the whole family. With three popsicle sticks per craft, plus some paint, glue, and yarn, you'll have a whole nest's worth of baby turtles ready to hatch! Use different color yarns for each turtle, or buy "self-striping" yarn. This craft is simple enough for even preschoolers to get the hang of once they get started!
13. It's Lightning McQueen!
Image source: Natural Beach Living
Popsicle sticks and Disney are a match made in Heaven. The popsicle sticks are easy crafting materials, and chances are your kids know at least one Disney character. If that character happens to be Lightning McQueen, you're in luck with this craft from Natural Beach Living. Use pre-colored craft sticks or paint your own. With some construction paper, scissors, and glue, you are all set to help your child race down the track!
14. Mike And Sully from Monsters, Inc.
Image source: C'mon Get Crafty
If Monsters, Inc. is on heavy rotation in your house, check out these Mike and Sully crafts at C'mon Get Crafty. If you're feeling particularly creative, the blog also contains instructions for how to make Boo's door. While this craft is shown as a Christmas tree ornament, they work as wall or door hangings for any time of the year. Remember: these guys are there to make your child laugh, not scream!
15. Minimalist Mickey Mouse
Image source: Savings Lifestyle
This project is one to pin and save for a family trip to Disney World or Disneyland. With the inspired instructions from Savings Lifestyle, you don't need to be a professional animation artist to make this adorable Mickey Mouse craft out of popsicle sticks, glue, and paint. Use these to announce a surprise Disney trip to your kids or have them make these before you go as they get ready for the vacation of a lifetime!
16. Mickey Marks The Book
Image source: Mama To 5 Blessings
Mama To 5 Blessings has the genius idea to prepare this Mickey Mouse bookmark craft in advance for very little children. Add a little pink bow to turn these into Minnie Mouse! These super easy bookmarks make the perfect souvenir even if your family hasn't been to Disney yet. Bonus: these bookmarks can double as simple stick puppets for toddlers. And don't be surprised if your older children swipe a few to mark their places in middle grade chapter books!
17. Do You Want To Build A Snowman?
Image source: Craftionary
Wrapping up the best of the Disney-related popsicle crafts comes everyone's favorite snowman! Bring Olaf to life with this cute little project from Craftionary. No need for magic here, though: all you need to make your child's own Olaf are basic crafting supplies you can get in any kids' arts and crafts kit. The little Elsa and Kristoff in your life will absolutely need these to complete their "Frozen" imagination play! (Warm hugs optional, but welcome!) — we also have 48 more snowman crafts for kids too!
18. (Not) Buried Treasure
Image source: Powerful Mothering
If your child is a collector of things – and what child isn't, really? – then you'll definitely want to check out this popsicle stick treasure box from the geniuses at Powerful Mothering. Put the materials in a baking tray to minimize the mess and then let your pint-sized collector go to work painting and creating. The gluing part is pretty straightforward and easy, so the adult portion of the work here is simple. Now your child has their very own treasure box for all those bits and pieces they collect!
19. May The Force Be With You
Image source: Crafts By Amanda
If you are tired of coming home from kids' parties with goodie bags full of cheap plastic toys that break in minutes, then become everyone's favorite class mom with these easy peasy lightsaber popsicle sticks from Crafts By Amanda! When the little Jedis are done lightsaber battling, the sticks can be used as bookmarks (in their favorite Star Wars comics, of course!). Lightsabers come in almost every color of the rainbow, so there are plenty of colors to go around.
20. An Easy Puppet, This Is
Image source: Coffee Cups and Crayons
For the Star Wars parent who wants to introduce their younglings to the epic saga as early as possible, Coffee Cups and Crayons has just the thing. This Yoda puppet couldn't be easier – or sweeter – with a popsicle stick, a paper plate, and a black marker. In just a few minutes you can create Dagoba's favorite swamp dweller! A couple of googly eyes will amuse even those still in high chairs. It's never too early for Jedi training!
21. Over The Rainbow
Image source: The Trophy WifeStyle
Rainbows are so sweet and colorful, they are an instant hit with almost every child of any age. The Trophy WifeStyle has you covered with this gorgeous rainbow-inspired popsicle stick craft that can be made with pre-colored craft sticks or plain ones you and your child paint together. Feeling mischievous? Mix up the color order to make a twisted rainbow, or pick different hues of the same color for an ombre effect. With sparkle foam paper clouds, these will certainly brighten any rainy afternoon!
22. Abstract Art
Image source: Mum In the Mad House
When it's screen-free time in your household and the older kids can't stand one more board game, get out the markers, paint, and popsicle sticks for this abstract craft from Mum In the Mad House. No kid is too big for this project, and when they are done it's easy to assemble everyone's personalized sticks into one large piece. This one is truly a team effort that will bring the family together for laughs, fun, and art time!
23. Dear Diary
Image source: In My Blue Room Designs
If your children have already made piles of DIY stamps out of pieces of wood, cork, or buttons, put them to good use! In My Blue Room Designs has straightforward instructions for assembling popsicle sticks into a journal, which can then be decorated with every stamp your child has created – or with all new kid-inspired designs! These work perfectly for teacher gifts, or to let your child keep in bed when they want to color or scribble before they fall asleep.
24. All The Colors
Image source: Pretty Opinionated
Much like the sweet baby turtles (#12, above), this craft is simple and limited only by your child's imagination. When your kids outgrow their baby animal phase, hand them some popsicle sticks and yarn to create these summer camp-inspired crafts. Pretty Opinionated has you covered with step-by-step instructions. Called a "God's eye craft" in the 1970s, these are still a fun and quick project. Colorful, self-striping yarn is great for these, or use up those yarn scraps you probably have stored away.
25. Spring Daisies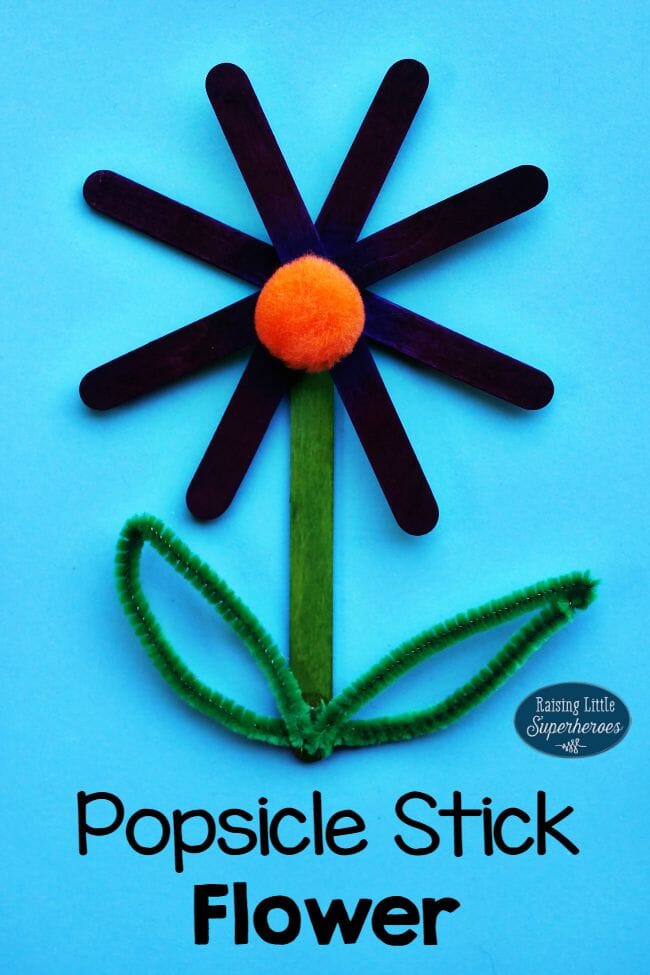 Image source: Raising Little Superheroes
Bring some color into your home on snowy days, or celebrate spring with these colorful daisies designed by Raising Little Superheroes. Spend the day making an entire garden, or a lovely bouquet to give as a gift. Use mason jars as vases on the fireplace mantel or bring them to work to brighten up the office. These are easy enough for little fingers and don't require tons of set up or special materials. These are the best kind of spring crafts for kids!
26. For The Easter Bunny
Image source: The Joy Sharing
If the Easter Bunny leaves baskets of candy at your house every spring, why not leave him a little something in return? Just like kids love to set out milk and cookies for Santa, make these popsicle stick baskets featured at The Joy Sharing. Or use them to hold Easter eggs around the house. For a great non-Easter use, these baskets can double as party favor holders, coin collectors, or class projects.
27. Butterfly In The Sky
Image source: The Resourceful Mama
The first butterfly craft on this list comes from The Resourceful Mama and is easy enough for young toddlers, but fun enough for preschoolers and young grade schoolers. It's an inspired way to use up those pieces of construction paper that get left behind when your child will only use their favorite colors. Tape a few to your living room walls for a springtime kaleidoscope or hang them from the ceiling in your child's room to inspire their imaginations to soar!
28. Fairy Tale Butterfly
Image source: Tinkerabout
The second butterfly on the list utilizes craft feathers and googly eyes to create a darling butterfly straight out of a fairy tale. Soft and sweet, don't be surprised if they end up keeping your child company at bedtime! The instructions can be found over at Tinkerabout. They make a great activity for springtime sleepovers, birthday parties, or just for fun any time of the year! Hang some from the ceiling of your child's bedroom with the butterflies listed above for a truly dazzling effect!
29. Bird House In Your Soul
Image source: Babble
From butterfly crafts to bird crafts, here is a simple bird house your child can be proud of all season long. Babble has instructions that require only four items. Rainy day? Make some and save them for when the sun comes out again. Your child will be so excited to watch birds fly in to snack on something made with his or her own little hands! Try making these with the Dear Diaries above to help children keep a record of all the birds you see coming their bird house!
30. Buzz, Buzz
Image source: Frugal Mom Eh
Continuing with the theme of spring crafts that you can make with popsicle sticks, "bee" sure to make these backyard pollinators for your Spring Dasies (#25, above)! These little guys are so cute you won't even worry about getting stung. Check out the materials list and instructions from Frugal Mom Eh to make these kid-approved projects. Who knows? Maybe you'll end up with an entire hive in your living room, buzzing about and melting your heart! You can find more bee crafts here.
31. Picked Just For You
Image source: I Can Teach My Child
Here's a clever twist on the tradition of giving mom coupons for Mother's Day: a bouquet of popsicle stick flower coupons! I Can Teach My Child has a genius idea for presenting "Good for One Hug" and "Clean Room Without Being Asked" standbys. Why not print out the instructions and photos and leave them where your partner or spouse will just happen to find them? (Just don't forget to act surprised on Mother's Day.) You can even keep the flowers in their "vase" all year long!
32. Daddy Penguins
Image source: Creative Kidz Crafts
Don't you just adore this little penguin craft? Here's a keeper that you and your child can build any day of the year! They're easy as pie and cute as a button with these instructions from Creative Kidz Crafts. Use different-sized googly eyes for an even cuter effect! Your child will love practicing their cutting and gluing skills, and dad will have a unique and special piece of art to treasure forever.
33. Stars & Stripes
Image source: Making of a Mom
For Flag Day, the Fourth of July, or any time your kids are feeling patriotic (the Olympics, anyone?), stock up on the red, white, and blue paint for these American flag popsicle stick crafts. Over at Making of a Mom you'll find everything you need to make your summer full of American pride. Add a ribbon to the top for an all-American Christmas tree ornament or as a decorative door hanger on July 4th!
34. Lazy Days Of Summer
Image source: Sustain My Craft Habit
What's summer without the beach? Make this keepsake from Sustain My Craft Habit to keep beach vacation memories alive year-round. Fill a glass jar halfway with sand, let your child pick up a few small shells from the beach, and you've got a seaside memento to warm you up during those chilly winter months! Wherever you put these in your house, they'll always remind you and your children of sandcastles, sun, and swimming.
35. Back to School Pencil Holder
Image source: Crafty Crafted
Into every child's life, Back to School time must fall. Help them with the transition from summer fun to books and learning with these colorful pencil holders over at Crafty Crafted. By personalizing the colors, ribbons, and stickers, your child will hardly complain (…well, maybe complain slightly less) at homework time with something this beautiful holding their pencils. If your kids are too young to be getting homework yet, use these for markers or paintbrushes in your toddler's crafting nook!
36. I Put A Spell On You
Image source: The Keeper of the Cheerios
When the leaves start to turn and the temperature drops – and the stores stock entire aisles full of bags and bags of fun-size candy – it's time for Halloween arts and crafts. Start with these harmless little witches from The Keeper of the Cheerios. Out of purple construction paper or cardstock? Go with a traditional green skin for your witch! Hang them in windows to greet trick-or-treaters, or tape them to walls for a non-scary Halloween party!
37. Popsicle Stick Gingerbread House
Image source: Books and Giggles
No baking required for this gingerbread house that's sure to become your family's new favorite tradition. Books and Giggles has a list of materials you need, or you can let your child's imagination inspire you to buy any embellishments their hearts desire. Set them in your Christmas tree, tape them to the wall, or add them to your Christmas village. (Just make sure the really little kids don't try to eat these!)
38. A Cup Of Cocoa
Image source: Glued to My Crafts
After a long day of winter-inspired crafts, let your children warm up with these mugs of hot chocolate created by Glued to My Crafts. No timing cups of water in the microwave or stirring pots of milk on the stove. (And, this hot chocolate is 100% calorie-free!) Paint and decorate them any color your kids like and make sure to add plenty of cotton ball marshmallows to the top!
39. Winter Wonderland
Image source: The Best Ideas For Kids
These are just beautiful, and they can be made as unique as real snowflakes. The Best Ideas For Kids blog really wins here with gorgeous snowflakes. They are so fun that your kids won't want to make only one, keeping them busy crafting for HOURS. With jingle bells, sparkly pom-poms, glue-on jewels, and tons of colors, the only thing stopping your kids from creating more will be running out of supplies! This craft is definitely a keeper to enjoy every winter.
40. Caroling At Your Door
Image source: One Little Project
Here is an unusual but wonderful idea for a Holiday craft: popsicle stick doors! When your house is already full of reindeers, Christmas trees, jingle bells, and snowmen, click on over to the creative idea at One Little Project for the materials and instructions. Pipe cleaners add a special touch as wreaths on these little doors that can be made to match the real ones on your house, or for your child to customize.
41. It's All Downhill From Here
Image source: Fireflies and Mudpies
Similar to – but not exactly like – the popsicle stick doors above, are these popsicle stick wooden sled ornaments from Fireflies and Mudpies. With their old-fashioned look, they are just perfect for the family Christmas tree year after year. Let each child make their own and give them Sharpies to write their names on the sleds. When the season is over, pack these away carefully so you can enjoy these sweet keepsakes for many years to come!
42. Anywhere Elf
Image source: Today's Creative Ideas
This little guy isn't just for sitting on a shelf! The adorable face of this popsicle stick elf can go anywhere in your home that needs some Christmas cheer. Thanks to Today's Creative Ideas, you and your child can enjoy a fun Christmas craft during those winter break days at home together. Great big googly eyes make this fella irresistible, and his pom-pom neck ruffle really makes him pop. (Hint: instead of using plain popsicle sticks, ask your child to paint their elf in any color they want!)