If you ask your child to tell you what their favorite color is, they might say pink or green or blue. Or they might just say all of them. Kids of all ages love bright, cheerful colors and rainbows are definitely on that list. There's something that is inherently fun and happy about a rainbow that kids and adults enjoy. These rainbow crafts for kids will do just that, and you and your kids will probably want to make many of them. Rainbow crafts are perfect for a rainy day activity when you're stuck indoors at home. Keep an eye out the window when the rain stops and you might find some inspiration from the real thing.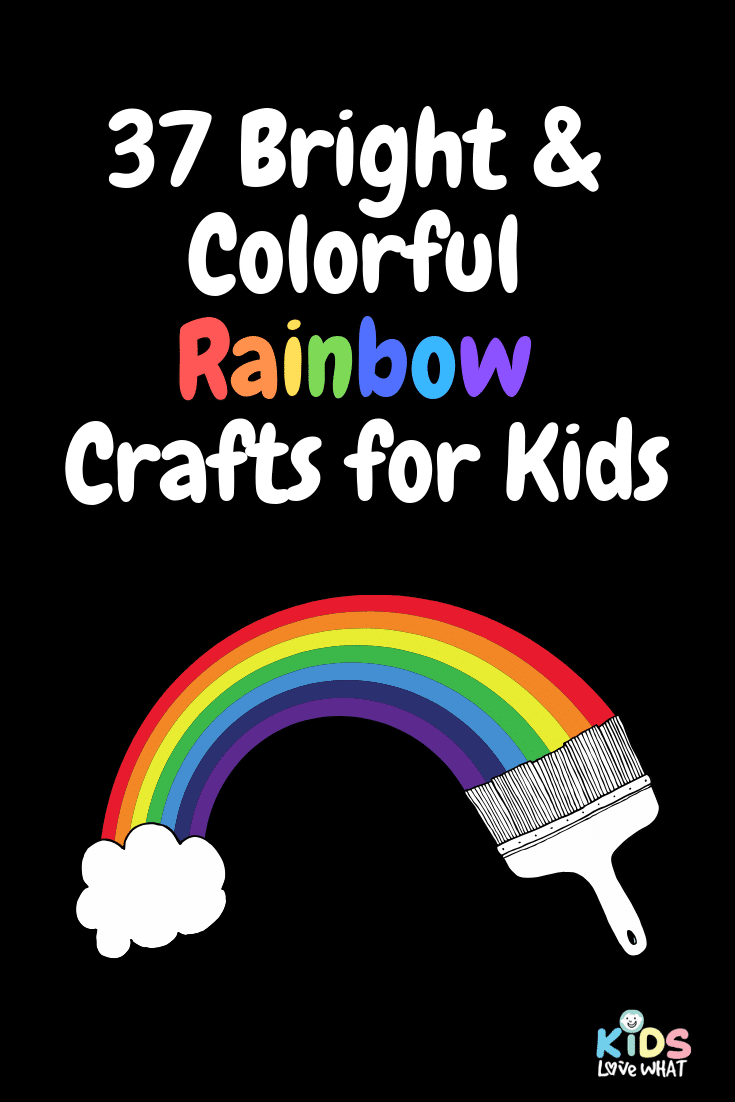 Many of the projects use everyday household items, like paper plates and popsicle sticks, as well as basic craft supplies like paint and glue. There are a few that are pretty messy, but with a little preparation, a messy craft can be really fun! You'll also find some great ideas below to incorporate into a classroom or homeschool lesson on weather and nature or colors and patterns. It's easy to make learning fun for kids when they can explore their creativity at the same time.
Rainbows are popular for Saint Patrick's Day and other spring crafts for kids too. A few of these projects use natural elements or recycled materials, so plan those crafts for Earth Day and sneak in a lesson on taking care of the planet too. Even if you're just looking for a few activities to keep the kids busy over the summer break from school, we've found a wide variety of ideas for preschoolers through tweens. You may even find a few you'd like to try yourself. Browse the ideas below and be sure to bookmark this post so you can come back to it again and again!
1. Smiling Paper Rainbow Cloud
Image source: Easy Peasy and Fun
This is a fun activity for preschoolers to practice cutting skills. If April showers bring May flowers, this smiling paper cloud brings a rainbow of paper strips. All your kids need for this project from Easy Peasy and Fun are craft paper, scissors, and glue. Make a fluffy cloud from white paper and attach strips of paper in a rainbow of colors. Add a smiling face and eyes on the front.
2. Painted Paper Plate Rainbow
Image source: Arty Crafty Kids
Whether you choose finger paints or craft paint and brushes, this kids activity from Arty Crafty Kids is a great lesson to experiment with color. Let kids explore mixing paint in primary colors to get secondary ones. After cutting a paper plate in half and removing the center, paint rainbow stripes around the curve. Add cotton ball clouds on either end to finish and display your kids' artwork on a sky blue background.
3. Pom Pom Rainbow Accessories
Image source: My Sister's Suitcase
Make this rainbow accessory with your color-loving child for everyday wear or as part of a special Saint Patrick's Day outfit. It can be worn as either a necklace or headband. Follow the instructions from My Sister's Suitcase to make a bunch of colorful yarn pom poms. String the pom poms on elastic for your child to wear or use them in other yarn crafts and decorating projects around the house.
4. Pony Bead Rainbow Suncatcher
Image source: Rhythms of Play
Catch the sunlight coming in through the windows of your house and see if your child can spot rainbows reflected indoors. This suncatcher by Rhythms of Play is made from plastic pony beads, so there's no worry about broken glass from a traditional suncatcher. To make this craft, have your child string beads onto clear cord and tie a small prism on the end. Encourage them experiment with patterns to see how the reflection changes.
5. Foam Shape Rainbow Activity
Image source: Fun Learning For Kids
Do you have a stash of foam pieces or stickers for craft projects? Kids love stickers and this idea from Fun Learning For Kids lets them practice fine motor skills and creating patterns. Set up this activity by drawing a rainbow on a big piece of craft paper (if you have stickers) or contact paper (if you have regular foam pieces). Encourage your child to sort the pieces by color and place them on the rainbow.
6. Traveling Rainbow Science Experiment
Image source: Fun Learning For Kids
This fun experiment is a must for your homeschool science lessons. Even if you don't homeschool your children, they will love learning about how this activity at STEAM Powered Family. This project includes instructions and troubleshooting tips for setting up glass jars with water, food coloring, and paper towels. Within a few days, the colors will have traveled between the jars to combine and create new colors. As the water redistributes, the jars will look like a rainbow.
7. Rainbow Handprint Artwork
Image source: Kids Craft Room
This beautiful, messy art activity makes a lovely gift idea for mom, dad, or grandparents. It is sure to become a keepsake so you can remember when your baby's hands were so small. Kids Craft Room also reminds parents to let kids explore the process too. Paint rainbow stripes on your child's hand from finger to palm and press it onto a piece of white paper. Repeat the process to create an arcing rainbow.
8. Tied Fleece Rainbow Scarf
Image source: The Soccer Mom Blog
Make a no-sew scarf for your child, inspired by Rainbow Dash from My Little Pony. This adorable project from The Soccer Mom Blog resembles the colorful pony's mane, but would appeal to any rainbow-loving kid. To make this scarf, you'll tie smaller strips of fleece fabric onto a single, longer piece. Create a pattern, alternate colors, and have fun. This is simple enough that you can enlist your child for tying too.
9. Q-tip Painting Rainbow Templates
Image source: Fun With Mama
One of the best ways to explore your child's creativity is to give them different materials to create art projects with. Print one of the rainbow templates from Fun With Mama and give your child q-tips to use as paint brushes. Choose a classic rainbow shape or a heart-shaped template. For younger kids, this is a fun way to practice fine motor skills in addition to colors, matching, and hand-eye coordination.
10. Rainbow Washi Tape Rain Stick
Image source: Mum in the Madhouse
Making a rain stick is a fun rainy day activity for kids. It can also be tied into a lesson on weather or used as a musical instrument. To make this version from Mum in the Madhouse, you'll need an empty cardboard tube, washi tape, and some type of filler, like dry beans. The tube is filled with beans and sealed. Then you can let your kids decorate with colorful stripes of tape.
11. Perler Bead Rainbow Keychain
Image source: My Frugal Adventures
Crafts aren't just for little kids and this rainbow craft idea from My Frugal Adventures will appeal to big kids and tweens. Perler beads are small plastic beads that melt when heated to form a solid piece of plastic. To make this rainbow keychain, your kids will need an assortment of colors, a pegboard, and an iron. Be sure to supervise the heating for younger kids. After ironing and cooling the plastic, hook a keychain loop through the center.
12. Magic Fairy Wands
Image source: Rhythms of Play
Sometimes all a child needs for hours of playtime is a little inspiration. Make a magic fairy wand with your child and see what their imagination creates. Follow the tutorial from Rhythms of Play to make felt stars from glitter felt and attach it to a wooden dowel. Attach ribbon for streamers and embellish the star with gold cord. An adult should use the hot glue gun or use a type that doesn't get too warm.
13. Pipe Cleaner Loop Rainbow Cloud
Image source: Preschool Inspirations
Practice fine motor skills or add this activity to a lesson on weather for a fun craft idea from Preschool Inspirations. The main section of this rainbow cloud is a white paper cloud with holes punched along the bottom. Offer your child a handful of pipe cleaner, cut in half, and have them make the pieces into circles, connecting them in a chain from the holes in the cloud.
14. Tissue Paper Stained Glass
Image source: Where Imagination Grows
Once you've made one of these tissue paper crafts with your child, you'll want to make enough for every window. The craft from Where Imagination Grows is simple, but the end result is beautiful. Set up the work area by making a frame from black construction paper on a larger piece of contact paper. Give your child a rainbow of colored tissue paper, cut into small pieces, to stick on the contact paper inside the frame.
15. Edible Rainbow Slime
Image source: Growing a Jeweled Rose
If your kids have been begging to make slime, but you're hesitant to use chemicals or worry they might taste it, this recipe from Growing a Jeweled Rose is edible. However, they shouldn't plan on eating a ton. Combine the main ingredients and divide it into several bowls. Add Kool-Aid powder to color the slime. Mix colors together to create a rainbow, and stretch to see what happens. When the kids are done playing, this will keep for a day or two.
16. Colorful Water Xylophone
Image source: Mama Papa Bubba
A water xylophone takes just a few minutes to set up, but once you do, your child will be able to play for hours. Mama Papa Bubba makes it even more fun by adding food coloring to turn it into a rainbow. To make the xylophone, set up several glass containers and fill them with water in increments. Each one will make a different sound based on the water level. Give your child a few items to tap the glass with and see what tones they can create.
17. 3D Heart Rainbow Mobile
Image source: Twitchettes
Make this precious paper craft with your child for Valentine's Day or to decorate for any spring holiday. All you need are paper, glue, and string. Staples are also handy. Follow the instructions from Twitchettes to cut construction paper into several strips of different colors and sizes. Layer them together to create a teardrop and use two to make a heart shape. Attach each section to a string to create a whole chain of hearts.
18. Homemade Rainbow Playdough
Image source: Lemon Lime Adventures
Playdough is easy to make at home and this recipe from Lemon Lime Adventures has just a handful of ingredients. Playdough is fun for hours of creative play. Your child's imagination is the limit when it comes to shapes, animals, and other things they can build. This recipe cooks on the stovetop for a few minutes, and after it cools it can be stored for a few days. If left out, it will dry quickly.
19. Painting With Toothbrushes
Image source: The Pinterested Parent
The Pinterested Parent has a unique idea for painting that repurposes an item you probably would just throw out without thinking. The idea is simple: repurpose old toothbrushes to use for painting. Set up the art area with paper and paint in a tray. You may want to choose a thinner paint or add a bit of water to make it spread with the toothbrush easily. Show your child how to make wide strokes to create a rainbow.
20. Pom Pom Painted Rainbow Fish
Image source: Planning Playtime
Download the fish template from Planning Playtime to do this colorful painting activity. For painting, clip a clothespin on each pom pom to make a brush. Kids will hold the clothespin, dip the pom pom in paint, and dot it onto the paper fish. Encourage the kids to dot in a rainbow pattern or just have fun. After the paint dries, add a big wiggly eye or just draw one on.
21. Rainbow Kinetic Sand
Image source: Mom Dot
Kinetic sand is fun because it holds its shape and is easy to mold like beach sand. You can purchase kinetic sand in a toy or craft supply store, but making it at home is easy. Combine sand, corn starch, and dish soap. Then divide the sand and add drops of color according to Mom Dot to get perfect rainbow colors. There are also a few variations on this recipe, in case you want it wetter or drier.
22. Painting Rainbows With Cork
Image source: No Time for Flash Cards
Painting with corks is a fun way to repurpose materials from No Time for Flash Cards. They work similarly to rubber stamps and are perfect for making nice, round polka dots. Set up a painting station and cut a piece of paper into a rainbow or draw one. Let your child test out the corks and experiment with colors. See how they blend together, create a pattern, or just get messy.
23. Rainbow Pom Pom Bangles
Image source: Kids Craft Room
Kids Craft Room has a cute idea for making tiny pom poms into bangle bracelets and rings. In addition to the pom poms, you will need embroidery thread for a bracelet or elastic for a ring. Have your child line up the pom poms in rainbow order or however they like. Use a needle to thread them onto the bracelet thread, leaving space to tie off the ends. For the ring, thread the pom poms onto the elastic and tie the ends together snugly.
24. Rainbow Watercolor Doilies
Image source: Raising Kinley
The unique art project from Raising Kinley is twice as nice because the art canvas and the doilies look fantastically colorful. Tape a few paper doilies onto a big piece of paper, careful not to cover the lace. Let your child watercolor all over the doilies, blending colors and making a cheerful mess. Remove the doilies to reveal a lovely pattern on the canvas. Dry and save the doilies for another project.
25. Rainbow Polymer Clay Pendants
Image source: Projects with Kids
Polymer clay is fantastically flexible. You can make almost anything from it and Projects with Kids turned theirs into colorful rainbow jewelry. Make a template for any shape, model the backing support piece, and add stripes of rainbow clay. After baking the clay and letting it cool, thread the pendant on a cord to wear as a necklace or attach to a keychain or zipper pull. These would make a fun gift idea too.
26. Rainbow Button And Ribbon Craft
Image source: Sunshine Whispers
This colorful craft idea from Sunshine Whispers will have your child practicing several developmental skills including sorting, measuring, and cutting. This project starts with a fluffy cloud made from cotton balls on a cardboard shape. Then rainbow-colored ribbons are decorated with buttons in matching colors. You can include other tiny items, like pom poms or beads. The ribbons are attached to the cloud to hang down as a rainbow.
27. Sequin Rainbow Barrette
Image source: Surviving a Teacher's Salary
Make this glam accessory with an everyday hair clip, some craft foam, and a variety of sequins. The tutorial at Surviving a Teacher's Salary starts by making a rainbow shape from the craft foam. You can follow a template or freehand draw it. Then carefully glue each row of sequins in place. Attach the rainbow to the hair clip and let everything dry very thoroughly. Your child will love showing off this tiny hair clip.
28. Saint Patrick's Day Pot Of Gold
Image source: I Heart Crafty Things
Everyone knows that at the end of a rainbow, you'll find a pot of gold. Try your luck and make this cute St. Patrick's Day craft from I Heart Crafty Things with your child. Start by turning half of a paper plate into a pot and the other half into a rainbow. Attach fluffy cotton ball clouds to the rainbow and shiny gold coins to the pot. Angle the rainbow and attach it so the pot of gold is at one end.
29. Friendly Rainbow Booklet
Image source: Pink Stripey Socks
This cute project from Pink Stripey Socks was inspired by the kids' book "My Color is Rainbow" but will be a hit with all rainbow fans. The booklet is made from construction paper and each page is a different color. The whole thing is shaped like a rainbow and the cover has a rainbow with a smiling face. The project is quick to make and requires only paper, scissors, and a stapler.
30. Colorful Tissue Paper Clover
Image source: Housing a Forest
Make your Saint Patrick's Day activities more colorful by making this craft from Housing a Forest. Instead of the classic green shamrock, this one includes all the colors of the rainbow in a stained glass pattern. Cut pieces of tissue paper into squares to glue over a square of paper and then trace the shamrock template to cut it out. Hang a few up around the house, string them together for garland, or attach them to other projects.
31. Popsicle Stick Rainbow
Image source: The Resourceful Mama
It's time to raid your medicine cabinet for craft supplies. This easy rainbow project by The Resourceful Mama is made from popsicle/craft sticks or tongue depressors and cotton pads. You can use colored sticks or add color to natural ones with paint, markers, or dyes. Line them up in rainbow order and attach clouds crafted from the cotton pads. Since this rainbow is so thin, try using it as a bookmark at story time.
32. Rainbow Playtime Telescope
Image source: Smart Schoolhouse
Turn your next game of I Spy into an extra-special activity by making this telescope craft from Smart Schoolhouse. Each section of the telescope is made from craft foam in a different color, including gold at the end. The "lens" is made from cellophane and a mason jar ring. All the pieces are hot-glued together, so let your child help with close supervision. When it's cool and dry, let your child explore and tell you about what they see.
33. Shaving Cream Rainbow Art
Image source: Hello Wonderful
Prepare to get messy, because this art project is a ton of fun. Add this shaving cream rainbow art at Hello Wonderful to your kids' activity list. In a pan, layer shaving cream with paint on top, then watercolor paper. Carefully remove the paper to see the paint transfer design. Swirl the colors together, add more colors, or change up the shaving cream before adding a fresh paper to make another print.
34. Mini Rainbow Windsock
Image source: Kids Craft Room
This rainbow windsock is a fun, indoor rainy day activity. After your kids make this rainbow craft from Kids Craft Room, hang them around the house or let the kids blow through them to make the streamers wave. You can use any type of glue for this craft. The main section is a cardboard tube, painted blue with white clouds. The streamers are colored tissue paper strips to blow in the "breeze."
35. Painted Stick Wall Art
Image source: Twitchetts
Gather small sticks or twigs on your next family walk for this painted stick wall art from Twitchetts. You can also collect sticks from your backyard. Paint each one a different color of the rainbow or let the kids paint them all multicolored. After the paint dries, tie each painted stick to a single unpainted one. Add a string to hang the artwork to display it somewhere in your house.
36. Rainbow Mobile
Image source: Pink Stripey Socks
Make a rainbow mobile to decorate your child's room. Because this idea from Pink Stripey Socks is made with cardboard, you can use recycled materials. Download the template and cut the rainbow arcs. Paint each arc a different color or combine two on a single piece. Thread a piece of string through the center of each piece of cardboard and tie a loop at the top to hang the mobile. For extra fun, thread a few beads on the bottom of the string.
37. Edible Food Paint
Image source: Kids Craft Room
Let your children have their art and eat it too! This idea for edible paint from Kids Craft Room is so fun and colorful. The paint is made from sugar, water, and food coloring. Once your colors are mixed up, they can be brushed on like thick watercolors. Try the paint on bread or similar food items that will hold up to moisture. Set your kids up to paint their bread masterpieces or work together to make rainbow bread.