Springtime is all about change. Flowers and trees turn green, animals come out of hibernation, and color is everywhere. These exciting spring crafts for kids are a fun way to celebrate the new season as well as holidays like Easter, Saint Patrick's Day, Earth Day, and even Mother's Day.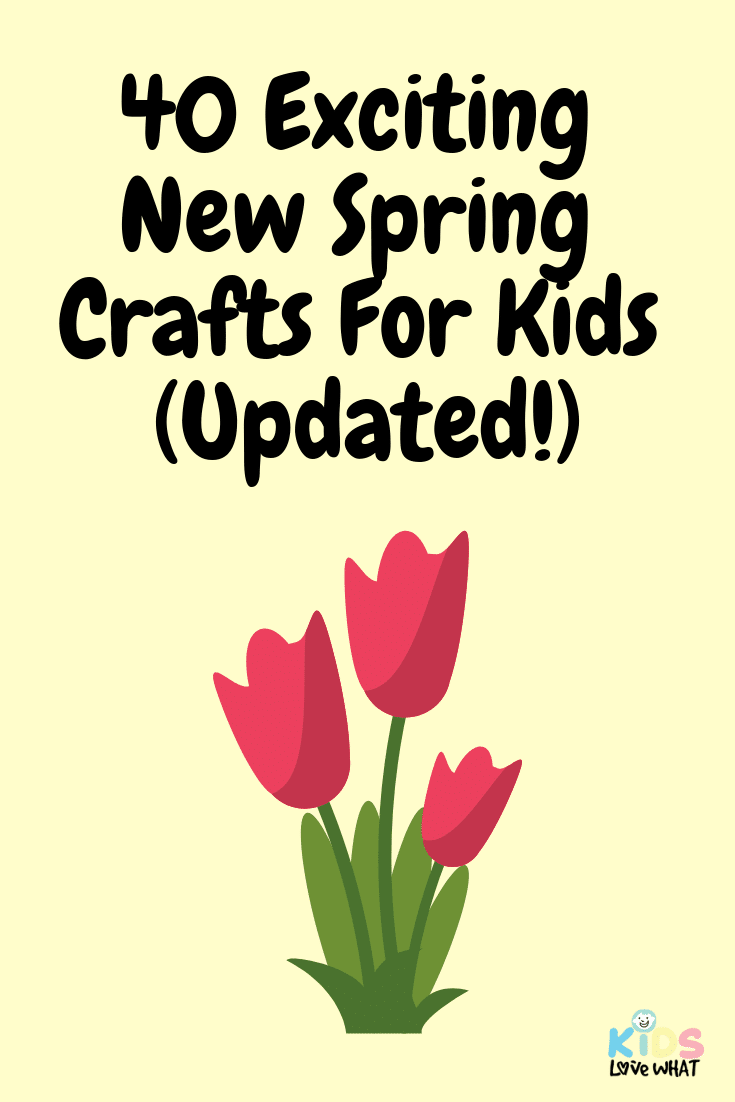 Most call for everyday craft supplies like paper, glue, pipe cleaners and popsicle sticks. For younger kids, this is a great way to practice fine motor skills like cutting and gluing, as well as learning about the seasons and simply having fun with hands-on activities.
1. Spring Paper Tulips
Image source: I Heart Crafty Things
Tulips are a traditional spring flower. They come in a wide range of bright, cheerful colors and make for an easy spring craft. This 3D paper tulip craft from I Heart Crafty Things is simple to make with cardstock, scissors and glue. Cut out the flowers and leaves, then use a simple paper-folding technique to attach them to the background. Kids will enjoy making these beautiful flower crafts as a card for Mother's Day or to decorate for any spring holiday.
2. Ladybug From An Upcycled CD
Image source: I Heart Arts And Crafts
If you've got old movies or music lying around, you probably have what you need to turn an old disc into a cute ladybug. Paint a CD black and attach a few construction paper details to make a cute garden bug. Not only is this a fun spring gardening-inspired project, but it is also eco-friendly by reusing materials that might otherwise end up in the trash. Find the full instructions from I Heart Arts and Crafts.
3. Colorful Sponge Painted Butterflies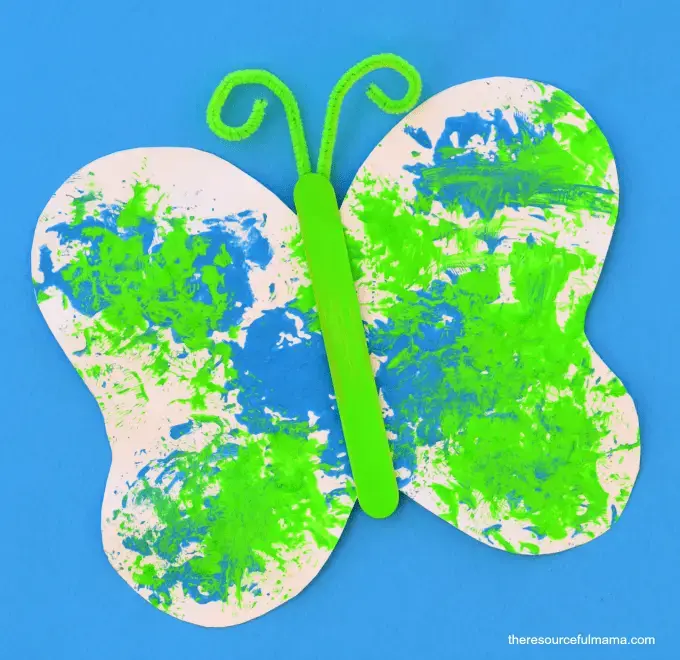 Image source: The Resourceful Mama
Sponge painting is a fun and messy way for young kids to practice their fine motor skills. This sponge painted butterfly tutorial from The Resource Mama includes a simple spring craft to encourage creativity by creating colorful butterflies. Favorite kids' craft supplies like pipe cleaners and popsicles sticks make this a great group activity. Experiment with your child's favorite colors to make each butterfly craft unique.
4. Easter Bunny Garden Containers from Upcycled Bottles
Image source: Hello Creative Family
These fun and colorful bunnies are made from recycled plastic soda bottles. Upcycle a few and turn them into planters for Easter. Give them as a gift or make them to decorate your home and start an indoor garden. With a little adult supervision, kids can cut the bunny shape using scissors, decorate with paint, and plant them full of spring flowers. Find the step by step instructions at Hello Creative Family.
5. Colorful Pipe Cleaner Rainbow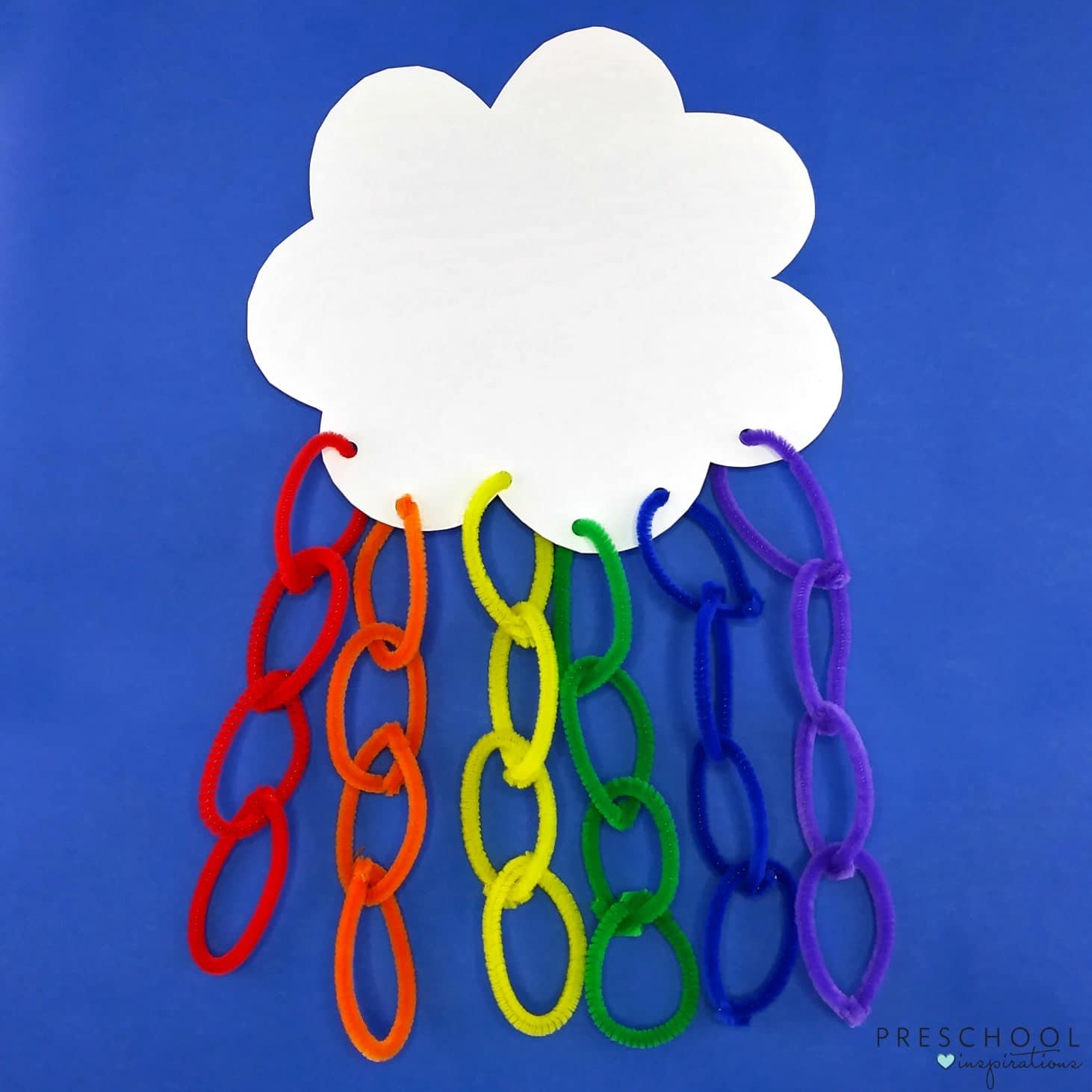 Image source: Preschool Inspirations
After rainy spring days come colorful rainbows. This rainbow craft from Preschool Inspirations is the perfect rainy day activity for young kids and would be a fun holiday project for Saint Patrick's Day. Cut and shape pipe cleaners into rings to make the chain and attach it to a white paper cloud. Turn it into a learning opportunity to discuss weather, colors, or other changes that take place in the springtime.
6. Paper Daisies For Spring
Image source: How Wee Learn
These paper daisies from How Wee Learn are truly easy. All you need is cardstock and paper straws. Choose any color from traditional pink and white to more creative patterned paper to make a whole bouquet for spring. The craft tutorial includes detailed photos of how to cut the paper strips, fold them, and layer them together.
7. Trolls Plant Containers
Image source: The Best Ideas For Kids
The 2018 hit kids' movie Trolls was the inspiration behind this adorable garden planter craft. Paint several empty mason jars and let kids decorate each with a unique face. Then plant your favorite colorful flowers inside to grow "troll hair" in the container. The Best Ideas for Kids includes photos and a video tutorial to help you make a whole family of garden trolls.
8. Adorable Beaded Snails
Image source: This N' That With Olivia
You may not want to find snails in your spring garden, but there's no denying that these paper plate snails are pretty adorable. Kids will love lining up the beads on the paper plate snail shell to create a pattern. Use a mixture of shapes, sizes and colors to make each snail a unique work of art. Note: If you use hot glue, be sure to supervise kids closely.
9. Hopping Paper Cup Bunny
Image source: Creative Little Explorers
Here comes Peter Cottontail! Kids will love making this paper cup bunny who can really hop. Use a clever trick with a hidden rubber band to attach two paper cups together so that when pressed down, they jump. Decorate with bunny ears, a nose and wiggly eyes for an adorable spring or Easter kids activity. Creative Little Explorers has a video of the bunny in action.
10. Decorated Eggs With A Potato Stamper
Image source: The Best Ideas For Kids
Take a classic crafting technique and turn it into a holiday tradition by carving a potato to look like an Easter egg. The shape is perfect for small hands to grip and potatoes make a great stamp shape that can be painted and stamped over and over. This tutorial from The Best Ideas for Kids is a simple, fun painting activity that kids of all ages will enjoy.
11. Soft And Fuzzy Sheep Craft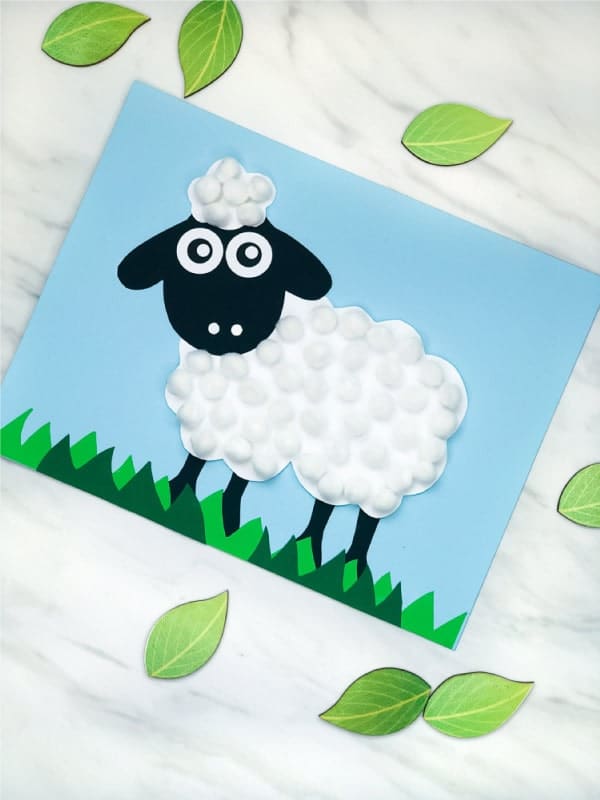 Image source: Simple Everyday Mom
Springtime is full of baby animals, including soft and fuzzy sheep. Make a sheep with construction paper and cotton balls or pom poms. Get the free printable sheep template from Simple Everyday Mom. This is a fun kids activity for Easter, and would also be a great addition to a lesson on farm animals or nature. Kids can practice cutting with scissors and gluing the pom poms in place.
12. Pom Pom Caterpillar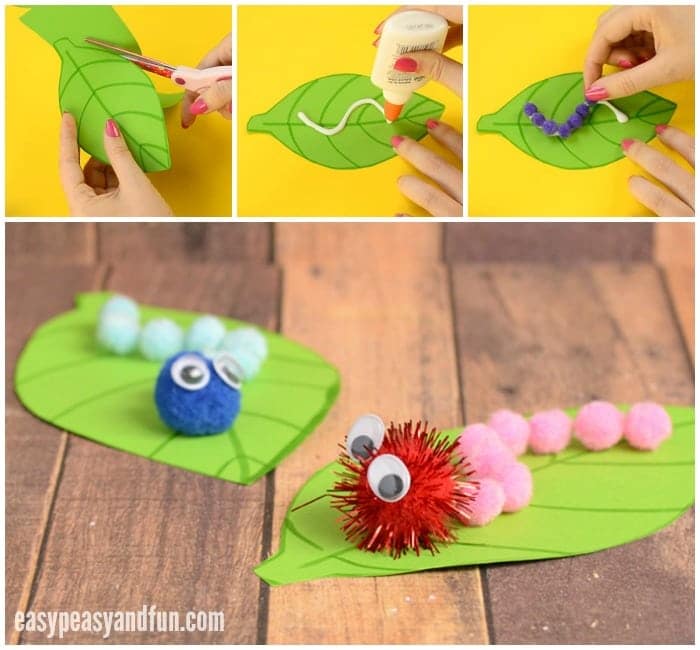 Image source: Easy Peasy And Fun
Spring often means gardening, which always means you're going to see a lot of bugs. Kids will love making a cute caterpillar from a variety of colorful pom poms. This cute project starts with drawing a leaf for the base, then adding dots of glue to let the caterpillar wiggle his way across. Complete with wiggly eyes for a bug that's too cute. Watch a video tutorial from Easy Peasy and Fun.
13. Keepsake Thumbprint Flower Art
Image source: Glued To My Crafts
Turn your child's thumbprints into a beautiful work of art by following this simple thumbprint flower tutorial. Start by downloading a template from Glued to My Crafts. Then choose a washable paint in your child's favorite colors. Dress to get messy, then have fun dipping a thumb or finger into the paint to make each of the prints on this colorful dandelion. You'll want to frame this one for sure!
14. Rainy Day Suncatchers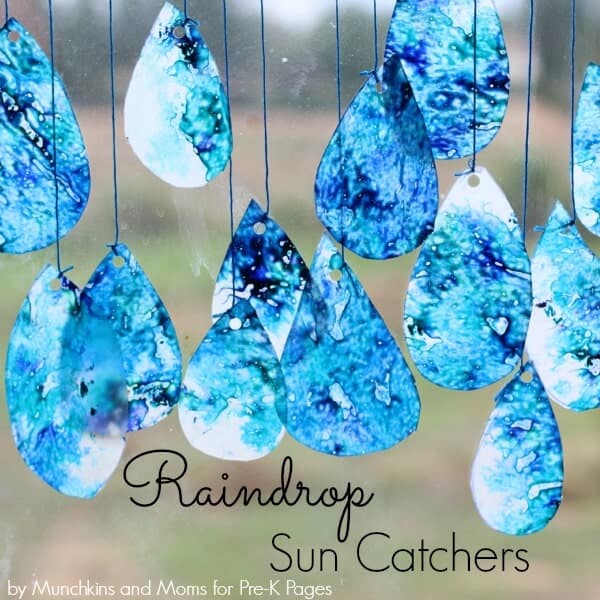 Image source: Pre-K Pages
April showers may bring May flowers, but that doesn't mean you and your child can't enjoy the rainy days. This beautiful raindrop suncatcher from Pre-K Pages is made by melting crayons onto wax paper. Your child can help sharpen the crayons into shreds, then an adult can press them between sheets of wax paper. Cut out the raindrop shapes and hang them in the window for a unique springtime craft project. This is just one of many awesome spring art ideas for preschoolers — keep browsing through the list!
15. Coffee Filter Butterflies
Image source: Honey And Lime
Coffee filters and watercolor are a unique combination that creates beautiful swirly colors. Children will love this butterfly coffee filter craft and parents will appreciate how little mess it creates. Once the coffee filters are dry, they can be wrapped with pipe cleaners to create the antennas. Use your choice of color combinations. Create patterns like real butterflies or get creative and make whatever your child can imagine.
16. Apple Bird Feeders
Image source: Natural Beach Living
Birdwatching is a fun family activity and springtime means the birds will be returning home. Make a few of these apple bird feeders to hang outdoors and see what birds you can spy. In addition to apples and bird seed, you need a few other ingredients, including gelatin to make the bird seed stick in place. Pick up a book from your local library to see which species are found in your area.
17. Swirly Shaving Cream Eggs
Image source: Typically Simple
Coloring Easter eggs is a classic holiday tradition. This year try making these extra large eggs with cardstock and shaving cream. The shaving cream combines with paint to create a unique marbled effect. Use classic spring pastels or choose your favorite colors. Each shaving cream egg will create a unique design. Note that this craft can get messy, so dress in paint-friendly clothes and protect your workspace with newspapers.
18. Paper Carrot Garden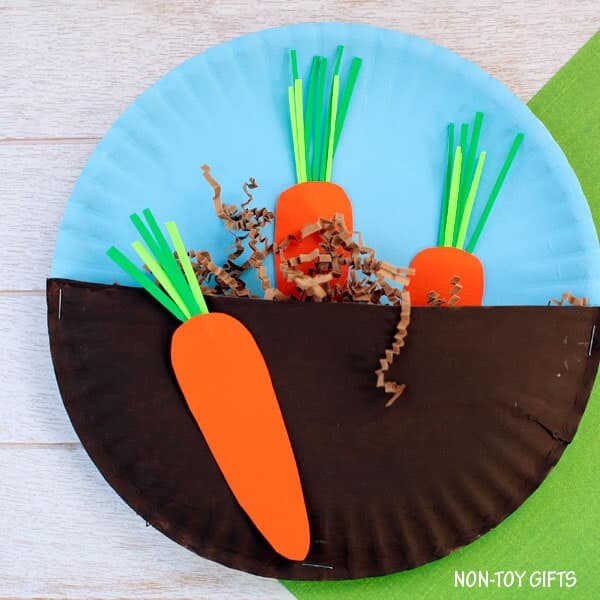 Image source: Non Toy Gifts
Make a mini garden from two paper plates and let kids "plant" and "harvest" these carrots. Paint one plate sky blue and the other an earthy brown. Make a few paper carrots from cardstock and don't forget the leafy green stems. Fill the pocket with Easter grass or shredded paper for a fun lesson in gardening. Your paper carrot garden may even encourage picky eaters to try a new vegetable.
19. Edible Peeps Play Dough
Image source: 123 Homeschool 4 Me
Pick up a few extra packages of Peeps this Easter and make this colorful and edible play dough with the kids. It needs just three ingredients and comes together quickly. It also stays soft for quite a while, so your kids can enjoy hours of creating shapes – and tasting a few of them! Get the recipe for this simple hands-on kids activity from 123 Homeschool 4 Me.
20. Nature Suncatchers
Image source: Hands On As We Grow
Take advantage of beautiful spring flowers and plants to make this simple nature suncatcher. Start with flowers from your garden, yard or take the family on a nature walk to collect materials. The flowers and other elements are pressed between wax paper and then framed with paper plates. You could also use cardstock too. These are the perfect types of nature crafts for kids this Spring! Get the details for this idea from Hands On As We Grow.
21. Flowers With Do-a-Dot Markers
Image source: The Kindergarten Connection
Do-a-Dot markers are a fun craft supply to keep on hand for activities with younger children. They encourage fine motor skills and are great for practicing patterns. This flower craft is a simple spring activity that uses only the markers and paper plates. You could also cut cardstock into other shapes. Find this and other cool craft ideas at The Kindergarten Connection.
22. Bunny Crayons
Image source: The Inspiration Edit
Turn old, broken crayons into cute spring bunnies – or any other shape you like – with this easy tutorial from The Inspiration Edit. All you need are some crayons and a silicone mold. This is a great way to recycle and use up those tiny bits that are too short to color with. Mix colors together in the same mold to create swirly, colorful crayons, or sort by color to create ombre or matching color schemes.
23. Paper Flower Craft From An Egg Carton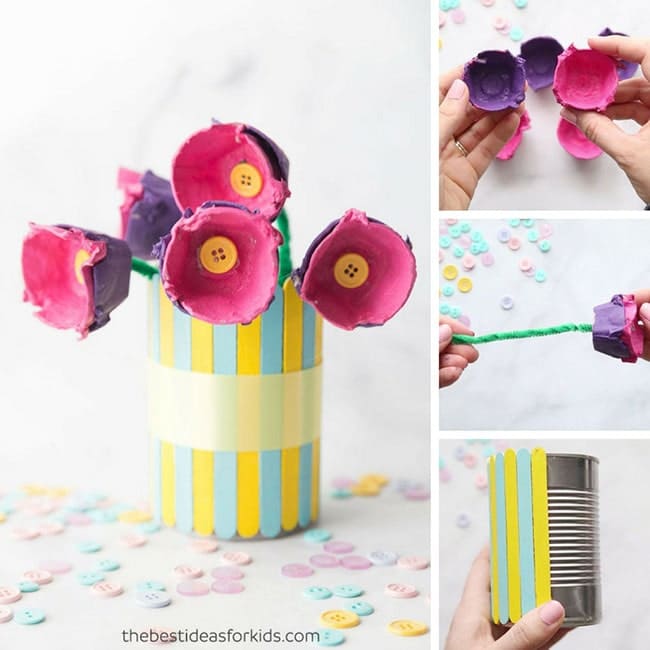 Image source: The Best Ideas For Kids
After you've colored eggs for Easter, upcycle the empty container to make this easy spring flower craft. You'll also need pipe cleaners and buttons. The tutorial from The Best Ideas for Kids includes instructions on making a popsicle stick vase too, or you can simply use any container to display your child's flower creations.
24. Honeybee From An Egg Carton
Image source: Buggy And Buddy
Kids love bugs and this adorable honeybee is a fun and safe way to learn about pollinators. The craft tutorial from Buggy and Buddy starts with upcycling an empty egg carton. Add paint, yarn, and wiggly eyes. After he's all done, your child can fly him around or introduce him to your flowers. Check out more of our bee craft ideas here.
25. Simple Paper Doily Sunshine
Image source: Crafts On Sea
After a few rainy days, this smiling sunshine project is a welcome burst of color. It's also a fun activity for a weather lesson. This easy kids' craft tutorial from Crafts on Sea is mostly painting and gluing. When the sunshine is dry, be sure to decorate him with a big, friendly smile. If you can't find paper doilies, paper plates will also work for this project.
26. Woven Paper Plate Flowers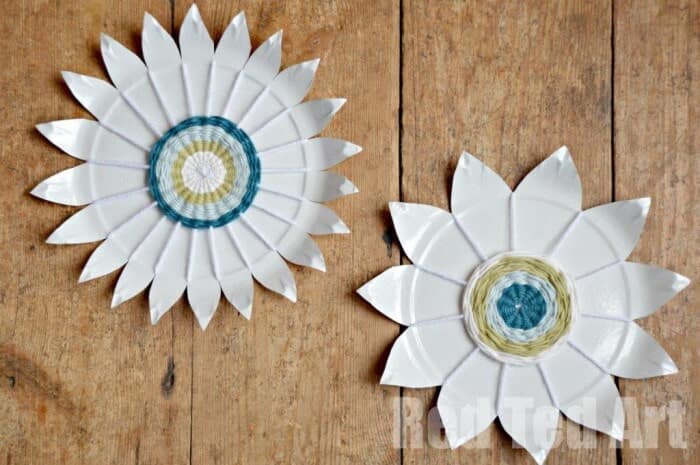 Image source: Red Ted Art
Teach your child this simple beginner weaving technique and make beautiful paper flowers for spring. This project from Red Ted Art starts with a paper plate. Cut it into one of several different flower shapes to hold the yarn. Wind the yarn across the plate to start, then weave between those sections to create concentric circles. Choose any color combination your child enjoys.
27. Spring Beaded Napkin Rings
Image source: Jennifer's Little World
Hama beads are small plastic beads that melt when heated to the right temperature. They're perfect for making patterns and shapes. Young kids will need supervision, but kids of all ages will enjoy creating these pretty beaded napkin rings. The trick is to make a rectangle and then wrap it around a tube while still hot. Find the instructions from Jennifer's Little World and make them for a spring party. Note: Hama beads are the same thing as Perler beads in the U.S.
28. Four-leaf Clover Suncatcher
Image source: There's Just One Mommy
Make your own luck and a rainbow-colored four-leaf clover. This shamrock begins with kids coloring a coffee filter with markers, then misting them with water to blend the designs to look like watercolors. Once dry, the coffee filters can be layered in a frame cut from cardstock and trimmed into the shamrock shape. Get the full instructions from There's Just One Mommy.
29. March Paper Plate Craft Idea
Image source: A Mom's Impression
This clever craft from A Mom's Impression is a fun take on the saying, "March comes in like a lion and goes out like a lamb." Kids can make a reversible paper plate with a lion on one side and a lamb on the other. The lion's mane and lamb's wool are cut from construction paper and curled. This fun spring craft is the perfect way to learn about the changing seasons and language.
30. Bunny Nose Photo Prop
Image source: Kids Craft Room
Kids love dress up and this cute bunny nose makes a fun prop for spring photos. This project starts with painting a popsicle stick for the handle. Then you simply add paper rectangle teeth, pipe cleaner whiskers, and soft pom poms for a nose. This would be a fun group activity for a spring or Easter party at home or school. Be sure to get plenty of photos of your "bunnies" when their project is done.
31. Flying Rainbow Windsock
Image source: Kinder Craze
These bold and colorful rainbows are sure to be a hit with kids of all ages. Painted rainbow stripes on paper are rolled into a tube shape and streamers are attached to create a windsock. This craft from Kinder Craze includes instructions on how to create a template that kids can trace to create even lines and paint the rainbow. It's fun for Saint Patrick's Day or any beautiful spring day.
32. Pressed Nature Imprints In Clay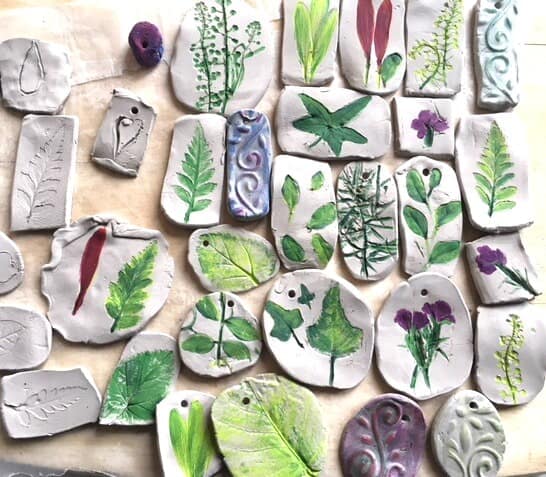 Image source: My Bright Ideas
Kids love exploring the world around them and finding unique pieces of nature. Take the collection from your latest walk in the park or go on a scavenger hunt to collect flowers, leaves, and other interesting plant parts. This fun project from My Bright Ideas takes those findings and using a special technique presses the shapes into clay to preserve their shapes. After the clay has dried completely, paint the designs to bring out the tiniest details.
33. Colorful Spring Rock Art
Image source: Typically Simple
Painted rocks are a fun kids activity that can also get them outside exploring. Paint your own rocks in fun, spring colors. Then, visit your local park or other public areas where you can hide them. Keep your eyes open, because other rock painters may have already hidden their own crafty creations in your neighborhood. Look online to see if there is a rock painting club in your town, then make your first set from Typically Simple.
34. Spring Chick Paper Craft
Image source: Artsy Craftsy Mom
This spring chick craft created by Artsy Craftsy Mom is inspired by the book "Charlie Chick" but will appeal to kids who love nature and farm animals. Simply cut and fold the shapes, then glue them all together. Don't skip the big wiggly eyes! Kids can make this paper chicken for Easter or as part of a lesson on spring and eggs. Check your library to find the book, intended for preschool and kindergarten aged kids.
35. Paper Tube Rain Sticks
Image source: Gift Of Curiosity
These rain sticks are made with paper towel tubes, aluminum foil, and rice. They are the perfect rainy day activity and they really do sound like rain. Get the full instructions from Gift of Curiosity, then add them to your rainy day bucket list or make them for a weather lesson. These can be decorated with any type of colored paper and embellished with markers for a unique musical instrument.
36. Fruit And Vegetable Garden Markers
Image source: Adventure In A Box
One of the best ways to get your kids to eat their veggies is to let them grow a few. Once you've planted the seeds or seedlings, be sure to mark where each vegetable will grow. Adventure in a Box has a fun idea on how to do just that by painting rocks that look like vegetables. A simple coat of paint and a few details turn simple river rocks into smiling carrots, strawberries, and more.
37. Spring Garden Fairy Houses
Image source: Rhythms Of Play
While planting your spring garden, leave a little space for fairies. Kids love imaginative play and painting rocks to look like fairy houses will be a fun addition to your garden. Choose rocks with interesting shapes and add a little paint for details like doors and windows. Add a roof from tree bark, leaves or other natural elements. If the fairy houses will stay outdoors, you may want to seal them with varnish. See more at Rhythms of Play.
38. Rainy Day Umbrella Craft
Image source: The Pinterested Parent
Make a simple, colorful spring umbrella with this tutorial from The Pinterested Parent. This simple craft requires only paper plates, pipe cleaners, and paint. Dress for mess and let your young child explore their creativity to paint each section of the paper plate. Use this project as a starting place to talk about the changing seasons and weather.
39. Easy Tissue Paper Flowers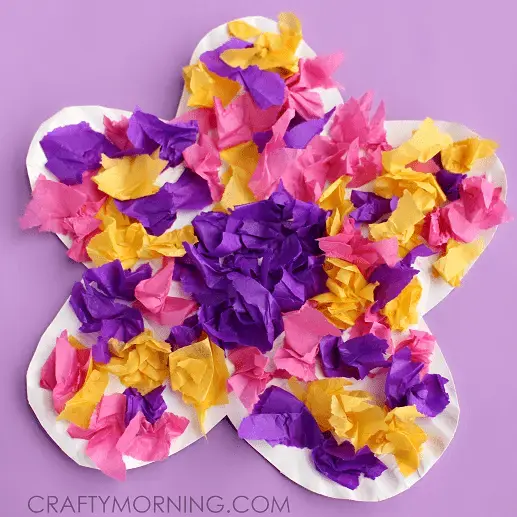 Image source: Crafty Morning
Kids will enjoy tearing tissue paper into small pieces for this tissue paper flower craft from Crafty Morning. A paper plate cut into the shape of a flower is the base. Then bits of paper are glued into place to fill it. Use a combination of a few colors or a lot. Try different flower shapes and come up with your own unique designs. Once the project is dry, the flowers can be hung or displayed for springtime.
40. Wrapped Yarn Eggs
Image source: Diva Of DIY
Make a set of unique Easter eggs to decorate for spring with this project from Diva of a DIY. Start by inflating small balloons. Then let the kids dip string or yarn in a glue mixture and wrap them carefully around the balloons. When they're completely dry, pop the balloons to reveal egg-shaped yarn balls. The full tutorial includes tips for diluting the glue and some simple troubleshooting tips.