If you are a crafty person, odds are that you have a pretty large stash of yarn in a closet somewhere. You probably meant to use it for a project, but like most parents, you got busy. It's time to drag out those skeins of yarn and make some of these yarn crafts for kids!
They are all simple, good fun that doesn't require a ton of skill the way crochet or knitting does. Most can be made with craft supplies you already have on hand, like cardboard, glue, markers, and natural elements from your backyard or outside. All of them will make a fun afternoon project idea that you can make together.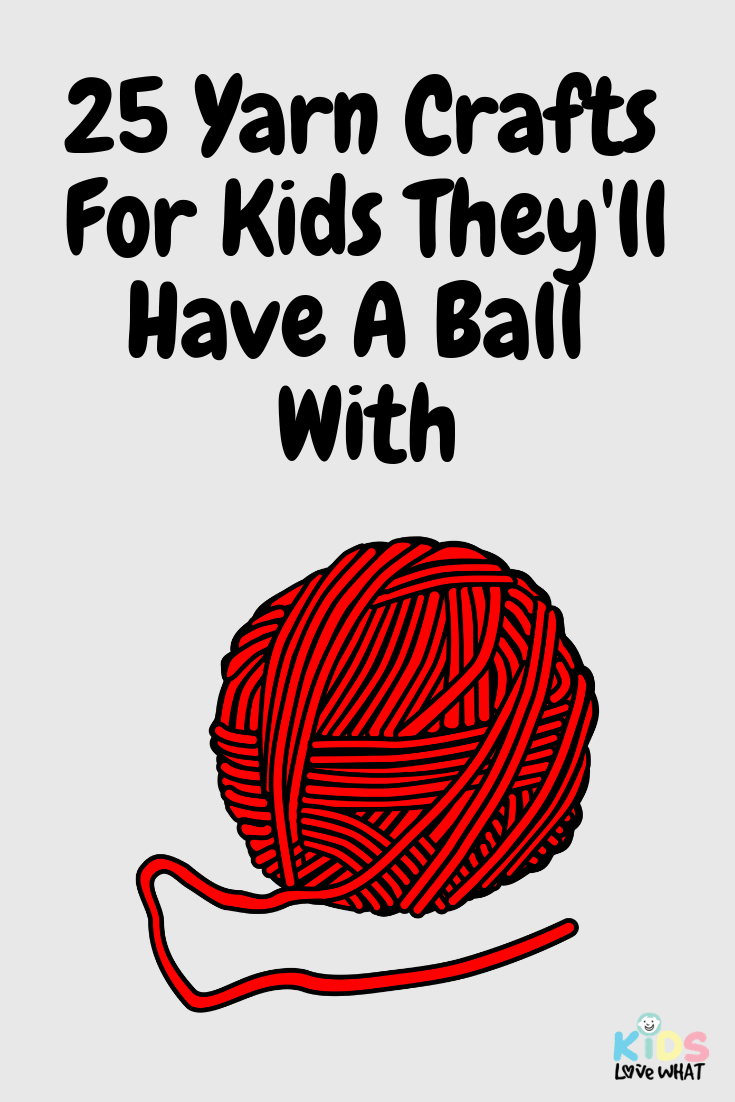 We've rounded up some seasonal projects, like reindeer and Easter eggs, as well as plenty of other colorful ideas that will be fun any time of the year. A few of them can be made and then used to create something new, like turning the yarn-wrapped sticks into a mobile. You'll find some yarn crafts that have detailed step by step instructions, while others are more open ended to spark creativity and challenge your children to create something unique.
There is something wonderful about setting out a mix of craft supplies and encouraging your child to make whatever they are interested in making. This type of activity appeals to a wide age range, so your youngest and oldest can sit down and work side by side to make these projects.
Like many of the crafts we find, these are fun for a weekend or rainy day activity at home. They can also be used in the classroom or as part of a homeschool lesson. A few of these require wrapping yarn in a pattern, which is perfect for helping toddlers practice their fine motor skills. Just gather your yarn and other supplies, set up a workspace where the kids can get messy, and prepare to have a ton of fun together!
1. Yarn Wrapped Easter Chick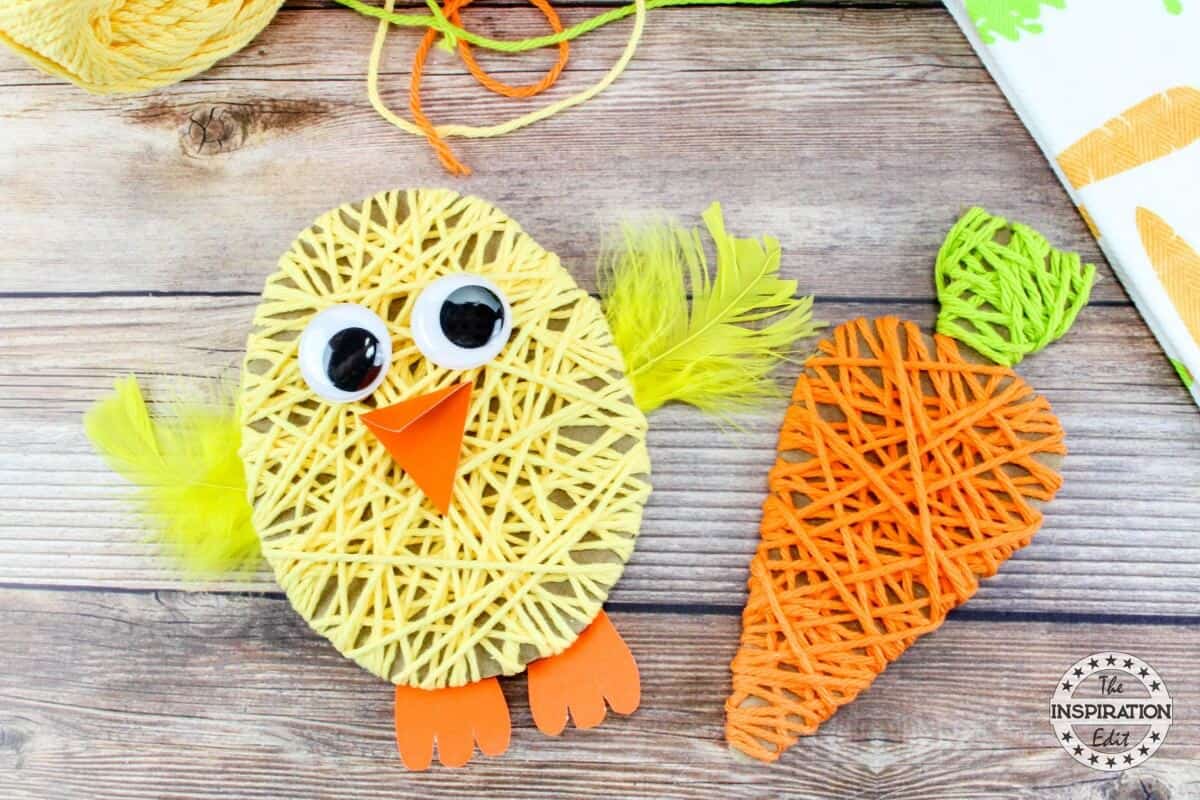 Image source: The Inspiration Edit
If you're planning a fun festive craft for Easter, this adorable yarn wrapped chick is simple and cute. This project from The Inspiration Edit is created by wrapping yellow yarn around a small piece of cardboard to create a chick body, then adding feathers and wiggly eyes. In addition to an egg-shaped baby chick, you can also make a carrot shape. This project is perfect for using up leftover yarn.
2. Swirled Yarn Hearts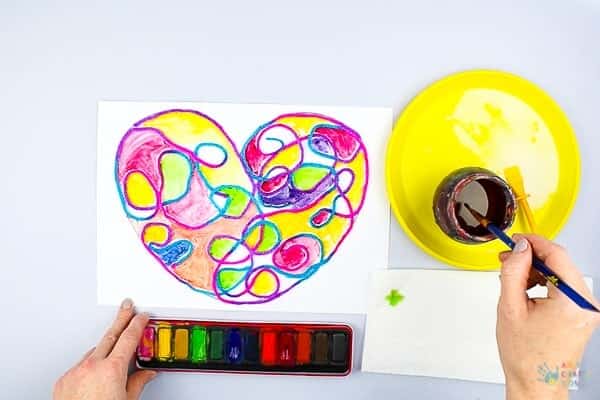 Image source: Arty Crafty Kids
This colorful, swirled art project is created by dipping yarn in glue and laying it out on a paper heart template from Arty Crafty Kids before painting. The effect is magical and would be fun to do for Valentine's Day or as a card to send. Let your child use watercolors, tempera paint, or even a different medium such as crayons or markers. Be careful to let the glue dry thoroughly before hanging.
3. Yarn Owl Cups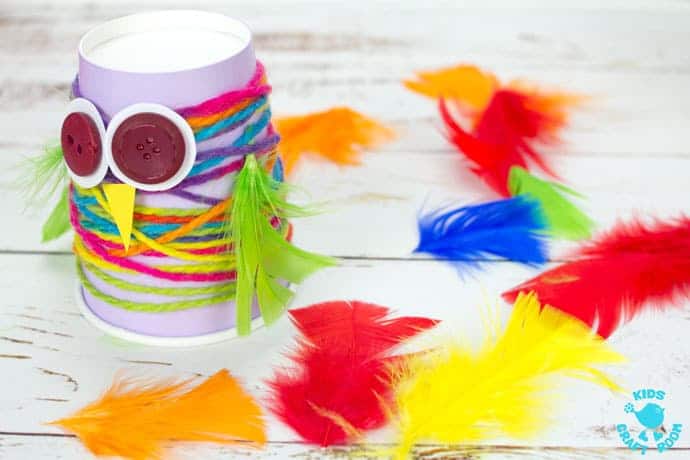 Image source: Kids Craft Room
This owl craft project from Kids Craft Room is a hoot. Owls are cute and trendy, and this idea highlights their big, round eyes. To make this craft, wrap a paper cup in yarn and attach feathers, big button eyes, and a paper triangle beak. What makes this project extra cute is letting your child choose the colors for the cups, yarn, and eyes. Try natural colors or have fun with rainbows.
4. Beginner Weaving With Plates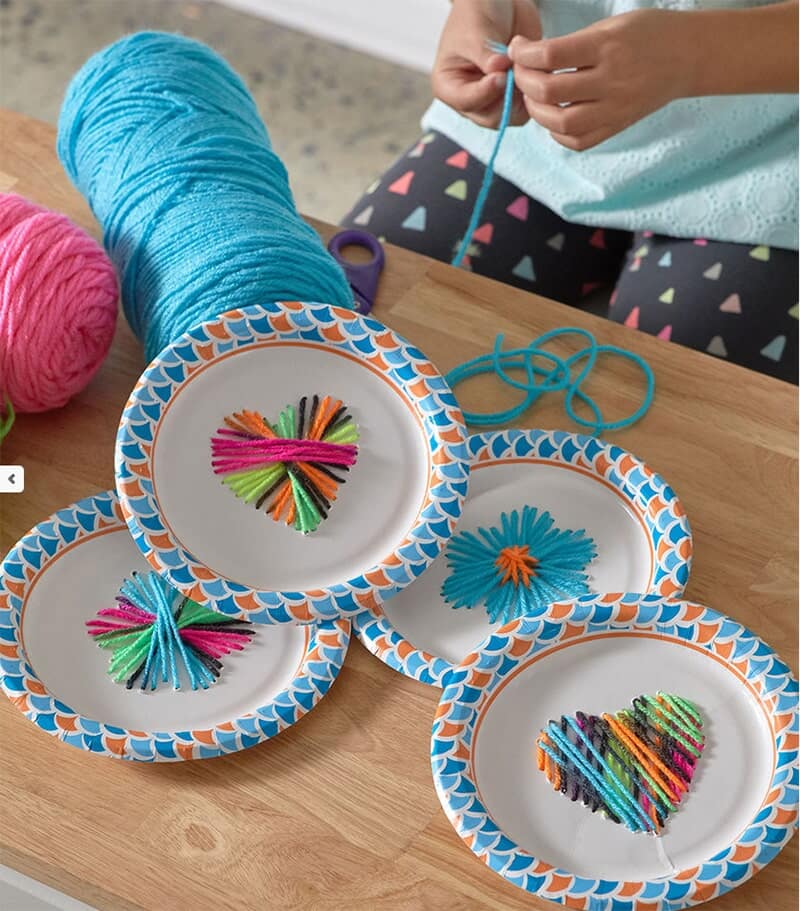 Image source: Red Heart
Weaving is a fantastic activity for a group, particularly if you have kids in a mixed age range. You can pass out materials, demonstrate how to get started, and let all of the kids work on their own project. Red Heart has a simple free pattern that includes tracing any shape with a cookie cutter. Each person will need yarn and a big metal needle. You can use any color combination, but their neon Glowworm yarn is pictured.
5. Yarn Resist Art Canvas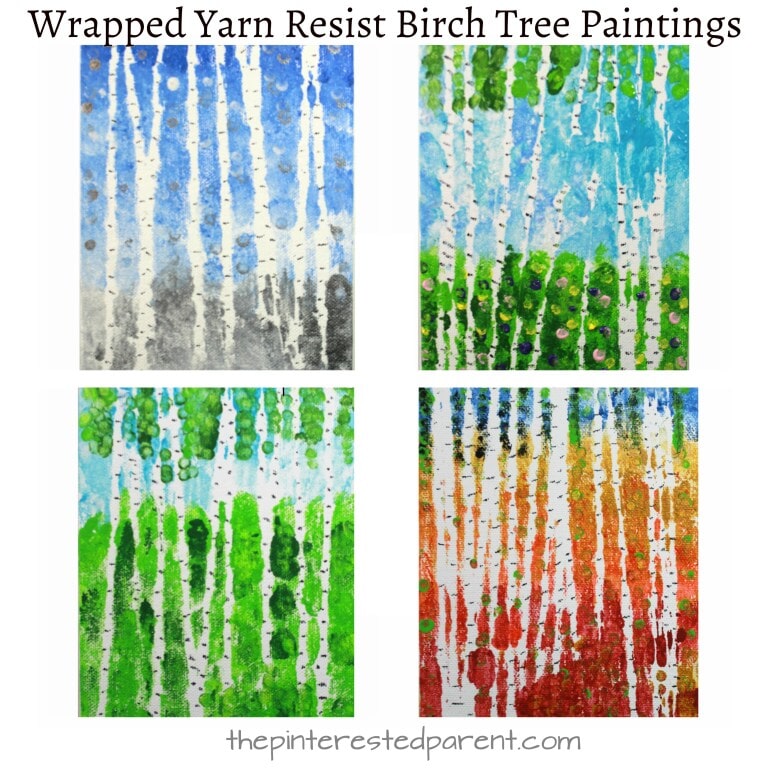 Image source: The Pinterested Parent
Sometimes it isn't what you can make with your craft supplies, but what they leave behind that is the most interesting. This idea from The Pinterested Parent uses yarn to do resist painting on a canvas. Essentially you are wrapping the yarn around the canvas to block a portion of it from getting painted. When you remove the yarn, the white space will look like birch tree trunks. Add the recognizable birch marking with a permanent marker.
6. Paper Tube Unicorn With Yarn Hair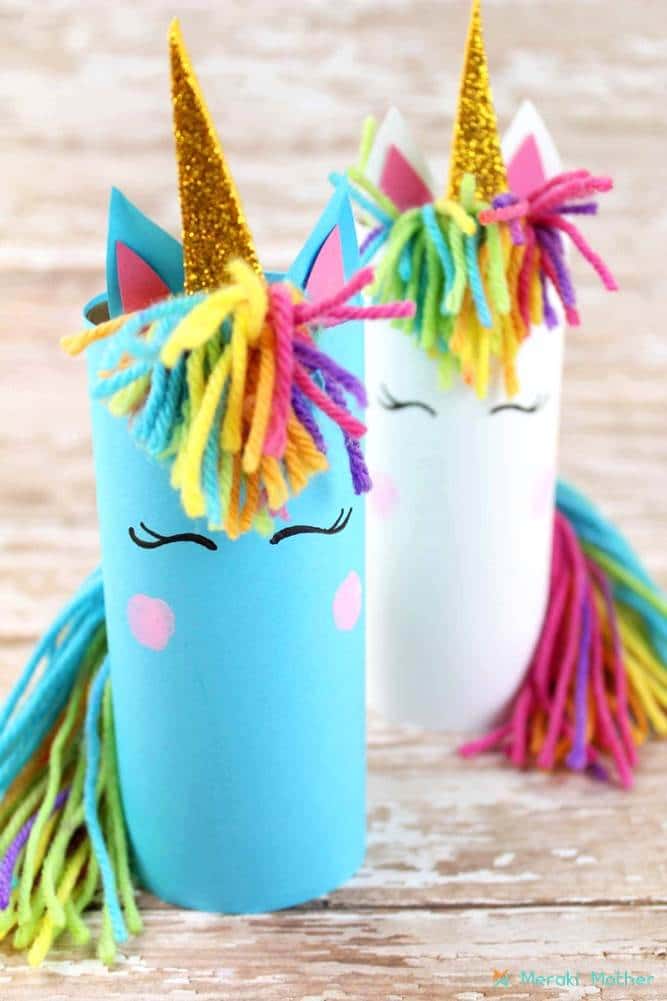 Image source: Meraki Mother
Turn a plain brown paper tube into a colorful unicorn craft by following this tutorial from Meraki Mother. These precious paper unicorns will brighten up any room and bring joy wherever they are. Start by covering the tube with colored paper. Make a mane and tail from yarn, a horn from a piece of glitter foam, and paper ears. Draw on a face with markers or paint. Your kids will love playing with these unicorns when they are done.
EXTRA! Looking for a gift that is unicorn related? Make sure to check out our 30 unicorn gifts for kids!
7. Easter Yarn Suncatchers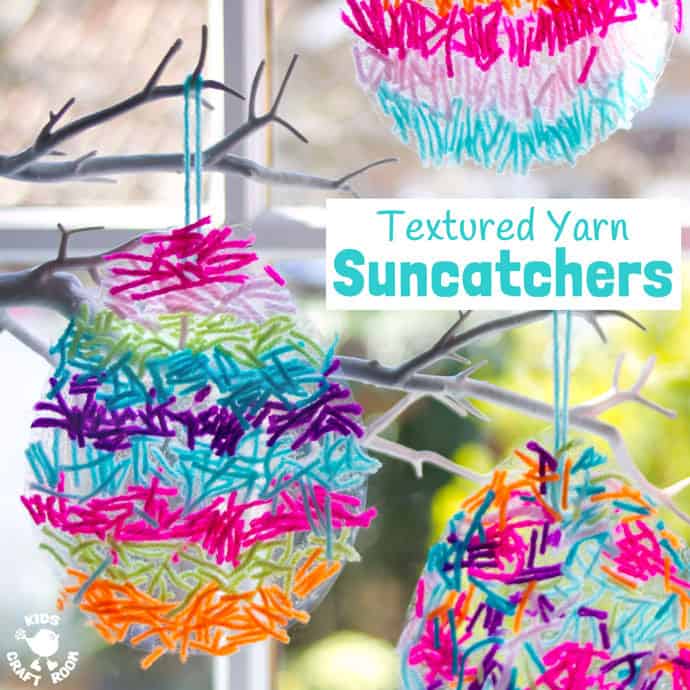 Image source: Kids Craft Room
Holiday crafts are always fun and you can be sure that springtime will mean lots of color. This yarn craft from Kids Craft Room can be done by preschoolers and older kids. Encourage them to try unique textures and patterns to decorate their eggs. Cut an egg shape from transparency sheets and gather your yarn scraps. Trim them into short lengths and let the kids glue them onto the clear eggs.
8. Yarn Spring Flowers
Image source: More Like Grace
Young children love picking wildflowers to bring to parents and grandparents. Set up a simple art activity to make a few of these flowers from More Like Grace. They'll make the perfect gift, particularly for Mother's Day. Print the flower shaped templates and use them to make cardboard flowers. Wrap them in yarn and attach floral picks as the stems. You can also use dowels or popsicle sticks colored green. Display your flower bouquet craft in a mason jar as a vase.
9. Paper And Yarn Tree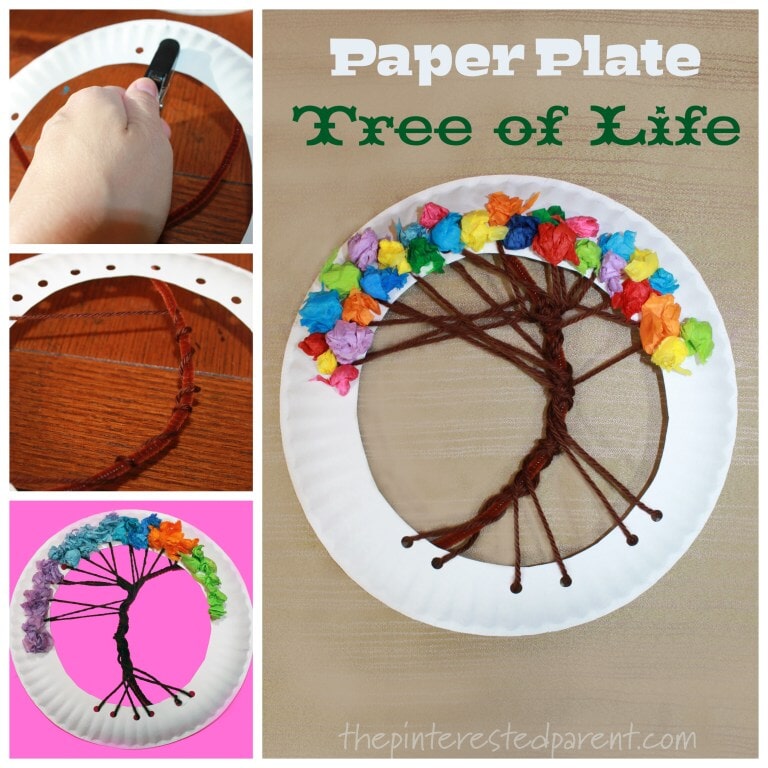 Image source: The Pinterested Parent
The Tree of Life is a symbol used in many cultures to represent the world, nature, and the changing seasons. Make a kid-friendly craft version by The Pinterested Parent from yarn and a paper plate. Make a paper plate ring and punch holes. Thread pipe cleaner and yarn through the holes, creating a pattern, and then add bits of paper to fill in the leaves on the tree. This project is an easy way to use up scrap materials.
10. Yarn Scrap Rainbow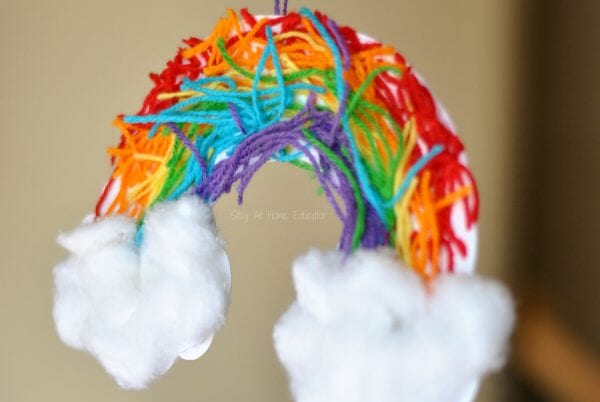 Image source: Stay at Home Educator
Stay at Home Educator is all about fun and learning, so this yarn scrap rainbow includes a lot of elements. Help your child practice fine motor skills, color names, and even add a discussion on weather. Cut a rainbow shape from paper or poster board. Encourage creative thinking while the kids cut their yarn into small pieces and glue it to the rainbow. Add cotton balls for clouds and then let the rainbows dry. Find more related rainbow crafts for kids here.
11. Cozy Soft Yarn Hearts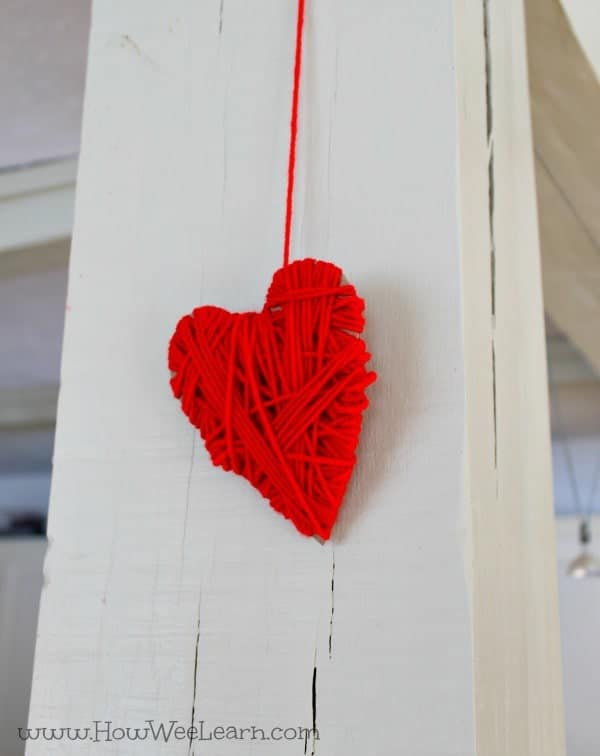 Image source: How Wee Learn
These hearts wrapped in soft yarn make a cozy and sweet gift for Valentine's Day or anytime. Follow the instructions from How Wee Learn to make cardboard hearts and wrap them with bright red yarn. You could also use pink, purple, or any color your child loves. They are easy enough to make that your kids can make a few in one sitting, especially when working together. Just tuck in the loose end when the hearts are done.
12. Festive Yarn Trees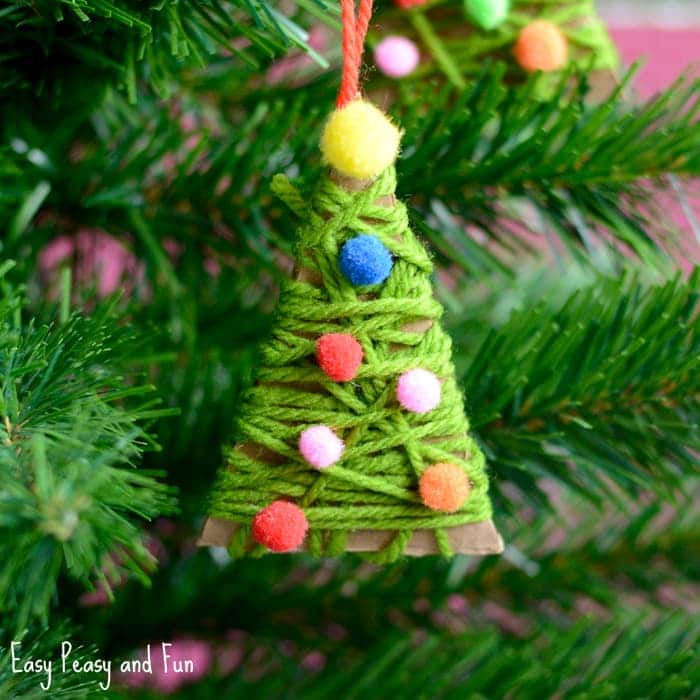 Image source: Easy Peasy And Fun
When Christmas time rolls around, making ornaments is a popular family tradition that you can start any year. These yarn wrapped trees on Easy Peasy And Fun are lovely and colorful. Hang them up as ornaments or attach them to wrapped gifts as an embellishment. This simple project starts with a cardboard triangle, wrapped in yarn. Then glue on colorful pom poms as ornaments. To make this an ornament, add a loop of yarn at the top.
13. Mini Yarn Bookmarks
Image source: Red Ted Art
Swap chunky yarn for embroidery thread or a thin yarn and make mini yarn wrapped hearts to attach to a popsicle stick and use as a bookmark. This idea from Red Ted Art will appeal to older kids as well as younger ones. You can use yarn in any color. Make a small cardboard heart and wrap it with the yarn. Attach it to a colored popsicle stick with hot glue.
14. Yarn Letter Décor
Image source: Kids Craft Room
Having your child's name spelled out on the wall in their bedroom is precious and you can DIY the letters following this tutorial from Kids Craft Room. All you need are yarn, cardboard, and glue. Choose the yarn in any color to match the bedroom color scheme. Wrap each letter in a pattern or add layers. You could also use this technique to make other décor shapes, like hearts, stars, or letters.
15. Traditional Yarn God's Eye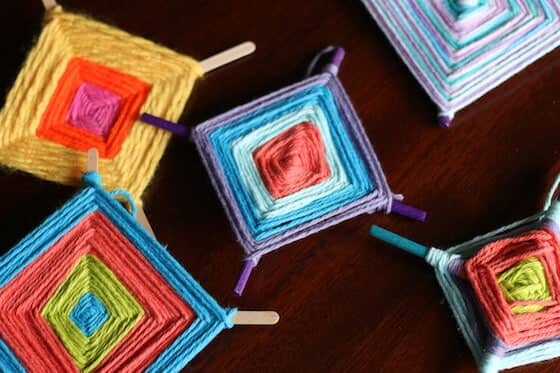 Image source: Happy Hooligans
You may have made this God's Eye craft at summer camp or Sunday school as a kid. Introduce your own children to the tradition by following the instructions at Happy Hooligans. All you need for this craft is an assortment of colorful yarn and two sticks for each one. The pattern is repetitive and relaxing. Make them for any holiday and choose festive colors, like red and green for Christmas or pastels at Easter.
16. Yarn Scrap Dish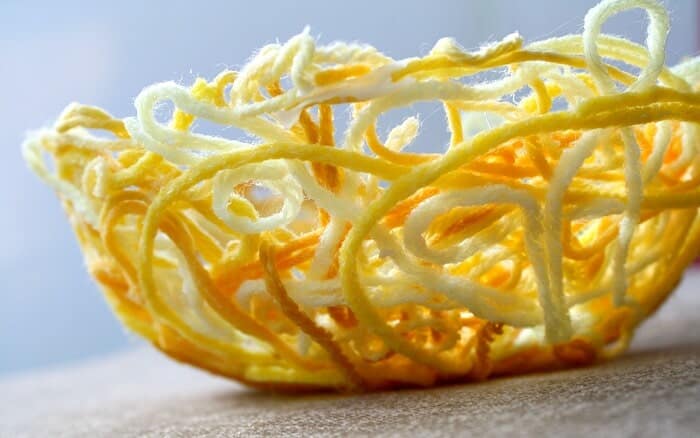 Image source: Fantastic Fun and Learning
If you have leftover yarn pieces from another craft project, this bowl from Fantastic Fun and Learning is a great way to use it up. You can make these with any color or weight of yarn and they require only a few other supplies. You'll need a bowl covered in plastic wrap for the template and glue to attach the yarn. The yarn soaks in the glue, so this craft can get messy. Be sure to protect your workspace.
17. Tiny Wrapped Yarn Turtles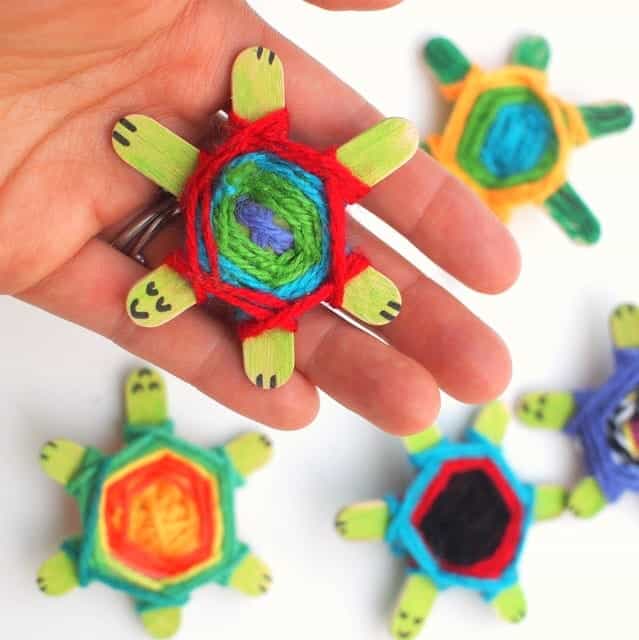 Image source: Pink Stripey Socks
If your child enjoys making God's Eyes following the tutorial above, try this unique variation from Pink Stripey Socks. Rather than four sections, your shape will have six. And with the addition of a face and toe details with a permanent marker, the end result is a tiny turtle you can hold in your hand. Your child can make their turtle green or any color they like. Simply color the popsicle sticks and weave the yarn to make a shell.
18. Yarn Pom Pom Inspiration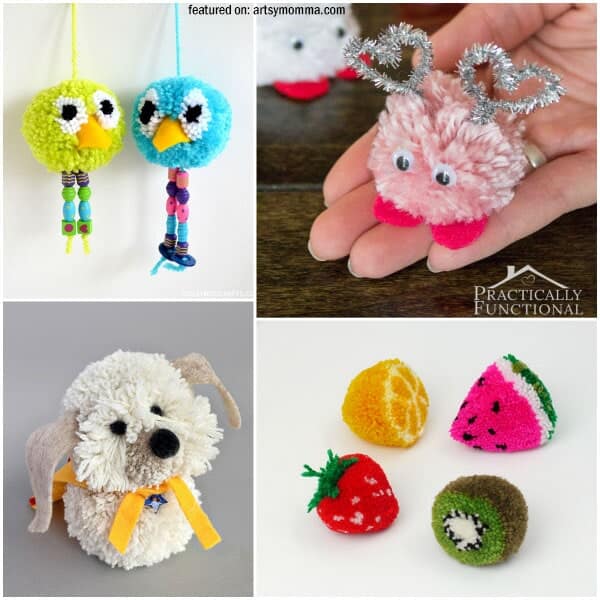 Image source: Artsy Momma
Once you teach your child how to make pom poms from yarn, there are a ton of crafts they can make with them. Artsy Momma has a list of the best, which includes bird keychains with beaded legs, an adorably fluffy puppy, and realistic play fruit that would be a lovely addition to your play kitchen. The basics of yarn pom poms are to wrap yarn around an object many times, then tie off the center and cut the loops.
19. Yarn Reindeer Ornaments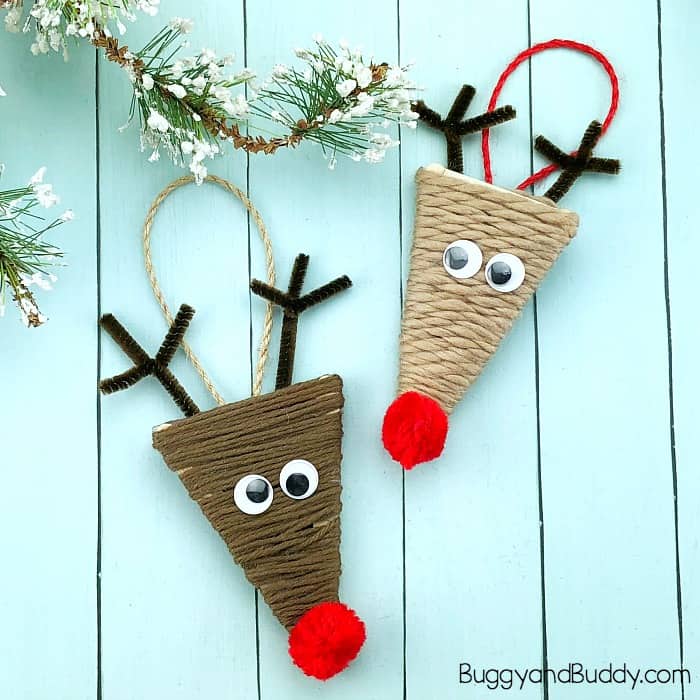 Image source: Buggy and Buddy
Add these reindeer ornaments to your Christmas bucket list this year. The tutorial from Buggy and Buddy is easy to follow and calls for only a few basic craft supplies. For the base you'll need popsicle sticks, which will be wrapped in yarn, twine, or any other type of string. Add pipe cleaner antlers, wiggly eyes, and a pom pom nose. Choose a natural brown or a bright red for Rudolph. Add string to hang this reindeer craft as an ornament.
20. Chatty Clothespin Characters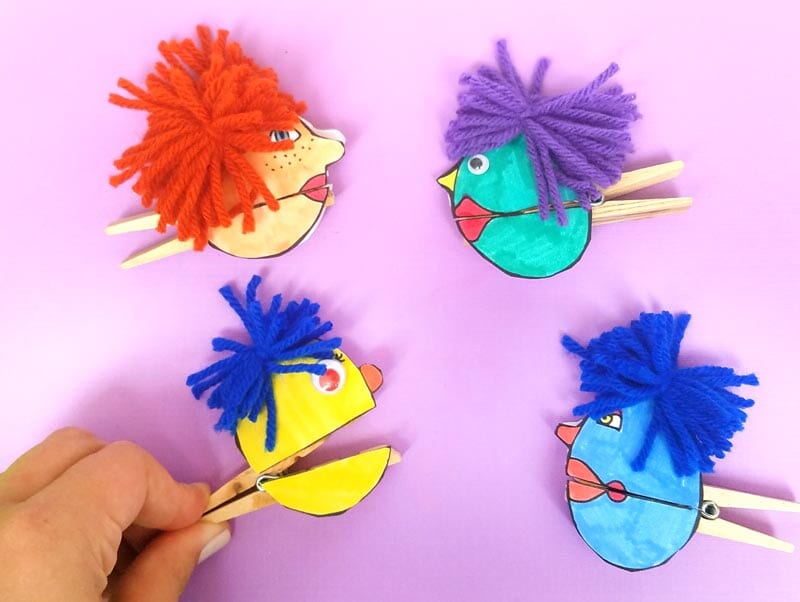 Image source: Moms and Crafters
Children love puppets and puppet shows, and with this craft project from Moms and Crafters, they can make their own. Start by drawing a face in profile or download the template. Color the face with markers and add a wiggly eye, yarn hair, and any other features your child can dream up. Get creative and make each one unique. Attach the face to a clothespin so that the mouth can open and close when you move it.
21. Paint Stir Stick Puppets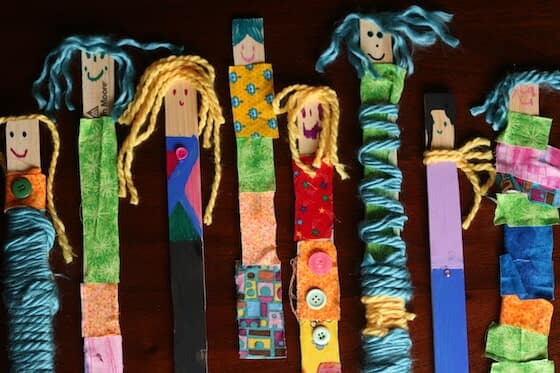 Image source: Happy Hooligans
These adorable dolls from Happy Hooligans can be used as puppets for pretend play. Your child's creativity is the limit when it comes to making these unique and personalized. Start with paint stir stick from your local hardware store. Try wrapping fabric scraps or yarn for clothes and add buttons and other accessories. Draw on a face with markers and add more yarn for hair. Encourage creative thinking to see what else your child can come up with.
22. Colorful Yarn Stick Art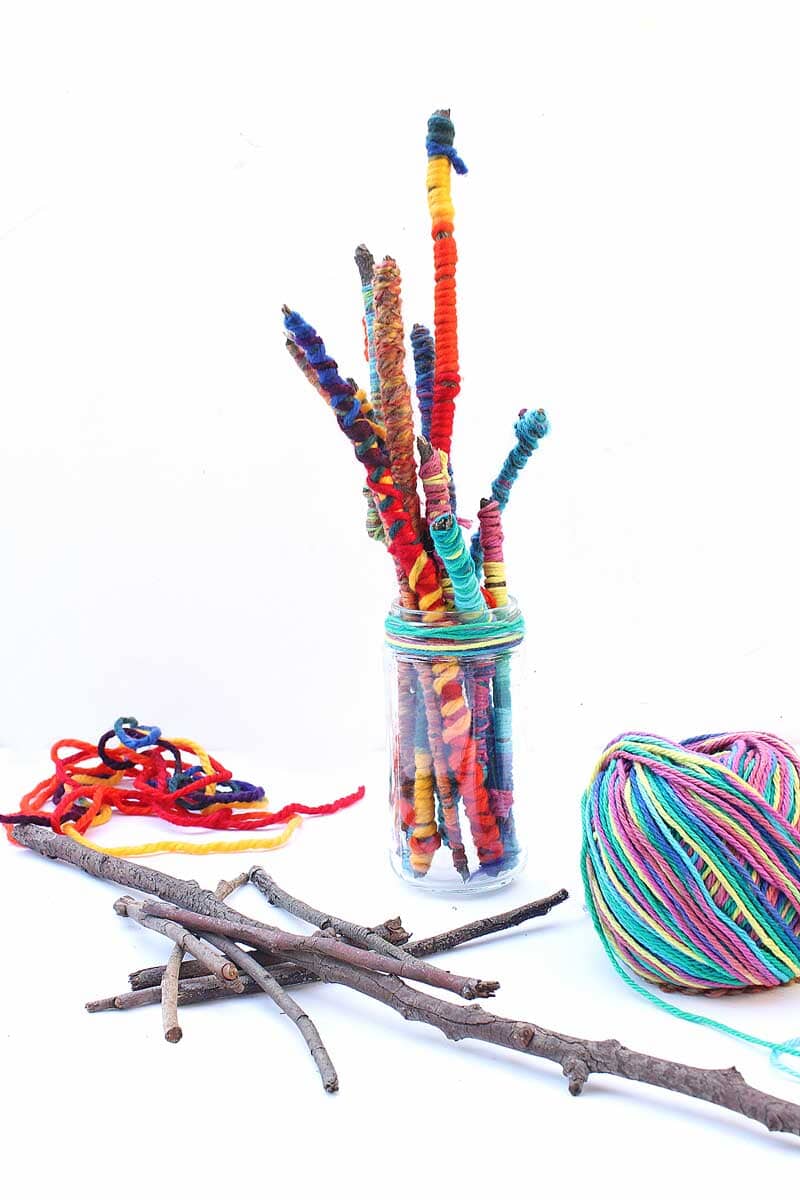 Image source: Babble Dabble Do
Dig through your yarn stash and pull out your wackiest skeins for a fun, creative challenge. Babble Dabble Do has an idea that's simple to set up and can make for hours of entertainment. All this craft entails is wrapping yarn around a stick. It may sound simple, but will encourage your child to think about colors, patterns, and details. The finished sticks can be displayed in a jar or used to make other decor, like a mobile.
23. Silly Rock Creatures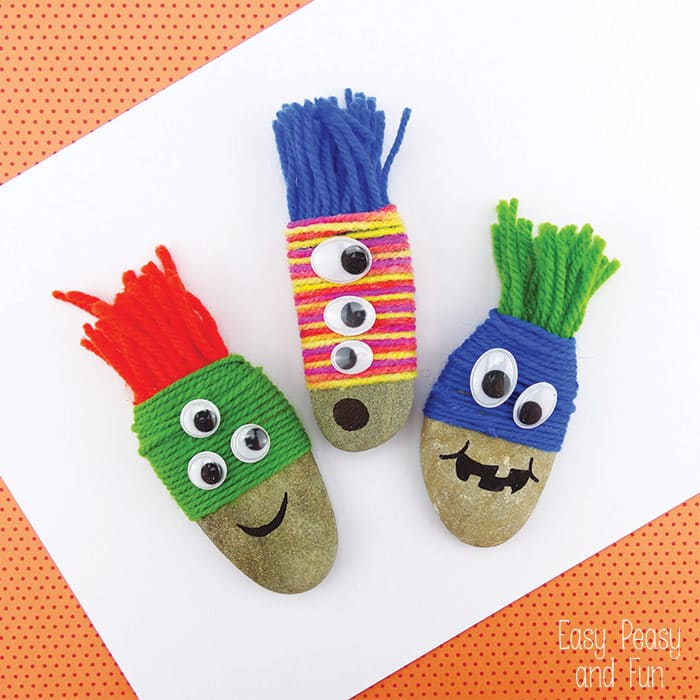 Image source: Easy Peasy and Fun
These rock monsters at Easy Peasy and Fun take the idea of a pet rock to the next level. Gather smooth stones and wash them thoroughly or pick up a bag from a craft store. Set out a mix of yarn, wiggly eyes, markers, and glue and invite your children to come make their own silly creatures. Wrap the yarn around the rocks and glue it in place. Add more yarn, an eyeball or three, and draw on other features.
24. Rainbow Colored Pom Pom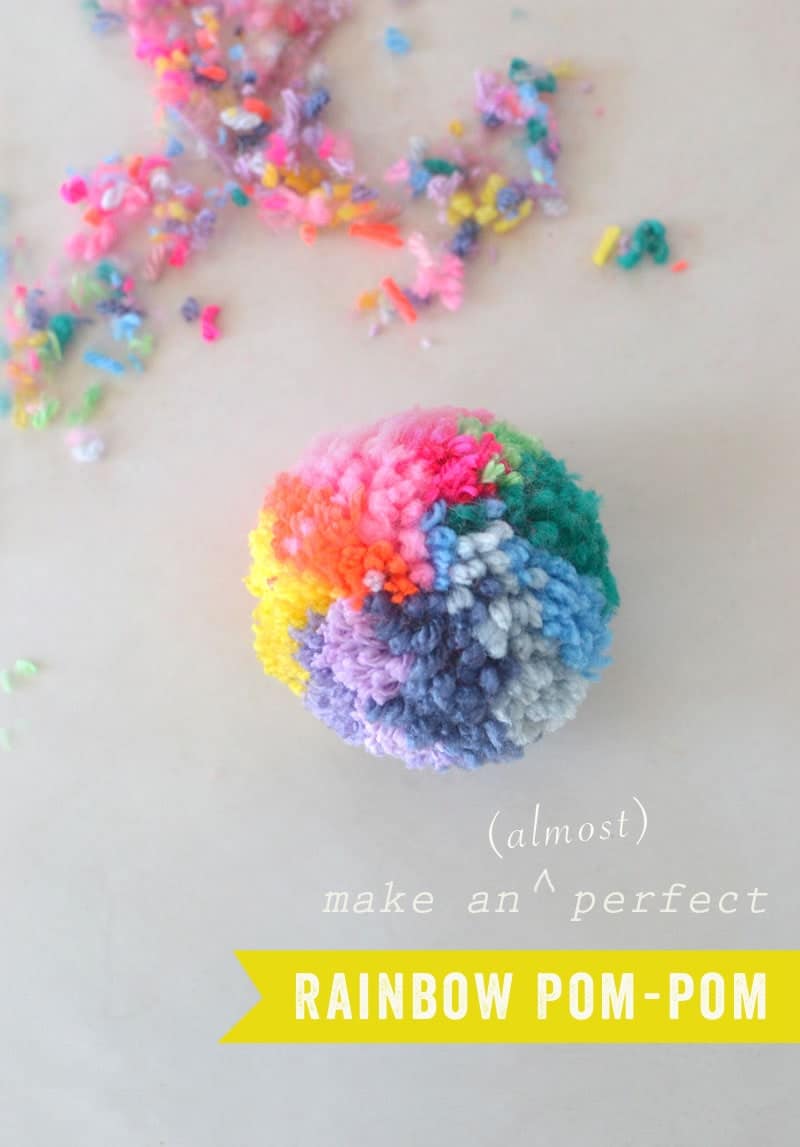 Image source: Art Bar
You can make a pom pom from yarn using a fork or even your hand to wrap it. However, this tutorial from Art Bar shows how easy it is to make one using a pom pom maker. The trick to getting your pom poms perfectly thick and round, instead of stringy and uneven, is to use a lot of yarn and then trim it down. You can even use different colors of yarn at one time to create a pom pom that's rainbow colored.
25. Creepy Cute Yarn Ghosts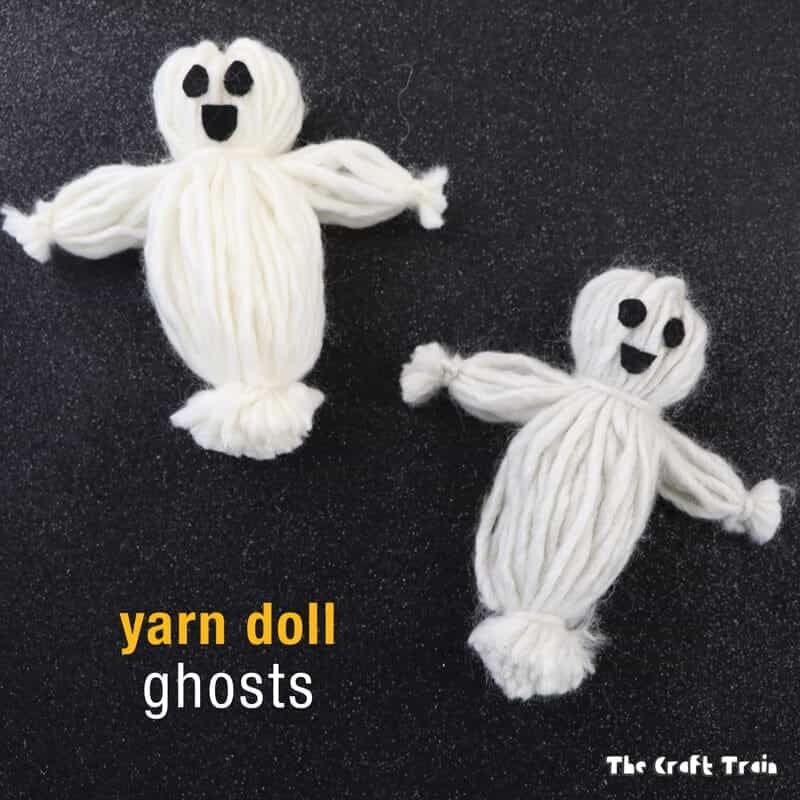 Image source: The Craft Train
Add a little spooky fun to your Halloween celebration by making these yarn ghosts from The Craft Train with your kids. They are a variation on a yarn doll that you might've made when you were a kid. The method is similar to making a pom pom, by wrapping yarn around a piece of cardboard. Once your child has got the technique down, they will love making several tiny ghosts to hang all over the house.