Balloons are shorthand for fun. When kids see them, they know something awesome is going on! Go beyond plain colors and strings with these 25 fantastic balloon crafts and activities for kids.
Some of these projects require helium tanks, which can be found at your local party supply store. Others don't require blowing up the balloons at all! Fill them up with rice, bounce them on homemade tennis rackets, or pop them in a sequence; there's bound to be at least one activity below that will make your child smile.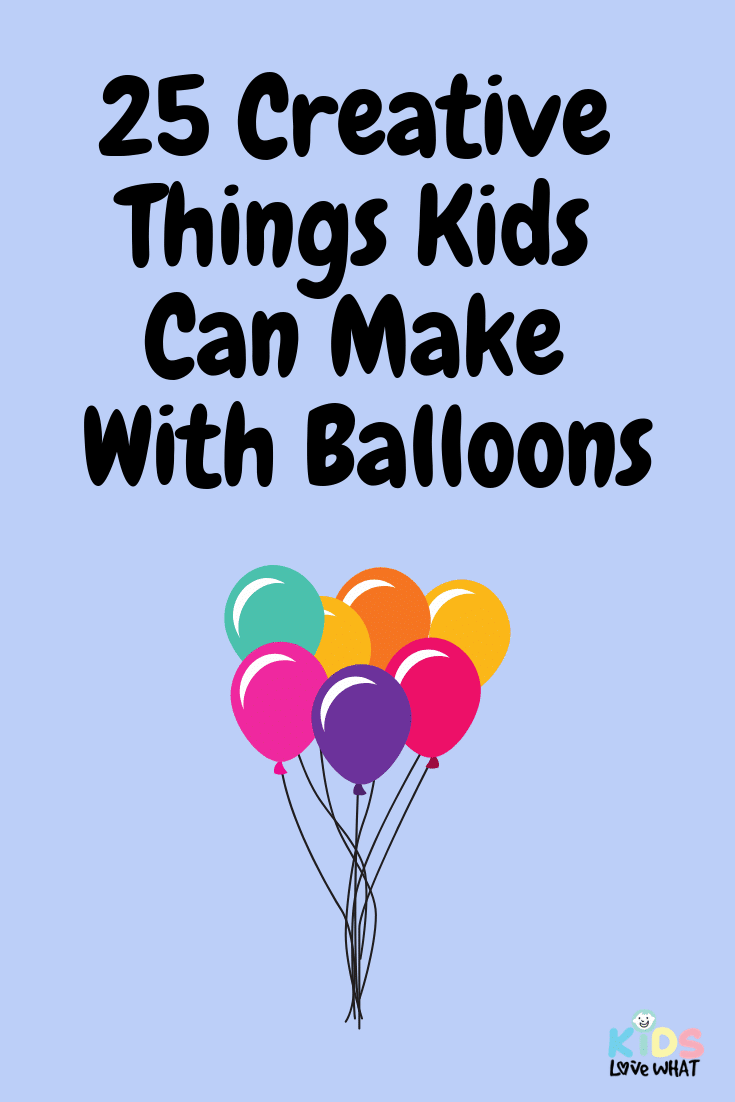 Of course, balloons also pop and not everyone likes coping with that loud, sudden sound. Those particular activities have a little note to give supervising adults a head's up if they are dealing with sensitive children in the family, at the party, or in the classroom. Thankfully, there are many crafts, games, and activities that require zero popping at all. So take a deep breath, grab a bag of colorful balloons, and make some fun!
1. Stars And Stripes
Image source: Ella Claire
Memorial Day, Flag Day, Fourth of July, or Labor Day – show your love for America's summer holidays with a patriotic balloon display. Great for garage doors, fences, and entryways, this display from Ella Claire is as eye-catching as it is fun! Get the kids involved by letting them help tie strings or tape the balloons to the cardboard backing. The red, white, and blue has never looked so festive and fun! Make sure to check out our 4th of July craft list for more fun activities!
2. Quick On The Draw
Image source: Happy Go Lucky
Not only will you find instructions for how to make these easy balloon cup shooters over at Happy Go Lucky, but the link has a cool and colorful target you can print out as well! Take this game outside or set it up inside the house – if you have nerves of steel. Make sure you have plenty of ping pong balls so that if one person loses theirs it won't end in tears. Remind the kids not to aim these at each other, and then see who can hit the bull's eye!
3. Balloon Pop Valentine Scrabble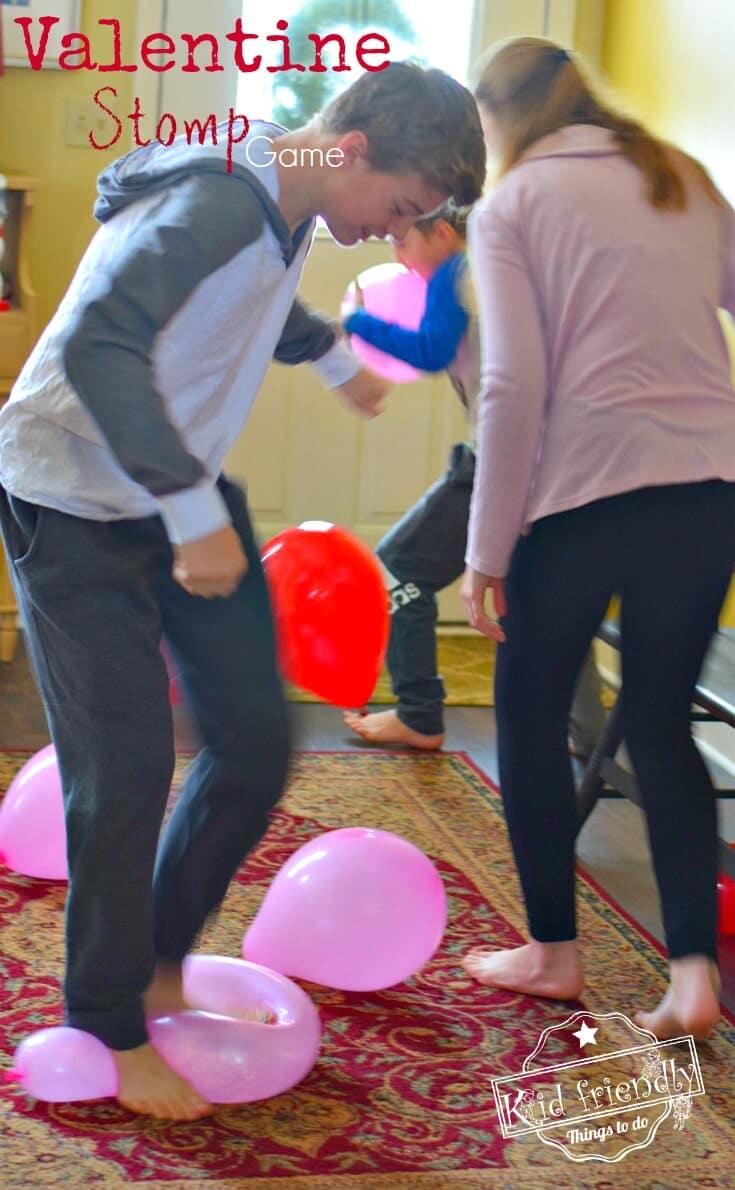 Image source: Kid Friendly Things to Do
For older kids who know how to spell – or for little kids with help from older siblings – try this hilarious game from Kid Friendly Things to Do! The materials are easy to find, and the set-up is quick. It's a team-building game that's both fun and educational for early spellers!
Just a head's up that this game involves popping a lot of balloons, so it may not be suitable for kids with sensory issues or nervous dispositions.
4. Big Finale
Image source: It's Always Autumn
Every big event deserves to wrap up in style, and balloon drops are a super fun way to do just that! Get out the step-ladder and masking tape to make this couldn't-be-simpler balloon drop from It's Always Autumn. Tweens and teens are the perfect age for setting this up, just like younger kids are the perfect age for pulling the string. And why wait for New Year's? Set this up anywhere in the house for a big surprise!
5. Fresh & Fruity
Image source: Love This Pic
Here's a versatile balloon craft that's perfect for bedrooms, parties, and classrooms! You will love this activity from Love This Pic that's full of bright colors. This is a good one for little helpers, who can tape on leaves and stems themselves. Make a garland long enough to string up from room to room around the house on rainy days. The balloon fruit looks so good, it's sure to inspire your kids to hit the fruit bowl!
6. Gobble, Gobble
Image source: Design Improvised
For a perfect classroom party activity, click over to Design Improvised for their balloon-based Thanksgiving turkey craft. Since kids love making things into animals, they'll have a blast with this one! The materials list is on the site and ready to take with you to the craft store. Googly eyes add the perfect silly touch to this Thanksgiving table staple, and adding helium and a string makes these an even bigger hit!
7. Extra Messy Balloon Art
Image source: Raising Dragons
Not all crafts need to wait for a rainy afternoon or at-home snow day, like this kid-approved art project from Raising Dragons. Combining a child's love of making a mess with fine motor skills and sensory play, there is no reading, writing, or spelling required here. Take some poster boards outside and let your little artists go wild making colorful designs. Be sure to have the hose nearby and ready to go for clean-up after all this fun!
8. Analog Drones
Image source: Hello Wonderful
Don't pretend you don't still have CDs laying around somewhere. Before everyone and their brother had a remote-control electronic drone, there were these simple balloon-and-CD hovercrafts. This one from Hello Wonderful is great for kids of pretty much any age and ability, since this requires both simple coloring and gluing, as well as assembling the entire project together. Try not to feel old when your kids ask you what CDs are!
9. Around The Balloon In 80 Days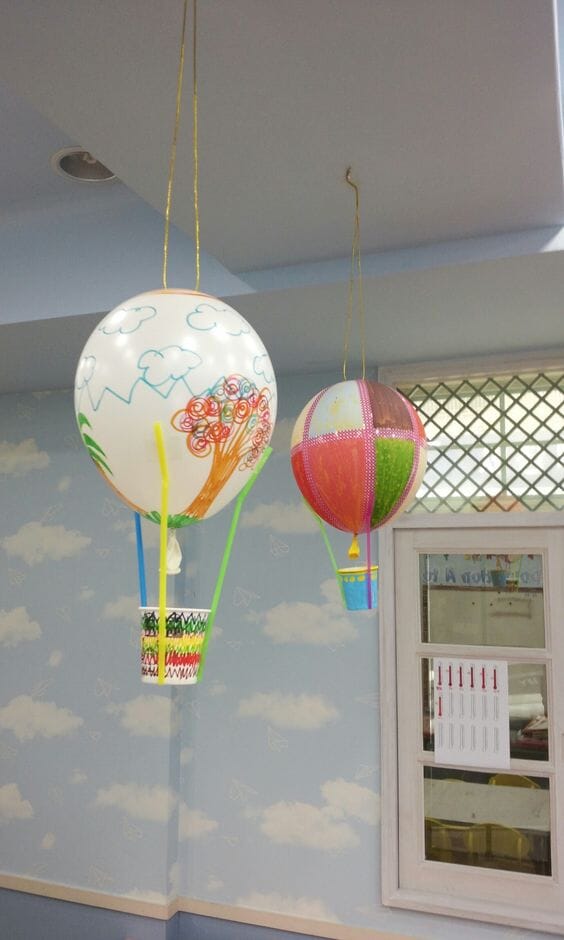 Image source: Smart Kids Worksheets
Oh, the places your kids will go with this adorable hot air balloon craft! Smart Kids Worksheets has step-by-step photo instructions for making these easily customizable hot air balloons from regular balloons. Have your children make several of these at home and hang them up in their bedrooms. Or make these as a class project when learning about wind or motion. With something as creative as this, your kids' imaginations will soar to new heights!
10. See Into The Future
Image source: Oh Happy Day
Kids and adults alike make New Year's resolutions, but what does the future REALLY have in store? Find out by having guests pop one of the balloons on this garland designed by Oh Happy Day! Since this craft requires a little bit of creativity and not merely the ability to follow directions, ask your children to help you come up with silly or inspiring one-line fortunes to put into these balloons.
Once again, a head's up that this craft will end in balloon popping, for those with sensitive children at home.
11. Ice, Ice, Marbles
Image source: Queen Vanna
Put that freezing cold air to good use by making something beautiful – like the colorful ice marbles at Queen Vanna. These take a long time to freeze and is most likely a multi-day project – but totally worth the wait! Once they're frozen, you and your children can decorate the yard with them or just roll them around in the snow. Good for kids of all ages and abilities, since there are no special skills involved.
12. A Kid's Best Friend
Image source: The Craft Train
Even if your child won't walk the real family dog, they'll love walking a puppy made from balloons! Over at The Craft Train you'll find everything you need for you and your child to make these adorable little air-filled canine companions. Theses pups are 100% guaranteed not to make a mess or bark. With puppy faces drawn by children, these are too cute to miss!
13. Santa's Sleigh Team
Image source: A Subtle Revelry
Dasher, Dancer, Prancer, Vixen…etc. Whichever reindeer is your child's favorite of the team, have fun making these button-nosed reindeers out of balloons and colorful paper. A Subtle Revelry shows you how easy these are to make for your next Holiday party. Little kids will absolutely want to help with this one, whether it's picking out colors or helping glue on reindeer noses and antlers. It's a cheerful Holiday craft that's suitable for kids of all abilities!
Related: The 37 Most Festive Santa Crafts For Kids This Winter
14. Spell It Out For Them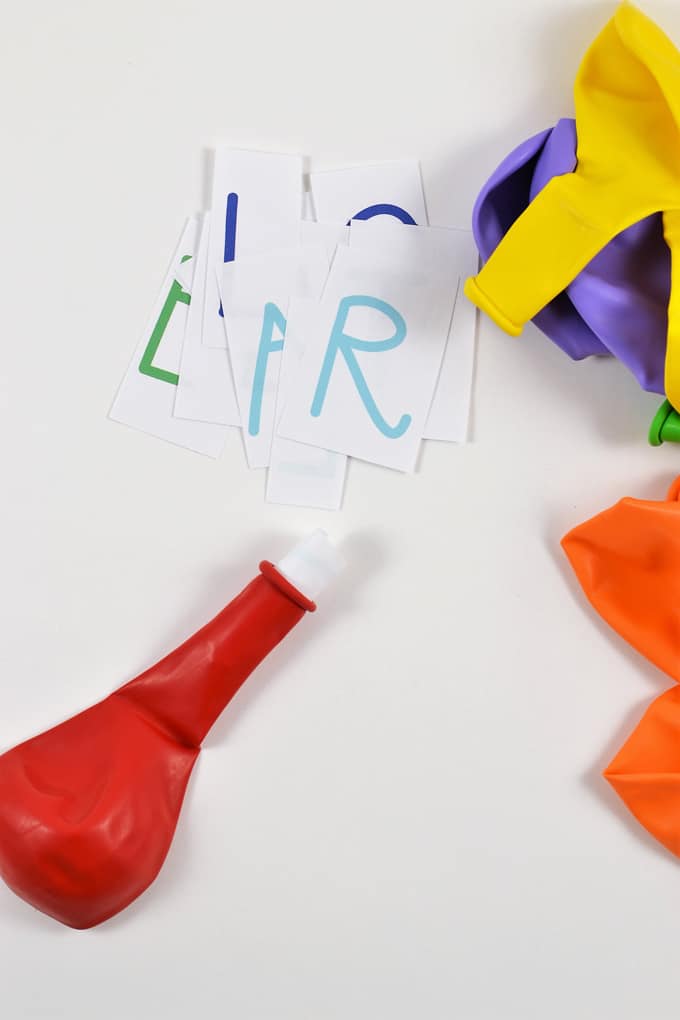 Image source: Burlap and Blue
Whether you have a big announcement to make, an upcoming family vacation surprise, or you simply want to help your children with reading and spelling, click on over to Burlap and Blue for this fun activity. Big kids can help smaller non-readers unscramble the letters to learn what fun is in store for them!
As a balloon-popping activity, it's best to save this one for kids who are not too sensitive to loud, sudden noises.
15. Great Strength Of Feet
Image source: How to Run a Home Daycare
Rainy day and snow day activities don't always have to require a lot of rules, instructions, or fancy materials. Sometimes simplicity is key, especially with the much younger crowd – think toddlers and preschoolers. How to Run a Home Daycare has a variation on the balloon game of "keep up" that uses tiny feet instead of hands. This is one game that will definitely end in lots of giggles and fun for everyone involved!
16. What's In There?
Image source: Mostly Under Control
Tactile sensory play is wonderful for little hands and fingers still developing fine motor skills, or for older kids who need a little extra help with dexterity. By stocking up on balloons and a few different fillers at a dollar store, Mostly Under Control has all the advice you need on creating a full range of sensory experiences. These make a great, less-mess alternative to sensory tables and involve no popping balloons, even by accident. This is definitely one of my favorite balloon crafts for kids!
17. Seussical, The Balloon Game
Image source: The Frugal Navy Wife
The Frugal Navy Wife has a clever game for helping preschoolers learn to count while also letting them bounce on balloons. Once the kids get going, though, there'll be no stopping the popping! The key to the game is no using hands, so have fun watching the kids tumble around trying to pop balloons.
There is a LOT of balloon popping here, so this game is not for the timid.
18. Elephant In The Mail
Image source: Glued to My Crafts
You won't be able to look at pre-inflated balloons the same way again after you see them as elephant heads. Have fun making these party invites, valentines, or "just because" cards from Glued to My Crafts. This is a wonderful craft for kids of nearly any age and ability, as they can pick out colors, cut, glue, and embellish however they want. Use up leftover balloons and then decorate with sequins, beads, or whatever other little bits your child loves to craft with!
19. Elf On A Stick
Image source: Oh Happy Day
Elves have been trending for the past few Holiday seasons as the favorite symbol of Christmas. From Elf on the Shelf to Buddy, families can't get enough of Santa's best helpers! Craft your own balloon toymakers bodies with this sweet and adorable project from Oh Happy Day, which has your free elf printable template to get you started. Make sure to stock up on plenty of materials, as this is a craft kids will want to make a million times!
20. Balloon Blasters
Video source: 10 Minutes of Quality Time
If you have balloons in the house and you don't necessarily feel like making a trip to the local craft store for your activity materials, try this balloon-powered straw rocket. The materials list at 10 Minutes of Quality Time is full of things you probably have at home already. The instructions themselves are in a video posted above. It's a quick watch and worth it for all the little hints included. Once these are made, stand back and let the rockets soar!
21. DIY Balloon Yo-Yo
Image source: Tinker Lab
Screen-Free time in your house doesn't have to mean Bored Time, especially for very young children. Let them help you make these balloon yo-yos from Tinker Lab so they can amuse themselves for a little while. Quick and simple to make, easy to travel with, and great for little hands, this classic DIY toy is sure to become your child's new favorite thing. Make one for each kid or experiment with different fillings and rubber bands!
22. A Bowl Full Of Fun
Video source: SoCraftastic
Here's a great all-day or multi-day craft that will create something you can use afterword! Get your glitter on with your kids by creating this SoCraftastic homemade balloon bowl. Sure, it'll probably get messy in the process, but isn't that part of the fun? Make this as a gift for Grandma or Grandpa and let your kids beam with pride when they get to show off a thing they made themselves (with supervision, of course)!
23. Floating Jack-o-Lanterns
Image source: Martha Stewart
Make these balloon jack-o-lanterns for Halloween and no one will believe you got this idea from Martha Stewart. They're just too easy! With orange balloons, a black permanent marker, and some geometric stencils, you can create enough balloon jack-o-lanterns to fill an entire pumpkin patch – or just guard your treats table. Fill these up with helium before you decorate to make a Halloween party decoration. Everyone will finally believe in Linus Van Pelt's Great Pumpkin!
Want more pumpkin craft inspiration? Check out 26 more ideas here!
24. Sweet, Giant Lizards
Image source: Oh Happy Day
The earth won't shake and no one will get eaten when you make these dinosaur craft balloons from Oh Happy Day. However, every kid will go home with a new dinosaur best friend! Print out the three free templates linked on the blog page. Mix and match colors to make them more eye-catching and fun. Perfect for dinosaur-themed parties or to use as puppets when your kids want to make their own installation of the "Jurassic Park" franchise!
25. Get Your Serena Williams On
Image source: Glitter on a Dime
Having kids in the house means you probably have a bunch of crafting sticks sitting around somewhere. Grab some of those, plus a few paper plates, and you're all set for a few rounds of balloon tennis! Check out the photos from Glitter on a Dime to get inspired. Have the kids color their paper plate "rackets" while you blow up a few balloons. The best part is, this game can be played indoors or out, and can even be converted to a solo game of "keep up" for just one kid!