Children don't come with an instruction manual and it often seems that no two kids are alike, especially when it comes to food. Odds are that your kids have a long list of their favorite foods and the foods they won't eat – and that list may change daily. Lucky for you, this list of snack and lunch ideas has everything a parent, grandparent, or caregiver could need.
If you look over a typical cafeteria, you'll see all kinds of food preferences, so we rounded up soups, salads, sandwiches and plenty of non-sandwich lunch ideas. Whether you prefer to pack a hot lunch in a thermos or a cold lunch in a bento box, you'll find that too. If your child has special nutritional restrictions, allergies, or just prefers a vegan or vegetarian diet there are recipes that they will happily gobble up.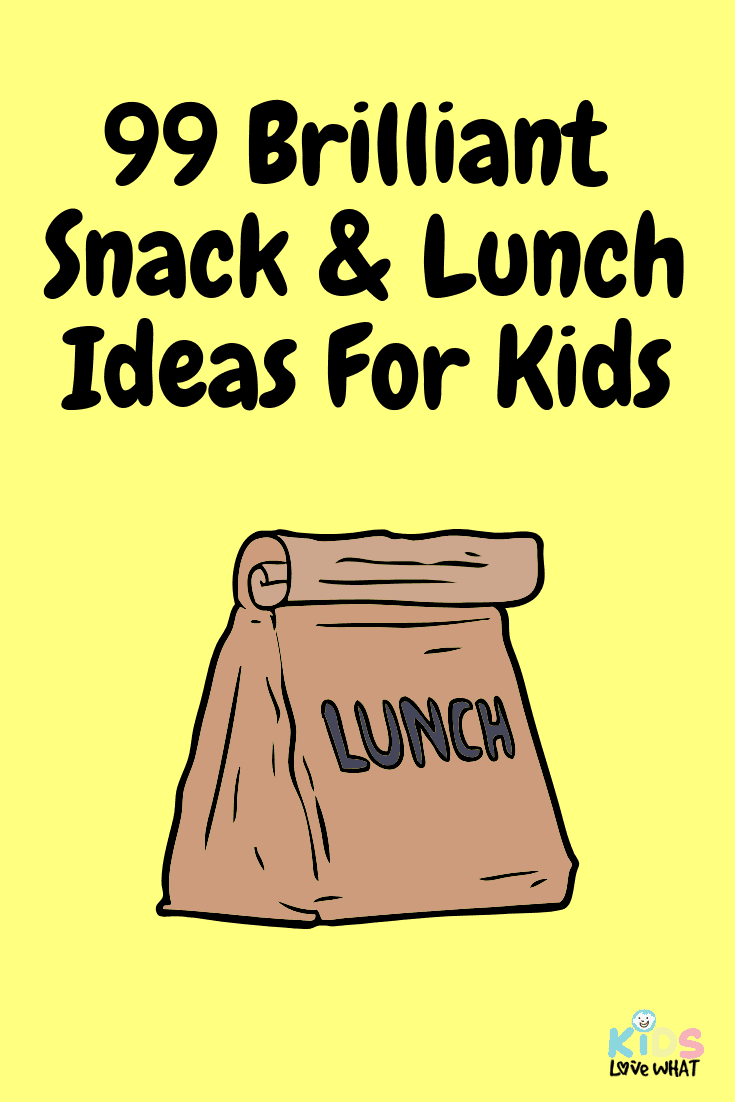 And of course, you don't just have to pack a lunch box for school, you want to serve delicious and healthy options for lunchtime at home and snacktime. There might even be a few sweet treats hidden below. Many of these recipes can be made ahead on the weekend and quite a few are the perfect place to start if you're ready to get the kids in the kitchen cooking beside you.
Browse this list, organized by a few general categories, and pick out your favorites to make this week. Be sure to bookmark and pin this post, so you can come back to it every time you're in need of a new recipe idea!
Vegan & Vegetarian Lunch Ideas For Kids
Vegan and vegetarian recipes can be part of your family's everyday routine, but even if you don't always eat that way, it can be a practical option on occasion. If you're looking for healthier ways to feed your kids, many vegan and vegetarian recipes are loaded with whole grains and fresh produce. While vegetarian recipes are made without meat, vegan recipes include no animal products at all, including eggs, dairy, or honey. When you serve kids a rainbow of naturally colorful options, they not only have the opportunity to get more nutritional value, but also may find new favorites they hadn't yet discovered.
Of course you'll also find a few sweeter treats in this section. It's all about balance. You can feel good about serving chocolate banana sushi for snack time when you know your child had a colorful buddha bowl for lunch. With a few exceptions, the majority of these recipes can be made with ingredients that can be found in your local grocery store.
From-Scratch Macaroni And Cheese
Image source: Living Well Mom
Is there a more classic a kid food than mac and cheese? If the blue box is giving you the blues, whip up this homemade version in bulk to feed your family. This version from Living Well Mom starts with pasta, butter, flour, and cheese on the stovetop. Then the macaroni and cheese is spread into a casserole dish and sprinkled with bread crumbs before being baked in the oven.
PBJ Tacos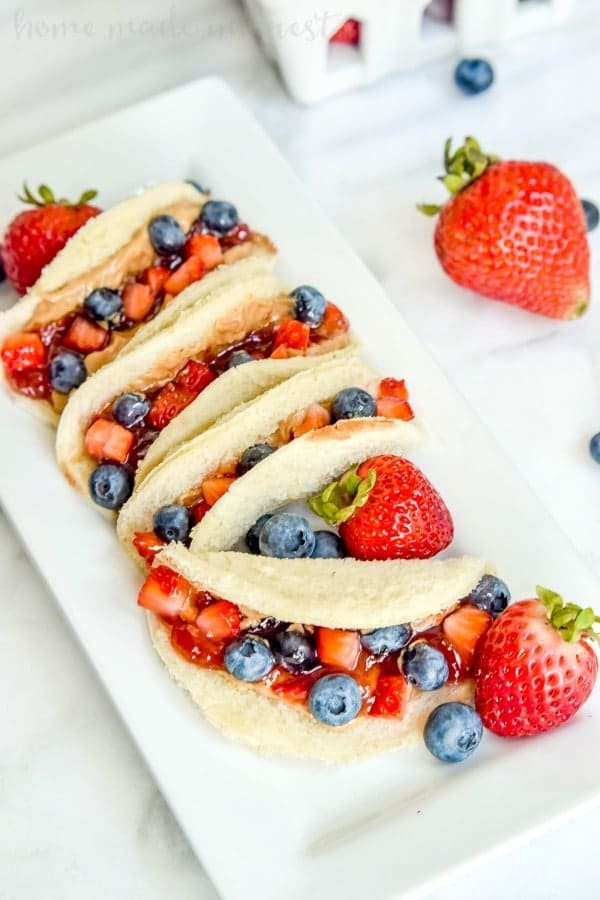 Image source: Homemade Interest
Turn a school lunch staple into a decadent-looking snack idea that's loaded with vitamins. This idea from Homemade Interest starts with cutting a piece of bread into a circle and gently rolling it flatter. Then you simple spread peanut butter and jelly on the inside. Fold the "taco" in half and add plenty of fresh berries, such as strawberries and blueberries. This would be an easy recipe to substitute for a different spread or swap out the berries.
Lunch Bugs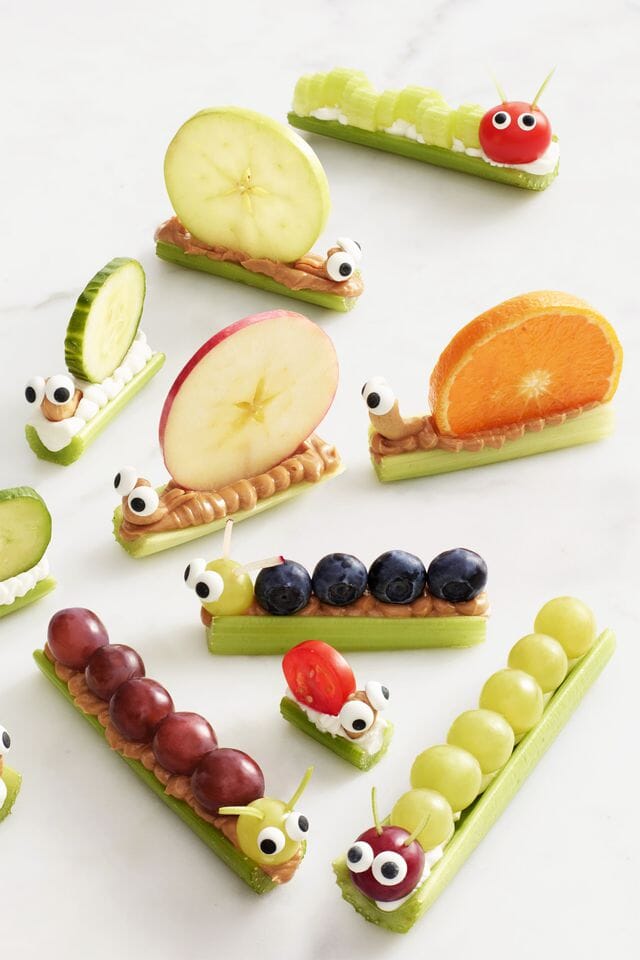 Image source: Good Housekeeping
Forget ants on a log, these bite-sized snails and caterpillars are cute – but not too cute to eat. This is a fun recipe from Good Housekeeping for getting the kids involved in making lunch. Start by topping celery sticks with peanut butter. Then add sliced fruits and vegetables to create snail shells, caterpillar segments, and wide-eyed faces. Each one takes just a few minutes to make, but will leave a smile on your child's face through lunchtime.
Toast With Avocado
Image source: Weelicious
Weelicious shares a colorful lunch and snack idea that's quick to make so you don't have to spend too much time in the kitchen, especially on the weekends. Simply toast a piece of bread and spread a generous helping of mashed avocado on top. Feel free to add extra toppings like sliced tomatoes. Avocado is packed with nutrition in the form of healthy fats and over a dozen different vitamins and minerals.
Gluten-free Cheesy Broccoli Cups
Image source: Haute and Healthy Living
For kids who can't eat wheat, that doesn't mean they have to skip out on muffin-type recipes. These cheesy broccoli cups from Haute and Healthy Living are made with quinoa. Cook the quinoa and combine it with broccoli, cheese, egg, garlic, and onion. Divide the mixture into muffin cups and bake in the oven until golden brown. Let the cups cool before removing and serving warm, or cool completely before packing in a lunch box.
Chocolate Banana Sushi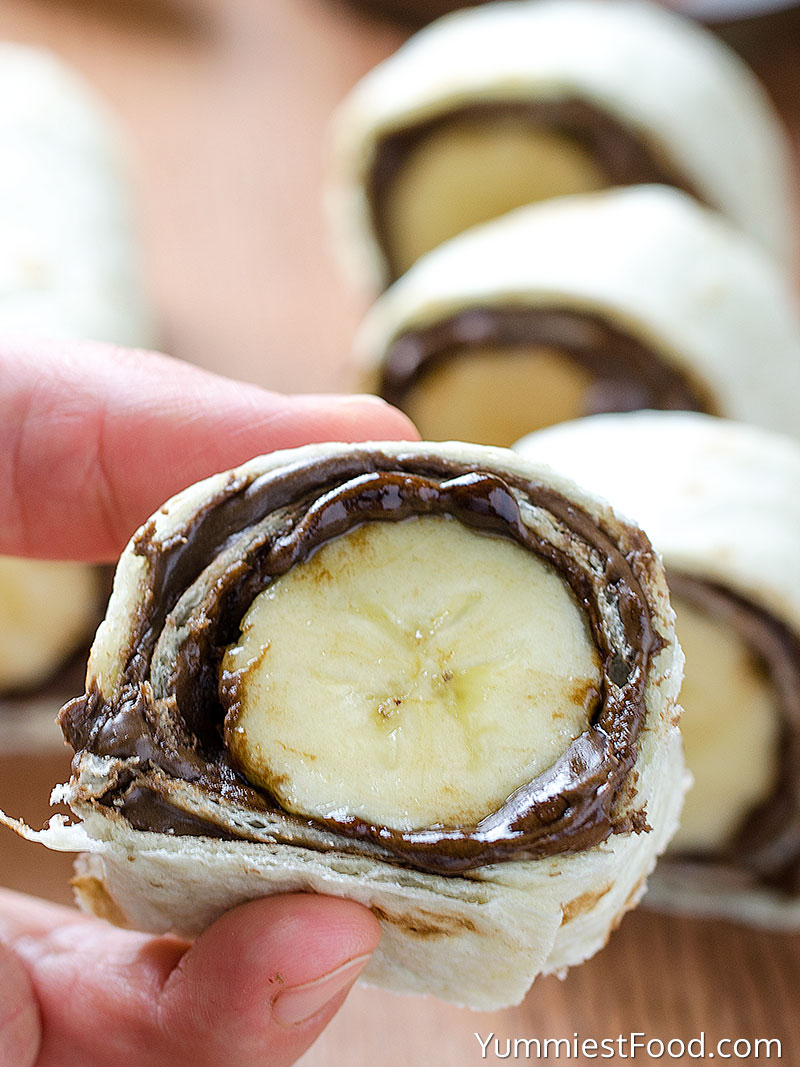 Image source: Yummiest Food
Who doesn't love nutella? The rich chocolatey spread is good on almost everything, including this chocolate banana sushi idea from Yummiest Food. Start by warming a few tortillas, just enough to soften them. Spread a generous amount of nutella on the tortilla and place a banana in the middle. Roll the tortilla up and slice it into one-inch sections. Serve these right away for a protein-packed snack or quick lunch.
Healthy Veggie Wraps
Image source: Lauren's Latest
Use any combination of raw vegetables your children like for this healthy veggie wrap recipe by Lauren's Latest. This recipe suggests grated carrot, diced tomatoes, sweet bell peppers, cucumbers, onion, kale, and spinach. Spread a tortilla with hummus, then top with your choice of vegetables. Roll it up and fold in the ends to keep the filling from falling out. You may want to cut each one in half for easier one-handed eating.
Colorful Buddha Bowl
Image source: Super Healthy Kids
A buddha bowl is a vegan one-bowl dish packed with nutrient-dense ingredients – and it isn't just for adults. This recipe from Super Healthy Kids is a deliciously colorful rainbow. It includes sweet potatoes, bell peppers, broccoli, cabbage, cucumber, tomato, and quinoa, plus roasted chickpeas and an avocado dressing. The prep is simple; everything can be cooked on a single sheet pan and pot. Let your kids help prep the meal and pack it into containers for lunch.
Sneaky Tater Tots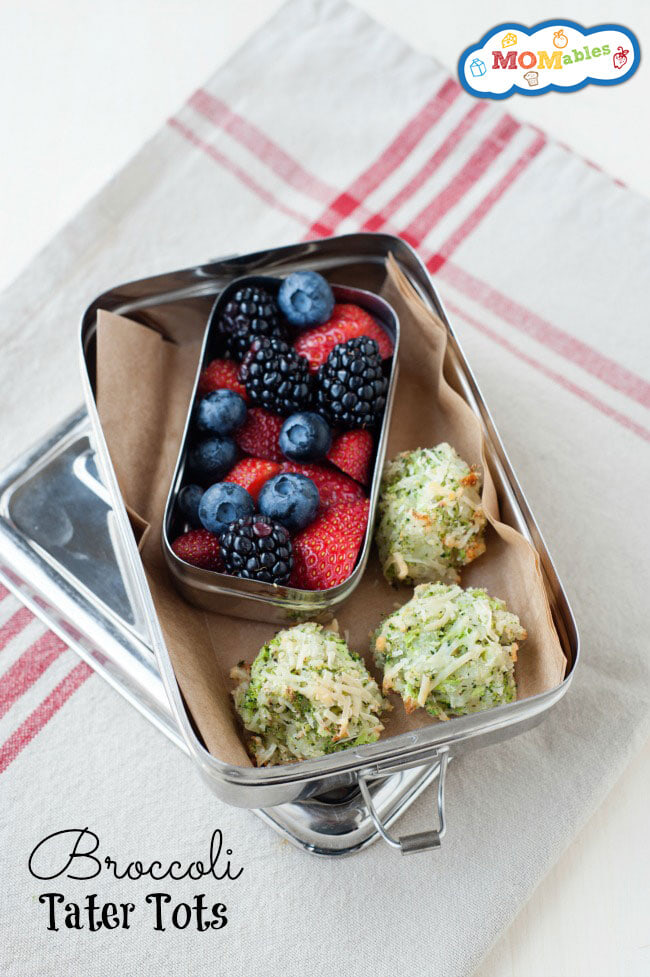 Image source: Momables
The secret ingredient in Momables's tater tot recipe is broccoli. Start by par-cooking potatoes and let them cool. Pulse them in a food processor with chopped broccoli and parmesan cheese. Shape the mixture into tablespoon-sized tots and bake in the oven. The tots can be frozen before or after baking and cooked tots can be stored in the refrigerator for about three days. Pack them in a lunch box at room temperature or reheat them to enjoy at home.
Vegan Tofu Nuggets
Image source: Veganosity
Serve this chicken nugget-alternative alongside sneaky tater tots for a healthier version of a fast food staple. To make the nuggets from Veganosity, pulse tofu with a few additional ingredients in a food processor. Then spread the mixture on a baking sheet and frozen briefly. After cutting out the shapes with a cookie cutter, coat them in breadcrumbs. Place the nuggets on a baking sheet and cook in the oven until golden.
Veggie Rice Cups
Image source: Easy Toddler Meals
Packing a preschool lunch box requires you to plan foods your child can eat without much help. These veggie rice cups from Easy Toddler Meals is a good one to have on your menu for lunch at school or at home. To make this recipe, whisk eggs with flour and seasonings. Add cooked rice, peas, and carrots. Divide the mixture into the cups of a muffin tin and then bake in the oven.
Vegan Chickpea Salad
Image source: Wee Little Vegans
There's no reason for vegan kids to miss out on the flavors of a chicken salad sandwich and this variation is made with chickpeas. Wee Little Vegans also includes dried cranberries, apples, celery, pecans, non-dairy yogurt, and seasonings. Everything is chopped small and stirred together. Be sure to make this ahead of time so it can chill. Serve the chickpea salad between two slices of bread, with crackers, or on a bed of lettuce.
Toasted Masala Sandwich
Image source: Anto's Kitchen
Masala is a combination of spices often used in Indian cooking that adds a savory burst of flavor to any recipe. Try it in this sandwich from Anto's Kitchen. First, saute onion with spices in a skillet. Add chopped bell peppers and shredded carrots and cook until the carrots begin to soften. Place the warm filling between two slices of bread and then toast the sandwich on both sides. Serve warm to avoid the sandwich becoming soggy.
Vegan Style Crunchwrap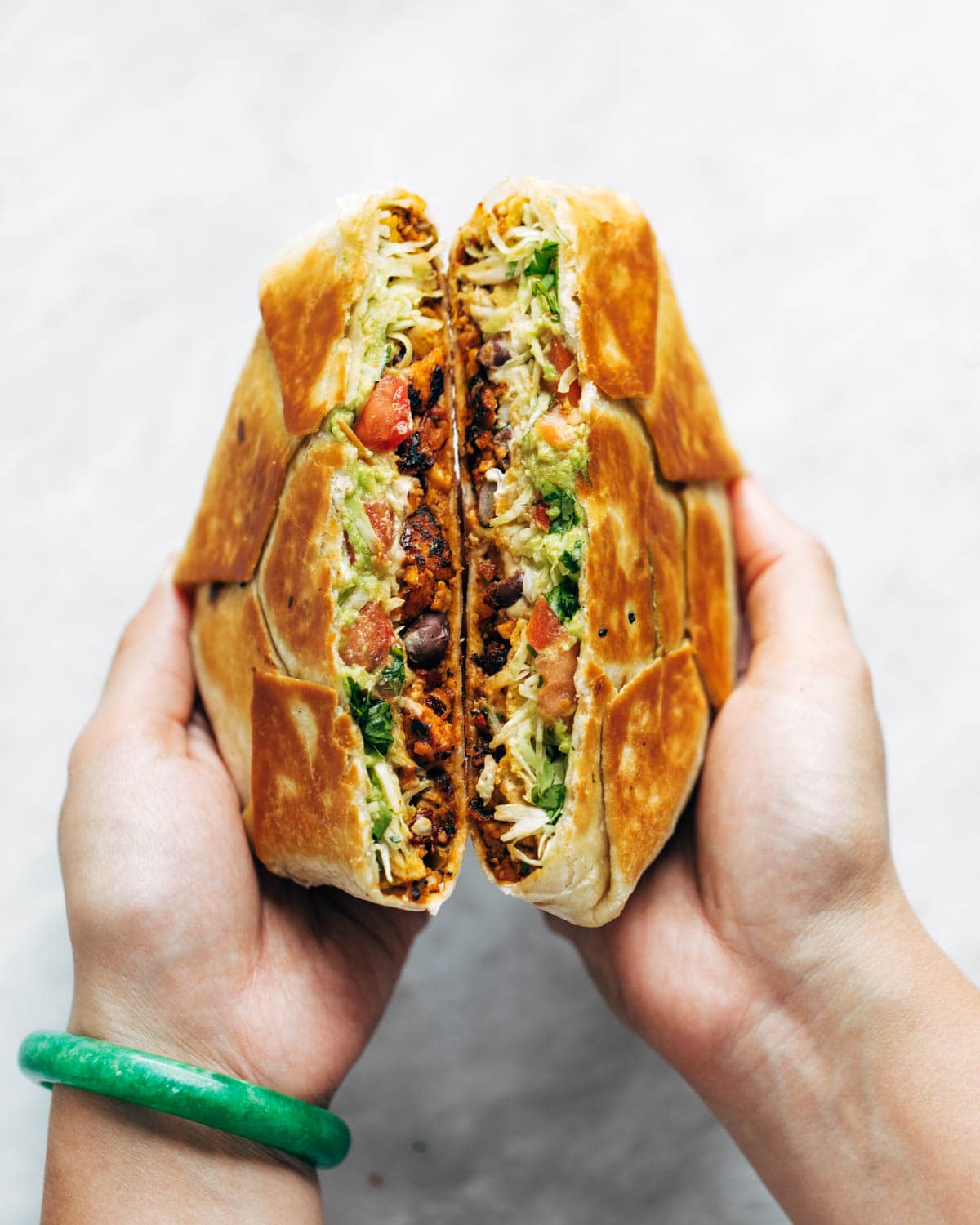 Image source: Pinch of Yum
A certain taco restaurant may not be vegan or healthy, but Pinch of Yum has a recipe for making the fast food favorite into both. This recipe has a fair amount of steps, but the ingredients are everyday items and many can be swapped for something you already have on hand. Start by putting sofritas, beans, and cashew queso in the middle of a burrito tortilla and top it with a tostada. Add a layer of fresh veggies and some avocado. Add a small flour tortilla to hold it all in place, then fold the bigger tortilla up to cover. Fry in a skillet and enjoy.
Soba Noodle Stir-fry
Image source: The Kids Cook Monday
This vegan stir-fry recipe is perfect for using up whatever vegetables you have in the refrigerator or experimenting with a new seasonal one. The Kids Cook Monday recommends getting your kids in the kitchen to help prepare this meal. Start by boiling the soba noodles and draining them. In a bowl, whisk together the spices and other seasonings. Toss your choice of cooked vegetables, such as broccoli, sugar snap peas, or carrots and add the noodles.
Soup Lunch Ideas For Kids
Here are a handful of delicious soup ideas that are staples around our house. These are so simple to make and perfect for those cold days or when you're kids are sick. These soup recipes can be made in a variety of ways, so don't hesitate to adapt them for your preferred cooking method. Try a stove top recipe in your slow cooker or vice versa. Add an extra vegetable from the refrigerator to avoid food waste. Puree vegetables to thicken broth or hide from a picky eater. If you're packing soup in a lunch box, make sure to preheat the thermos with boiling water and heat the soup a little on the too-hot side, so everything is still nice and warm at lunchtime.
Creamy Pumpkin Soup
Image source: Goodie Goodie Lunch Box
As the temperature turns colder and your thoughts wander to all things pumpkin-flavored, don't forget to add this pumpkin soup recipe from Goodie Goodie Lunch Box to your meal plan. It packs a flavorful punch with diced pumpkin, onions, potatoes, and garlic. The soup simmers together in about half an hour. Worried that your picky eater will protest? The last step is to puree the soup with an immersion blender until nice and smooth.
Chicken Noodle Soup
Image source: Love Grows Wild
Chicken noodle soup is a household staple when the weather is cold, especially if cold and flu germs are around. This easy recipe from Love Grows Wild can be made in less than half an hour. Make up a batch on the weekend to pack in thermoses for the week ahead. Start by sauteing vegetables in butter for a few minutes. Add shredded rotisserie chicken, noodles, and spices. Cover with broth and simmer until the noodles are cooked through.
Alphabet Noodle Soup
Image source: Kitchen Counter Chronicle
Kitchen Counter Chronicle recommends making a big pot of this alphabet noodle soup on the weekend so you have a hearty, filling lunch for the week ahead. For this recipe, start by sauteing some aromatics and herbs. Add in stock, canned tomatoes, and frozen vegetables. If your kids won't touch a vegetable they can see, puree the soup at this point. Then, finish by stirring in ABC letter pasta and simmer.
Tasty Tomato Soup
Image source: Food Network
This Food Network recipe for tomato soup has just a few ingredients and can be cooked on the stovetop or in the microwave. Combine tomatoes, celery, and broth in a blender. Add seasonings, lemon juice, and a bit of cream. Heat the soup by your preferred method and serve immediately or transfer to preheated thermoses. Pack a side of crackers, croutons, or bread to enjoy with the hot soup.
Baked Potato Soup
Image source: Kids Activities Blog
What's better on a chilly day than a loaded baked potato? How about packing it in a thermos as a hearty soup? This recipe from Kids Activities Blog takes all your favorite potato toppings – cheese, bacon, and sour cream – and mixes them into a soup made from potatoes and leeks. This recipe simmers on the stovetop and takes under an hour to make, including peeling and dicing the potatoes.
Salad Lunch Ideas For Kids
When it comes to feeding kids (and adults too), there's no reason for salad to be boring or flavorless. From a bright and colorful fruit salad to pasta salad, we found the most creative and delicious-sounding salads to serve up at lunch. Below, a taco salad gets a healthified twist and a classic BLT sandwich gets broken down and served with unique homemade croutons. You'll find simple side dishes and hearty, filling entrees too.
One of the best parts about making a salad is that much of the prep work can be done in advance. If you're a Sunday food prep fan, you can cook, chop, and measure ingredients and have them ready for quick meals during the week. Some salads can even be tossed together, minus the dressing, and stored in a container for a few days. Then they become grab-and-go meals for the busiest mornings. In addition to making these recipes for the kids, you may find yourself packing a few of them in your own lunch box for a convenient work day lunch!
Basic Pasta Salad
Image source: Kids Activities Blog
Pasta salad is the perfect lunch box meal. It can be made ahead and chilled, is easy to eat, and can be made with a wide variety of ingredients. This pasta salad from Kids Activities Blog is made with bowtie pasta and pizza ingredients like pepperoni, cherry tomatoes, and diced cheese. Feel free to add or remove an ingredient. The dressing is made with red wine vinegar and spices, which add a punch of flavor.
Finger Food Salad
Image source: Real Mom Nutrition
Eating a salad can be a messy challenge when you're a kid. Make it fun and you'll encourage your kids to try vegetables they might otherwise wrinkle their noses at. Enjoy this deconstructed salad from Real Mom Nutrition. Cut romaine hearts, carrots, sweet bell peppers and other veggies into sticks and serve them with dressing as a dipping sauce. Try a combination of different vegetables or dressings, or cut them into different shapes.
Healthified Taco Salad
Image source: Sugar Free Mom
Sugar Free Mom takes a traditional taco salad and gives it a healthier twist. This one is easy to make ahead of time and pack cold in a lunch box. Start by browning ground turkey and adding seasonings, then set it aside to cool. Meanwhile, put some lettuce in your container and toss it with dressing. Top the lettuce with the taco meat and cheese. Pack tortilla chips on the side so they don't get soggy.
Southern Style Macaroni Salad
Image source: Spicy Southern Kitchen
Make this kid-friendly macaroni salad by Spicy Southern Kitchen for your next cookout. It can easily be made ahead of time and kids will gobble it up. To make this version, cook a package of pasta and allow it to cool. Mix in the vegetables and seasonings with the pasta. Add the mayo last so the pasta will absorb the other ingredients and the salad will stay creamy.
Bright And Colorful Fruit Salad
Image source: Cooking Classy
The easiest way to get kids to "eat a rainbow" is to mix up this eye-catching fruit salad from Cooking Classy. It's so good that adults won't be able to resist it either. Dice a combination of fruit into bite-sized pieces. Use red strawberries, orange mandarins, yellow pineapple, green kiwi, blue blueberries, and purple grapes. Drizzle the fruit with a honey and lime dressing and toss to combine.
BLT Salad With A Twist
Image source: Recipe Girl
A BLT is pretty simple: bacon, lettuce, and tomato. Recipe Girl turn it into a salad with a creative twist your kids will enjoy. The basic salad is chopped lettuce, halved pear tomatoes, and cooked crumbled bacon. For the creative part, cook a grilled cheese sandwich and dice it into crouton cubes. Drizzle the salad with ranch dressing for a kick that balances the gooey cheese and sweet tomato.
Sandwich & Wraps Lunch Ideas For Kids
Sandwiches are the lunchroom staple from elementary through high school. But, there is so much more to make than just peanut butter and jelly! If you need creative sandwiches, wraps, and sliders to feed your family, we have quite a few. This list includes a few classics like grilled cheese and egg salad. There are also a few unique recipes, like the colorful rainbow sandwich, that will soon become a favorite in your house!
The trick to a fantastic sandwich is balancing the three components: the bread, the filling, and the sauce. Choose a hearty wheat slice, a fluffy roll, or a low-carb wrap. Fill it with deli meats, cheeses, or vegetables. Top it with a drizzle of dressing, a sweet and spicy sauce, or yes – even a few sprinkles, for the perfect finish. Most sandwiches are best when served the same day they are made, but if you need to save time, the fillings can be made in advance and chilled separately.
Spooky Spider Sandwiches
Image source: Rachel Cooks
Make a special lunchtime treat for Halloween with this unique idea from Rachel Cooks. She turns a grilled cheese sandwich into a spooky-but-cute spider. Start by making a basic grilled cheese. Allow it to cool briefly, then cut it into a circle with a large cookie or biscuit cutter. Add pretzel sticks for legs and dried cranberries for eyes. Grilled cheese is best enjoyed warm, so serve it right away.
Mini Barbecue Chicken Sandwiches
Image source: Taste of Home
Barbecue chicken sandwiches can be messy, so this kid-friendly version at Taste of Home is served on slider buns or rolls. This recipe starts with brining the chicken for a day. Then cook the chicken in a slow cooker for several hours. Remove and shred it, then add it back to the crock and stir in the barbecue sauce. Put a small scoop of chicken on a bun and serve with coleslaw.
Cheesy Tuna Melt
Image source: Spaceships and Laserbeams
This classic tuna salad sandwich variation is a delicious comfort food to enjoy at lunchtime, for an afternoon snack, or a quick supper. The recipe from Spaceships and Laserbeams starts by making tuna salad. Then add shredded mozzarella cheese to the mixture and spoon it onto a piece of bread. Top it with a second slice of bread and toast it on both sides in a skillet. Alternatively, you could use just one slice of bread and serve it open-faced.
Peanut Butter Banana Sandwich
Image source: NeighborFood
Elvis may have popularized the peanut butter and banana sandwich, but surely he would've love this version from NeighborFood that includes the addition of marshmallow creme. This indulgent toasted sandwich is filled with ooey-gooey goodness that every kid is sure to love. It may be on the messy side, so be sure you serve this with a few napkins to catch the warm, melty peanut butter and marshmallows.
Mini Chicken Parmesan Sliders
Image source: Delish
Take a classic kid food like chicken nuggets to the next level with this recipe from Delish that may just catch the attention of the adults at your table too. Cook a package of frozen chicken strips, then layer them in a slider bun with mozzarella, parmesan, and marinara sauce. This variation on a classic Italian pasta dish is much easier to eat, making it a crowd-pleasing finger food for kids.
Turkey Pinwheel Wraps
Image source: Eazy Peazy Mealz
Turkey pinwheels are a great alternative to sandwiches and can be customized with your child's favorite meat, cheese and veggies. For a basic pinwheel recipe, Eazy Peazy Mealz recommends lettuce, cream cheese and turkey. Wrap the whole thing up in a burrito-size tortilla and then slice into one-inch sections. You can use toothpicks to hold the pinwheels in place. Serve this with fresh grapes, carrots or your child's favorite produce.
Cheesy Ham Sliders
Image source: She Wears Many Hats
Ham plus cheese on mini buns makes for a delicious sandwich recipe that will encourage everyone to come back for seconds. Serve these at your next child's birthday party and then be prepared to share the surprisingly simple recipe. While She Wears Many Hats uses baked ham and provolone, feel free to swap them for your child's favorite deli meat and cheese combination. If serving a crowd, you could even make a couple of batches with different sandwich fillings.
Colorful Rainbow Sandwich
Image source: In the Playroom
These rainbow sandwiches from In the Playroom are made from vegetables, so the colors are all natural. Once the vegetables are cooked, puree each color with cream cheese to create a smooth, spreadable filling. Layer them between bread to create an eye-catching sandwich that your kids will gobble up. This recipe makes one or two sandwiches, so save time by multiplying the batch and refrigerate or freeze the extra spread.
Chicken Sliders
Image source: A Mom's Take
Chicken nuggets are a great way to get protein into a child who is a picky eater. Add a few veggies alongside and you've got a pretty healthy lunch option from A Mom's Take. This is quick to make by using frozen chicken nuggets. Start with a Hawaiian roll and layer a cooked chicken nugget with cheese, baby spinach and sliced tomato. Feel free to swap toppings for your favorite sandwich ingredients or add a sauce.
Bacon Turkey Wraps
Image source: Like Mother Like Daughter
Bacon, lettuce, and turkey come together for a tasty lunch box idea or a no-cook weeknight family meal idea by Like Mother Like Daughter. Roll the ingredients up in a tortilla and be sure to drizzle on plenty of ranch dressing. This recipe can be made with regular bacon or with turkey bacon for a lighter option. You can also add more vegetables if you like. Serve your wraps with fresh fruit and vegetables or chips.
Grilled Mac And Cheese Sandwich
Image source: Delish
Take two kids' lunch staples – a grilled cheese sandwich and macaroni and cheese – and put them together to create this funky lunch idea from Delish. Start by preparing a box of macaroni and cheese, then stir in some cooked, crumbled bacon. Spoon the mixture between two slices of bread and add extra cheese. Toast the sandwiches in a skillet and serve right away while they're still hot. This is the ultimate lunchtime comfort food.
Protein-packed Tuna Sandwich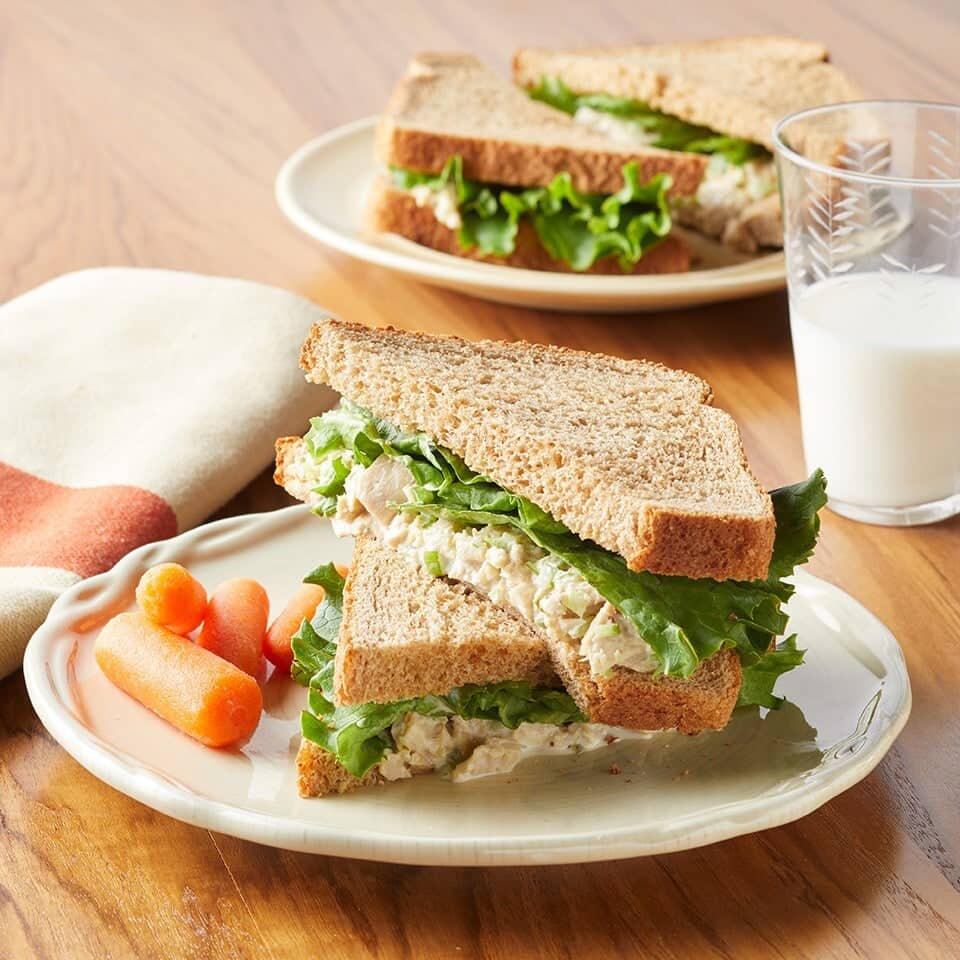 Image source: Eating Right
Everyone has their go-to recipe for tuna salad. This one from Eating Right may just become your family favorite because it takes a shortcut. In addition to canned tuna, mayonnaise, and celery, this recipe calls for a few scoops of sweet relish. Combine everything and spread it between two slices of bread or serve it with crackers. Remember to include an ice pack if you're sending this to school with your child.
Grilled Cheese Sandwich Sticks
Image source: Momables
Grilled cheese and tomato soup go together like peanut butter and jelly. Make this combo lunch box-friendly by cutting the sandwich into dippable sticks. This idea from Momables starts with a basic toasted cheese sandwich. To make it, just place a few slices of cheese between two slices of bread and brown on both sides in a skillet. Let the sandwich cool to room temperature and cut it into a few thin sticks. Pack alongside a thermos of hot tomato soup for dipping.
Adorable Animal Sandwiches
Image source: Positively Splendid
Creative lunches don't have to be difficult when you try these woodland animal sandwiches from Positively Splendid. All you need are a variety of deli meats and cheeses, raisins, grapes, and sandwich bread. The trick is to use a variety of cookie cutters or a paring knife to make the shapes. Use a circle to make the bodies, a heart for the face, and triangles for accents like hedgehog quills and an owl beak.
Lunch Snail PB&J
Image source: Canadian Family
Making a lunch cute and fun doesn't have to take a lot of prep. This cute snail lunch idea from Canadian Family can be done in minutes. Start by making a basic peanut butter and jelly sandwich. Cut the sandwich into a circle with a cookie or biscuit cutter. Peel a banana and place it next to the sandwich. Add two pretzel sticks for antennas, two chocolate chips for eyes, and draw on a smile and shell swirl with more jelly.
Deli Bagel Sandwich
Image source: Two Peas in Their Pod
Recreate a popular deli sandwich at home following this recipe from Two Peas in Their Pod. Bagels make a great alternative to plain sandwich bread. For this sandwich, layer a bagel with turkey, havarti cheese, lettuce, and tomato. Add a generous spread of mayo or mustard. To make this easier to pack for school and eat, cut the sandwich in half or quarters. As an alternative, choose a different deli combo like ham and swiss.
Tuna And Avocado Sandwich
Image source: Julie's Eats and Treats
This tuna salad sandwich from Julie's Eats and Treats has a few creative twists that make it delicious. Rather than combining everything in the tuna salad, some ingredients are left larger and layered onto the sandwich. Start by mixing the tuna with mayo and a few seasonings. Spread it on a slice of bread and top with slices of boiled egg, tomato, and avocado. Top with lettuce and a second slice of bread.
Fairy Bread Sandwich
Image source: Stylish Cravings
Fairy bread is a cute way to dress up a pain sandwich with the addition of sprinkles. This version from Stylish Cravings is based on a PBJ sandwich. For each sandwich, you'll need two slices of bread, peanut butter, jelly, and sprinkles. Take one slice and use a cookie cutter to cut a heart shape from one corner. Spread the jelly on the non-cut slice and layer peanut butter over it. Place the cut slice of bread on top of fill in the heart with sprinkles.
One-pot Sloppy Joes
Image source: Pint-sized Treasures
While sloppy joes might be a bit messy for the lunch box, they are the perfect quick meal to make for lunchtime when the kids are home. Pint-sized Treasures swears by adding a slice of cheese to each sandwich before adding the sauce. For her recipe, brown ground beef, onions, and bell peppers in a skillet. Add spices, tomato, and ketchup, then simmer until done. Serve a generous scoop in a hamburger bun.
Make-ahead Mini Burgers
Image source: Epicurious
The cute mini-sized hamburger patties on Epicurious are versatile and delicious. Make up a big batch to freeze, them pull them out all week long to serve in a variety of ways. Plus, with a secret swap of mushrooms for a portion of the ground beef, you're also making a healthier option. Combine all the ingredients and shape into patties, then bake them in the oven in batches.
Bite-sized BLT
Image source: Oh How Civilized
This mini version of a bacon lettuce tomato sandwich at Oh How Civilized is perfect for a tea party, afternoon snack, or bite-sized lunch box idea. Start by cutting strip of bacon into quarters and frying, then set them aside to cool. Using a small round cookie cutter, trim sandwich bread and lettuce into circles. Slice tomatoes thinly. Spread mayo on the bread and alternate bread, lettuce, tomato, and bacon. Repeat with a second layer.
Everyday Egg Salad Sandwich
Image source: Food Network
Whether you've colored eggs for Easter or just have too many boiled eggs in your refrigerator, egg salad is the best way to use them up fast. Food Network has a simple, kid-friendly version of this recipe that's perfect for lunchtime. Chop boiled eggs and dill pickles. Stir them into a bowl with mayonnaise and mustard. For a variation, try adding cooked, crumbled bacon or onions. Put a generous scoop between two slices of bread.
Rainbow Mini Wraps
Image source: Dinner at the Zoo
Add a pop of healthy color to your child's lunch box by making this recipe from Dinner at the Zoo. To start, add ranch dressing mix to cream cheese and stir thoroughly. Spread the cheese over a tortilla and top with diced vegetables. Bell peppers, carrots, cabbage, and spinach are a colorful choice. Add a scoop of cooked, shredded chicken and roll the tortilla up snugly. Slice the wrap into smaller sections.
Cheese Sandwich Stars
Image source: Martha Stewart
Martha Stewart takes a biscuit dough recipe and turns it into something extra special with the use of cookie cutters. First, mix up the biscuit dough and roll it out. Cut the biscuits with a star-shaped cookie cutter and bake them in the oven. While the cooked biscuits cool, cut slices of cheese into star shapes too. For each sandwich, slice the biscuit in half, spread a bit of mayo, and add a slice of cheese.
Lunch Box / Bento Box Lunch Ideas For Kids
Imagine your tot off on their first day of school. Will they make friends? Have fun? Eat their lunch? Odds are that the friends and fun will come easily within a few days. However, getting a picky kid to eat their lunch can feel more like a chore, especially on a new schedule. At home you may feel more in control of what they eat and when. But packing a lunch box always comes with the worry that it won't come home empty.
Lunchtime at school is fun because kids get to sit and chat with friends. Boring food gets ignored, but a little creativity can solve that. You don't have to be an artist to put together an eye-catching bento-style lunch box meal. These recipes below take simple ingredients, like crackers, cheese and fruit, and make them fun. Most can be prepped ahead of time if you prefer, but don't take much time at all on weekday mornings either. The key is to find simple ingredients, use them in small portions, and choose a variety.
Mini Quiche
Image source: Goodie Goodie Lunchbox
A mini lunch box quiche is a tasty sandwich alternative that's loaded with protein and vegetables. This recipe from Goodie Goodie Lunchbox has several filling options. For any version, start by cutting pie crust dough into circles and placing one in each cup of a muffin tin. Add cheese, your choice of fillings, and eggs. Bake them in the oven just until the eggs have set. Serve them right away, refrigerate for a day, or freeze for up to three months.
Fruit Turtle
Image source: Canadian Family
When you have the time, making food into creative shapes will add a fun surprise to your child's lunchbox. This adorable turtle by Canadian Family is made from green apples and grapes. Slice the apple into thin rounds and remove the center core and seeds. Place thin slices of grape on the turtle's back to create a shell design. Add grape quarters for legs and a whole grape as the head (minus a thin sliver for a tail). Finish with two chocolate sprinkles for eyes.
Sweet And Salty Snack Crackers
Image source: Makes and Takes
Sometimes it can be difficult to come up with a creative lunch box every day. Salty crackers are filled with sweet jam and cream cheese for a delicious snack that pairs well with a variety of light bites. Pack them in a bento-box style lunch alongside fruit, vegetables, and other snack-sized foods. This recipe idea comes from Makes and Takes, which also recommends trying variations like veggie cream cheese on everything flavored crackers.
Old Fashioned Ants On A Log
Image source: Sweet and Simple Living
Who invented ants on a log? Who knows, but it was probably a mom looking for a creative way to feed her kids. Sweet and Simple Living has a reminder for how to make this recipe. Simple spread peanut butter in the groove of a celery stick and top with raisins. If you want to change it up a bit, try sunbutter for a nut-free option or use dried cranberries.
Deli Kebabs
Image source: Yummy Healthy Easy
Yummy Healthy Easy has a lunch box idea that can be put together in minutes. To make the deli kebabs, alternate cheddar cheese cubes and rolled turkey slices on a large toothpick. Add a cherry tomato on the end to hold everything in place. Pack them in a lunchbox with fresh fruit, applesauce, raw vegetables and dip, or any other finger foods your child enjoys. To make this meal even faster, cut up all the ingredients at once on the weekend.
Taco Salad Mexican Lunch
Image source: Family Fresh Meals
Tacos might be a bit messy for a lunch box, but Family Fresh Meals' taco salad is the perfect meal to pack on the go. Chop all your child's favorite taco ingredients into finger-food sized pieces and place them in a lunch container. Add side items, like chips and salsa or sour cream, in smaller sections or containers. This is an easy lunch to serve meatless, or you can add shredded chicken or beef.
Variety Of Stick Sandwiches
Image source: Bless This Mess Please
Food on a stick is just plain fun. Kids love finger food and parents can appreciate not having to remember to pack utensils. The premise is simple: cut ingredients into bite-sized pieces and layer them on a skewer. These six lunch box ideas from Bless This Mess Please are all variations on that theme. Combine pepperoni, cheese, and tomatoes for a pizza flavor. Choose classics like peanut butter and jelly or ham and cheese. Or deconstruct a recipe like chicken salad and break it into chicken, grapes, and apple.
Pepperoni Pizza Quesadilla
Image source: Genius Kitchen
Create a simple variation on a cheese quesadilla by adding pepperoni. This idea from Genius Kitchen is made in a skillet in just a few minutes. To make it, combine sauce, shredded cheese, and pepperoni between two tortillas. Feel free to add extra pizza toppings. Heat on both sides until the tortillas are toasty and the cheese is melted. Be sure to let the quesadilla cool completely before wrapping it in foil to pack in a lunch box.
Cheesy Dino Bento Box
Image source: Glue Sticks and Gumdrops
Bento boxes are adorable, edible art. This one from Glue Sticks and Gumdrops features dinosaurs made with a surprisingly simple technique: a cookie cutter. Simply use the cookie cutters to make dinosaurs from cheese and apple slices. Place each dino on a peanut butter-filled celery stick and then on a bed of baby spinach for the forest. It won't take long to put together this bento box in the morning or the night before and refrigerated.
Taco Lunch Box
Image source: My Kitchen Escapades
My Kitchen Escapades has a great idea for sending tacos to school in a lunch box. This recipe can be made with ground beef, chicken, or turkey. Start by browning the meat and adding spices and beans. Allow the mixture to cool and then pack in a container. Use smaller containers or compartments to hold toppings like cheese, lettuce, sour cream, avocado, or salsa. Include a few tortillas or substitute chips to make nachos.
Ocean-themed Hot Dogs
Image source: Cute Food For Kids
With just a few cuts, Cute Food For Kids turns a hot dog weiner into a crab and an octopus. These are a fun addition to a bento box lunch alongside other food art or something simple, like Goldfish crackers. To make the sea creatures, cut a hot dog into four sections. Cut the end sections into an octopus by slicing long, skinny legs. Turn the middle pieces into crabs by cutting shorter legs into both ends.
Bento Lunch Egg Chicks
Image source: Grace and Good Eats
For a simple bento box critter that won't take long to design, Grace and Good Eats shares how to turn a boiled egg into a cute baby chick. First, cut a hardboiled egg in half. Trim a bit of baby carrot for a beak and blackberries for eyes. Place the chicks on a bed of shredded coconut that's been dyed green for grass. Fill the rest of the box with fresh spring berries, baby carrots.
Peanut Butter Jelly Rollups
Image source: Eating on a Dime
This effortless variation on a basic PBJ sandwich by Eating on a Dime is ready just as fast and is sure to be popular with your kids. Trim the crust from a slice of bread and gently flatten it with a rolling pin. Spread a thin layer of peanut butter and top it with a thin layer of grape jelly. Roll up the bread and slice it into one-inch sections. Pack it in a lunch container with some fresh fruit, chips, and a sweet treat.
Easy Breakfast For Lunch Bento Box
Image source: Eating Well
Breakfast for lunch will be a fun surprise for a kid who easily tires of the same thing over and over. In fact, you may find that you want to pack this meal for yourself to take to work too. This idea from Eating Well features an apple and sunbutter sandwich made with waffles. Add side dishes of cottage cheese with cinnamon, fresh tomatoes and boiled eggs, and a few segments of grapefruit.
Non-Sandwich Lunch Ideas For Kids
This category may container recipes that didn't quite fit in one of the sections above, but many of these have one thing in common. They are a great way to get your kids involved in making their own lunches. One of the best ways to get a picky kid eating lunch and enjoying it is to get them involved in cooking and packing it. Younger kids can help wash produce, measure ingredients, and put food in containers; older kids can cut with a knife or heat items in the microwave. Start with basic skills and always supervise.
If you're just getting started teaching your child to cook, pick a laid-back time on the weekend rather than a busy school morning. Talk about following the steps in a recipe, measuring ingredients, and which foods they like best. Below you will find a variety of hot lunches, cold lunches, quick snacks, and fun party foods. Encourage your child to read through the list with you and pick out one or two recipes that they want to try this week.
Apple Chicken Meatballs
Image source: Healthy Little Foodies
Ground chicken makes an excellent lean meat for lunch at home or in a lunch box. Healthy Little Foodies combines chicken with grated apple, pear, carrots, and onions, along with breadcrumbs and spices. Precook the vegetables and combine all of the ingredients thoroughly. Form the mixture into about two dozen balls and fry in a skillet or bake in the oven. These meatballs are good on their own or can be served with fresh fruit and vegetables.
Quesadillas With Avocado
Image source: Healthy Little Foodies
This fun quesadilla variation from Healthy Little Foodies is made extra large by using a flatbread wrap, which are much larger than most tortillas. The filling for this version is just shredded cheese and mashed avocado, but you can easily add more ingredients such as diced tomato, beans, corn, or bell peppers. You can also use two tortillas for a traditional method or just one and fold it in half.
Stuffed Pizza Bombs
Image source: Spend With Pennies
Make your own pizza pockets at home for an easy hot lunch or a party appetizer. This recipe from Spend With Pennies is quick to make with a shortcut ingredient – refrigerated biscuit dough. To make them, roll out the biscuit dough, add your favorite pizza toppings, and roll it closed before baking. These work with pepperoni, cheese, or any combination of chopped veggies. Prepare several batches in advance, then zap a few in the microwave for a great make-ahead lunch idea.
Ham And Veggie Pasta
Image source: Happy Hooligans
This kid-friendly recipe from Happy Hooligans starts with a bowl of warm, buttery noodles tossed with parmesan cheese. From there you can add any combination of cooked meat and vegetables. Diced deli ham and a bag of frozen mixed vegetables are the perfect combination. You can also add a splash of milk or extra cheese to make the dish creamier, like a classic bowl of macaroni and cheese.
Crescent Dogs On A Stick
Image source: Tip Buzz
This recipe from Tip Buzz is literally hotdogs with a twist! All you need are hotdogs, refrigerated crescent roll dough, and an egg to make this tasty food on a stick that's perfect for dipping. The trick to making these is to cut the hotdog into a spiral before wrapping it with crescent dough. Brush the dough with butter before baking to give it a nice, golden brown color when done. Serve hot with ketchup, honey mustard, or your child's favorite dipping sauce.
Cucumber "Sushi"
Image source: Raising Whasians
If you need a quick and easy one-handed snack, look no further than this creative recipe from Raising Whasians. This recipe doesn't include the traditional seafood or seaweed, but rather it is made by stuffing a slice of cucumber with sandwich fixings. The key is to slice the cucumber into one-inch sections and remove the center. Fill each one with deli meat, cheese, carrot sticks, or any vegetables that your kids enjoy.
Cheesy Broccoli Muffins
Image source: Kidgredients
The secret to getting your child to like broccoli is to serve it with cheese. Warm, cheesy goodness will turn even the "worst" vegetable into a family favorite. For this recipe Kidgredients combines broccoli and cheese with a few basic muffin ingredients to bake up a filling snack or lunch box addition. This recipe makes two dozen mini-muffins or a dozen regular-sized muffins, but is easy to double if you'd like to freeze a batch.
Turkey Sandwich On A Stick
Image source: Ingredients, Inc.
For those with a gluten sensitivity or allergy, sandwiches are usually completely off the menu. This clever variation from Ingredients, Inc. takes all your child's favorite sandwich toppings and combines them on a skewer. Start with deli turkey and cheese, then add some lettuce, tomatoes, and pickles. Serve it with a side of ranch or mustard for dipping. This idea is easy to change up by choosing deli chicken.
Sneaky Ham And Cheese Muffins
Image source: Easy Toddler Meals
This innocent ham and cheese muffin recipe has a secret ingredient that parents will love: yellow squash. It blends in with the cheese seamlessly, so you can get a good serving of vegetables in your child without any fuss. Follow the recipe from Easy Toddler Meals to make a basic muffin mix, then add in diced ham, shredded cheese, and grated squash. You can even substitute turkey bacon for the ham.
Taco Pocket Pies
Image source: Lemons for Lulu
A pocket pie, or hand pie, is basically a savory toaster pastry that can be eaten in one hand. This taco pocket pie recipe from Lemons for Lulu is made with refrigerated pie crust dough, so it's pretty fast to make. Cook and season some ground beef and add black beans. Cut the dough into small circles and top with the meat mixture and a sprinkle of cheese. Place a second dough circle on top and seal the edges. Bake them for just a few minutes and you've got lunch in about half an hour total.
Muffin Pan Meatloaf
Image source: My Blessed Life
Meatloaf is the perfect comfort food and when you make it personal sized, it's easy to make too. This recipe from My Blessed Life starts with mixing all the ingredients together. This is best done by getting messy and using your hands. Next, divide the mixture into about 10 or 12 mini meatloaves. Place each one in a muffin cup and glaze with ketchup before baking. Serve right away or allow them to cool before wrapping and freezing.
Pizza Pinwheels
Image source: What Lisa Cooks
Double or triple this easy pizza pinwheel recipe from What Lisa Cooks to feed your family today and put away the extra for a busy night when you don't have time to cook. To make this recipe, roll out refrigerated biscuit or crescent roll dough and top with sauce and your favorite pizza toppings. Pepperoni, mozzarella, and marinara sauce are a classic. Roll the dough up and cut into slices, then spread them on a baking sheet and pop them in the oven.
Beef Stir Fry
Image source: The Organised Housewife
Whip up a quick stir fry meal of ground beef, vegetables and noodles. This one is easy to customize based on what you have in the refrigerator. This version from The Organised Housewife is made with carrots, onion, bell pepper, celery, and zucchini. Start by cooking noodles to set aside. Then brown the beef and add the vegetables and seasonings. Stir in a bit of sauce and add in the noodles. This makes a great weeknight family meal and leftovers are perfect for lunch.
Chicken Meatballs In Marinara
Image source: Kidgredients
Meatballs are a perfect kid food because they're already bite-sized and a hearty bowl of spaghetti and meatballs is delicious. This version from Kidgredients has a healthy twist that starts with ground chicken. The addition of mozzarella, parsley, and just a bit of olive oil make this a quick meal to mix up. Brown the meatballs in a skillet and them simmer them in marinara – either a homemade variety or a jar sauce.
Pretzel-wrapped Hot Dogs
Image source: Let the Baking Begin
Take two ballpark favorites and turn them into a tasty meal idea that's perfect for lunchtime or an afternoon snack. They can also be made ahead and frozen, then reheated later. To make this recipe from Let the Baking Begin, start by making the pretzel dough. Divide the dough into ropes and wrap them around the hot dogs. Boil each one in a baking soda bath to get the classic pretzel finish, then sprinkle with salt and bake.
Travel-sized Frittata
Image source: Goodie Goodie Lunchbox
Kids usually love eggs and they make a great lunch option. To take them on the go, however, try this travel-sized frittata recipe from Goodie Goodie Lunchbox. This recipe starts by pre-cooking sweet potato and combining it with broccoli, onion, zucchini, and sweet bell pepper. Add cheese and herbs, then divide the mixture into the cups of a muffin tin. Fill the cups with whisked eggs and bake in the oven. Allow them to completely cool before packing in a lunch box.
Naturally Green Muffins
Image source: The Natural Nurturer
Sometimes the trick to getting your child to try something new is to make it colorful and fun. These green muffins from The Natural Nurturer do just that. This recipe is paleo, gluten-free, and dairy-free and the green color comes from baby spinach. Simply combine all the ingredients and blend until smooth. Divide the batter into the cups of a muffin tin and bake in the oven. These make it easy to get more veggies into your child at breakfast, lunch, or snacktime.
Quesadillas With Apple
Image source: Momables
Apples with cheddar cheese is a wonderful flavor combination. If you haven't tried it, this recipe from Momables is a wonderful place to start. Slice the apples very thin and layer them with sliced cheese between two tortillas. Heat the quesadilla in a skillet, flipping halfway, until both sides are golden brown and the cheese is melted. Slice it into triangles and pack it hot if you want it to be slightly warm at lunchtime.
Sweet Potato Fries
Image source: Recipe This
Make french fries from sweet potatoes for a slightly healthier alternative to plain russets. Recipe This makes it even healthier by swapping the deep fryer for an air fryer, which uses just a few tablespoons of oil. Peel and chop the potatoes into uniform-sized sticks. Toss them with oil and pop them into the basket of your air fryer. After they cook, add a sprinkle or salt or a seasoning mix.
Cheesy Turkey Crescents
Image source: Taryn Whiteaker
Taryn Whiteaker takes a sandwich staple – turkey and cheese – and turns it into a warm, gooey filling for crescent rolls. This recipe is straightforward. Simply roll out your refrigerated crescent roll dough and add a few slices of deli turkey. Add a sprinkle of cheese, roll up the crescents, and bake them in the oven according to the dough package. These are best served right away but will reheat well enough if you have leftovers.
No-bake Trail Mix
Image source: Seven Graces
If you're looking for an easy way to get your kids in the kitchen helping with food prep, this trail mix on Seven Graces is a great place to start. It doesn't require any cooking and you can easily swap an ingredient that you don't have for something you do. Combine pretzel twists, marshmallows, M&Ms, raisins, and Cheerios cereal. You could also try any cereal or a different dried fruit. Let your child mix everything together and then divide it into snack-sized bags.
Sweet Potato Patties
Image source: Hearty Little Foodies
Sweet potatoes are a nutritious food that most kids like. Hearty Little Foodies has a recipe to make them into patties that can be served with a dipping sauce or alongside other vegetables. In a bowl combine grated sweet potatoes, mashed chickpeas, eggs, and seasonings. Shape the mixture into about ten patties. Add a splash of oil to a hot skillet and fry the patties a few at a time, flipping to brown on both sides.
Pizza-flavored Bread
Image source: My Kids Lick the Bowl
Sneak a few hidden vegetables into your kids' lunches by making this pizza bread from My Kids Lick the Bowl. Start with a basic homemade or store-bought refrigerated pizza dough. Blend tomatoes, garlic, and spinach in a blender until smooth. Spread the sauce on top of the pizza dough and top it with shredded cheese. Feel free to add other pizza toppings. Bake it according to the dough recipe.
Tortilla Corn Dogs
Image source: Simply Gloria
Children love corn dogs and other food that comes on a stick. This unusual variation from Simply Gloria is a bit easier to make at home than the battered version. Warm corn tortillas to soften, then top each one with cheese and a hot dog. Wrap the tortilla around the dog and place them in a baking sheet seam-side down. Bake in the oven, then stick a skewer into each hot dog. Serve hot with dipping sauce.
Pineapple Quinoa Balls
Image source: Healthy Little Foodies
All you need for the flavor of sweet and sour sauce is pineapple and tomato. Healthy Little Foodies takes this idea and turn it into kid-friendly meatless ball made from quinoa. In addition to those ingredients, you'll need a few common Asian flavors like soy sauce, ginger, and white wine vinegar. Combine all the ingredients in a pan on the stove to cook. Roll the mixture into balls, then bake in the oven.
Cheesy Broccoli Nuggets
Image source: Fast Forward Fun
Chicken nuggets may be a kid staple, but what if you could make a nugget that's secretly loaded with broccoli? This recipe by Fast Forward Fun does just that. In a mixing bowl, combine chopped broccoli, breadcrumbs, cheese, eggs, and seasonings. Mix everything thoroughly and then shape into small patties. Bake them in the oven until the cheese is golden brown and crispy. Serve these warm with your kids' favorite dipping sauce.
Homemade Hot Pockets
Image source: Sally's Baking Addiction
Frozen pocket sandwiches are loaded with sodium and preservatives, but you can make your own version at home by following this recipe from Sally's Baking Addiction. Start by making Sally's basic pizza dough. Divide it into a pieces and roll them into rectangles. Place a slice of cheese and two slices of ham in the middle of each one, then fold them closed. Brush the outside with an egg wash for color and bake in the oven.
Cheese And Ham Rolls
Image source: The Gracious Housewife
This simple, two-ingredient recipe from The Gracious Housewife makes a great toddler snack. It can also be served for lunch alongside other finger foods, like fresh fruit and raw vegetable sticks. Stack a few slices of deli ham on top of one another and place a stick of string cheese on top. Roll the ham around the cheese and cut the roll into bite-sized pieces. Stick a toothpick or pretzel stick into each one for easy holding.
Three Ingredient Tater Tots
Image source: Sweet and Savory by Shinee
Tater tots are easy enough to find in the frozen food section of your grocery store, but they're also easy to make from scratch at home with this recipe on Sweet and Savory by Shinee. First you need to peel, chop, and boil potatoes just until tender. Grate the cooked and cooled potatoes and combine them with cheese and a bit of flour. Divide the mixture and shape into small tots. You can bake these in the oven or deep fry them in oil.
Personal Lasagna
Image source: Food Network
This straightforward recipe from Food Network turns a tedious Italian dish into a quick lunch-sized portion. Start by pre-cooking lasagna noodles. Then combine the filling ingredients in a bowl. Lay out each noodle and spread the filling in a thick layer. Start at one end a roll each noodle up, then cut them in half. Pack the pieces ruffle-side up in a container and chill. At lunchtime, heat the container of pasta and serve with sauce.
Spring Tuna Frittata
Image source: Healthy Little Foodies
Take advantage of fresh spring onions when they're in season to make this tuna frittata for brunch or a weekend lunch. Combine butter, onions, garlic, and tuna and cook in a skillet. Add the eggs and cook until firm, then pop the skillet under the oven broiler to brown the top. Healthy Little Foodies recommends cutting the finished dish into wedges to resemble a pizza. You can even go ahead and let kids eat it with fingers if they like.
Teriyaki Chicken And Rice
Image source: Momables
Serve this delicious teriyaki chicken and rice from Momables warm by heating it and packing it in a hot thermos. This is a great recipe to make on the weekend and reheat quickly each morning when packing lunch boxes. Start by marinating chicken in the teriyaki ingredients. Stir-fry the chicken in a skillet on the stove and add the marinade to simmer into a sauce. Serve with rice and green onions, or other veggies.
Homemade Anellini Pasta Bowl
Image source: Chocolate Covered Katie
SpaghettiOs are a popular kid food, but one that's loaded with preservatives and sodium. If you're looking for a way to make a healthier homemade version, Chocolate Covered Katie has the recipe. Combine tomato sauce, seasonings, and milk to simmer in a saucepan on the stove. In a separate pot, cook the pasta. Katie uses anellini, but any small pasta will do. After the pasta is drained, add the cooked sauce.
Sweet Grape Cups
Image source: Taste of Home
Kids love dessert, so when you pack something naturally sweet in their lunches, they'll think they are getting a treat. These grape cups from Taste of Home are sure to be a hit. Combine yogurt with cream cheese, honey, cinnamon, and mint and blend thoroughly. Toss the grapes with the sauce and refrigerate until ready to serve. If you pack this in a lunch box, be sure to add an ice pack to keep it cool.
Tortellini Tomato Skewers
Image source: Design Improvised
This picnic idea from Design Improvised includes a tasty cold lunch idea that's perfect for on-the-go. You can use a combination of cheeses and vegetables and pair the skewers with a side of fresh fruit too. To make the skewers, cook a package of tortellini, drain, and set it aside to cool. On each skewer, layer cherry tomatoes, fresh mozzarella balls, and tortellini. Free free to add bell peppers or other raw vegetables.