Trying to get kids to eat healthy is an uphill battle for most parents, but luckily, there are smoothies! These delicious drinks are a great way to sneak healthy foods into your child's diet without the fuss and fight. Kids love sweet treats and parents love quick, healthy snacks. Both of these qualities can be found in a smoothie!
Premade smoothies can be purchased at your local store, but these tend to be extremely high in sugar (and also expensive!). Ditch the store bought and go for the make at home route! Trust me, it's totally worth it, fun for the kids and they're also much healthier. Plus, they usually only require a few ingredients.
If you don't have a blender – don't stress! Check out the Magic Bullet (for something cheap) or if you want something more heavy duty, capable of blending larger smoothies, go for either a Ninja or Vitamix. I have personally had a Vitamix blender for about 5 years now and it's literally the same as it was on day one when we purchased it (extremely powerful and no broken pieces). If you are planning to be a smoothie king or queen, I'd say invest in something like a Vitamix – it will last you much longer than a Magic Bullet.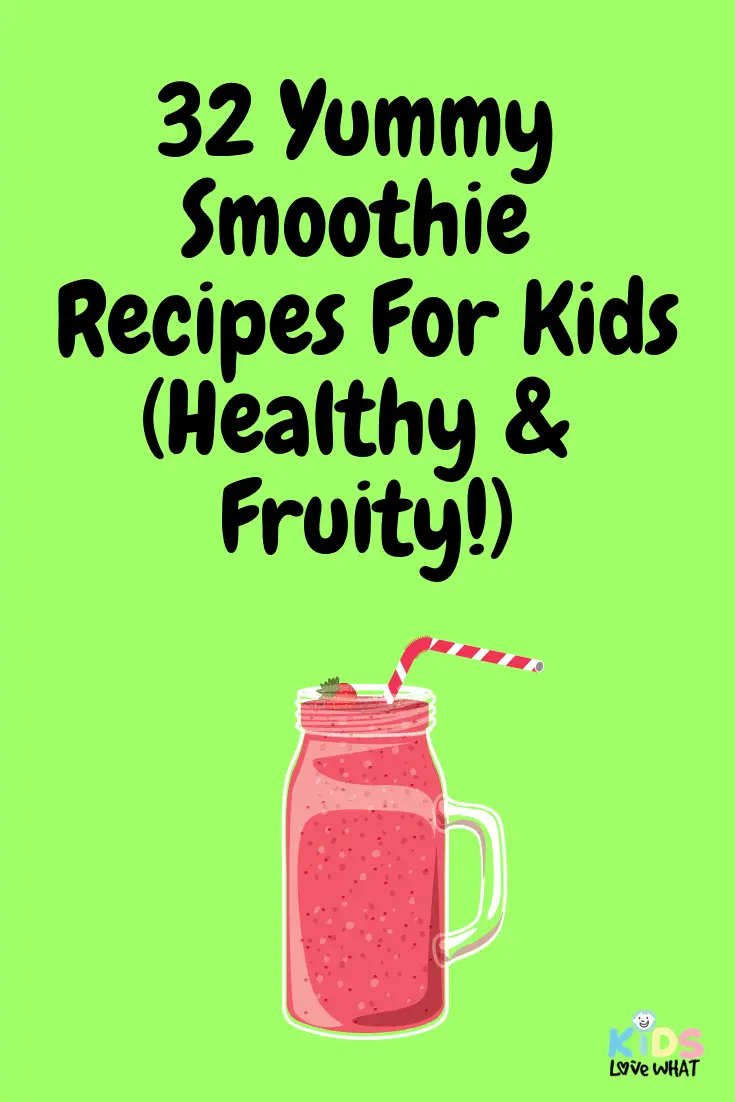 Now, on to the fun part – smoothie recipes! The best thing about smoothies is that there are unlimited possibilities on what can be made. From fruit smoothies to more green based — we've scoured the web to find the best, most mouthwatering smoothie recipes for kids.
Enjoy our favorite smoothie recipes for kids and make sure to pin this post if you love them!
1. Banana Oatmeal Smoothie
Image source: A Healthy Slice of Life
This banana oatmeal smoothie recipe is like a bowl of overnight oatmeal that can be sipped through a straw. It is loaded with nutritious ingredients that will ensure your child has energy to get through the morning until lunch or through a busy afternoon. This six-ingredient recipe can be whipped up in a breeze and makes two kid-sized servings.
Get the recipe from A Healthy Slice of Life. Blogger Brittany calls this recipe the busy mom's oatmeal because it is so quick and simple to make.
2. Fruity Berry Smoothie
Image source: Sammy Approves
For a burst of tropical flavors, your whole family will want to try this smoothie made with fresh fruit and fruit punch. It serves as a great source of vitamin C in the morning or could even be served as a punch at a party. The fruit can be prepared ahead of time and then blended with the other ingredients when ready to serve. One batch makes enough for a full pitcher in the blender, so you may want to make a few batches when serving a larger crowd.
This recipe was created by Sammy Approves. She also includes tips for turning this recipe into a special holiday treat.
3. Blueberry Muffin Smoothie
Image source: Iowa Girl Eats
Muffins are a great kid-friendly food, but they take some planning ahead to have ready for breakfast time. This blueberry muffin smoothie packs all the flavor in a tall glass. The secret ingredient is oats, which make it much heartier and filling than fruit alone. Plus, all the sweetness comes naturally from the fruit.
See how this recipe is made with a video tutorial at Iowa Girl Eats.
4. Healthy Green Citrus Smoothie
Image source: Simply Designing
This smoothie recipe looks green but tastes like sweet, citrus orange juice. The color is all natural from baby spinach, but when thoroughly blended the texture and flavor disappear. For parents who need to sneak in a vegetable past a picky eater, this recipe fits the bill and the color is so enticing that kids will not resist taking a sip. Adults looking for a nutritious and quick breakfast will enjoy it too.
Find the recipe for this smoothie at Simply Designing.
5. Peanut Butter and Jelly Smoothie
Image source: The Food Charlatan
Try this classic kids' lunch box staple with a twist. A peanut butter and jelly smoothie is a healthy and filling non-sandwich lunch idea for kids and adults. The "jelly" flavor comes from frozen raspberries, which also give it the bold color. With no added sugar, this is also a somewhat healthier choice than the average jar of jam. This recipe makes one large smoothie or two smaller servings.
Get the recipe from The Food Charlatan.
6. Coconut & Banana Smoothie
Image source: Cook for Your Life
According to nutritional experts, coconut is loaded with triglycerides, which are valuable in helping young children improve cognitive functions. Toddlers and young children are developing quickly, especially their brains, so an extra burst of nutrition is the perfect way to start the day. It also makes a smart snack for older kids to avoid the after school slump during homework. With just a few other ingredients, this recipe comes together quickly with little prep time. You can also add in some pineapple for an extra burst of sweetness!
Learn more nutritional information and get the recipe at Cook for Your Life.
7. Breakfast Cereal Smoothie
Image source: Running With Spoons
Let the kids take their morning bowl of cereal to go in smoothie form. This unique recipe calls for any breakfast cereal, though the softer kids' cereals will blend more easily than something more crunchy like granola. Although perfect for kids who cannot get enough of their favorite loops, adults who love cereal will enjoy this smoothie recipe too.
Discover how to make this recipe at Running With Spoons, a humorous and relatable food blog.
8. Juicy Watermelon Smoothie
Image source: LW Vogue
Just about any fruit can be added to a smoothie recipe with delicious results. Although it might not be the first thing that comes to mind, watermelon makes a deliciously refreshing smoothie on a hot summer day. Avoid adding too many liquids to this recipe, as the watermelon itself is very juicy. In fact, it can even be frozen and used in place of ice cubes.
Get this creative recipe at LW Vogue and serve this to your family poolside this summer.
9. Hidden Broccoli Smoothie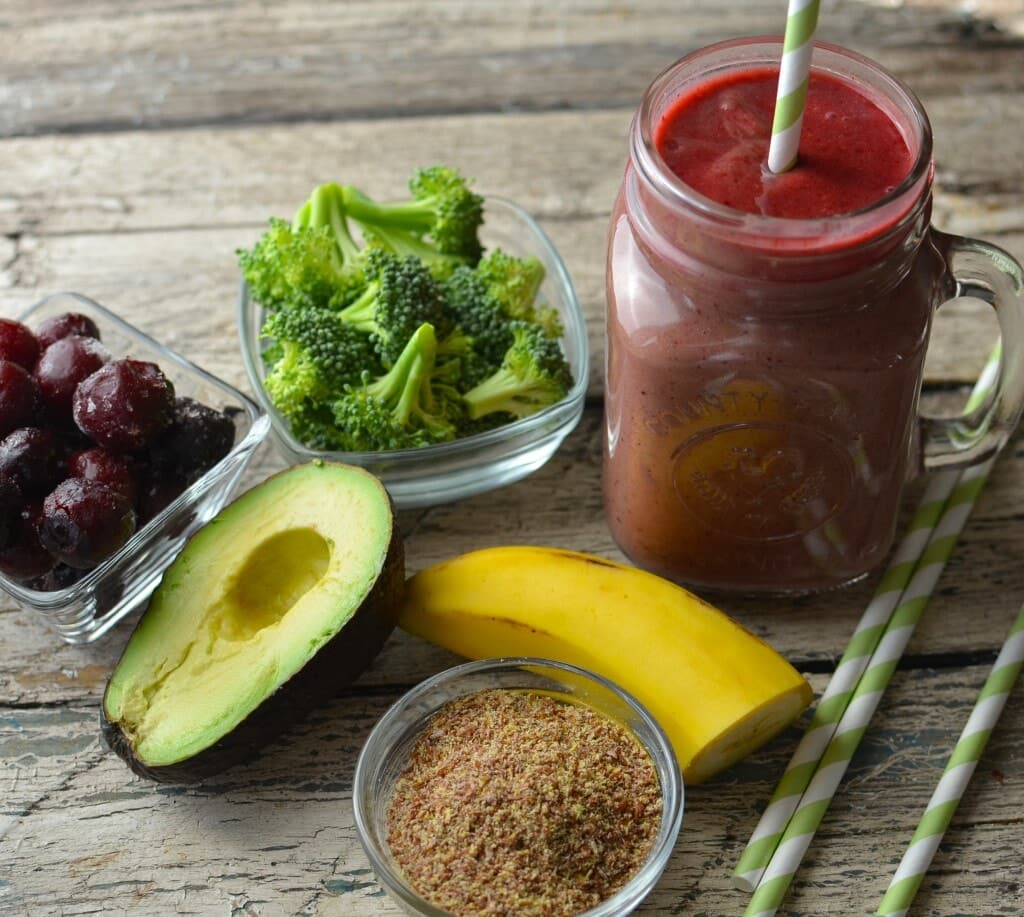 Image source: Super Healthy Kids
Broccoli is high in fiber and also a great vegetable that mixes well in smoothies. Knowing that it's not always easy to get your kids eating veggies throughout the day, this recipe is the perfect alternative. It easily sneaks the vegetable in, cleverly disguised behind a few other healthy and flavorful fruits. The broccoli should be included raw, so be sure to chop it small and blend until thoroughly smooth. This recipe makes a large, four-serving batch that can be shared.
This recipe comes from Super Healthy Kids.
10. Raspberry & Beet Smoothie
Image source: Buona Pappa
The bright pink color of this smoothie is 100 percent natural. It comes from the combination of raspberries and beets. The other fruits and ingredients in this recipe easily disguise the beet flavor. This recipe is loaded with nutritional powerhouses that add a healthy serving of vitamin C, iron, and other elements that are important for a healthy, growing child to consume regularly.
Find the recipe and a video tutorial on how to make it at Buona Pappa, a kid-friendly food blog.
11. Berry Mango Smoothie
Image source: Happy Messy Life
This simple berry mango smoothie recipe has only five ingredients. The addition of mango to this otherwise classic smoothie ingredient list adds a burst of flavor and enhances the color. It also adds vitamin C and fiber, making it a great alternative to sweet beverages. This smoothie will definitely have your taste buds doing the happy dance!
The recipe was created by Happy Messy Life, a family lifestyle blog.
12. Colorful Rainbow Smoothie
Image source: The First Year
Layering each of the colors together in this rainbow smoothie takes a bit of time, so this is better suited for a special occasion than a busy weekday morning. It would be wonderful for Saint Patrick's Day or a summer rainbow party. Save some time by cutting and freezing all of the fruit and vegetables in advance. Because each color makes a few cups worth, the full recipe serves quite a few.
Get the recipe for each color section, as well as tips for layering them all together, from The First Year. To avoid adding blue food coloring, look for spirulina.
13. Harry Potter Butterbeer Smoothie
Image source: Bren Did
Every Harry Potter fan has heard of butterbeer, making this smoothie the perfect treat for kids of all ages. There are many variations on what ingredients make up butterbeer, but this smoothie calls for vanilla, caramel and cinnamon. In addition to blending up the smoothie, this recipe includes ingredients and instructions for making a caramel sauce to drizzle on top too. This makes just one serving, so you may want to double or triple it… because everyone will be wanting some!
Indulge in this healthy butterbeer recipe from Bren Did.
14. Cherry Banana Smoothie
Image source: The Salty Marshmallow
Dark red cherries add depth to this recipe – both in the color and the flavor. They are high in antioxidants, which boost the immune system. Make this cherry banana smoothie in the wintertime as a cold booster to help the kids fight germs. If frozen pitted cherries are available, this smoothie is quick to make. Fresh cherries are also fine, but will take longer to prepare for blending.
Find this smoothie recipe at The Salty Marshmallow, which features quick and easy recipes.
15. Sunrise Smoothie
Image source: Almost Supermom
This smoothie can be blended all together or separated into a few layers to create the morning sunrise color effect. It is made with a couple of different types of fruit that are readily available fresh or frozen. Simply chop, blend and pour into a serving glass. This recipe makes enough for two servings. Make it fresh in the morning for a burst of energy or for on a hot, summer day!
Get the recipe from Almost Supermom.
16. The Perfect Peach Smoothie
Image source: Dinner at the Zoo
Peaches are combined with mango and peach nectar to give it the strong orange color. The fruit juice in this recipe can easily be found alongside other juices at the supermarket. Frozen fruit is recommended for this recipe to keep is nice and thick. Peaches are loaded with vitamins and are believed to be good for your skin. Serve this smoothie for breakfast or as an afternoon pick-me-up.
This recipe is available from Dinner at the Zoo, a food blog for families who feel like meal time can get hectic.
17. Banana Blueberry Smoothie
Image source: Real Food Real Deals
Purchase blueberries at the peak of the growing season and this recipe is very inexpensive to make. This blueberry and banana smoothie has just a few other ingredients; drop them in the blender and give it a whirl for a fast smoothie recipe. As it is written, this recipe makes enough for two people, but is easy to double and mix twice as much at once.
This recipe was created by Real Food Real Deals, which includes the estimated cost per serving with most recipes.
18. Pineapple Mango Smoothie
Image source: I Heart Naptime
Pineapple, mango, coconut and banana come together to create a tropical smoothie flavor combination. Use frozen fruit to avoid needing to add ice, which can dilute the flavor or melt too quickly and become watery. This recipe includes nutritional information based on a batch having two servings. Although there is no added sugar, these fruits are particularly sweet, making this smoothie a tasty dessert alternative.
Get the recipe at I Heart Naptime, a family lifestyle blog.
19. Pumpkin Chocolate Smoothie
Image source: Yummy Toddler Food
Pumpkin is so much more than a pie ingredient. Make this pumpkin and chocolate flavored smoothie for a fun fall breakfast on the go. Pumpkin is nutritious and the canned puree variety makes smoothies very smooth. The sweetness in this recipe comes from the fruit and there is no added sugar, although a splash of honey would be fine if desired.
You may also love this pumpkin chocolate muffin recipe here too!
This recipe comes from Yummy Toddler Food, which is loaded with all kinds of kid-friendly food ideas.
20. Apple Pie Smoothie
Image source: Family Fresh Meals
There's nothing like a slice of classic apple pie, but it is not the most nutritious option and probably won't appear on a breakfast menu. For a healthier alternative, try this apple pie smoothie. It is made with fresh, chopped apple and a few other ingredients, including honey for a natural sweetener. For a more pie-like experience, serve with graham crackers. This recipe makes two larger servings.
Try this smoothie recipe at Family Fresh Meals.
21. Chocolate Peanut Butter Smoothie
Image source: Cooking Classy
This smoothie is so deliciously indulgent that the kids may think they are getting a breakfast shake. Cocoa powder adds the chocolate flavor while bananas bring in the sweetness. Use bananas that are very ripe. Not only does this make them blend in more easily, but it also makes the smoothie sweeter. This recipe makes two servings and blends for just a few minutes.
Find the recipe at Cooking Classy, as well as several other smoothies and breakfast recipes.
22. Banana Cream Pie Smoothie
Image source: Baker by Nature
Banana cream pie is a sweet treat and this smoothie inspired by the dessert is thick and creamy. The trick to this smoothie recipe is frozen bananas. They give the smoothie its texture and thickness instead of ice. Just like a banana cream pie, this recipe also calls for a few vanilla wafer cookies. They will absorb the other ingredients and become soft, as they do in the dessert. This recipe makes one serving.
The recipe is available from Baker by Nature.
23. Strawberry Almond Milk Smoothie
Image source: Deliciously Sprinkled
A classic strawberry smoothie includes fresh, red strawberries combined with yogurt and milk and blended for just a minute or two. This slight variation will quickly become a family favorite, especially among younger children who will love the bright pink mixture. It can be made with frozen or fresh strawberries and can also be garnished with more fresh strawberries. The mixture can also be blended and then frozen for serving later.
Get the recipe from Deliciously Sprinkled.
24. Mint Chocolate Chip Smoothie
Image source: Sun Kissed Kitchen
Serve this smoothie for breakfast or dessert. Although it looks like an ice cream treat, it is actually healthy. The green color comes from spinach, which is hidden by the addition of coconut milk for sweetness and peppermint extract. Add the chocolate chips after all the other ingredients have been blended thoroughly and be sure to add more on top for garnish.
Find this smoothie recipe at Sun Kissed Kitchen.
25. Tropical Fruit Smoothie
Image source: Caroline's Cooking
For a dairy-free smoothie option, this recipe calls for just fruit and juice. The banana keeps it thick, but for kids who are not restricted from dairy, yogurt can be added. Serve this as a beverage on the side of breakfast or as a refreshingly cool drink on a hot summer day. Fruit and juice are great for hydration.
This recipe comes from Caroline's Cooking. This site has additional recipes for smoothies and smoothie bowls.
26. Strawberry Mango Smoothie
Image source: The Seasoned Mom
Classic strawberry is paired with tropical mango for a fantastic smoothie combination. Look for frozen fruit blends to save time on preparing fresh fruit (although it will probably be a bit more expensive!). This recipe is dairy free, but regular dairy ingredients can be substituted if that is not a preference. It is pretty simple, so it comes together in a short amount of time. This is for one serving, but can easily be increased to feed more people.
The recipe is available from The Seasoned Mom, who shares simple recipes for home cooking.
27. Strawberry Kiwi Smoothie
Image source: Totally the Bomb
Strawberry and kiwi together is a favorite flavor combination for kids. Layering this smoothie is optional and it could also be served with just one recipe or the other. However, the resulting color contrast between the two mini-recipes is definitely eye-catching. There are just three ingredients in each half – fruit, juice and yogurt – making it come together quickly no matter how you choose to make it.
This recipe was created by Jamie at Totally the Bomb.
28. Avocado Smoothie
Image source: Poise and Purpose
Avocado might not come to mind firsthand when thinking of breakfast fruits, but it is a great source of healthy fats, leaving children full until lunchtime. This avocado smoothie is sweetened with honey and bananas, and there are no artificial sweeteners added. Blend this recipe thoroughly and it will have a buttery soft texture. The avocado is definitely noticeable, but combined with the other ingredients, has a sweet flavor.
Find this recipe at Poise and Purpose, along with several other delicious breakfast smoothie recipes.
29. Kiwi Smoothie
Image source: Kids Activities Blog
For a healthy and natural green color, this kiwi smoothie cannot be beat. With the addition of other fruits and vegetables, along with some water to make it the desired consistency, this is a vegan smoothie option. This recipe includes ingredient amount suggestions, but also encourages experimentation to create a smoothie that your child will enjoy every day for breakfast or snack time.
This recipe can be found on Kids Activities Blog, which is full of easy recipes and other ideas for parents of young children.
30. Lemonade Smoothie
Image source: Amy in the Kitchen
A frosty cold glass of lemonade or shaved ice is a wonderful treat on a warm day. This lemonade smoothie is inspired by a popular fast food restaurant beverage. With only five ingredients, this smoothie comes together quickly. It is dairy free due to the non-dairy yogurt, but regular yogurt can easily be substituted. Serve this smoothie, which makes just enough for one person, as an afternoon refresher or alongside a meal.
Try this recipe and check out its nutritional information from Amy in the Kitchen.
31. Blackberry Smoothie
Image source: Cake Whiz
Make the perfect blackberry smoothie with the tips that go along with this recipe. They include suggestions like adding more fruit, swapping out the dairy, or going dairy-free altogether. Combine the short list of five ingredients, plus one optional ingredient, and blend together in just a few minutes. This works as a light breakfast for kids who are not big fans of a hearty breakfast. It serves two and includes the nutritional information based on that.
Learn how to make this smoothie recipe from Cake Whiz.
32. Carrot Smoothie
Image source: Savory Tooth
Serve your kids more than a full serving of their daily requirement of fruits and vegetables in this bold orange smoothie. It is filled with carrots, mango, pineapple and several other fruits that are high in vitamins. There are no dairy ingredients, so this is a vegan recipe. Be sure to blend it thoroughly so that no fruit or vegetable chunks stand out. It is hearty enough to serve for breakfast or an afternoon snack.
Get the recipe from Savory Tooth, who focuses primarily on low carb and keto recipes.