Muffins are a childhood essential, and for good reasons. They're versatile, mobile, delicious, and healthy too! What's better than a fresh warm muffin straight out of the oven? Pretty much nothing! Did you know that most of these muffin recipes for kids can be made from scratch in just a few minutes? Seriously! They are so easy to make and most of them require minimal ingredients. Serve them fresh and warm for breakfast or grab them to go for a quick dash out the front door on busy mornings. They are also a great lunch idea for kids too!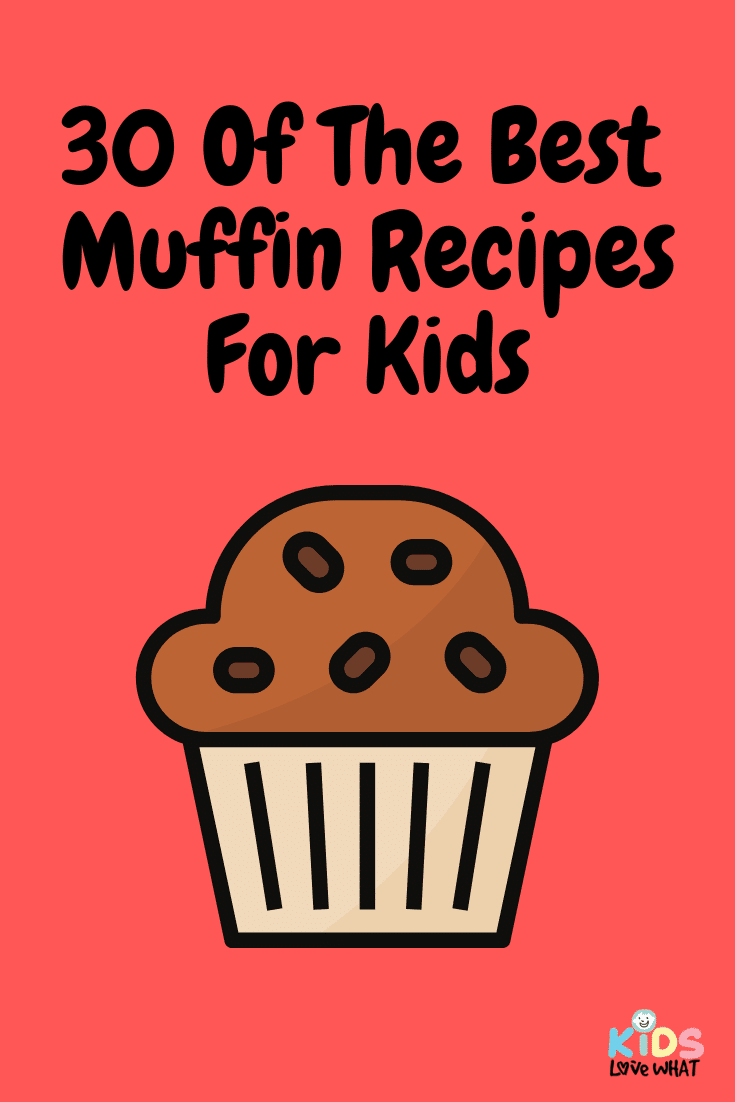 Kids of all ages can enjoy a muffin, from a toddler's earliest finger foods to a hungry teen looking for something filling. They are also a simple enough recipe to teach beginning cooking skills – measuring, mixing, pouring – to young children. Whether you are looking for something healthy, something sweet, or even something that is free from allergens, there are recipes below for you! These muffin recipes for kids are sure to become some of your family's favorites.
1. Oatmeal Applesauce Muffins
Image source: Well Plated
These healthy muffins are made with oatmeal and applesauce for a deliciously fluffy muffin that's just sweet enough but not too sweet. They mix up quickly with a spatula and then bake to a golden brown when done. Applesauce is a great, healthy sweetener and can be used in many recipes to reduce the amount of sugar needed.
Find the recipe from Well Plated by Erin. She also includes tips on how she chose her favorite baking tools, including a muffin tin and measuring cups and spoons.
2. Delicious Bran Muffins
Image source: Super Healthy Kids
Bran muffins have a reputation for being bland, but these are light and sweet enough that your kids will devour them. The secret ingredient is bran cereal, rather than flour, which soaks at the beginning of the preparation time. Although this isn't the classic muffin method for baking, it comes together easily and may just become your family's new favorite breakfast.
Get the recipe from Super Healthy Kids. Not only does the recipe have a five-star rating, but it has dozens of comments from parents whose kids loved the muffins.
3. Gluten-Free Cranberry Muffins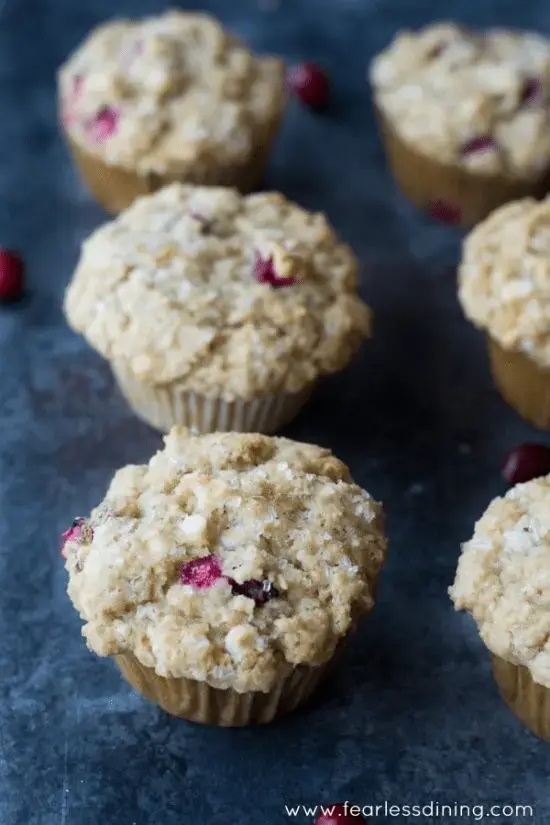 Image source: Fearless Dining
Kids on a special diet need not miss out on the joy of eating a fresh, fluffy muffin baked at home. This recipe for gluten-free muffins is light and sweet. Cranberries give it a tart taste, but the recipe easily allows for substituting another fruit, such as blueberries or peaches. Note that this recipe calls for almond flour, so for a child with a tree nut allergy, substitution will be necessary.
The recipe can be found on Fearless Dining.
4. Fluffy Carrot Muffins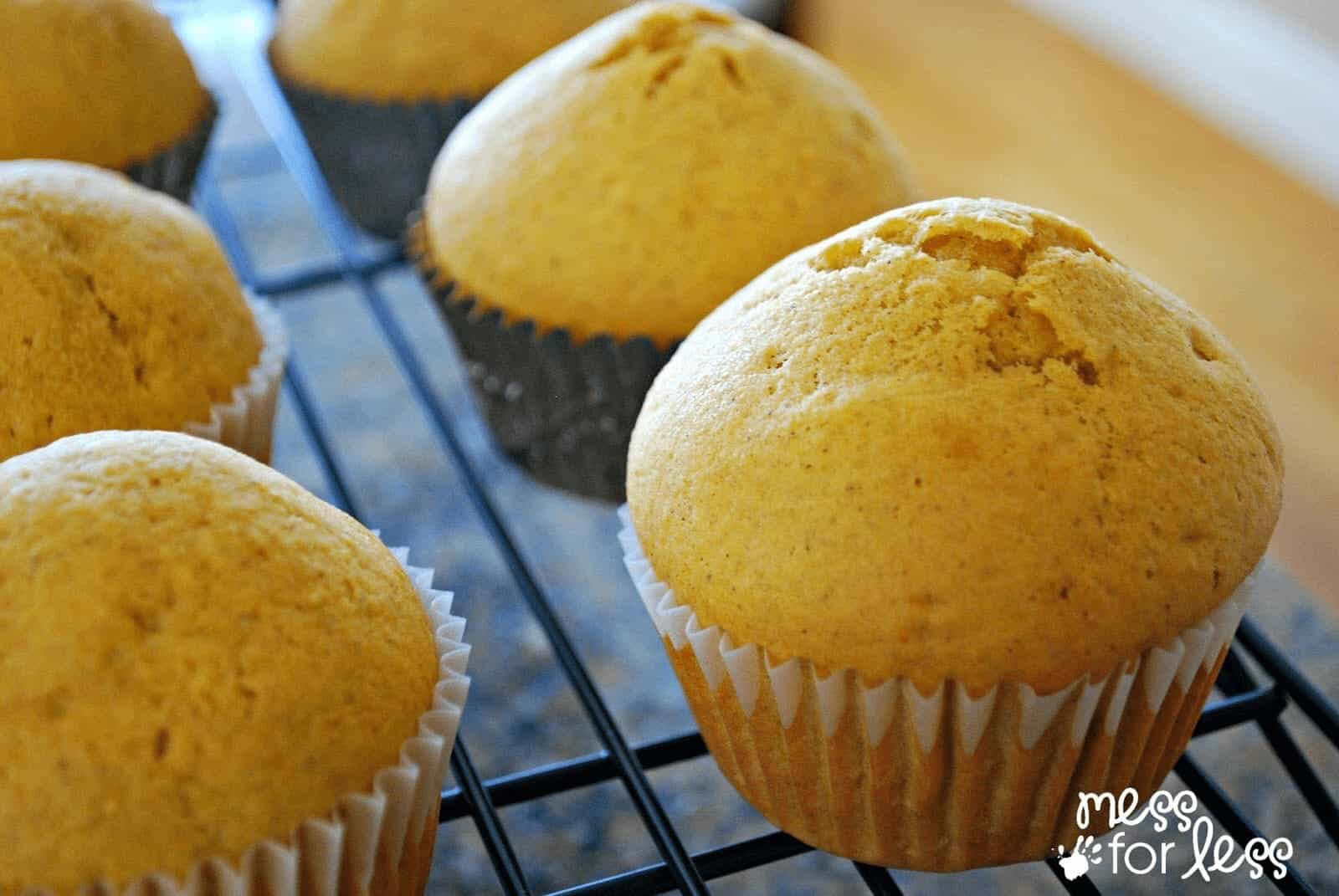 Image source: Mess For Less
Carrots might not be the first ingredient that comes to mind when thinking of breakfast muffins, but this recipe is the perfect way to sneak in an extra serving of vegetables for kids who are picky eaters. Adults will enjoy them too. This recipe calls for pureed carrot, rather than shredded, so the vegetable will blend right in and add a bit of sweetness too.
This recipe was created by Vicky at Mess for Less. Her kids are not veggie fans, so she created this recipe as well as a spinach muffin recipe too.
5. Peanut Butter and Jelly Muffins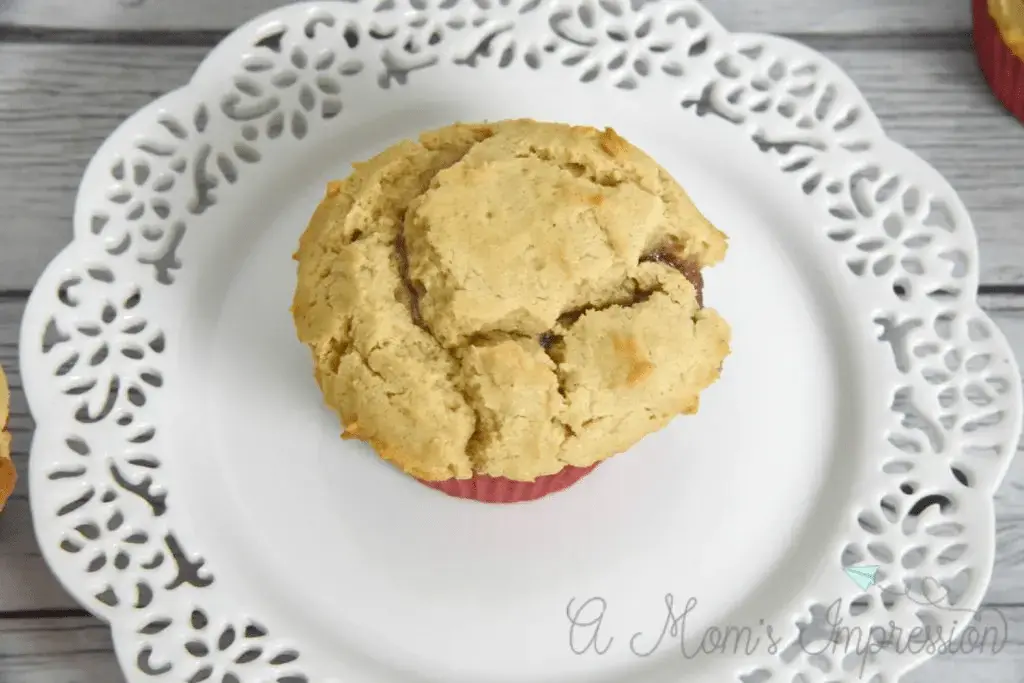 Image source: A Mom's Impression
Is there anything more classic to childhood than peanut butter and jelly? This combination pairs perfectly in a muffin to pack in a lunch box or serve for breakfast. Make a double batch of these on the weekend and then simply grab and go on busy school day mornings.
Get the recipe from A Mom's Impression. She uses strawberry jam, but this would work just as well with classic grape or any other fruit preserve.
6. Chocolate Chip Clementine Muffins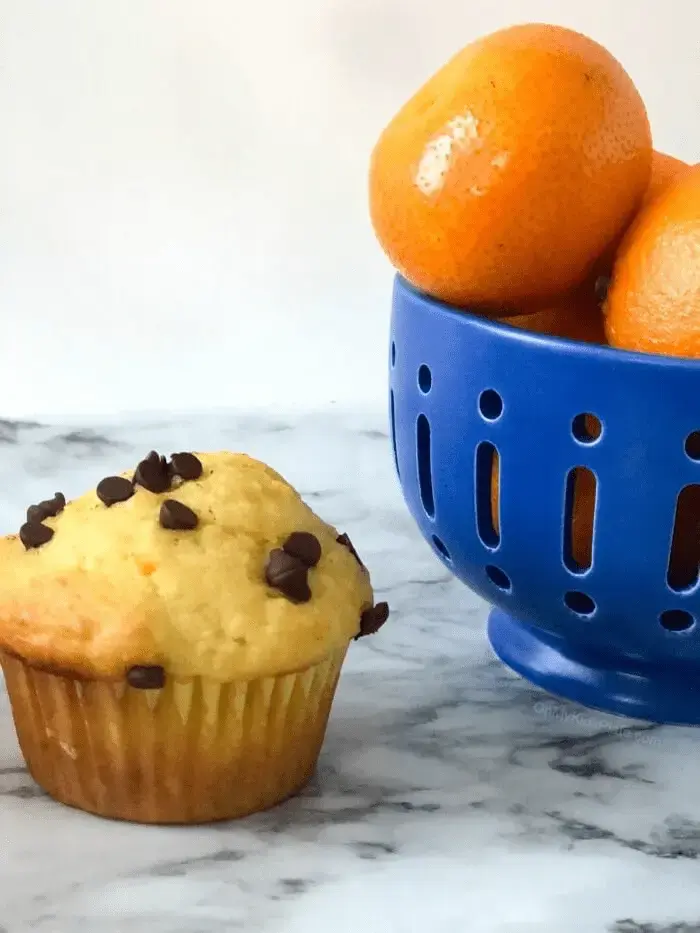 Image source: On My Kids Plate
Clementines – or "Cuties" as they're also named – are a favorite snack time choice for kids. The fruit is simple to peel and separates into bite-sized segments. They're equally enjoyed baked into these muffins, which also call for Greek yogurt and mini chocolate chips. For this recipe, the fruit is pureed and zest is included too.
This recipe is from Kristy at On My Kids Plate. She says these muffins taste almost like an orange cake.
7. Classic Chocolate Chip Muffins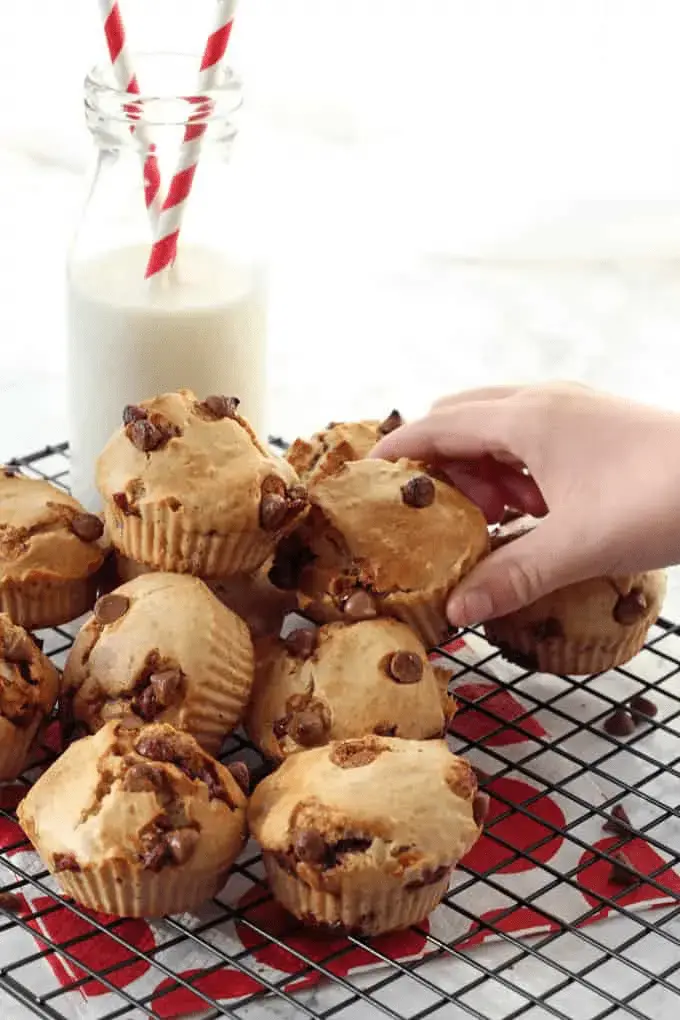 Image source: My Fussy Eater
This healthier chocolate chip muffin recipe calls for Greek yogurt, bananas and oats. The added protein and fiber are an excellent choice for growing children. Since this recipe has no added sugar, except a few tablespoons of honey, parents can feel better about serving these for breakfast on the go or with a tall glass of milk at snack time.
Find the recipe from My Fussy Eater. Creator Ciara is a cookbook author and mom to two kids who are fussy eaters.
8. Simple Berry Muffins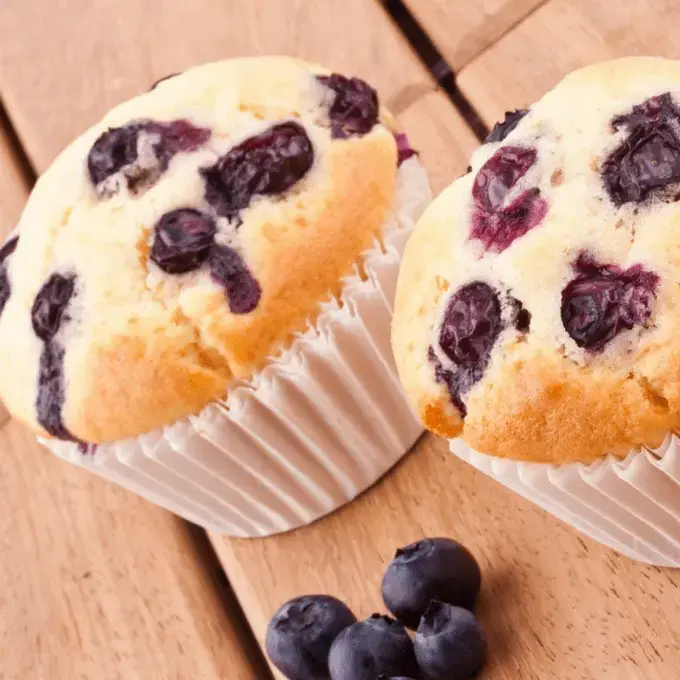 Image source: My Bored Toddler
This simple recipe was created as part of a toddler baking challenge and is the perfect place to start letting kids help out in the kitchen. It calls for only six ingredients and a few kitchen tools found in every household. What makes this recipe particularly great for parents is that it works with any combination of berries or other fruit cut into small pieces.
This recipe was created by Carol at My Bored Toddler. She includes practical tips for baking with toddlers, including how to turn baking together into a learning activity too.
9. Green Veggie Muffins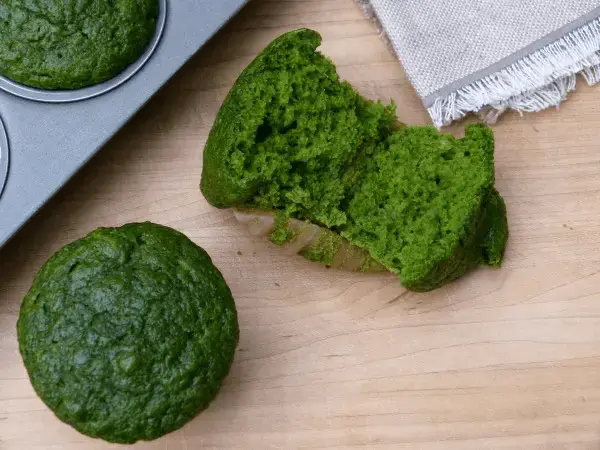 Image source: Pamela Salzman
These bright green muffins are an eye-catching treat on Saint Patrick's Day and can be enjoyed year-round to sneak in an extra serving of vegetables. The not-so-secret ingredient is baby spinach, which blends in easily after it has been pureed smooth. The spinach flavor is subtle and is further disguised by maple syrup and bananas.
Get the recipe from Pamela Salzman. She also includes substitution details for those who need a gluten-free or dairy-free recipe option.
10. Avocado Banana Muffins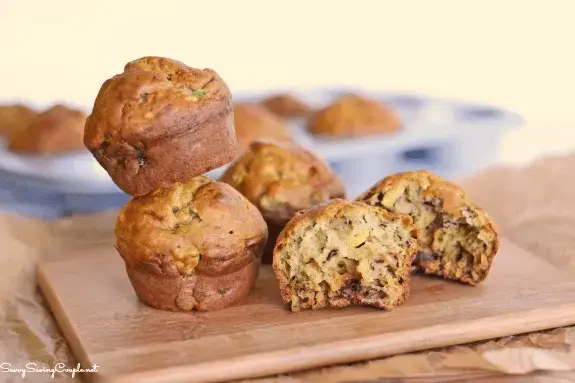 Image source: Savvy Saving Couple
Avocado is a tasty butter and oil substitute that's loaded with healthy fats. Paired with banana, it is a great source of protein. This avocado banana muffin recipe is quick to whisk together and the result is a springy muffin that has just a hint of avocado flavor. Since both fruits are notorious for ripening quickly, this is a great way to use up produce that might otherwise be wasted.
The recipe can be found from Savvy Saving Couple. For those who have only tried avocado in savory dishes, this is a pleasant surprise.
11. Blueberry Yogurt Muffins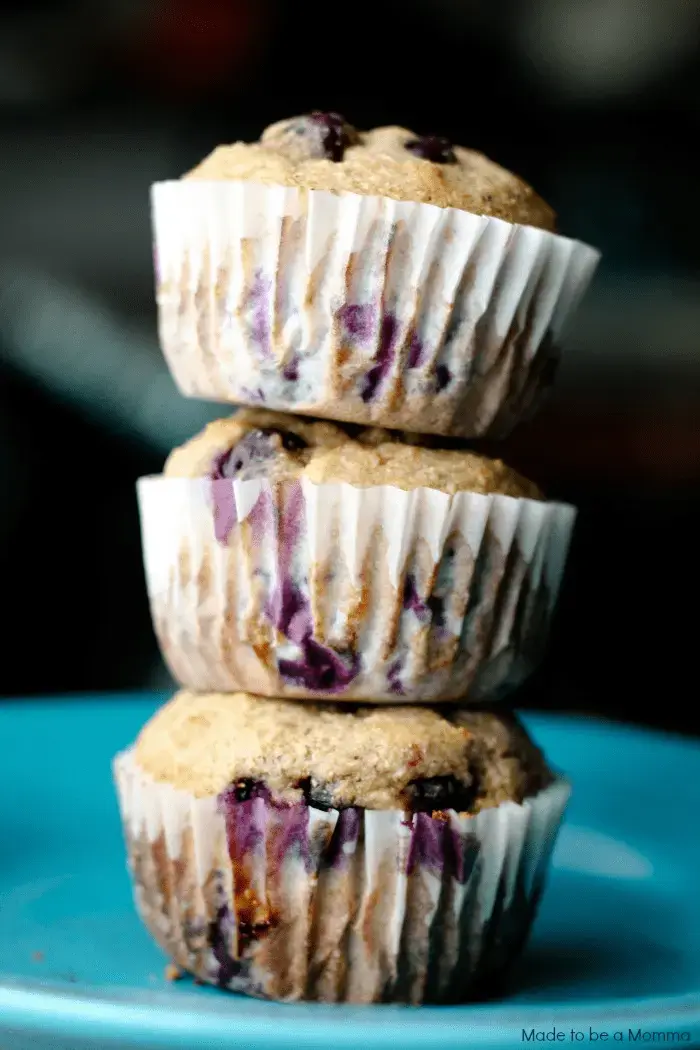 Image source: Made To Be A Momma
Greek yogurt has a tangy flavor that makes the perfect contrast with sweet blueberries. This blueberry yogurt muffin recipe can be made with fresh or frozen berries, but if using frozen be sure they do not thaw before baking.
This recipe was created by Made to Be a Momma. Katie is a mom and works at a school, so she is very familiar with the rush of busy school mornings and recommends this recipe as a fast breakfast choice.
12. Cinnamon Banana Muffins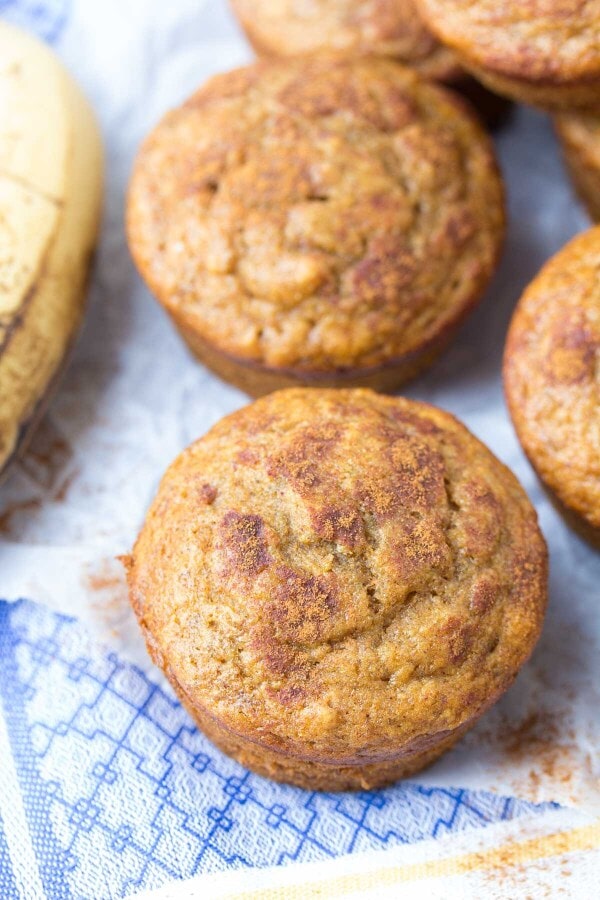 Image source: Kristine's Kitchen
Cinnamon and banana is a classic breakfast flavor combination. When paired in a muffin, they become a wonderful breakfast to go choice. Make this recipe to use up all of those overripe bananas before they turn too brown. These muffins are made with whole wheat and without refined sugar, making them a healthier choice any time of day.
Get the recipe from Kristine's Kitchen and discover her secret for making the tops of the muffins a bronzed cinnamon color.
13. Strawberry Banana Muffins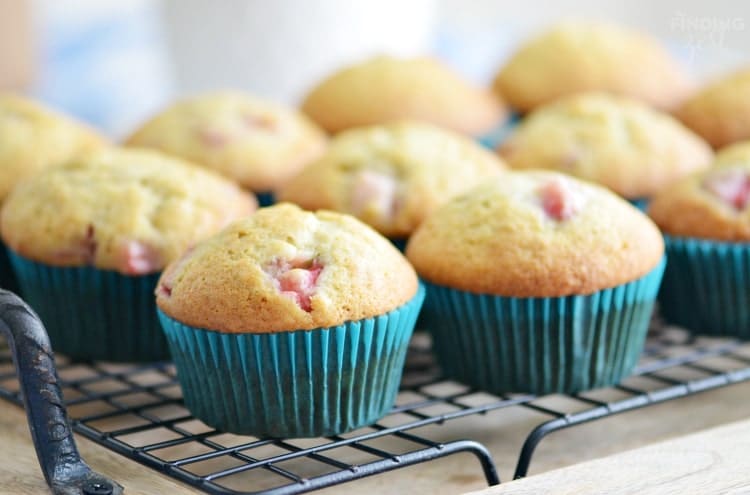 Image source: Finding Zest
The combination of strawberries and bananas pack a flavorful punch and this muffin recipe makes it extremely kid-friendly (it comes together in minutes!). Use overripe bananas, but make sure the strawberries are fresh with no soft spots. Both will add plenty of sweetness, as this recipe does not call for any added sugar.
The recipe is available from Finding Zest, a parenting and recipe blog by Emilie, who adds kitchen tips in all of her cooking posts.
14. Apple Zucchini Muffins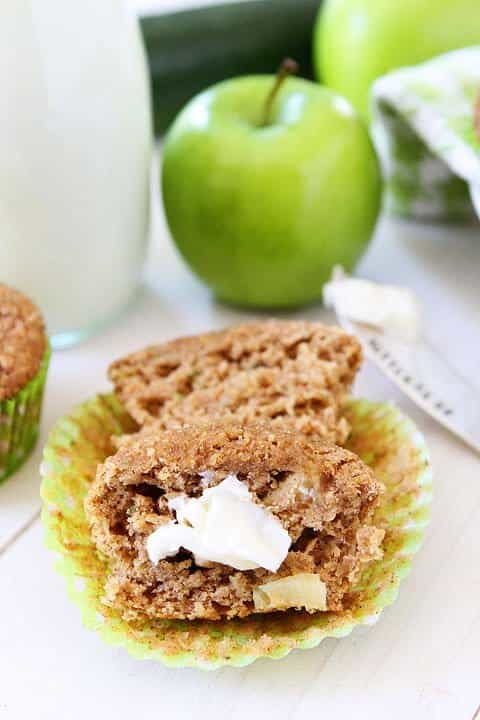 Image source: Two Peas And Their Pod
For a fresh and unique flavor combination, try these apple and zucchini muffins. They are fantastic in the summertime for using up surplus zucchini from a home garden or taking advantage of a big grocery store sale. These have an addition of applesauce and a cinnamon sugar topping to add a bit of sweetness.
Make a batch of these muffins from Two Peas and Their Pod. Then check out the other baking recipes from this blogger couple.
15. Birthday Cake Muffins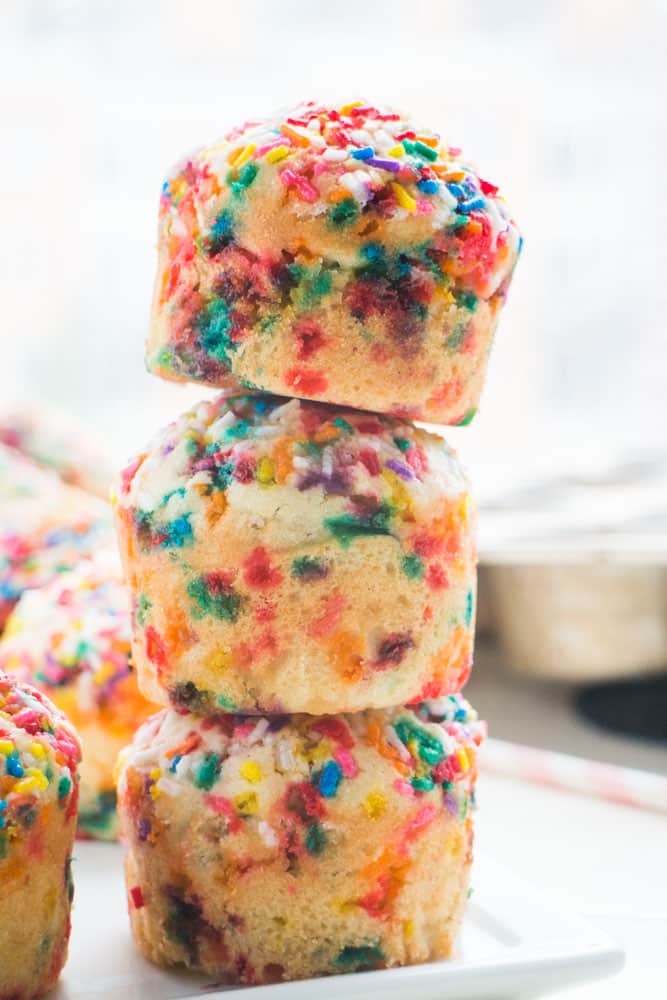 Image source: Brooklyn Farm Girl
Surprise a child on their special day with a bright and colorful breakfast treat. These birthday cake muffins taste just like their sweet treat namesake. This unique recipe idea uses traditional muffin ingredients, but adds a generous helping of rainbow sprinkles, plus more on top for extra flair. The sprinkles could easily be swapped for a single favorite color or color combination too.
This creative recipe was created by Pamela at Brooklyn Farm Girl, who is a mom and foodie in NYC.
16. Broccoli Cheese Muffins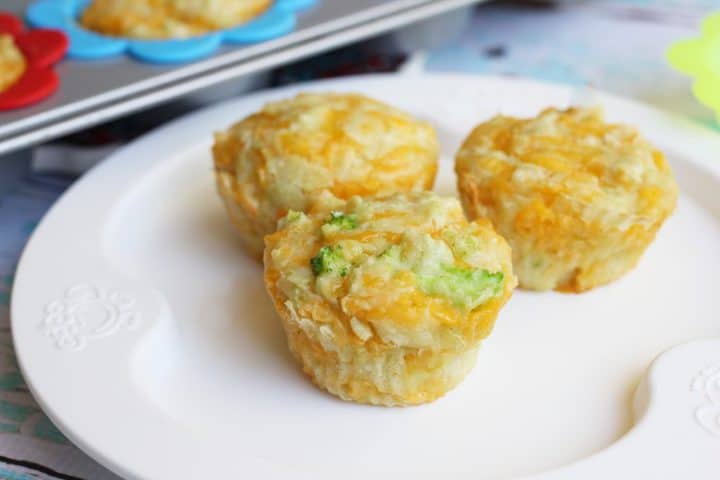 Image source: Easy Toddler Meals
Savory muffins may be uncommon, but the broccoli and cheese go great together to create a muffin that is as popular at supper time as breakfast. This muffin recipe has lots of kid appeal, but adults will enjoy them too. They can be pretty filling as a meal by themselves, so serve these muffins alone or as a side for soup.
Find the recipe at Easy Toddler Meals. Blogger Charise says her recipe is "threenager" approved.
17. Oreo Cookie Muffins
Image source: Six Sisters' Stuff
Although on the less-healthy end of the spectrum, Oreo cookie muffins are sure to be a crowd pleaser. They start as a basic muffin recipe and then Oreo cookie pieces are added. The muffins are topped with more cookie crumbs before being drizzled with white chocolate. Serve them for a weekend breakfast or even as a dessert option.
This recipe was created by Six Sisters' Stuff. In addition to sharing recipes, they also offer complete meal plans.
18. Apple Oat Muffins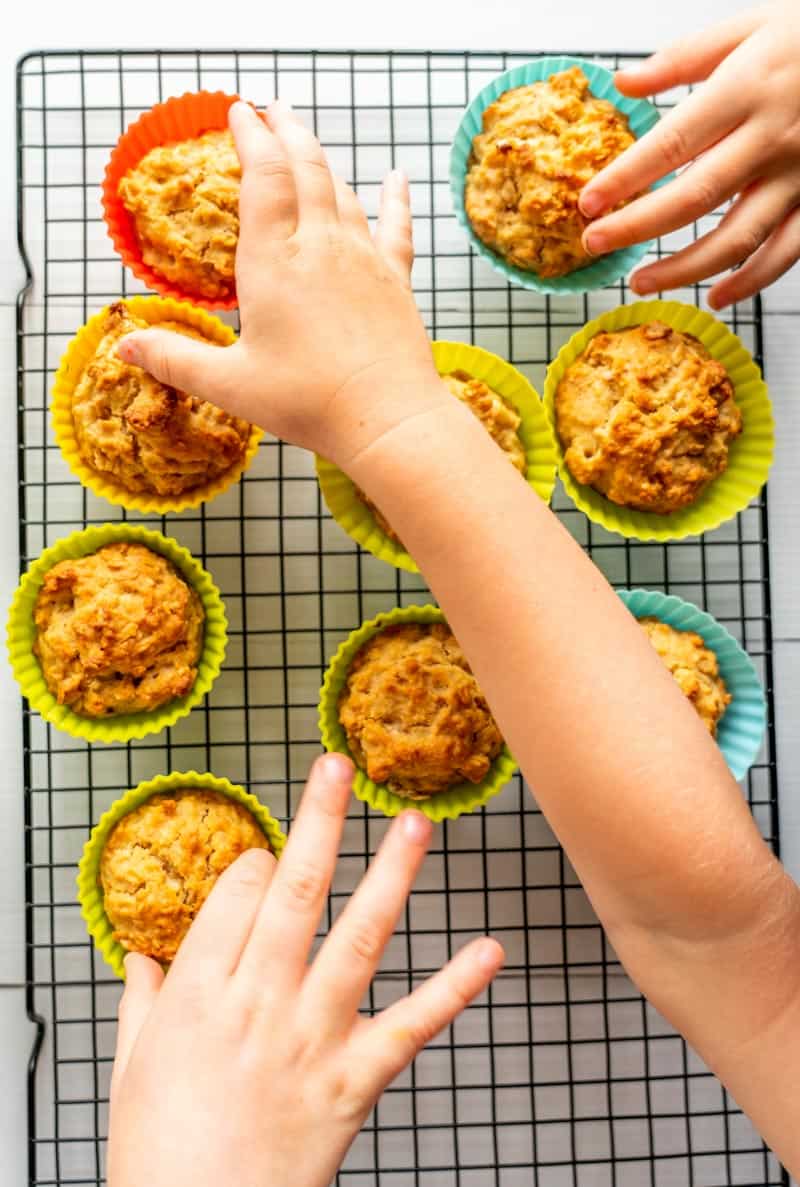 Image source: My Kids Lick The Bowl
This hearty muffin recipe is a great source of fiber. It is made with equal measures of wheat flour and oats. Oats provide sustained energy, making this a breakfast choice that will keep kids full until lunch time. This recipe is also dairy and egg free, so kids with allergies or sensitivities can enjoy it too.
This recipe is available from My Kids Lick the Bowl, a kid-friendly food blog that aims to create healthier recipes and has several other muffin recipes for kids.
19. Honey Peach Muffins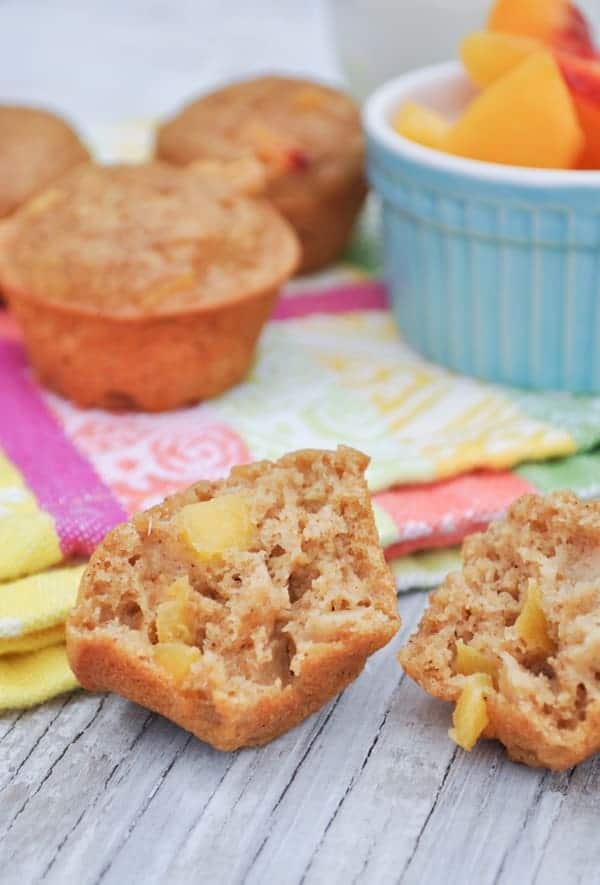 Image source: The Seasoned Mom
This healthy and nutritious honey peach muffin recipe is loved by kids and adults alike. They stay moist due to the fruit, so no oil or butter is called for. Make them with fresh peaches when in season or frozen or canned any time of year. Be sure to thaw and/or drain the peaches so they don't add too much moisture.
Find this recipe at The Seasoned Mom, as well as several other muffin and easy breakfast recipes.
20. Pumpkin Chocolate Muffins
Image source: Baby Foode
For a quick breakfast that is also allergy-friendly, try this pumpkin chocolate muffin recipe. It is made without gluten, dairy or nuts and packed with healthy ingredients like pumpkin puree and oats. This recipe is made in the blender, but can easily be created with a food processor or stand mixer instead. Cocoa powder and chocolate chips make them look simply decadent, but this muffin is made with maple syrup and no refined sugar.
Get the recipe from Baby Foode.
21. Cheesy Pizza Muffins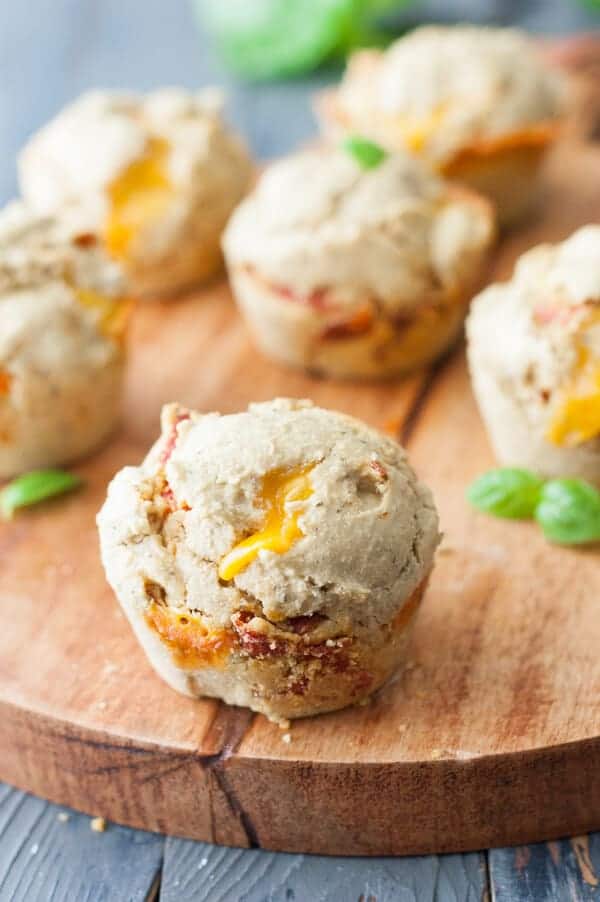 Image source: Clean Eating Recipes
Pizza that can be eaten with just one hand is a kid-friendly option for lunch, snack-time or supper. Cheese, pepperoni and sausage are added to a basic muffin recipe that's easy to customize. Try a different cheese or swap the meats for your favorite pizza toppings. These are perfect for lunch-boxes and travel much easier than a traditional pizza slice.
Find the recipe on Clean Eating Recipes. It even includes nutritional information based on serving sizes for this batch of a dozen muffins.
22. Pancake Muffins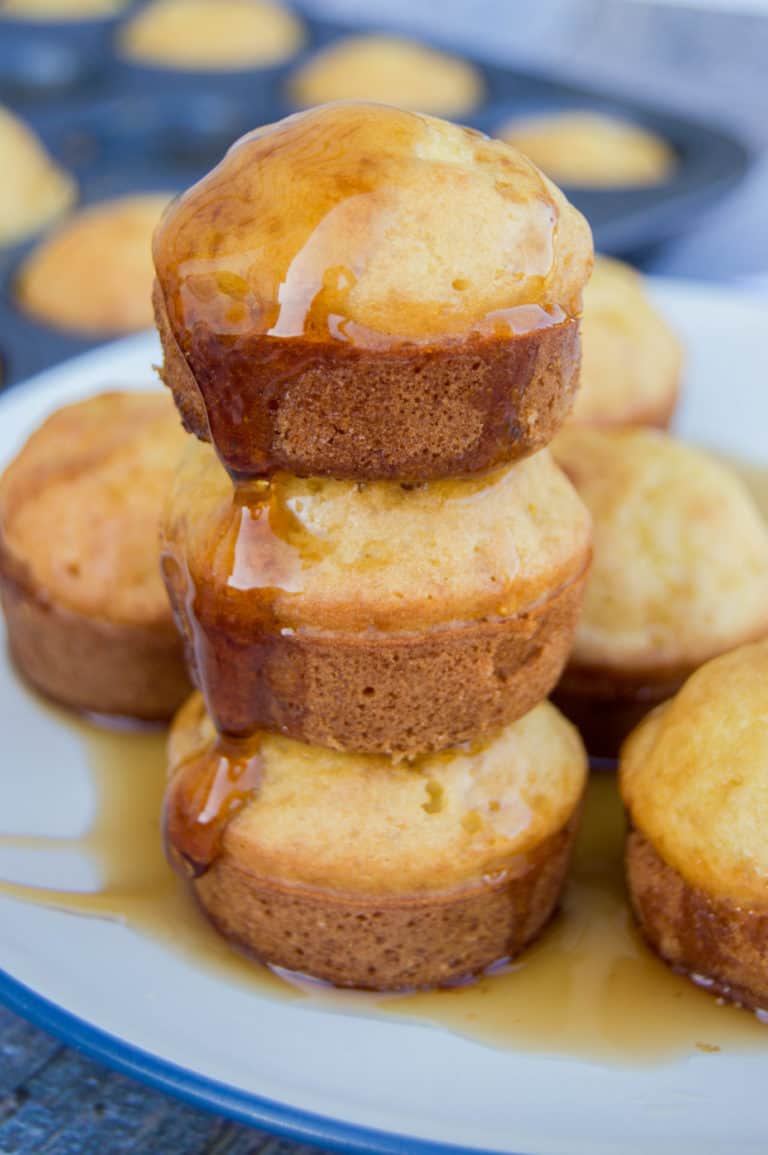 Image source: The Diary Of A Real Housewife
This recipe is a mix between a pancake and a muffin. The batter comes together quickly, then bakes up in a mini or regular-sized muffin pan. Top each muffin with a drizzle of maple syrup for a sweet breakfast choice. This technique can be adapted to any pancake recipe and several are listed. Add your own favorite pancake mix-ins, such as blueberries or chocolate chips, too.
Learn more from The Diary of a Real Housewife. Jennie also includes troubleshooting tips and additional recipe ideas.
23. Cinnamon Sugar Muffins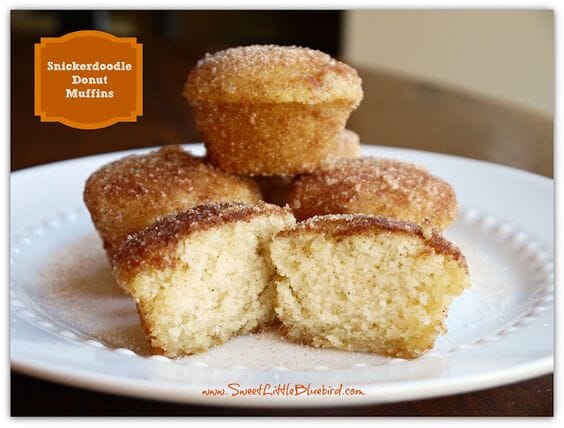 Image source: Sweet Little Bluebird
The sweet crunchy topping on these muffins makes them taste just like snickerdoodle cookies with the fluffy texture of a doughnut. Whip up a batch in minutes with some baking staples, no eggs needed. After they bake, roll them in a sugar and cinnamon mixture. These can be enjoyed right away while still hot or allowed to cool and stored as needed.
The recipe is available from Sweet Little Bluebird, who makes all kinds of baking recipes.
24. Cinnamon Roll Muffins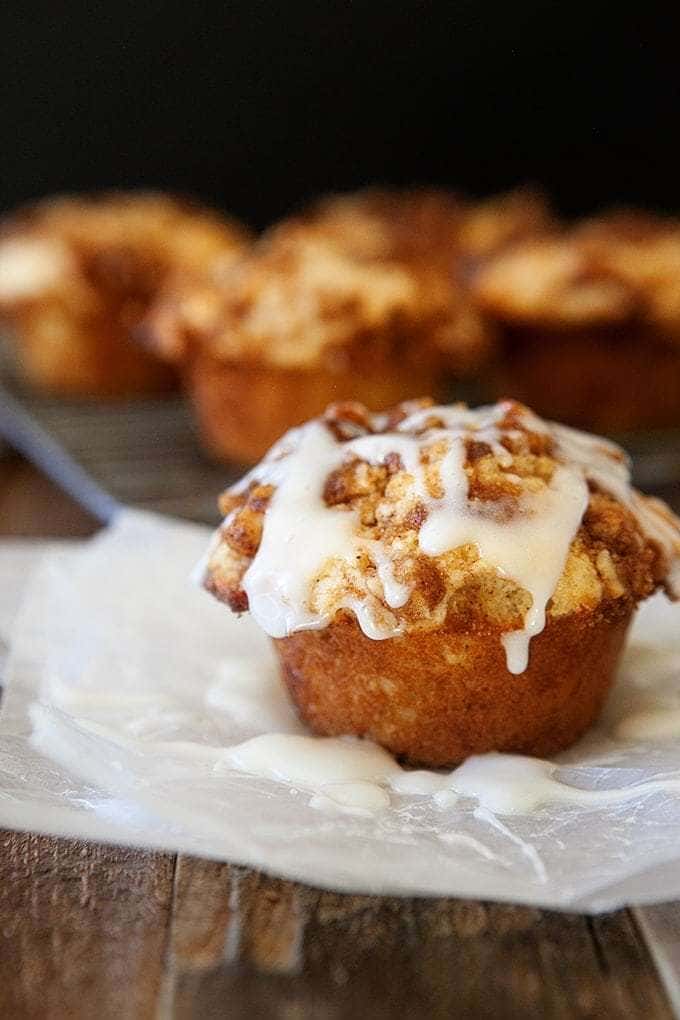 Image source: Some The Wiser
Cinnamon rolls are a decadent breakfast pastry that everyone loves and this muffin variation takes it to a whole new level. This recipe takes much less time than a yeast dough for a batch of cinnamon rolls, so it is perfect for brunch, holidays or other occasions that call for an extra special breakfast. It starts with a simple muffin batter, has a cinnamon roll filling swirled in, and then after baking is topped with cream cheese frosting.
Get the recipe and detailed instructions from Some the Wiser.
25. Monkey Bread Muffins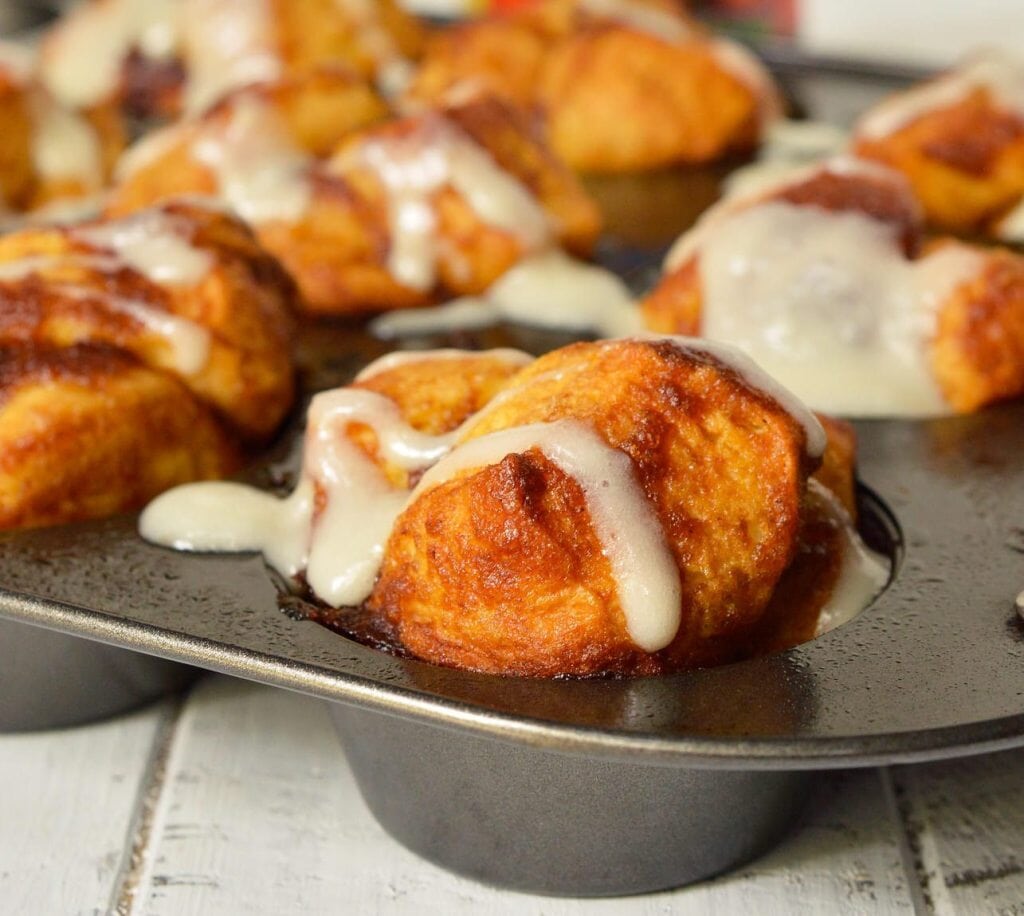 Image source: Wonky Wonderful
When easy prep is called for, these monkey bread muffins answer. They have just four ingredients and take about ten minutes to mix together. A few shortcut ingredients mean that breakfast can be on the table in just over half an hour. Monkey bread is a sweet pull-apart dough that is topped with cream cheese icing. When baked in a muffin pan, each is a single-serving breakfast that is less messy than its namesake.
Find the recipe at Wonky Wonderful, a blog that's filled with unique and creative recipes.
26. Ham and Cheese Muffins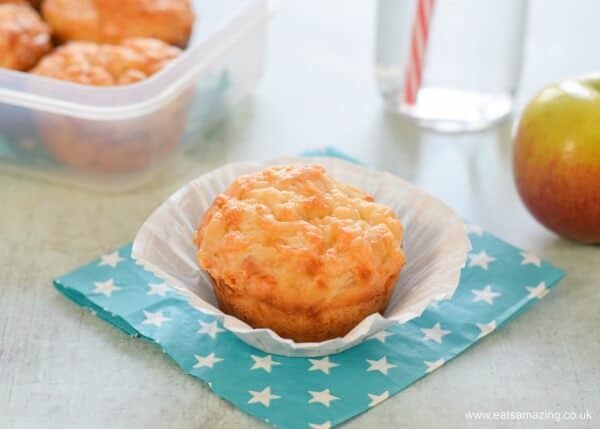 Image source: Eats Amazing
Skip the boring sandwich and pack school lunch-boxes for the kids with these ham and cheese muffins. They can also be made ahead in larger batches and frozen until ready to serve. Grated cheese and diced ham are mixed into a basic muffin batter to create this tasty combination. These muffins can be enjoyed warm from the oven or cooled for storage. For a variation, choose any combination of deli meat and shredded cheese.
This recipe was created by Grace at Eats Amazing.
27. Tropical Fruit Muffins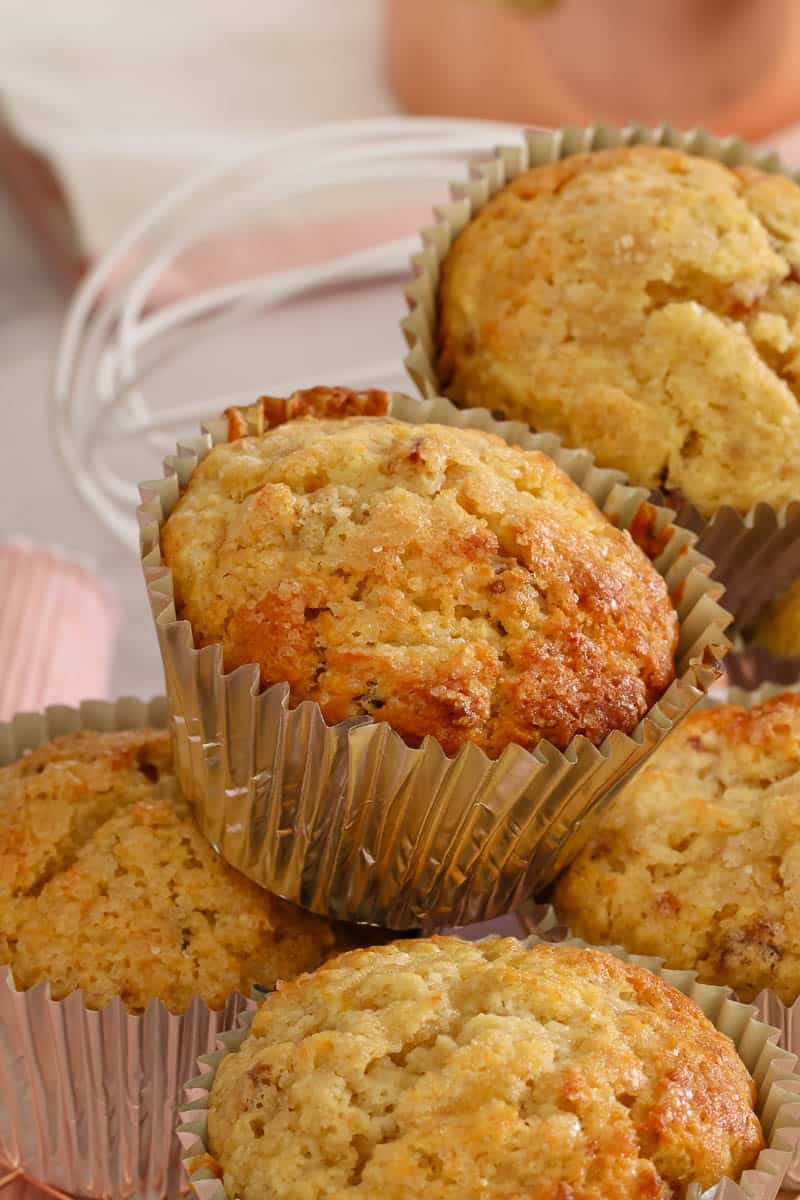 Image source: Bake Play Smile
This recipe is also called ABCD muffins because the primary ingredients are apples, bananas, coconut and dates. The fruits are finely chopped, grated or mashed so they blend perfectly into the muffin batter. This unique combination creates a fluffy muffin that bakes up golden brown for breakfast or lunch.
Blogger Lucy even won an award from Super Food Ideas for this lunch box friendly recipe. Find it at Bake Play Smile.
28. Mixed Berry Muffins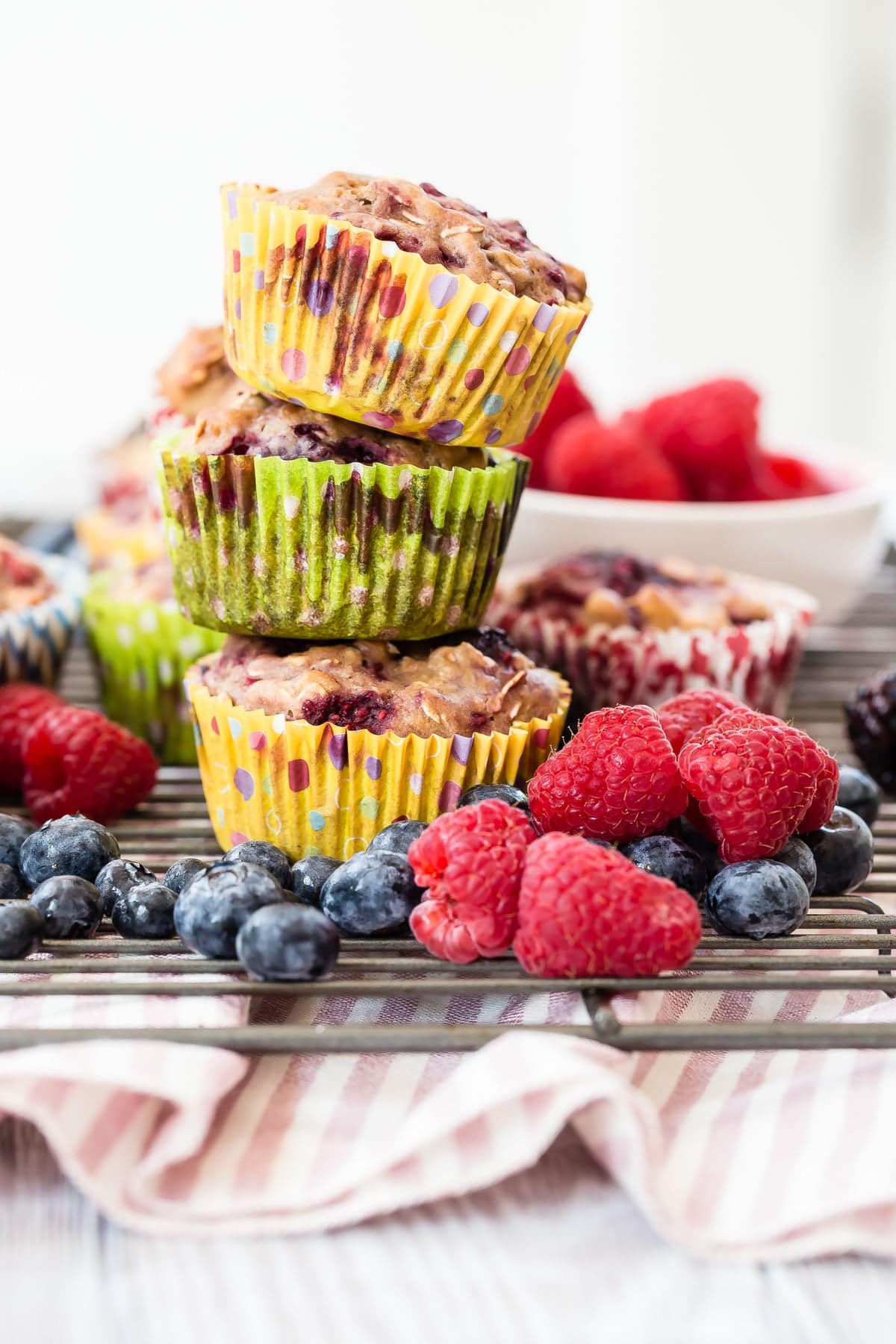 Image source: Weelicious
Choose any combination of berries – strawberries, blueberries, raspberries, blackberries – for this hearty and filling breakfast choice. Sweetened with brown sugar, these muffins also have a mix of flours to give them a stronger texture. This recipe makes a dozen regular-sized muffins, but double the batch or bake in mini muffin pans to feed a larger crowd of children.
Get the recipe on Weelicious, a kid food blog by Catherine McCord. The recipe includes a video tutorial with step by step instructions to help make this recipe even easier.
29. Plain Muffin Base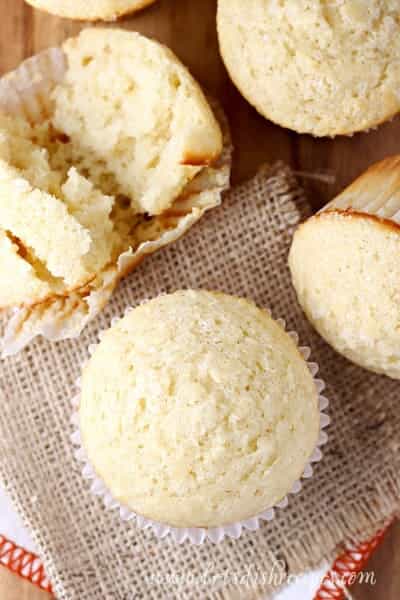 Image source: Let's Dish Recipes
A plain muffin base can be the starting point for almost any combination of flavors to create a unique original muffin recipe. With this recipe on hand, any pantry ingredients can be added. Mix in fresh, frozen or dried fruit. Add chocolate chips or nuts, extracts or other spices. This is especially handy for those with food allergies. With a limited number of ingredients, substitutions become easier to manage.
Learn the recipe and steps to make it at Let's Dish Recipes.
30. Raisin Corn Muffins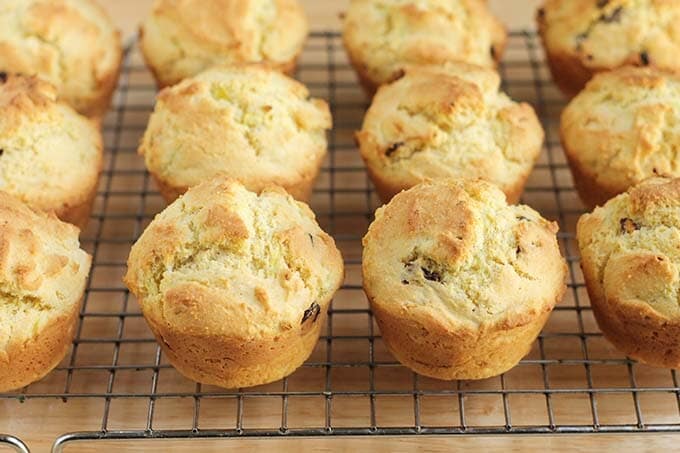 Image source: Yummy Family Foods
Breakfast or dinner time, these cornbread muffins are loaded with healthy whole grains, fruit and vegetables. Make a batch as a side for a potluck dinner. The secret ingredient for these muffins is summer squash, grated finely so it blends in to the batter. The recipe is quick to come together after the squash is prepared and can easily be converted to be gluten free.
This recipe is available from Yummy Family Foods and includes nutritional facts based on a batch of twelve muffins.