Mmm, cupcakes. They are super trendy right now, but they've been around forever. Cupcakes are staples at school bake sales, must-haves at birthday parties, and special after-school surprises. They've even been showing up at weddings! Cupcakes are great because there's no messy cake cutting. No fights over who gets the corner piece or the biggest frosting rose. They're already individual servings that are ready to be grabbed and gobbled.
Step up your cupcake game with these 35 anything-but-basic showstoppers that are all parent-tested and kid-approved. Whether you need a character cupcake for your child's theme birthday party, a neat treat to make on a rainy day, or you want to dominate your community's holiday bake sale, most of these cupcakes are easier than they look.
From animals to rocket ships, from Disney to camo, and all kinds of cupcakes that look like other food, these are 35 cupcake recipes for kids designed to impress. So put on a cute apron, pre-heat your oven, and get started!
1. C Is For Cookie
Image source: Cupcake Diaries
Cookie Monster may be associated with…well…cookies, but that doesn't mean he can't also love cupcakes! Cupcake Diaries has everything you need to make everyone's favorite sweet-toothed monster. These are perfect for the first few birthdays when kids are into Sesame Street. You'll need candy eyeballs for these, which are not hard to find. (And keep the extras for Halloween!). The blue frosting will definitely get all over little faces, so your party will end up looking like a room full of miniature Cookie Monsters!
2. The Mickey Mouse Club
Image source: Our Kids' Mom
If your child is obsessed with Mickey Mouse Clubhouse or Minnie's Bow-tique, these cupcakes are a must-make! Over at Our Kids' Mom, you'll find beyond-easy instructions for cupcakes featuring the world's most famous mouse. Maybe you just booked a trip to Disney World and want to surprise your family with the news – these are perfect! With a tiny bit of frosting on some pre-tied bows, you've got a little Minnie Mouse, as well.
3. Fun Dr. Seuss Cupcake
Image source: A Sparkle of Genius
Dr. Seuss Day has become a whole big thing at schools around the country. If your kids' schools celebrate with bake sales and class parties, you'll need the instructions from A Sparkle of Genius to make these Cat in the Hat cupcakes. They are so cute and creative, and surprisingly easy to assemble. The Cat's famous red and white hat has become the universal symbol for all things Seussical, and placed on top of the Thing 1 and Thing 2 inspired blue frosting, you'll brighten up anyone's wet and rainy day!
4. Not-So-Despicable Minions
Image source: Betty Crocker
You don't need to know what they are saying to appreciate these hilarious little creatures! Create the goggle-eyed yellow beings in cupcake form after checking out the instructions at Betty Crocker. Whether stealing a crown for Scarlett Overkill or making weapons for Gru, the Minions are hardworking and always loyal. These cupcakes are bright and "eye-catching!" Your child's Minions-themed party will be such a massive hit, it'll almost be a crime!
5. Intergalactic Princesses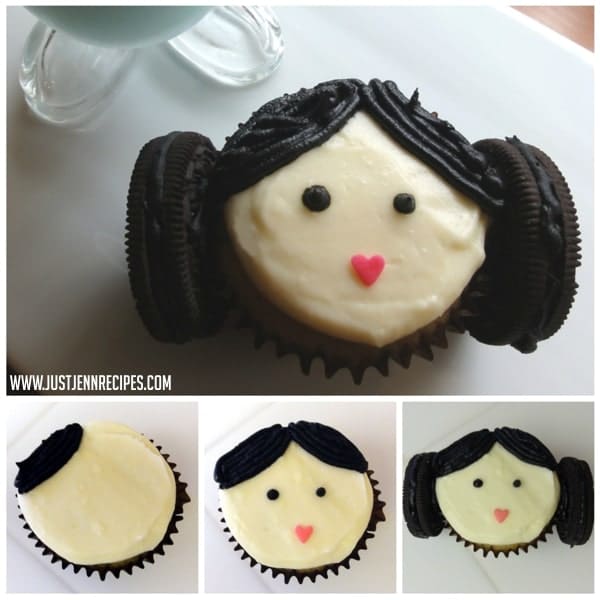 Image source: Just Jenn Recipes
She's delivering secret plans to the Rebels. She's leading forces against the Empire and the First Order. She's cool, she's calm, she's a self-rescuing princess. With her trademark buns made from Oreos, these Princess Leia cupcakes from Just Jenn Recipes are the best in the galaxy! When the party's Jedi and Storm Troopers are done battling it out, and the X-Wing pilots need a sweet treat, these cupcakes will bring both light and dark sides together.
6. Pew Pew Pew!
Image source: A Few Shortcuts
Storm Troopers aren't known for their terrific aim, but these cupcakes sure won't miss! If you are loyal to the Empire, show it with these cupcakes. A Few Shortcuts shows you how easy they are to design and assemble for birthday parties that are more dark side then rebel scum. Be careful: the marshmallows might melt in the Tatooine heat. Deploy these cupcakes for all the new Star Wars movies coming out! (Blasters and blind loyalty not included.)
7. Avengers, Assemble Your Cupcakes!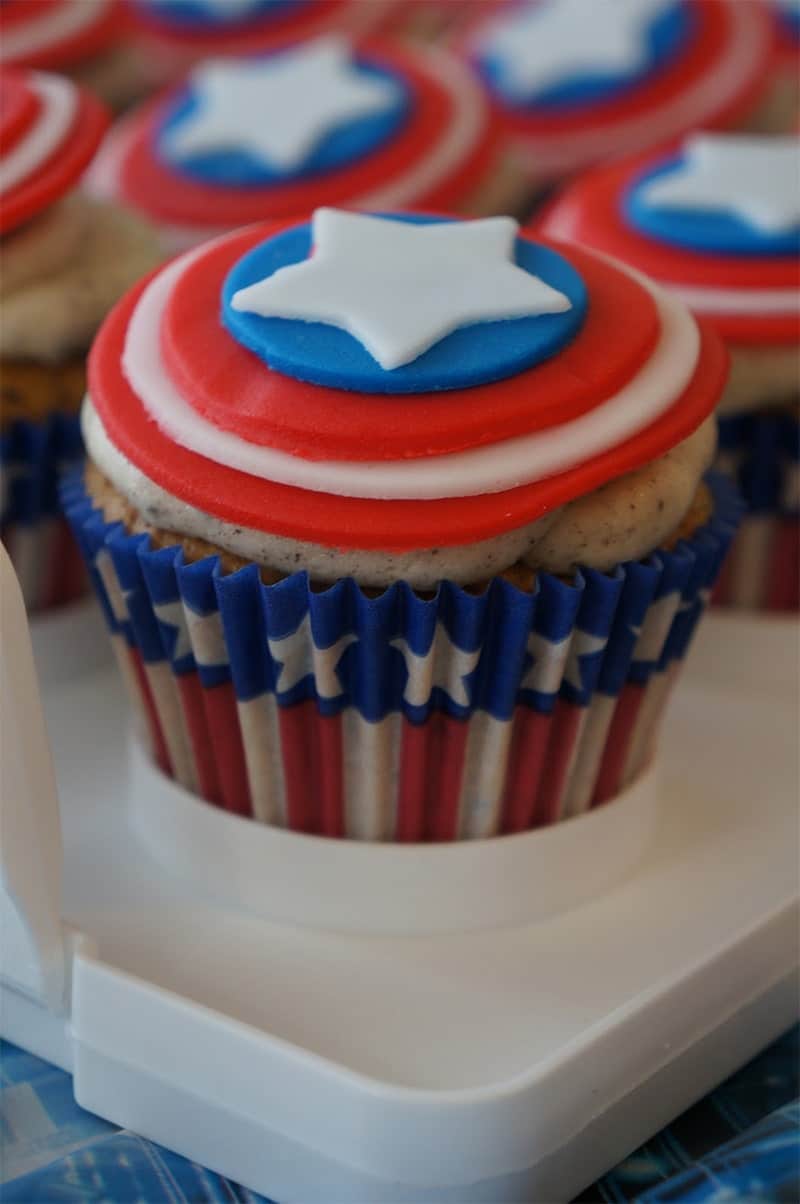 Image source: Sweet Jem's
The Marvel Cinematic Universe – MCU for those in the know – has become a pop culture juggernaut, dominating the box office and the imaginations of children and adults alike. Save the world from Megatron, Thanos, and Red Skull with Sweet Jem's patriotic Captain America cupcakes. Cookie cutters and colorful fondant are all you need to create Cap's iconic vibranium shield. And while Cap may have survived Thanos's snap, there's no way any cupcakes will survive a party full of hungry superheroes!
8. Batman Cupcakes
Image source: Midwestern Moms
Even the brooding Dark Knight will have to smile at these Batman-themed cupcakes over at Midwestern Moms. The chocolate bats aren't as complicated to make as you think, and they look amazing placed on bright yellow frosting. Be a hero to your own little Caped Crusader! Throw up the Bat Signal, summon the other members of the Justice League, and win against the evil forces of dull parties with these no-gadget cupcakes!
9. Happily Ever After
Image source: Mothers' Niche
Whichever princess your child loves best, these cupcakes will make her party the fairest of them all. The creative minds at Mothers' Niche have a genius way to make cupcakes fit for an entire royal family. If you remember the doll cakes from your childhood that had beautifully decorated semi-spherical skirts, you'll immediately recognize the inspiration for these smaller versions. Every child gets a doll to keep and cherish when the party's over and they've gone home to their castles.
10. The Wee Folk
Image source: Handmade Charlotte
Tiptoe through the forest and you might catch movement out of the corner of your eye. Was that a fairy? It might have been! If your child loves hiking and building tiny houses to leave by trees for fairies, then they will adore this cupcake from Handmade Charlotte. With various colorful candies, your child can help build each one from the "ground" up. But, like a glimpse of fluttering wings behind a flower, these won't last long once they're handed out to party guests!
11. ROY G BIV
Image source: The Jersey Momma
There's never a reason to NOT make rainbow cupcakes, but here are some ideas for when they might be absolutely necessary: rainy days, unicorn parties, Wizard of Oz parties, or any time your child could use some cheering up. The Jersey Momma has the instructions you need to set these up – let your kids help with the colors! These gorgeous cupcake works of art bake up bright and beautiful to add a little happiness to even the rainiest of days.
12. Pure Magic
Image source: Tuxedo Cats and Coffee
With swirling pastels, glittery sprinkles, and a magic fondant horn, there's something ethereal about these unicorn cupcakes. Check out Tuxedo Cats and Coffee for easy to follow written instructions with photos to guide you along. These are perfect for unicorn-themed birthday parties, best friend get-togethers, or to really stand out at the next school bake sale. (Hint: use edible gold spray to make the fondant horns even more magical! Be sure to spray them before you put them on the cupcakes.) And if you really love unicorns, head on over to our unicorn crafts for kids list here!
13. Sweet As Sugar Gumball Cupcakes
Image source: Sprinkle Bakes
Impress everyone with the delicate "gumballs" on top of these precious cupcakes. Patience and timing is the name of the game here, and Sprinkle Bakes walks you through how to do it like a pro. With pastel pink frosting and star sprinkles, these cupcakes look as sweet as they taste! And if pink isn't your color, go for bright and bold primary shades to make the types of gumballs you get for a quarter from a candy machine.
14. Sit, Stay, Roll Over, Eat
Image source: All Day Chic
These puppies are almost too cute to eat. Almost. Their shaggy frosting fur makes them irresistible and their little candy eyes will melt your heart. All Day Chic has everything you need to learn how these are made. Pack a litter of puppies into a decorative box as a sweet gift for the dog-lover in your life! But remember, petting these cuties will be messy business, and they definitely did not pass obedience school. Look out Westminster Kennel Club, these cupcakes are going to win Best in Show!
15. A Box Full Of Kittens
Image source: Cupcaketeria
These cats are not only adorable, but they are guaranteed not to shed, walk all over your computer keyboard, or scratch up your furniture. The instructions at Cupcaketeria are shown in photos and in a video so you don't misread anything. Every cat-lover you know will purr with delight when you present them with a box full of extra fluffy kittens that are ready to eat – though you might not want to because they are just too cute!
16. Octopus's Cupcake In The Shade
Image source: Mommy's Fabulous Finds
For sea-worthy cupcakes that will add a little something extra to your underwater garden, Mommy's Fabulous Finds shows you how to make octopus cupcakes. Gummy worms and gum drops are the secret ingredients here. Deep sea divers of all ages will fall into the arms of these colorful ocean friends! Whether your party is Nemo-themed or you just want something different, have fun making octopus cupcakes with your kids!
17. WHO's That Cupcake?
Image source: Like Mother Like Daughter
Chocolate frosting, Oreos, and orange M&Ms go a long way in making these wise owl cupcakes from Like Mother Like Daughter. You don't need any advanced cake decorating skills in order to make these owls, and they look amazing when you're done. If your party includes going on a hike in the woods, receiving letters from Hogwarts, or just celebrating a love of birds, guests will demand to know WHO, WHO made these incredible things!
18. Jumping On The Bed
Image source: Persnickety Plates
Does your house sometimes feel like a zoo? Are your children adorable little monkeys who climb, screech, and swing from the trees? If you answered yes, then Persnickety Plates has the cupcake for you! With their big ears, sweet eyes, and mischievous smiles, you can't help but love these little guys. They are just perfect for animal-themed parties. By preparing the ears, eyes, and mouths ahead of time, they also make adorable preschool class activities!
19. UnBEARably Cute
Image source: The Bearfoot Baker
There are few things cuter than a classic teddy bear. These cupcakes from The Bearfoot Baker come pretty close, though! With a bit of royal icing work, these snuggly little guys are just the thing for a first birthday party, a preschool party, or any time you need to level up the cuteness factor. If your child is not a fan of all that chocolate, brown icing works just as well. Tip: make the royal icing parts a few days ahead of time so they can dry.
20. I Scream, You Scream
Image source: Delish
These cupcakes look like they are about to melt, but there is actually no real ice cream involved! Delish has all the tips and advice you need to put together this dessert. Instead of making an entire party's worth ahead of time, why not have the cupcakes and other ingredients ready to go, and then let your child's guests have fun making their own "sundaes" – with adult supervision, of course!
21. Royale With Cheese
Image source: Yahoo Food
These look so much like actual cheeseburgers, you may actually fool your guests! But surprise, they are cupcakes! Yahoo Food has the instructions from Nerdy Nummies creator Rosanna Pansino. The cheese, tomato, lettuce, even the sesame seeds on the buns are all deliciously sweet versions of the real things. Even the burger "patty" is a brownie cut out in a circle. Sweet enough for a kids' party and awesome enough for a grown-up party!
22. Always In Season
Image source: Today's Work at Home Mom
Celebrate the dog days of summer any time of year! With this cupcake version of the refreshing treat, there are no seeds to spit and no rinds to dispose of. The instructions at Today's Work at Home Mom are super easy to follow. The bright red and green will surely brighten up even the coldest snow day when the winds howl, and summer seems an eternity away. Or, make them for the first outdoor BBQ of the season to go with real watermelons!
23. Give You My Heart
Image source: Amanda's Cookin
There's no need to buy a specialized baking pan if you want to make heart-shaped cupcakes for Valentine's Day. Amanda's Cookin has a very simple trick that makes the heart-shape using a regular round muffin pan. Nothing fancy to see here – just some delicious cupcakes frosted in pink, red, and white and sprinkled with love (and also sprinkles). Bring the pre-baked cupcakes to a preschool class party and let the kids pick their color frosting and which sprinkles they want to decorate with for a yummy Valentine's activity!
24. Pot O' Gold
Image source: Skip to My Lou
If you've ever chased a rainbow looking for a pot of gold, these cupcakes will surely bring back fond memories. Get your ingredients list and assembly instructions from Skip to My Lou to make these cupcakes that feature a candy bonanza on top of the blue sky frosting. No need to wait until St. Patrick's Day – whenever your child needs a little good luck or cheering up, these are sure to do the trick!
25. Fluffy Little Bunny Wabbits
Image source: This Grandma is Fun
Before February has ended, stores have their Easter candy out. By March, the Valentine's chocolates have surely given way to Peeps in many houses. Rather than buying another pack, click over to This Grandma is Fun for step-by-step instructions on making these bunny ear cupcakes with the kids. Bring them to an Easter party as a treat for little egg-hunters who have surely worked up an appetite after hauling those eggs around!
26. Fire Up The Grill
Image source: Frugal Mom Eh
The snow has melted, the flowers are blooming, and light sweaters replace heavy coats. Time to fire up the grill! For the first (or second or third or tenth) barbeque of the season, offer to bring dessert and make these jaw-dropping grill cupcakes from Frugal Mom Eh. Short on time? Use a box mix and canned frosting. The "grills" are actually royal icing that you pipe onto a wax sheet and allow to dry. Come and get it!
27. Snow In Summer
Image source: Tamara Camera
By the end of the school year the kids are probably in shorts already. Celebrate the excitement of the summer to come by covering your table with sno-cone cupcakes! Tamara Camera features bright primary colors on her sno-cones, which look one-hundred percent summer-ready. The instructions at her blog are given in photographs – that's how easy these are. Nothing fancy to practice, nothing complicated. No worrying about messing up! Stick to just red and blue if you like, or put white in the middle for a patriotic twist.
28. Fourth Of July With A Bang
Image source: Oh! Nuts
There will be no trips to the emergency room or frightened pets when you celebrate America's independence with these cupcakes from Oh! Nuts. Even the Founding Fathers would declare these the best cupcakes in the country. Marshmallows, red candy melts, and shoestring licorice make the safest cherry bombs you can possibly have. Along with some stars-and-stripes cupcake papers and red, white, and blue sprinkles, your cupcakes will guarantee you a repeat invite to the best Fourth of July parties!
29. Spoopy Little Ghosts
Image source: Everyday Southwest
"Spoopy" is a relatively new phrase that refers to something that is more cute than scary. You will absolutely be using that word when you make these sweet little ghost cupcakes featured at Everyday Southwest. For parents who are busy making costumes, putting up Halloween decorations, or volunteering at class Halloween parties, these cupcakes are fast and easy. And since they are more cute than scary, they are perfectly "spoopy" for kids of all ages!
30. Rudolph The Red-Nosed Cupcake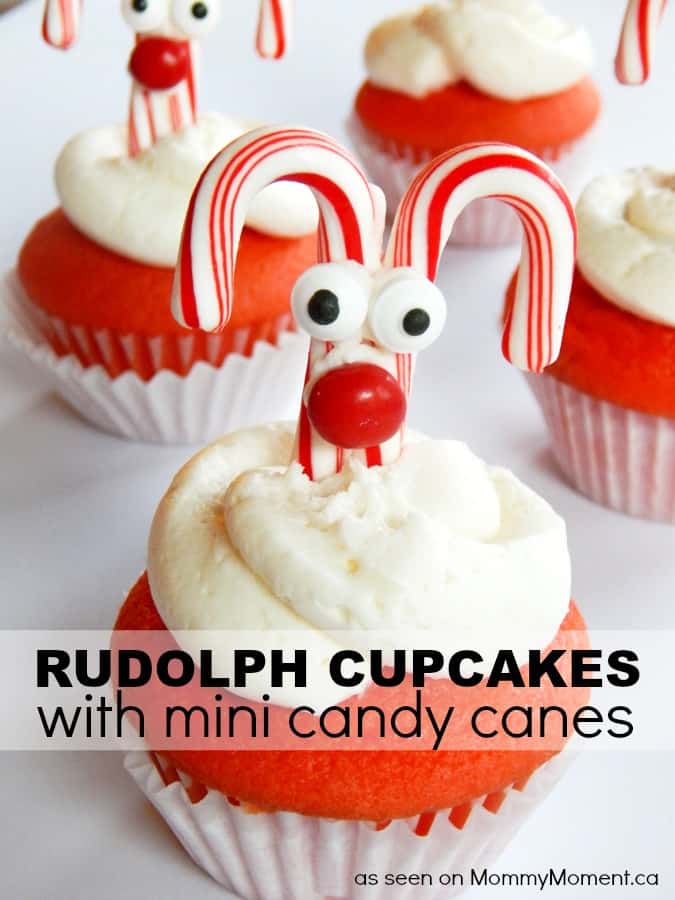 Image source: Mommy Moment
If you are so over endless Christmas cookies, check out the adorable Rudolph cupcakes at Mommy Moment. The ingredients are mostly candies you can find anywhere and assemble with minimal effort. Red velvet cupcakes and snowy white frosting make a festive base for the candy cane-based Rudolph. These cupcakes work perfectly as a class Holiday party activity. After seeing these cupcakes, Santa won't wait for a foggy night to ask Rudolph to help pull his sleigh!
31. Jolly Red Hat
Image source: Kimspired DIY
Not all cute cupcakes are about creating animal faces that then get eaten. Sometimes simple works best, like Kimspired DIY's Santa hat cupcakes. With a little bit of practice you'll quickly get the hang of piping the white trim and red spiral. Once you feel confident, decorating the cupcakes will be a snap. Or help guide little hands round and round as they bring Santa's hat to life before their very eyes.
32. To The Stars
Image source: Studio DIY
Aim for the stars! These space-ready rocket ship cupcakes are a little bit more advanced than some others, but the payoff is worth the effort. Studio DIY shows you step by step how to make the rockets out of cake pop dough and pre-made fondant. Ready for lift-off? Place them on top of your cupcakes to take your party guests to the moon, to Mars, or all the way to Infinity and Beyond!
33. At Ease, Soldiers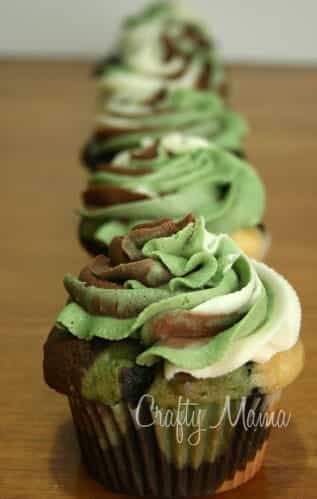 Image source: The Crafty Mama
There's something about kids playing soldiers that's just so classic and yet so timely. If you've got older kids doing paintball parties or Nerf wars, whip these cupcakes into shape! Little kids, too, will love these cupcakes that match their favorite soldier action figures. Your marching orders can be found over at The Crafty Mama, where you'll find that camo cupcake boot camp isn't nearly as intimidating as you may think. Well done, Soldier!
34. PB&J With No Crusts
Image source: Wilton
For a sweet twist on a kid's classic food, try these peanut butter and jelly sandwich cupcakes from Wilton. A gooey, jelly-filled center makes a fun surprise! If you're feeling ambitious, the Wilton link has instructions for how to pipe frosting onto a cupcake like a pro. Drizzle some warm jelly over the top for effect, and you'll have a dessert that matches lunch – only this time you won't get complaints about what shapes you cut it into!
35. Lemonade Stand
Image source: Party Pinching
Strawberries and lemonade go together almost as well as peanut butter and jelly. Strawberry lemonade cupcakes make for a refreshing treat, and you can learn how to make them at Party Pinching. They're a tasty alternative to regular chocolate or vanilla cupcakes. And, they're sophisticated enough for grown-ups, too. Real lemons and strawberries add an extra kick to the cupcakes, keeping them from being overly sweet. Sit on the porch in your old rocking chair and while away an afternoon with one of these cupcakes!