An apple a day keeps the doctor away, so we rounded up a month's worth of red delicious apple crafts for kids – plus variations in yellow and green too! These crafts are my favorite, not only because I love apples, but because they remind me of Fall and Thanksgiving… both of which I absolutely love! The apple crafts below are great to make at home any time during the year, but they also make fun school art craft projects as well! Especially on Johnny Appleseed Day (September 26th).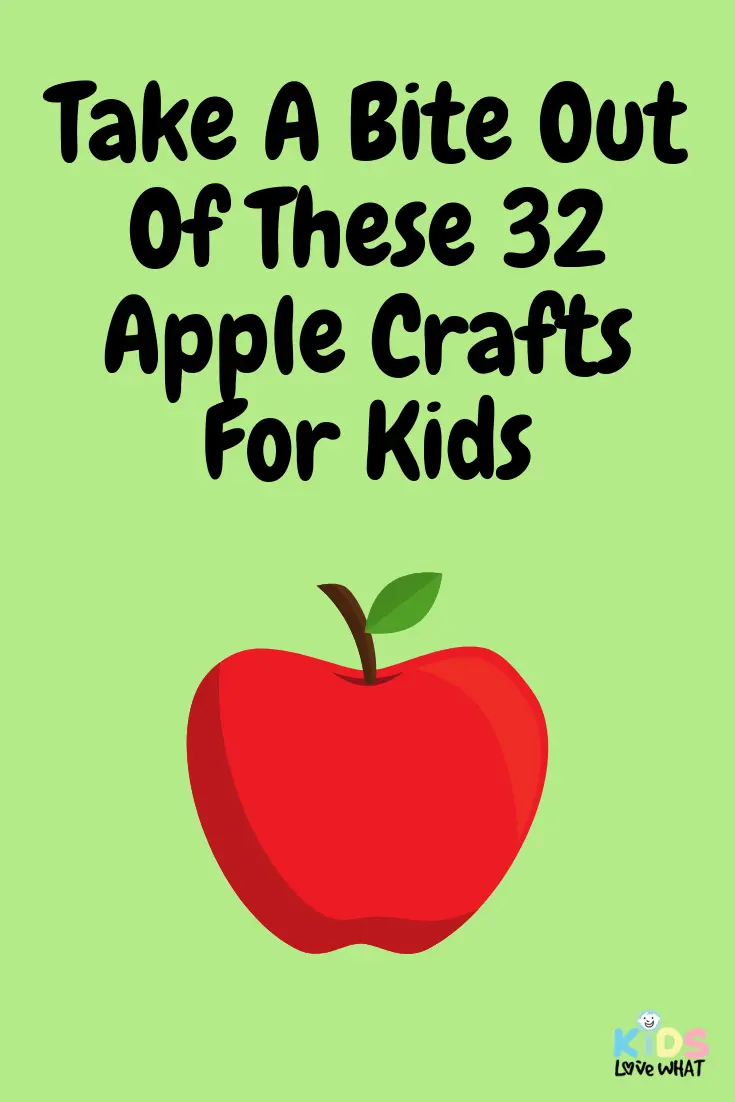 Kids of all ages will enjoy the art activities below. With over two dozen crafts to choose from, there are plenty of budget-friendly kids craft ideas to add to your classroom lesson plan or to enjoy at home. For preschoolers and kindergarteners, letters and colors are some of the first lessons. Apples are a popular icon for the letter "A" and many of these crafts would be fun as part of an alphabet activity or practicing colors. Older kids will enjoy the open-ended ideas that let them explore their creativity with art using non-traditional materials too.
1. Apple Paper Plate Craft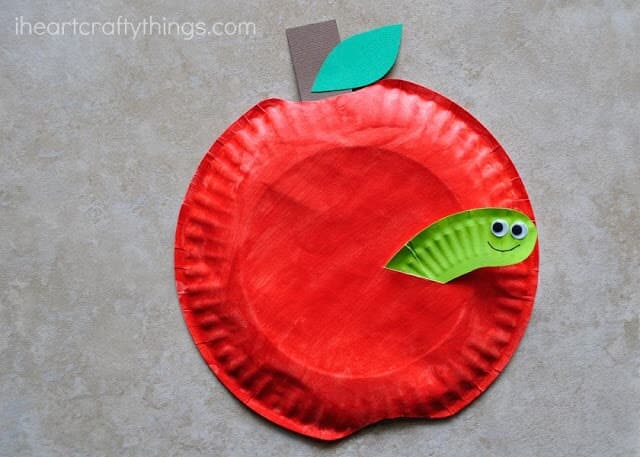 Image source: I Heart Crafty Things
Paper plate crafts are fun and easy to do, especially with a group. An apple is great because they're already round and all you need to do is trim either end to make a perfect apple shape. The I Heart Crafty Things apple happens to have an adorable green worm that can slide in and out of the apple through a small hole. This would be a fun activity to add to storytime with "The Very Hungry Caterpillar" by Eric Carle.
2. Painted Candy Apples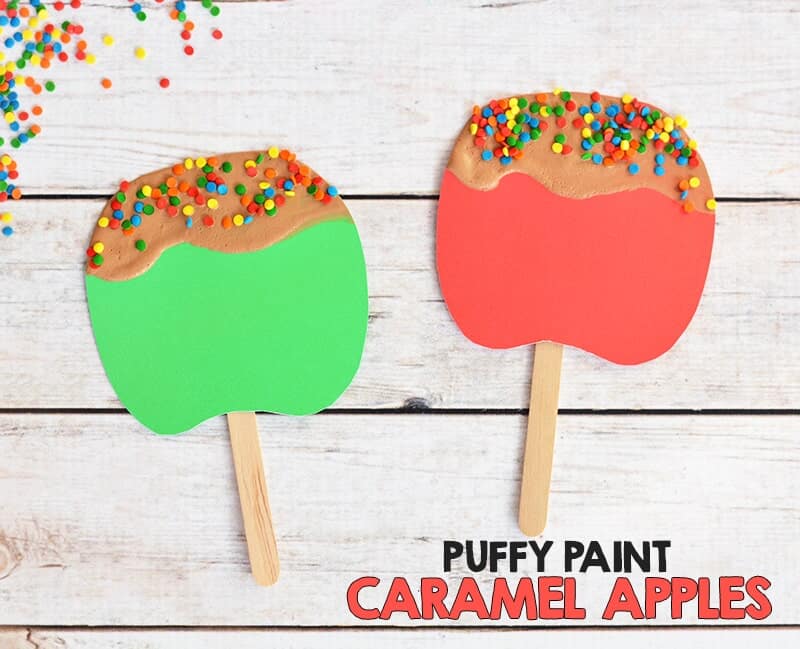 Image source: I Heart Arts n Crafts
Caramel apples are a fun fall treat. Gather the kids to make these paper versions from I Heart Arts n Crafts to use as photo props or for pretend play. Apple shapes are cut from card stock and attached to popsicle sticks. Then they are drizzled with a paint mixture that really looks like caramel and topped with sprinkles. You can make the apples in red and green and use any colors for the sprinkles!
3. Alphabet Letter "A" Craft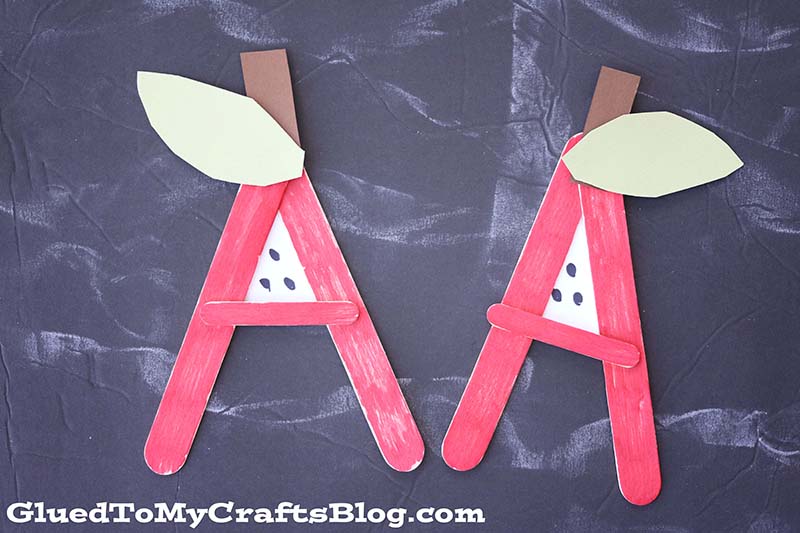 Image source: Glued to My Crafts
Visit Glued to My Crafts to find an alphabet craft for every letter. The one for "A" is apple and works as a back to school craft or a letter recognition activity for early readers. The letter shape is made from popsicle sticks and then decorated to look like a red apple, although you could use a different color. For extra detail, add a few apple seeds to the center of your letter "A" apple.
4. Cardboard Tube Apple Core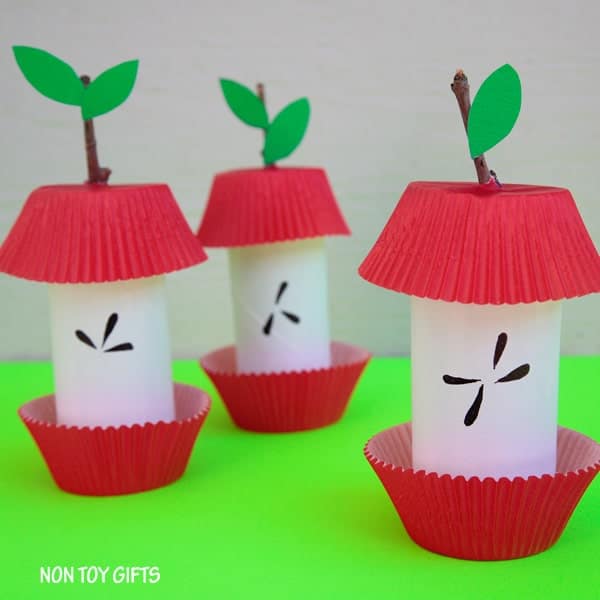 Image source: Non-Toy Gifts
This unique twist on apple crafts makes an apple core that looks as if it has just been nibbled down. Non-Toy Gifts shares a simple paint and glue craft project that would make an interesting way to learn about the parts of an apple. Use a toilet roll tube for the core or cut a paper towel tube in half. Add red cupcake liners to look like the fruit and a few additional details for a realistic apple core.
5. Stained Glass Apples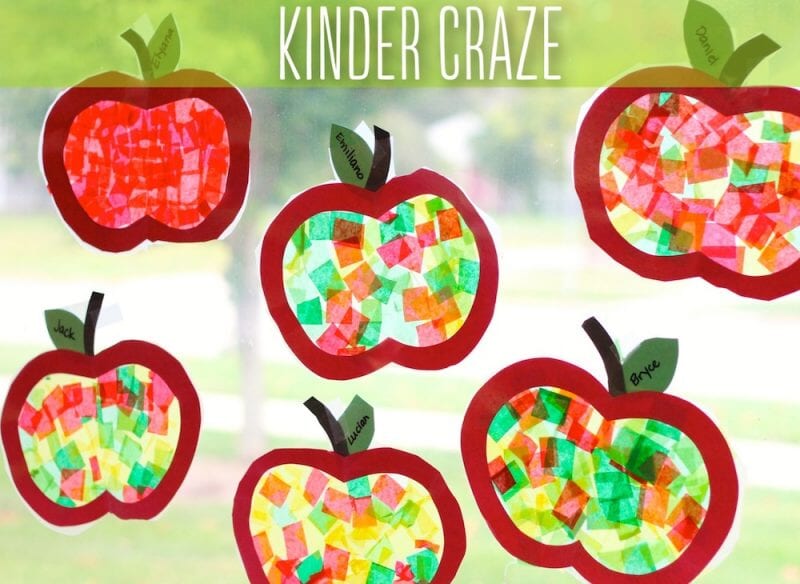 Image source: Kinder Craze
The teacher behind Kinder Craze has an apple project that turns out gorgeous. Make apple stained glass windows with your kids and hang the finished apples up in kitchen windows for a pop of color in your decor. Start by downloading the apple frame template to make the red outlines. Put them on contact paper and let the kids add squares of tissue paper in red, green, and yellow. Seal everything in with a second piece of contact paper and trim the edges.
6. Textured & Painted Paper Apples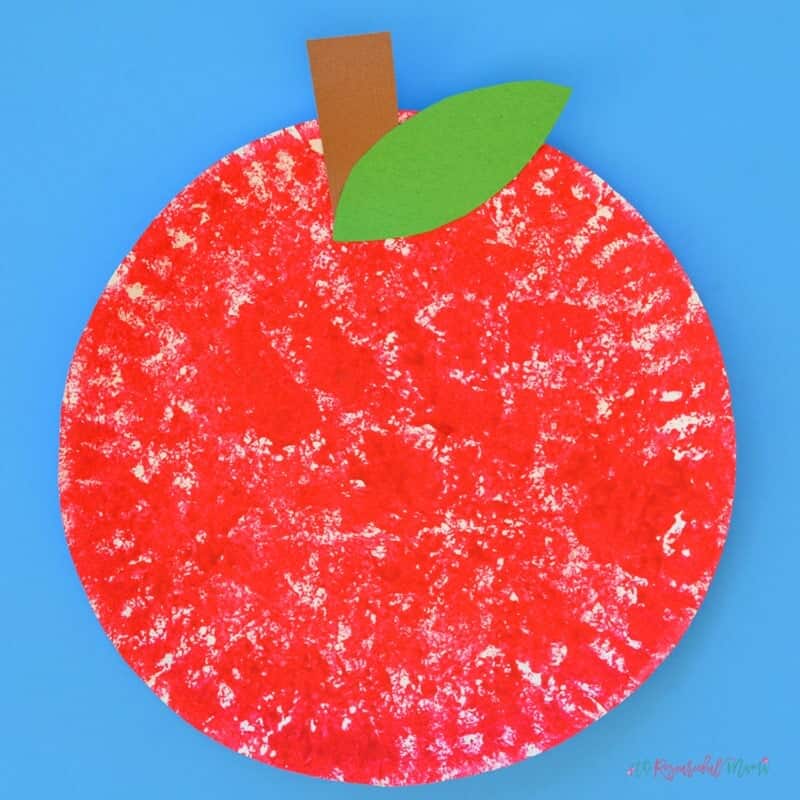 Image source: The Resourceful Mama
Painting with different materials is a wonderful way to expose your child to different textures in art. Try this sponge painting technique from The Resourceful Mama. The activity is simple – painting a paper plate red and then adding a paper stem and leaf. You can change it up by adding more details to the apple or trying other painting techniques. Do one with sponges and another with brushes to see the difference.
7. Fizzy Art Paper Apples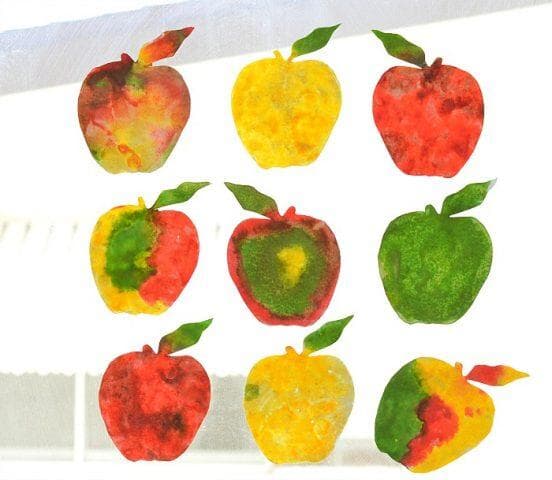 Image source: Fun Littles
Combine art and science to make these funky apples using a fizzy art technique. Follow the step by step instructions from Fun Littles to learn how baking soda and citric acid are used to create paint that goes on like watercolors and bubbles and foams to spread. Each apple in your bunch will turn out completely different. The finished paper apples can be hung up like suncatchers or displayed as artwork.
8. Friendly 3D Paper Apples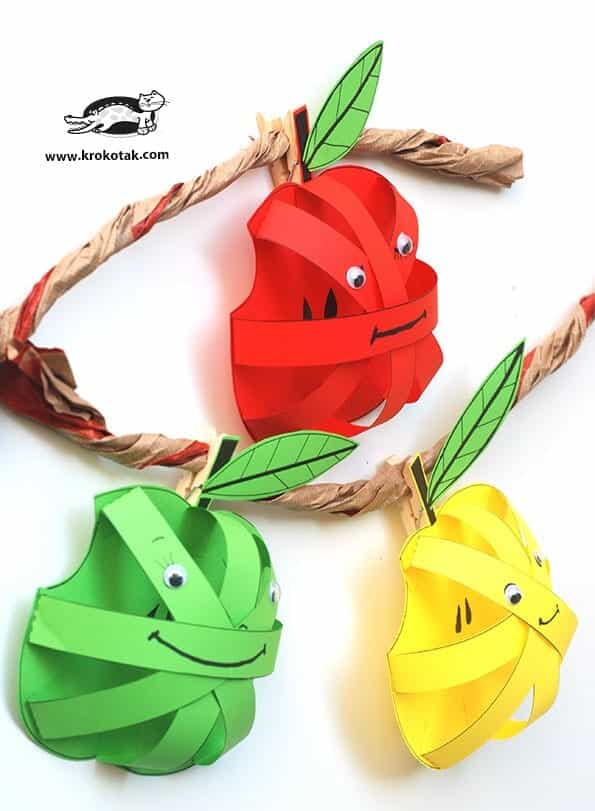 Image source: Krokotak
The charming paper apples from Krokotak are created from a template and have happy, smiling faces. You can either print the templates and trace them onto construction paper or print directly onto colored paper to save a step. Once the apple is cut out, adding the stripes to make it three dimensional is easy. You can add wiggly eyes and draw on smiley faces or just leave them plain. Use clothespins to hang them as garland.
9. Felt Apples With Handprint Leaves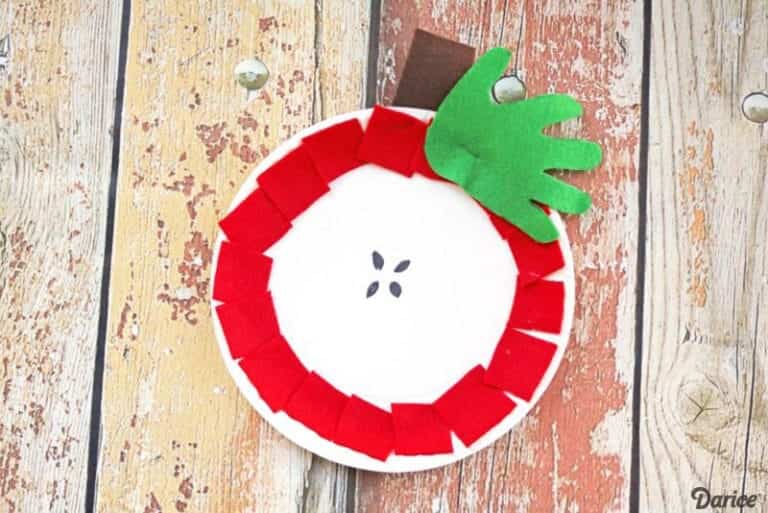 Image source: Live Craft Love
Any craft project that uses children's handprints is precious and sure to become a keepsake in your house. Live Craft Love shares a fun way to use handprints as part of a felt apple. The apple is made from a paper plate and red felt. To create the leaves, trace your child's hand onto green felt or use paper and pin it to the felt to cut out. You can staple the pieces together or use craft glue.
10. Apple Pie Scented Playdough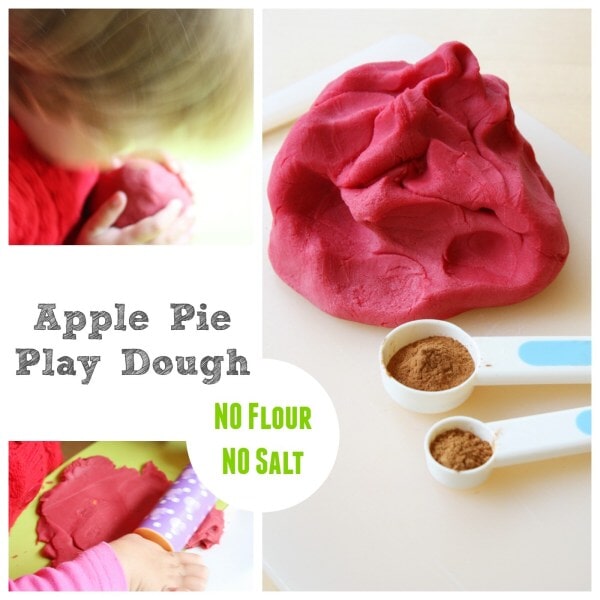 Image source: Emma Owl
Playdough makes an exciting sensory toy for toddlers and kids in a wide age range. This recipe from Emma Owl is made without salt or flour, so it's perfect for kids with a gluten allergy. You'll want to make this for your child since it is cooked on the stovetop, but they can help with the steps after the dough is cool enough. The finished dough is red and smells like delicious apple pie, but if you want to change things up a bit, you could always just add peppermint or rose essential oils.
11. Painted Pinecone Apple Garland
Image source: Non-Toy Gifts
Pinecones make wonderful fall and winter decorations. They can be used to make a variety of things, including these apples at Non-Toy Gifts. Paint the pinecones red and attach a stick for a stem and a paper leaf. To make this into a garland, tie the stems along a length of string. You can also just display them in a dish as a centerpiece or display them as décor anywhere.
12. Apple Core Art With Popsicle Sticks
Image source: Glued to My Crafts
Make an apple core for a back-to-school decoration or as part of a lesson on the parts of the fruit. Glued to My Crafts has a tutorial to make them from popsicle sticks in two sizes. You can choose any paper color in shades of red or green to make the apple ends. These would be fun to make and attach to string for garland or add magnets on the back to display them on the refrigerator.
13. Apple Coffee Filter Art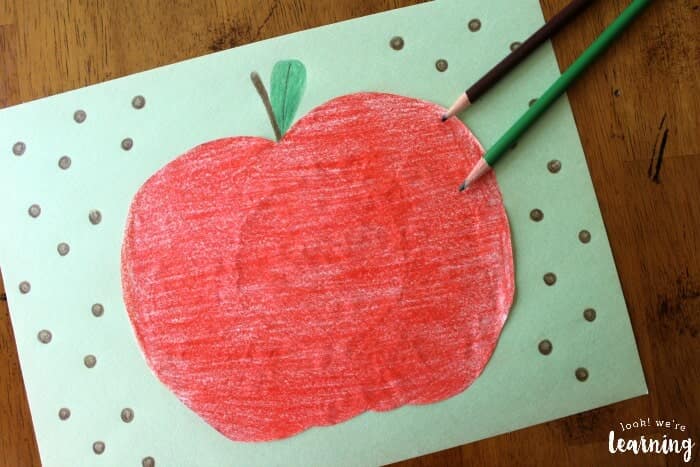 Image source: Look We Are Learning
This cute and easy coffee filter craft on Look We Are Learning is a fun activity to set up for kids in a mixed age group. Younger kids may need help cutting the filter into an apple shape, but then everyone can color the apples and add details. These could also be glued on cardstock folded in half to make a greeting card for a sweet first day of school gift. Plan this for a back-to-school playdate at the end of summer.
14. Apple Simple Sewing Activity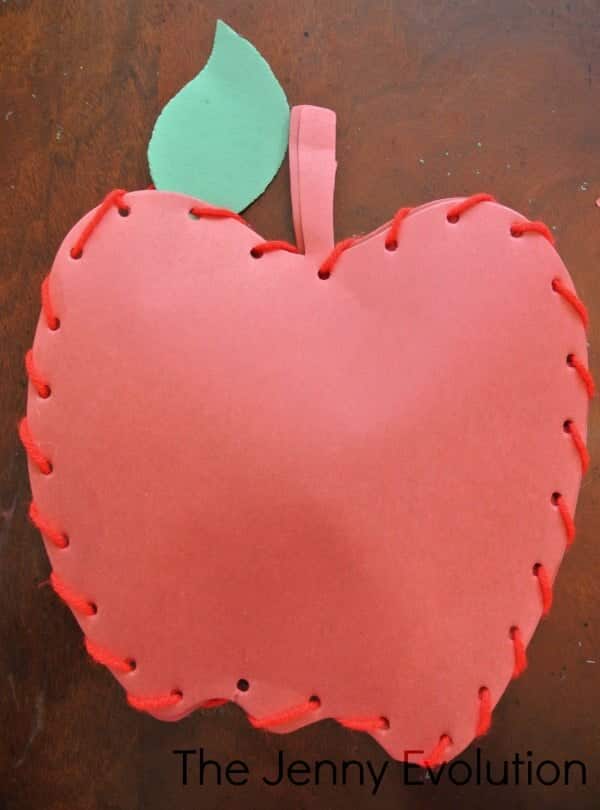 Image source: Mommy Evolution
Mommy Evolution has an apple-themed activity that will help little ones practice their fine motor skills. Use construction paper or craft foam to make two apple shapes. Set your kids up to sew the two pieces together by threading yarn through holes. When they near the end, let them stuff the apple to give it a 3D look. You can display the finished apples around the house or give them as gifts.
15. Marble Painted Paper Apples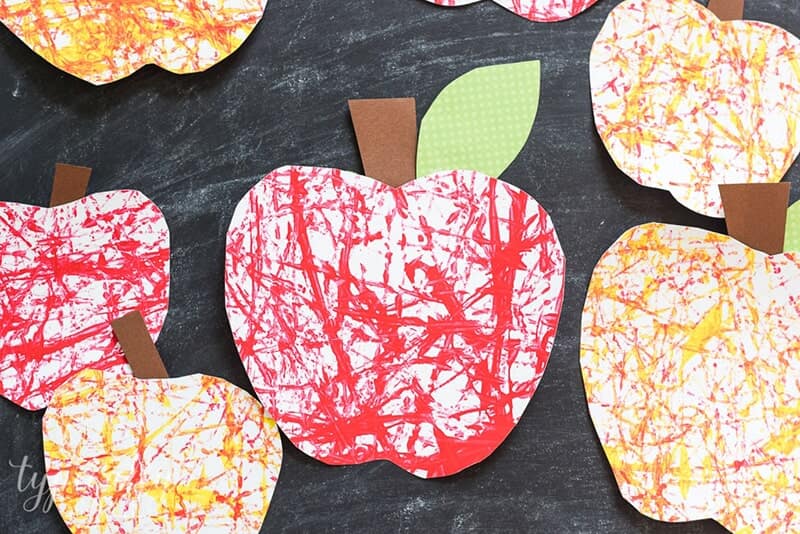 Image source: The Crafting Chicks
For another interesting textured painting activity, try painting with marbles. The Crafting Chicks has a simple setup using paper taped inside a box lid. Add some paint and glass marbles to roll around. This activity can get messy, but its tons of fun and the art turns out beautifully unique. Once the paint dries, you can trace apple shapes and cut them out. Add craft paper stems and leaves to finish the activity.
16. Woven Paper Apples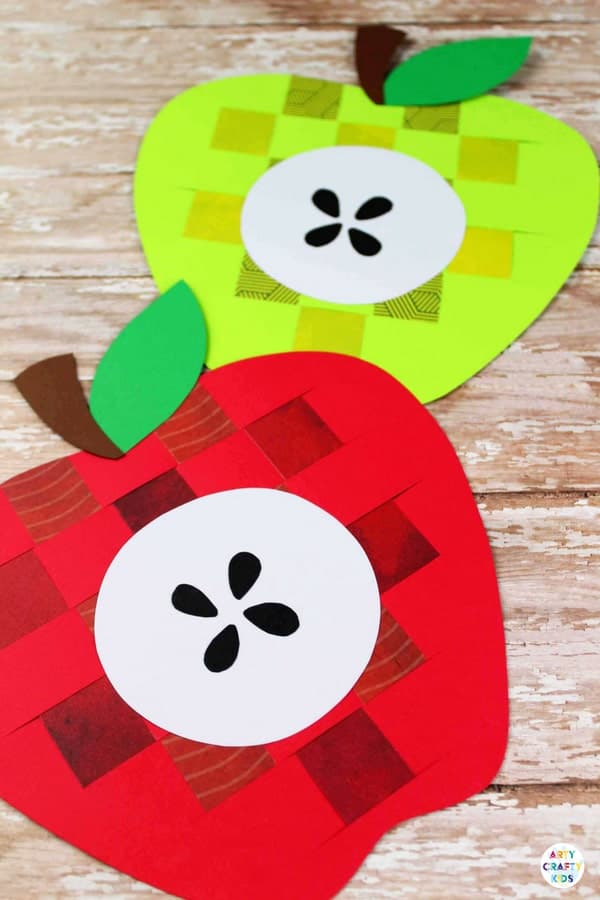 Image source: Arty Crafty Kids
Paper weaving is also a fun way for toddlers and preschoolers to practice fine motor skills. This idea from Arty Crafty Kids uses a combination of colored papers to create wonderful visual texture and patterns. This has examples in both red and green. Download the printable template on the blog and follow the instructions to cut out the apple and paper strips for weaving. The finished apples use the core from the template.
17. Pool Noodle Stamped Apples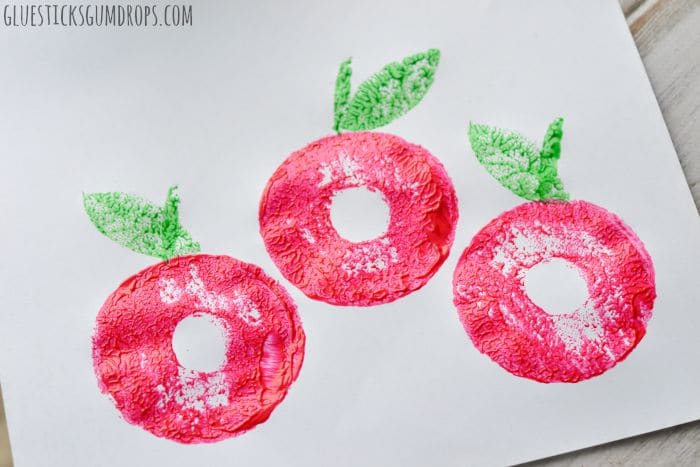 Image source: Gluesticks and Gumdrops
At the end of the summer, you can always find pool noodles on clearance. Pick up a few that can be sliced into segments and used as stamps in the apple art project from Gluesticks and Gumdrops. Stamps are great for greeting cards, gift wrap, or just a fun art experiment. This can get pretty messy, especially if your kids aren't careful about how much paint they get on the noodles. Once the apples are dry, they have an interesting texture.
18. Yarn Wrapped Apples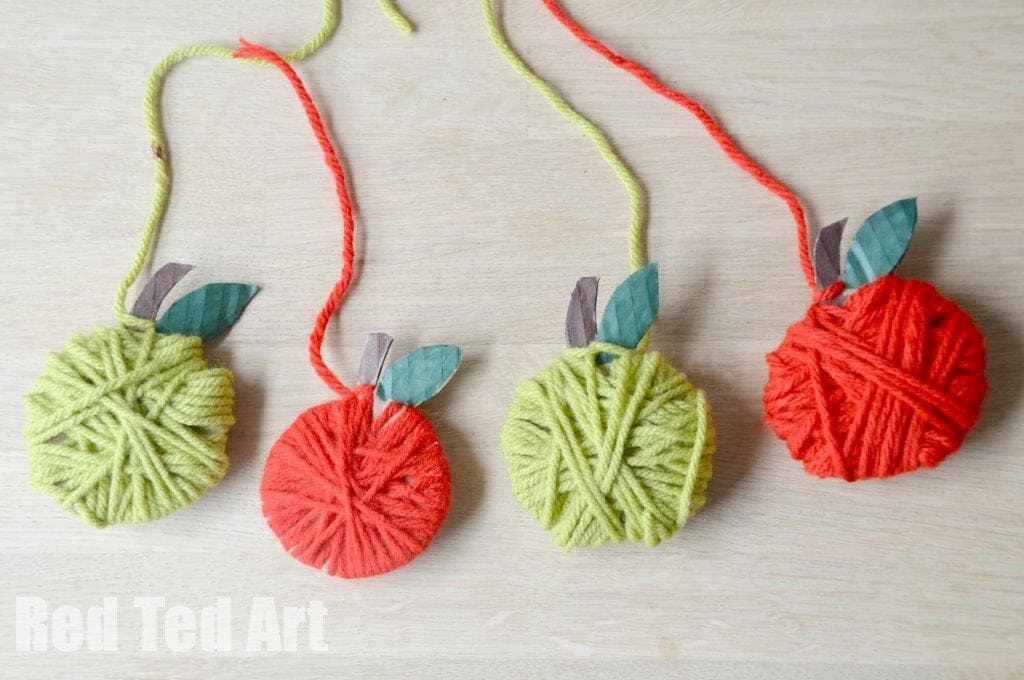 Image source: Red Ted Art
This yarn wrapped apple craft from Red Ted Art can be a quick five-minute activity or provide an afternoon of busy time. Your kids can make just one to hang from a doorknob or a whole bushel to turn into a garland. They might even make a nice addition to a play kitchen. This craft looks simple – wrapping yarn around cardboard – but will challenge your child to think about the best way to cover the cardboard evenly. Check out more yarn crafts for kids here!
19. Red And Green Apple Core Plates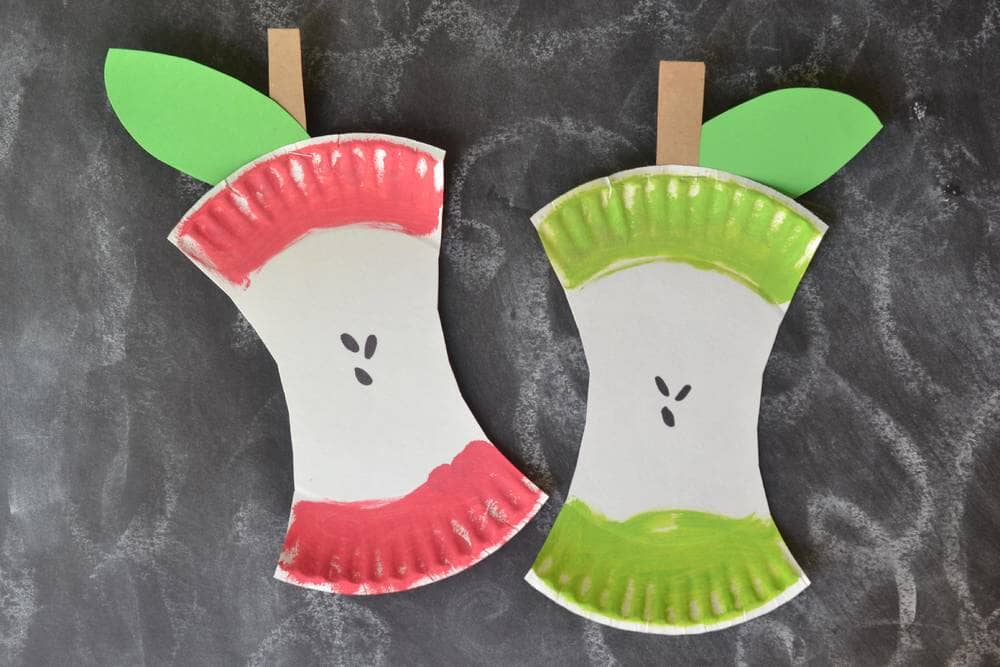 Image source: Blitsy
Turn a paper plate into an apple core with scissors, paint, and construction paper. This kids craft from Blitsy is an easy one to do with a group of kids. Give each child a plate and show them how to cut the sides to make the core shape. Let them paint or use markers to color the fruit, and then make a stem and leaf from paper. In a classroom setting, the finished apples could be used to decorate a bulletin board.
20. Felt Apple Hoop Art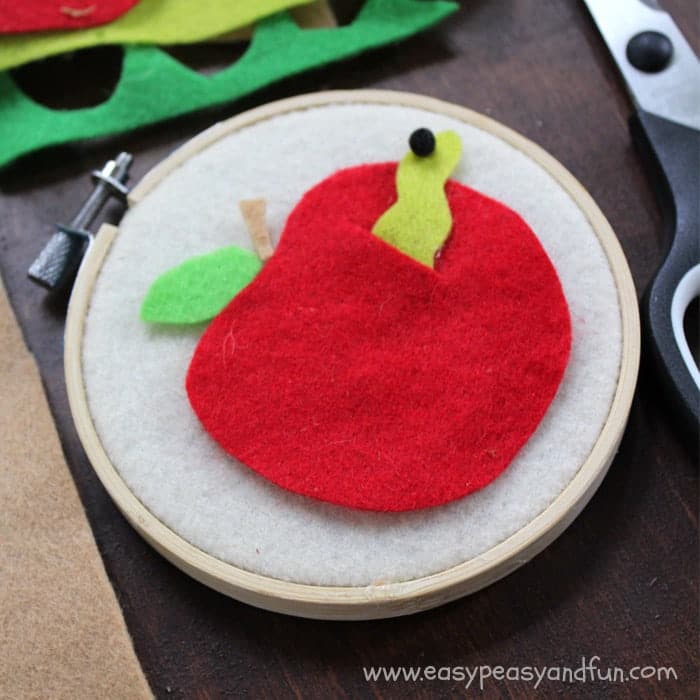 Image source: Easy Peasy and Fun
Embroidery hoops make a great canvas for crafts beyond needle and thread embroidery. In fact, these apples at Easy Peasy and Fun are assembled with glue. Each layer in the apple design is cut from a different piece of felt and then layered together. Feel free to change out details or use patterned fabric for the background. When finished, embroidery hoops can easily be hung on the wall like a picture frame.
21. Crinkled Paper Apples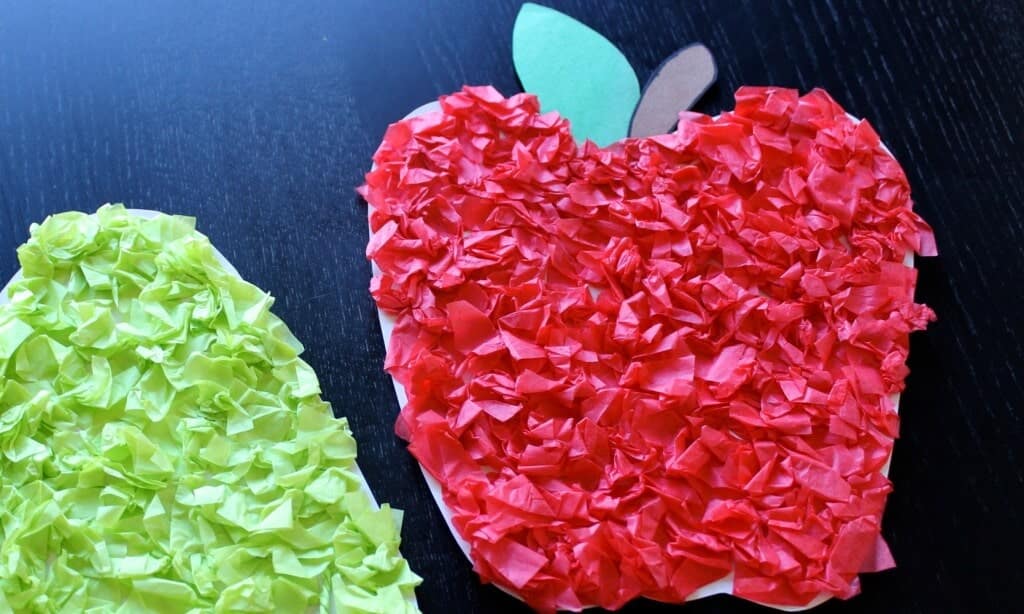 Image source: Messes to Memories
Tissue paper is a handy craft supply to keep in a variety of colors. For these paper apples, you'll need red and green. Messes to Memories came up with this craft idea for a group of three-year-olds. They enjoyed crinkling the tissue paper pieces into small bits to glue onto a cardboard apple. It would be a fun motor skills activity for a toddler group too. After you make your apples, display them on the refrigerator.
22. Woven Yarn Apples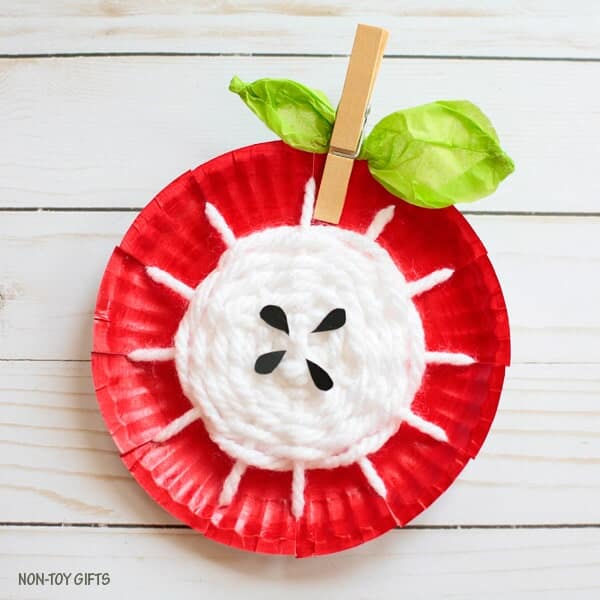 Image source: Non-Toy Gifts
Yarn and paper plates make a great introduction to weaving. Once your child understands the technique, they'll enjoy making all kinds of designs. This one from Non-Toy Gifts is a bright red apple with a white yarn core. The weaving can be done using a big plastic yarn needle or by hand. The clothespin stem holds tissue paper leaves in place. For a variation, make your apple green or use orange to make a pumpkin.
23. Mini Tissue Paper Apples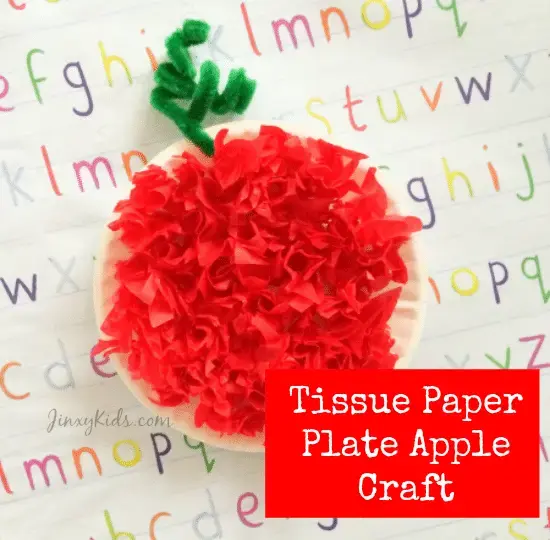 Image source: Jinxy Kids
For this fun idea from Jinxy Kids, use smaller dessert plates as the base for your tissue paper apples. The smaller plates will make your craft faster to do and use up fewer supplies. The end result will be just as cute, though. You could even double up and make two apples, then attach them back to back for a three-dimensional version. Rather than using more tissue paper for the leaves, this one includes a curly stem and leaves from a pipe cleaner.
24. Simple Felt Apple Decorations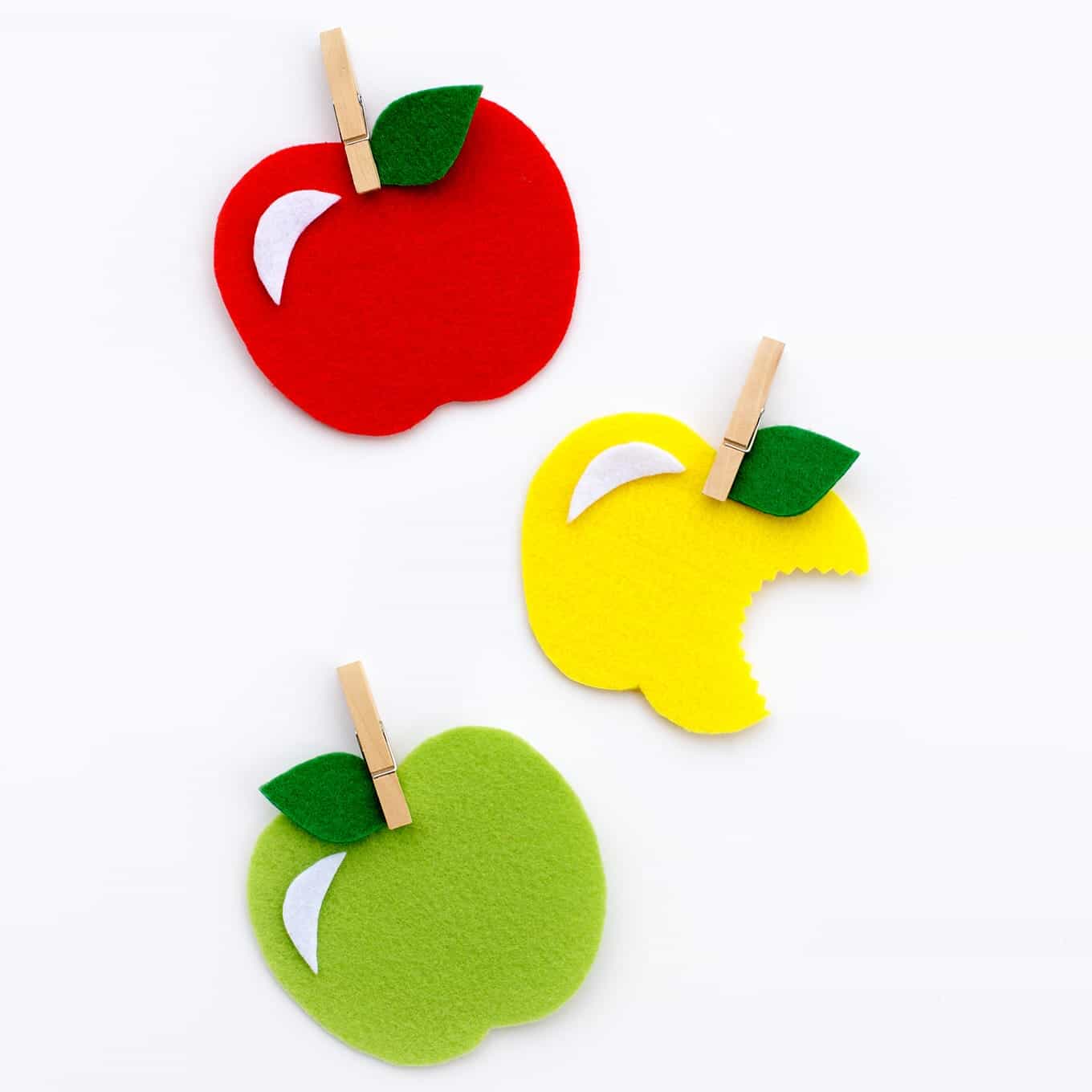 Image source: Fireflies and Mudpies
Make these felt apples and use them for all types of decorations. Hang them on a string to make a fall garland, add magnets to the back to stick them on the refrigerator, or clip one on a gift as the tag. Download the templates from Fireflies and Mudpies. You'll also need felt in a few colors, mini clothespins, and a few basic craft supplies. You can purchase felt that's already stiffened or use starch to do it yourself.
25. Apple Stamping Art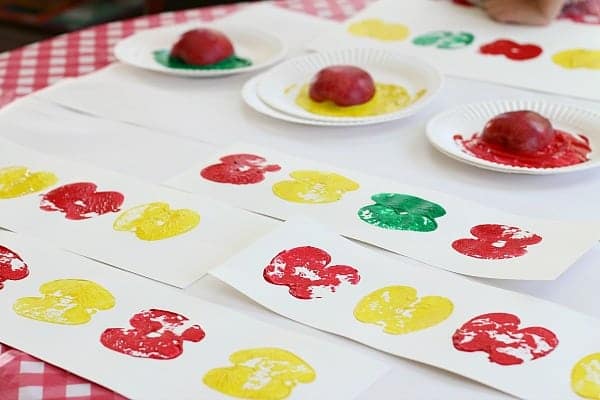 Image source: Buggy and Buddy
If you've ever used a potato to make a stamp for painting, you'll find this apple stamping idea from Buggy and Buddy to be similar. The apples are cut in half and dipped in paint. Set up an art station with paper and paint in a few colors so your child can get a bit messy. Let them create patterns or practice counting. Once your paint is completely dry, the apples and background paper can be decorated. Add a stem and leaves, or let your child practice writing.
26. Apple Button Collage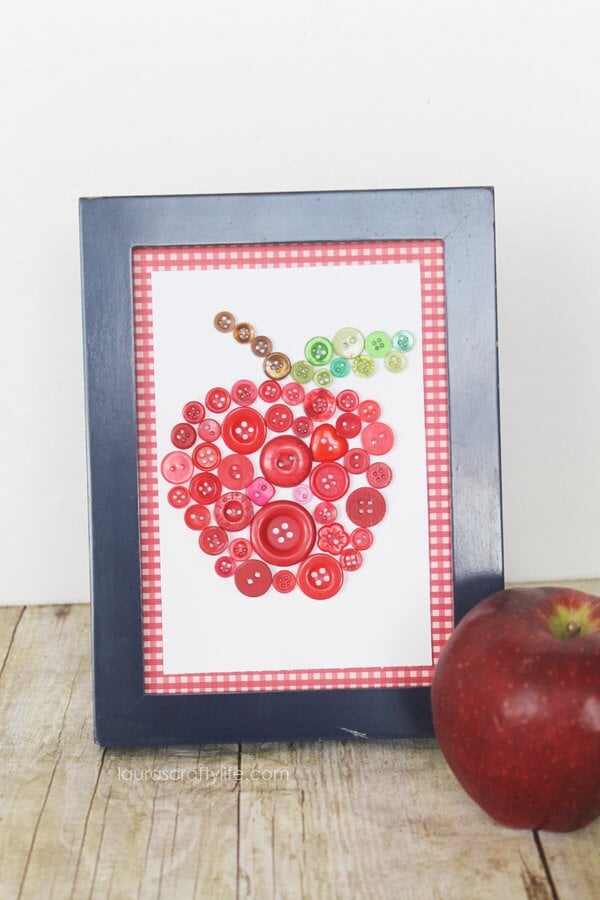 Image source: Laura's Crafty Life
Make this pretty apple button collage to frame and hang as wall art or to adorn the front of a greeting card. Get the apple template from Laura's Crafty Life and scale it to any size before printing. You can use a mix of odd buttons or purchase them in bulk. Carefully glue buttons on the template. You may want to lay out your buttons before gluing them down to ensure you don't leave too much white space.
27. Clay Apple Bowls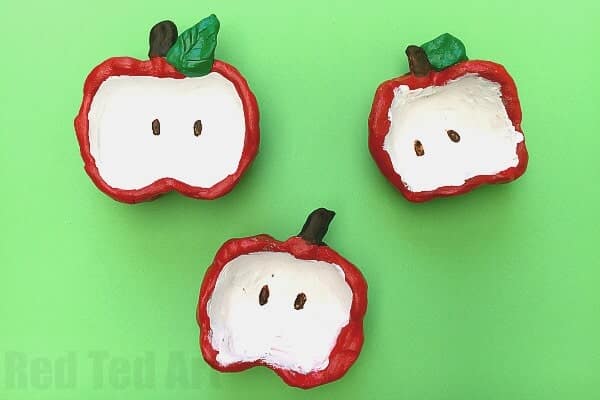 Image source: Red Ted Art
Red Ted Art shares an idea for precious little apple bowls made from air-dry clay. This would make a thoughtful gift for not only a teacher but anyone who loves apples. Air-dry clay is shaped by hand and left to harden over a few days. When it's completely dry, you can paint it any color. Enamel paint will give it a shiny, smooth finish while acrylic will turn out more natural looking.
28. Pom Pom Apple Trees
Image source: Play Trains
Pom pom apple trees look a bit like something out of a Doctor Seuss story. These trees created by Play Trains are made from pipe cleaner and fluffy pom poms. She uses them as part of a play area where your child can pick the apples and other pom pom fruit from the tree and sort them into mini train cars. This would be a fun addition to a play set you already have. You could also use them as seasonal décor in the fall.
29. Round Paper Apples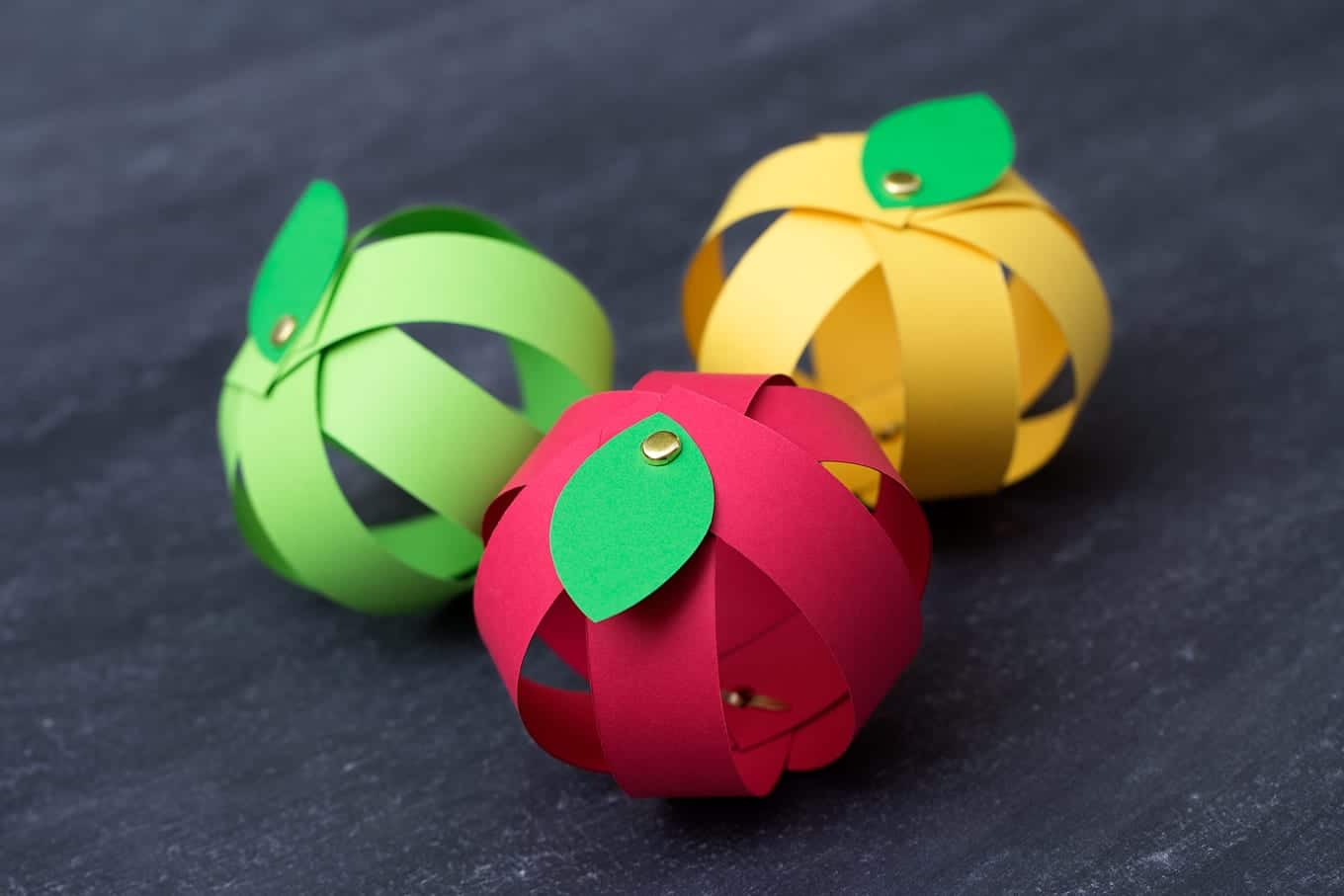 Image source: Fireflies and Mudpies
These paper apples are simple to make and the result is quite pretty. Put a bowl of them on a table for a centerpiece, hang them up as ornaments, or gift them away. Download the printable templates from Fireflies and Mudpies. You can print them directly onto colored paper and then simply cut and assemble the apples. If you don't have red, green, and yellow paper, print them onto white an let the kids color them.
30. Bubble Wrap Stamped Apples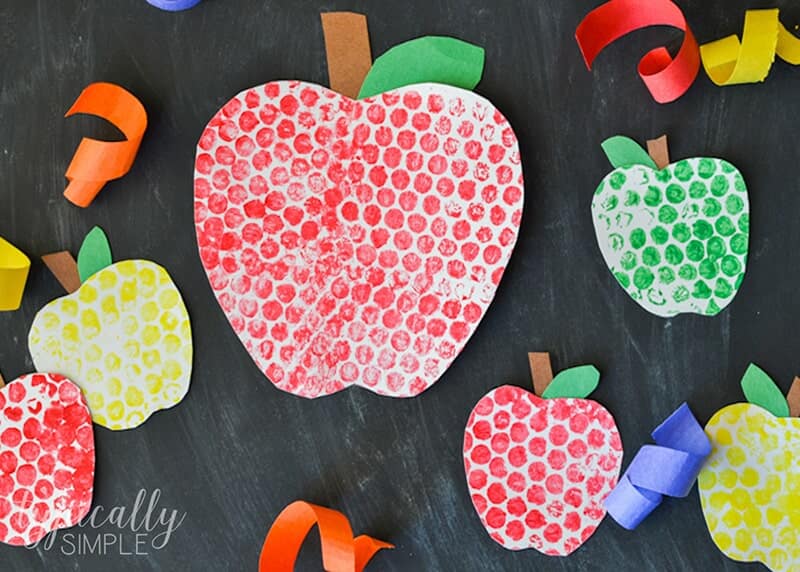 Image source: Typically Simple
There's something about bubble wrap that kids adore. The crinkling and popping are fun, but if you have some unpopped wrap left, try this art activity from Typically Simple. To use the bubble wrap as a stamp, brush the paint onto the bubble wrap and then press it onto paper. It helps to cut it into smaller pieces so it's easier to handle. After the paint dries, cut the paper into apple shapes.
31. Scrap Yarn Apples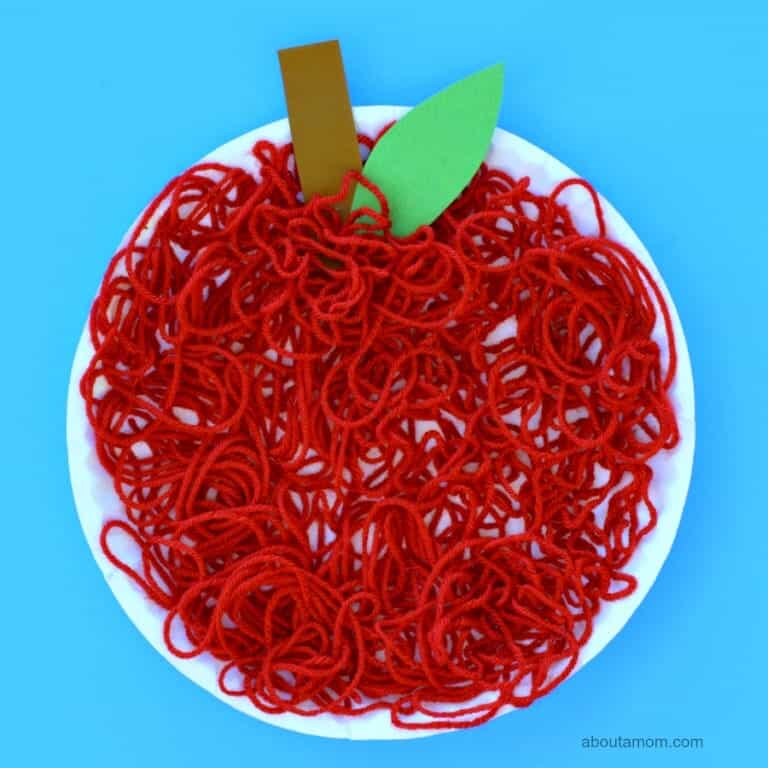 Image source: About a Mom
Use leftover red yarn from another craft project to make these yarn apples at About a Mom. This craft is easy to prep because it doesn't require specific amounts of yarn and paper, so you can use what you have on hand. Let your child cut the yarn into longer or shorter pieces and glue them onto the plate. Cutting yarn is good motor skills practice, but younger kids may need help.
32. Fluffy Pom Pom Apple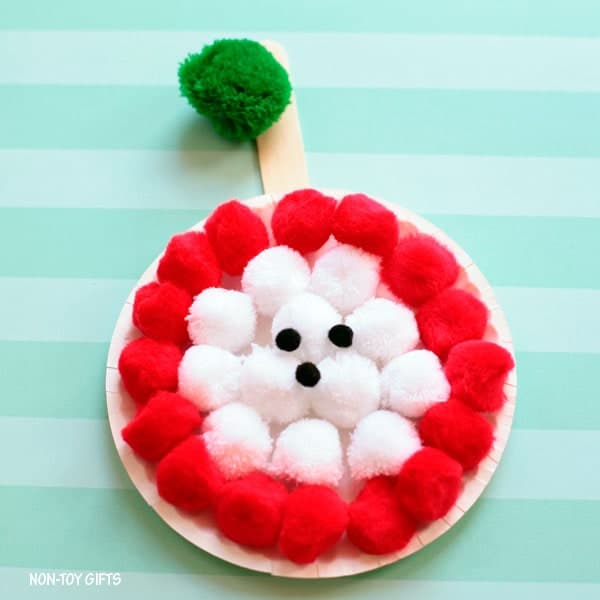 Image source: Non-Toy Gifts
Choose pom poms in multiple sizes to make this cute little apple at Non-Toy Gifts. The red and white layers are medium-sized pieces, while the leaf is a larger one and the seeds are smaller ones. This is an easy gluing activity that you can set up and let your child work on independently. The soft texture of the pom poms is great for sensory play too! Pom poms can be found in bulk on Amazon at great deals or at pretty much any local crafting supply store.