If your kids are into fashion design and they've got Project Runway on demand, then it's definitely time they had their very own sewing machine to get those creative juices flowing. But before you let them talk you into that cute, hot pink sewing machine they've seen on TV, you need to understand that not all sewing machines for kids are created equal. Even if it looks the part and hums and whirs, it doesn't necessarily mean it's the right sewing machine for your child.
Choosing the right sewing machine can help foster a lifelong hobby in your child and offer amazing benefits for children, such as improved hand eye coordination, fine motor skills, creativity, and problem solving skills.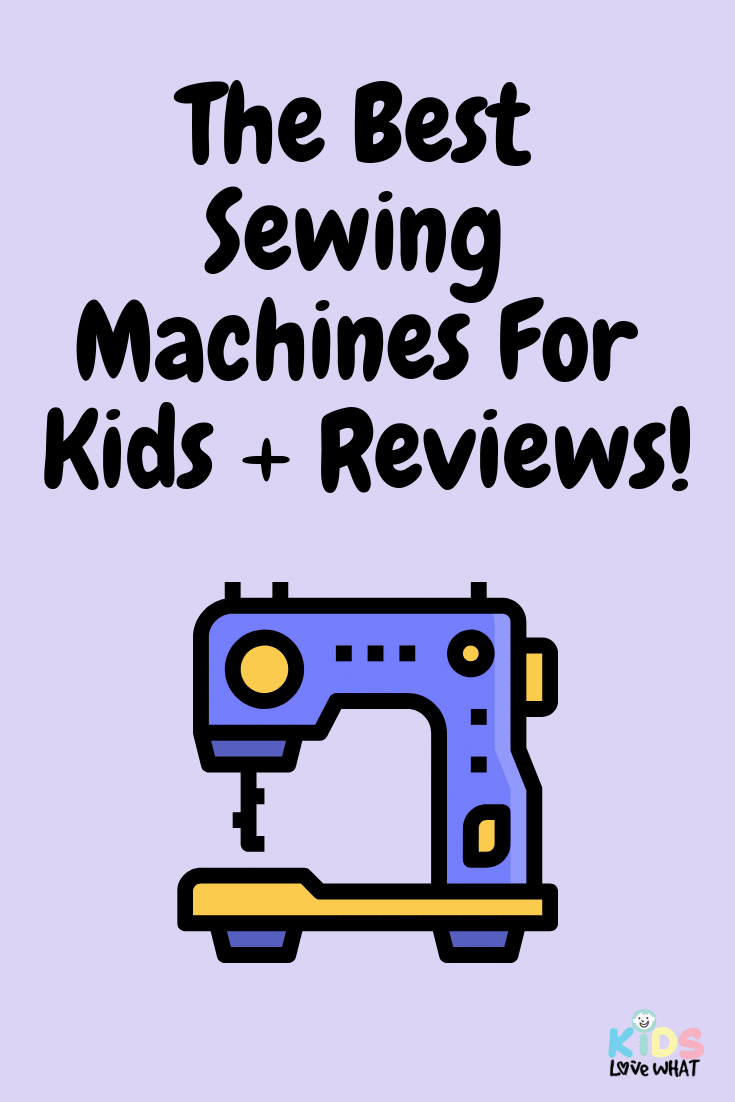 So, if you're searching for a bona fide sewing machine with all the bells and whistles for your budding fashionista, search no further because this buying guide will help you understand the in's and out's of sewing machines for kids and deliver great recommendations for every taste and budget.


Top 3 Recommended Sewing Machines For Kids
So, once you've narrowed down your list to include the options and features most appropriate for your child based on his/her age and skill level, you're ready to go shopping. Based on our three key factors of authenticity, safety, and ease of use, we recommend the following three top picks for your child's first sewing machine.

This is the sewing machine little girls dream about. The machine that will inspire her to be the next Coco Chanel. Designed for little fingers and little hands, the Janome Pink Sorbet Sewing Machine has everything a beginner needs plus a huge list of extra features to turn every girl's visions into a reality.
With features that include an incredible 15 built-in stitches in the most popular styles (including straight, zigzag, satin, blind hem, and scallop, among many others), adjustable stitch length and zigzag width, a four-step buttonhole, a front-loading bobbin system with loading guide, this sewing machine is a heavy duty apparatus all dressed up for a tea party.
Its interior metal frame includes a 3-piece feed dog system for feeding fabrics with ease, dual retractable spool pins with adjustable thread tension, and four presser feet (including a general, zipper, blind hemming, and sliding buttonhole feet) with accessories. Beyond all this, the Janome has a large throat area and can sew a maximum 4mm x 5mm stitch length and width, which makes this machine versatile enough to accommodate sewing everything from simple fashion pieces to major projects like quilt making.
On top of all these great features, the Janome is available in three fun colors that pop, including pink sorbet (as delectable looking as it sounds), crystal (think seafoam green), couture (think periwinkle blue).
What We Love
Its look – girls will immediately fall in love with its aesthetics and cute colors
It's so easy to use! Comes with Quick Start Guide, Tutorial Videos and Built-in Bobbin Instructions and Diagram right on the machine
15 of the most popular and trendy built-in stitches to give you amazing range for designs
It's fast – the max sewing speed on the Janome is 800 stitches per minute
LED sewing space light for great visibility
Comes with an incredible 25-year limited warranty
Removable Free Arm Attachment, which makes it super easy to hem or sew small openings, such as cuffs, pant legs, and sleeves)
What We Don't
The price – the Janome is more expensive than many sewing machines for beginners, due to the extra features and accessories
The Janome doesn't include a thread cutter, which can make it inconvenient to have to stop while sewing to snip threads with scissors
The machine has a front-loading bobbin, which makes it harder to use, especially for beginners or young children
The Janome doesn't come with a cover or storage carrying case

With the Singer Start 1304, you're not only getting a great beginner's sewing machine, but you're getting an industry name you can trust. Recognized globally as one of the leading brands in sewing machines, you can rest assured knowing you're choosing a product that's high quality and built to last.
Simplicity is the theme with this Singer 1304. While the Singer Start 1304 has only 6 built in stitches in the most basic styles (straight, zigzag, satin, blind hem, scallop, and 4 step buttonhole) and a preset 5-millimeter stitch width and length, the uncomplicated nature of its features is what makes this machine so easy to use and a favorite for true beginners or hobbyists. You can literally pull this sewing machine out of the box and get started stitching with a simple turn of a dial.
The Singer is also one of the most affordable beginner models, making it a great choice for a child's first sewing machine. Equipped with all the standard features like dual spool pins, three presser feet (all purpose, zipper, and buttonhole feet), automatic bobbin system, and adjustable tension settings. It also features a stainless-steel bed plate to ensure fabric can be fed in smoothly and will not snag or jam. Set in a heavy-duty metal frame that's designed to give children the stability they need as they sew, the Singer is built to last. But just in case it doesn't, the Singer also comes with a 25-year limited warranty.
The Singer 1304 is also lightweight at just 11.5 pounds, which makes it great for those looking for a portable option that a child can carry and makes it easy to store away.
What We Love
It's super easy to use – simple stitch selection and preset stitch settings makes it less intimidating than many beginner machines
Its price – this is a very budget friendly sewing machine
It's portable – it's light enough to carry around and doesn't take up much space
Comes with 3 extra bobbins and 3 extra needles that fit into a handy storage compartment space
Its 25-year limited warranty
What We Don't
The Singer is relatively slow, with a maximum speed of 350 – 400 stitches per minute
It's pretty much a no-frills sewing machine – from functionality to aesthetics, it's the most basic machine on our list
It has only 6 built-in stitches, giving you very limited options on what you can sew
It doesn't have a needle threader, which can be handy, especially for children

From the makers at Brother comes the robust XM2701 Lightweight Sewing Machine and a favorite for both beginners and kids with advanced skills, as it delivers a sweeping range of features in very easy, user-friendly way. Winner of the 2018 Women's Choice Award as the 9 Out of 10 Customer Recommended Sewing Machine, this sewing machine is an extremely popular choice for good reason.
Everything other sewing machines can do, the Brother XM2701 can do better. Featuring 27 built-in stitches, more than any of the competitors in its class, the options for designs are truly endless. Rather than a 4-step buttonhole like most other machines, the Brother XM2701 features a one-step, automatic buttonholer which delivers near perfect buttonholes every time.
The sewing feet on this machine come with 6 different options (not the standard 3), including the zipper, zigzag, blind stitch and buttonhole, but goes even further by giving you a narrow hemmer and button feet too. It also includes a quick set drop-in bobbin with an automatic winding system and a free arm feature for easy sewing of cuffs and small openings as well as hemming.
The Brother XM2701 is also lightweight, weighing in at just 12.6 pounds, making it perfect for kids to move and carry around as needed. Kids will feel the power and possibility of this machine as they execute any number of sewing projects, from decorative sewing to quilting to major fashion design sewing.
What We Love
27 built-in stitches, giving you amazing options and versatility in your sewing projects
Its 1 Step, Automated Buttonholer makes it much faster to sewing a button than other machines in its class
The price – this machine is very affordable and budget friendly, especially considering the sheer number options and features included
It's incredibly fast and it can produce 800 stitches per minute
Cute, purple floral pattern to add a subtle touch of femininity to the machine
It has an automatic threader, which makes threading simple and stress free on your eyes
LED light to make working in any area a breeze
Awesome Customer Support with an instructional DVD, user manual, and free technical support for the lifetime of the machine
Comes with a 25-Year Limited Warranty
What We Don't
It doesn't come with a carry case or cover, and the carry handle is rather flimsy
The foot pedal is plastic, not metal, which makes it slip and slide and awkward to use
Honorable Mentions
In addition to our top picks above, the following sewing machines deserve an honorable mention as affordable, simplistic alternatives for kids who are just beginning to express an interest in fashion and want a basic machine to match.

Our final honorable mention goes to the Cool Maker Sew N'Style Sewing Machine, which is an awesome sewing machine toy for young girls who are just starting to dabble in fashion. With its cute aesthetics and cool blue finish, it's hard not to crush on this super cute machine.
Designed with safety in mind, the Cool Maker Sew N'Style features a needle with a full protective guard around it, so your child can sew without worry. While it looks and feels like a real sewing machine, Cool Maker has taken all of the complicated processes out like stitch selection and presser feet to keep things very simple for children who just want to have fun creating fashion.
The Sew N'Style includes everything your kids will need to get started, including sparkly fabrics, pop-out patterns and pre-cut projects, and spools of string, ribbon and yarn to be able to create a colorful, plush unicorn, a glitter pouch, and other cute accessories. It even comes with a pom-pom maker attachment that enables kids to make their own pom-poms to attach to designs and a cute, little storage drawer to keep all the supplies stored neatly.
We should mention that the Cool Maker Sew N'Style is not an actual sewing machine, but an easy and safe alternative "felting machine" that can make some nifty designs and crafts. To this end, the Sew N'Style can only be used with felt fabric and is battery operated (requires 4 AA batteries).
What We Love
The glamorous look of this sewing machine will inspire your little girl to spend hours crafting and styling
The Sew N'Style comes complete with all fabrics, patterns and accessories
Its budget-friendly price makes it an attractive choice for parents
Pre-cut projects are easy to complete and appealing for girls, including a unicorn, glitter pouch, hair tie, and other accessories
A cute, storage drawer is convenient for packing away all supplies
Yarn/threads are not necessary with felt sewing, as the fabric sticks together easily with no fuss or hassle
What We Don't
This is not an actual sewing machine. While it creates cool projects for kids, it's really a felting machine because it cannot sew stitches, the fabric only sticks together.
You can't use this machine with fabrics other than felt.
Once your kids are done with the crafts included, you can't do anything else with the machine unless you buy more felt
The Sew N'Style does not come with any type of warranty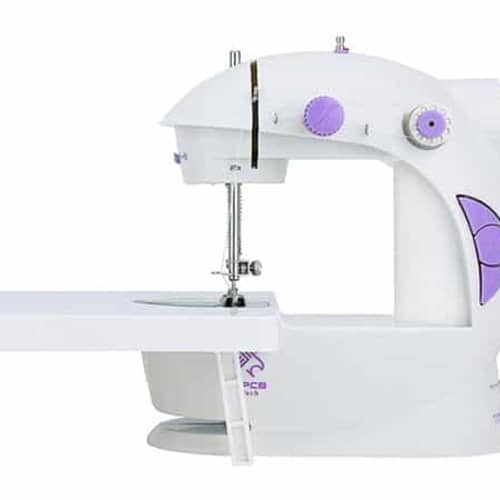 The Varmax Mini Sewing Machine is another great option and honorable mention for those on a budget and for kids who would like to give sewing a try without a major commitment. Weighing in at a mere 3 pounds, this is the perfect machine for tiny hands and tiny fingers, however parents should note this is a "mini" sewing machine and doesn't offer the same functionality as a full-size machine.
With a shiny, modern look and cute purple accents, kids will be attracted to its mini size and aesthetics. Small enough to tuck into any storage closet, nook, or cranny and light enough to carry, children will feel at ease working with this machine, which is sized just right for small children.
Although because of its light weight and tiny size, the Varmax Mini Sewing Machine is not the sturdiest of choices. In order to offset its size, the Varmax comes with a built-in extension table, which not only gives you more room to manage your fabric but helps to add the much-needed stability to the machine and prevent it from movement or tipping over.
The features are also quite basic, including a high speed and low speed control, mini thread cutter, a basic winding bobbin, one built-in stitch (standard straight line), one-foot pedal, and a built-in lamp.
The Varmax can be run by both an AC adapter and batteries, which makes this sewing machine convenient and easily transportable.
What We Love
Its affordable price, which makes it a perfect trial sewing machine for kids
Its lightweight (just 3 pounds!) and easy for children to carry around and small enough to store in small spaces
It's cute aesthetics and mini size will appeal to children
The Varmax Mini can run on both an AC adapter and batteries
It comes with a one-year warranty and after-sales service
What We Don't
The Varmax Mini Sewing Machine comes with just one built-in stitch, which puts great limitations on the type of designs and projects kids can create
Despite the extension table, the Varmax is not the most durable machine and can be prone to move or tip if heavy fabric or too much weight is applied
The Varmax has no reverse function
Varmax is a newer brand, so buyers should be aware that product reliability and customer service may not be as easy as the more popular, leading brands

If you're looking for a budget-friendly choice with just enough options to get a young child or beginner started, the Michley LSS-505 is a great option to choose. What this sewing machine lacks in aesthetics and advanced features, it makes up for in affordability and ease of use.
Featuring 8 built-in stitch options (including straight, zigzag, blind hem, and scallop stitch) and 2 speed settings (forward and reverse), it's fairly straightforward and simple to get started using the accompanying Quick Start guide or the instructional video on the Michley website. The Michley LSS-505 features an automatic thread rewind function, two spools, two bobbins and a basic foot pedal system, which is everything your child needs for basic sewing projects.
As the Michley is a mechanical machine rather than computerized, general operation is made very simple with on/off buttons and a simple manual dial to switch between stitch options. The Michley also has a free arm feature, which makes sewing small openings and hems quite easy, and its 3-piece feed dog makes feeding fabric into the machine easy and hassle free.
Beyond the affordable price, the Michley is a great choice if you're looking for a lightweight, portable sewing machine. Measuring just 10.8 x 4.8 x10.2 inches and weighing just 5.3 pounds, this machine is super easy for a child to carry around the house or transport to sewing class or special events for quick hemming and repairs.
What We Love
The price – the Michley is one of the most affordable sew machines available for kids
It's lightweight, which makes it easy for a child to transport or carry around
It's got a twin needle capacity, which makes it easy to create sturdy double stitches
The Michley can be controlled by either the foot pedal or a switch on the machine, making it very easy for young children to operate
What We Don't
This is a very basic, no frills sewing machine with very limited options and a simple, white aesthetic design
The Michley has no buttonhole function, which puts a huge limitation on the types of crafts or projects you can do
You can't adjust the stitch lengths
You can't use this machine with heavy fabrics as it can only accommodate light to medium weight materials (less than 3mm)
This machine comes with only one sewing presser foot, which is fairly small and flimsy
The bobbin threader is plastic and easily breakable
Sewing Machine Must Have's
With hundreds of sewing machines for kids on the market today, it can be daunting to determine which machine is right for your child. And unless you're a sewing expert yourself, it's easy to feel a little lost reading about bobbins, blind hems, and removable arms and feet (belonging to the machine, not your children).
So, what do you actually need to consider most when buying a sewing machine for your kids? What features are "must haves" and matter most? It's quite simple really, and can be summed up as:
Authentic Features
Hot pink and sparkly plastic may look adorable, but it won't be so appealing when your kid presses down on the sewing foot and hears the crack of cheap plastic under their foot. That's why we recommend choosing a kid's sewing machine with durable parts that function as close to a real sewing machine as possible.
Heavy duty metal frames are best the machine should produce good quality, high speed stitching. Ideally sewing feet should be made of metal, but if they are made from plastic, they should be good quality, so feet snap securely into place and stay in place without slipping or sliding.
Safety Features
Little hands and fingers must be safeguarded at all times while sewing, and with all of the moving parts of a sewing machine, knowing what to look for is critical. Understanding how to be safe while operating a sewing machine will ensure you know what to watch for as you supervise your children, but also understanding which machine parts present risks is just as important.
Sewing feet present the first safety concern, depending if they snap on/off or screw on in a durable way. If you choose a model with snap on/off feet, know that they can easily trap or pinch little fingers if they are not careful.
Feeding the fabric into the machine is another area of concern, so choosing a machine that won't snag fabric easily and won't jam, especially for beginners and young children, will be helpful. Machines with a removable free arm attachment and large throat area will ensure little hands stay away from the needle, especially when hemming or sewing tiny openings.
Ease of Use
As sophisticated as their fashion taste may be, your kids are still kids after all so finding a sewing machine that is simple and easy to use is essential. Especially if your child is a beginner, it's best if you select a sewing machine with kid-friendly features like automatic threading, push button feet, and preset stitch settings, as these machines will be quite simple to operate. Most machines come with user guides on DVD or can be found on the manufacturer's website/YouTube channel, and even come with sewing patterns and designs to make crafting easy.
How To Compare Sewing Machines For Kids
Now that you know what features you can't compromise on, let's have a look at the main functions that truly differentiate one sewing machine from another. While sewing machines can be vastly complicated with so many moving parts, understanding the basics yourself can help you choose the right machine for your child.
Aesthetics
Let's face it. If your kids are into fashion, then appearances are super important and can be a huge incentive for children to stick with this time-consuming hobby. Available with embellishments, popular characters like Hello Kitty, and in every shade of the rainbow, sewing machines for kids can reel your kids in at a glance and motivate them to spend hours whirring away at these machines. But however tempting it may be buy based on aesthetics alone, try to find middle ground with your child and choose a machine that's both cute and has great functionality to match.
Sewing Feet
Sewing machine feet come either in pedal or push-button form and can be made from plastic or metal. Which type is better really depends on how comfortable your child will be (and how adept they are at multitasking) to be able to press down on a foot pedal while feeding fabric through the machine. If you think your child's too young to do both at once, it's probably better to go for the push button version. However regardless of the activation mode, make sure the feet securely snap in place or screw on to ensure safety.
Stitching Speed
Your sewing machine may have all the right features, but if it stitches at a snail's pace your child will lose interest in his/her project rather quickly. Stitching speed varies per machine but can range anywhere from 400 stitches per minute to 800 stitches per minute. Generally, the push button models will give a child greater control over the speed, as they may not be strong enough to consistently push the foot pedal to maintain speed.
Built-In Stitch Options
Sewing machines for kids can include anywhere between 4 – 25+ built-in stitching styles, however more is not always better in every case. If your child is a beginner, 4 – 6 stitch options are more than enough, and usually include the most popular stitches such as straight, zigzag, straight, reverse, and blind hem. Some machines even offer preset stitch settings with a fixed length and width to make stitching super easy. For more advanced kids, machines with greater stitch options in trendy styles will definitely be more appealing.
Bobbin Winding
A bobbin is the spindle or cylinder on which the thread or yarn will wind around. Whether the bobbin is front-loading or drop-in, try to ensure its simple for kids to install into the slot and wind up, or better yet, choose a machine with an automatic winding bobbin for even better ease of use.
Needle Threading
One of the most complicated aspects of a sewing machine for kids is needle threading. Therefore, if you can find a machine with an automatic threader, we say go for it and save yourself and your child the frustration of trying to thread the needle manually. However, for older children with more advanced skills, threading manually should be fine and most machines come with user friendly diagrams that can help.
Frequently Asked Questions (F.A.Q)
Q: What age can a child start using a sewing machine?
A: While there isn't a hard and fast rule, sewing teachers and experts recommend that a child is at least 6 years old before using a kid's sewing machine with supervision. Children may begin a little younger, but children between 6 -8 years old can follow basic instructions, handle the delicate parts of the sewing machine with care, and exercise the patience that's needed to learn the craft.
Q: Does the brand matter when buying a sewing machine for kids?
A: While there are many excellent sewing machines from big name brands as well as smaller, lesser known brands, choosing a trusted global brand (such as Singer or Brother) gives you the added advantage of high-quality materials and manufacturing. In addition, brands will stand by their products and usually offer a 25-year limited warranty on parts.
Q: What are the benefits of children learning to sew?
A: Studies have shown that children who learn to sew gain both mental and physical health benefits, such as improved concentration, problem solving skills, creativity, hand-eye coordination, and fine motor skills. Children gain valuable skills such as following instructions, color coordination, creative thinking, patience, and perseverance.
Q: What are the safety concerns with sewing machines for kids?
A: The most common safety concerns arise with machine parts made with poor or cheap quality, which can cause a number of accidents. Plastic sewing foot pedals can become loose if not attached properly or can easily trap or pinch a child's fingers while attaching or detaching. Poorly made fabric feeders can snag or jam and potentially catch a child's fingers in the process.
Selecting machines with high quality parts created with safety in mind, such as a removable free arm attachment or large throat area will ensure little hands stay safe at all times.
The Verdict
Whether you ultimately select the Singer Start 1304 or the Brother XM2701 for its robust options and functionality, or go for the luxe Janome sewing machine in pink sorbet or seafoam green for your little fashionista, any of our top picks are sure to get your child's creative juices flowing and set them well on their way to achieving their fashion-filled dreams.