Move over, Furby. The next generation of lovable pet toys is here, and it is looking to redefine the way that children play with their toys.
Made by the Canadian toy company Spin Master, Hatchimals are unique animal hybrids that have come to win your child's heart. But the real fun of Hatchimals is the care and attention it takes to make them come out of their shell … an exciting hatching process that will only strengthen the bond between your child and their new companion.
Anyone who wanders into the Hatchimals kingdom for the first time is likely to be a bit overwhelmed. The collectible nature of the multiple Hatchimals series of toys has led to dozens and dozens of different varieties to appear, making the choosing of one feel like a bigger task than it needs to be.
To get everyone ready for the holiday season, we're counting down a few of our favorite Hatchimals of the year, as well as sharing a few things that we learned along the way.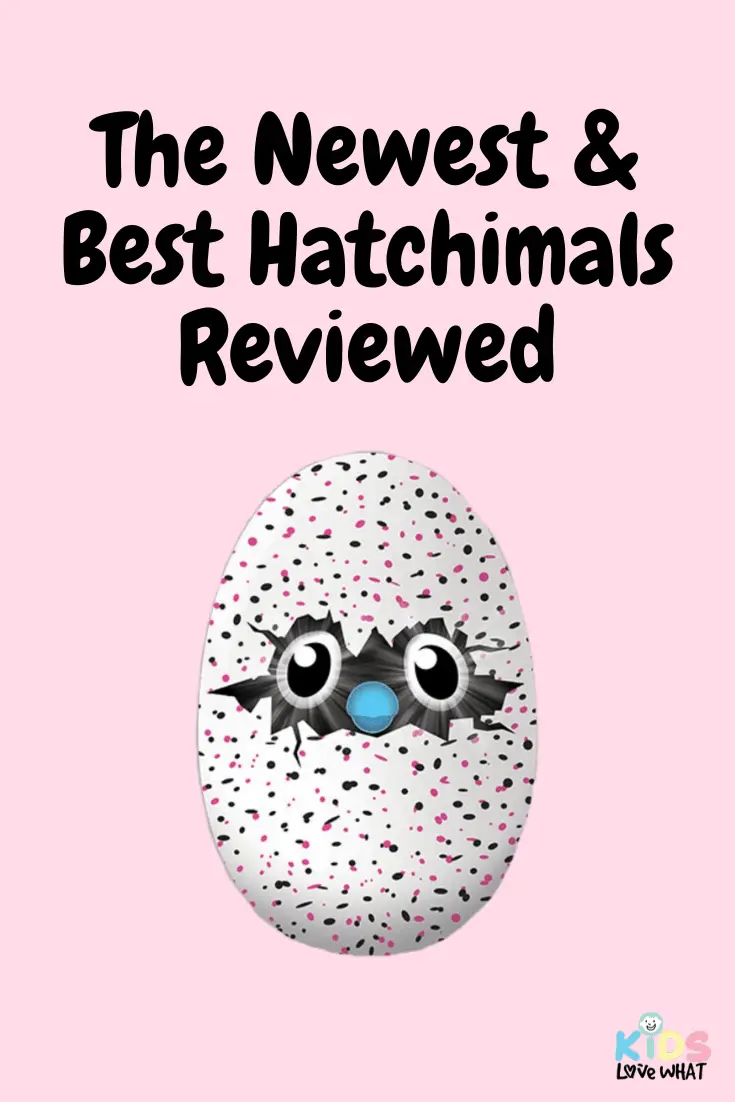 Sometimes, one new animal companion simply isn't enough! This amazing Hatchimals 12-pack comes in a stylish purple egg carton, filled with sparkly heart-printed eggs that can be 'cracked' open to reveal one of 12 unique animal figurines. Whether you are getting all twelve for one special child or are looking to make your kid's next birthday party extra special. The 12-pack egg carton is one of the best bang-for-your-buck values in the entire Hatchimal kingdom. They also are a great way to make your next Easter Egg Hunt even more memorable! To hatch, simply rub the purple heart until it turns pink, then press lightly and the shell will open up to reveal your child's new friend.
You might not know if there is a boy or a girl inside that brilliantly sparkling egg, but what you do know is that no matter what your kid will be hatching a whole lot of fun. This super-soft plush toy is designed to stimulate the parenting instincts in any child by providing a cute baby animal that needs a lot of TLC in order to stay healthy and happy. That's why this set comes with everything needed to raise a Hatchimal baby, including toys, a brush, a bottle, and a rose-shaped sucker. Every Chipadee baby has a wide array of built-in sounds, emotions, and reactions, not to mention a secret trick that is unique to every one!
Without a doubt, the best part about Hatchimals is that there are so many of them. This "Season 2" Egg Carton Set features an entirely new lineup of animal figurines to satisfy your child's desire to grow their animal kingdom. It works just as well for the Hatchimals First Timer who wants to get a big head-start on their collection, or as goodie-bag gifts for the next birthday party or family gathering. Hatching a Hatchimal is as easy as giving it some tender love, and once the shell is off, the bottom part remains as a cozy nest and display stand … the perfect way to show off your collection!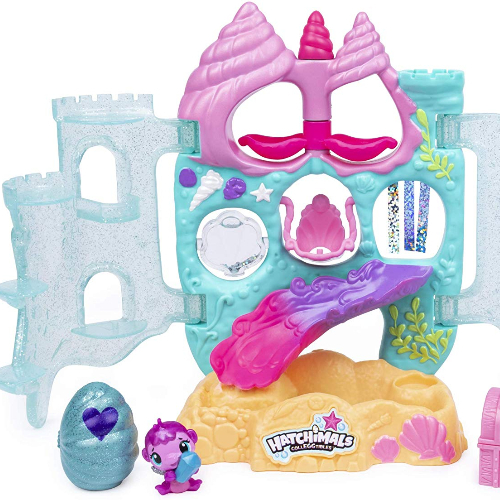 Within the Hatchimal kingdom there are a wide range of animal companions that live underwater like seahorses, dolphins, and adorable clams. Give these aquatic friends a fitting place to play with the Coral Castle Playset, one of the brightest and most sparkly Hatchimal playsets that we have ever seen. Your kid can join their beloved Hatchimal as they pass through a glitter waterfall to reach a curvy slide that leads right into the mermaid pool. Included is two exclusive CollEGGtible Hatchimal figurines, including one mystery egg that is different with every playset. But the coolest thing is the magical mermaid pool, which can change the color of certain Hatchimal figurines when it is filled with warm water.
Sometimes it is the suspense of not knowing what kind of companion you will be bringing home that really makes kids excited, not to mention pleasantly surprised on Christmas morning! This mystery Hatchimal egg can contain one of 4 different styles of furry Hatchimals, though don't ask us what kind of animals they are! These soft, small, and brightly colored plush toys are great for all ages, from infant to the grown-up kid-at-heart. Once the Hatchimal comes out of its egg and is setup with a few batteries, it will get right to work trying to enchant your child with its quirky personality. It can even learn your kid's name!
Not every Hatchimal is an animal! These miniature 2.5" figurines are Pixies, which any kid will know is even cooler than an animal in many ways. Not only are these little winged beauties full of magic and excitement, but they also come with a collection of mystery accessories that are different with every figure. Once hatched, the egg base doubles as a luxurious bed / display stand that your kid can use to show off their Pixies with pride and style. This 2-pack features two unique Pixie Hatchimals from a total available set of eight. Whether your child is a collector or just an admirer, the Pixie Hatchimals are one of the most exciting new additions to the lineup.
As any dedicated Hatchimals collector will know, the Royal series of Hatchimal animals is one of the most highly prized and sought after toy collections on the market today. This special edition collection features 12 different animal companions, each inside of their own royally-inspired egg. By rubbing the royal purple heart until it turns pink, kids can prepare the egg for hatching and finally crack the shell to reveal their new best friend. Great for Easter egg hunts and birthday parties alike, this is one of the best ways to kick-start any Hatchimals collection.
Anyone who has wandered more than a  few steps into the magical Hatchimals kingdom might know how much adventure, excitement, and mystery lies within the limited edition Fabula Forest series of animal companions. These colorful speckled eggs will hatch Tigrette, an adorable flying owl-type creature with super-soft fur and adorable puppy dog eyes. Press down on Tigrette's head and say you name … Tigrette will not only learn it, but use it in conversation and during playtime! Lots of pre-loaded games, movements, and sounds really bring this little guy to life, ensuring that your kid won't be getting bored with him anytime soon.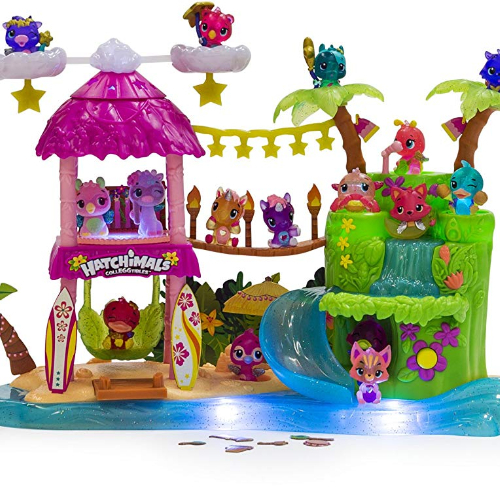 Everybody knows that no Hatchimal is going to be truly happy without an exciting place to play, and the Tropical Party Playset is just the ticket when it comes to that sort of thing. Featuring all the luxurious amenities of an island resort including palm trees, a tiki bridge, and a relaxing palapa, your kid and their Hatchimals will be able to enjoy their own island vacation any time they want. Also included in the box is two different exclusive Hatchimal figurines that will have any serious collector eager to rip into the box. Light up stages and twinkling stars are just a few of the special features that will dazzle any child.
One of the best thing that you get with any Hatchimal companion is a heck of a lot of personality, and Llalacorn is certainly no exception. Part llama and part unicorn, this remarkably unique magical creature will emerge from its egg to be your kids new best friend. With over 250 unique sounds, Llacorn has a lot of personality in a small package. Though it's not that small! This re-hatching animal toy can stretch to an amazing 32 inches in height, taller than any other friend in the Hatchimal kingdom. Every time she wakes up you can expect her to be in a different mood or personality, meaning that the fun isn't likely to end anytime soon.
Forget about training your dragon … the real first step is learning How to Hatch Your Dragon. Fortunately, with the Hatch & Train Toothless Dragon from Dreamworks Dragons it is as easy as it is exciting. Peek through the cracking shell to see Toothless' eyes glowing from within. Soon he will release an eager growl, which is a sure-fire sign that he is ready to come out of his shell to be your child's new dragon companion. After he is hatched, encourage him to learn new tricks like flying and plasma blast simply by playing with him long enough. Because dragons can work up a real appetite, be sure to keep the included fish snack close by to keep him happy!
The Ultimate 2023 Hatchimals Buyer's Guide
You might be wondering why a Buyer's Guide would be necessary for something as simple as an animal figurine. If that's the case, then you really don't understand Hatchimals! These are some of the most exciting and unique animal toys on the market, not only because of their trademark cuteness, but also because of the staggering variety in shape, style, and personality.
Whether they are 2 inches tall or 3 feet wide, Hatchimals come in all shapes and sizes and animal styles, ensuring that you will be able to find the perfect one for your child. What is more likely is that they will become a rabid collector, wanting to get as many new animal companions as possible.
Because of the wide array of styles, series, and features, we have decided to compile everything we learned about Hatchimals toys in the process of making this review with hopes that it might make your buying experience just a little bit easier.
At the end of it all, we're going to reveal a few of our Top Choice Picks for the best Hatchimals of the season, just in case you don't feel like making the decision yourself.
So What's The Deal With Hatchimals Anyway?
As an adult, there is a significant likelihood that you just "don't get it" when it comes to Hatchimals. Your kid is talking about them all the time, telling you about how all the kids on the playground are playing with these new hatching animals, but let's face it, you have no idea what they are talking about.
The idea behind Hatchimals is quite simple. The act of 'hatching' an animal companion is incredibly exciting for a kid, and because of the added effort and care, they usually become even more emotionally connected to their new friend.
While the original Hatchimals would emerge from their eggs all on their own, some of the newer miniature Hatchimals are designed to be hatched by the child after some brief rubbing & warming.
The Different Types of Hatchimals Toys
Hatchimals Originals
The Original Hatchimals Toys were released in 2016 by Spin Master and featured five different types of self-hatching animal companion, including Draggles, Owlicorns, Burtles, Bearakeets, and Pengualas. Not familiar with these animals? You're not alone. These fantastic make-believe animals are all the hybrid cross-over result of mixing two animals together, usually one with wings and one without.
For instance, the Owlicorn is the obvious result of combining an Owl and a Unicorn, two creatures that any kid can be excited about.
Hatchimals Surprise
The second generation of Hatchimals toys managed to build upon the already popular design of the original Hatchimal in several ways, but is still the same well-made interactive pet as the classic model in the ways where it really counts.
The first thing you will notice about Hatchimals Surprise is that you actually get two Hatchimals companions instead of just one. Known as the "tins", these two furry critters can interact with either each other or with your kid using advanced pre-programmed sounds and responses. Set them next one another and watch with joy as they communicate in their own unique way. Or, just like an original Hatchimal, hand it to your child and watch as they proceed to form a strong friendship with their new pal.
The types of animals that are available are also slightly different with the Surprise edition. In all there are six new varieties, including Zuffins, Peacats, Giravens, Deerioled, Ligulls, and Puppadees. You will have to figure out the genetics on your own!
Hatchimals CollEGGtibles
The newest series of Hatchimals is something quite different than their predecessors. These smaller, simpler collectible figurines do not feature any interactive or electronic elements, but they do come in their own miniature eggs that will need to be cared for before hatching. They also come in packs of twelve that are shaped just like an egg carton, which is a super-fun way to setup an Easter Egg hunt or to satisfy every child at the upcoming birthday party or family gathering.
The collectible nature of the CollEGGtibles series is perhaps the biggest selling point. With dozens of different figurines to choose from that alternate year by year, the quest to get every single one will be fun and ongoing, as opposed to some toys that can become boring for a child in as little as a few hours.
The actual egg cracking process is also a little bit different. Whereas the original Hatchimals would come out of their shell all on their own, the CollEGGtibles series is not self-hatching, meaning that it takes a little bit of pressure to break the shell and reveal the friendly creature inside.  A printed purple heart on the outside of the shell will change colors when warmth is applied, which encourages the child to 'incubate' the egg in their hands for a while before cracking them open.
CollEGGtible Play Sets
The small animal figurines that come in the 12-pack CollEGGtible series are going to need a place to play that is a bit more appropriately sized for the real world. That's why the creators of Hatchimals have created a series of interactive, electronic playsets that give your Hatchimals a place to dance, slide, chat, & sing.  Whether it is a beachside lounge or a magical underwater mermaid castle, these sets are bright, vivid, and exciting, three things that have proven to be important in just about any kids' toy.
The other cool thing about the CollEGGtibles Playsets is that they almost always include one or two exclusive Hatchimals figurines. For the dedicated Hatchimals collector, this means that the playsets are an absolute must. But any newcomer to Hatchimals will be able to start their collection with one of these sets because of the inclusion.
Hatchimals Pixies
Because not every Hatchimal has to be an animal, it is not possible for your little fairy princess to hatch her very own Pixie companion. With eggs and figurines that are larger than CollEGGtibles but smaller than Original Hatchimals, the Pixies series is a fun new way to explore the world of hatchable toys. Every Pixies series figurine also comes with three different secret accessories that are different with every egg, which makes them even more unique and collectible.
Hatchimals WOW
The newest line of Hatchimals creatures has been released, and although there is currently only one animal to choose from, we have high hopes for this new evolution of the Hatchimals brand. Llalacorn (see above for the review) is part llama, part unicorn, but that's not even the most remarkable thing about her. By utilizing an electronically activated telescoping neck, this Hatchimal can grow to up to 3 feet tall when she wants, shrinking back down again when she is feeling shy.
Hatchimals Accessories
The original Hatchimals come wearing nothing but their birthday fur, but thanks to some creative releases from the folks at Spin Masters (the toy-makers behind Hatchimals) it is not possible to get some new threads for your creature companion. Not only are clothes available, but there are also other accessories like hammocks, chairs, and hats that all come in their own jewel-encrusted hatchable egg.
Frequently Asked Questions (F.A.Q.)
Q: Aren't Hatchimals basically the same as Furbies?
A: While there are some obvious aesthetic similarities between Hatchimals and Furbies, they are not really the same thing. The better way to think of it is more like a Tomogotchi, one of those Japanese keychain pets that were insanely popular in the mid to late nineties.
Q: Can Hatchimal egg shells be reassembled?
A: Unfortunately, Hatchimal egg shells are designed to be hatched only once. The proprietary plastic material used for the eggs is designed to break just like the real thing, so unless you want to spend an entire afternoon with a bottle of glue, you are going to be out of luck.
The exception here is the WOW series of Hatchimal toys. Some of the animals in this series come with thicker plastic egg shells that can be re-assembled and re-hatched as often as you'd like, sometimes with surprising results!
Q: What are the egg shells made out of?
A: We can confirm that the unique Hatchimals egg shells are not made of any actual egg products, but instead utilize a plastic and calcium carbonate blend that comes quite close to emulating the real texture and feel of an egg.
Conclusion: The Best Hatchimals Animal Companion For Your Kid
Because there are dozens and dozens of Hatchimals to choose from, it is not really possible to make a decision as to which one is the absolute best. The real fun of Hatchimals is the suspense of not knowing what kind of new friend is going to emerge from that little plastic egg, but your kid knows that they are going to love it no matter what.
The real consideration when shopping for Hatchimals is whether you are looking for a deluxe toy for one child or a bunch of small toys for a number of children. This is the big difference between the Original Hatchimals series and the CollEGGtible series, but other than that, they both feature adorable animals that are sure to capture the love and attention of any boy or girl that is lucky enough to get one.