Before you know it, another year flies by, and you're planning yet another birthday party for your kid. By the time your daughter or son is nine, you might start wondering if you can come up with any original ideas to celebrate. After all, by 9, you might assume you've done every kid's party idea in the book, and you're likely running out of steam.
We get it. Planning a kid's party is no small feat. And when your child's nine, they likely have a lot of personal opinions about what their party should be like. Lucky for you, we've rounded up tons of different options for your 9-year-old's birthday bash.
You can go with a theme-based party if that's still your go-to. Or you can center the party around a specific activity, like bowling, swimming, or visiting a local museum. Ask your child their preferences, and let them participate in the planning process. You'll also find lots of great ideas for party favors, games, and food, so you can make this your one-stop shop for your party-planning needs.
Activity-Based Birthday Party Ideas For 9 Year Olds
Choosing a fun activity for your child to do with friends is a great option for a 9-year-old's birthday party. You can have guests meet up at a favorite restaurant, the movie theater, or plan to have people over to your house for games or an epic spa day.
1. Cupcake Wars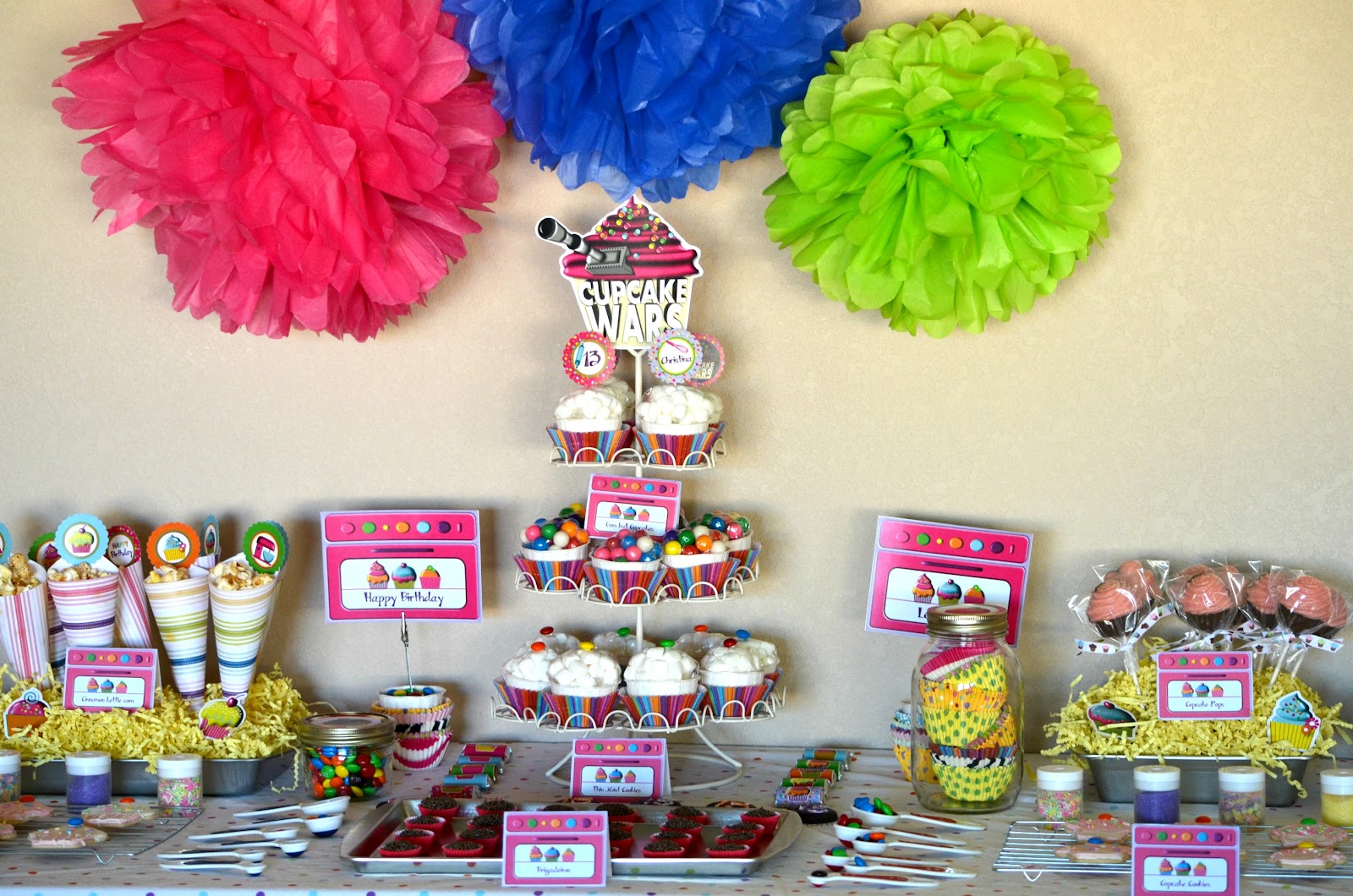 Image source: Crissy's Crafts
Crissy's Crafts celebrates with cupcakes galore with an epic cupcake wars party. Gather all the ingredients to make some tasty cupcakes and stock up on tons of decorating supplies. Get lots of icing, sprinkles, candy, and anything else that can make the ultimate cupcake. Let young guests battle for the title of cupcake master as they bake and decorate their unique cupcake creations. You can also have pre-baked cupcakes ready to go and let guests stick to decorating.
2. Design And Create Party
Image source: Alena Shekovtsova
Invite guests to channel their inner artists and inventors at a design and create party. You can rent a venue specializing in painting pottery, a sip and paint shop, or a similar location. Or, you can do your own thing at home by setting up multiple tables and various supplies for making unique creations. Some ideas would be a station with paints and canvases, another with strings and beads for making jewelry, or another with clay for sculpting.
3. Party Animals
Image source: FamVeld
If your son or daughter is an avid animal lover, consider having their birthday at the zoo or a local farm. Ask the venue about packages they might offer or if they can put together some special activities for your guests. For example, if going to a local farm, they could do a tour, milk the cows, feed some of the animals, or ride horses. Make sure to plan ahead, as not every place will offer what you're looking for. There are also companies that will bring a small petting zoo to you, as long as you have suitable yard space.
4. Movie Marathon
Image source: andresr
Dim the lights, pop the popcorn and start the show for a movie marathon that features your kid's favorite films. If you're doing a marathon, you might want to consider doubling this party as a sleepover and keeping the guest list small. If a sleepover isn't for you, stick to one film as the main attraction, and then play some movie trivia or charades. Or have the party at a local movie theater and see if you can rent a room for cake and food.
5. Swim Party
Image source: Sergey Novikov
Is your kid's party in the summer? Let everyone beat the heat with a pool party. If you don't have a pool, you can look into renting some time at a local rec center or your local YMCA. Make sure there are designated pool watchers or a lifeguard and have swim vests for any guests that can't swim. It's also a good idea to keep some extra towels on hand for people who forget.
6. Go To A Bowling Alley
Image source: pixelshot
Rent a couple of lanes at your local bowling alley for guests to bowl some games together. You can probably even book specific party packages that designate a few tables for your use and include food. Typically, they allow you to bring in your own cake. It's a fun way for kids to have fun with friends, let loose, and celebrate. If there's an arcade, the party packages might include a certain number of tokens or tickets per kid.
7. Book Birthday Party
Image source: WaveBreakMedia
If your kid's a bookworm, check with your local library about hosting your child's birthday. Many libraries have a room they use for storytime, meetings, and other special events. You can set up a book swap, where everyone brings a book to trade with a friend, have snacks and cake, and even set up some fun games. For example, challenge kids to find certain books within the library (quietly, of course,) scavenger hunt style.
8. Character Party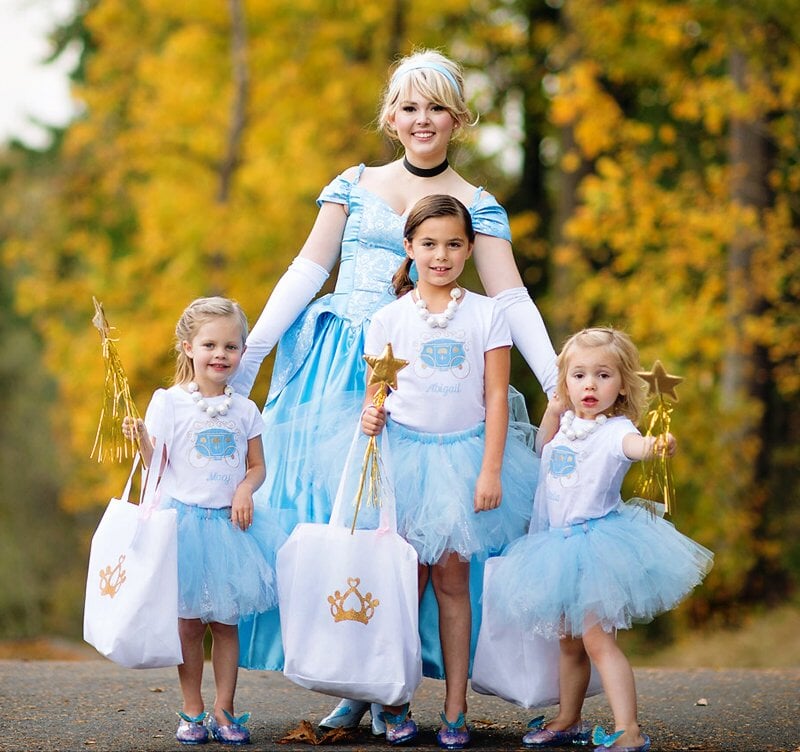 Image source: Hostess with the Mostess
Whether a princess celebration like this one from Hostess with the Mostess, a superhero bash, or just a festive get-together, hiring a character to make a special appearance adds a fun element to the party. Look into local companies that provide various performers and characters. Many of these places also offer other services, including face painting, magic shows, caricatures, or balloon animals.
9. Spa Day
Image source: Rain and Pine
Turn your house into a restful, glamorous spa for the day and pamper your guests like Rain and Pine. You can have a manicure and pedicure station, a face mask zone, and a hairstyling area. Make sure to have enough supplies for everyone to get their own; you don't want kids sharing brushes and other supplies. You can even put together little kits that they use that can double as their party favors.
10. Gaming Party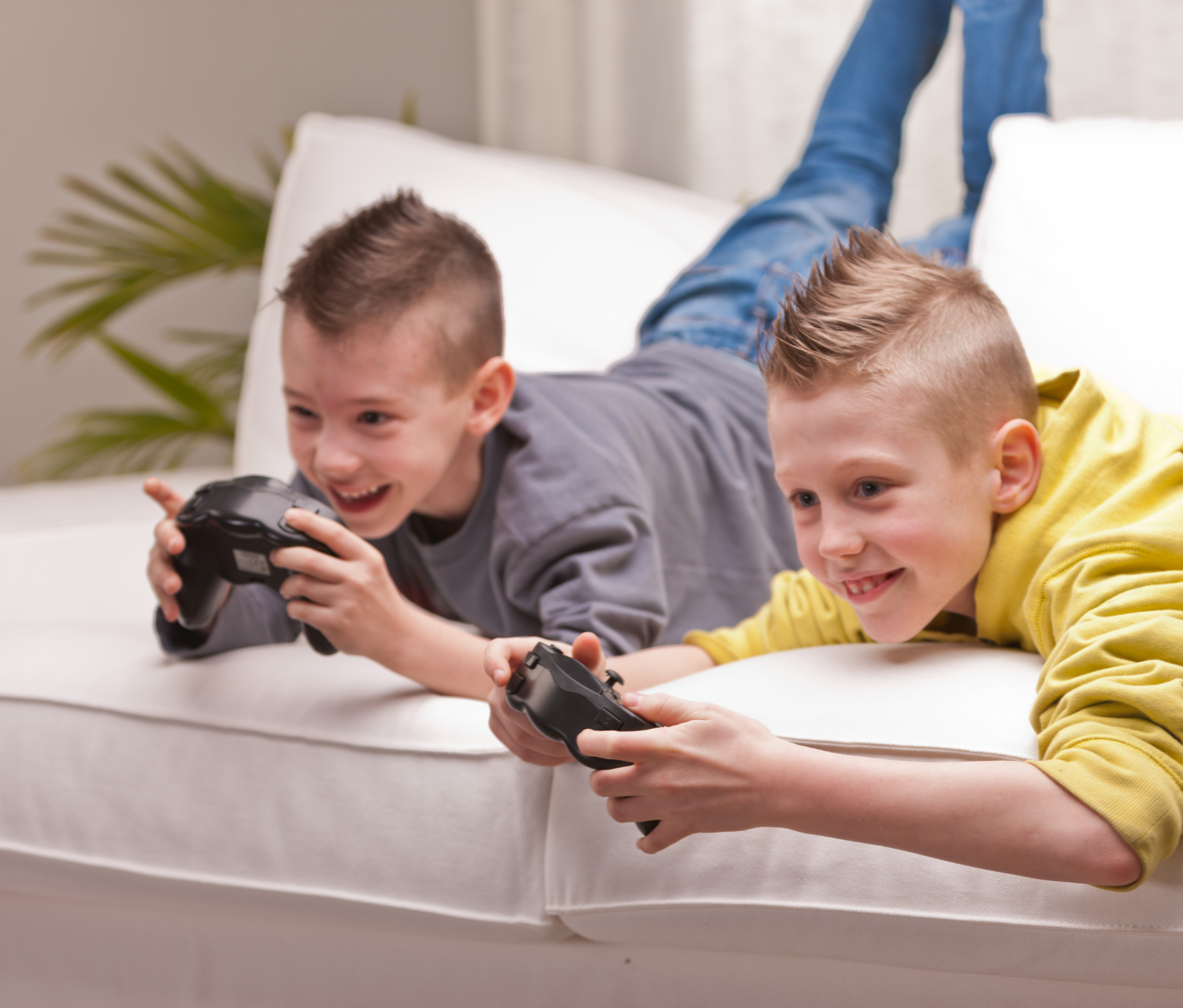 Image source: Guilio_Fornasar
For many 9-year-olds, video games are life, so why not let them celebrate their big day doing one of their favorite things? If the guest list is small, you could set up a few games at home, provide snacks, and let them play to their heart's content. Have a bigger guest list? Look into local companies that offer video game trucks or buses. They come to you, and kids climb on board for some nonstop video game action right in your driveway (or on the curb).
11. Sleepover Fun
Image source: FatCamera
For a smaller guest list, a sleepover is a great option that makes kids feel like they're all grown-up. They get to stay up late, snack on junk food, watch movies, play games, and tell stories. You can organize a few activities earlier in the evening, then just let the kids do their thing. Be clear about rules from the beginning, and set clear expectations. If you'd rather not have the sleepover at home, book a couple of connecting hotel rooms. Let your child invite two or three friends to stay with her in one room while you set up camp in the adjoining space.
12. Dance Party
Image source: dotshock
Get some fun party effects like a mirror ball, color lights, and glow paint. Create an exciting dance space and provide everyone with fun accessories like sunglasses, glow bracelets, and streamers. Crank up their favorite tunes and let them dance the night away. Have a dance contest with prizes for the top three performers, break out the karaoke machine to let kids sing along, and serve tasty food and drinks so kids can keep their energy up.
13. Visit A Museum
Image source: Monkey Business Images
Look into holding a birthday party at a local museum that piques your child's interest. It doesn't have to be a children's museum. If your kid loves art, consider visiting a nearby art museum. Are they into sports or science? Then check out nearby sports museums, a hall of fame, or your local science museum. Some places may host parties and let you bring in a cake, etc. If not, plan to have the kids visit the museum together and then take everyone to a nearby restaurant.
14. Go To A Carnival
Image source: Yobro10
If you live near an amusement park, indoor play center, or there's a circus or carnival in your area, make that your party destination. Depending on the place, you can go as a group and simply enjoy doing things together, or there might be a way to book a birthday package. Kids can ride the rides, test their skills at game booths, and eat fun, fair food. If there isn't a party room, you can always snag a nearby picnic table for the cake or plan to do it afterward at a local ice cream shop or your house.
15. Attend A Performance
Image source: SDI Productions
For kids who love theater and the dramatic arts, seeing a play can become an enjoyable birthday experience. It's also possible to get some fun add-ons. For example, you could let the theater or acting troupe know you're coming with a group to celebrate your child's birthday. Depending on the company, they might do a special shout-out, provide an autographed playbill to the birthday kiddo, or even arrange a meet-and-greet after the show with some of the performers.
16. Cook And Eat Party
Image source: photoguns
Instead of setting up a food table for your party, why not make it part of the fun? Let kids make several different snacks and items that become what they eat at the celebration. It's a great idea if your kid is into cooking and aspires to be a chef one day. Or, you can look into local businesses that offer kid-friendly cooking classes and have the party there. Guests can learn techniques and cook under the watchful eye of a pro, and you won't have to worry about cleaning your kitchen.
17. Selfies And Photo Shoot
Image source: Syda Productions
It's no secret that selfies are pretty much a way of life for most kids these days. If your child's into snapping pics and creating various images, center their birthday around some photography fun. Set up a photo booth will all sorts of fun props and let kids take selfies to their heart's content. Alternatively, you can hire a photo booth company to handle all the technical stuff. Create a digital album every child gets as a memento of the occasion.
18. Picnic In The Park
Image source: Zurijeta
Pack up some sandwiches, snacks, drinks, and outdoor play items, and head to the park. Bring some blankets to spread out for kids to lounge and eat between playing soccer, badminton, tag, or anything else that floats their boat. You can also organize classic outdoor games like limbo, tug-of-war, and relay races. Your local park might have shelters available for rent, and you can also look into renting a bounce house during the party.
19. Birthday On The Beach
Image source: Honeykids
Give your child the option of going away on a beach trip instead of a big birthday bash. Let them invite a friend or two to come along and set up a special celebration on the shore. You can take some inspiration from Honeykids for a beach party. Let kids splash in the waves, build sand castles, eat picnic-style on a beach blanket, and grill out if there are designated areas.
20. Rock-Climbing Party
Image source: lovro77
Do you have a kid that loves to be active and stay in shape? Giving them a challenge for their birthday and a chance to have a little friendly competition might be just what they need to celebrate turning 9. Look into hosting their party at a local rock-climbing gym, or check into local companies that come to you and set up a rock-climbing wall. Kids can learn the ropes from a pro, practice their skills, then try to race to the top.
Games & Activities For 9th Birthday Party
There's no shortage of fun games for kid's parties. But it can be hard to come up with some ideas when choosing decorations, food, invitations, and everything else that goes into planning a top-notch birthday celebration. Here are 10 games that will certainly have your guests laughing, smiling, and having a great time.
1. The Beach Ball Game
Image source: FatCamera
Sit kids in a circle with one beach ball. The person with the ball says a person's name and tosses the ball to them. Easy enough, right? But once they get going, add another ball into the mix, and then another. If you have ten kids playing, aim for four balls. 20 kids? Try 8 or 9 balls at once.
2. Water Relay
Image source: Rock Chapel United Church
Divide kids into teams and line each team up behind a container with water. Set an empty container several feet away. Give the person in front something to hold water (but make it a challenge), like a spoon or small cup with holes in the bottom.  Rock Chapel United Church uses sponges. Each player gets water from the bucket and runs to put it in the empty container, returning to their team for the next person to take a turn. The first team to fill their container wins.
3. Hula Hoop Over And Under
Image source: Tip Junkie
Here's a fun party game from Tip Junkie, and all you need is a couple of hula hoops. Line kids up in two lines and have them take turns passing the hoop over and under. Once it reaches the end of the line, that person runs ahead and starts again. After the person who started is back at the front of the line, the whole team sits. The first team to sit wins.
4. Treasure Hunt
Image source: Imgorthand
Hide a treasure chest with various surprises and treats and create a map to its location. You can have everyone work together and split the reward. Or, make copies of the map and give them to guests so they can figure out where the hidden chest is. The first person or team to find it gets a special treat, but everyone still shares the chest's contents.
5. NERF Target Practice
Image source: Invite and Delight
Have NERF guns for guests to use and set up some target practice in the backyard like Invite and Delight. Have different stations and challenges, like cups, hanging paper plates, or buckets to knock over or land targets in. You can also set up some places for kids to hide behind if they want to have a NERF battle.
6. Timed Obstacle Course
Image source: SolStock
Set a timer and let each child make their way through an obstacle course you set up ahead of time. Use different items like hula hoops, balance beams, and even picnic tables to create the ultimate challenge. Provide opportunities for kids to climb, crawl, jump, and run as they try to beat the clock or each other.
7. Backyard Putt-Putt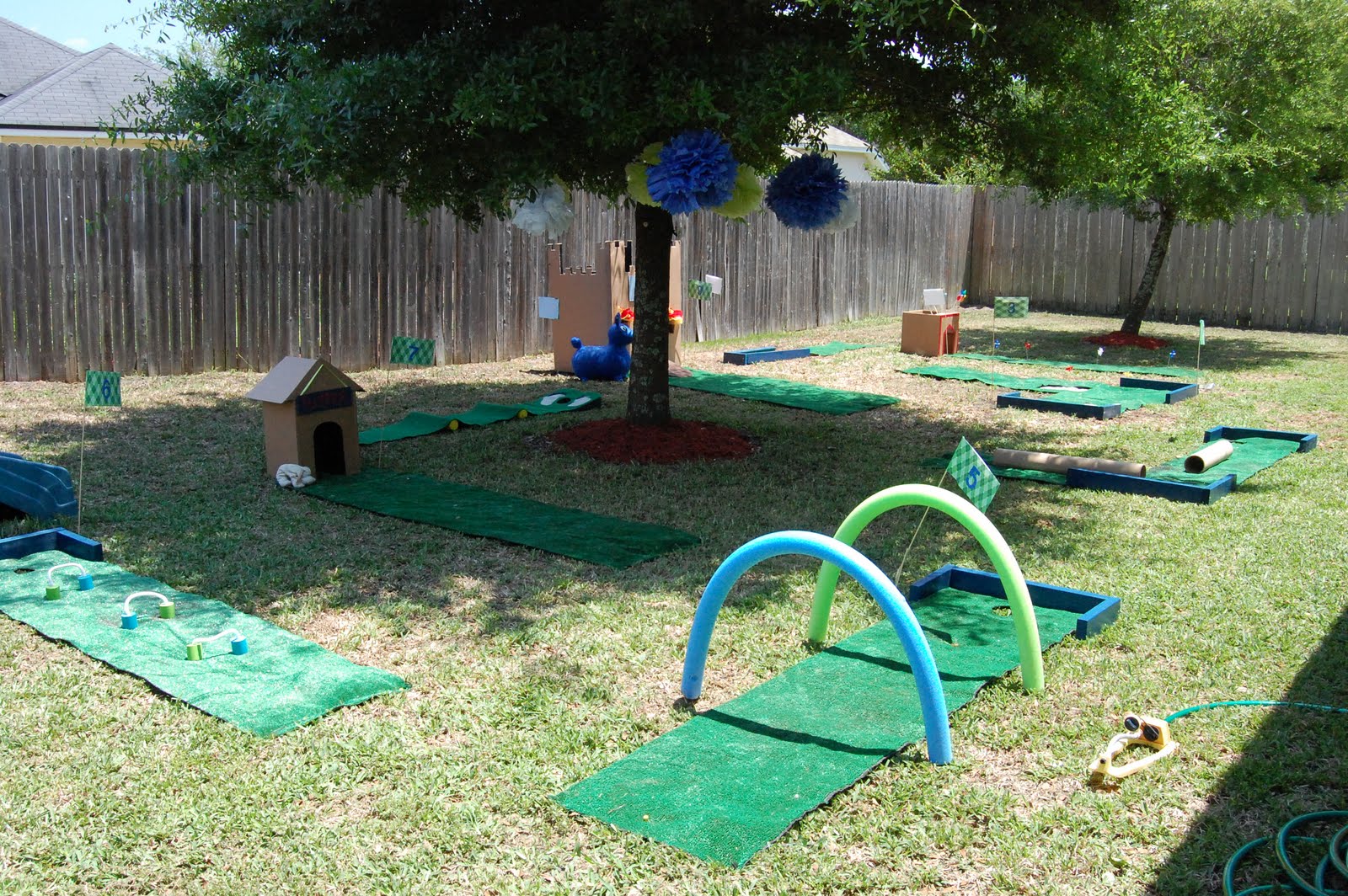 Image source: A Small Snippet
You can create your own version of a mini-golf game in your backyard like A Small Snippet or hire an outside company that specializes in at-home putt-putt courses. Either way, kids are sure to have a blast working their way through the course and trying for that coveted hole-in-one.
8. Water Balloons
Image source: Onfokus
If you're celebrating outside, help guests beat the heat with water balloon games or an epic balloon battle. Have the balloons filled and ready to go so you don't waste valuable party time prepping them. Play water balloon dodgeball or line kids up facing each other. They toss the balloons back and forth, getting farther away from each other with every toss. The last team standing with an unpopped balloon wins.
9. Bucket Toss
Image source: Organize and Decorate Everything
Set up several buckets or pails in a row like Organize and Decorate Everything. Number them from lowest to highest the farther away they are. Kids take turns tossing a bean bag or ball, trying to get it into the buckets. They score whatever number is on the cup. Give each kid three tries and total up the scores.
10. Stack Attack Cups
Image source: SDI Productions
Kids compete to see who can stack the cups the fastest in this minute-to-win-it party game. Use some heavy-duty plastic party cups for premium stacking capabilities. You can challenge them with different cup configurations and time them as they play. The fastest wins.