You don't always need to run to the craft store to stock up on expensive items that will only get used once. Sometimes the best crafts come from things you already have around the house!
Q-tips are as versatile as your child's imagination. Cut them, bend them, dip them in paint, glue them onto paper – the possibilities are limited only by the time you have to devote to doing a craft. They make great bones and bits of spider webs for Halloween crafts; snowflakes for winter; fluffy bunnies and sheep; flowers for spring; even a loom for weaving.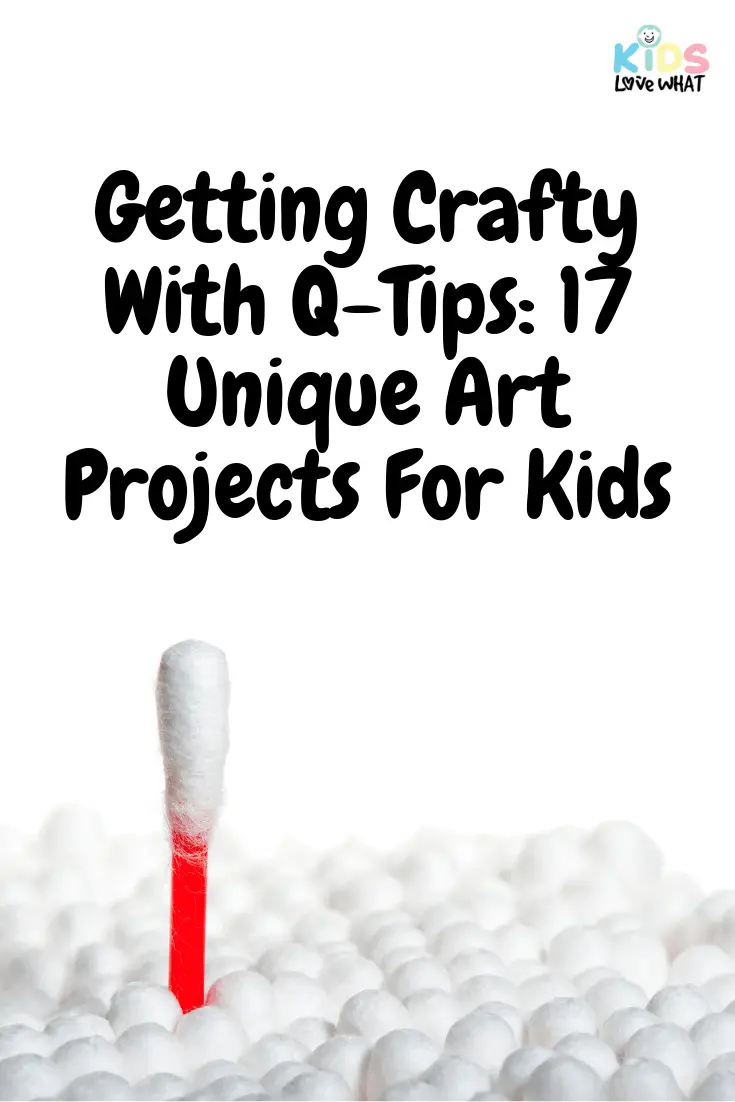 Before getting started with one (or more!) of the awesome q-tip crafts for kids listed below, make sure you stock up on plenty of cotton swabs! You're going to need quite a lot of them on hand for any one of these fun and colorful projects.
Q-tip crafts are also great for the little hands and fingers of preschoolers because they help to develop fine motor skills. Whether kids are dabbing them into paint or gluing them into shapes, children can practice their pattern recognition and shape designs with Q-tip crafts.
So whether you're stuck at home on a snow day or need a fun classroom spring activity, Q-tip crafts are a fun, cheap, and easy way to get kids to explore their creativity!
1. Bunny Face Q-Tip Craft
Image source: Meaningful Mama
If the cotton on a Q-tip makes you think of Peter Cottontail, then click on over to Meaningful Mama for this bunny face project. While the steps are easy and straightforward, there is plenty for your child to do no matter their level of fine motor skills development. The finished project is a truly adorable, fluffy-faced little bunny friend! Perfect for Easter, or if you need an animal craft before a trip to your local petting zoo.
2. X-Ray Arm Q-Tip Craft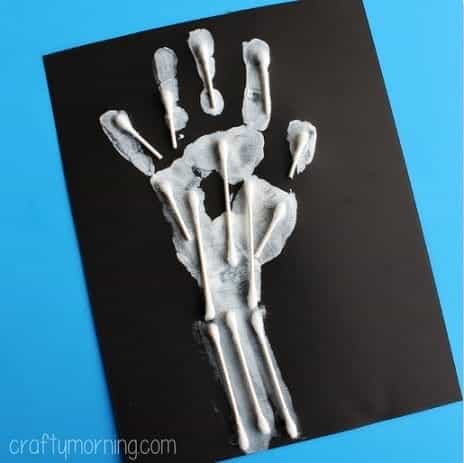 Image source: Crafty Morning
Take your handprint art game to the next level with this entire forearm print project from Crafty Morning. This craft looks best on a piece of black construction paper, giving it either an eerie look for Halloween or a x-ray appearance for learning about our bodies. Once the paint dries, use Q-tips as bones — cut-up Q-tips for the fingers and full Q-tips for arm bones. Of course, it doesn't have to be anatomically correct so long as the kids are having fun!
3. It's Snowing Q-Tip Crafts
Image source: Homemade Ginger
Whether you are already deep in winter prep or it's mid-August and you just wish it was cooler outside, here is a fun and easy snowflake Q-tip craft from Homemade Ginger. The materials list is made up of things you probably don't have to go out and buy: black paper, scissors, glue, and of course, Q-tips. All you need to do for prep is cut up the Q-tips into different sizes, and then let your child explore their creativity with different snowflake shapes.
4. Mary Had A Little Lamb Q-Tip Craft
Image source: One Little Project
Fluffy little lambs aren't just for Easter — make these sweet little animals any time of the year to learn about animals, make a Noah's Ark, or just for fun! One Little Project has the instructions you need to help your child put this super cute project together. The finished project stands up on its own, making it perfect for fireplace mantels or your work desk. With the sleepy little eyes and the bow on top, both you and your child will want to make a whole flock of these!
5. Itsy Bitsy Spider Web Q-Tip Craft
Image source: Raising Whasians
Here's another Q-tip craft that can serve multiple uses at home or in the classroom: Raising Whasians' spider web. The soft cotton at the ends of Q-tips lend themselves well to the ethereal strands of a real spider's web. This spider craft for kids utilizes the bendy nature of Q-tips for a truly awe-inspiring web that you can finish off with a plastic spider. Perfect for Halloween, a classroom reading of "Charlotte's Web," studying spiders and insects, or kids who love spiders!
6. Q-Tip Craft That Pops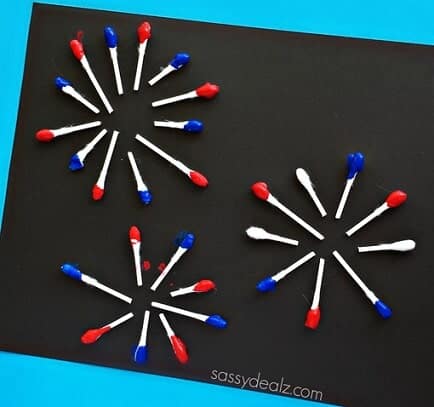 Image source: Crafty Morning
The creative genius over at Crafty Morning has this project using red, white, and blue paint for Fourth of July, but why stop there? Any time there are fireworks going off in the sky is a good time to make these colorful Q-tip fireworks craft! It's so easy to make, and the colors you use will really pop against a black construction paper background. Cut the Q-tips into different sizes ahead of time so that your child can get really creative with the designs of each fireworks display! Check out more of our 4th of July crafts!
7. A Garden Of Q-Tip Flowers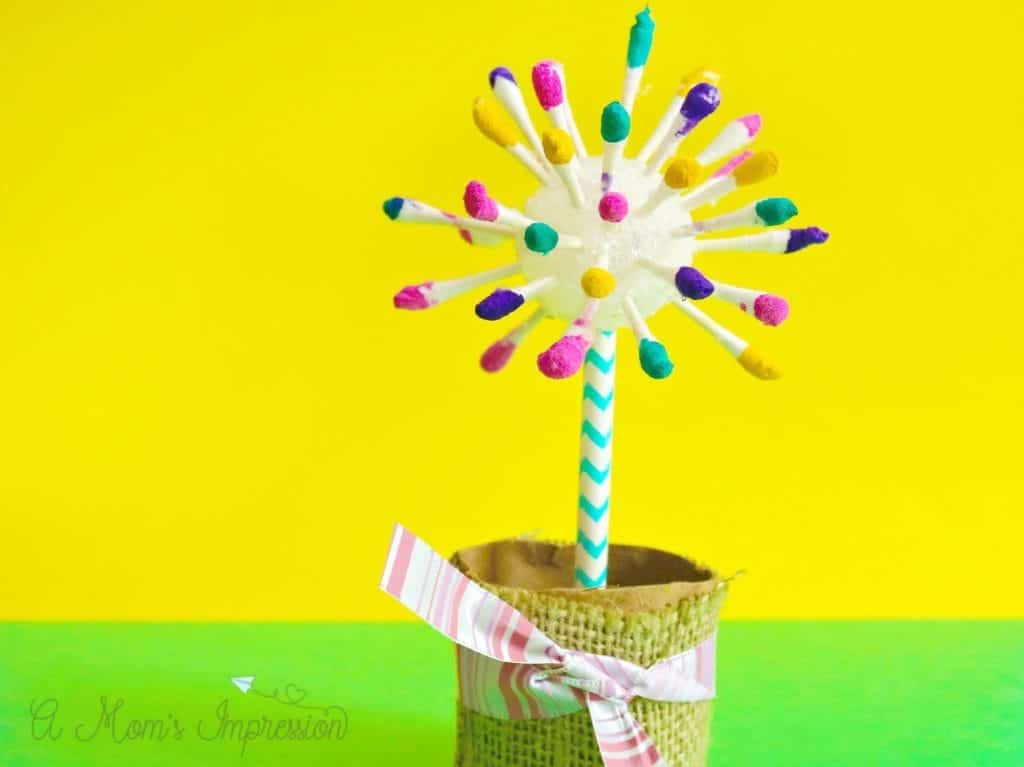 Image source: A Mom's Impression
This colorful and creative Q-tip flower craft from A Mom's Impression is an absolutely perfect project for spring — or for the dead of winter when you need a little more color in your day! Utilizing an empty toilet paper roll as the "flower pot," your kids can let their imaginations run wild with different paint colors for the petals. Once the paint dries they'll also enjoy sticking the Q-tip sticks into a styrofoam ball to create a beautiful, 3D flower!
8. Q-Tip Craft By Design
Image source: Artsy Momma
Older kids can get in on Q-tip crafts as well with these colorful mandalas over at Artsy Momma. By coloring a batch of Q-tips ahead of time, kids can make mandala-inspired patterns on paper plates. The blog has a link to a tutorial on how to draw mandala patterns. Once those are ready, older kids can get lost in the process of carefully coloring the intricate designs before they glue on a kaleidoscope of painted Q-tips.
9. A Bouquet Of Q-Tip Daisy Crafts
Image source: The Pinterested Parent
Daisies are sweet, simple flowers that translate beautifully into Q-tip crafts. This project from The Pinterested Parent is easy and fun because it involves perennial childhood favorite, Play-Dough. These are straightforward enough to do any time at home, or as a fun preschool activity as you get the classroom ready for spring. Hang several of these up in your house to brighten the room after a long and colorless winter, or give them to a favorite teacher as a show of appreciation.
10. Q-Tips In Bloom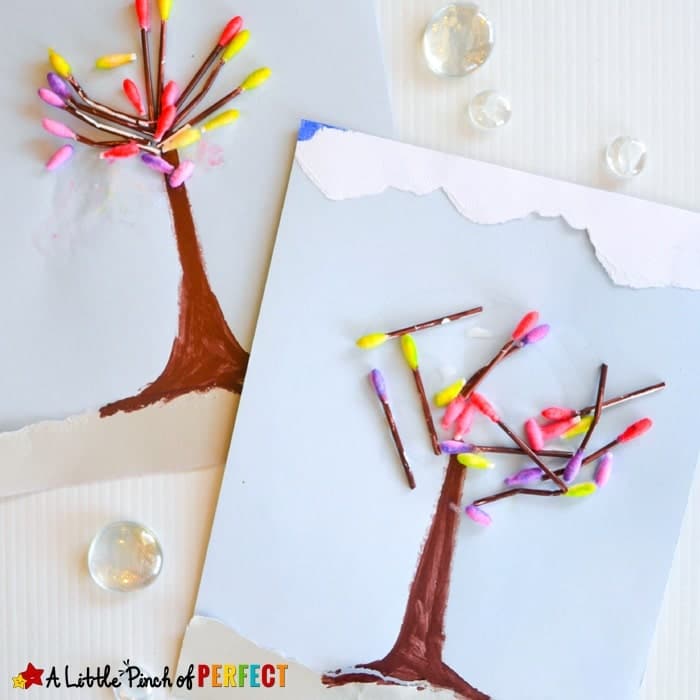 Image source: A Little Pinch Of Perfect
When the trees outside start to blossom into the bright colors of spring, grab some Q-tips and food coloring, then click on over to A Little Pinch Of Perfect. Emphasizing fun over accuracy, this Q-tip craft looks great when done in big batches, like making an entire classroom forest of spring trees. The food coloring adds a softer tint to the cotton ends of the Q-tips for a gentler craft that's easy on the eyes.
11. Lucky Q-Tip Shamrock Craft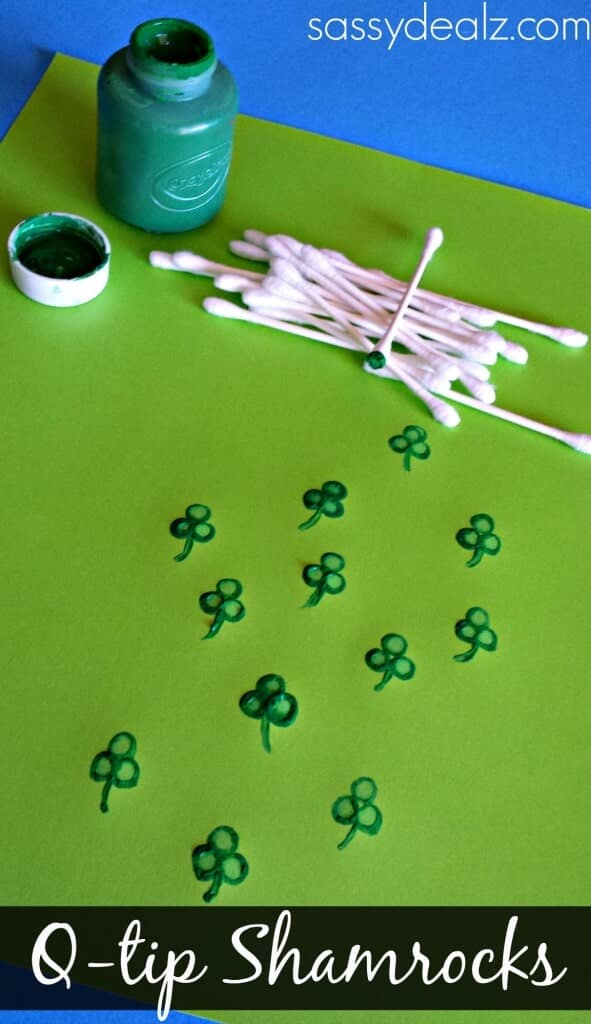 Image source: Crafty Morning
Next St. Patrick's Day, help your child or students make a Q-tip craft that will stand out amongst the endless pots of gold with this shamrock project from Crafty Morning. It's so easy to make that even toddlers can have fun dipping the Q-tips into paint and then pressing them into shape on a piece of construction paper. Preschoolers can practice their shapes by following the instructions to dab the painted Q-tips three times into a triangle. Add a simple stem, and you have a lush field of shamrocks!
12. Dragonfly Q-Tip Craft
Image source: Projects With Kids
Click on over to Projects With Kids for these eye-catching, gorgeous dragonfly Q-tip crafts! By using many paint colors and dabbing the Q-tips into dots, you and your child can easily create something that looks absolutely beautiful. The blog page has a template you can use by signing up for their newsletter. This craft is perfect for kids to learn about colors, patterns, even counting. Making a bunch of them and hanging them from a ceiling will create a wonderland of colors!
13. Weaving Loom Q-Tip Craft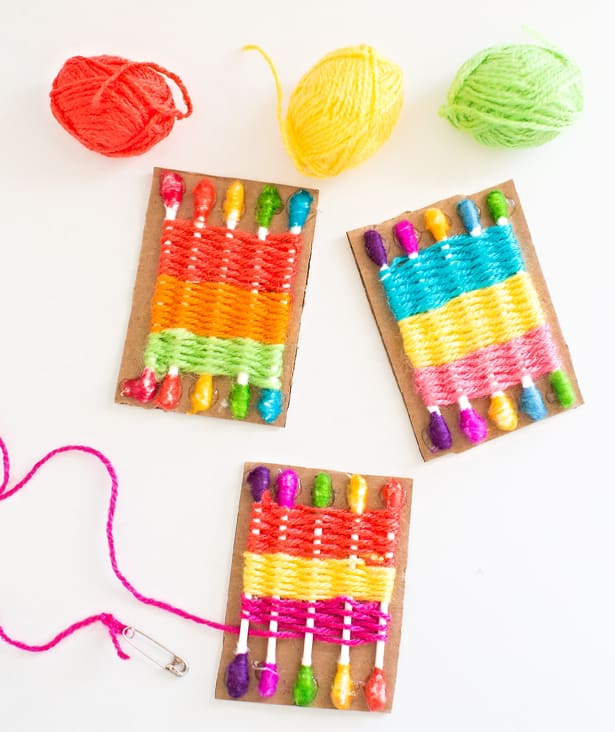 Image source: Hello Wonderful
When you need a quick craft that's definitely outside the box, check out Hello Wonderful's awesome Q-tip weavers. Using the Q-tips to make a loom on a piece of cardboard, kids then weave bits of yarn in and out. Littler hands might need help with this one, but grade schoolers can practice their fine motor skills. The result is a colorful work of art like no other that makes a fantastic party activity, gift, or decoration around the house.
14. The Colors Of Fall Q-Tip Craft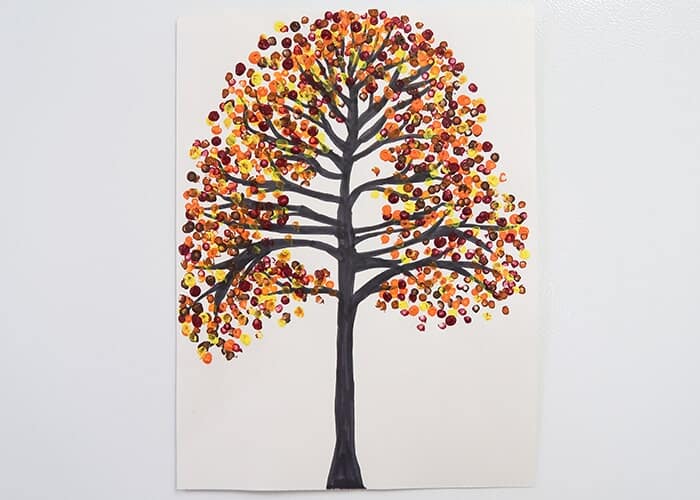 Image source: Woo Jr.
Over at Woo Jr. they have a lovely fall craft that can take as much or as little time as you and your children want to put into it. You can draw your own tree or print one; then, depending on the size of your tree the kids can take their time or finish the tree very quickly. Having them use one color at a time teaches them patience as well as the joy of watching a craft come together slowly and step-by-step.
15. Calla Lily Q-Tip Craft
Image source: Easy Peasy and Fun
Calla lilies aren't just for trendy bridal bouquets! Head over to Easy Peasy and Fun for this lovely Q-tip craft that also uses cotton rounds and green plastic straws to create these elegant flowers. The nice thing about this project is that it looks like it took a lot of time and effort to make, even though the instructions are incredibly straightforward and easy to follow. Make a bunch of these for a lovely gift for Mother's Day or an end-of-the-year teacher gift.
16. Q-tip Letter Art
Image source: Homemade Ginger
Kids love their own names, and they especially love when they learn the letters that make their names. Help them along with this Q-tip craft from Homemade Ginger that creates stunning, 3D letters of the alphabet. The key is to stock up on styrofoam letters and fabric mod podge; the rest is pretty easy and results in an awesome craft that will look absolutely fabulous in your child's bedroom – or while you are setting up a nursery in preparation for the newest member of your family!
17. A-Maze-Ing Q-Tip Craft
Image source: The Crafty Crow
Now, here's a Q-tip craft that really stands out! The Crafty Crow has the surprisingly easy steps you need to follow to make this craft that is actually a fun game. It's two-for-one! Help your child make this, and then let them have fun running a wooden marble through the maze they made! A pretty paper rainbow serves as the maze's end so that your child can really enjoy a feeling of accomplishment. Make several for instant party games!