Cats have been inspiring stories and songs for ages. From ancient Egypt to Andrew Lloyd Webber, from The Cat in the Hat to Pete the Cat, our feline friends can be found pretty much everywhere. They're warm and cuddly, full of personality and charm, and they are endlessly entertaining around the house.
Whether you have cats as pets or not, you and your children will absolutely love these 28 crafts devoted entirely to the whiskered wonders of the world. If your children love any of the popular fictional cats, such as Splat the Cat, Pete the Cat, or The Cat in the Hat, there are projects listed below to indulge their fandom.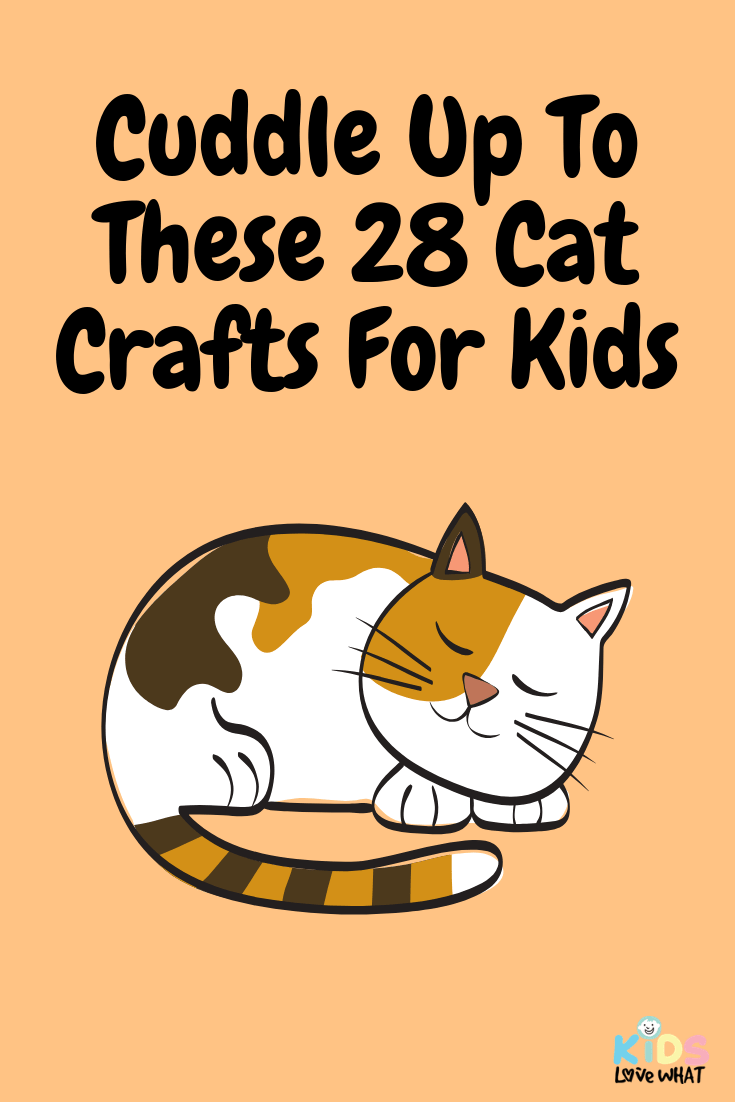 Perhaps it's getting close to Halloween and your children or students want to make as many black cats as they can; there are plenty of spook-tacular projects below, as well.
Or maybe your kids just love cats and want to celebrate that love by making as many of them as possible, preferably with paint and glue, and definitely in as many colors as they can handle. Any single one of the crafts listed below will satisfy their needs! From toddlers to 10-year olds, you will find a cat-related craft here that everyone in the family will adore.
1. Free Splat The Cat Printable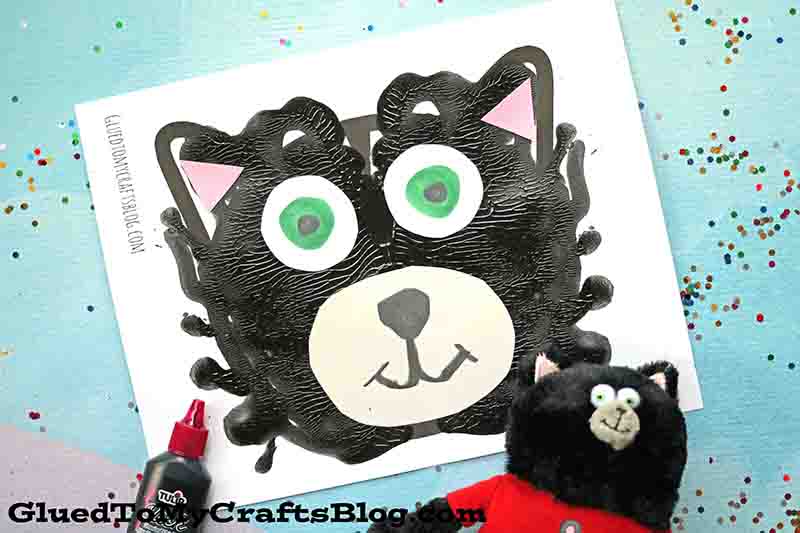 Image source: Glued To My Crafts
The Rob Scotton book series featuring "Splat the Cat," are a big hit with the early reader crowds. If your child can't get enough of the adventures of this silly kitty, click over to Glued To My Crafts for this fun project you can work on together. There is a free printable template at the blog to get you started. Using puffy paint instead of regular paint or markers make this a special project that will delight your budding young reader!
2. Craft Supply Holder Cat Craft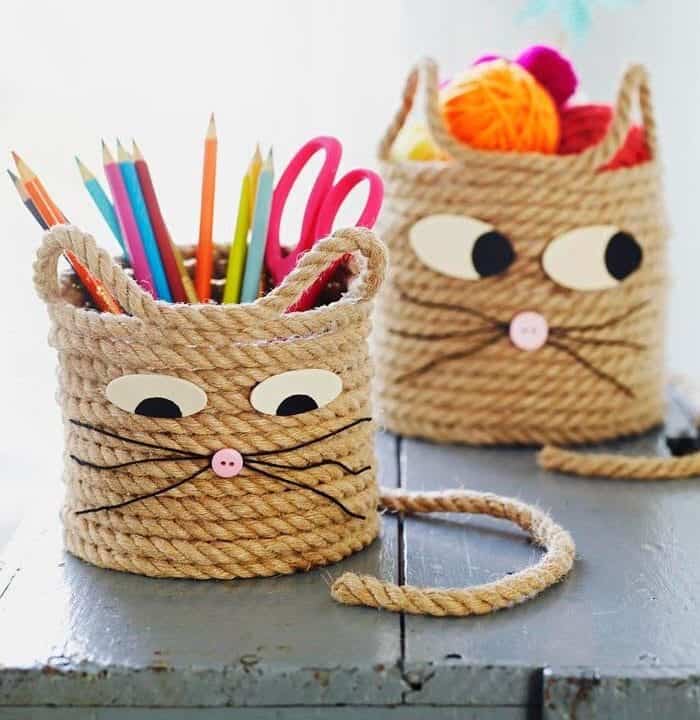 Image source: Quiet Corner
It's a craft that you make, which holds the supplies you use to make crafts! It's so meta! Click on over to Quiet Corner to find out how to set up these adorable baskets, complete with kitty cat tails. For cat lovers who are getting ready to head back to school, these make wonderfully fun pen and pencil holders. Or set some around the house and fill them with safety scissors, colored pencils, and markers so that whenever your child is feeling creative, they are ready to go. Or, of course, fill them with balls of yarn!
3. Black Cat Craft
Image source: Home Talk
Home Talk understands the need for black cat crafts and decorations, especially close to Halloween. That's why they show you how to make such an adorable little kitty out of a black sock. It's easy for kids to do and takes almost no time at all. Hosting a Halloween party? Set these up around the snacks to delight your guests! This cat craft also makes a fun Halloween class activity for students to take home. And if Halloween is already in your rear-view mirror for another year, simply use different colored socks.
4. Playful Cat Craft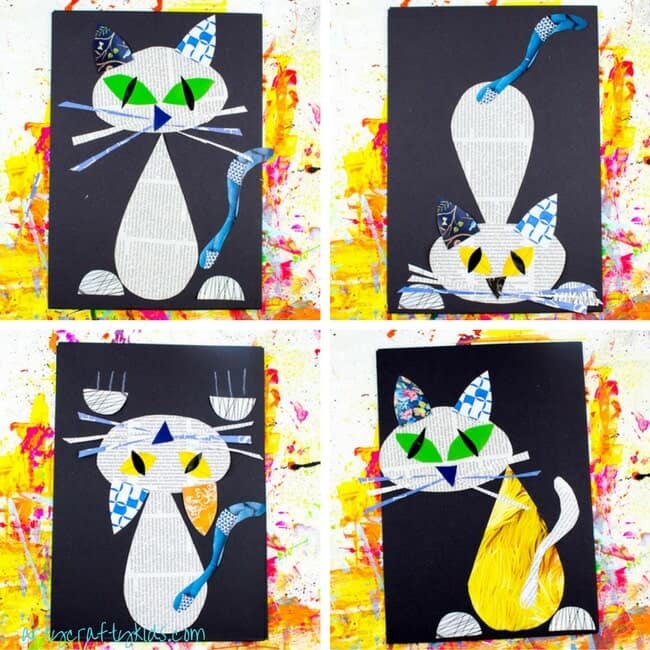 Image source: Arty Crafty Kids
Why make a static cat craft that never changes when you can make this playful little guy from Arty Crafty Kids? Help your children cut out the shapes you need, and then have fun moving them around to let the cat play in all kinds of different positions. With different types of paper in an assortment of colors and patterns, your children can let their imaginations run wild! Of course, you can always glue the cat into place when everyone's done to save it forever.
5. DIY 3D Cat Face Craft
Image source: Easy Peasy And Fun
Easy Peasy And Fun's cat face craft is so simple and quick that you'll find yourself making up whole batches in one sitting. Older kids who know how to fold paper into fans can help make the basic pinwheel shape, while littler kids can help glue on the ears, eyes, whiskers, and nose. Use black paper for a darling Halloween decoration, or any color paper for the cat lovers you know. Glue a string to the back for easy hanging up around classrooms, living rooms, or on the refrigerator door.
6. Happy Cat Craft
Image source: Look! We're Learning
Over at Look! We're Learning, they know a thing or two about keeping kids entertained, screen-free, on rainy afternoons and sick days home from school. That's why they came up with this super simple but super fun coffee filter cat craft. There are absolutely zero special materials needed (unless you don't use coffee filters in your home), so this is one to be bookmarked for days when you're having a crafting emergency and need to get the kids busy right away.
7. Paper Sweaters For Paper Cats
Image source: Pink Stripey Socks
If you are going to make these paper kitty cats from Pink Stripey Socks, make sure you also make little sweaters to keep them cozy warm! Paper weaving is not only colorful and fun, but it helps kids practice fine motor skills, including hand-eye coordination. If you cut out the cat shapes ahead of time, kids can get really creative making the faces and finding paper strips in all different colors to weave in. And once they get the hang of it, they'll be paper weaving all their artistic little creations!
8. Book Lover's Cat Craft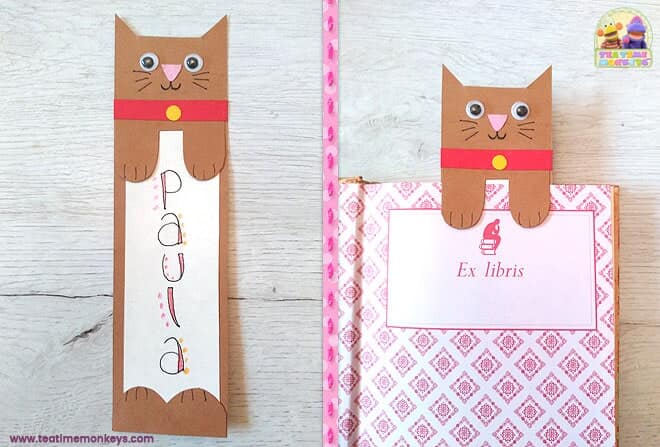 Image source: Tea Time Monkeys
Bookmarks make wonderful all-purpose gifts: give them out as take-home treats from birthday parties, pass them out to students, or make them as stocking stuffers at the holidays. They can even be given out to the class for as hand made (with love) valentines. Cozy up to this bookmark from Tea Time Monkeys, which works especially well because the cats can be customized to any color, and the gift recipient's name written down the middle. And with little paws that hang over the top of the page, what's not to love?
9. Have A Ball With This Cat Craft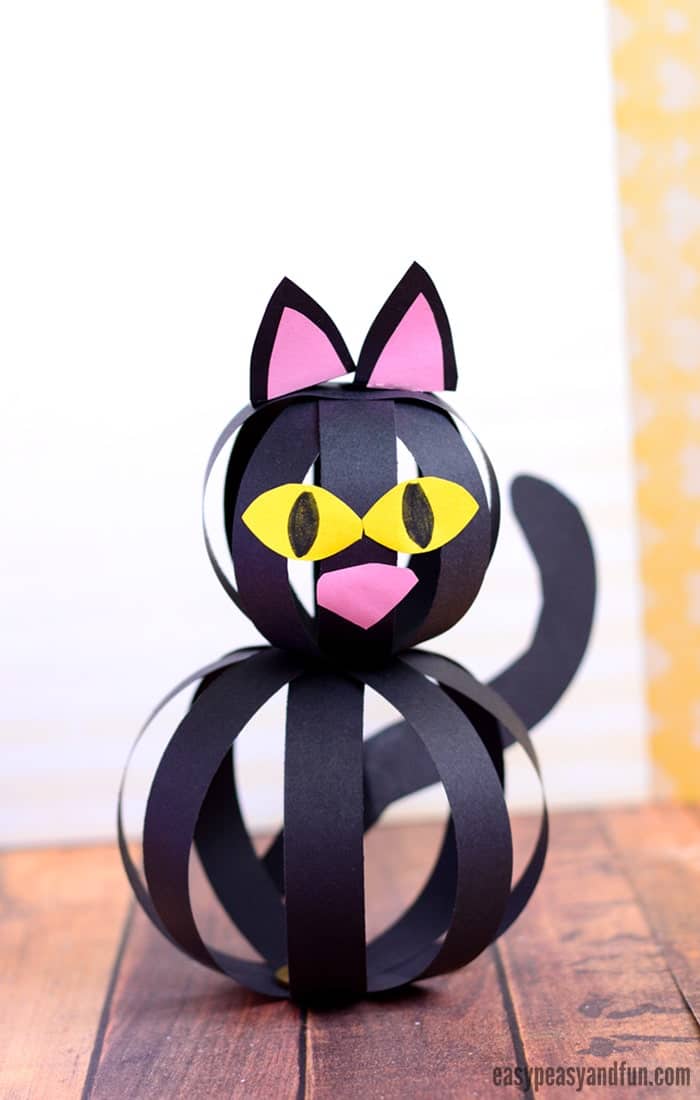 Image source: Easy Peasy And Fun
Don't be scared of this black cat! It's not bad luck to try your hand at making this awesome craft; just click on over to Easy Peasy And Fun to learn how. Even if it takes you a few tries to get the hang of it, the result is definitely worthwhile. Encourage your children to practice their scissor skills by cutting up the strips of paper and cat's eyes. This little kitty makes a great class activity during a Halloween party, or as a home craft on a crisp autumn day when you and your family are all done setting up the Halloween decorations.
10. Craft Stick Kitty Cat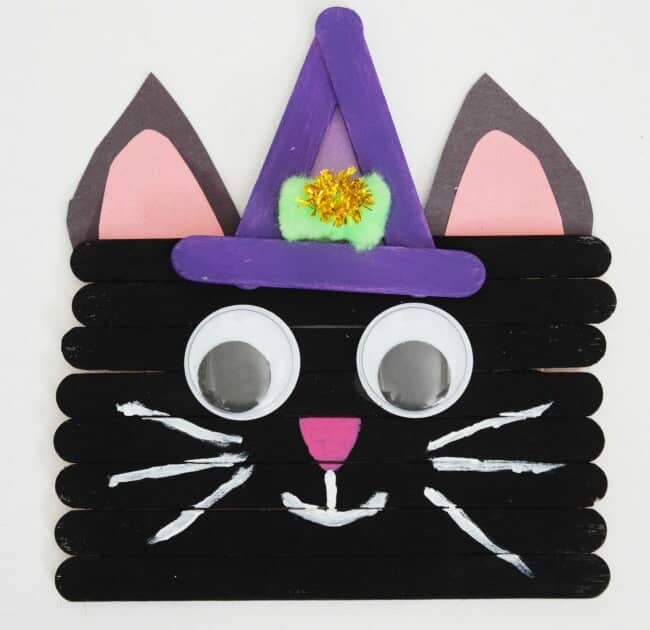 Image source: Today's Creative Ideas
Craft stick crafts are a must for any daycare, pre-k, or early elementary grade classes. At Today's Creative Ideas, they've added a darling little purple hat to their craft stick cat! The best part of this project is that even toddlers can get in on the fun of creating by painting the craft sticks black. No lines to follow, nothing to mess up (just make sure you put the sticks in a shallow tray or on some newspaper first). Since the paint needs to dry before you draw on the face, this is a 2-day craft, so plan accordingly.
11. Textured Cat Face
Image source: Glued To My Crafts
This is no ordinary paper plate cat craft! Glued To My Crafts has the lovely idea to glue squares of tissue paper onto a paper plate in order to create the textured appearance of this sweet little feline. Pipe cleaner whiskers add to the 3D effect, making this project an instant kid-favorite. While the blog uses black tissue paper, you can of course use any color you like, especially if you are making decorations for a party with specific colors.
12. Fluffy Cat Face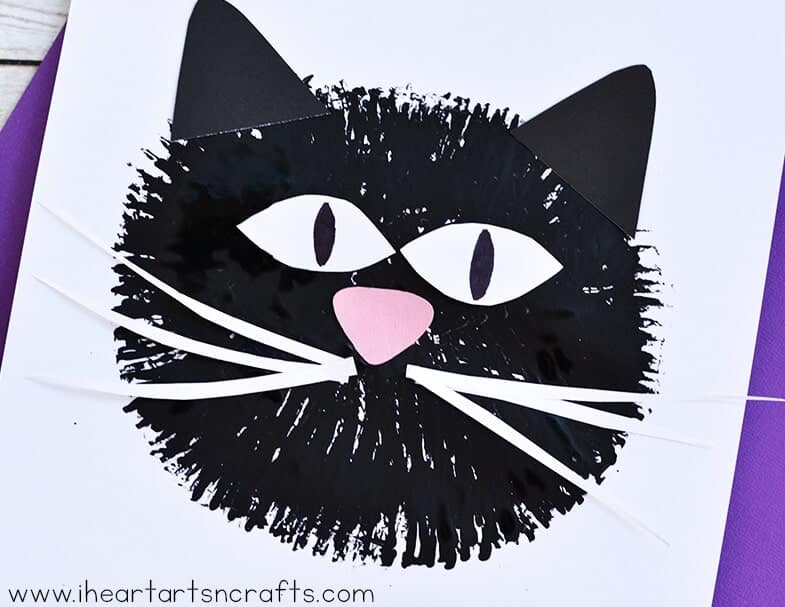 Image source: I Heart Arts And Crafts
Put away the paint brushes and bust out the plastic forks for this fluffy cat face project from I Heart Arts And Crafts. Your kids will get such a kick out of this unusual use for a fork, and from watching the paint get swept out of the middle to make a fluffy effect. Make this before snuggling together to read some books about cats so that the paint has time to dry, and then add the ears, whiskers, and everything else. It's so cool, you can almost reach out and pet your new kitty!
13. Chubby Paper Cat Crafts
Image source: Artsy Craftsy Mom
Paper quilling is the newest fad in arts and crafts for children, and over at Artsy Craftsy Mom you'll learn how to do it. Follow the instructions and you'll soon have yourself a litter of cats with big, round bellies. These are a fantastic way to make a 3D craft that's not too heavy to hang up and not so big that they take up your entire refrigerator door or wall. Make these with your kids and then "curl" up together to enjoy the cool project you made!
14. Time For Cats
Image source: Baker Ross
In addition to learning shapes and colors, young children need to learn how to tell time — yes, even in an old-fashioned analog clock. Make those lessons more fun with an adorable paper plate cat clock from Baker Ross. Whether you're homeschooling or simply want to reinforce the lessons learned in their classrooms, this smiling kitty will be more than happy to help your grade schoolers learn what the different hands mean when they are at different points of the clock. Now in your home, it's always time for cats!
15. Cone Shaped Cat Craft
Image source: Easy Peasy And Fun
Free printable templates are brilliant helpers for when you want to do a clever craft with your kids but you lack artistic skills, time, or both. Scroll to the bottom of the instructions over at Easy Peasy And Fun to download this template for crafting this cone-shaped cat. By adding the long feet, this 3D craft can easily stand on its own. Perky ears and whiskers you can either draw on or cut out of paper add a darling finishing touch. Use the cone as a jumping off point for a quick lesson on 3D shapes.
16. Soft Kitty, Warm Kitty
Image source: Left Brain Craft Brain
For tactile kids who love to touch absolutely everything, try this pom-pom-based cat craft from Left Brain Craft Brain. Using pom-poms of different colors and sizes, you'll learn how to make the fluffiest, most adorable little kittens your kids will love to hold in their hands. Bonus: twist or pull a metal paper clip a bit, add it to the bottom, and now your cats can bounce and pounce! This is a wonderful craft for kids of all ages who want something to play with when they are done creating.
17. Pete The Cat Stick Puppet
Image source: Glued To My Crafts
Pete the Cat is a cool blue kid who stars in a series of books by James and Kimberley Dean. Kids love Pete's adventures at school, making music, and, of course, wearing awesome red sneakers. If your kids love to rock with Pete, click on over to Glued To My Crafts for this amazingly easy craft stick-based puppet. Your child can hold their puppet while you read to them, sing along to the songs, or have adventures alongside the Amazon Prime animated Pete the Cat show!
18. Who's That Cool Cat?
Image source: Crafts 4 Toddlers
Toddlers just LOVE imagination play, don't they? One day they're your human child, and the next day they wake up as a kitty cat! Encourage this important development of your child's brain, confidence, and creativity with an easy paper plate cat mask from Crafts 4 Toddlers. The masks will also be a huge hit at any toddler's birthday party (the link includes directions for a baby chick mask and a pig mask) and makes a fun playdate activity.
19. Fun With The Cat In The Hat
Image source: Glued To My Crafts
Families and schools around the country have been celebrating Dr. Seuss's birthday in early March, and if you and your child want to get in on the fun click over to Glued To My Crafts. There, you'll find everyone's favorite mischievous feline in paper plate form. It's a pretty simple craft that will make preschoolers and kindergarteners smile while you read to them from your family's collection of Dr. Seuss books. For family movie night, why not choose one of the many cinematic incarnations of a Dr. Seuss story, make this craft beforehand, and let it dry while you snuggle on the couch?
20. Folded Paper Cat Crafts
Image source: Fat Mum Slim
Kids who are growing up with screens everywhere might not believe that there is any fun to be had without a fully-charged device in their hands. Show them that life does exist outside of smart phones, tablets, and video games by doing some origami together. Fat Mum Slim has easy to follow instructions for folding a little cat face; when it's done your child can draw in the eyes, nose and mouth. Tiny circle stickers make adorable little cheeks, too. It's so easy that your kids will want to make origami everything!
21. Calico Cat Craft
Image source: Our Kid Things
You probably know this already, but not all cats are monotone. Some have patches of color, and Our Kid Things is here for them with this paper plate craft. Even the littlest kittens can help you make an adorable project according to their abilities (and attention spans). Toddlers can simply press tissue paper onto the pre-glued plate, while preschoolers and kindergarteners can help cut out the cat's nose or draw the mouth. It's a simple but delightful project that will have your kitties saying, "Meow!"
22. Quick And Simple Halloween Cat Craft
Image source: Easy Peasy And Fun
It's October 30 and you realize that you have not yet done ANY Halloween crafts with your children or students. Never fear, help is here! Easy Peasy And Fun has this cat craft that can be completed faster than you can say, "Boo!" The only materials you absolutely need to have on hand are sheets of black construction paper, a pencil, scissors, and glue. No problem, right? The crazy eye stickers and silver glitter pens are good to have for this, but not mandatory if it's really the last minute and you can't run out to get them.
23. Stand-Up, 3D Cat Craft
Image source: Where Imagination Grows
Empty toilet paper rolls are absolutely fantastic for making arts and crafts with little kids. They are an inexpensive way to recycle, upcycle, and always have something on hand that you can turn into a darling craft project. Over at Where Imagination Grows, you'll learn how to make this easy cat out of a toilet paper roll. Using bright, metallic pipe cleaners adds a bright and whimsical touch to this not-so-creepy black cat. Do this craft when you are sure you have plenty of time to let the paint dry before adding the embellishments.
24. Paper Plate Cats For Older Kids
Image source: I Heart Crafty Things
Just because this is a paper plate craft doesn't mean older grade schoolers (2nd through 4th grades) can't appreciate the scissor skills required to make this project. The assembly part is super easy; it's the cutting that makes this more of a bigger-kid thing. I Heart Crafty Things shows you what shapes to cut out and how to glue everything on in the right spots. Set out the black and orange paint for a fun Halloween class project, or make these any time of the year in the colors of your family cat!
25. Put A Cork In It
Image source: Our Kid Things
The genius behind this cat craft from Our Kid Things it that the decorating possibilities are truly endless. So many paint colors to choose from — you don't even need to use real cat colors! — and pipe cleaner options…not to mention all the different faces you can make. And it all starts with two simple wine corks. (If you don't have corks from actual bottles of wine, you can buy bags of unused corks online.) Make these at the start of a birthday party so that the glue and paint has time to dry before guests take their home.
26. Super Easy Kitty Craft
Image source: Fab Working Mom Life
Not all kids are ready for cutting and gluing just yet. Toddlers, especially, need a cat craft that's as simple and straightforward as possible. That's where this project from Fab Working Mom Life comes in. You do the simple work of cutting out very basic, very easy shapes, and all your toddler has to do is paint the paper plates (with or without a paintbrush). When the paint is dry, glue it all together so that it at least somewhat resembles a cat, and you're done! Let your very little artist bask in the glory of their blossoming painting skills.
27. Lucky Cat With Free Printable
Image source: Kids Craft Room
You've probably seen these cats out and about and might wonder what they are. They are called Maneki Neko, or lucky cats in the Chinese and Japanese cultures, and Kids Craft Room has a way to make your own. When you get to the blog, make sure you follow their link to more information about these little guys, such as their Edo period Japanese origins and the meaning behind different colors. As mentioned in the title, the link also takes you to a free printable template you can trace for your lucky cat. This is a great project to make in the late winter for Chinese New Year!
28. Over-The-Moon Cat Craft
Image source: Glued To My Crafts
Once you make this craft, you'll never be able to look at another crescent moon without seeing it as a leaping cat! This totally clever and absolutely adorable cat project comes from Glued To My Crafts, which keeps things simple with a paper plate and some tissue paper. With its moon shaped body and black cat "fur," this project is ready for Halloween. You can even mount it to orange cardstock to make it extra festive. No fears about this cat running away, either!