Tissue paper: it's for more than just gift-wrapping! Listed below are 43 crafts with an extra kick of texture thanks to this colorful material.
Use up your holiday leftovers with the Ladybug Tissue Paper Craft. Get ready for summer fun with Ice Cream Cone Tissue Paper Craft or Stars And Stripes Tissue Paper Craft. And there are plenty of crafts you can bookmark for spring and Easter: Terrific Tissue Tulips, Let's Go Fly A Kit, DIY 3D Flower, and others.
Ready to think outside the crinkly tissue paper box? Some of the projects listed below utilize the special qualities of the ink in tissue paper to create a soft watercolor effect: just check out those ethereal photos for Snowy Tissue Paper Watercolor or Tie-Dye Tissue Paper Craft.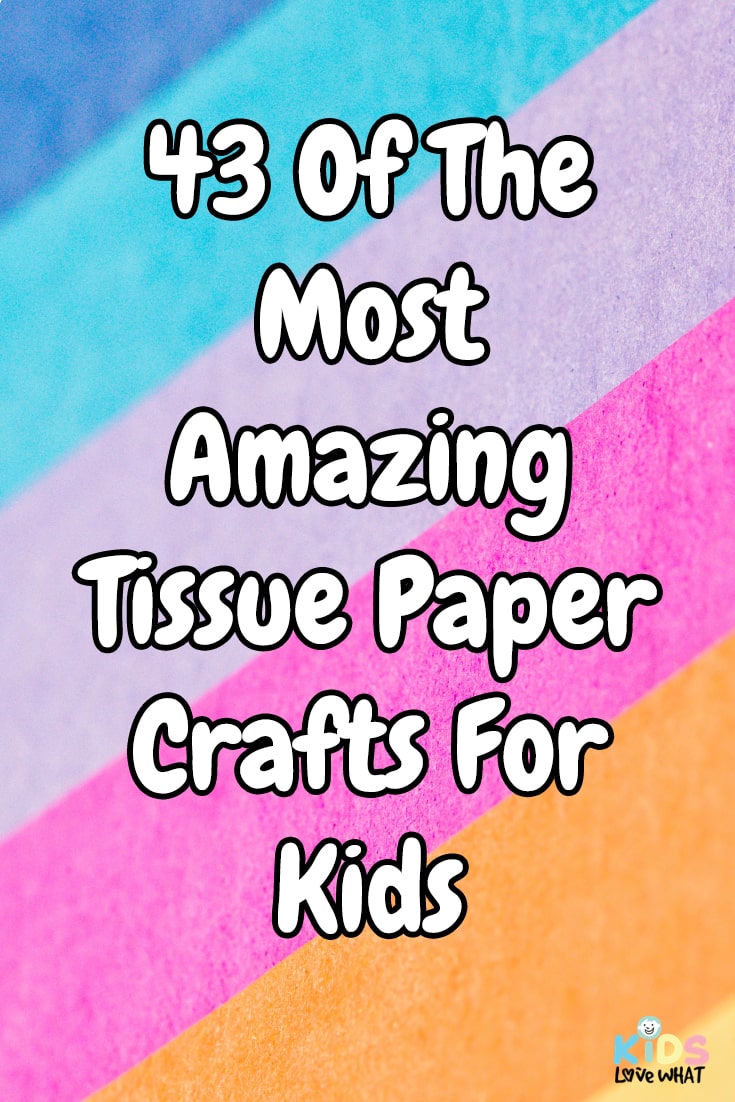 Some of these are easy enough for toddlers, preschoolers, and kindergarteners because they get to tear and crush paper. Other projects require a little bit more supervision, or else should be done by children with somewhat more advanced fine motor skills, like They've Got The Whole World In Their Hands.
Whatever the occasion, whatever the skill level, and whatever colors your children love this week, there is a tissue paper craft listed below that will delight and amuse everyone. Add a touch of color to your arts and crafts with this versatile material that's anything but delicate!
1. A Slice Of Watermelon Tissue Paper Craft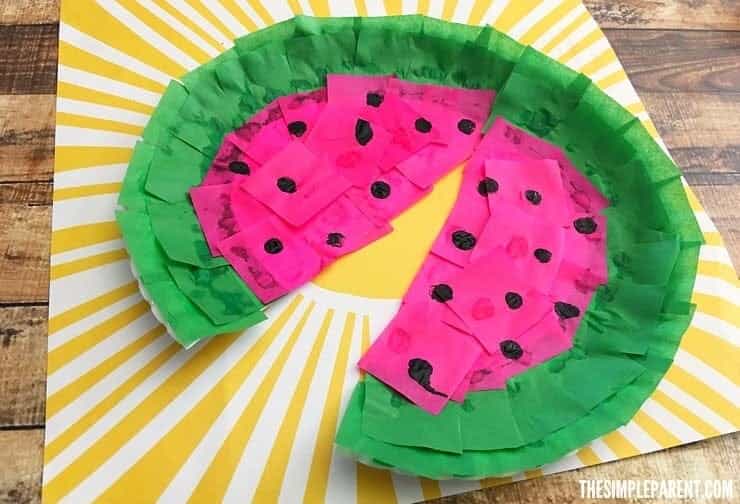 Image source: The Simple Parent
Whether you're gearing up for summer or lamenting it's passing, this tissue paper watermelon craft from The Simple Parent will feel like a backyard picnic. If the idea of cutting up that much pink and green tissue paper sounds like tedium, never fear: you can find pre-cut squares of tissue paper for purchase online. Or just let your children practice their scissor skills — the squares don't need to be perfect. Slice a paper plate in half, grab some glue, and you're good to go!
2. Terrific Tissue Tulips
Image source: I Heart Crafty Things
But wait, don't throw out your extra pink and green tissue paper! (See #1, above.) Save it for this beautiful tulip over at I Heart Crafty Things. The clever minds at the blog have a free printable template for you to download, just in case drawing is not your strongest skill. This flower craft will be a huge hit with kids because it involves plenty of crumbling up pieces of tissue paper — something you may have noticed kids are good at doing. Set the glue down and encourage them to utilize budding hand-eye coordination when placing the crumbled-up pieces in the right spots.
3. Rainbow Sunshine Tissue Paper Craft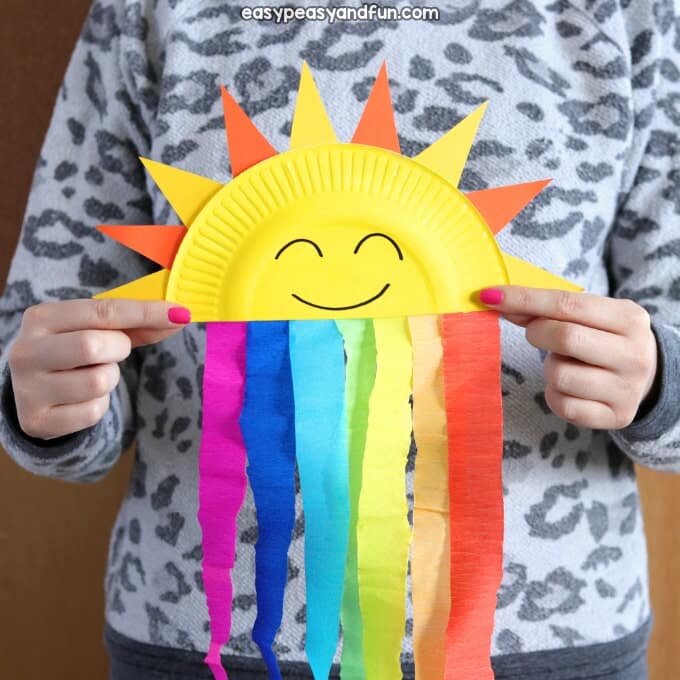 Image source: Easy Peasy And Fun
Don't let rainy days get you down! Thanks to Easy Peasy And Fun, you can brighten your child's day with this rainbow and sunshine craft. Rainbows are trendy and appeal to kids of almost all ages. Even toddlers can help out here by painting a paper plate entirely yellow (it's impossible to make mistakes) before you cut it in half to make the sun. The strips of rainbow tissue paper hanging down look wonderful hanging up in a window or over your child's bed.
4. Wings As Delicate As Tissue Paper
Image source: Happy Hooligans
Grab all the colors of tissue paper that you can find for this beautiful butterfly craft over at Happy Hooligans. The blog has a few clever hacks for making this craft run smoothly with kids of all ages — and for minimizing the chance of tears and frustration. With this craft, you can help your children learn about patterns, design, even how colors compliment or contrast each other. This is also a really beautiful class project for teachers who are planning lessons on the caterpillar-butterfly cycle, or just need a bright craft for spring.
5. Firestarter
Image source: My Mommy Style
Getting kids excited for a camping adventure can be as easy as this tissue paper campfire craft! Click over to My Mommy Style for the inspiration behind a project that's hot enough to melt a marshmallow. (Not really.) Since craft sticks are made of wood, they make natural logs for your child's fire. Planning to cook s'mores? Add cotton balls as marshmallows and brown construction paper as the chocolate bars. This fire will definitely burn as long as you need it to, and won't get smokey from rain!
6. Ice Cream Cone Tissue Paper Craft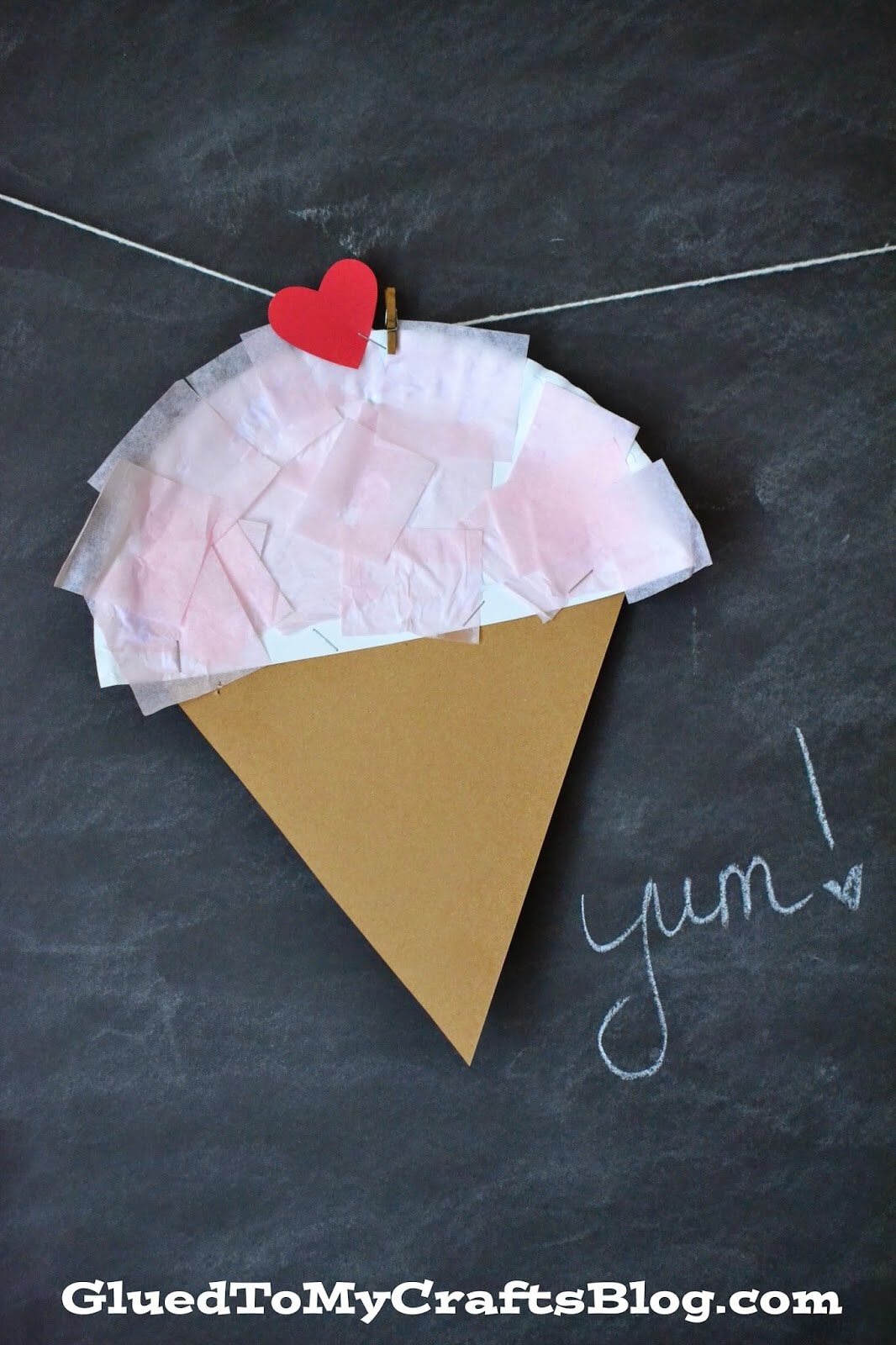 Image source: Glued To My Crafts
This tissue paper ice cream cone from Glued To My Crafts will absolutely melt your heart. It's so easy for kids to make, and allows them the creativity of picking out different colors of tissue paper based on what "flavors" of ice cream they want to "scoop." It's the perfect craft to bookmark for rainy days, as it will use up any leftover tissue paper you have from other crafts or from gift wrapping, as well as the brown construction paper that's sometimes left over in a pack. Just make sure there's enough for everyone to have seconds!
7. A Honey Of A Tissue Paper Craft
Image source: I Heart Crafty Things
When flowers start to bloom, bees come out to gather what they need to make honey. Based on this I Heart Crafty Things tissue paper bee, you can start a whole lesson on nature's balance for your children or students. Or perhaps your children are obsessively reading books about bees; maybe you are taking a field trip to see a real beehive. No matter what the reason, this is a perfect bee craft to make! And with a free printable template, it's easy bee-zy, too!
8. Slow And Steady Wins This Tissue Paper Craft
Image source: Fireflies And Mudpies
There's something about turtles that fascinates kids and adults alike. Maybe it's their shells, maybe it's how slow they move, maybe it's those cute little heads that pop out. And now, with Fireflies And Mudpies's instructions, your whole family can make their own colorful and shiny turtles. There's a free printable template to get you started; you just supply the paper plates and tissue paper in plenty of colors. And, of course, add glitter glue to make this extra special and snazzy!
9. Avengers, Assemble This Craft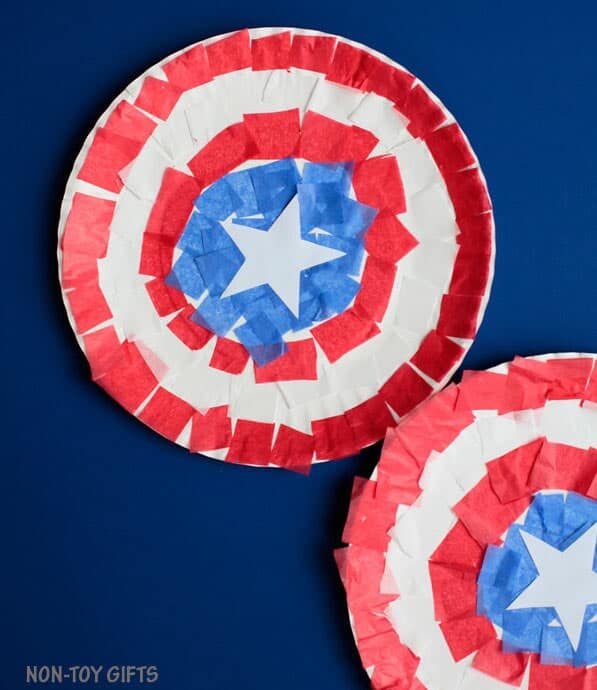 Image source: Non-Toy Gifts
If you live in an MCU house full of Iron Man masks, Thor hammers, Black Panther Wakanda salutes, and Hulk growls, then check out this tissue paper Captain America shield at Non-Toy Gifts. This is a really great craft for superhero-themed birthday parties, as the materials are easy to find and inexpensive to buy in bulk. Having your child's guests make these will keep everyone busy for at least a little while and gives them something to take home when the party's over. And even though paper plates are not nearly as strong as vibranium, kids can still have fun with them. Avengers, assemble!
10. Three Little Birds Tissue Paper Craft
Image source: Crafty Morning
No one needs to wake up in the morning and smile at the rising sun to appreciate this sweet tissue paper project from Crafty Morning. If it's the wrong time of year to find brown Easter basket grass, simply shred some brown paper or cut it into small strips yourself. Whether spring has sprung in your neck of the woods or not, there's no resisting these adorable and chirpy little baby birds! No matter how your day is going, they'll make you feel alright.
11. Let's Go Fly A Kite
Image source: Kinder Craze
Brighten up ordinary windows with a "stained glass kite" made with tissue paper! The clever kindergarten teacher at Kinder Craze shows you how easy it is to put this craft together. For children on the younger side — preschoolers and kindergarteners — it's probably best to set up the kite frame on clear contact paper ahead of time so they can focus on decorating the kites with colorful tissue paper. Older kids might be able to assemble the kite frame themselves. Hang these up in classrooms or living room windows for some instant cheer any time of year!
12. Cute Cat Craft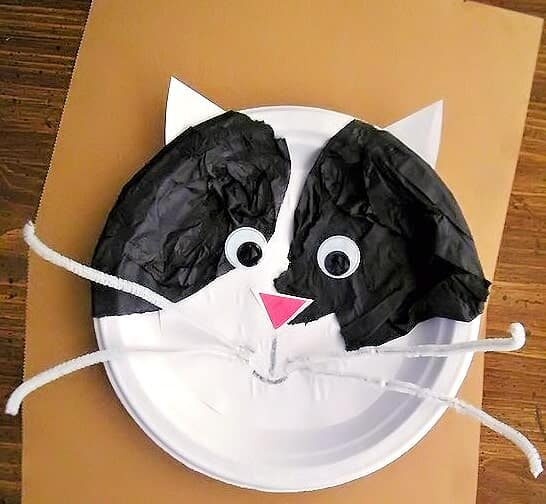 Image source: Our Kid Things
For kids who love animals, click on over to Our Kid Things for this adorable and easy to make tissue paper kitty cat. Maybe your family has a pet cat that your child wants to recreate; maybe you're a teacher and you've just read "Pete the Cat" during circle time. Or maybe your kids and students just love cats! Whatever the case, be sure to buy tissue paper in a variety of colors, including ones that may not occur naturally on cats — how wild can your children get with their new cat friends!
13. Easter Egg Tissue Paper Craft
Image source: Happy Hooligans
Nothing says spring like soft colors, especially at Easter. Gather up your pastel-colored tissue paper and get ready to "dye" some eggs with this craft from Happy Hooligans. Stripes, circles, patterns, rainbows: encourage your children or students to really stretch their imaginations to make their eggs as unique as possible. No two should look the same! And little hands can help out here by doing what they do best: tearing and crumpling tissue paper. When they are done, these crafts make gorgeous textured Easter eggs.
14. Pink Flamingo Tissue Paper Craft
Image source: Make And Takes
Still have leftover pink tissue paper? (See #1 and #2, above.) Head on over to Make And Takes for a fluffy flamingo friend. Start with a paper plate and pink paint, and finish with this striking tropical bird. (Did you know that flamingos are pink because of the brine shrimp they eat?) This is a wonderful craft to bookmark if you have a child who is obsessed with the color pink, with birds, with animals in general, or if you are throwing a tropical-themed party.
15. A Rainbow Of Spring Flowers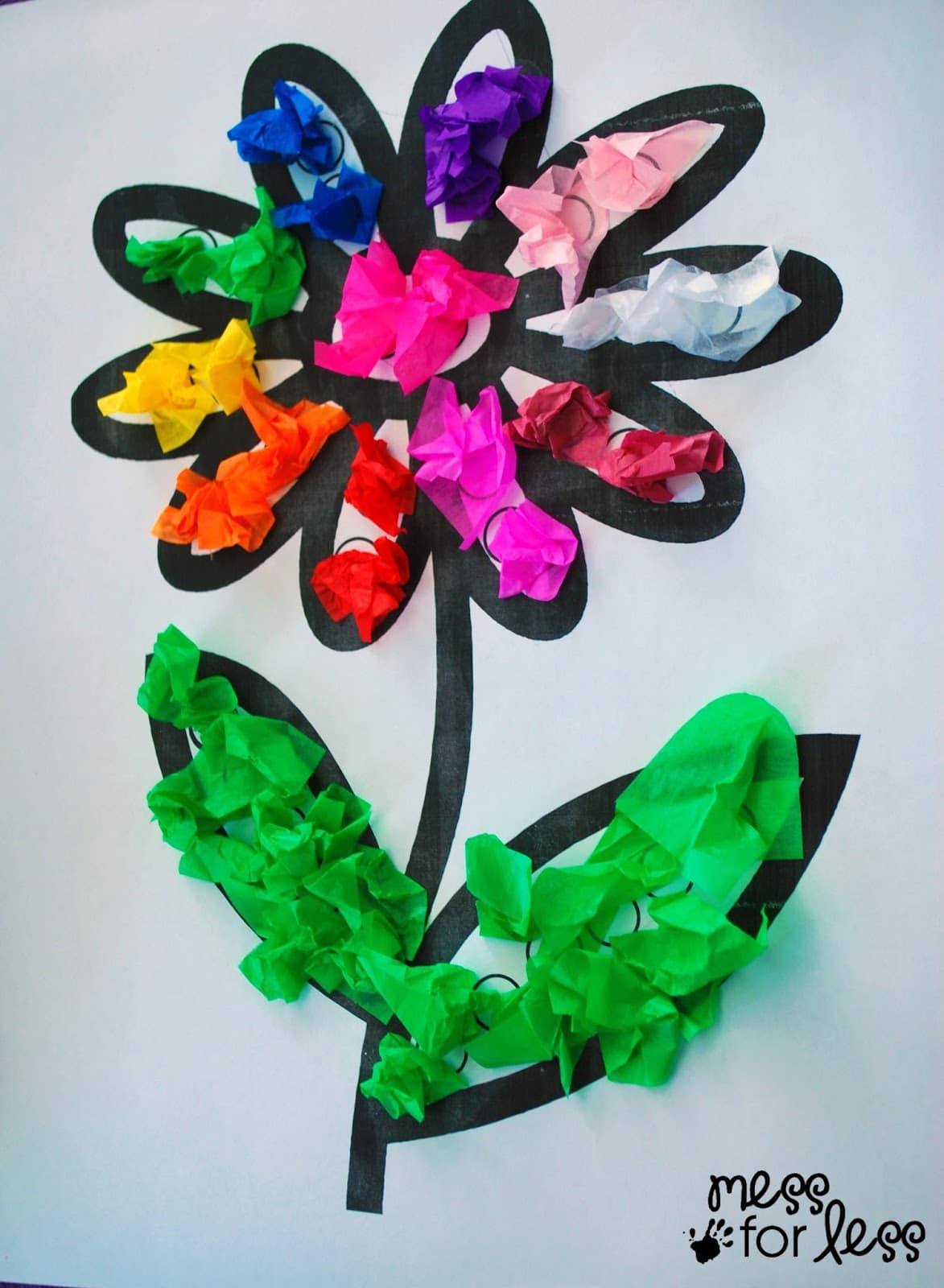 Image source: Mess For Less
Whether you and your class or family are excited for the start of spring, or simply wishful thinking on a cold winter's day, Mess For Less has got a fantastic flower project for everyone. The site has a link to a free printable template you can download. Print out a whole bouquet's worth of flowers, or enough for a classroom garden! Little circles inside the petals and leaves provide students with a guide for where the glued tissue paper should go. Be sure to have as much tissue paper on hand as possible in as many colors as possible (the site contains an affiliate link to a pack of colorful tissue paper squares).
16. They've Got The Whole World In Their Hands
Image source: Gluesticks
Here's a tissue paper craft for older elementary school kids. Over at Gluesticks, you'll learn how to make this amazing planet Earth out of a styrofoam ball and green and blue tissue paper. Make this at home to spark a conversation about world geography, or make these in the classroom to celebrate Earth Day or a lesson on space. Perhaps get creative by asking children to create their own unique planet, and then encourage them to show you all the geographical features they've included.
17. Tissue Paper Popsicles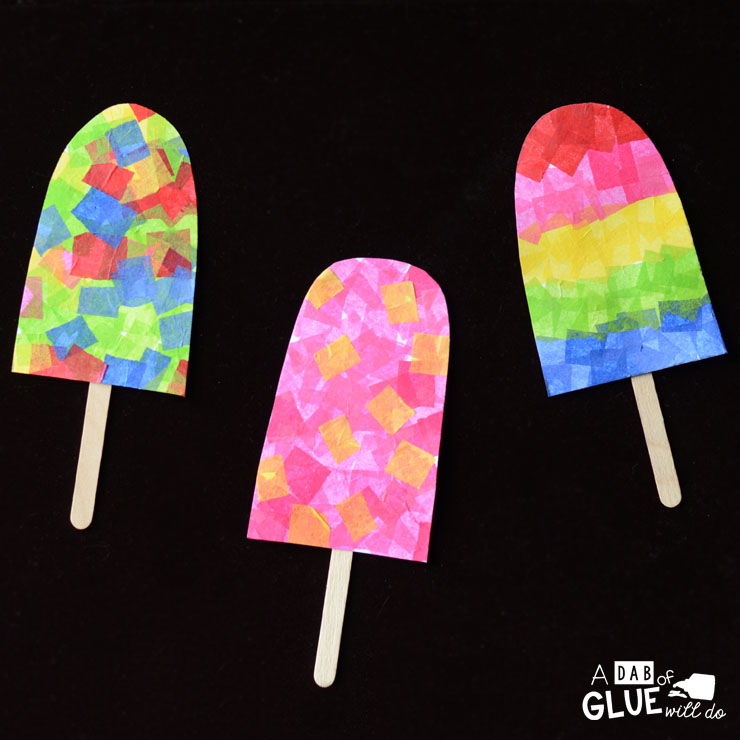 Image source: A Dab Of Glue Will Do
There's nothing like a cold Popsicle on a hot summer day, right? If you've got the kids home all summer long, or even just in the weeks between the end of camp sessions and the start of school, you certainly need ideas for keeping them busy. To cut down on screen time, head over to A Dab Of Glue Will Do for an adorable tissue paper craft. As the children select colors for their Popsicles, ask them what "flavors" they are making: you might be surprised with the inventive combinations they come up with! Mount these on black construction paper to really bring out the brightness of the colors, then hang up on the front of the fridge mess-free.
18. Beautiful Textured Snail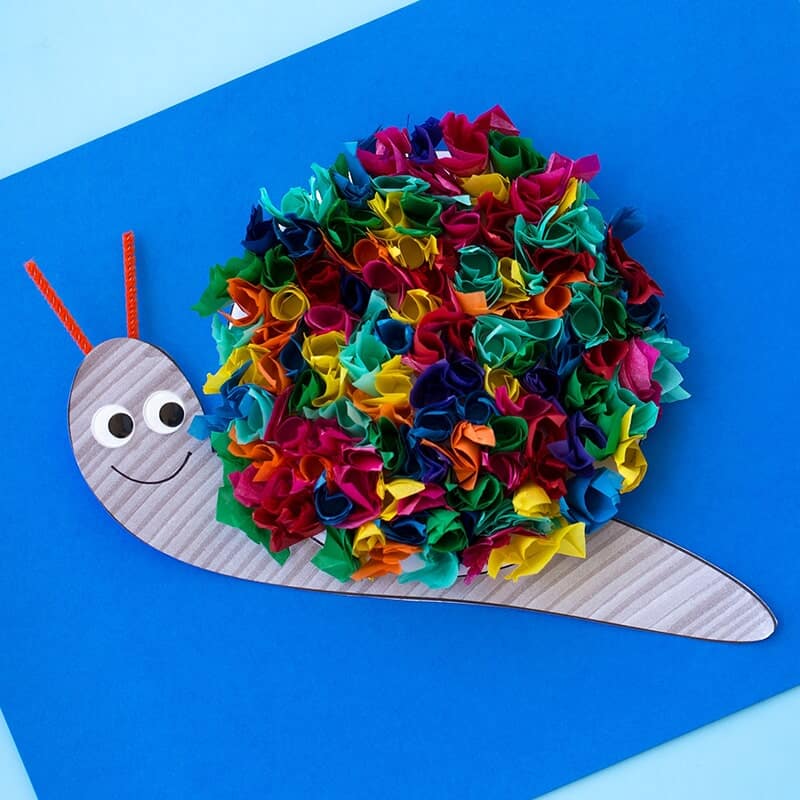 Image source: Fireflies And Mudpies
To make this stunning tissue paper snail craft, click this link to Fireflies And Mudpies. There's a trick to getting the tissue paper pieces all swirly and rose-shaped like that, but you'll have to read the instructions to find out how it's done! The printable template has a very small cost attached, but once you have it it's all yours. With the texture and colors involved in this craft, it is certain to become a huge hit in your classroom or home. It also goes perfectly with books like "Snail Mail" by Samantha Berger and Julia Patton, or with lessons about gardens, ecosystems, or invertebrates.
19. Quick And Easy Rainbow
Image source: The Suburban Mom
The Suburban Mom has this pretty rainbow craft that can easily be made on those rainy days when the kids are stuck inside and you need to curb their screen time. The blog features a free printable template so that your kids have a starting point to work with. And don't forget white tissue paper for the fluffy clouds! Rainbows are a great way to teach toddlers and preschoolers their colors, and this craft is perfect for a birthday party or classroom activity. It's also good hand-eye coordination for kids who are still developing their skills or kids who need more practice.
20. Heart Of Glass
Image source: Kids Craft Room
Windows need a little cheering up? Classroom need a little color? Valentine's Day approaching? Thanks to Kids Craft Room you can satisfy all these needs with a heart-shaped tissue paper suncatcher. If you can't find clear contact paper or tissue paper squares, the blog contains affiliate links so you can order them online. By cutting out heart-shapes, you instantly make these "stained glass" crafts extra special and full of love! Children can make these to give to teachers, grandparents, or other caretakers as a token of their affection and gratitude.
21. Orange You Glad It's A Carrot
Image source: Glued To My Crafts
Even if your kids don't like to eat their veggies, they'll love making this tissue paper carrot from Glued To My Crafts. The carrot is simply a triangle, making this easy for new scissor-users to practice their cutting skills. Trace your child's little hands onto some green cardstock for the top of the carrot; use different shades of green for each hand, or find some fun prints like the one shown. If this tissue paper craft inspires your child to try veggies, then it's a win-win for everyone!
22. Polar Bear Tissue Paper Craft
Image source: Arty Crafty Kids
Those long, dark days of winter can really get you down, especially if you've got children bouncing off the walls. When the December holidays are done and your family is looking at weeks of more snow and cold, click on over to Arty Crafty Kids for a darling polar bear tissue paper craft. You have to be a member of the site to access the printable template, but even if you are not a member you can find some polar bear silhouettes by clicking here. The tissue paper squares you use for this project create a gorgeous winter wonderland for your furry friend.
23. Friendly Firefly Tissue Paper Craft
Image source: I Heart Arts And Crafts
On the other hand, when summer is at its sunshiney peak, the creative minds at I Heart Arts And Crafts has this firefly suncatcher you can make. Toddlers will have a blast sticking yellow tissue paper down onto contact paper, letting their creative instincts take over while they help. The firefly's wings and head are easy shapes to trace and cut out yourself. Without glue or paint to dry, this project can be taped to windows right away to catch some of that summer sun!
24. Stars And Stripes Tissue Paper Craft
Image source: Plucky Momo
Free printable template alert! The generous creatives at Plucky Momo have an American flag that you can use as a base for this patriotic (if you live in the U.S.) tissue paper craft. You may notice that there aren't 50 stars on the blue field, but the design still works because it encourages children to spread their creative wings. Be sure to read the instructions on the blog and check out the photos, because the site has some great tips for getting the tissue paper just right to make a fun, textured flag.
25. Easy Tissue Paper Flower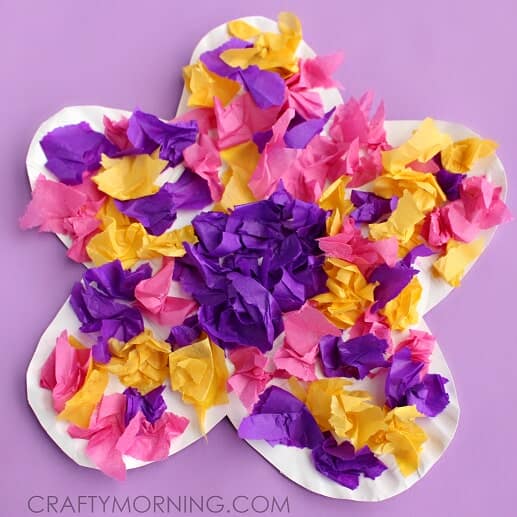 Image source: Crafty Morning
Tissue paper crafts for kids don't get much easier than this straightforward flower from Crafty Morning. If you're feeling especially creative, draw the shape of a bunch of different flowers, but the basic star pattern at the site will always be a classic. Feel free to use whatever tissue paper colors you have in the house, or bring your child to the craft store to pick out the colors they like best. With this particular craft you can make a whole bunch to while away an afternoon, or have each of your students make one to decorate the classroom for spring.
26. Tissue Paper Watercolor Butterfly
Image source: The Pinterested Parent
This beautiful butterfly from The Pinterested Parent comes with a free printable template, making it one a breeze to create. It's the perfect craft to both keep kids interested as well as make something that looks breathtaking when it's done. Make these to give out as gifts or when you need just the right party craft. With kids making their own marks on the butterflies and using a variety of colors, no two crafts will look alike!
27. Snowy Tissue Paper Watercolor
Image source: Fireflies And Mudpies
Here's another tissue paper watercolor craft (see #26, above), but this one should be bookmarked especially for winter because it uses snow to help the color bleed through. With inspiration from Fireflies And Mudpies, this craft can easily double as a STEAM activity as kids learn about water in two of its forms. Have your children make piles of snow in different sizes on top of tissue paper and see how long each takes to melt, or whether the colors bleed through differently. Then hang up your new art!
28. Autumn Leaf Tissue Paper Suncatcher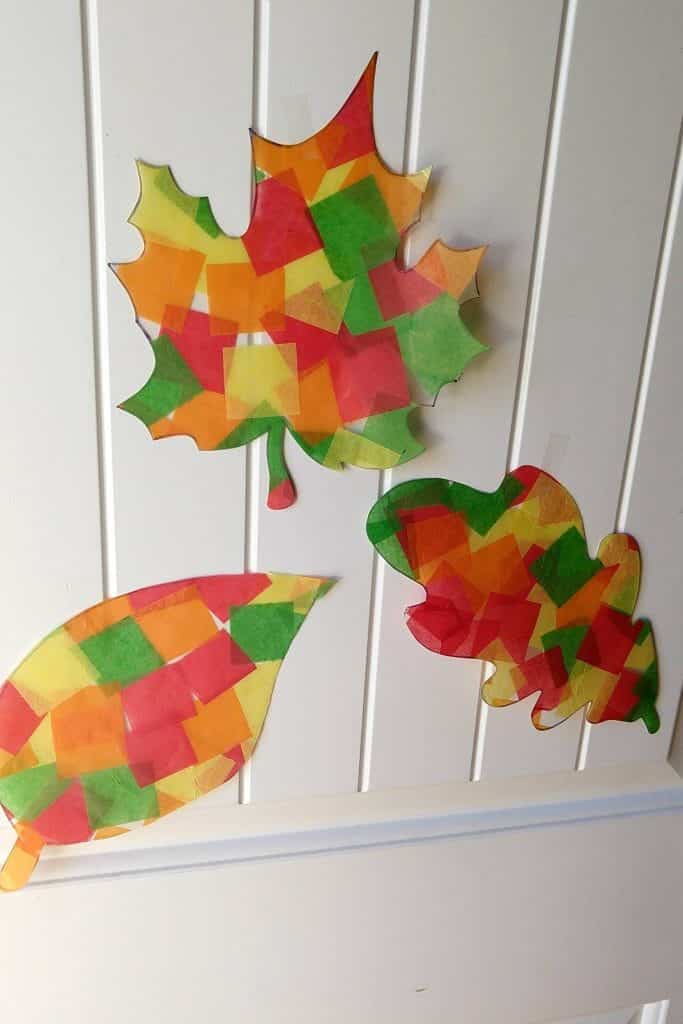 Image source: Sunshine And Munchkins
Why should outside get all the beauty of changing fall leaves? Bring those colors inside with these seasonal suncatchers from Sunshine And Munchkins! You can find plenty of leaf outlines by clicking here, which you then print, cut, and trace onto contact paper. No need to be 100% accurate with the colors; in fact, the more colors you add to each leaf, the more beautiful it'll look. Tape these to your living room windows to add a touch of the fall season any time of the year.
29. Jurassic Tissue Paper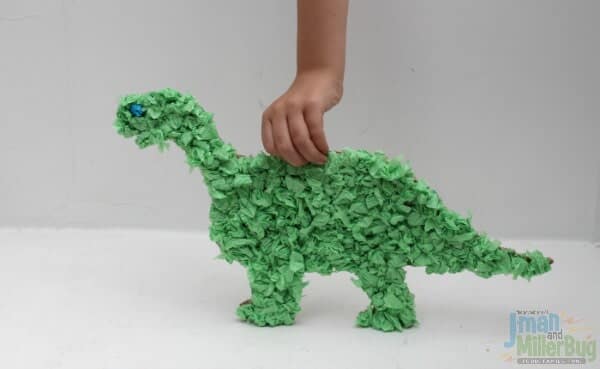 Image source: Mom Unleashed
For kids obsessed with dinosaurs, make sure you bookmark this craft over at Mom Unleashed. It's a fun and easy way for your child to indulge their love of those prehistoric beasts. Best of all, you and your child can choose which dinosaur(s) to make by clicking this link to some shapes you can trace. The blog has plenty of tips and advice for making this project run as smoothly as possible for both you and your child. Are you a teacher? Be sure to put plenty of tissue paper squares out for the entire class, as each dinosaur uses them up more than you realize!
30. An Apple A Day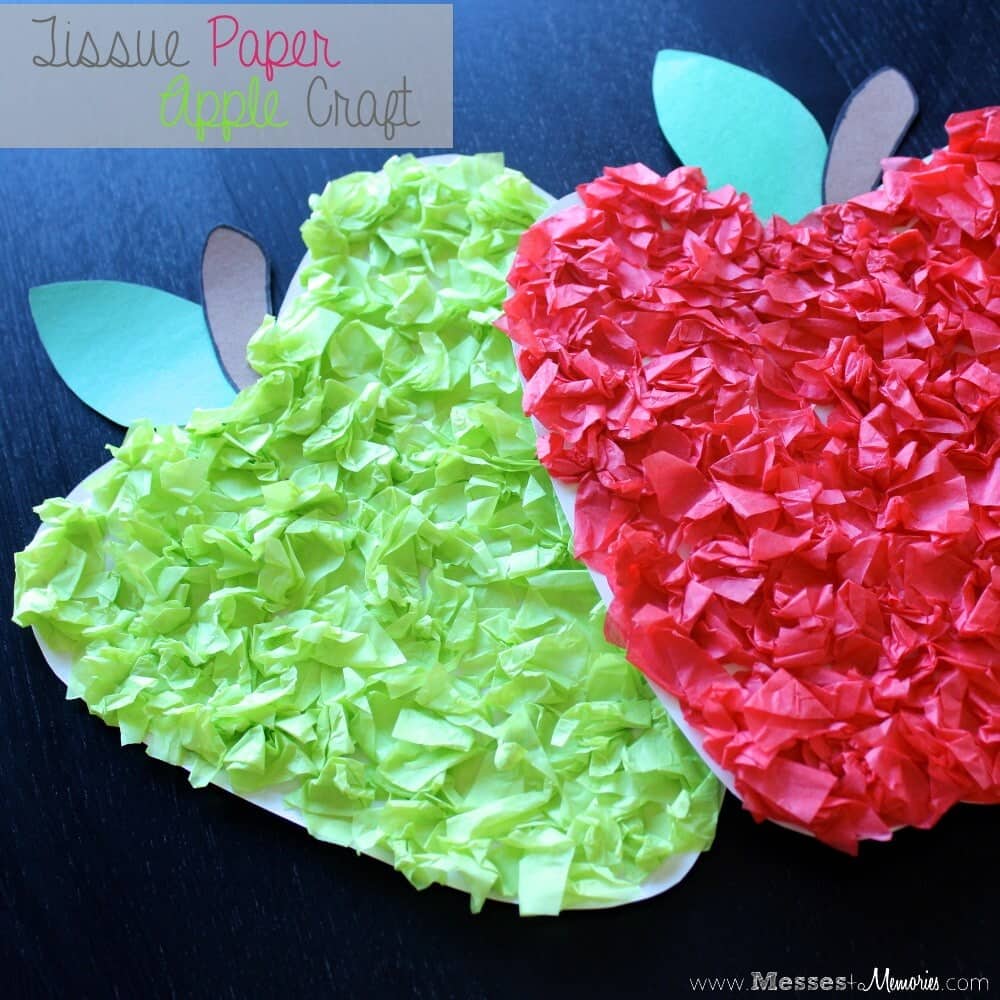 Image source: Messes To Memories
Messes To Memories has an absolutely darling tissue paper craft featuring apples. Perfect for the first day of school or a family outing to pick apples in the fall! And since apples come in all sorts of colors, your child can craft whatever type of apple they like best. (Click here for some basic apple outlines you can trace.) Of course, red and green are the most classic of apple colors, so it may be wise to stock up on those colors more than any others. Or, if everyone's feeling silly, make purple, blue, or even multi-colored apples!
31. Easter Suncatcher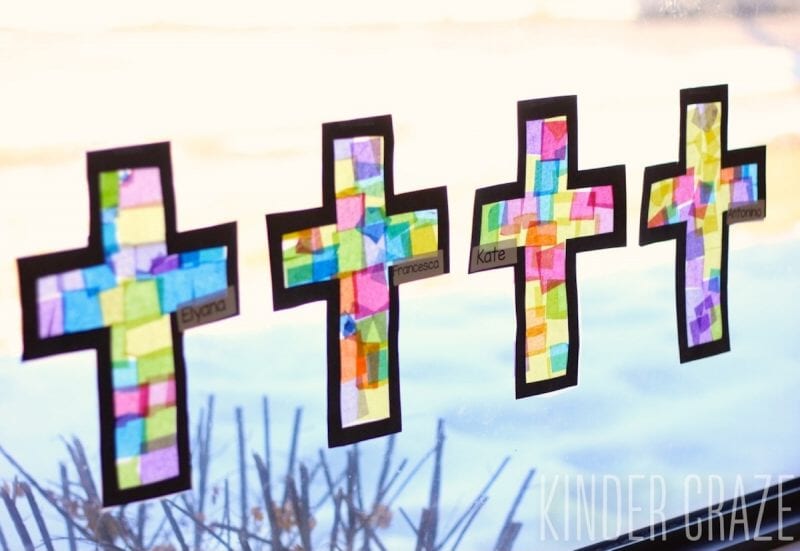 Image source: Kinder Craze
Whether your family attends Mass every Sunday or only at Easter, this is a charming craft to make to highlight the entire Eastertide season. The pale tissue paper pieces resemble the stained glass windows of so many cathedrals and churches all over the world. Check out this photo from the craft HQ at Kinder Craze to see how beautiful they look with the sun coming through the colors. These make wonderful Sunday School activities or projects for kids finally old enough to understand what Easter means.
32. Easter Egg Tissue Paper Window Decals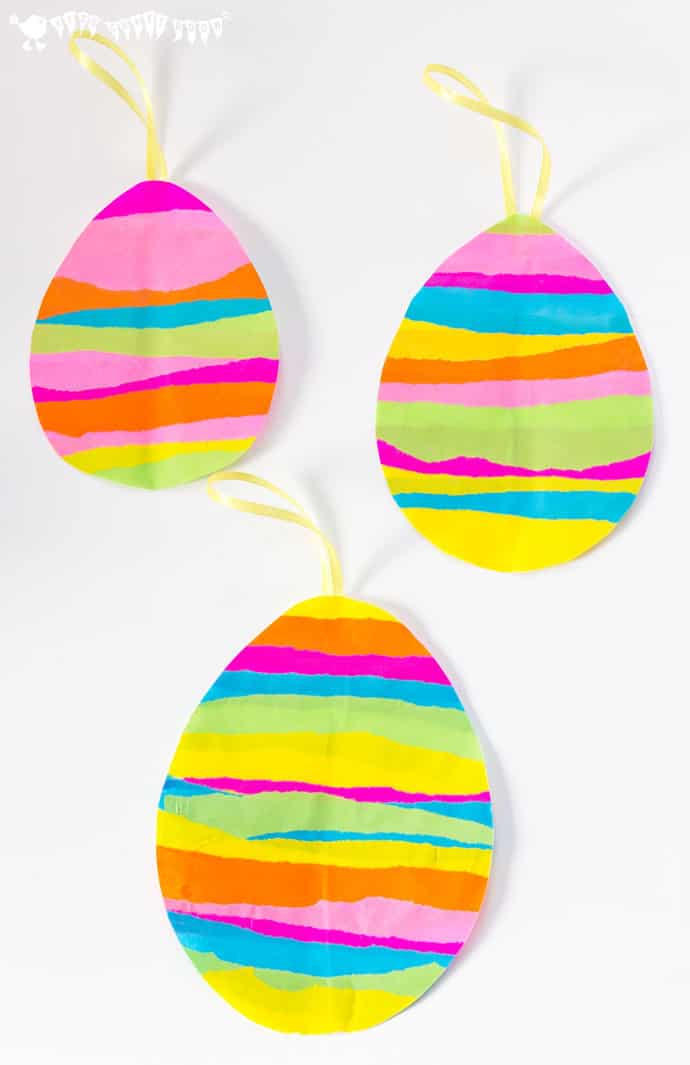 Image source: Kids Craft Room
Speaking of Easter suncatchers (see # 31, above), check out these super cute Easter eggs over at Kids Craft Room! They are a fun and colorful way to "dye" some eggs with kids of all ages and abilities. As with other suncatchers, clear contact paper is your friend. Kids can cut out strips of tissue paper in a wide variety of colors, or you can cut the strips ahead of time for younger children. Use all pastels to really get into the spirit of the season, make rainbows, or go with colors as big and bold as your child's imagination!
33. Rainbow Fish Tissue Paper Craft
Image source: Arty Crafty Kids
The book, "Rainbow Fish" by Marcus Pfister has been a beloved children's classic for twenty years. And whether your child knows the book by heart or you are just picking it up for the first time, Arty Crafty Kids has this eye-catching tissue paper craft to make with it. Even if your family has never heard of the book, this fish's colors are simply stunning and gorgeous. Use this as a tool to help children learn colors and practice hand-eye coordination. These fishies also look beautiful when you hang them all together on a wall to create a classroom "aquarium!"
34. Seahorse Tissue Paper Craft
Image source: Glued To My Crafts
If you are making a home or classroom tissue paper "aquarium" anyway (see #33, above), why not add a few seahorses? The creative genius at Glued To My Crafts has this adorable and multi-colored seahorse that goes along with the Eric Carle book, "Mister Seahorse," and looks amazing when it's finished. Have your students make this before you read the book during circle time, or encourage them to make a very special one of their own after reading. Or make this entirely on its own as part of a lesson on marine life and ocean environments.
35. DIY 3D Flower
Image source: Woo, Jr.
This brilliant tissue paper flower is simple enough to make thanks to instructions from Woo, Jr. There's a free printable template to get you started. Despite the straightforward manner in which it is created, this project is more suited to older children than preschoolers and kindergarteners. Children can use whatever colors they like for the flower's petals, creating patterns, rainbows, or varying hues of the same color. This makes a lovely Mother's Day gift or spring activity.
36. Tie-Dye Tissue Paper Craft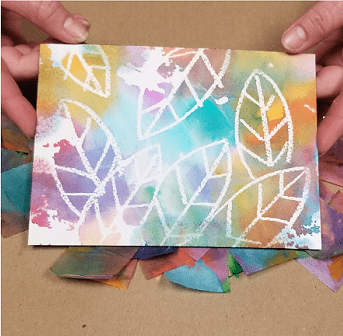 Image source: S&S Blog
All it takes is a white crayon to turn a tissue paper watercolor activity into an inspirational work of art. Younger children will definitely need some gentle guidance for this project from S&S, but older children can use this technique to write special messages to friends. If doing this as a party activity, make sure to leave plenty of time for the water to dry over the tissue paper so that you get the best colors possible. Kids who can't write can draw pictures or shapes, though they will need help since they won't be able to see white crayon on white paper.
37. Ladybug Tissue Paper Craft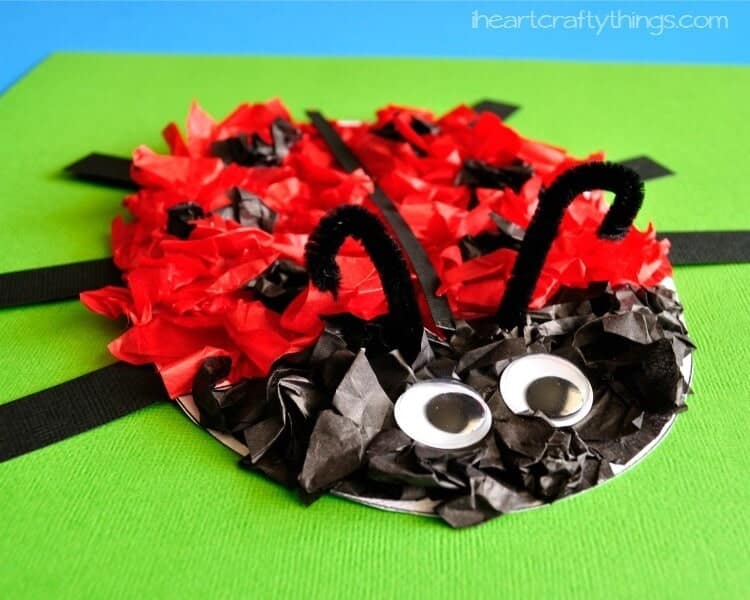 Image source: I Heart Crafty Things
Bring back memories of beautiful afternoons spent outside with this darling ladybug craft over at I Heart Crafty Things. Whether it's a snow day off from school, a rainy weekend afternoon, or just one of those days when everyone is too pooped to head outside, this craft is easy and fun for the preschool and kindergarten set. Googly eyes and pipe cleaners add an extra touch of silliness to this already textured craft, and kids will enjoy crinkling up pieces of red and black tissue paper for the ladybug's body. Before you know it, it'll be time to play outside again!
38. Tissue Paper Sloth Craft
Image source: Glued To My Crafts
Collect a few items you probably have around the house, click over to Glued To My Crafts, and help your child make this adorable sloth face. Sloths are pretty popular animals right now and have been popping up on everything from kids' pajamas to lunchboxes. Creating their likeness on a paper plate is so easy, your children or students will want to make as many as they can! So be sure to stock up on plenty of grey tissue paper, and then watch an entire army of sloths appear in your living room or classroom.
39. Underwater Suncatcher
Image source: I Heart Arts And Crafts
Bring the brilliance of a tropical undersea habitat to your living room with these jellyfish suncatchers from I Heart Arts And Crafts. Tissue paper makes a colorful jellyfish body, while streams of ribbon hang loose for the tentacles. But these jellyfish won't sting! They are easy enough for even toddlers to make, and add a splash of colorful light when you hang them up in any window of your house, classroom, or daycare. Every time someone walks by, the moving air will flutter the jellyfish's tentacles, too.
40. Pen Pineapple Tissue Paper Craft
Image source: Glued To My Crafts
For an out-of-the-box tissue paper craft, click on over to Glued To My Crafts to learn how to make this delightful pineapple. Your children's hands provide the template for the leaves at the top of the pineapple, and then all you need for the rest is a paper plate, glue, yellow tissue paper, and a black marker. This craft will be a favorite of preschoolers, and even toddlers can practice their grip by holding the marker and dotting the pineapple. Who's up for an imagination trip to Hawaii!
41. Non-Contact Paper Suncatcher
Image source: Kids Craft Room
Have you run out of clear contact paper from all the other suncatchers you've made? (See #11, #20, #31, and #39, above.) Never fear, Kids Craft Room is here! Save up clear plastic lids from delivery or take-out meals and upcycle them, or buy packs of these online. Children can cut out tissue paper into shapes or strips and make all kinds of patterns and designs on their suncatchers. Ribbons at the bottom add a special touch that looks awesome when hung outside to ruffle in the breeze.
42. Tissue Paper Craft In Bloom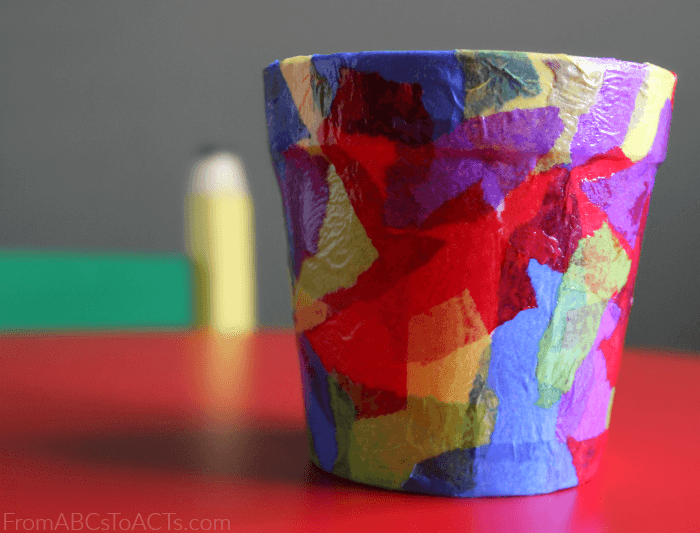 Image source: From ABCs To ACTs
You don't need Mod Podge for this sweet craft — regular school glue will do just fine. Then when you're ready, tell your children to go ahead and tear up pieces of every color tissue paper you can find! From ABCs To ACTs has all the tips, tricks, and inspiration you'll need to get going on a craft that's good for almost any occasion. If you are a teacher, bring in some seeds and soil so your students can watch flowers grow over the first weeks of spring. These also make wonderful gifts, crafts to sell at a local festival, or keep them at home for your indoor garden!
43. Just Hatched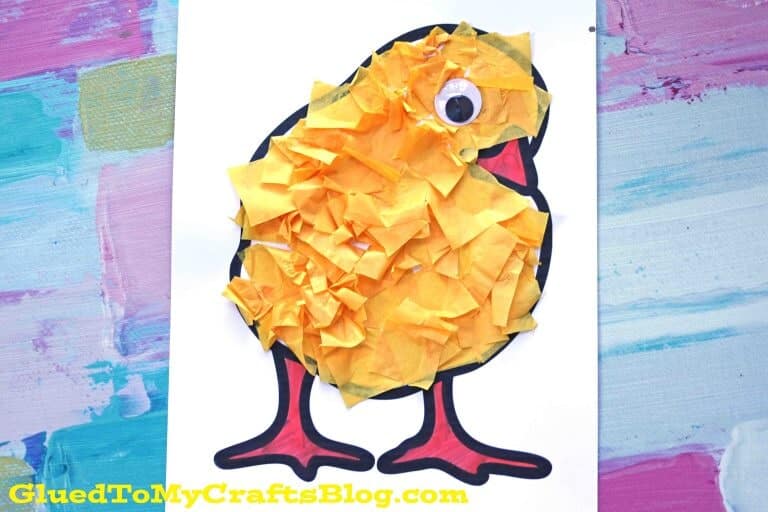 Image source: Glued To My Crafts
Baby chicks are adorable any time of year, not just at Easter. This little fella from Glued To My Crafts makes a special activity to try before field trips to a farm, lessons on birds, or any time kids want to make something soft and fuzzy. The link contains a free printable download, but each baby chick will turn out as unique and special as the child who makes it. In addition to yellow tissue paper, be sure you have plenty of new orange markers to color in the beaks, legs, and feet.