Pom-poms aren't just for cheerleaders! If you've been inside a craft store at any point, you've certainly seen bags, bins, and jars of these fluffy little fuzzballs. But before you dismiss them as simple glue-on accessories to jazz up a jewelry box, check out the 33 pom-pom crafts below.
And there's more here than the pom-poms you can buy in batches: on this list are more than a few crafts you can do with pom-poms you make with yarn. (You don't even need to buy a pom-pom maker, although they do make life just a little bit easier.)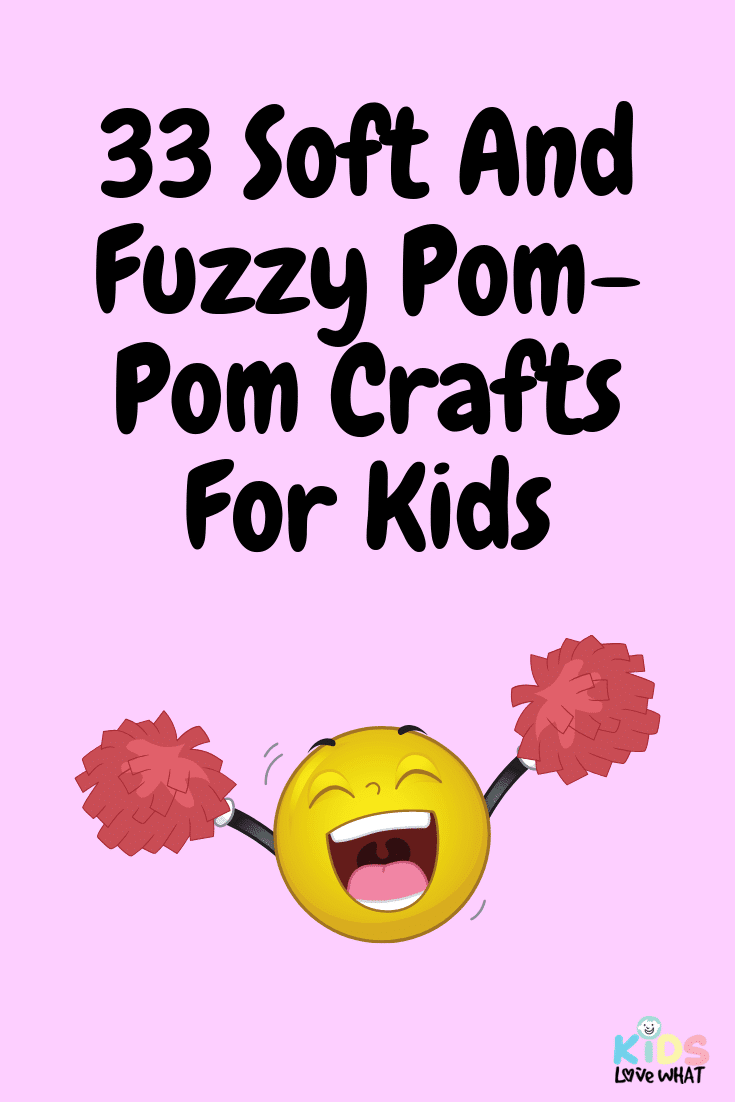 From bugs (Buzz Buzz Pom-Pom Craft) to mammals (Pink Piggy Craft), from flowers (A Garden Of Pom-Pom Crafts) to treats (I Want Candy Pom-Pom Craft), you're sure to find something listed below that will make you and your children feel all warm and fuzzy inside.
Want to keep it even simpler? Pick up a few clothespins the next time you are at the supermarket and use them with pom-poms to paint a picture in a whole new way!
Whether store-bought or DIY, pom-poms come in all sorts of sizes and colors to suit whatever your arts and crafts needs might be. So get started and get snuggly with some fluffy new friends!
1. Pink Piggy Craft
Image source: The Pinterested Parent
The Pinterested Parent has a perfectly pink pom-pom pig project. Whether you are making a family farm, learning about different animals, or telling the Three Little Pigs story, this craft is small, soft, and sweet. Just right for little hands to hold! It's great for helping kids master hand-eye coordination, and looks adorable on bedside tables. Where will your child's piggy go? To market? Or stay home? Or will this one go "Wee-wee-wee!"?
2. Spring Blossom Pom-Pom Craft
Image source: Play Trains
Stock up on pink and white pom-poms for this gorgeous cherry blossom tree craft from Play Trains; if you can't find any in a store nearby, simple head over to the blog and click the affiliate links to purchase some online. And don't be intimidated by how beautiful this craft looks in the photo — it's actually quite easy to put together. Children of all ages can help by stacking the pom-poms in the branches of the tree. Ask them to see how big they can make it before the pom-poms start to fall out, and there you go: instant counting game.
3. Painting With Pom-Poms
Image source: Happy Toddler Playtime
Where is it written that all pom-pom-related crafts have to be made WITH the pom-poms? Nowhere! Here's a creative use for those fuzzy balls of fluff that will tickle kids' imaginations. Click on over to Happy Toddler Playtime to get inspired to use pom-poms for painting with this juicy watermelon craft. A clothespin and a pom-pom work great as a dotter for kids who are still developing fine motor skills or can't hold a paintbrush. The watermelon itself is simple red and green construction paper, making this one a quick project that can be easily set up without a special trip to the craft store.
4. Adorable Arachnid Pom-Pom Craft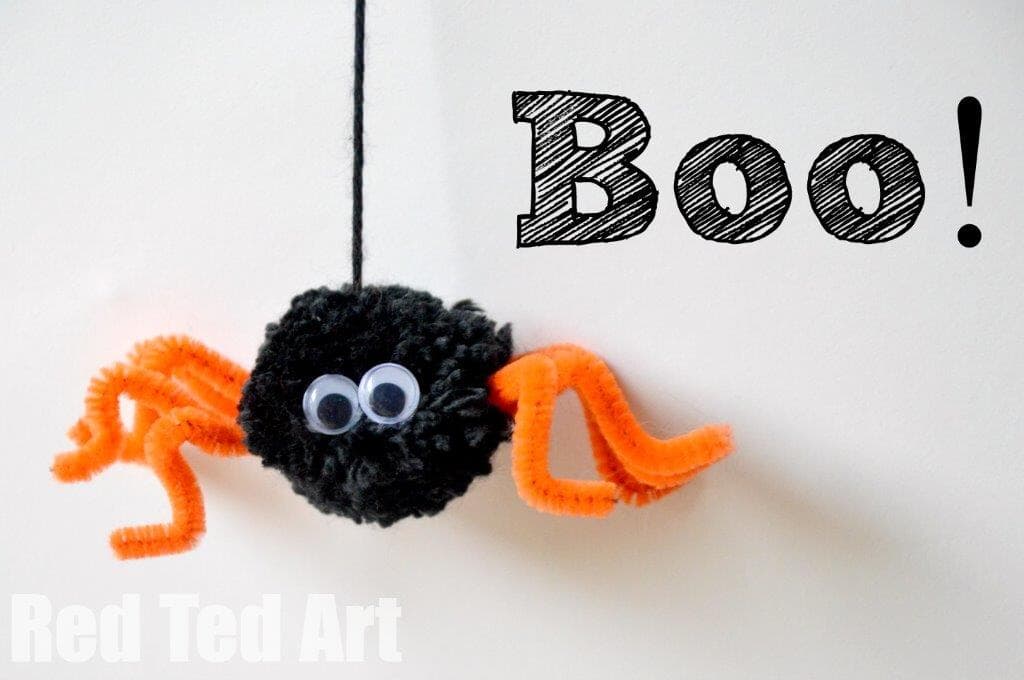 Image source: Red Ted Art
What's fluffy, adorable, and has eight legs? This pom-pom spider craft from Red Ted Art! Now, this is no ordinary pom-pom craft; you won't be buying bags of premade pom-poms for this spooky spider. For this one you'll need to stock up on black yarn (or any color that inspires you) and possibly a pom-pom maker; there is an affiliate link to one you can purchase online. Making pom-poms from yarn is actually quite easy, since most of it involves wrapping yarn around in a circle. Add some googly eyes and pipe cleaner legs, and you've just made a cute critter that can't possibly be creepy!
5. Touchy-Feely Pom-Pom Craft
Image source: The Soccer Mom
Here's a super fun craft that's so easy to make, you and your children will make whole batches in a single afternoon! The Soccer Mom shows you how quickly you can put together one of these pipe cleaner and pom-pom finger puppets. Absolutely bookmark this page for future birthday parties and play dates, and make sure you always have a solid supply of colorful pipe cleaners and pom-poms on hand. Kids can make one for each finger, or make them and swap with friends!
6. I Want Candy Pom-Pom Craft
Image source: Crafty Morning
Whether you're deep into the painting with pom-poms fad (see #3, above) or getting ready for Halloween (see #4, above), this candy corn pom-pom craft is sure to be a hit in your house or classroom. Crafty Morning uses black construction paper as the backdrop so that the bright colors of the candy corn really pop. (And if you must add glitter to any part of the paint, that's definitely A-OK!) This is a quick craft that almost any child can create with very little help.
7. DIY Pom-Pom Jewelry
Image source: Kids Craft Room
Kids Craft Room shows these pom-pom rings and bracelets in rainbow order, but you and your children can let your imaginations run wild with any colors you want. And with only three materials needed, this craft is ideal for birthday parties, play dates, and rainy days stuck indoors. Teach your children how to make patterns with two colors (early math skill!), or do red-white-and-blue for Fourth of July. Do several in single colors to match any outfit. Need a quick and personal gift for a friend? Give them pom-pom jewelry!
8. Buzz-Buzz Pom-Pom Craft
Image source: I Heart Crafty Things
There's a buzz in the air…it's these darling pom-pom bees from I Heart Crafty Things! This is a wonderful all-purpose bee craft for almost anything you may be teaching in your classroom or learning about at home: the life cycle of flowers, how honey is made, insects and bugs, spring, even first-aid. If you can't find glitter pom-poms to make your bees extra shiny, you can use either plain yellow and black ones or click on the affiliate link contained in the post.
9. Fluffy Sheep Pom-Pom Craft
Image source: Simple Everyday Mom's
Scroll to the bottom of Simple Everyday Mom's page and fill out your email addy to receive a free printable template for this supes adorbs sheep pom-pom craft. And honestly, using pom-poms to make a sheep, rather than the usual cotton balls, is absolutely brilliant. With its wide eyes staring right out of the paper, this sheep is so cute you'll want to snuggle up with it! Make this alongside a Pink Piggy Craft (see #1, above) to fill out your family's own DIY crafty farm project, or before attending a nearby sheep-shearing spring event.
10. Pom-Pom Love
Image source: Inspiring Savings
Why settle for generic store-bought valentines when you can make these squee-worthy cutie pies from Inspiring Savings? They are so cute and little, every single student in your child's class will fall ga-ga in love with them. So let those kids take these home and make you the envy of all the other parents — no one has to know how inexpensive and easy they were to put together! Glue the feet onto pieces of cardstock with each student's name and your child's "signature" so that you both can get all the credit for being unique and original.
11. Celebrating Pom-Pom Crafts
Image source: Crafty Morning
Celebrate the good ol' U.S. of A. with this patriotic pom-pom painting craft. Click on over to Crafty Morning for inspiration that utilizes the clothespin-pom-pom painting technique seen above in #3 and #6. DIY flag crafts are a fun way for children to learn about America, and to learn about the spirit of American holidays like Memorial Day, Fourth of July, Veteran's Day, and Flag Day. (For the sake of everyone's sanity, keep in mind that your child does not need to make all 50 white stars.)
12. We All Scream For Pom-Pom Crafts
Image source: Hello Wonderful
Level up your crafting game with some burlap and personalized labels to make these pom-pom ice cream cones. For summer, for parties, for any time of the year, these will stun your guests with how awesome they look. Hello Wonderful breaks down everything you need and all the steps to follow so that you, too, can look like you spent ages making an eye-catching project that's actually quite simple. Or, glue the burlap to the paper triangles ahead of time and let this be a fun party activity!
13. Monster Love
Image source: Oh My! Creative
The great thing about this pom-pom craft over at Oh My! Creative is that there are infinite combinations that can be assembled to make these critters. So if you are planning to set this up for your children or students, make sure to stock up on a diverse assortment of pom-poms (in colors and sizes), googly eyes (in varying sizes), and pipe cleaners (in textures and colors). Although little crafters will need an adult to hot glue it all together, they are absolutely the brains behind the creations. Add sparkle heart feet to the bottom for instant class valentines, as with #10 above.
14. Happy, Sad, Winky-Face Pom-Pom Craft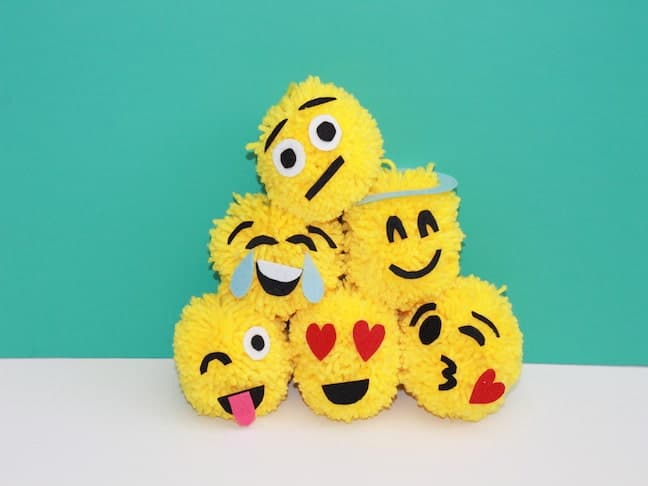 Image source: Momtastic
If you are here on the internet, then you've likely had emojis in your life for the past few years. So you might as well accept that they aren't going anywhere anytime soon and embrace our new emoji overlords with this pom-pom craft from Momtastic. This is another craft in which you make your own pom-poms (see #4, above), so make sure you stock up on LOTS of bright yellow yarn. Once your pom-poms are made, it's entirely up to you which emojis you bring to life with a little stiff felt and glue. ;-D
15. Tweet Tweet Pom-Pom Craft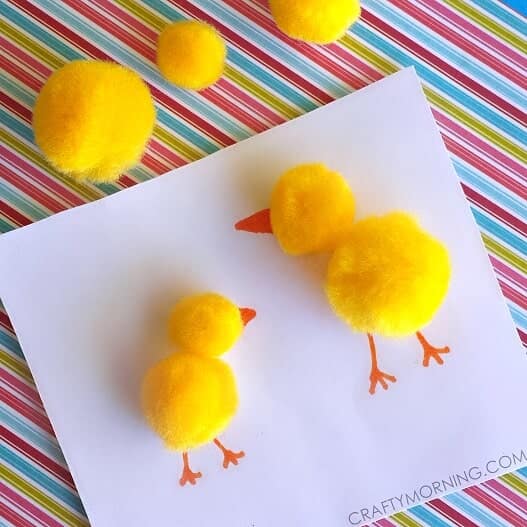 Image source: Crafty Morning
For Easter, a trip to the farm, or any time, check out this delightful baby chick pom-pom craft over at Crafty Morning. It's ridiculously easy to make and requires zero special materials, unless you don't keep pom-poms and construction paper in your house or classroom. Very young children can practice hand-eye coordination by gluing the pom-poms into place; older kids can draw the beaks and legs. And that's it! Make this craft in the morning and it's ready to hang up or go home by lunchtime.
16. Fluffy Wuffy Bumble Bee
Image source: Molly Moo Crafts
If you love the idea of making your own pom-poms out of yarn (see #4 and #14, above), check out this beyond-adorable bumble bee from Molly Moo Crafts that requires you to make two pom-poms. For this, you'll use two colors of yarn at the same time on your pom-pom maker — there is a great photo at the site to help you along. When it's ready, assure your children that this bee absolutely will not sting them. In fact, it's cute and cuddly and ready for snuggles!
17. Pom-Pom Butterfly Magnet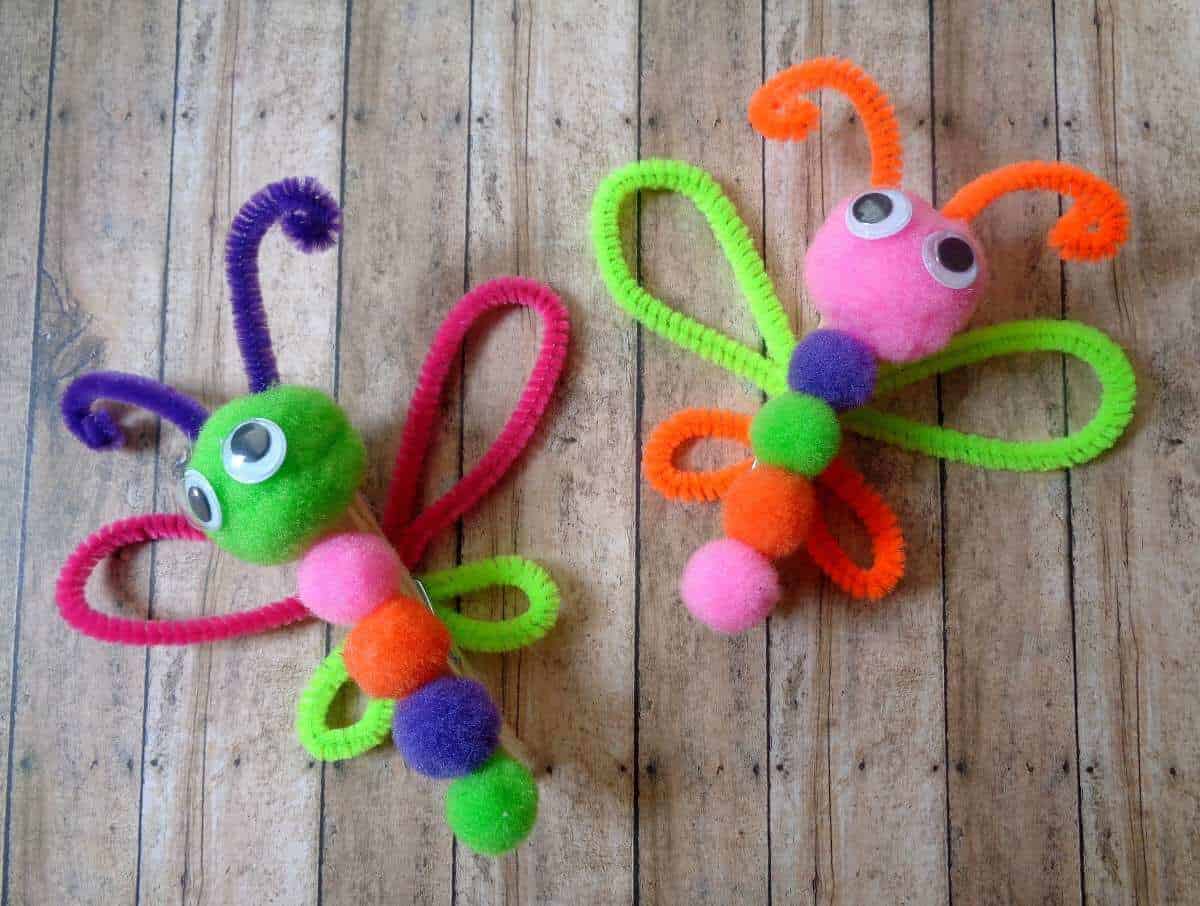 Image source: The Inspiration Edit
This is one of those crafts that's so sweet, you'll put it up on your fridge and never want to take it down. With you there to do all the hot glue parts, your toddler or preschooler can really let their imaginations shine with their color selections for the bodies and antennae. The Inspiration Edit shows you just how easy this butterfly craft is to do, so it's totally stress-free for even the least artsy parent. And if you need a quick but thoughtful gift — for grandparents, teachers, or babysitters — these are a wonderful way for your child to say, "I love you!"
18. The Very Pom-Pom Caterpillar
Image source: Easy Peasy And Fun
From reading "The Very Hungry Caterpillar" at home to learning about the lifecycle of caterpillars to butterflies, here's a craft from Easy Peasy And Fun that kids will be excited to make! There's both a video and step-by-step instructions for however you learn best. If you "draw" the glue on the leaf yourself, preschoolers can work on their hand-eye coordination by sticking on the pom-poms and following the line. Older kids might want to try "drawing" with the glue themselves. Either way, make sure you have plenty of pom-poms on hand for this one!
19. Hot Chocolate Pom-Pom Craft
Image source: Crafty Morning
When the kids are home from school due to a snow day, head on over to Crafty Morning for this toasty warm pom-pom craft. After playing in the snow, kids love to come inside for a mug of hot chocolate with marshmallows. And when they've drunk every last drop and eaten every last marshmallow, set out the construction paper and white pom-poms for this cozy craft. Never lament the boredom of a snow day again now that you know how to keep your kids busy inside!
20. Do You Want To Build A Snowman Pom-Pom Craft?
Image source: Kids Activities Blog
Ever since Disney's "Frozen" was released in 2014, we've hardly seen a winter go by without referring back to Elsa, Anna, and Olaf. Indulge your children's continuing adoration of this lovable snowman by making a white pom-pom following the inspiration over at Kids Activities Blog. Add a loop at the top for an instant Christmas tree ornament, or leave it as-is to decorate the top of your fireplace mantel. Here's one Olaf that definitely won't melt with other cold things in summer!
21. Pick A Pumpkin Pom-Pom Craft
Image source: It All Started With Paint
If you really want to try making your own pom-poms out of yarn but don't want to invest in a pom-pom maker (see #4, #14, #16, above), head over to It All Started With Paint, where you'll learn how it's done. Once you've got the hang of it, invest in a skein of orange yarn to make pom-pom pumpkins for Halloween, Thanksgiving, or as a general Fall craft. These look adorable as part of a Thanksgiving centerpiece, decorating tables for a Halloween party, or scattered around a classroom.
22. A Garden Of Pom-Pom Crafts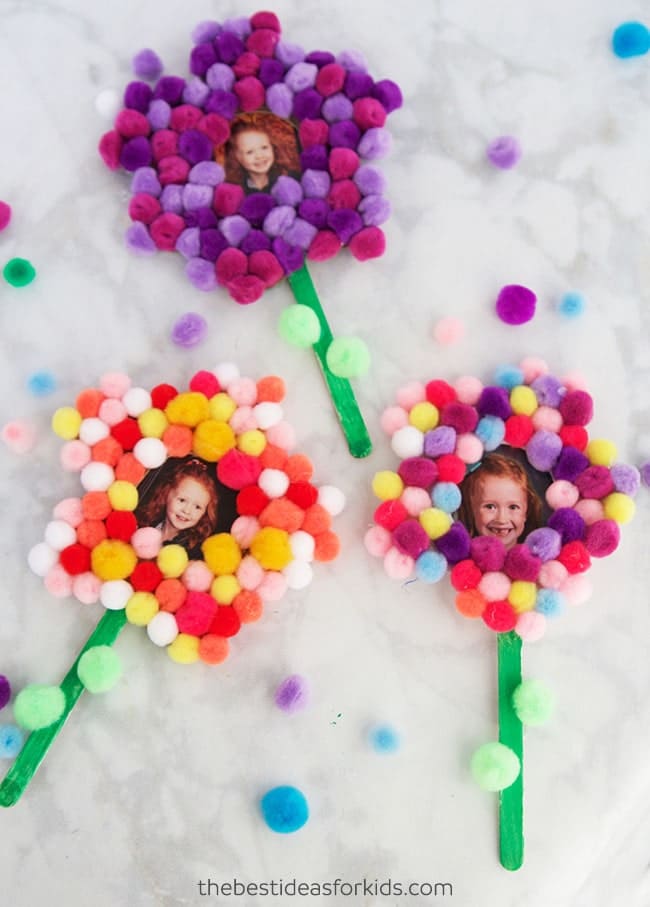 Image source: The Best Ideas For Kids
What better way for your child to show their love to someone special (maybe you?) than with flowers? Especially flowers they make themselves! Over at The Best Ideas For Kids you'll find this darling and personal pom-pom craft that truly says, "I love you." With the instructions on the blog, you can even add a magnet to the back of your flower so that you can stick it up on the fridge forever. Make an entire bouquet as a very special and personal gift for grandparents or teachers.
23. Christmas Ornament Pom-Poms
Image source: Molly Moo
Have you magically managed to avoid "Frozen" in your household, but you still want a darling snowman pom-pom craft? Molly Moo has just the project for you! Get really creative with the faces on these spherical fluffies by creating each one with different mouths, eyes, eyebrows, and pink cheeks. There is no way your tree won't look lovely and sweet with a few (or more!) of these hanging from the branches. This craft also makes a wonderful gift for loved ones.
24. Fall For This Pom-Pom Craft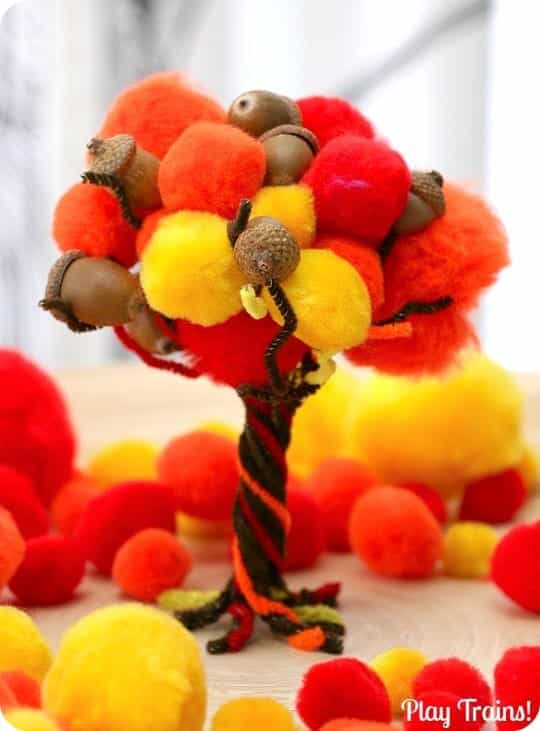 Image source: Play Trains
If you like Play Trains' cherry blossom tree (#2, above), check out this twist (ha!) for autumn. The bright reds, oranges, and yellows will catch your child's attention, and the way they can stack the pom-poms in the pipe-cleaner branches will encourage their hand-eye coordination skills. (For children with fine motor challenges, perhaps stick a clothespin on the pom-poms and let them use that to put the fluff balls into the branches.) This tree looks absolutely stunning as a stand-alone fall decoration, or as part of a crafty fall tableaux.
25. Pom-Pom Craft For Bookworms
Image source: Raising Up Rubies
There's so much more to pom-pom crafts than making critters and flowers. Check out these bookmarks from Raising Up Rubies that are so simple and inexpensive, and yet look 100% darling. Start by making your own pom-poms with yarn (see #4, #14, #16, and #21, above) and make sure you have colorful paper clips to go with them. That's it! Mix and match the colors to get funky, or make an entire rainbow of bookmarks for a slumber party or children's PRIDE event.
26. Step Into This Pom-Pom Craft
Image source: Hello Wonderful
Pom-poms are so soft and snuggly, but why save them for crafts you can hold in your hands? The clever minds over at Hello Wonderful show you how easy it is to make a small rug out of pom-poms. Yes, the same little, colorful ones you use to make caterpillars and valentines! One of the best parts of this craft is that you don't need to worry about pom-pom sizes or colors, and there's no specific pattern to follow. This can be a fun project to do with preschoolers as you ask them to name the colors of the pom-poms as they stick them onto the base.
27. Picture This Pom-Pom Craft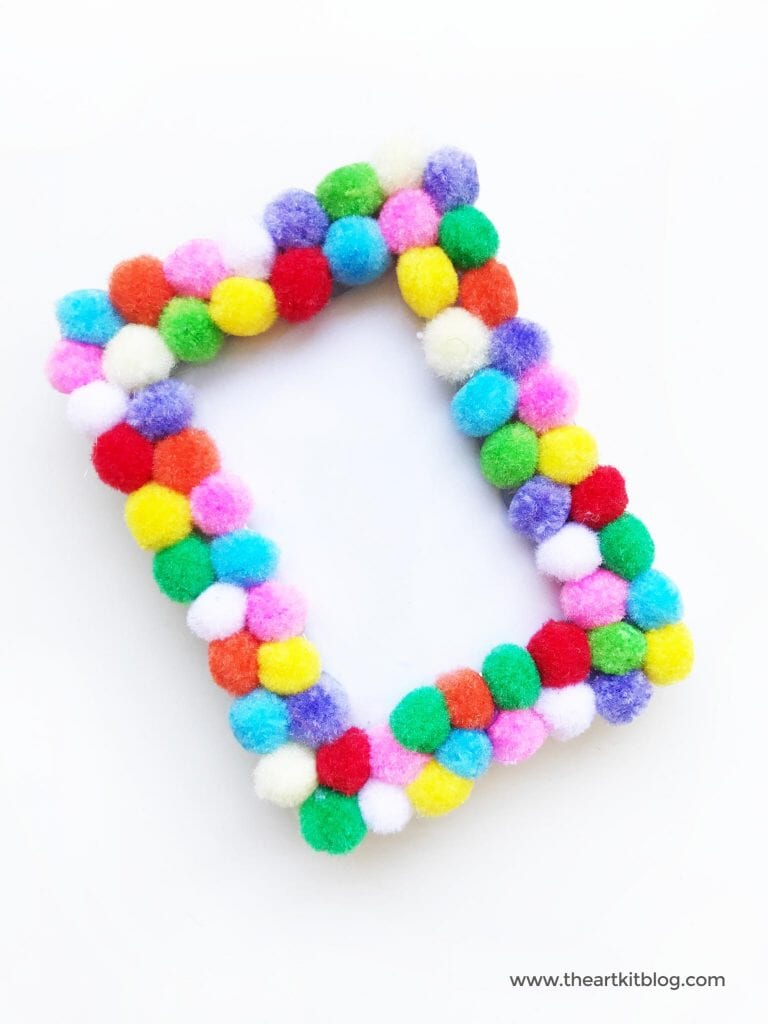 Image source: The Art Kit
Handmade, personal crafts are almost always a big hit when it comes to gift-giving, especially with grandparents, teachers, and other caregivers. If you'd love to help your child make something special but you're short on time and/or art skills, The Art Kit has your back. This frame requires only three materials: a plain frame, a hot glue gun, and a whole lotta pom-poms. Make this the night before you plan to gift it so that the glue has time to dry, and make sure you get an extra cute photo of your pint-sized model to put in the frame!
28. DIY Pom-Pom Accessories
Image source: My Sister's Suitcase
For kids who need rainbows on all the things, My Sister's Suitcase has a fun and darling pom-pom craft that serves double-duty as both a headband and a necklace. Not into rainbows? Make patterns of your child's favorite colors! Or go monotone for an ultra-modern look. Better yet: make a bunch of pom-poms ahead of time in an assortment of different colors and then turn this craft into a party activity: not only will it keep the kids busy and happy, but they'll all have a cool and unique gift to take home!
29. Pom-Pom Puppet Master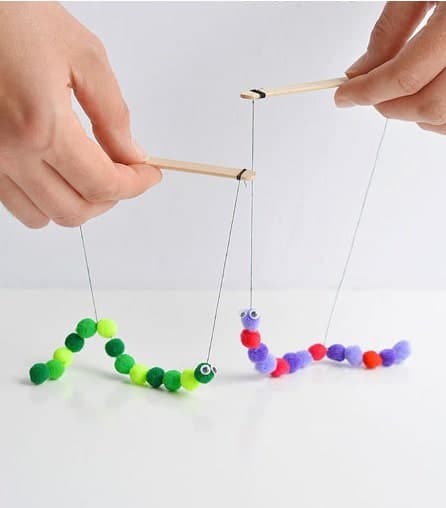 Image source: One Little Project
Watch this video at One Little Project to learn how to make these cool pom-pom worm puppets. These are absolutely fabulous for when you want a craft that'll earn its keep after it's made. Kids won't be able to resist these wiggly little friends that they can control by holding craft sticks, making this excellent for development of fine motor skills. Since this project does require using a needle and thread, it's best done in plenty of light and when you are a little bit caffeinated so your eyes can focus.
30. Out Of This World Pom-Pom Craft
Image source: We Are Scout
We Are Scout warns you upfront: this craft is MESSY. Before getting started, you may want to check on the health of your vacuum cleaner! Then, if you love making your own pom-poms out of yarn (see #4, #14, #16, #21, and #25, above), block out a generous chunk of time and gather all the yarn pictured. This craft is perfect for kids who have been bitten by the space bug; simply hang it over their beds or homework desks. If you're a teacher, this is a surefire way to get your students' attention when it's time for a lesson on space and planets!
31. Baa Baa Pom-Pom Craft
Image source: One Little Project
Now, here's a project that combines both DIY pom-poms and the store-bought kind. The fluffy sheep over at One Little Project even have glittery faces to add to their already considerable appeal. Once again, this blog has a quick tutorial on how to make your own yarn pom-poms without using a store-bought pom-pom maker (see #21, above). Make enough for an entire flock! Can't sleep? Count how many pom-pom sheep you can make! Toddlers will love these as they snuggle into your lap while you read them nursery rhymes.
32. For Monster Readers Only
Image source: One Little Project
Got a voracious, monster reader in your family? Need several quick bookmarks for the stack of library books on your table? One Little Project has this pom-pom bookmark that's quick, easy, and inexpensive! Kids can really express their big imaginations with this craft by choosing the colors of the craft sticks, what colors and sizes of pom-poms to use, and how many eyes their monsters need. These are sure to be a huge hit at school craft fairs, too, as you can make a ton of them relatively quickly.
33. Chew On This
Image source: Glued To My Crafts
If you've noticed that pom-poms look a lot like colorful gumballs, you're not the only one. The clever creatives at Glued To My Crafts know exactly what you're thinking, and they have a craft for that! Pom-poms of all sizes and colors are definitely welcome here, and in fact make this project so much nicer and brighter. Kids can go wild gluing on "gumballs," and you won't need to worry about cavities or gum getting stuck everywhere.