What's a day at the beach without a seashell collection? Finding things to collect is a longtime tradition of kids and parents everywhere, and the beach is a great place for that. Seashells come in a wide variety of shapes, colors, and sizes, which makes them an attractive collectible for kids of all ages.
When you've brought home your haul, cleaned off all the sand, and are wondering what to do with them, these 28 seashell crafts are sure to inspire you and your children. There's no need to use up a storage container to hide these beautiful souvenirs, and you don't have to break your child's heart by leaving them behind or throwing them out. Grab some paint and a few other materials and get to work making seashell art!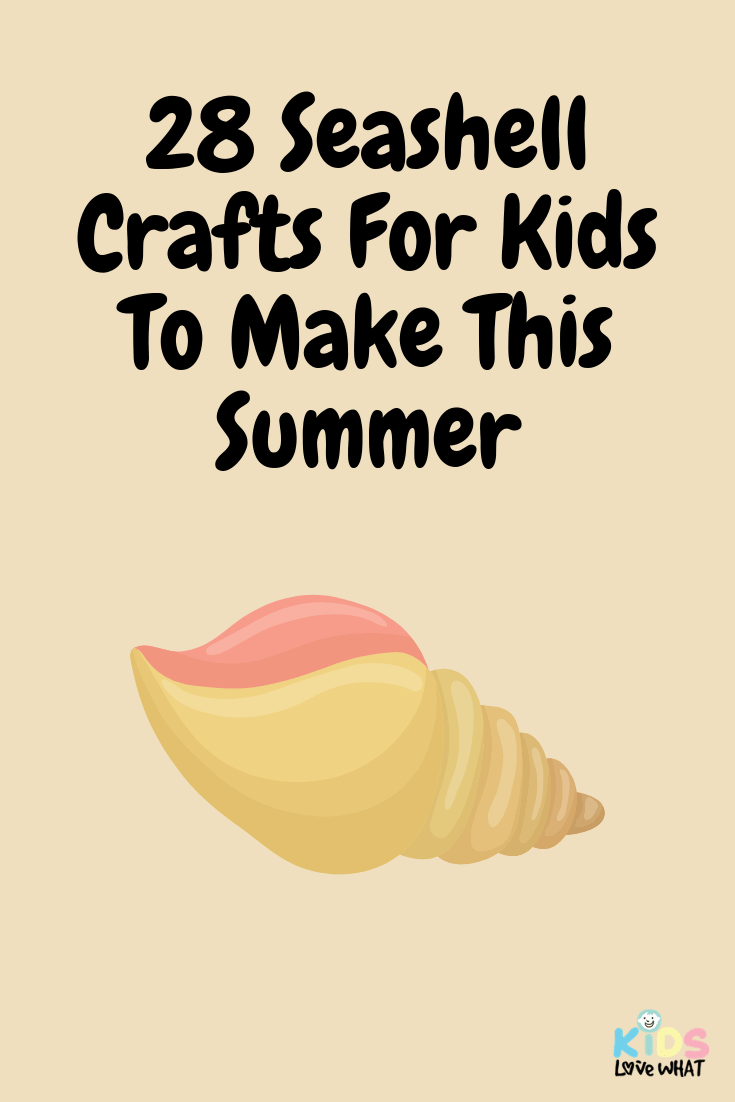 However, sometimes a trip to the beach just isn't going to happen, and that's fine. Most craft stores sell ready-to-use seashells in bags. Stock up on a few collections for fun summer-in-winter projects or for educational and sensory activities. And of course, there are plenty of seaside-themed crafts listed below, whether your child is a fishy, a mermaid, or a jellyfish!
No matter your child's age, abilities, or skill level, there is a seashell craft here that they can do and will fall in love with!
1. Beautiful Marbled Seashell Craft
Image source: Projects With Kids
This is a craft that works perfectly for the bleached-white shells your children collect at the beach. Projects With Kids has some fantastic instructions for an easy way to add vivid colors and really make those shells pop! You don't need tons of fancy materials or complicated directions, either. Make sure you check out the blog for some useful tips on which shells will take to being dyed the best. Using food coloring in a variety of different themes – neon, pastels, primaries – the result is a collection of unique shells with colors definitely not found in nature. Your children can decorate with, swap, or give these to summer friends.
2. Ladybug, Ladybug
Image source: Still Playing School
This seashell craft is a two-for-one that kids will love making and playing with: it's a seashell that turns into a ladybug! This clever ladybug craft idea comes from Still Playing School, and features a ton of inspiration for this simple, yet super creative, project. One of the best things about this particular craft is that you can use seashells of all different sizes and then color them into ladybug families, ladybug color groups, or make an entire color spectrum's worth of seashell ladybugs. The blog even has a gorgeous rainbow-colored shell for a multi-hued ladybug.
3. Harmless Seashell Jellyfish
Image source: I Heart Arts N Crafts
Little kids are often fascinated by one thing that's actually something else: cartoon dogs that are police officers and firefighters, preschoolers that are vampires and zombies, cats that are unicorns. Help your child make a beautiful, friendly jellyfish out of an ordinary seashell by clicking over to I Heart Arts N Crafts. Soft pastels in greens and blues, along with ocean-colored glitter, make this jellyfish completely harmless and totally kid-friendly. Let your kids swirl the colors together to make their own very special jellyfish. The colors are great for perking up a gloomy, rainy afternoon when the beach is absolutely off the menu.
4. Crayon Seashell Craft
Image source: Fun At Home With Kids
If you have children over the age of two in your house, chances are pretty good you also have dozens of crayons lying around. Between restaurants that give out crayons to kids, activity packs that come with crayons, and the usual boxes of crayons that you've probably bought with high hopes, crayons just seem to multiple in most houses. With a little help from the good people at Fun At Home With Kids, you can now collect every single one of those crayons and make some awesome art! Make sure you read the entire blog ahead of time so that no little fingers get owies from hot shells.
5. The Science Of Crystals Seashells
Image source: Little Bins For Little Hands
For slightly older kids who are into science, Little Bins For Little Hands has a fantastic experiment you can do with chemicals and seashells to create a crystal garden. If you already have borax on hand from all the slime you've been making, you're pretty much good to go. The blog recommends glass containers to hold the shells and the chemical solution; mason jars are great for this. The experiment will take about 24 hours to finish, so make sure you have a place to store everything overnight. Littler kids who shouldn't be handling chemicals can still participate by watching the process and examining the crystals with a magnifying glass the next day!
6. Stick People Shell Craft
Image source: Let's Do Something Crafty
Have you ever noticed that certain shells kind of look like skirts? Let's Do Something Crafty has, and they've got a wonderfully fun craft to do with your kids! You'll need quite a few things to make these colorful little dolls, so be sure to take a materials list to the craft store. (You may even find craft sticks already cut to "people" shapes.) Once you have everything, it's time to let your child's imagination take over! Using different patterns of washi tape and string allows kids to personalize their stick figures to look like them, like a best friend, or like a new friend they made at the beach. After that, it's play time!
7. Shake A Tail Feather
Image source: Crafty Morning
In addition to skirts (see #6), seashells look a lot like the spread of a peacock's tail feathers. This adorable project from Crafty Morning shows you how use Playdough with your seashell to craft a beautiful peacock. With a little bit of paint and enough time to let each step dry, it's a pretty straightforward craft that will make you say, "Now, why didn't I think of that?" If you're a little bit uncertain of your painting or Playdough-rolling skills, the blog has a video to guide you through. This one might be too pretty to play with, but it looks lovely as a decoration!
8. Feelin' Crabby Seashell Craft
Image source: Yesterday On Tuesday
This crabby little cutie is just one of several beach-themed crafts over at Yesterday On Tuesday that you can do with your kids. For the crab craft, you'll need little more than paint, pipe cleaners, googly eyes, and glue. Kids can work on almost any part of this craft depending on age and level of motor skills: they can paint the shell, glue on the googly eyes, or cut the pipe cleaners to size. Or do all the steps themselves with some supervision. These are simple and quick enough to be a great classroom activity, to help children learn about sea creatures, or as an activity for an undersea-themed birthday party!
9. Salt Dough Fossils
Image source: The Imagination Tree
The Imagination Tree has a simple recipe for salt dough that can be used to craft all kinds of things, from handprints to footprints — to seashell fossils. It's a wonderful craft for kids with limited fine motor skills, as there's little else for them to do other than press the shells into the rounded, flattened dough. A quick bake will turn the soft dough into a hard fossil — great for hiding around the house before a beach-themed party, or painting to give away to summertime friends. These also make good jumping-off points for teaching kids about how fossils are made and how scientists use them to learn about the past.
10. Winter At The Beach
Image source: Glued To My Crafts Blog
Whether it's a summertime heatwave and your kids are wishing for cooler weather, or it's the dead of winter and everyone's yearning for summer, this snowman craft is for you. Click on over to Glued To My Crafts Blog for a clever and creative project that turns seashells into snowmen. Olaf the Snowman would be so proud of this summer and winter mix! Children will have a blast making their own unique and personalized snowman (and snowwoman!) faces on something that's typically associated with the beach. Are they a winter decoration? A summer decoration? The answer is yes!
11. Pastel Seashell Craft
Image source: Woo Jr
Mermaids and seashells go together like bread and butter. For the mermaid-obsessed in your family, check out this pretty seashell craft from Woo Jr. Little kids can swirl, mix, and otherwise blend their most mermaid-like paint colors to create an Ariel-worthy seashell. Jazz up the colors by using glitter paint, or invest in some sparkly rhinestones you can glue on after the paint dries. Because the rhinestones present a choking hazard and should be applied with tweezers, that part needs to be done by a grown-up or older child. When everything is dry, these look gorgeous as part of an overall beach-theme décor.
12. Beach-Free Seashell Craft
Image source: Artsy Craftsy Mom
If a trip to the beach to collect seashells is not in your future and you don't feel like making a special trip to the craft store to buy some, Artsy Craftsy Mom has a way you can still enjoy the spirit of seashell art. By using paper plates, paint, and yarn, your children or students can make their own shells in whatever colors they like! This project will get kids excited to learn about the beach, or to decorate a classroom before summer break. And if you don't live near the water, these can help you set up your living room for an "indoor" beach day with some toy sea creatures!
13. Fishy Seashell Craft
Image source: Crafts By Amanda
You don't need to live somewhere tropical to enjoy a tropics-like atmosphere with these colorful fish from Crafts By Amanda. By using brightly colored paint, you can bring an eye-popping coral reef into your home when you paint both large and small shells. Add some googly eyes and these will be the cutest little fish you've ever seen! Even toddlers can have fun painting shells all different colors, and preschoolers can practice their hand-eye coordination by gluing on the little "fins" and "tails" made from smaller shells. Mount a whole batch of these together on some blue cardstock to create a family "aquarium" you never have to clean! Let us know if you want to see more fish crafts like this one!
14. Shimmer And Sparkle Seashell Necklace
Image source: Mama Papa Bubba
In the Venn Diagram of kids who love mermaids and kids who love glitter, there is an enormous overlap. Satisfy both of those needs with Mama Papa Bubba's glitter-heavy DIY necklace. Little glass gems (which you can find at any craft store) add even more sparkle to these handmade pieces of jewelry. Every mermaid in your family can craft their own special piece and wear it with pride. Grown-ups will definitely have to drill the holes into the shells, but beyond that the kids can make their own mess by painting and glittering. If you spend time at a beach house, these make great gifts for kids to exchange with summer friends before heading home for the fall.
15. Shelly Seashell Craft
Image source: Easy Peasy And Fun
It may not be easy being green, but it's fun to make crafts with the color! Over at Easy Peasy And Fun you'll find the instructions for how to make this super cute little turtle friend with a seashell base. You don't need a template for this one, as the turtle body you draw will have to be in scale to the size of the shell you are using. Make sure to have enough green construction paper on hand to make both the turtle's body and the trapezoidal pieces to glue onto the shell. This is a craft that will swim its way right into your child's heart!
16. Kissing Fish Seashell Craft
Image source: Glued To My Crafts Blog
For another seashell craft that doesn't require any actual seashells (see #12), check out Glued To My Crafts' seashell-shaped fish made from crafting foam. This particular project is great to keep in mind if you need something your kids can make pretty easily and with minimal special materials. Glitter glue, paint, sparkles — any of these can be used to decorate these fishies. The seashell shape is easy enough to draw and cut-out of crafting foam of all different colors. Adding red kissy lips makes them extra cutesy! Because they require minimal supervision, these puckered-up fish make excellent classroom activities or birthday party crafts.
17. Super Easy Seashell Craft
Image source: Free Kids Crafts
It doesn't get much simpler or more straightforward than this seashell project from Free Kids Crafts. All you need is paint, glue, and googly eyes…and seashells, of course. Even toddlers can get in on the action here by simply painting a shell. That's it. No tricky steps, nothing fancy to try. For really little kids, this project is enough to keep them happy and occupied for at least a little while. After the shells dry, the kids can "help" you glue on googly eyes to bring an insta-friend to life that kids can cherish!
18. A Whale Of A Seashell
Image source: Crafts On Sea
Sticking with the oh-so-appropriate theme of seashells being used to make sea-adjacent crafts (see #3, #8, #13, #15) comes this friendly whale over at Crafts On Sea. Use blue construction paper for the whale's tail and for a spray of water coming out of the whale's blowhole. The rest of the craft is fairly straightforward: even little kids can lend a hand for most of the steps. This whale would be a great addition to any books your kids might be reading about whales, conservation, or ocean habitats. Or, make these in your classroom before a field trip to the local aquarium or maritime museum!
19. Seashell Abstract Craft
Image source: Art Bar
Not all art has to look like art, and not all kids' crafts have to look like a specific thing. Sometimes it's fun to experiment with colors, shapes, textures, and patterns, as with this seashell collage from Art Bar. This craft takes a bit of time, so it's good for an entire art class session or for a long rainy afternoon stuck indoors. Have the children glue on the seashells first, in whatever design their hearts desire (or glue for them if the kids are very young). Then set up plenty of paint bowls and brushes and let the young artists work their magic! These pieces will wind up beautiful enough to hang up in your house in a place of pride.
20. Sandy Seashells
Image source: Mess For Less
Sand is a wonderful sensory material for kids who can run it through their fingers, squeeze it in their hands, and rub it on their skin. Make sure you set up a tray or bin for this sandy craft featured at Mess For Less! With colorful sand and glue, kids will really enjoy making a seashell craft that's as tactile as it is beautiful. Even older kids might like this project, since it allows them to express their creativity in a new and fun way. Let them try out patterns, mix colors, even layer colors to see what happens. And of course, make sure everyone helps clean up after!
21. A Rainbow Of Seashells
Image source: Sixth Bloom
Another easy peasy seashell craft that's suitable for toddlers and preschoolers is this one featured at Sixth Bloom. The blog turns the simple act of painting seashells into a full-on STEM activity for the pre-school set. Mix colors, compare sizes, feel the different textures of the shells as you paint each one. When they're done painting, examining, and comparing, give them some glue and let them create new shapes and creatures by attaching little shells to big shells, or sticking on googly eyes. Kids can even swap pieces that they've painted and practice working as a team to create projects together!
22. Beachy Christmas Wreath
Image source: Hello Wonderful
Ok, so this one isn't just for Christmas. Anytime you want a little bit of beach or ocean in your house, this craft will certainly satisfy. Click over to Hello Wonderful for the creative way you and your child can put together this one-of-a-kind wreath made from seashells. Make sure you read the materials list carefully in case you don't have any of these items around the house. Children of any age can help out here, either by tracing a circle onto the cardboard, wrapping the string around, or gluing on the seashells. The result is something gorgeous that everyone will love!
23. Craft Stick Puppets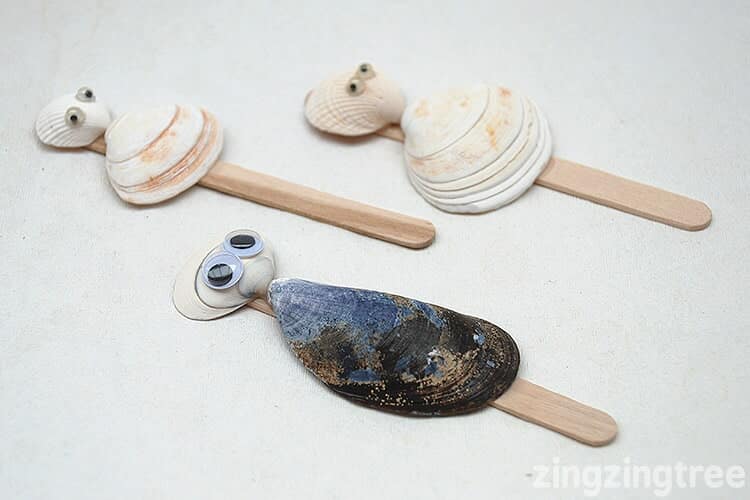 Image source: Blue Bear Wood
Blue Bear Wood has this amazing craft that harnesses children's ability to anthropomorphize pretty much anything and turn it into a new friend. In this case, it's seashells! By gluing shells of different sizes and shapes to craft sticks, kids can create instant puppets. Add googly eyes and some accessories — a shell carry bag, perhaps? — and you've got yourself plenty of new pals to act out stories with. The varying textures of the shells stimulate a child's sense of touch, while the craft sticks provide a nice contrasting material. It's a great way to create a lasting keepsake of a trip to the beach!
24. I Heart You Seashell Craft
Image source: Hoppin Up
By using air-drying clay and a large heart-shaped cookie cutter, you and your children can easily create this sweet craft seen at Hoppin Up. Pressing the shells into the clay should be enough to hold them tight as the clay dries, so make sure the clay is thick enough for the shells. What's great about this particular seashell craft is that it gives you a quick and easy way to save the many, many shells that inevitably come home with your child after every trip to the beach. Rather than throwing them out or storing them away, you can encourage your child's creativity with this very simple keepsake!
25. Seashell ABCs
Image source: Pre-K Pages
Here is a truly wonderful seashell activity that is as educational as it is fun! Write the letters of the alphabet into the concave parts of a batch of shells, then hide them in a bin of sand. Pre-K Pages has a list of different goals for your child or class to work towards as they dig out shells and identify the letters written on them. With all that sand that children naturally love digging through, this activity also provides sensory satisfaction and fine motor skill development. Learning the alphabet can be tons of interactive fun for everyone!
26. The Seashell That Roared
Image source: Crafts On Sea
Lions may not be the first creature that come to mind when you think "seashells," but that will change when you click on over to Crafts On Sea! Whether you're putting together a complete Wizard of Oz set of crafts or just want something truly creative to do with all those leftover seashells, this one certainly hits the spot. Or perhaps you are throwing a wild animal theme party for your child's birthday and you want a decoration or party favor that guests will remember for a long time! Whatever your reasons, you and your child will adore this sweet King of the Jungle seashell craft.
Related: Check out more lion crafts for kids on our zoo animal craft list!
27. Spooky Scary Seashells
Image source: The Classy Chics
Seashell crafts for Halloween? Why not! Haul out the black paint and follow the instructions from The Classy Chics to paint some Halloween crafts out of seashells. There's a ghost one to haunt your beach house and a black crow with big eyes that seem to follow you everywhere. All it takes is some forethought to paint an entire bag's worth of seashells ahead of time, and you've got yourself a class project. Throwing a Halloween bash this year? This will give the kids something new to do when they are done bobbing for apples or sticking their hands into bowls of peeled grapes.
28. Lend A Hand Seashell Craft
Image source: Arty Crafty Kids
Some shells your child collects just won't be big enough or the right shape for painting and turning into critters. When that happens, Arty Crafty Kids has a cool idea for making a keepsake that expresses your child's creativity while finding a home for all those teeny, tiny shells. It's a truly clever twist on handprint art! It also helps your child learn about sizing and where things can fit — sort of a seashell Tetris, if you will. Poke a hole in the top of your clay for tying a ribbon so you can hang this up and remember that trip to the beach when your child was only this small!